By viewing our video content you are accepting the terms of our Video Services Policy.
© 2021 CBS Interactive. All rights reserved.
SUBSCRIBE
Photo: Simon Emmett
Hello (again), Adele!

CBS welcomes back the Grammy-, Oscar-, and Golden Globe-winning singer with Adele One Night Only. The new primetime concert special will give fans their first opportunity to hear new material from her in six years! The two-hour event will be broadcast Sunday, Nov. 14, at 8:30 p.m. ET/8 p.m. PT on CBS. It will also be available to stream live and on demand on Paramount+.
Filmed in Los Angeles, the special will feature chart-topping favorites, never-before-heard songs, and an exclusive interview with Adele conducted by Oprah Winfrey from her rose garden. The O sit-down is Adele's first wide-ranging televised conversation and will cover her new album, the stories behind the songs, life after divorce, weight loss, and raising her son.
Get ready for Adele's triumphant return with this ultimate playlist!
Adele One Night Only airs Sunday, Nov. 14 at 8:30 p.m. ET/8 p.m. PT, on CBS. You can also stream live and on demand on Paramount+.
SUBSCRIBE NOW: Enjoy 4 Digital Plus 2 Print/Digital Issues Of Watch Per Year — For Free!
By Justin Neely
When the NBA announced its slate of 75 all-time great basketball players this month, anyone betting against Kevin Durant making the cut would doubtless also like the Washington Generals' odds of taking the Globetrotters this fall. Durant's 14 seasons in professional basketball haven't lacked controversy, but no one has ever doubted KD's transcendent skills or his desire to win. Ball don't lie and neither do these stats.
Durant's got SWAGGER, and on the court he can't be denied. But how are his storytelling skills? We're about to find out.
Starting October 29 Durant changes positions with the debut of Swagger, a new basketball drama streaming on Apple TV+. As an executive producer, he joins another star team, including CBS Studios, to dramatize his journey from standout prospect to global superstar.

SUBSCRIBE NOW: Enjoy 4 Digital Plus 2 Print/Digital Issues Of Watch Per Year — For Free!
Peep The Trailer
Swagger's cast includes O'Shea Jackson Jr. (as a youth basketball coach), Isaiah Hill (as Jace Carson, basketball phenom), and Shinelle Azoroh (as Jace's mom, a proxy for the loving force of nature known as Wanda, Durant's mom). The fictionalized life story will explore all the work that goes into making it to the most elite levels in sport and offers an insider perspective on AAU (American Athletic Union) ball, a national youth program that serves as a pipeline to the NBA for the majority of top U.S.-based players.
You won't miss the thrills of on-court action in this series, but because Swagger is a story based on KD's life, not a documentary, you won't actually see Durant's hooping magic. Don't worry—we've got you covered.
Scroll on for a curated collection of Kevin Durant's finest (and sometimes hardest) moments.
Boo! (The Halloween Kind)
Let's start at the beginning. Well, Swagger explores the early teen years, but Durant's NBA debut on Halloween 2007 packs some excitement, too.
On a poor shooting night by percentage, KD still put up 18 points and pulled down 5 rebounds. He didn't have an easy job that night, as a couple of the other names from the NBA's 75 greatest players list were starting for Denver: Carmelo Anthony and Allen Iverson.
ESPN quoted Durant on the defeat: "'I've been playing this all of my life,' the rookie out of Texas said. 'I reminded myself to go out and have fun. I had fun.'"
Time To Be An MVP
The Sonics left Seattle, breaking many hearts, but Kevin Durant truly arrived in the OKC blues that came with the move. On a Thunder team that had let go of James Harden, Kevin Durant's individual talent seemed to know no limits. Here are 10 highlights from his first MVP season.
Hold Back The Tears
That first MVP was the catalyst for one of the greatest highlights of Kevin Durant's career: the acceptance speech. Not since Brian's Song have grown sports fans had to work so hard to hold back the waterworks.
Watch a humble young man tearfully thank his mother for his success. It's a perfect refresher before seeing Swagger's version of the tale.

Warriors! Come Out To Play!
The move to Golden State cast Kevin Durant in the role of villain for some, but even the haters had to marvel at his amazing work on the court. With two NBA Championships and two finals MVPs to show for his time with the Warriors, Kevin Durant's move shouldn't be second-guessed by anyone.
Clash Of The Titans
With Kevin Durant joining the dynastic battle between the Warriors and LeBron James' Cavaliers, fans were treated to a head-to-head showdown of the era's greatest talents. GOATs butting heads, you might say. And we got to enjoy every moment.
Victory Is Sweet, Even With A Hangover
It's hard not be hung up on 2017 and that first NBA Championship. This James Corden FaceTime interview offers fans a surprisingly candid peek inside the mind of an MVP the day after he reached the pinnacle of success in the game.
Back To The Future
Let's face it. There aren't many NBA preseason games that are worth a first watch, never mind a second. But seeing Kevin Durant put on a show for one of the great NBA fan bases bereft of an iconic franchise is that rare gem of a game.
Carry The Weight
Kevin Durant is now an all-time great member of the Brooklyn Nets roster. That hasn't meant a trophy, but he has shown the league and the world that he can put a team on his back and carry it to victory in battle, even if the war can't be won without a team.
His 49 points, 17 rebounds, 10 assists, 3 steals, and 2 blocks are one of the greatest stat lines ever recorded for a playoff game. If you can't win it all in a given year, this is an impressive way to build on your legacy.
What Dreams May Come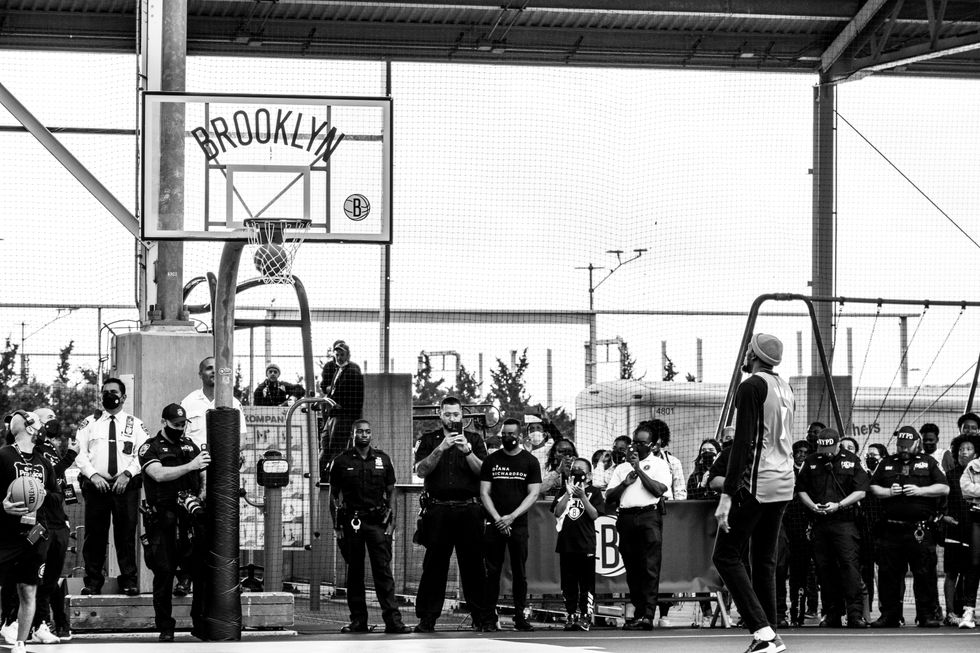 Kevin Durant knows his shot is money, wherever the hoop is hanging.
Photo by
Bruno Aguirre
on
Unsplash
Kevin Durant has shown that an Achilles tear won't stop his dominance. But will he hoist another championship trophy now that he's in Brooklyn? Or is there yet another destination waiting before he packs it in?
The future remains unwritten for Kevin Durant, but with the debut of Swagger, we all have a chance to better understand his past. Expect to be impressed.

Tune In To Swagger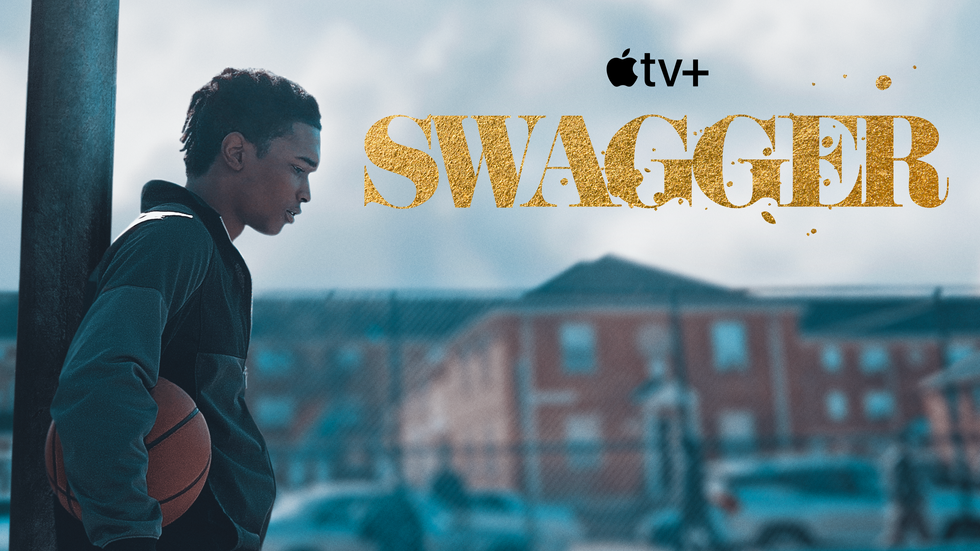 Isaiah Hill as Jace in a promotional shot for Swagger
The first three episodes of Swagger are available to stream on Apple TV+ starting October 29. One new episode will air each week through December 17.
SUBSCRIBE NOW: Enjoy 4 Digital Plus 2 Print/Digital Issues Of Watch Per Year — For Free!
Night of the Living Dead (1968)
This cult favorite written and directed by horror movie great George A. Romero, and marking his movie debut, is considered the first modern zombie film. In Night of the Living Dead, the dead come back to life and start feasting on the townspeople. Terrified locals barricade themselves in a farmhouse. Will they survive the night?

Child's Play (2019)

Dolls aren't my thing, but if you can deal with those dead, creepy eyes, then Child's Play—from the producers of IT—is the film for you. When Buddi, a new doll that can control all of the family's smart electronics, comes to market, people won't be able to resist the convenience. But at what cost?
Paranormal Activity: Next Of Kin (2021)
Arriving just in time for Halloween, Paranormal Activity: Next of Kin premieres exclusively on Paramount+ October 29th. If you're a fan of the hit "found footage" horror series, you'll love this installment. When a documentarian accompanies a young woman into a secluded Amish community in search of her missing mother, they soon discover there's something very strange going on in the secluded countryside.
A Quiet Place (2018)
Starring husband and wife duo John Krasinski and Emily Blunt, A Quiet Place captures the sufferings of a post-apocalyptic world. Aliens with an otherworldly sense of hearing have decimated the human population, and those who survived must live in utter silence.
A Quiet Place Part II (2020)
Naturally, the next on our list is the sequel, A Quiet Place Part II, available exclusively on Paramount+. SPOILER ALERT for those who haven't seen the first film: Although the Abbott family has lost two members, they're a little more prepared to handle the aliens. Their home was destroyed in the last attack they endured, so they'll have to move on with their newborn baby in tow.
Gretel & Hansel (2020)
The classic Grimm Brothers fairy tale Hansel & Gretel gets a gruesome 2020 re-imagining, Gretel & Hansel. When two hungry children are turned out of their homes, they explore the countryside looking for food and work until they stumble into the cottage of a cannibalistic enchantress.
The Ring (2002)
The Ring is a classic horror film, perfect for Halloween frights. A mysterious VHS tape is floating around that's rumored to kill whoever watches it seven days later. When four teens die, reporter Rachel Keller (Naomi Watts) watches the videotape herself. With just seven days left to live, she'll have to solve the mystery behind the tape—or face the consequences.
World War Z (2013)
Brad Pitt stars as Gerry Lane, a former United Nations investigator, in World War Z. When his city is suddenly overrun with zombies, he'll do anything to protect his family—even if that means leaving them unprotected to figure out how to stop the worldwide outbreaks.
Zodiac (2007)
An independent team of investigators recently claimed to have ID'd the real zodiac killer, which makes this movie especially timely. In the 2007 film Zodiac—starring Jake Gyllenhaal, Robert Downey Jr., and Mark Ruffalo—the self-proclaimed Zodiac Killer, who has already murdered one, sends coded messages to the San Francisco Chronicle threatening to kill again. As the body count rises, political cartoonist Robert Graysmith and crime reporter Paul Avery struggle to identify the murderer.
Bonus: Evil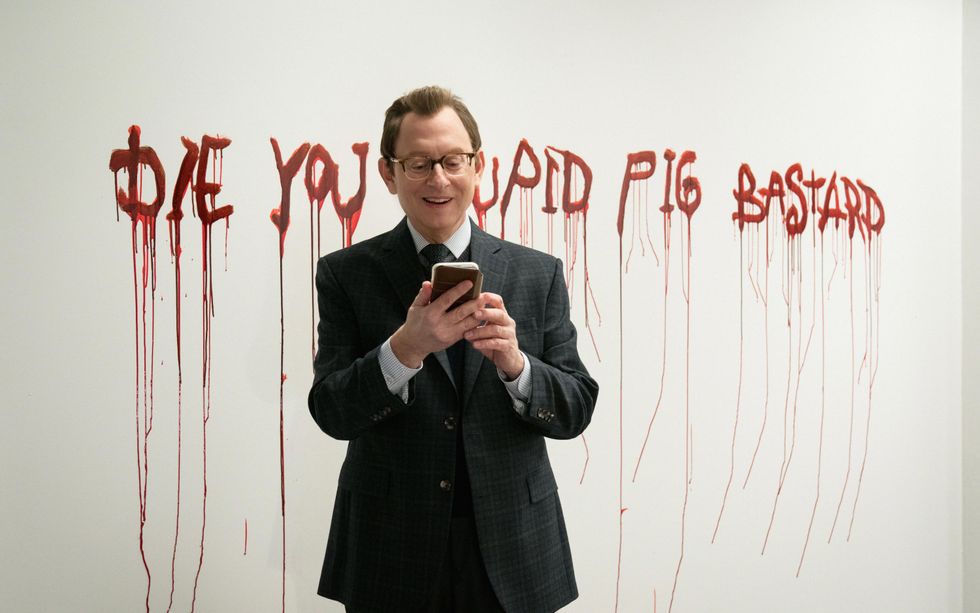 Michael Emerson as Leland Townsend in the series EVIL.
Elizabeth Fisher/CBS 2021Paramount+ Inc. All Rights Reserved.
Paramount+ also offers bone-chilling shows for those who like their frights to last longer than two hours. Catch the first and second seasons of Evil. In this spooktacular series, an unlikely trio—a forensic psychologist, a Catholic seminarian, and a technology contractor—teams up to investigate supernatural phenomena.
SUBSCRIBE NOW: Enjoy 4 Digital Plus 2 Print/Digital Issues Of Watch Per Year — For Free!