By viewing our video content you are accepting the terms of our Video Services Policy.
© 2022 CBS Interactive. All rights reserved.
SUBSCRIBE
By Marc Berman
Contrary to popular belief, Bonnie Franklin as Ann Romano on the original One Day at a Time was not the first divorced female character on a TV series. That distinction goes to legendary "second banana" Vivian Vance on The Lucy Show (1962–68). But One Day at a Time was the first to deal with the issues of raising a family as a divorced woman.
Debuting on December 16, 1975, the show followed the lives of 30-something Ann Romano (Bonnie Franklin) and her two teenage daughters—Julie (Mackenzie Phillips) and Barbara (Valerie Bertinelli)—as they began a new chapter in Indianapolis. Pat Harrington Jr. was their apartment building superintendent, Dwayne Schneider, who became a personal friend and a surrogate father, of sorts, to the girls. And Richard Masur as David Kane was Ann's divorce lawyer, whom she was dating.
When Masur asked to depart the series early in Season 2, Mary Louise Wilson as cocktail waitress Ginny Wroblicki was briefly added for comic relief. But Wilson, like Masur, made a quick exit, and the focus remained on the three women, and Schneider, through Ann's tribulations facing single life and the girls' young adulthood (including eventual marriage and parenthood).
Dealing With Real Issues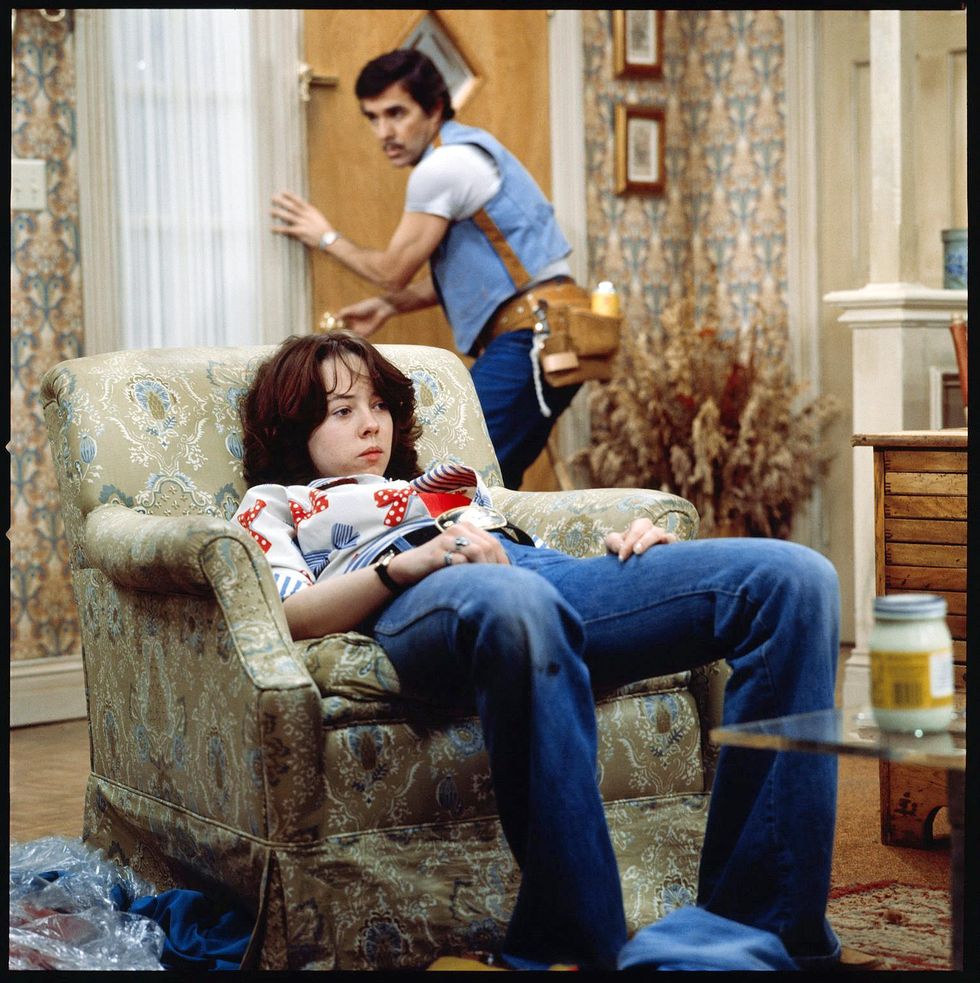 One Day at a Time cast members Pat Harrington Jr. as Dwayne Schneider and Mackenzie Phillips as Julie Cooper.
Photo credit: CBS via Getty Images
Like any Norman Lear sitcom, One Day at a Time dealt with real issues: teen runaways, workplace sexism, shoplifting, infertility, etc. And, like any series on the air for a certain number of years, there were cast additions: Michael Lembeck (Max Horvath), Glenn Scarpelli (Alex Handris), Shelley Fabares (Francine Webster), Boyd Gaines (Mark Royer), and Nanette Fabray (Katherine Romano).
The action in the ninth season switched to the two young married couples (and eventually the three young adults after Mackenzie Phillips left the series for the second time) living together, which led CBS to express interest in a two-season renewal. But Franklin decided it was time to move on. At series end, Ann Romano Royer, now married to Mark's father, Sam (Howard Hesseman), decided to accept a job in London. "Look at you, Mom, all grown up and married," said Bertinelli's tearful Barbara as the series concluded.
A New Generation
In 2017, 33 years after its conclusion, Netflix created a reboot of the show. Lear was still onboard, but the focus this time was on a Cuban American family (Justina Machado, Isabella Gomez, Marcel Ruiz, and Rita Moreno). Todd Grinnell played Schneider, Gloria Estefan sang the snazzy, updated theme song, and the series tackled serious issues like immigration, homophobia, gender identity, mental illness, and racism.
After three seasons on Netflix, Pop TV picked up the new One Day at a Time for an abbreviated seven final episodes.
While both the original and the reboot of One Day at a Time showcased a single woman with two children, the first pilot (titled Three to Get Ready) featured Bonnie Franklin's Ann raising one teen daughter and not two.
SUBSCRIBE NOW: Enjoy 4 Digital Plus 2 Print/Digital Issues Of Watch Per Year — For Free!
Factoids about One Day at a Time
One Day at a Time was created by husband-and-wife acting and writing duo Whitney Blake and Allan Manings. Blake, actor Meredith Baxter's mother, was best known for playing Dorothy on the 1960s Shirley Booth sitcom, Hazel.
The travel agency set where Barbara and Max worked in the final season was later used as Al Bundy's (Ed O'Neill) shoe store on Married with Children.
One week after the series finale of the first version, Pat Harrington Jr. starred in a pilot called Another Man's Shoes. Here Schneider had left Indianapolis and moved to Florida to take care of his orphaned niece (Natalie Klinger) and nephew (Corey Feldman). The pilot was not picked up.
Harrington Jr., who won the Emmy Award for Outstanding Supporting Actor in a Comedy Series in 1984, also won the Golden Globe for Best Supporting Actor in a Series, Miniseries, or Motion Picture Made for Television in 1981.
By Maria Neuman
While most of us stop pulling late nights after college, Sarah Steele finds her role of gutsy lawyer Marissa Gold on The Good Fightshooting well into the wee hours. "A few Fridays ago, we finished at 2:30 a.m. and I'm often in the makeup chair by 5 a.m. on a Monday," says the 33-year-old Pittsburgh native, who got her start on The Good Wife, a gig that was supposed to last three episodes while she was studying at Columbia University. The rest, as they say, is spinoff history.
"On the last day of shooting on The Good Wife, I went up to Christine Baranski and told her that I was going to miss everyone so much. She looked at me and said, 'There are no goodbyes in this business,' and we've ended up on The Good Fight for six years!" After a week in the courtroom, her weekends in Brooklyn are decidedly more laidback. From the yoga mat to the movies, she takes us through a typical day.
Stream The Good Fight exclusively on Paramount+.
SUBSCRIBE NOW: Enjoy 4 Digital Plus 2 Print/Digital Issues Of Watch Per Year — For Free!
9:00 a.m.
On Saturdays I love to sleep in but try not to go too late so I'll stay on schedule for the week. Since starting to shoot The Good Fight, I've lived all over Brooklyn, but I recently moved to Brooklyn Heights. It's right by Brooklyn Bridge Park and known for being pretty quiet, which is fine by me. Plus, two of my best friends live a few blocks away.
9:15 a.m.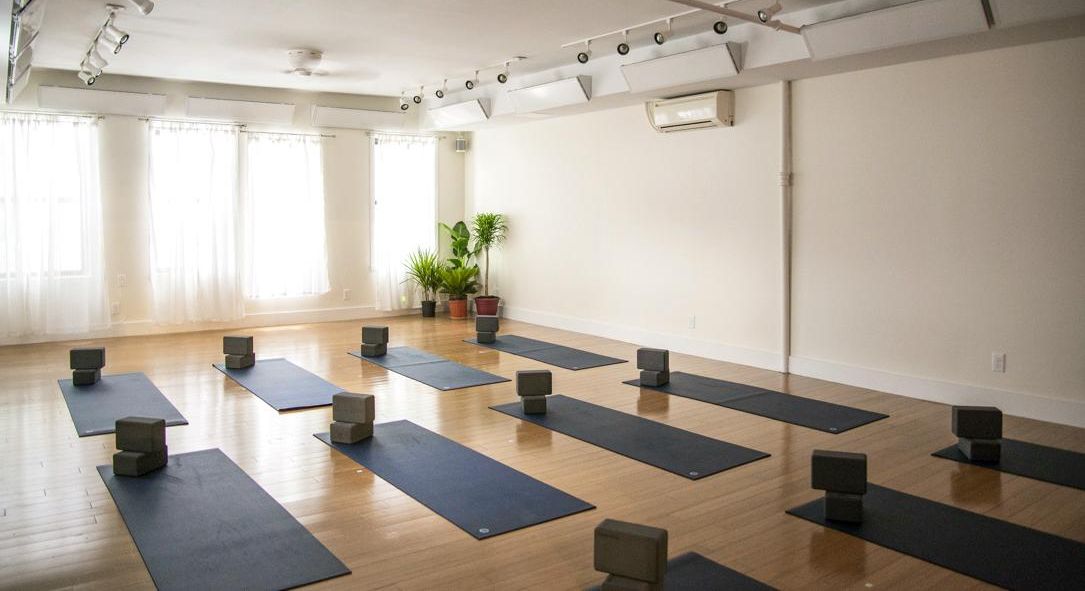 "I'm a yoga junkie," says Steele.
Photo credit: Heatwise
I'm a yoga junkie. There's a studio right by me called Heatwise, and I try to go at least three times a week. I store my mat there so it's easy for me to drop in. I like to practice in the morning and find it is the perfect thing to quiet my thoughts and get me in the flow. Since it's hot yoga, you're so sweaty at the end that you can't even leave the building without showering after class.
11:00 a.m.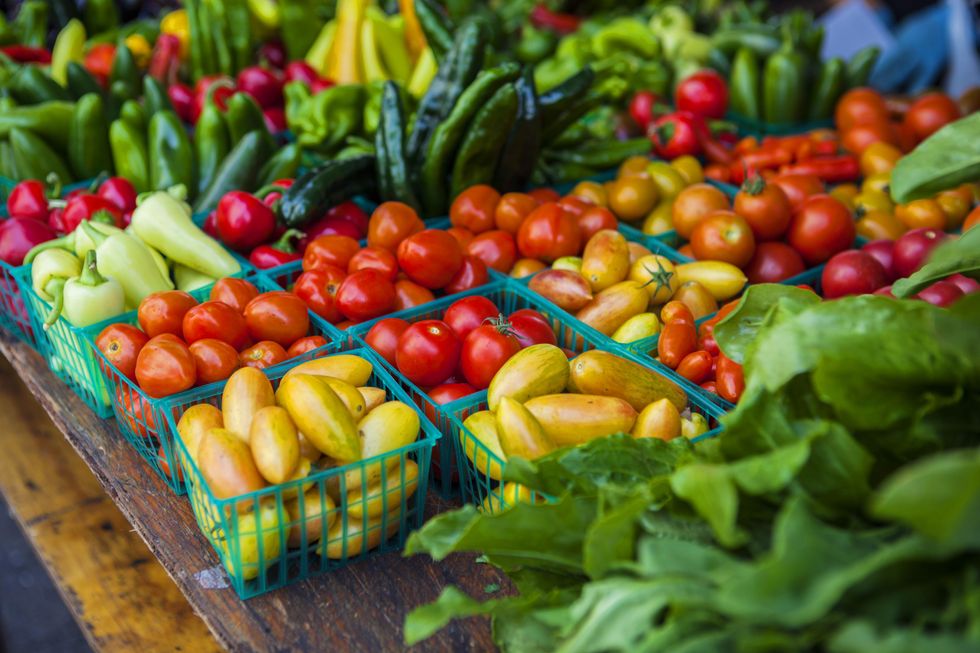 Assorted peppers, cherry tomatoes, and other greens on display at a farmer's market
Photo credit: Getty Images/iStockphoto
Lately I've been cooking for myself during the week, and I try to get most of the ingredients from my local farmer's market, Brooklyn Borough Hall Greenmarket. I pick up everything from turkey burgers and eggs to my veggies.
Noon
My partner, who lives in Greenpoint, comes across town and we'll go to this certain brunch place right near my apartment. Sorry, I'm not going to say the name because it's a total gem and we don't want it to get too crowded. [Laughs.] We don't even bring friends there! Every time, I order the eggs torta with avocado and chorizo, coffee, and maybe a brunch cocktail.
1:15 p.m.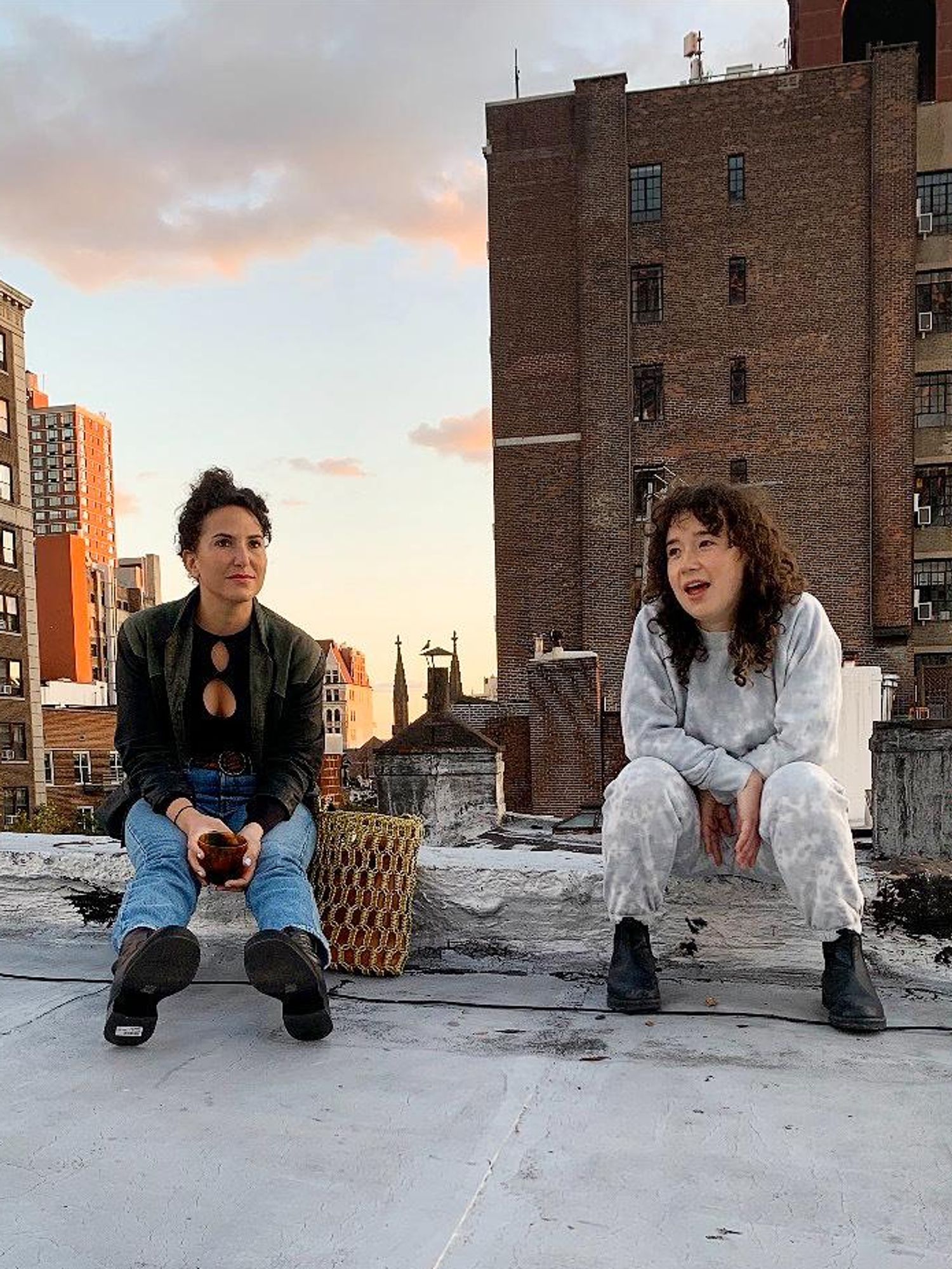 Steele (right) takes in her rooftop view with a pal.
Photo credit: Sarah Steele
I have a roof terrace at my new apartment, so I love to host crafts parties there. At the beginning of the pandemic, I found myself trying to be crafty and not just stare at the TV or my phone in the evening. My boyfriend is a painter, so he'll bring all the supplies, and we make something like charcoal or acrylic paintings with our friends. My two cats, Xan and Fagin, come up on the roof, too. It's a fun, easy way to hang out.
3:45 p.m.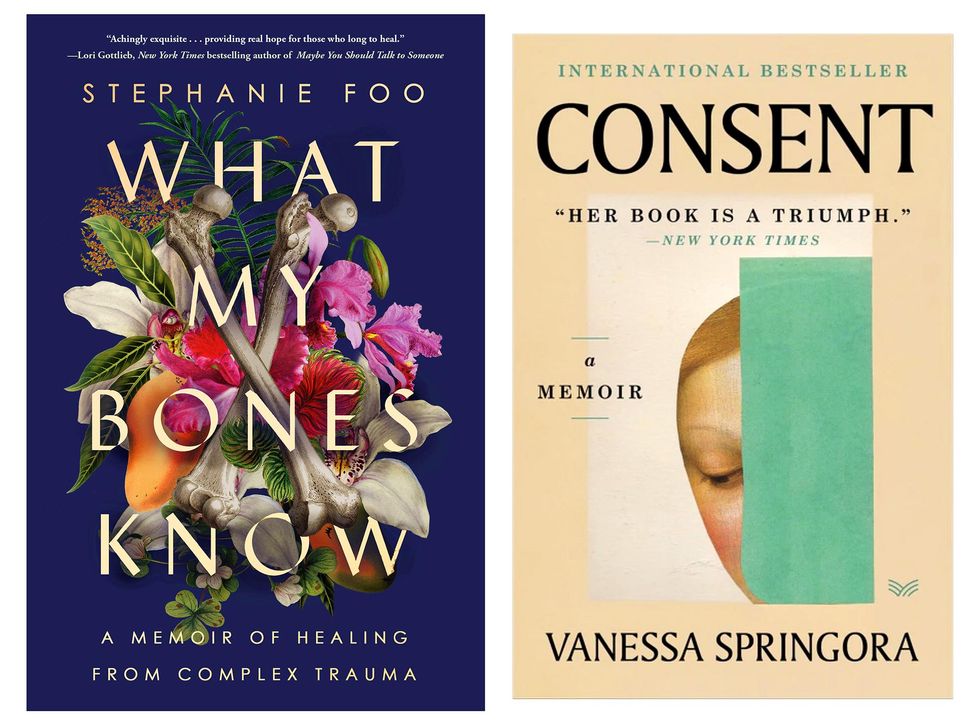 "Two of my recent recommended reads are Consent: A Memoir by Vanessa Springora and What My Bones Know by Stephanie Foo."
Photo credit: (l) Penguin Random House; (r) Harper Collins
I'm always reading a book, either before bed or in the makeup chair. My favorite place to browse and buy is Books Are Magic. I can spend hours there. Usually, I'll pick out three books, read them all, and then go back and pick out three more. Two of my recent recommended reads are Consent: A Memoir by Vanessa Springora and What My Bones Know by Stephanie Foo.
4:00 p.m.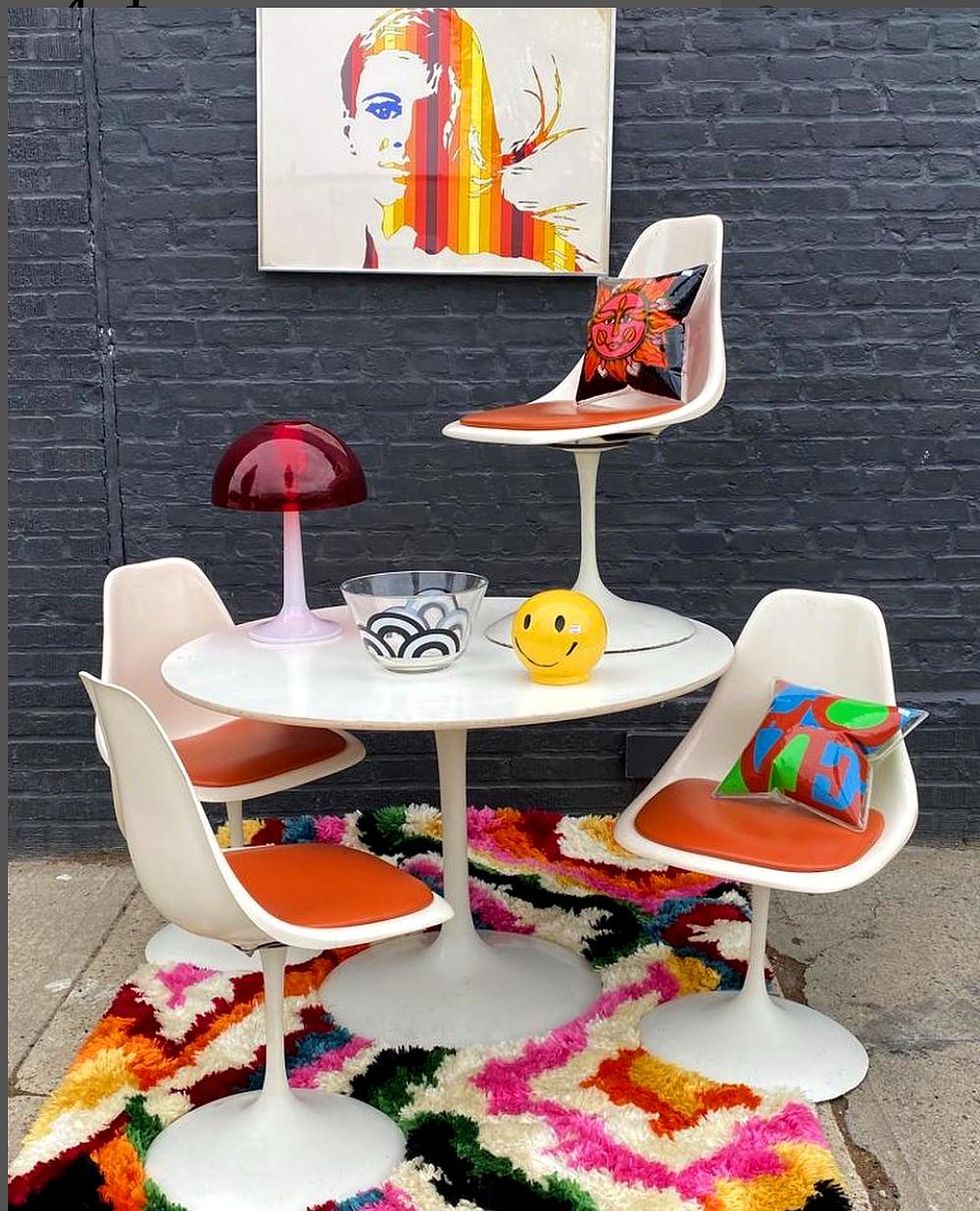 Vintage finds at the Dobbin St. Co-op in Greenpoint.
Photo credit: Instagram.com/dobbinstcoop
One of my favorite stores is KIWI in Park Slope. It's a clothing store, but it also has unusual beauty products and candles. Another great spot is Dobbin St. Vintage Co-op in Greenpoint, which is full of cool old furniture, vintage clothes, and accessories.
5:15 p.m.
I love, love, love the movies. One of my best recent experiences was seeing The Lost City with Sandra Bullock and Channing Tatum. It was hysterical. I saw it at the Nitehawk Cinema, a hipster-y small theater where you can order burgers and cocktails while watching the movie.
7:30 p.m.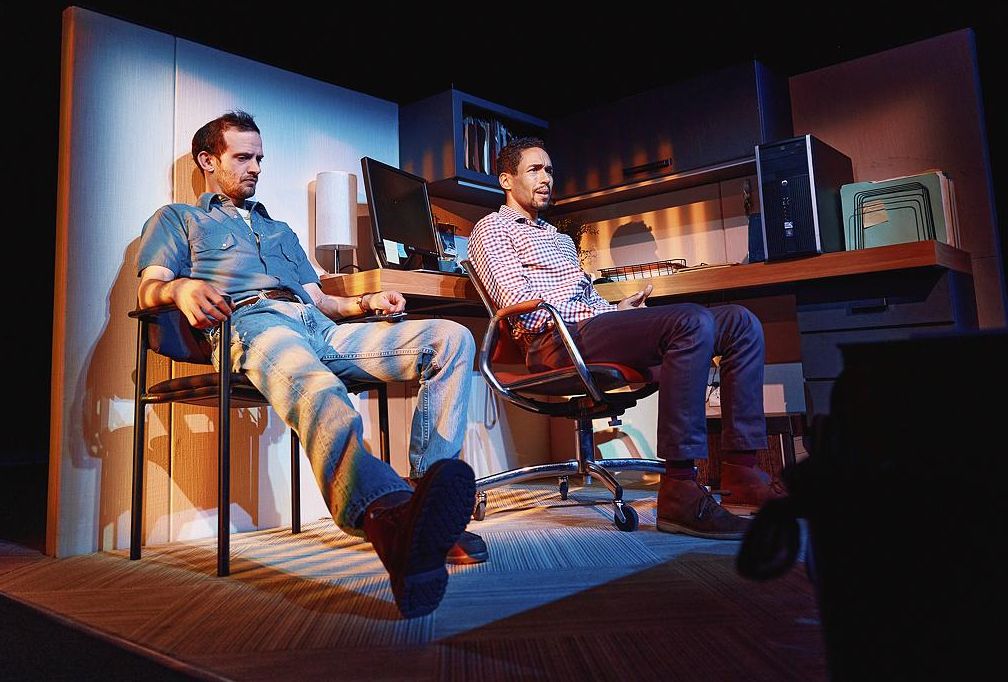 A Case for the Existence of God
Photo credit: Emilio Madrid
I can see live theater every weekend. Most of my friends are theater nerds. So am I. I've done so much live theater in the past, but my schedule is pretty busy these days, though I just had an audition a few weeks ago and thought, Wow, I've really missed this. Recently I saw A Case for the Existence of God at the Signature Theatre. It sums up my ethos when it comes to theater: heart-breakingly funny and tragic, like real life.
10:00 p.m.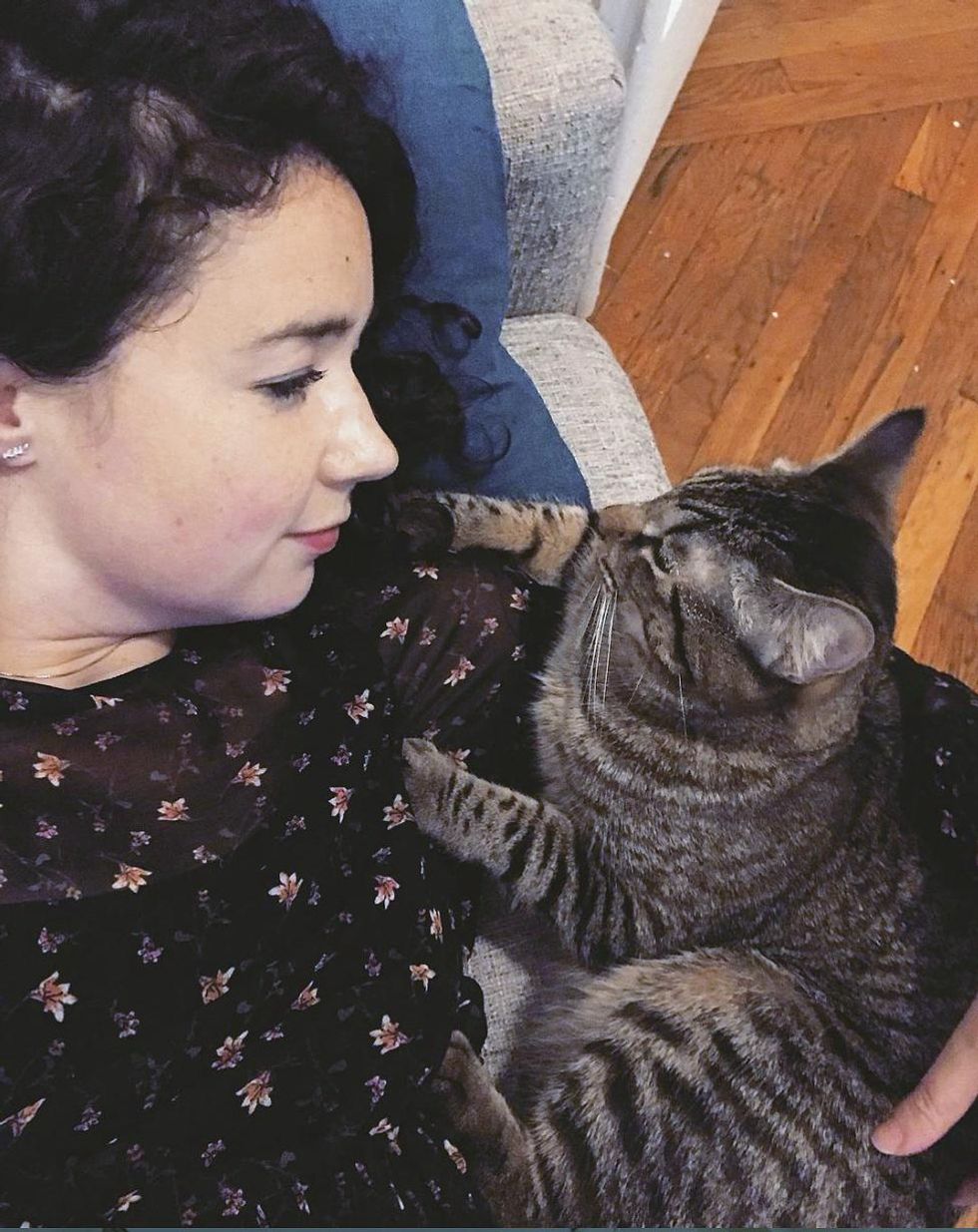 Steele's feline friend
Photo credit: Instagram / Sarah Steele
I have a lot of trouble sleeping, so I try not to stay up too late. During the week, I've made it a point to be screen-free after 8 p.m. and it helps. I'll read or listen to a podcast—a recent fave is the tongue-in-cheek one called Poog—or look over my lines for the next day.
SUBSCRIBE NOW: Enjoy 4 Digital Plus 2 Print/Digital Issues Of Watch Per Year — For Free!
Stream The Good Fight exclusively on Paramount+.
By Marc Berman

I could not believe what I was hearing out of Carroll O'Connor's mouth the first time I saw All in the Family," Isabel Sanford once said. Sanford made her first appearance as neighbor Louise Jefferson in the first season episode titled "Lionel Moves into the Neighborhood" (March 2, 1971). "But, at second glance," she said, "I just fell down laughing. And then I received a call for an audition, initially to play Louise Jefferson's sister."
Flash-forward to January 18, 1975, and Archie and Edith's neighbors—George (Sherman Hemsley), wife Louise (aka "Weezy"), and son Lionel (Mike Evans)— were "movin' on up to that dee-luxe apartment in the sky" in spinoff The Jeffersons.
SUBSCRIBE NOW: Enjoy 4 Digital Plus 2 Print/Digital Issues Of Watch Per Year — For Free!
Comical Combatants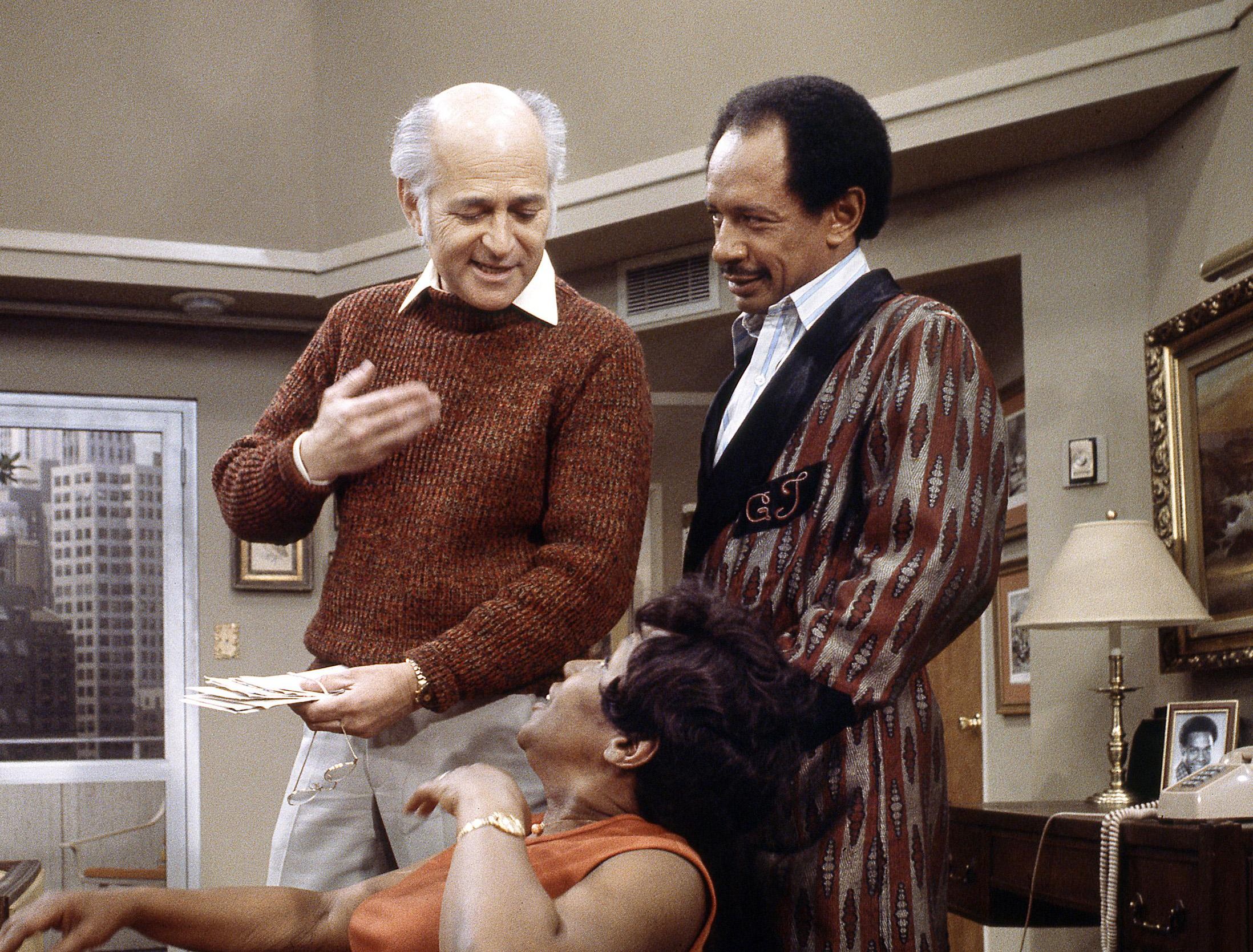 Lear (standing left) talks with actors Sanford (seated) and Hemsley on the set of The Jeffersons.
Photo credit: Brian Hamill/Getty Images
On All in the Family, Archie's racist thinking was usually challenged by George, while Edith and Louise were the voices of reason. On The Jeffersons, the now-successful cleaning store franchise owner George comically combated Lionel's future in-laws—Tom (Franklin Cover) and Helen Willis (Roxie Roker)— who as an interracial couple ("zebras," according to George) were often the butt of his remarks. Berlinda Tolbert played Jenny, Lionel's future wife. Paul Benedict as Harry Bentley was the loyal but somewhat dimwitted British next-door neighbor. Zara Cully as George's feisty mother, Olivia Jefferson, was none too fond of her daughter-in-law, Louise. And Marla Gibbs, initially in a recurring role, was the Jeffersons' wisecracking housekeeper, Florence Johnston, who knew how to put George in his place.
An Immediate Sensation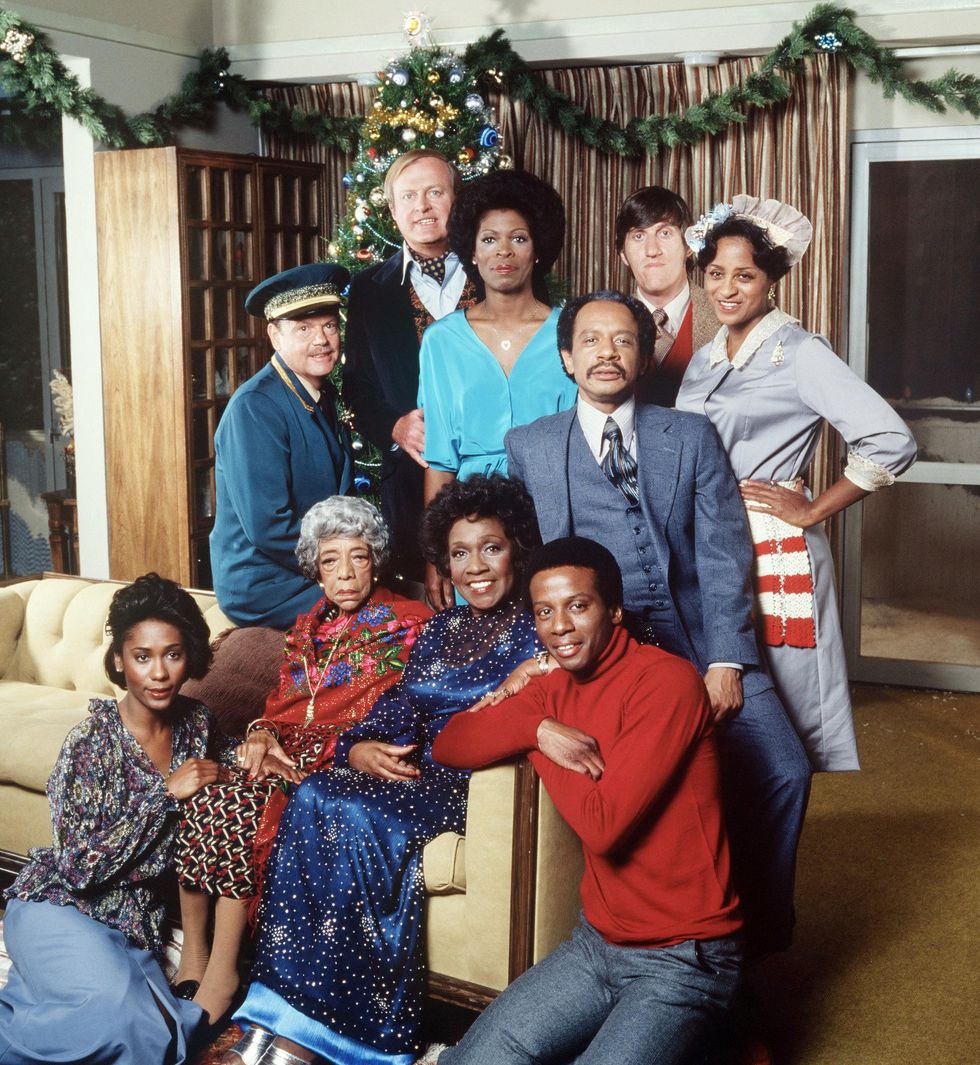 Portrait of the cast of The Jeffersons.
Photo credit: CBS via Getty Images
"How come we overcame and nobody told me?" noted Gibbs as Florence at the end of the first episode upon realizing the Willises also lived in the building.
Debuting out of parent All in the Family into the plum Saturday 8:30 p.m. ET (The Mary Tyler Moore Show) time slot, The Jeffersons was an immediate sensation, finishing that abbreviated first season ranked No. 4 overall (behind Lear's All in the Family, Sanford and Son, and Chico and the Man). While most series tend to start tiring by Season 5 or 6, the show actually peaked in Season 8 (1981–82), with an overall third-place finish.
The Longest-Running Lear Series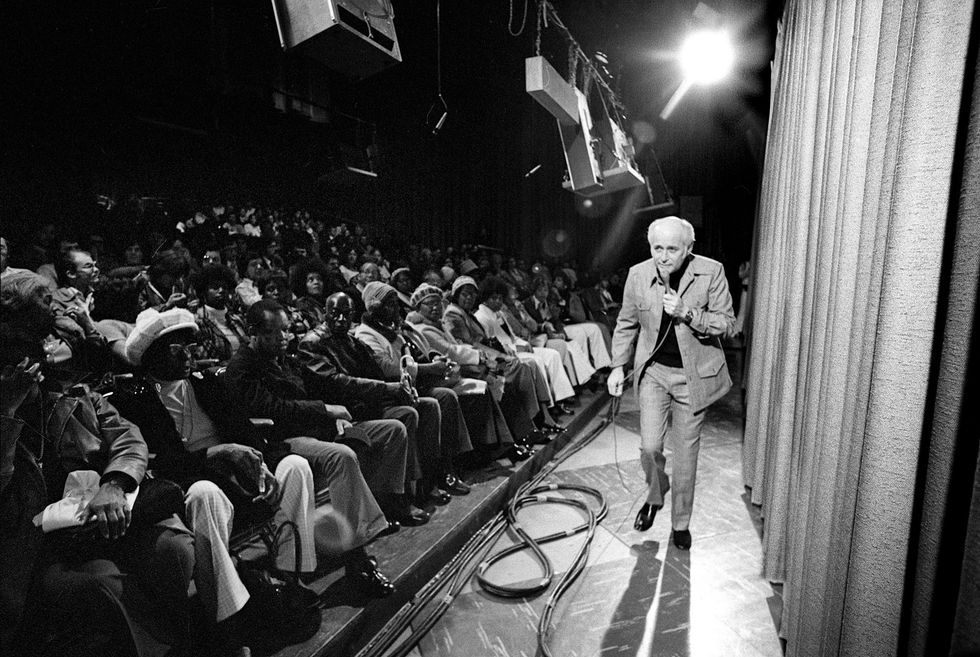 Lear talks with the studio audience on set of The Jeffersons.
Photo credit: Brian Hamill/Getty Images
The Jeffersons ran for 11 seasons, making it the longest-running Lear series. While there was no official final episode, George and Louise did reunite for two episodes of Will Smith's The Fresh Prince of Bel-Air (including the series finale on May 20, 1996, which also featured Marla Gibbs as Florence).
SUBSCRIBE NOW: Enjoy 4 Digital Plus 2 Print/Digital Issues Of Watch Per Year — For Free!
Factoids About The Jeffersons
As compatible as they seemed in real life, Sanford was actually 56 when the series began, versus just 37 for Hemsley. Mike Evans was only 10 years younger than his TV dad.
While Sanford appeared on a recurring basis on the first five seasons of All in the Family, Hemsley did not debut as George until the Season 4 episode titled "Henry's Farewell" (October 20, 1973). Lear created the role of George with Hemsley in mind, but he was not immediately available; Mel Stewart, as George's brother Henry, occasionally appeared.
The characters of Tom and Helen Willis were television's first Black and white interracial couple. The late Roxie Roker was the mother of singer-songwriter Lenny Kravitz.
Gibbs as Florence exited The Jeffersons briefly for spinoff comedy Checking In, which aired for four episodes in April 1981. There was also talk of giving Benedict's Harry Bentley his own series.
In addition to The Fresh Prince of Bel-Air, Hemsley appeared as George in the first two episodes of one-season CBS sitcom E/R in 1984. This was prior to NBC's long-running medical drama ER (which, ironically, also featured George Clooney).
Sanford was the first African American actress to win the Emmy for Outstanding Lead Actress in a Comedy (in 1981).
DuBois (Willona Woods on Good Times) wrote and performed the classic opening theme song on The Jeffersons.