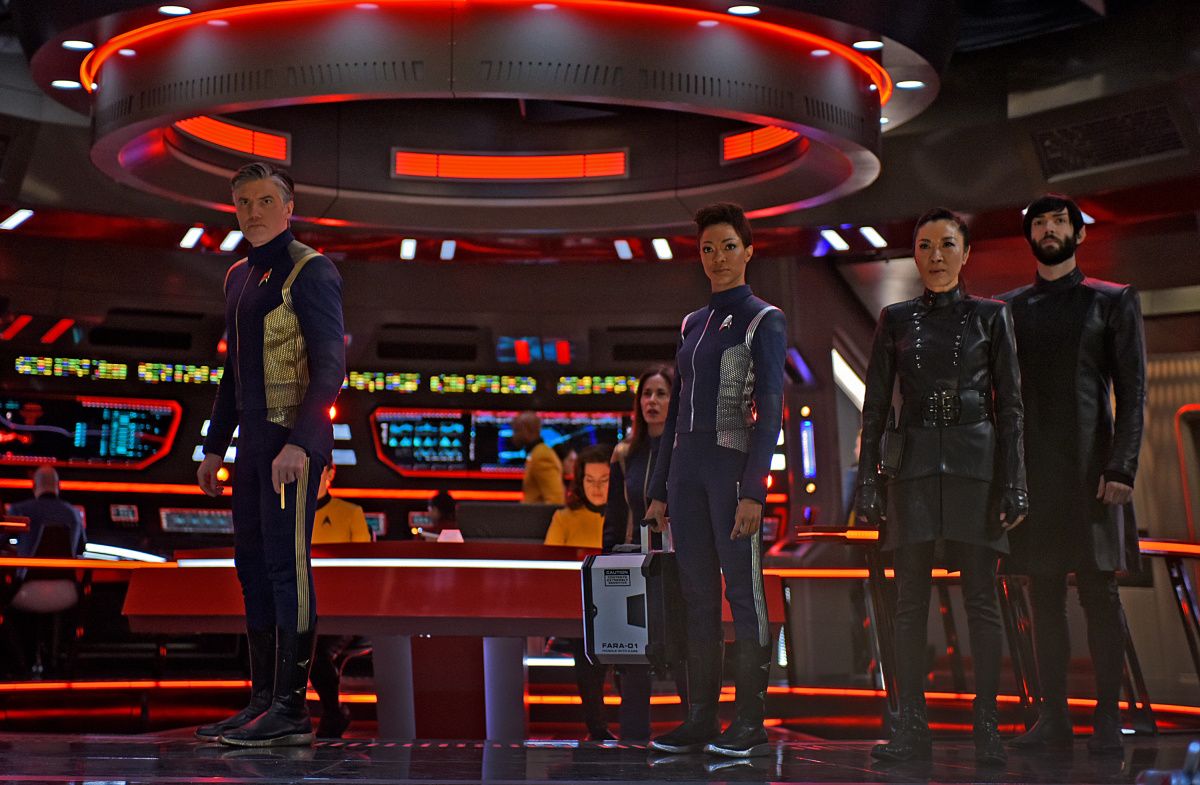 Photo Credit: John Medland/CBS.
Here's all you may have missed from the 80-minute panel featuring fan favorites from CBS All Access and the Star Trek Universe.
By Nate Millado
For the first time in its 50-year history, San Diego Comic-Con was forced to cancel due to the coronavirus pandemic. Enter Comic-Con@Home—a virtual edition of the annual pop culture get-together—and the Star Trek Universe helped kick off the proceedings.
---
Star Trek Boldly Goes Into Strange New Worlds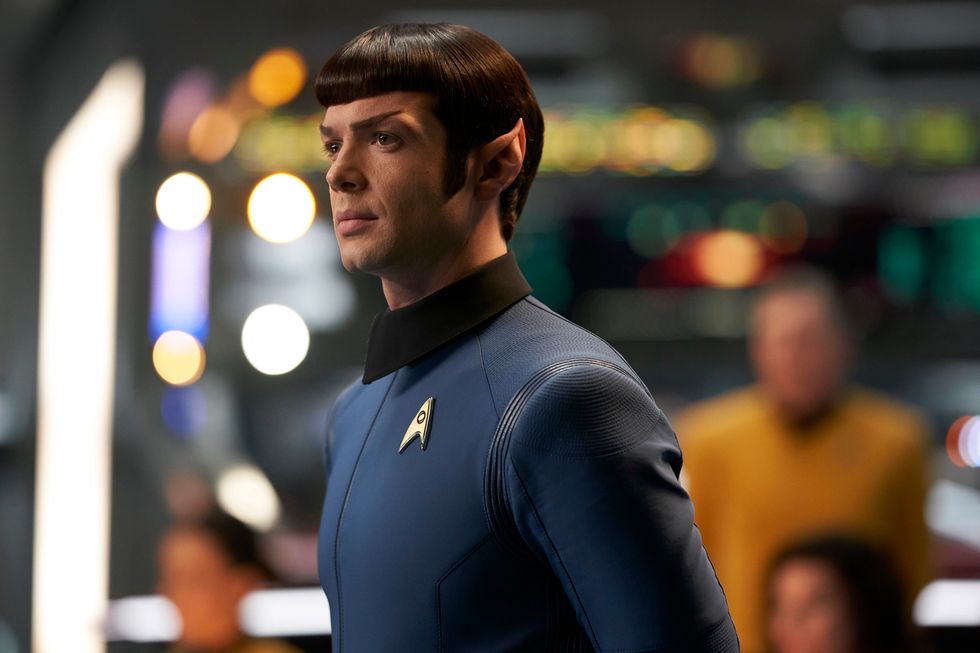 Ethan Peck is Spock in Star Trek: Strange New Worlds.
Photo Credit: Russ Martin/CBS.
The latest Star Trek spinoff follows Christopher Pike (Anson Mount), Number One (Rebecca Romijn), and Spock (Ethan Peck) from Star Trek: Discovery to Star Trek: Strange New Worlds, set on the U.S.S Enterprise. Executive producer Alex Kurtzman says the writers' room is open and that 10 stories have been broken for the prequel to the original 1960s series.
Peck predicts that Spock's interactions with his human sister, Michael Burnham, will inform his "conflict between emotion and logic." Mount says that Captain Pike will wrestle with how to best utilize the rest of his life. "Seeing my future in Star Trek: Discovery," he says of Pike's paralysis, "and when you see how it's all gonna end, and it's not so pretty—what do you do with that?"
Sir Patrick Stewart's Nickname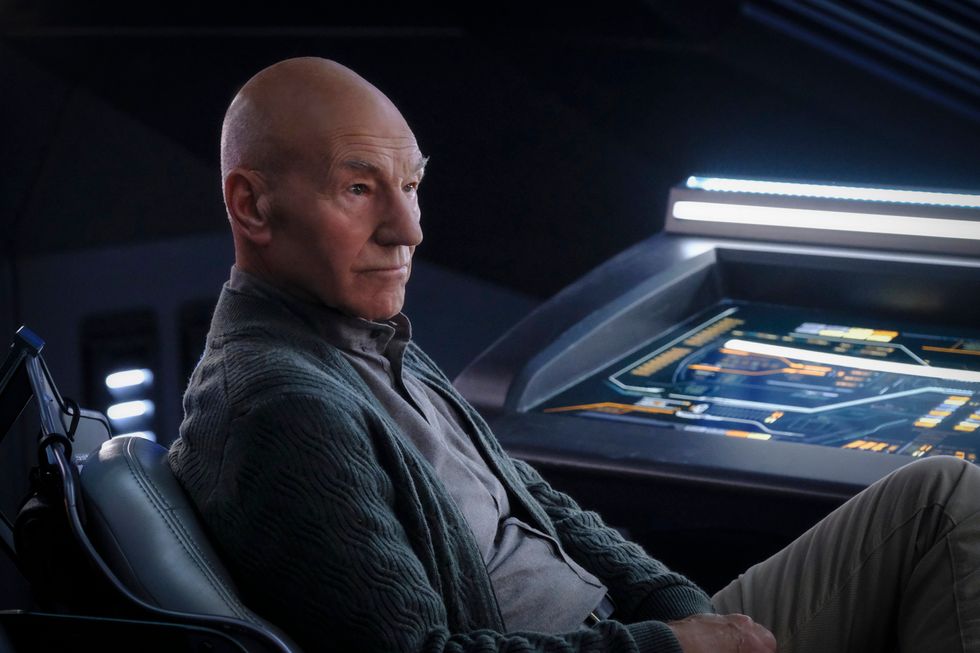 Patrick Stewart as Picard of the the CBS All Access series Star Trek: Picard.
Photo Credit: Trae Patton/CBS.
The Star Trek: Picard star was knighted by Queen Elizabeth II in 2010—so he's formally known as Sir Patrick Stewart. But Alison Pill, who plays Dr. Agnes Jurati, revealed that the cast affectionately calls him SPS. "Just stop it all, you guys. He's going to be unbearable," joked Marina Sirtis, who returned to the CBS All Access series as Deanna Troi from Star Trek: The Next Generation. "You Picard lot, it took us years to train him." Stewart is actually more fond of another nickname given to him by "somebody at Second City in Chicago": P-Stew.
Lower Decks Is Set In The Next Generation Era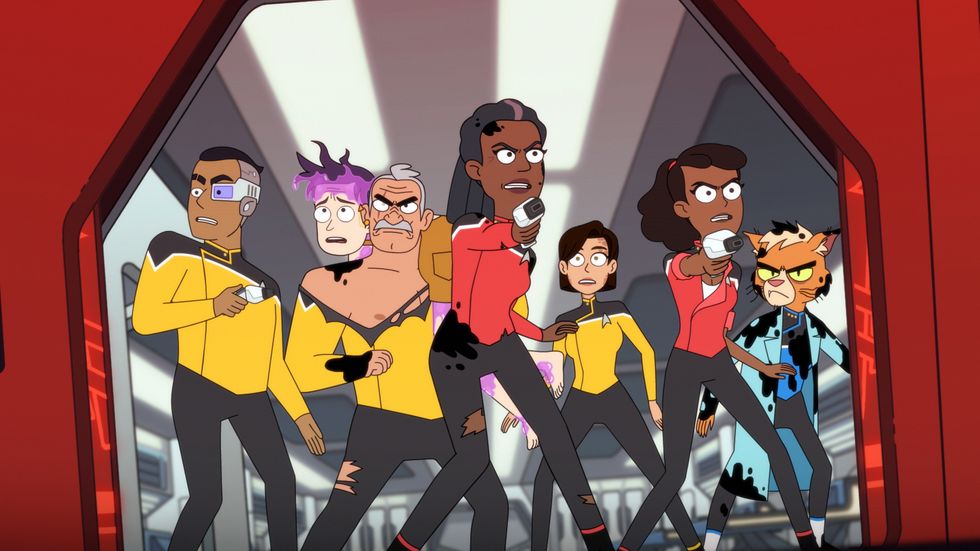 Scene from the first episode of the all-new animated comedy series Star Trek: Lower Decks.
Photo Credit: CBS 2020/CBS Interactive, Inc.
Executive producer Mike McMahan confirms that the irreverent new Star Trek animated comedy takes place "right after the events of (the 2002 film Star Trek: Nemesis) but way before the events of Star Trek: Picard. And while Star Trek: Lower Decks will, says McMahan, "keep all the ethical, science fiction stuff that makes Star Trek 'Star Trek,'" expect some sci-fi silliness—like the Klingon bat'leth accident previewed during the panel. And since McMahan is a former writer and producer of Rick and Morty, we would expect no less.
The Star Trek Universe Is Getting Even More Animated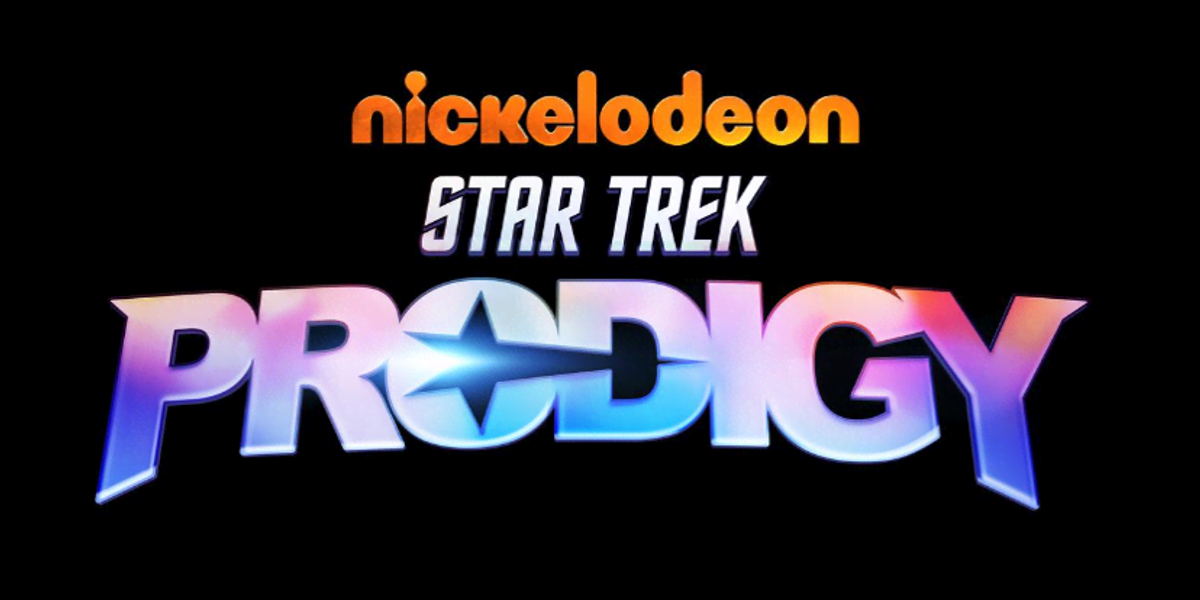 The logo for Nickelodeon's upcoming animated series Star Trek: Prodigy.
Photo Credit: Courtesy of Nickelodeon.
While Star Trek: Lower Decks is the franchise's first comedy—and the first animated offering in 40 years—another Trek toon is coming to Nickelodeon in 2021: Star Trek: Prodigy, about a group of lawless teens who discover a derelict Starfleet ship and use it to search for adventure, meaning, and salvation.
Michael Burnham's Self-Discovery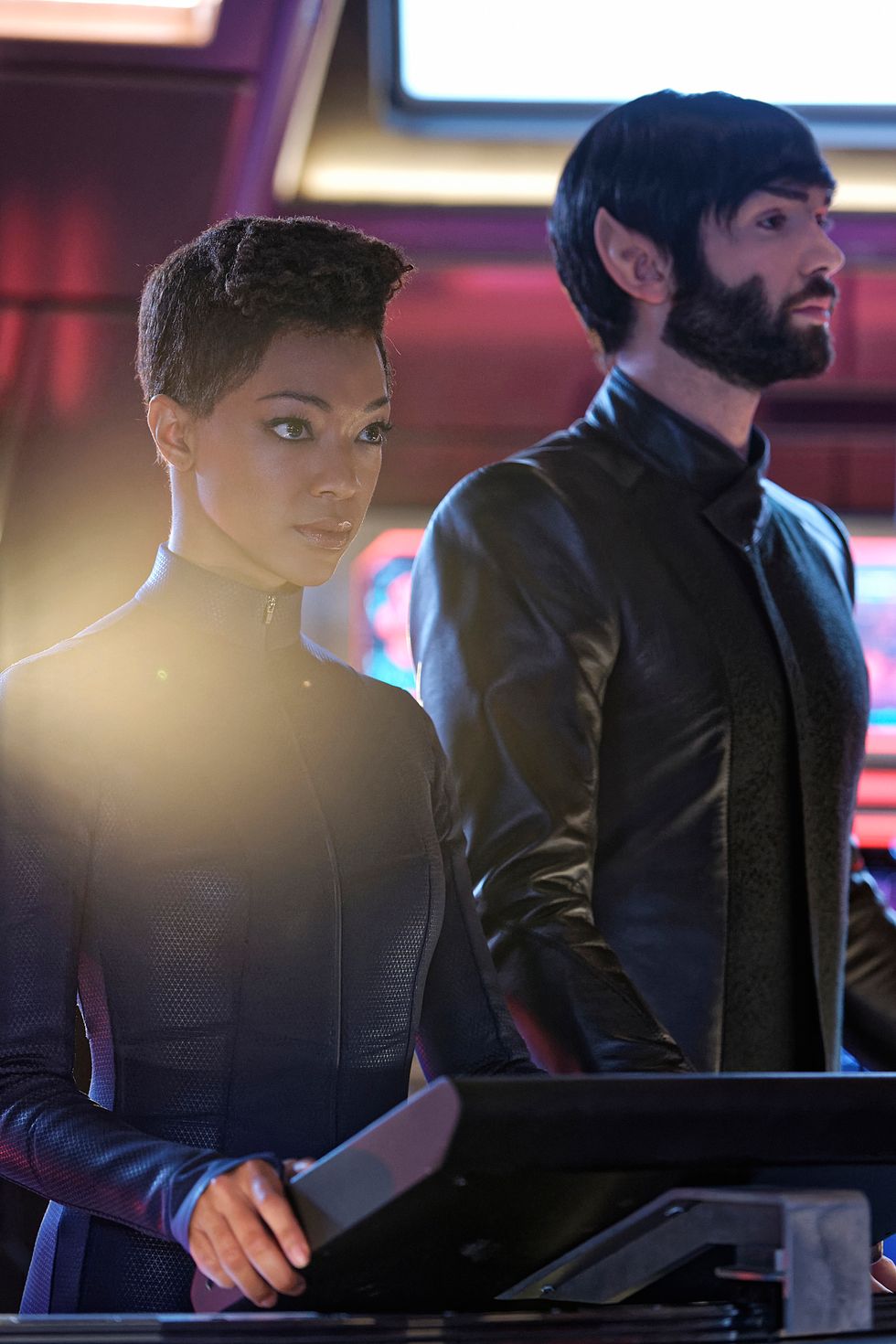 Sonequa Martin-Green as Burnham and Ethan Peck as Spock of the All Access series Star Trek: Discovery.
Photo Credit: Ben Mark Holzberg/CBS.
After performing a socially distant reading of the action-packed Star Trek: Discovery Season 2 finale, complete with never-before-seen storyboards, Sonequa Martin-Green (Michael Burnham) predicts that Season 3 will be "a salvation of sorts." She adds: "[The Discovery crew] in the finale are deciding to sacrifice everything that we have for the future. So, there's the obvious hope that the plan works and even logistically that we land where we're supposed to, that we defeat Control, and that we save the universe. There's also a hope of continuing to discover myself as Burnham...unveiling and finding that perfect, sweet balance between all the forces that wage within me."
Georgiou Is "Really Pissed Off"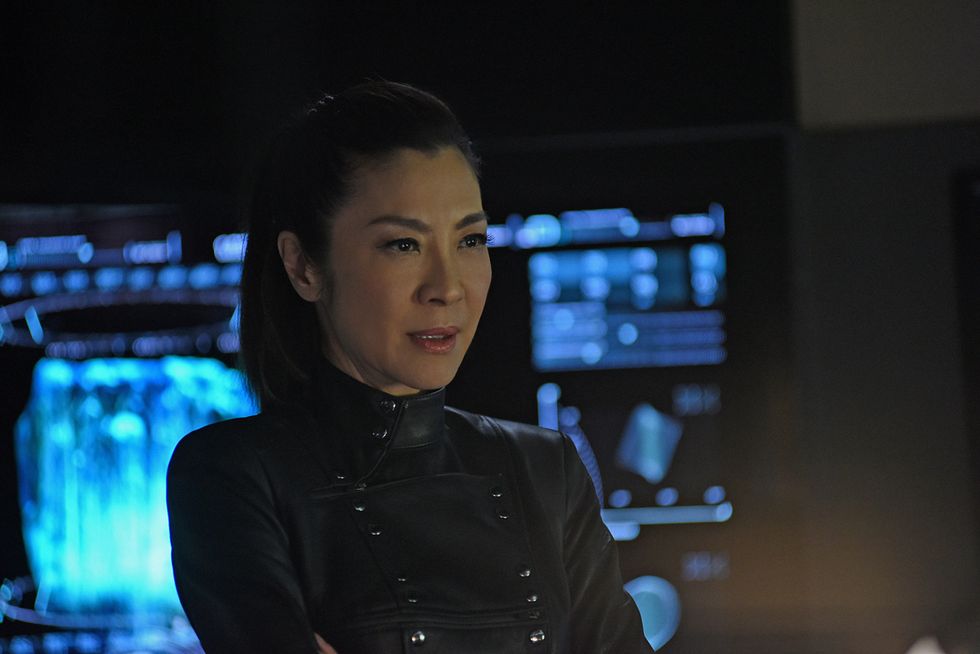 Michelle Yeoh as Georgiou.
Photo Credit: John Medland/CBS.
Now that her character has been pulled into the future, Michelle Yeoh says Philippa Georgiou starts the third season of Star Trek: Discovery "really pissed off," but that she gets over it quickly because "she is a survivor" who always finds her way into adapting. Yeoh marvels at Georgiou's "it" factor: "Power is something that inherently that she has. She doesn't even seek it. She just has it"—which makes her a formidable foe or ally. But Yeoh does issue this ominous warning: "Michael Burnham, don't get in my way."
The Lower Decks Panel Was A Spoiler-Free Zone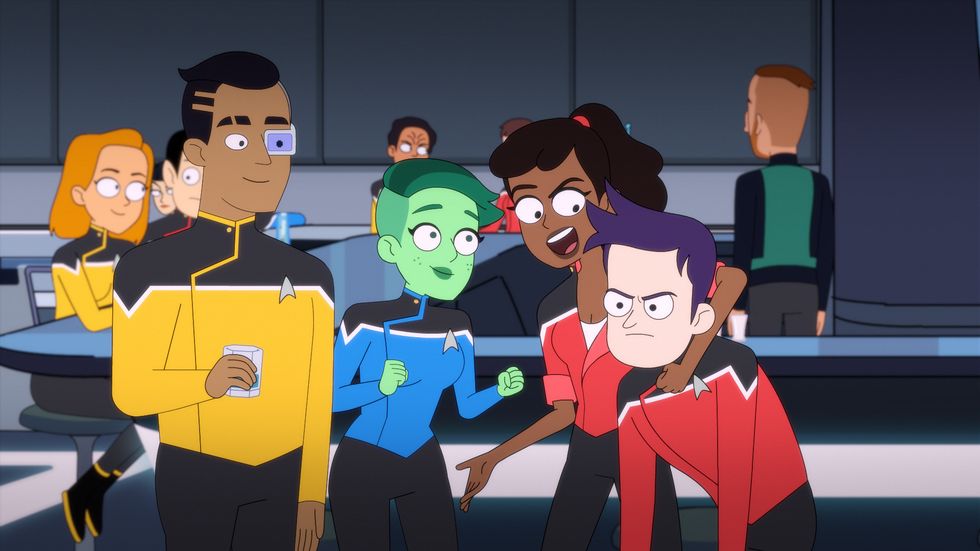 The animated versions of Eugene Cordero as Ensign Rutherford, Noël Wells as Ensign Tendi, Tawny Newsome as Ensign Mariner, and Jack Quaid as Ensign Boimler in Star Trek: Lower Decks.
Photo Credit: CBS 2020/CBS Interactive, Inc.
The Star Trek: Lower Decks cast was humorously bleeped while revealing their favorite moments from the first season, but Jack Quaid (Ensign Boimler) did promise loads of holodeck fun and an episode where we meet Boimler's girlfriend. "This guy, in any kind of romantic scenario, is just hilarious to me."
Who's Number One?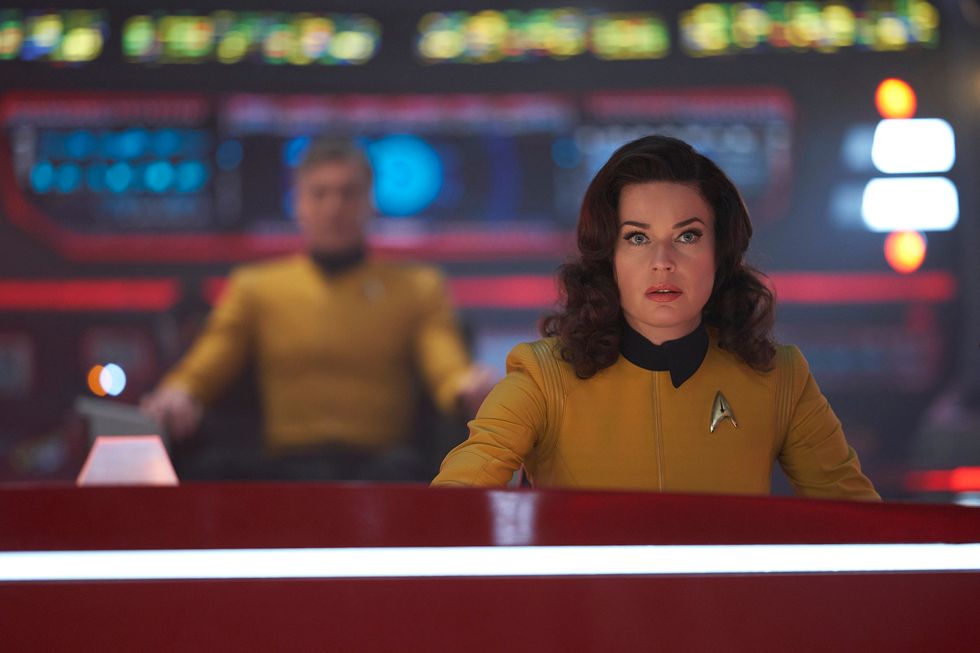 Rebecca Romijn plays Number One on Star Trek: Discovery and the new Star Trek: Strange New Worlds.
Photo Credit: Russ Martin/CBS.
As Trekkies know, Number One refers to a Starfleet captain's trusty second-in-command. Lower Decks EP McMahan pointed out the coincidence that husband-and-wife Jerry O'Connell (in Star Trek: Lower Decks) and Rebecca Romijn (on Discoveryand Strange New Worlds) both play first officers. "We're also very good friends with Jonathan Frakes," the Number One from Star Trek: The Next Generationand Star Trek: Picard, O'Connell said. "When the three of us get together, I really should livestream it for everybody."
Star Trek: Picard, Star Trek: Discovery, and Star Trek: Lower Decksstream exclusively on Paramount+.