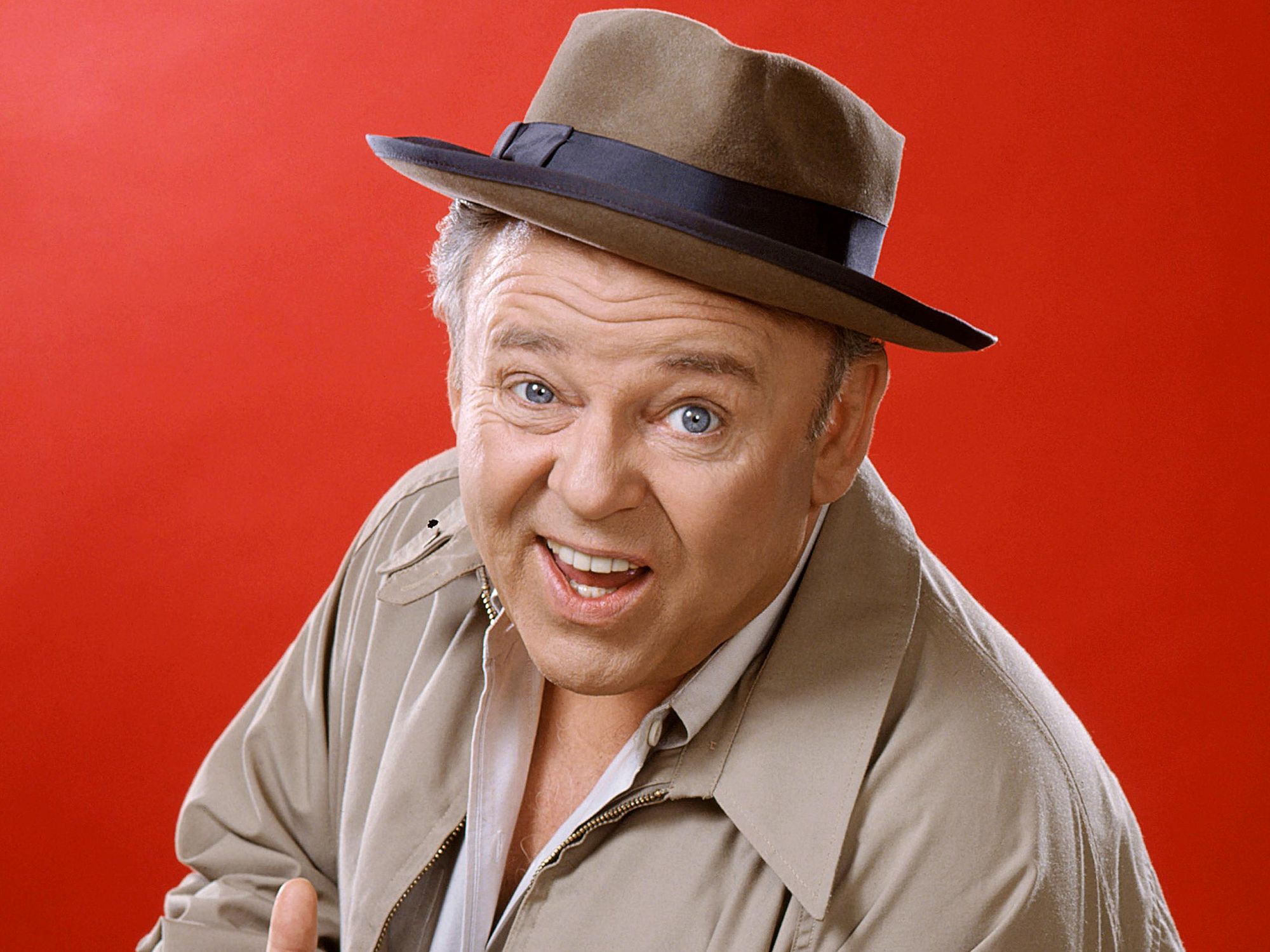 Photo credit: Silver Screen Collection/Getty Images
Those were the days ... A look back at the groundbreaking sitcom that made Archie, Edith, Gloria, and Meathead household names.
By Marc Berman
All in the Family, like any Norman Lear series that followed, represented a turning point in television comedy. "Whether you'll enjoy this new series depends on your ability to laugh at yourself, because Archie Bunker is the embodiment of every ignorant, prejudicial opinion uttered by man," wrote one TV critic.
SUBSCRIBE NOW: Enjoy 4 Digital Plus 2 Print/Digital Issues Of Watch Per Year — For Free!
Rapid Rise in Popularity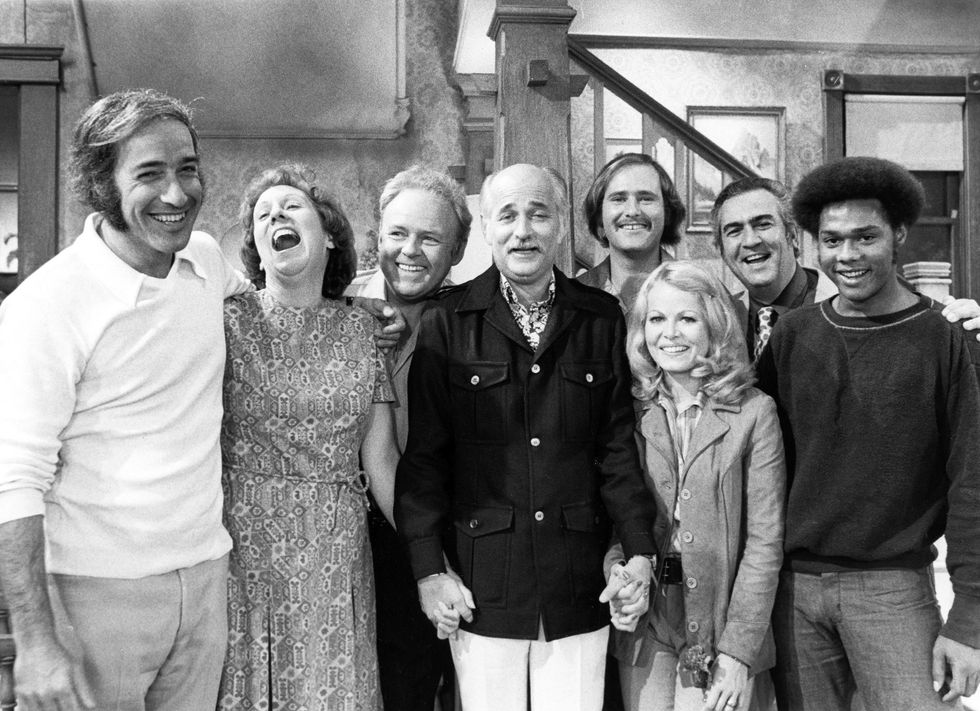 From left: Jean Stapleton (second), Carroll O'Connor (third), Norman Lear (front, center), Rob Reiner (fifth), Sally Struthers (right of center), Mike Evans (right).

Photo credit: CBS/Courtesy Everett Collection
Obviously, viewers did indeed enjoy All in the Family. By Season 2 it was TV's top-rated series, and it remained at the top for five straight years. Based on the U.K. comedy Till Death Us Do Part, the show was videotaped in front of a live studio audience (as were the later Lear comedies) to accentuate the commonality of the Bunker/Stivic family.
But there was nothing common about All in the Family. The show spun off five sitcoms: Maude, The Jeffersons, Archie Bunker's Place, Gloria, and 704 Hauser. Two of those—Maude and The Jeffersons—begat spinoffs of their own: Good Times and Checking In. And All in the Family was the first TV program to earn Emmys for all its principal cast members.
Tackling Taboo Subjects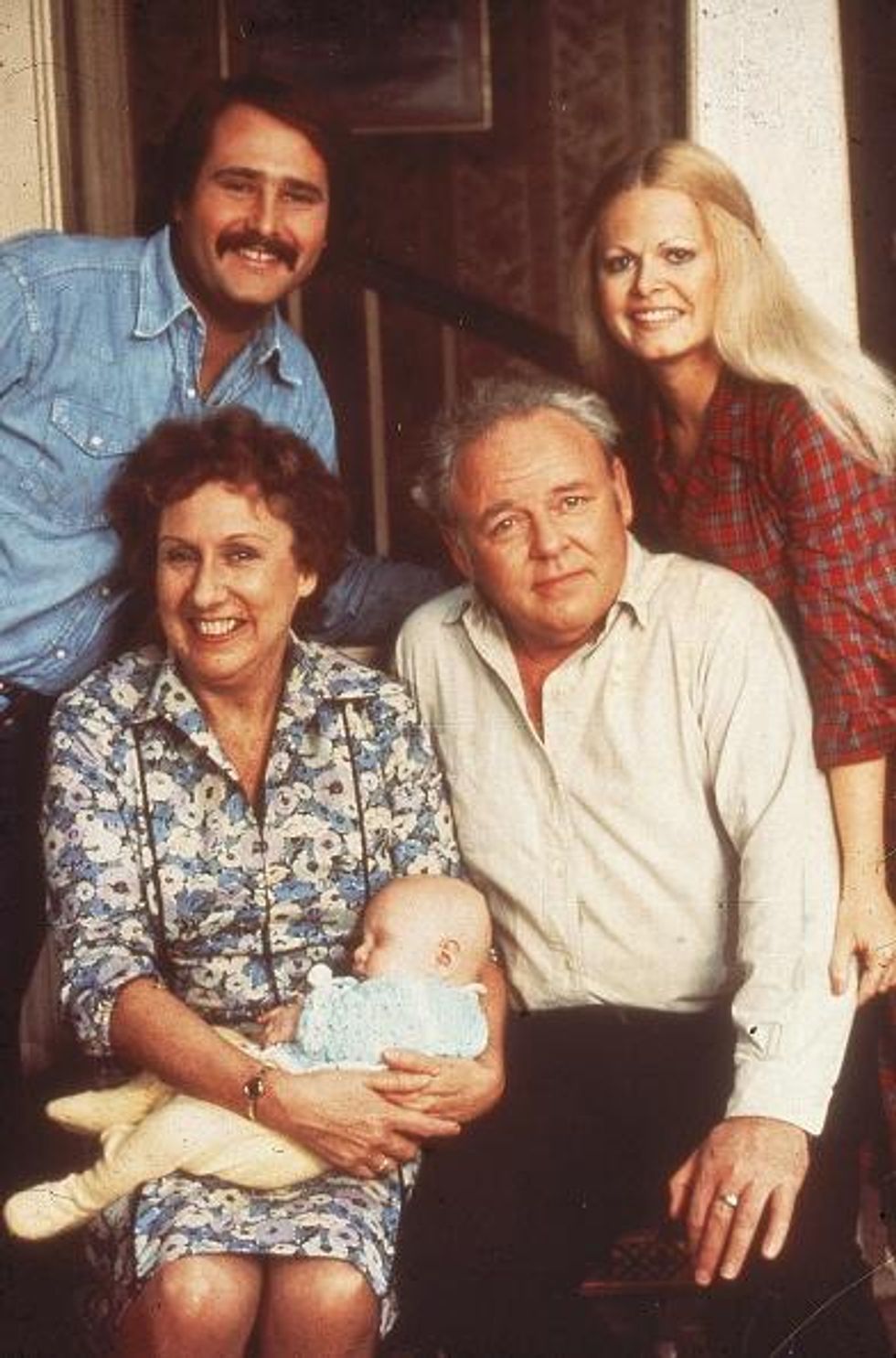 Clockwise from lower right: Carroll O'Connor, Jean Stapleton holding Corey M Miller, Rob Reiner and Sally Struthers.
Photo credit: Fotos International/Getty Images
Not shy addressing issues, All in the Family boldly tackled every then-taboo subject in the book: race relations, feminism, homosexuality, war, religion, menopause, abortion, and gun control, among others. And it did so through the eyes of a working-class family in Queens, New York—Archie (Carroll O'Connor) and Edith Bunker (Jean Stapleton) and Gloria (Sally Struthers) and Michael Stivic (Rob Reiner)—who, unlike the earlier, glossier versions of the typical TV brood, simply felt unflatteringly familiar.
TV Firsts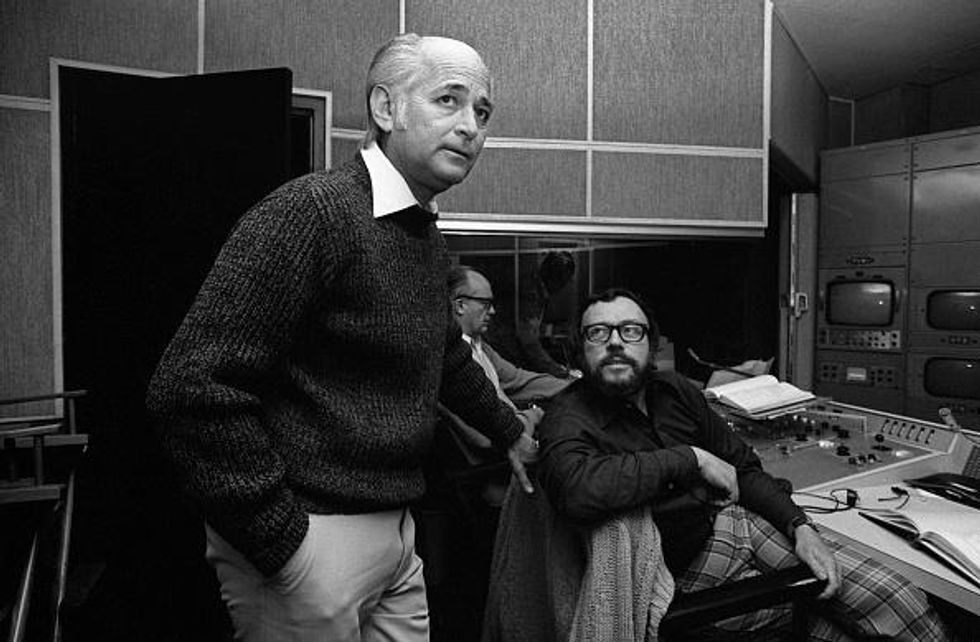 Lear in the control room as he and his crew work on All in the Family.
Photo credit: Brian Hamill/Getty Images
According to Norman Lear, many of All in the Family's catchphrases, such as "Meathead," "Dingbat," and "Stifle," were inspired by hearing the same words from his father. The sitcom was the first to feature a gay character: Philip Carey as Steve in the 1971 episode titled "Judging Books by Covers." And, not surprisingly, it featured the first toilet flush ever heard on television.
SUBSCRIBE NOW: Enjoy 4 Digital Plus 2 Print/Digital Issues Of Watch Per Year — For Free!
Factoids About All in the Family
Originally airing in the Tuesday 9:30 p.m. ET half-hour slot on CBS, All in the Family replaced the John Forsythe sitcom To Rome with Love. And it followed country-themed variety hour Hee Haw. Talk about lack of compatibility!
Mickey Rooney was an earlier choice as Archie Bunker, but he balked at playing a bigot. Harrison Ford would have been Mike Stivic had he also not felt that Archie was too offensive. And Penny Marshall, pre–Laverne & Shirley and married to Rob Reiner at the time, was considered for Gloria.
When Carroll O'Connor temporarily exitedAll in the Family in the middle of Season 5, there were talks of killing off Archie and having James Cromwell (Babe, Six Feet Under) as his friend Stretch Cunningham move in with the Bunkers. Once O'Connor's contract dispute was resolved, however, Cromwell made only one additional appearance as Stretch.