Photo Credits: Philippe Antonello/CBS; Kharen Hill/CBS; Kimberley Ross/CBS
Before you watch Season 2 of Blood & Treasure, learn all about the making of Season 1.
By Jeanne Dorin McDowell
Three continents. Four countries. 150 days of shooting. The making of CBS' action-adventure series, Blood & Treasure, was as adventurous as the show itself.
The rain pouring down on Tangier late one afternoon left the cast and crew of Blood & Treasure ankle-deep in water and up to their ears in an unexpected production quandary.
The Moroccan coastal city was supposed to double for balmy Havana in CBS' summer action-adventure series about Danny McNamara (Matt Barr), a brilliant (and sexy) antiquities expert, and Lexi Vaziri (Sofia Pernas), a cunning (and sexy) art thief, who team up on a global hunt for a ruthless terrorist and stolen antiquities.
Season 2 of Blood & Treasure premieres July 17 with new episodes every Sunday on Paramount+.
SUBSCRIBE NOW: Enjoy 4 Digital Plus 2 Print/Digital Issues Of Watch Per Year — For Free!
Chase scene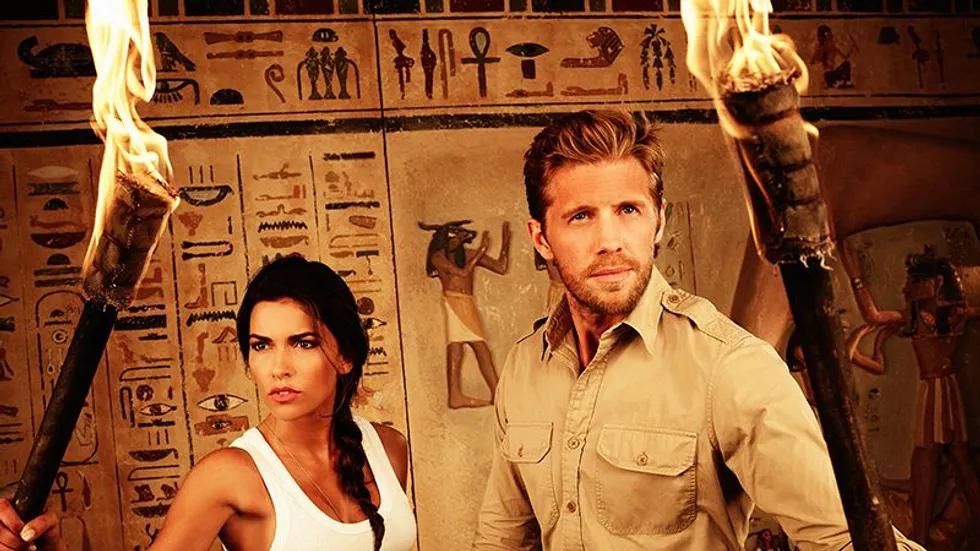 Sofia Pernas and Matt Barr hold a torch for ancient treasures.
Photo Credits: Andrea Pirrello/CBS
In the scheduled scene, the two lead characters—played by Matt Barr and Sofia Pernas—were to be chased by dangerous mercenaries through the bustling medina. But with flooding in the narrow streets and daylight fading fast, the scene was anything but sunny.
Getting creative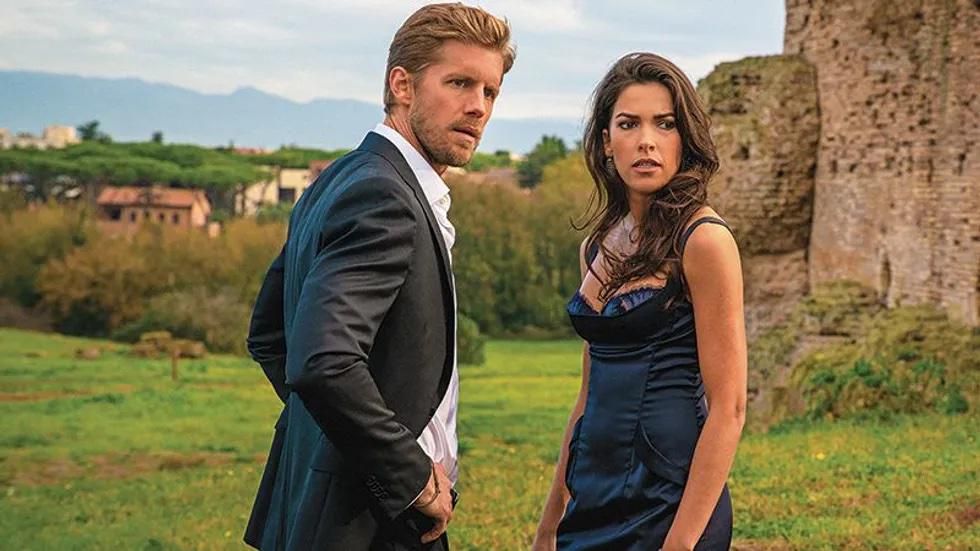 Blood & Treasure stars Matt Barr and Sofia Pernas on location in Rome.
Photo Credits: Mohammed Kamal/CBS
"We had to be really creative," remembers Blood & Treasure executive producer and co-creator Stephen Scaia. "We ended up shooting a different scene where Danny and Lexi land safely in the gardens of Vatican City after parachuting out of a plane."
"Our set decorator and prop person found a 4-by-4-foot square of Astroturf and stapled it to the ground, then hung silk curtains around the area to keep out the rain. You would never know that it was shot in the middle of a rainy Tangier marketplace. Then we went back the next day when the weather had improved and filmed the original chase scene."
Inclement weather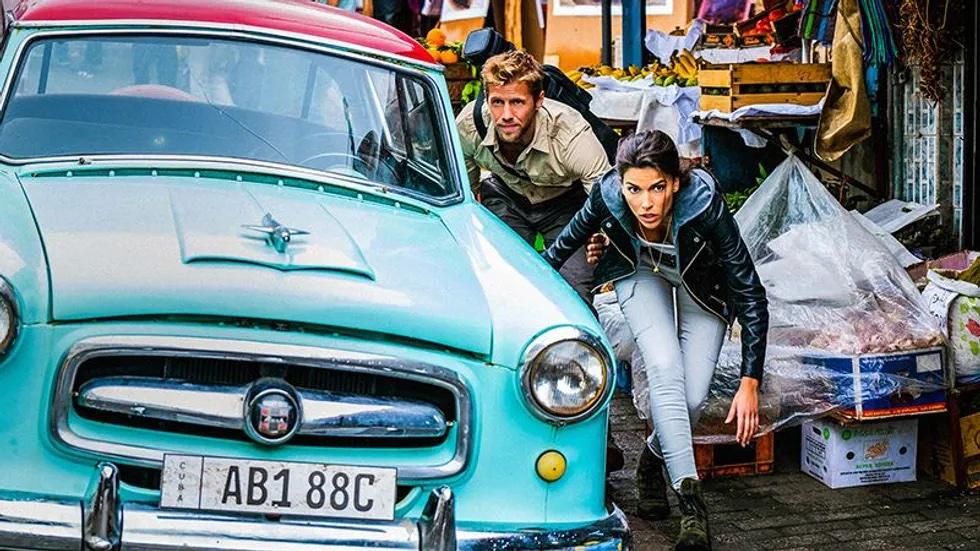 Matt Barr as antiquities expert Danny McNamara and Sofia Pernas as art thief Lexi Vaziri in Blood & Treasure.
Photo Credits: Didier Baverel/CBS
Dealing with inclement weather, rescheduled scenes, cameras that needed to be carried up steep mountain roads, and building a 40-foot replica of Egypt's Great Pyramid of Giza on the outskirts of Marrakesh was all in a day's work for the intrepid production team of Blood & Treasure.
Even by network television standards, it was an enormous production, filming for 150 days in four countries across three continents; on one day alone in Morocco, there were 528 people on the call sheet.
And at times, says executive producer and showrunner Taylor Elmore with a laugh, "It was almost like the world was trying to stop us from shooting. But in the end, we came in on time and on budget."
Global adventure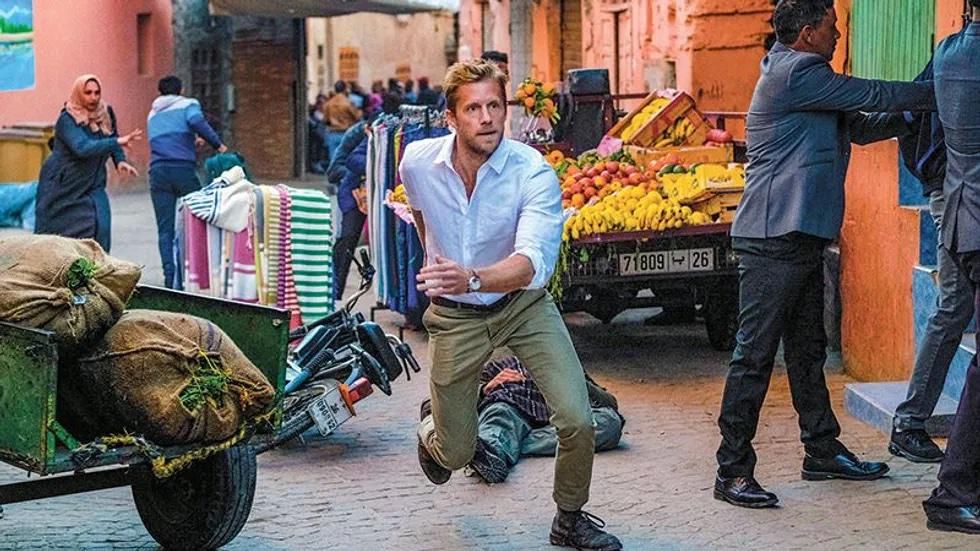 Matt Barr gets in on the action at a market in Marrakesh.
Photo Credits: Philippe Antonello/CBS
From its inception, Blood & Treasure was conceived as a rip-roaring global adventure, filled with exotic locales, romance, and the delicate balance of comedy and drama that harkens back to '80s films like Raiders of the Lost Ark and Romancing the Stone.
Scaia and his writing partner, co-creator Matthew Federman, grew up watching these movies and were deeply influenced by the genre, later going on to write four treasure hunting pilots of their own.
"We were the generation raised on Lucas and Spielberg," says Federman, who also serves as an executive producer of Blood & Treasure. "We like action, we like life-and-death stakes, but also a mix of rich and poor people and violence and beauty. A treasure hunting show allows us to tell these stories."
Contemporary feel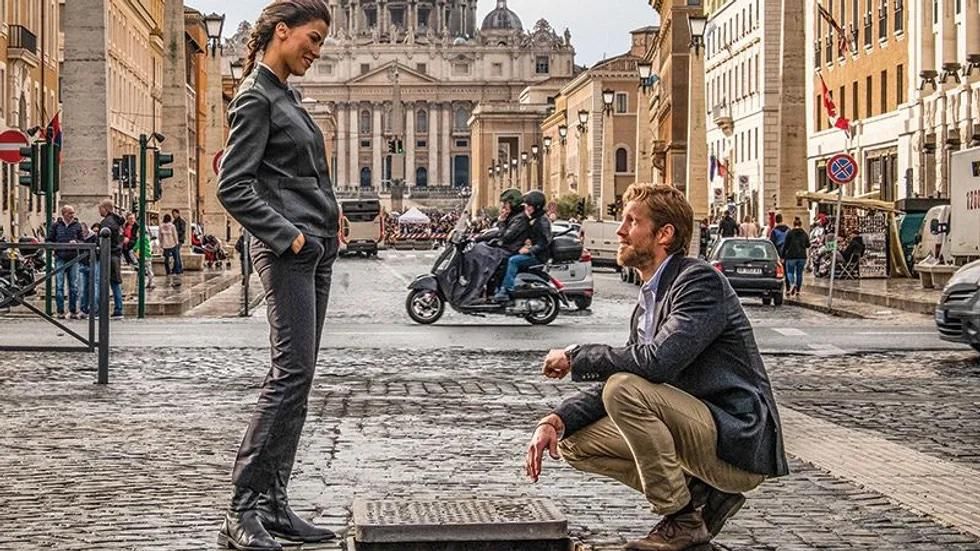 The production of Blood & Treasure took the cast and crew to Canada, Morocco, and Italy, which also stood in for locations in Egypt, Saudi Arabia, Switzerland, France, and Cuba.
Photo Credits: Kimberley Ross/CBS
Elmore, who had been hired by CBS to develop a new series, knew of the writing duo's interest in action-adventures and treasure hunting shows when he approached them with the kernel of an idea for Blood & Treasure.
He mentioned that he had been reading about terrorist groups in the Middle East who were stealing "blood" antiquities to finance crime and international terrorism, and felt that incorporating this storyline would add a contemporary feel to the show. "We hadn't thought of that angle, but it made sense," recalls Federman.
The writers then started to consider how to tell the story with gravitas without sacrificing the fun, while introducing characters and locations all over the world. "It was a big puzzle that had to be worked out, and the relationship between Danny and Lexi had to feel organic," says Federman. "It was a lot to juggle at once."
Recreating scenes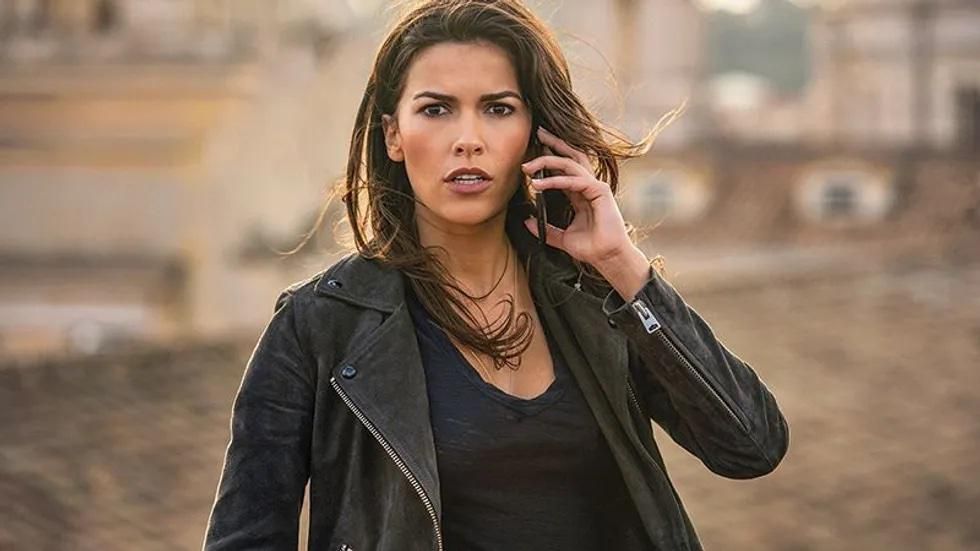 Sofia Pernas finds her calling as a globe-trotting criminal with an eye for the finer things in life.
Photo Credits: Andrea Pirrello/CBS
Production on Blood & Treasure began in Montreal, while location managers were deployed throughout Italy and Morocco to scout dozens of sites in the months before the team arrived. They met with local officials to navigate laws and ordinances (in Italy, for example, filming is prohibited within close proximity of monuments). Because the global chase is an intrinsic part of the show, the strategy was to find locales that could be used for filming multiple scenes.
Montreal, where the cobblestone streets and 17th-century cathedrals are reminiscent of Old-World Europe, doubled for Geneva and Paris. In other scenes, its interconnected underground tunnels were used to replicate the catacombs of Paris, an underground black-market bazaar in Rome, and a secret chemical weapons facility in Eastern Europe. The dusty streets of Marrakesh stood in for Egypt, Iran, and Saudi Arabia.
Fight scenes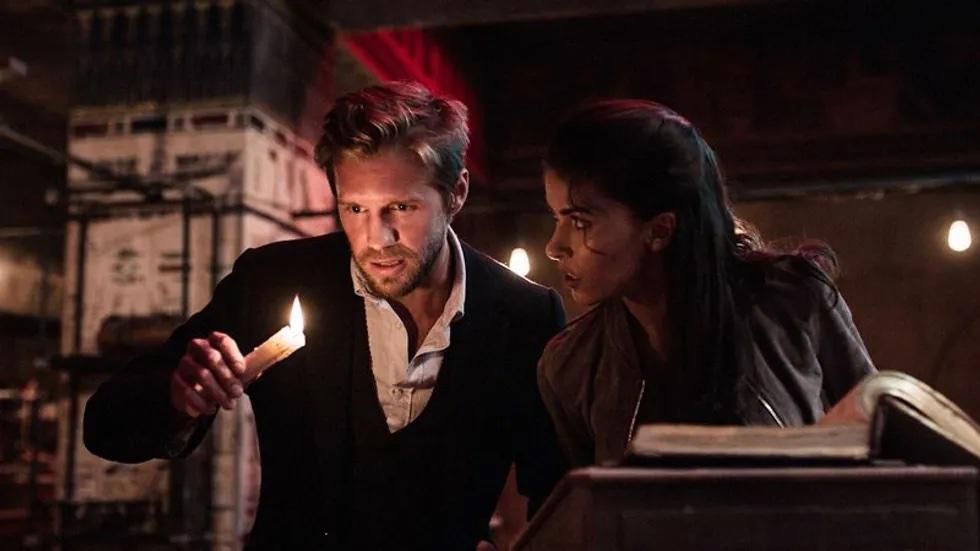 A vital clue leads Danny McNamara (Matt Barr) and Lexi Vaziri (Sofia Pernas) to an Austrian castle where the Germans may have hidden Cleopatra's sarcophagus during World War II.
Photo Credits: Best Possible Screen Grab/CBS
But even settling on the locations didn't diminish the complications. Fight scenes had to be staged in the middle of narrow streets filled with tourists, and large cameras and lights had to be maneuvered into dark areas with little room.
Near Turin, Italy, Castel Savoia in the small village of Gressoney-Saint-Jean in the southern Alps was transformed into a Bavarian castle for a flashback scene to World War II when it was a Nazi stronghold ("You can't have a treasure hunting movie without Nazis," jokes Scaia). This necessitated the construction of a base camp at the foot of the mountain, where trucks were staged to transport equipment, and actors, up winding mountain roads.
Filming permissions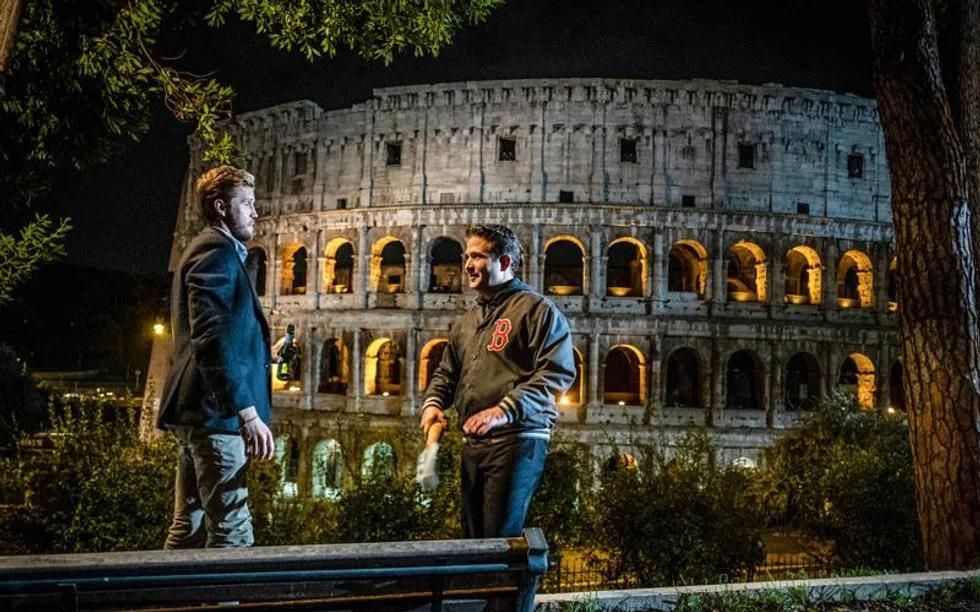 Matt Barr and Blood & Treasure co-star Mark Gagliardi (Father Chuck) shoot a scene in front of the iconic Colosseum in Rome.
Photo Credits: Kimberley Ross/CBS.
And, of course, there was the weather, which, for a production mostly shot in the open, cast daily uncertainty. In Rome, fierce seasonal sirocco winds forced the closing of a park across the street from the Colosseum, where a scene was set of Danny and his best friend from home playing baseball against the backdrop of the ancient Roman amphitheater.
Rather than scratch the scene, producers negotiated with local officials and worked out a deal—the Blood & Treasure team cleaned up the trees that had fallen and cleared all the debris in exchange for permission to film.
"The park was so perfect I couldn't imagine the scene being anywhere else," Scaia says. "Our location managers were able to move heaven and earth to get us to shoot. They opened the park for us. People cheered."
Creative problem solving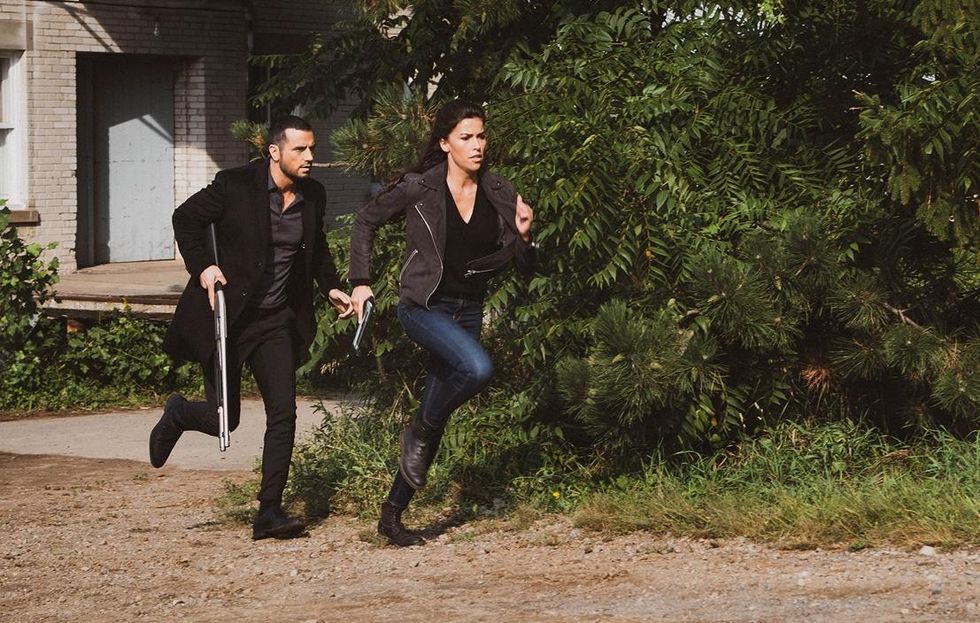 Danny McNamara and Lexi Vaziri are always on the move
Photo Credits: CBS
Such creative problem solving, along with enthusiasm and resolve, ultimately guaranteed that the global adventure series would be a winner. "We had a great team of people trying to make it work," says Elmore. "A TV show like this can be done, all over the world. We had the freedom to make mistakes and the faith to know we could handle them. It turned out to be a blast."
Originally published in Watch Magazine, July-August 2019.
Season 2 of Blood & Treasure premieres July 17 with new episodes every Sunday on Paramount+.
SUBSCRIBE NOW: Enjoy 4 Digital Plus 2 Print/Digital Issues Of Watch Per Year — For Free!