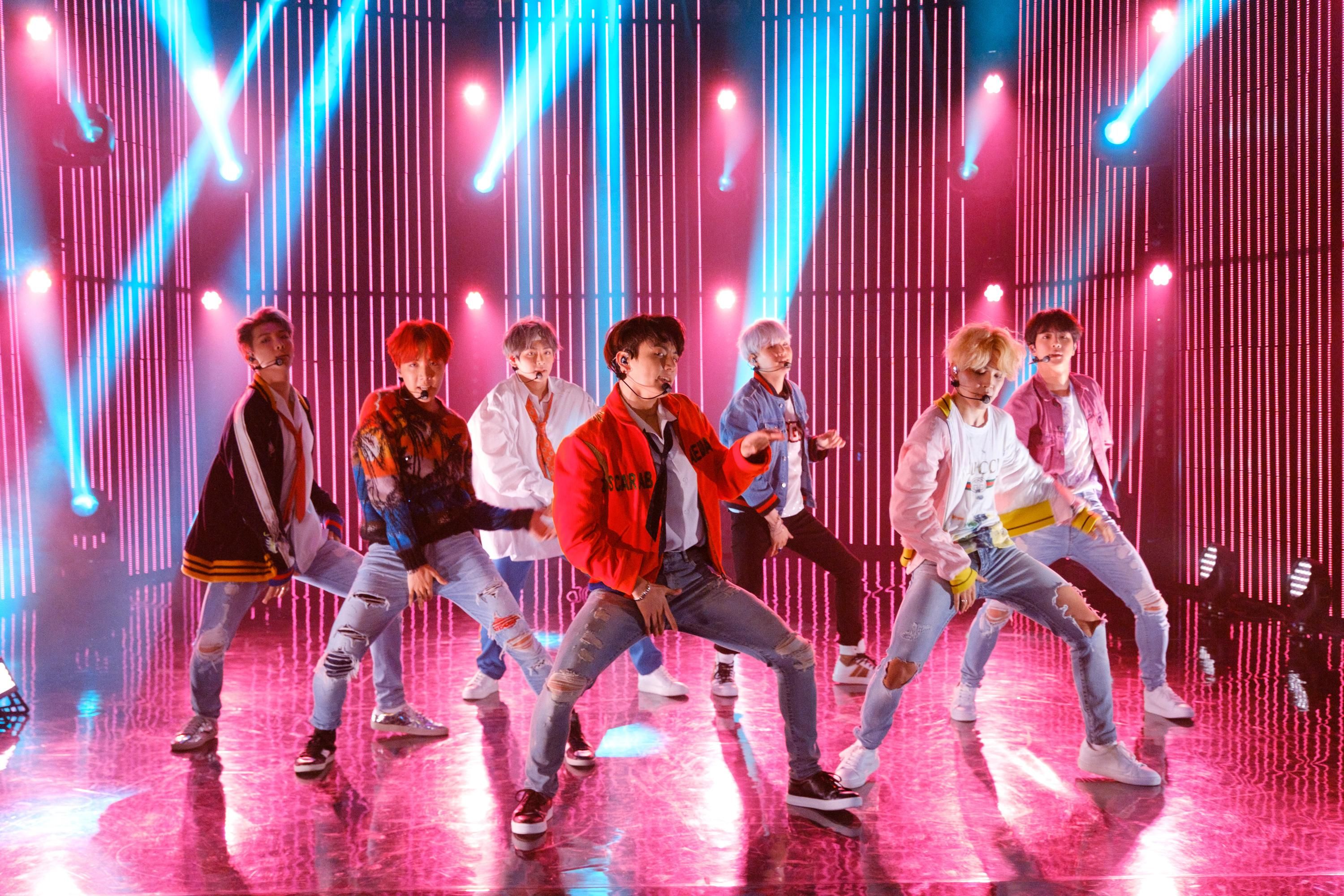 Photo Credit: Terence Patrick/CBS
Relive the K-Pop supergroup's most memorable moments with Stephen Colbert and James Corden!
By Nate Millado
You only need three letters to elicit decibel-breaking screams from audiences: BTS, comprised of members J-Hope, Jimin, Jin, Jungkook, V, RM, and Suga. The insanely popular boy band from South Korea has made frequent pit stops at a pair of places, en route to world domination: The Late Show with Stephen Colbert and The Late Late Show with James Corden.
Watch rounds up the K-Pop supergroup's greatest hits on CBS Late Night, including "Dynamite" performances and endearing interviews. (You're welcome, BTS ARMY.)
DISCOVER MORE: Check Out The Latest Digital Issue Of Watch—Available Now!
The Late Show with Stephen Colbert airs Weeknights at 11:35/10:35c, followed by The Late Late Show with James Corden at 12:37/11:37c on CBS and streams on Paramount+.
---
"Dynamite"
Whaddya do when you can't physically go to The Late Late Show during a global pandemic? Simple—you bring The Late Late Show set to you. Which is what BTS did in November 2020 for this special performance of their first all-English hit, "Dynamite." The Bangtan Boys segue seamlessly from an airplane hangar to the very familiar Studio 56.
That's GRAMMY-Nominated BTS To You!
Fresh off their first GRAMMY nomination—Best Pop Duo/Group Performance for "Dynamite"—BTS sat down virtually with James Corden, who pointed out how differently each member reacted to the big news. While most of 'em hoot 'n' hollered upon hearing their name, V sat stoic-faced on the couch. "In my case, I just couldn't believe it." Meanwhile, J-Hope was MIA: "Actually, I'm not in the video because I was sleeping. So I cried when I woke up."
"Life Goes On"
Christmas came early for the ARMY in November 2020, when BTS gifted fans with a performance of "Life Goes On" from a cozy holiday set.
BTS Mania At The Ed Sullivan Theater
In May 2019, BTS and Stephen Colbert paid homage to the last group of mop-topped heartthrobs that graced the stage at the Ed Sullivan Theater. (The Beatles...ever hear of them?)
"Boy With Luv"
Oh my, my, my! The impeccably dressed supergroup shows off its fancy footwork with a B&W performance of the "Map of the Soul" earworm.
Where Does BTS Want To Be In 10 Years?
After Colbert reveals that BTS is the first group to release three #1 albums in a single year since The Beatles, the adorable septet launches into an impromptu rendition of "Hey Jude."
"Make It Right"
BTS may be famous for its intricate choreo, but the boys also know how to command a stage when simply sitting on stools, as this May 2019 serenade shows.
Flinch w/ BTS
Throwback to December 2017: It's all fun and games at The Late Late Show, as James Corden fires fruit at incredible rates of speed at BTS (protected by plexiglass). Which members will "Flinch"?
"Black Swan"
In January 2020, a black-suited-and-barefoot BTS debuted "Black Swan" for the first time on television—with a haunting ultraviolet forest backdrop! The ARMY lost their collective minds on Twitter: "I was NOT ready for this," a fan posted. "The choreography was just next level perfect. The song, the moves, the vocals EVERYTHING was stunning."
Hide-and-Seek With BTS And Ashton Kutcher
The Seoul sensations are so sought-after, they're probably used to hiding from paparazzi—but can they hide from James Corden and Ashton Kutcher? After they scurry to their hiding places around Studio 56, Corden and Kutcher seek out the septet. (First one to find four BTS members wins!)
"Boy with Luv" In Quarantine
BTS sure knows how to quarantine in style! The singing-rapping-dancing talents saved us from 2020 with this pandemic-era performance of "Boy With Luv!"
From Your Site Articles
Related Articles Around the Web