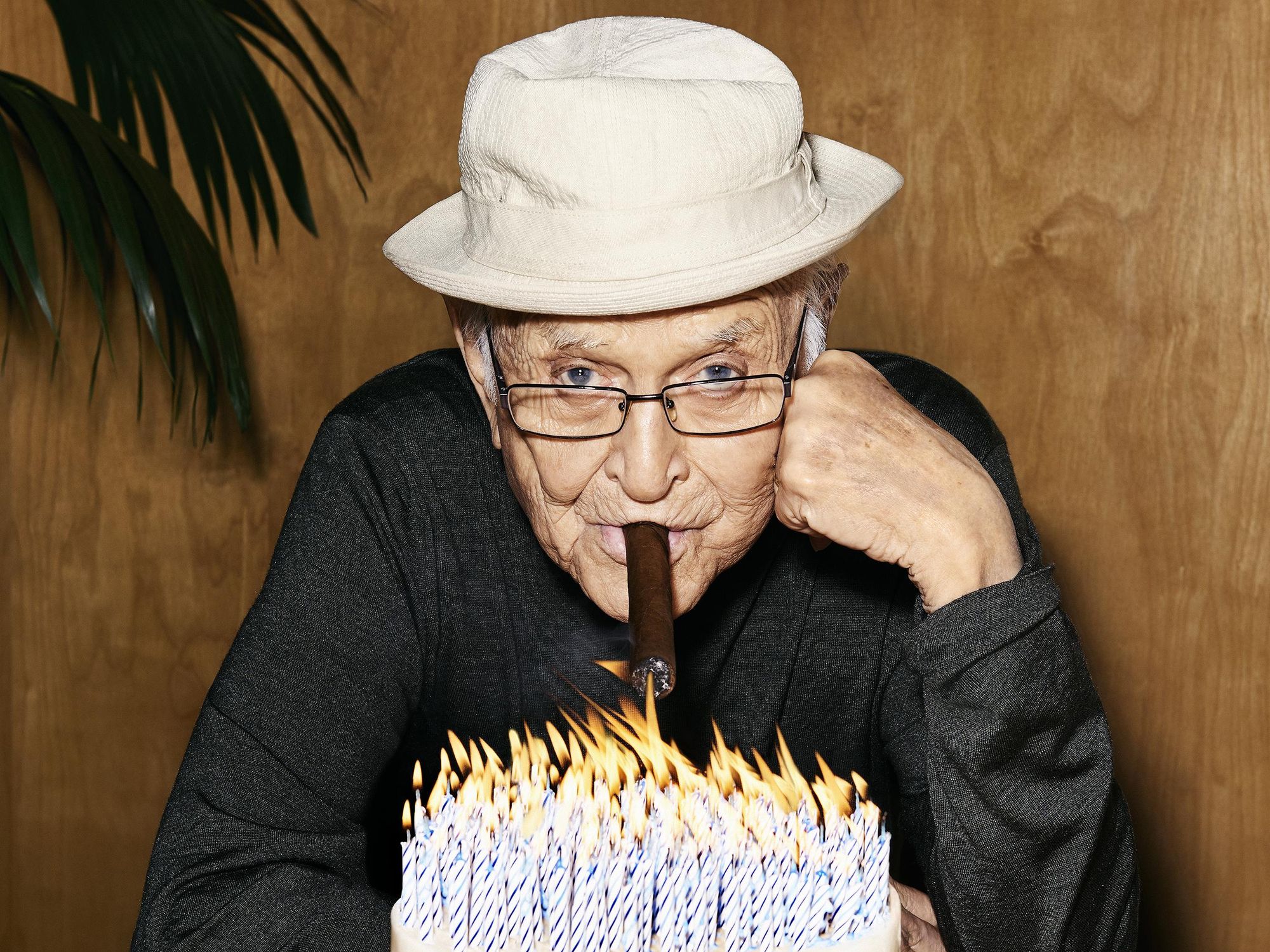 Photo credit: Peter Yang / AUGUST
Prolific producer Norman Lear is still making hits and history as he turns 100.
By Marc Berman
When you think of Norman Lear, one television series probably comes to mind first: All in the Family. But then there's Sanford and Son. And Maude. And Good Times, The Jeffersons, and One Day at a Time. No other producer in television history, past or present, has dominated the comedy genre like he has.
At a time when comedies like Here's Lucy, The Beverly Hillbillies, Family Affair, and Mayberry R.F.D. and TV families like the Bradys and the Partridges were the norm, Lear stepped in and created a place where American culture and social issues were brought to the forefront. And he did it through the voices of his classic characters: Archie Bunker (Carroll O'Connor), Maude Findlay (Bea Arthur), George Jefferson (Sherman Hemsley), Florida (Esther Rolle) and James Evans Sr. (John Amos), Ann Romano (Bonnie Franklin), and countless others.
SUBSCRIBE NOW: Enjoy 4 Digital Plus 2 Print/Digital Issues Of Watch Per Year — For Free!
Holding Up a Mirror to Society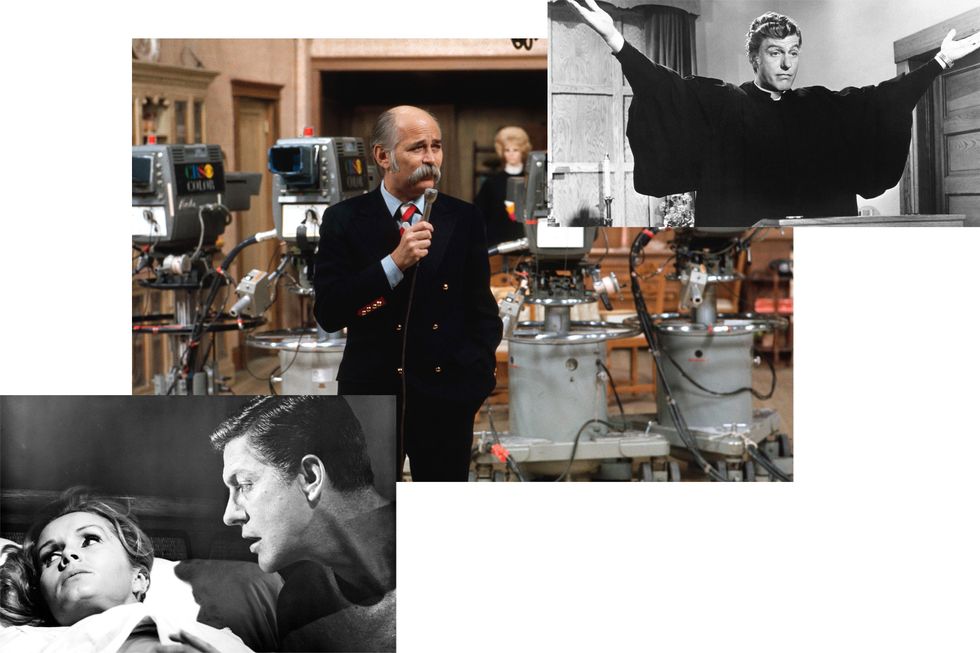 From L-R: Debbie Reynolds and Van Dyke in a scene from Divorce American Style; Norman Lear on the set of All in the Family; Dick Van Dyke in 1971's Cold Turkey.
Photo credits: Columbia Pictures/Getty Images; CBS/Courtesy Everett Collection; Courtesy Everett Collection
Minus the traditional rose-colored sitcom glasses, Lear "held up a mirror to American society and changed the way we look at it," noted President Bill Clinton when presenting Lear with the National Medal of Arts in 1999. "His departure from traditional, two-dimensional television characters was risky. It showed the enormous respect he has for the judgment, the sense, and the heart of the American people."
Unlike the then-innocence of sitcom storytelling, where a happy ending was a prerequisite for an episode of any comedy, Lear built a TV world reflective of the real world. He brought taboo subjects into American homes, provoking conversation and thought. And what you saw in a Norman Lear sitcom was often what you, the viewer, were experiencing and could relate to. It felt real.
Big Screen Segue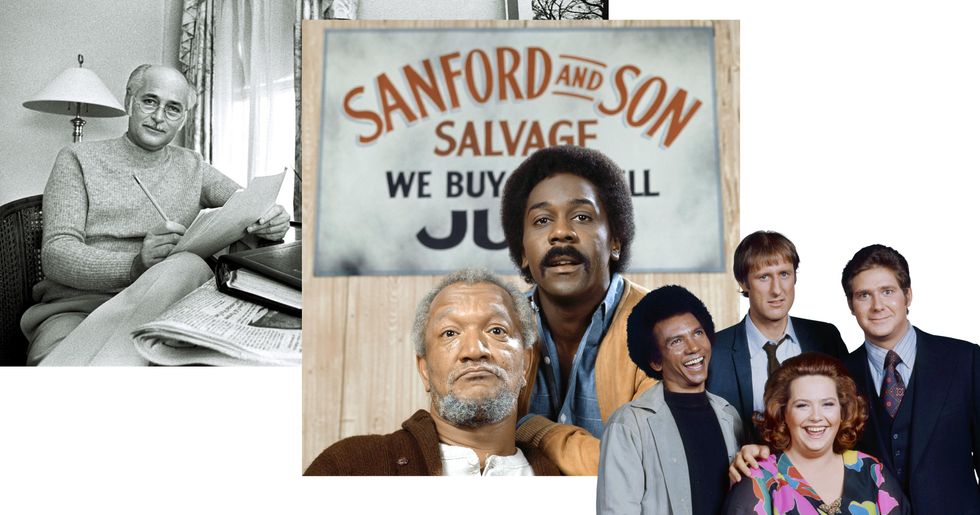 From L-R: Lear photographed in New York in 1975; Redd Foxx and Demond Wilson of Sanford and Son; From left: Al Freeman Jr., James Cromwell, Richard Masur, and Conchata Ferrell of Hot L Baltimore.
Photo credits: Brian Hamill/Getty Images; NBCUniversal via Getty Images; ABC via Getty Images
Lear began his television career in the 1950s, writing sketches for the TV appearances of Dean Martin and Jerry Lewis, Dan Rowan and Dick Martin, among others. He produced episodic television for personalities like Martha Raye, Henry Fonda, Andy Williams, Celeste Holm, and Tennessee Ernie Ford. He and then partner Bud Yorkin created Tandem Productions in the 1950s. He segued onto the big screen as the writer and producer for entries like Divorce American Style in 1967 (which resulted in an Academy Award nomination for Best Original Screenplay) and Cold Turkey in 1971, both starring Dick Van Dyke.
While Lear in the late 1960s began preparations for a sitcom featuring a blue collar family, it took three years (and two failed pilots for ABC) to get All in the Family on the air on CBS. And it took three Emmy Awards in that first season (including Outstanding Comedy Series) to get noticed.
A Few Misses and Some Cult Classics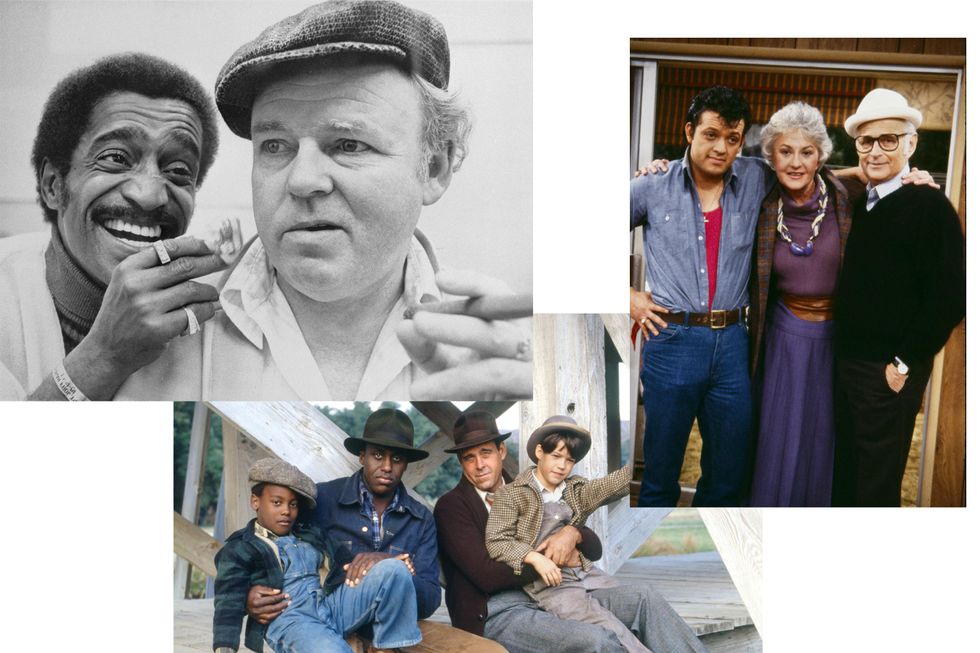 From L to R: Sammy Davis Jr. and Archie Bunker (Carroll O'Connor) on All in the Family; the cast of Palmerstown, U.S.A.; Paul Rodriguez, Bea Arthur, and Lear behind the scenes of a.k.a. Pablo.
Photo credits: Bettmann Archive; CBS via Getty Images; ABC via Getty Images
Naturally, Lear had some misses along the way, including comedies All's Fair, Apple Pie, Hot L Baltimore, a.k.a. Pablo, and Sunday Dinner, and family drama Palmerstown, U.S.A. But he also developed the cult favorite Mary Hartman, Mary Hartman for late-night syndication. (TBS has greenlighted an upcoming reboot with Schitt's Creek's Emily Hampshire as the modern-day version of Mary Hartman.)
Additionally, Netflix has ordered an animated reboot of Good Times. Lear's Live in Front of a Studio Audience specials with Jimmy Kimmel (including recreations, to date, of episodes from All in the Family, The Jeffersons, Good Times, The Facts of Life, and Diff'rent Strokes) won the Emmy for Outstanding Variety Special (Live) in 2019 and 2020. And the recent reboot of One Day at a Time on Netflix, with three generations of a Cuban American family at the center, further accentuated the value and the importance of the topical style of Norman Lear comedy storytelling.
Comedy in Common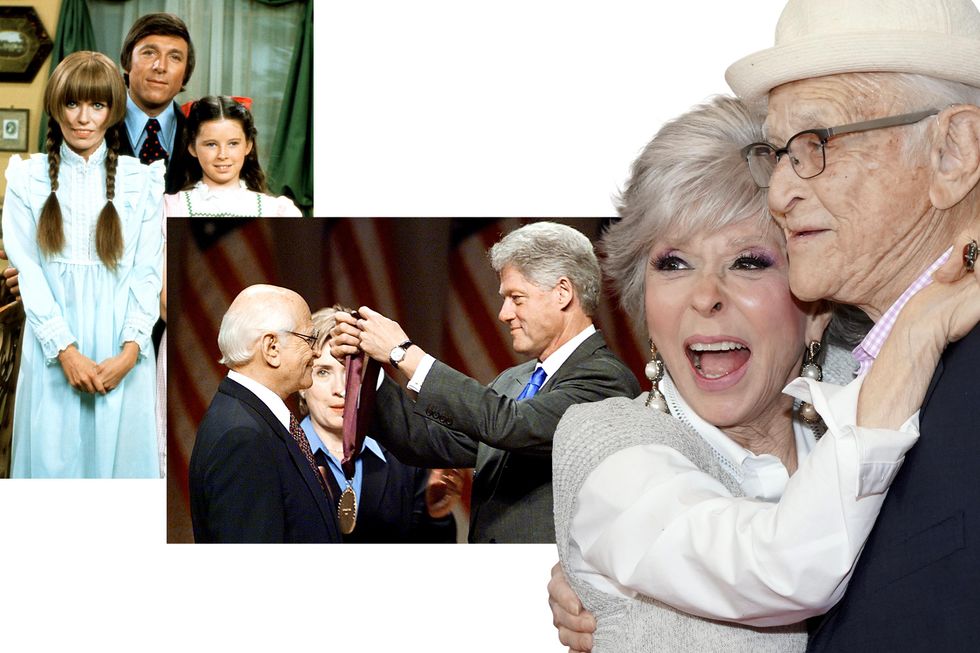 From L to R: The cast of Mary Hartman, Mary Hartman; President Bill Clinton and First Lady Hillary Clinton award Lear the 1999 National Medal of Arts; Rita Moreno and Lear
Photo credits: Courtesy Everett Collection; Stephen Jaffe/AFP via Getty Images; Rachel Luna/Getty Images
"I emphasize the common humanity. To laugh at them and live with them for a half hour is to share in their humanity," he said in 2017. Issues change over the decades, too, but humor remains a shared response, even in difficult situations, "because the foolishness of the human condition is a constant. It doesn't go away."
As Lear hits the grand 100-year mark, we celebrate a man who dared to be different.
SUBSCRIBE NOW: Enjoy 4 Digital Plus 2 Print/Digital Issues Of Watch Per Year — For Free!