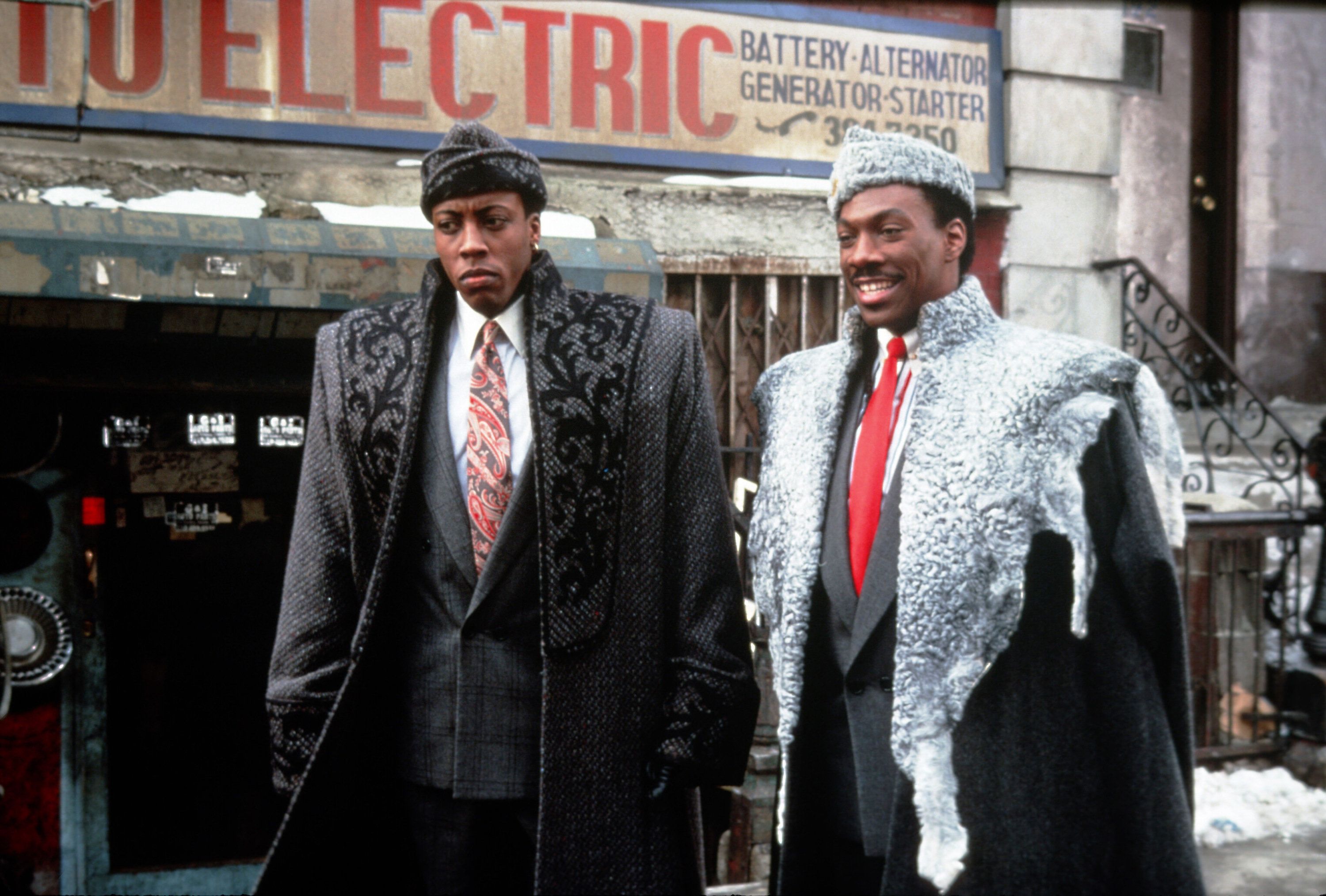 Photo Credit: © 2020 Paramount Pictures Corporation. All rights reserved.
Eddie Murphy's royal rom-com is the latest CBS Sunday Night Movies selection from the Paramount Pictures library.
By Nate Millado
Throw down the rose petals because a king is coming to CBS Sunday Night Movies! It's hard to choose a fave from Eddie Murphy's storied career, but this hilarious 1988 cult classic comes close to taking the crown.
In Coming to America, Murphy plays Akeem, prince of Zamunda, who flees an arranged marriage to find a more suitable mate in—where else?—Queens, New York. ("I want a woman that will arouse my intellect as well as my loins.") Bust out the Sexual Chocolate, order some McDowell's delivery, and enjoy these fun facts about the royal rom-com!
Watch Coming to America on Sunday, Nov. 29 at 9/8c on CBS and CBS All Access.
McDowell's Was A Wendy's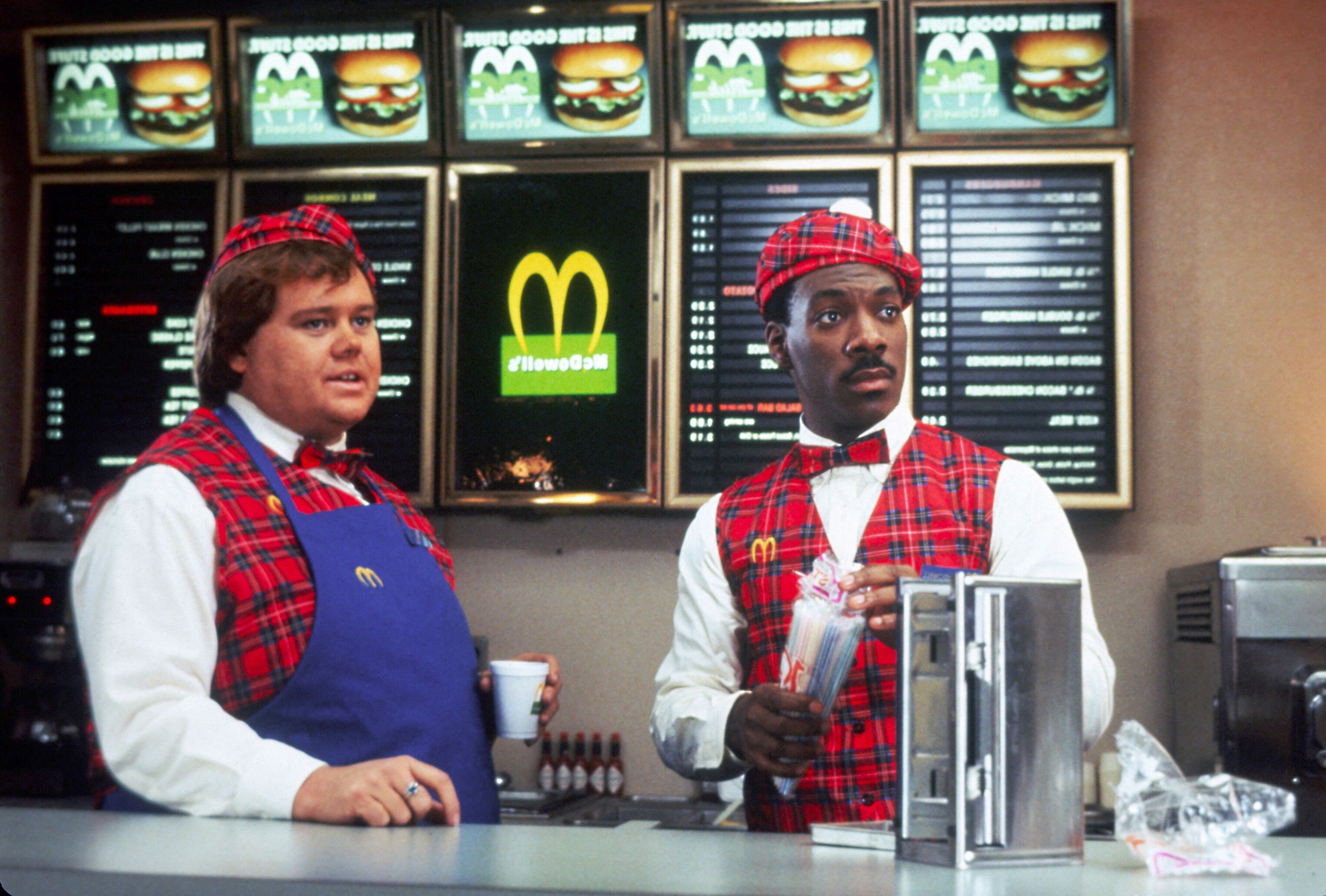 Louis Anderson as Maurice; Eddie Murphy as Akeem, who ends up working at McDowell's.
Photo Credit: © 2020 Paramount Pictures Corporation. All rights reserved.
Cleo McDowell's blatant McDonald's ripoff—right down to the golden arches!—was a real-life restaurant, a working Wendy's in Queens. No lawsuits filed from Ronald, though: The "stolen" uniforms, menu, and manuals were approved by the McDonald's Corporation for the film.
Nile Rodgers' Greatest Hit
In my long career of composing, this just may be my single proudest moment. #SoulGlo https://t.co/gkBdnR1xuM https://t.co/a83elXVkyU

— Nile Rodgers (@Nile Rodgers) 1459970192.0
Producer Nile Rodgers has worked with the likes of Madonna, Sam Smith, and Diana Ross, but the hitmaker considers the mock-commercial composition "Soul Glo," which he wrote for Coming to America, his "single proudest moment." The hair product jingle is a synth sax-heavy earworm, with lyrics like, "Just let your soul glow, baby/feeling oh so silky smooth."

Paula Abdul Choreographed The Wedding Dance
Paula Abdul was still a Laker Girl when she was tasked with the elaborate opening dance number at the palace. Director John Landis wanted to meet with "the person that choreographed Janet Jackson," she recalled to Rolling Stone. (The pint-size powerhouse was behind the routines for such iconic Janet videos as "Control" and "Nasty.") "I went in and he looked at me and said, 'What are you, a teenager?' And I said, 'Yes, I am!' He basically was telling me, 'What do you know about African dancing?' And this is my whole thing when becoming a choreographer: 'I'll just tell everyone yes, I know exactly what I'm doing, and then I'll figure it out later."
A Royal Reunion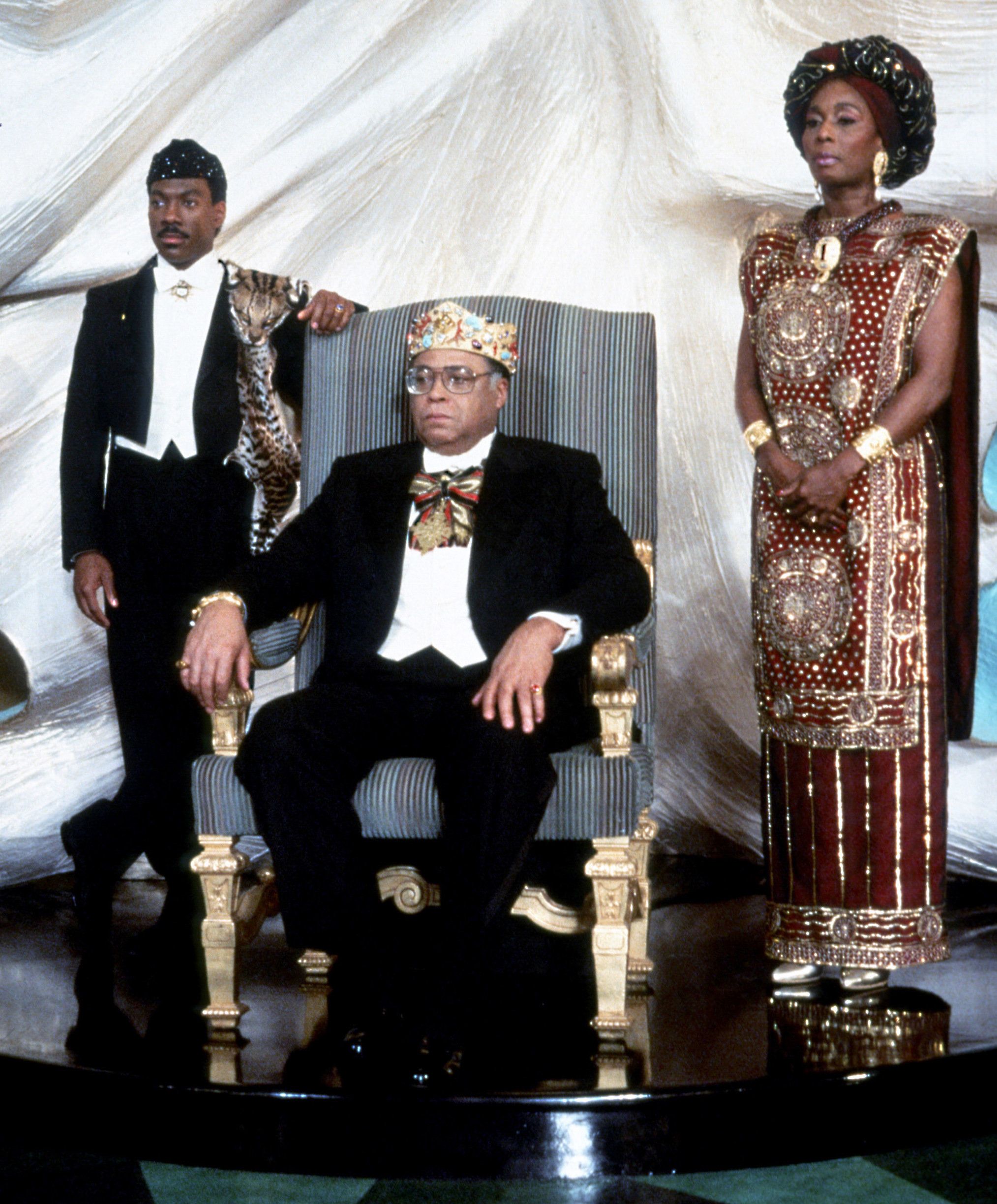 The royal family: Eddie Murphy as Prince Akeem, James Earl Jones as King Jaffe, and Madge Sinclair as Queen Aoleon.
Photo Credit: © 2020 Paramount Pictures Corporation. All rights reserved.
James Earl Jones plays overbearing King Jaffe. His booming baritone is one of the most recognizable voices in Hollywood. So it's no surprise that Disney tapped Darth Vader himself to bring Mufasa to life in The Lion King. The voice of his lioness queen, Sarabi, in the 1994 animated classic: None other than Madge Sinclair, Jaffe's compassionate wife, Queen Aoleon, from Coming to America! Unintentional Easter egg: King Jaffe wears a stately lion skin sash throughout the film.
Eddie Murphy's Multiple Personalities
Eddie Murphy has been known to juggle multiple roles in his movies, including The Nutty Professor, Bowfinger, and Norbit, with the help of impressive makeup. But did you know Coming to America is what kickstarted that trend in his career? In this barbershop scene, Murphy tackles Prince Akeem, owner Clarence, and Saul, the elderly Jewish gentleman. Another scene-stealing cameo: Murphy as Randy Watson, lead singer of the group Sexual Chocolate.
Fun fact: The film scored two Oscar nods, including one for Makeup and Hairstyling.
Launching Pad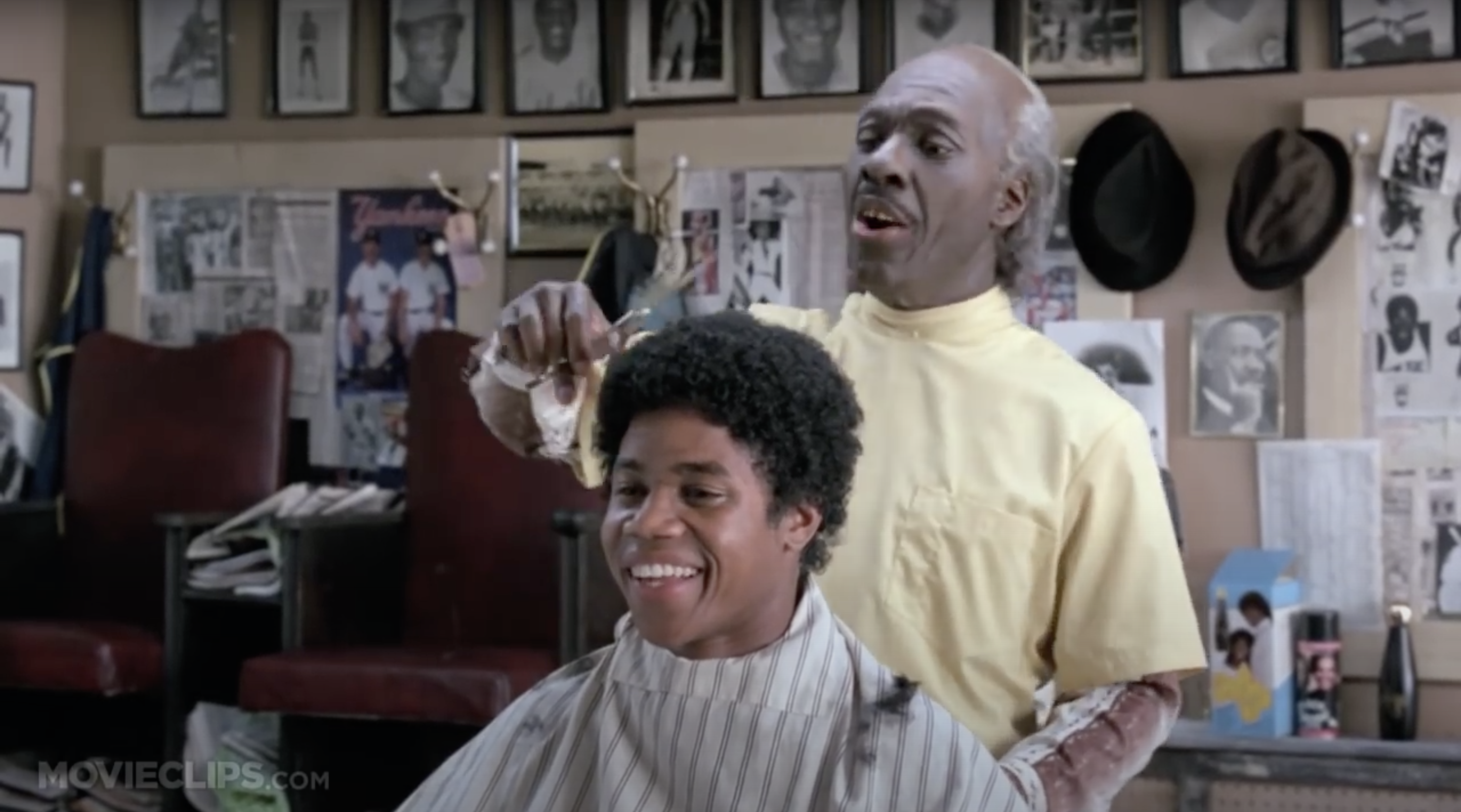 Cuba Gooding Jr. makes his big-screen debut as "Boy Getting Haircut."
Photo Credit: YouTube.
Oscar winner Cuba Gooding Jr. made his big-screen debut as a barbershop customer. Coming to America also introduced us to Shari Headley (Akeem's love interest, Lisa) and rose bearer Garcelle Beauvais, who would go on to star in The Jamie Foxx Show, NYPD Blue, and The Real Housewives of Beverly Hills.
Before he became an ER doc, Eriq La Salle was the hair-apparent to the Soul Glo empire and Akeem's adversary for Lisa's affection. And yes, that is Shameless' Carol Fisher (Vanessa Bell Calloway) as the subservient bride-to-be.
Coming To America: The Sitcom?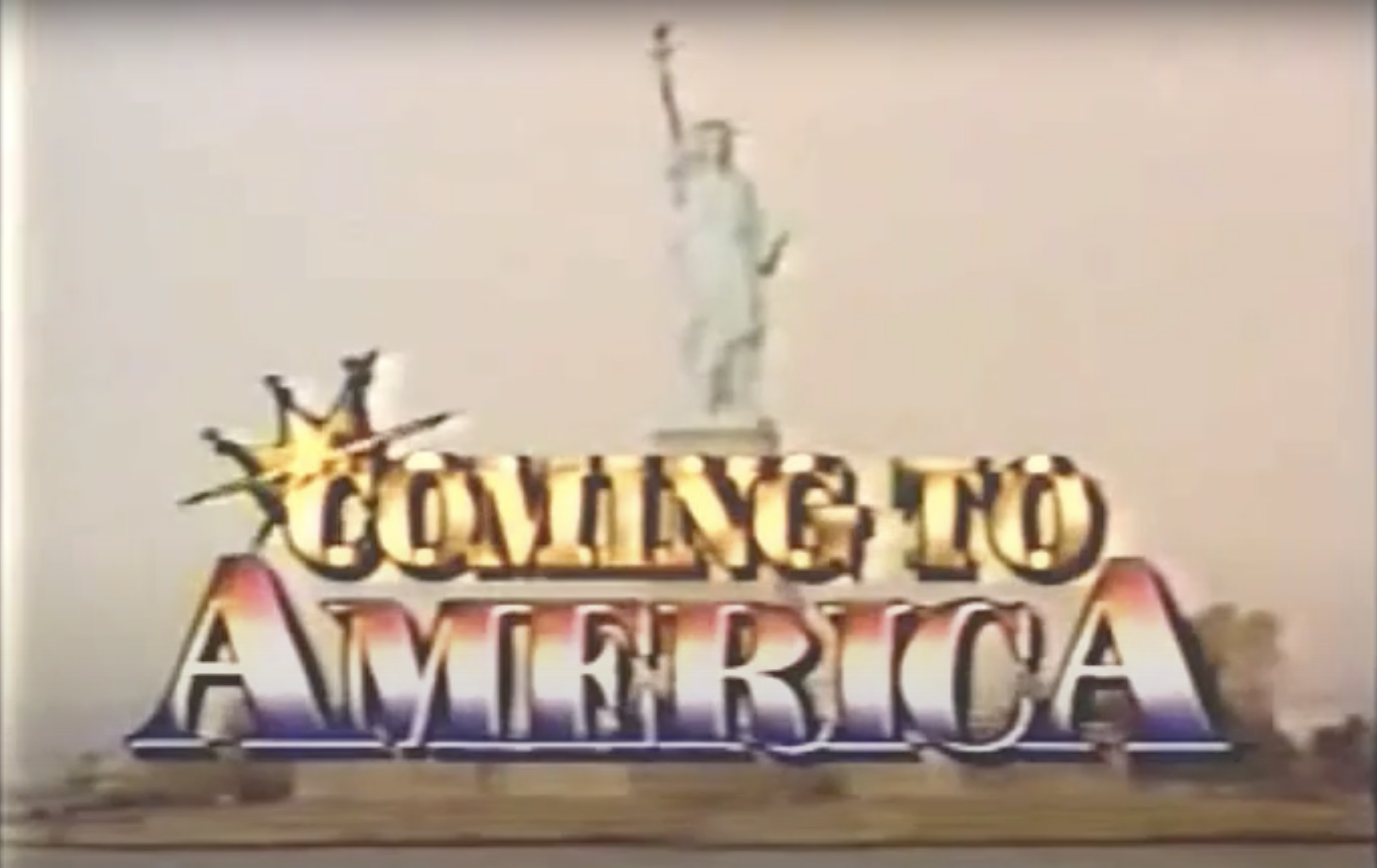 The opening credits of the Coming to America sitcom pilot.
Photo Credit: YouTube.
Coming to America was such a box office hit, earning nearly $300 million worldwide on a $36 million budget, that CBS decided to develop a TV sitcom series based on the movie. The pilot starred In Living Color alum Tommy Davidson as Prince Tariq but was ultimately not picked up.
Returning To America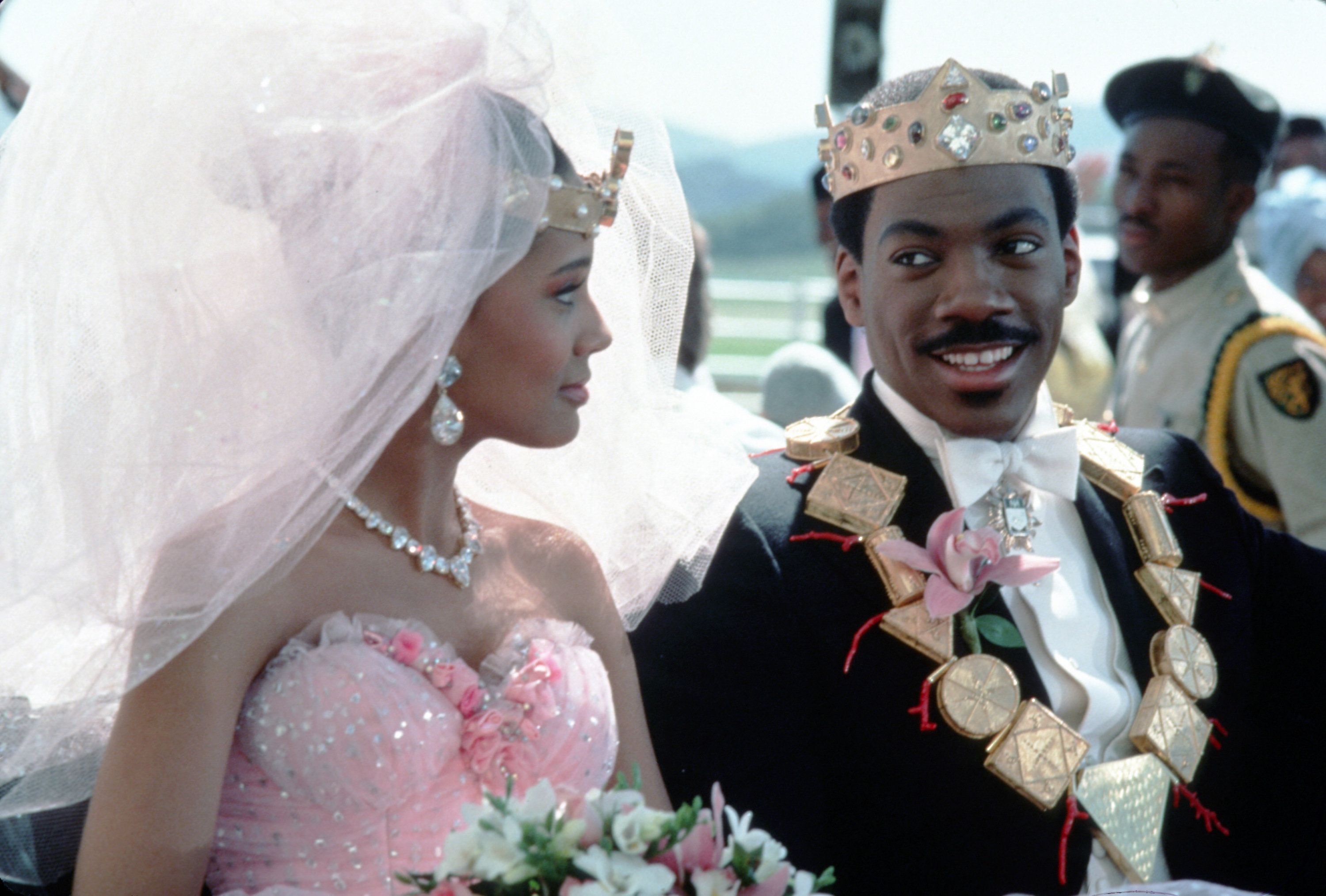 Lisa (Shari Headley) and Akeem (Eddie Murphy) marry.
Photo Credit: © 2020 Paramount Pictures Corporation. All rights reserved.
So what happened after Akeem married his queen from Queens? We'll soon find out! Coming 2 America premieres on Amazon Prime in March 2021, with Murphy, Arsenio Hall, Shari Headley, and more OG stars returning for the sequel.
Prince Akeem is about to become the king of Zamunda when he discovers he has a street-smart son stateside he never knew about named Lavelle (Jermaine Fowler). To honor the former king's (James Earl Jones) dying wish to meet his grandson, Akeem and Semmi set off to America once again. Leslie Jones and Tracy Morgan co-star, and how's this for a mic drop? Randy Watson (Murphy) and Sexual Chocolate are back!
Watch Coming to America on Sunday, Nov. 29 at 9/8c on CBS and CBS All Access.