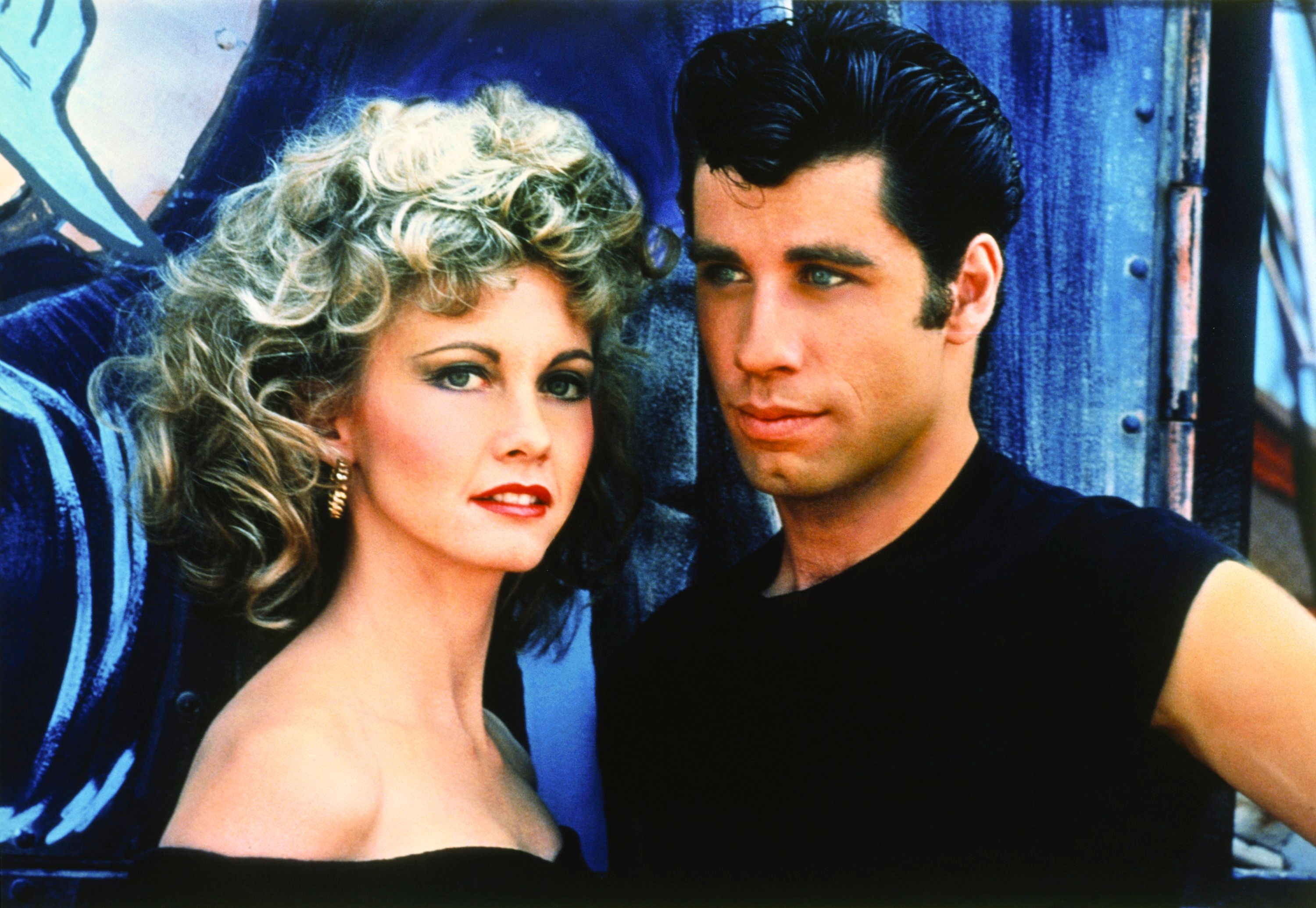 Photo Credit: © Paramount. All Rights Reserved.
Tell me more! Prep for Sunday's GreaseSing-A-Long with these fun facts about the 1978 movie musical.
By Melissa Rose Bernardo
We know that this Sunday night, in honor of the Grease Sing-A-Longon CBS, you might be planning a socially distanced slumber party with a few Pink Ladies, or a Zoom watch party with your T-Bird pals. You've got your Twinkies (Jan's snack of choice), your dessert wine ("A little Sneaky Pete to get the party going!"), and your double Polar burger with everything plus a cherry soda with chocolate ice cream (Danny's diner order, of course!).
So what else do you need while you're enjoying everyone's favorite paean to peer pressure, fast cars, and summer lovin'? Here are a few fun facts about the 1950s-set high school movie musical.

Grease Sing-A-Long airs Sunday, June 7 (8:30–11 p.m. ET/PT) on CBS and CBS All Access.
The original reviews were, ahem, not great.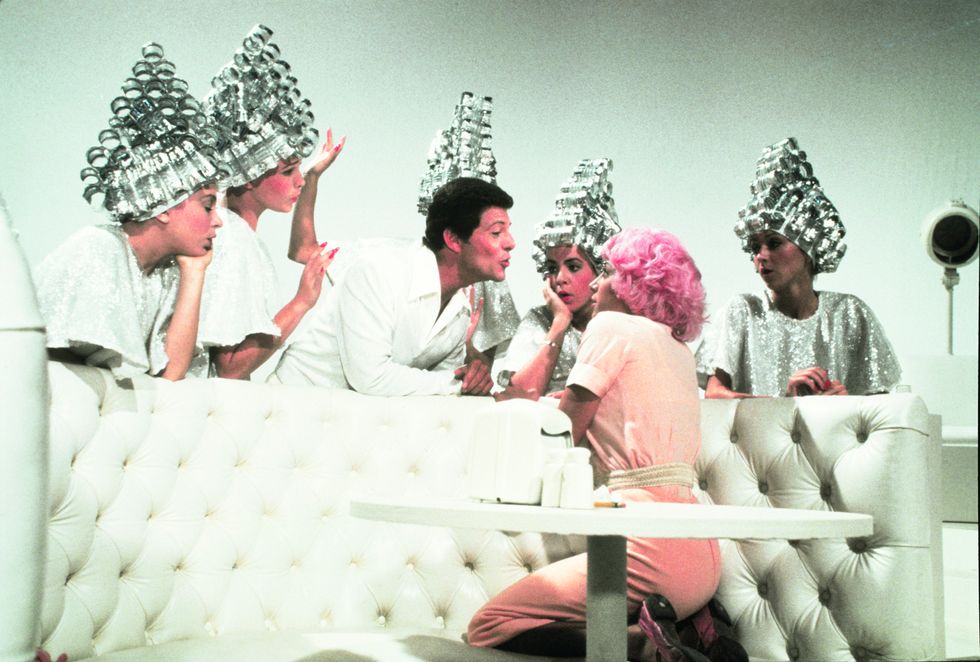 The Teen Angel (Frankie Avalon) serenades Pink Lady/beauty school dropout Frenchie (Didi Conn).
Photo Credit: © Paramount. All Rights Reserved.
The Washington Post described Grease as "visually unattractive" and "melodically impoverished." The San Francisco Chronicle declared that "the screenplay is pre-pubescent shambles, the direction is acne out of disposable douches…the characterizations are generally repulsive and the whole thing is utterly without style." The Los Angeles Times called it a "sleazy and cynical piece of work." Nonetheless, Grease earned $160 million domestically in its original release, and ranks as one of the top-grossing movie musicals ever.
Wondering who was almost cast?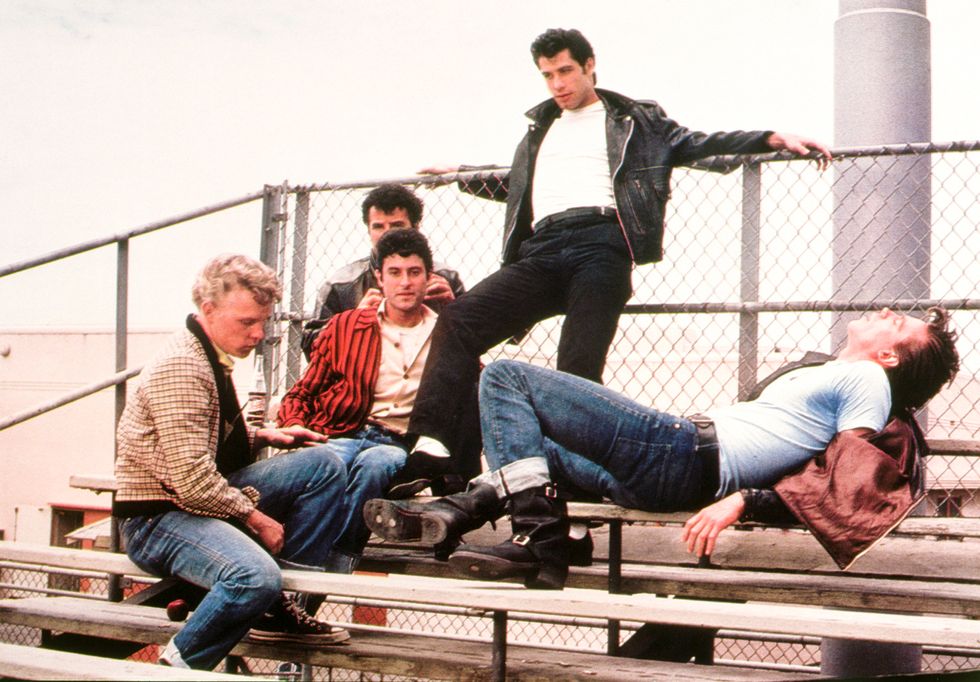 Well-a, well-a, well-a, uh! The too-cool-for-school T-Birds pump Danny for details on his "Summer Nights."
Photo Credit: © Paramount. All Rights Reserved.
The studio wanted Happy Days star Henry Winkler—aka The Fonz—for the part of Danny Zuko, the head T-Bird. Hey, he did already have the leather jacket. But Winkler demurred, apparently for fear of being typecast. (Or perhaps for fear of jumping the shark?) Fortunately, producer Robert Stigwood—who knew from movie musicals, having already shepherded 1973's Jesus Christ Superstar and 1975's Tommy to the big screen—suggested John Travolta, an up-and-comer who'd perfected a street-tough image as Vinnie Barbarino in the sitcom Welcome Back, Kotter ("Up your nose with a rubber hose!") and who was about to start filming Saturday Night Fever for Stigwood.
Fun fact: Travolta actually had Grease experience; he'd toured the country in the stage show from 1972 to 1974 playing Doody. Also in that road company? Jeff Conaway—later best known as the movie's lothario, Kenickie ("A hickey from Kenickie is like a Hallmark card")—as Danny.
And for Sandy…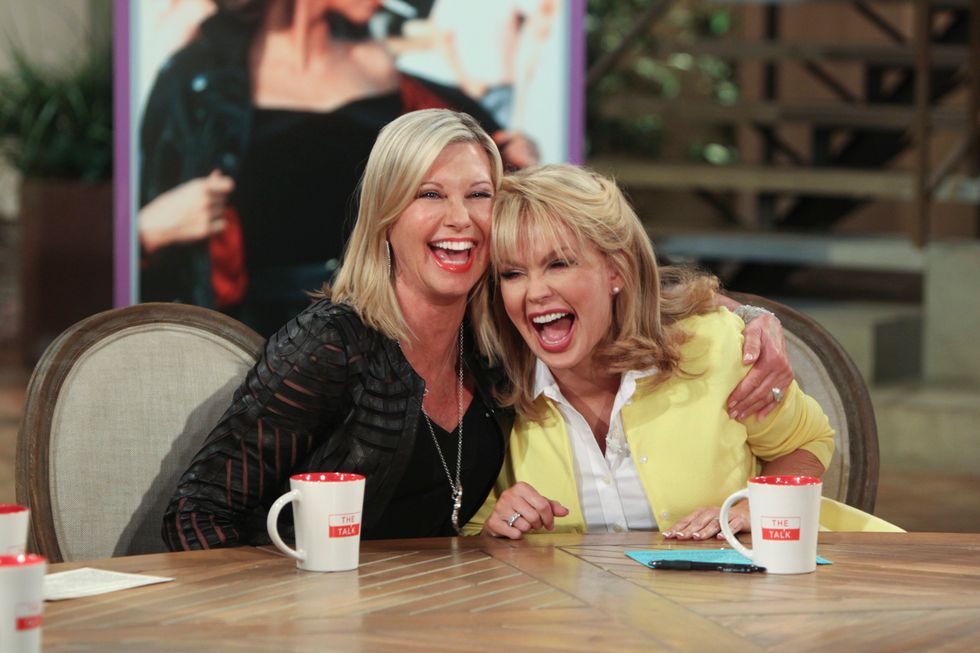 Grease star Olivia Newton-John and Marie Osmond bond on The Talk.
Photo Credit: Monty Brinton/CBS.
Before Australian-born singer Olivia Newton-John was cast as Danny's love interest, the first-sweet, then-salty Sandy, there were a few other names tossed around: The Partridge Family's Susan Dey, and Carrie Fisher, who hadn't yet achieved stratospheric fame as Princess Leia in Star Wars. But the frontrunner was famous Mormon and future collectible-doll impresario Marie Osmond, the "a little bit country" star of Donny & Marie (her brother, Donny, you might remember, was "a little bit rock and roll").
However, Osmond passed on the part because of Sandy's bad-girl beauty makeover. "At the end of the movie, she appears as her transformed self in tight black pants, a revealing shirt, sassy high heels, a cigarette in hand, and an attitude of 'come and get it,'" Osmond recalled in her 2009 book Might As Well Laugh About It Now. "From my perspective, it was not a story of a girl becoming a woman; it was a story of a girl becoming a sex object."
Osmond did eventually get to play Sandy—sort of: On The Talk in 2014, she replicated Sandy's first-day-of-school outfit, right down to the blonde hair, to greet guest Olivia Newton-John. (In case you're wondering, her fellow then-cohost Julie Chen dressed as the big-haired, tight-pants-and-leather-jacket-wearing Sandy.)
​The Broadway show and movie are worlds apart.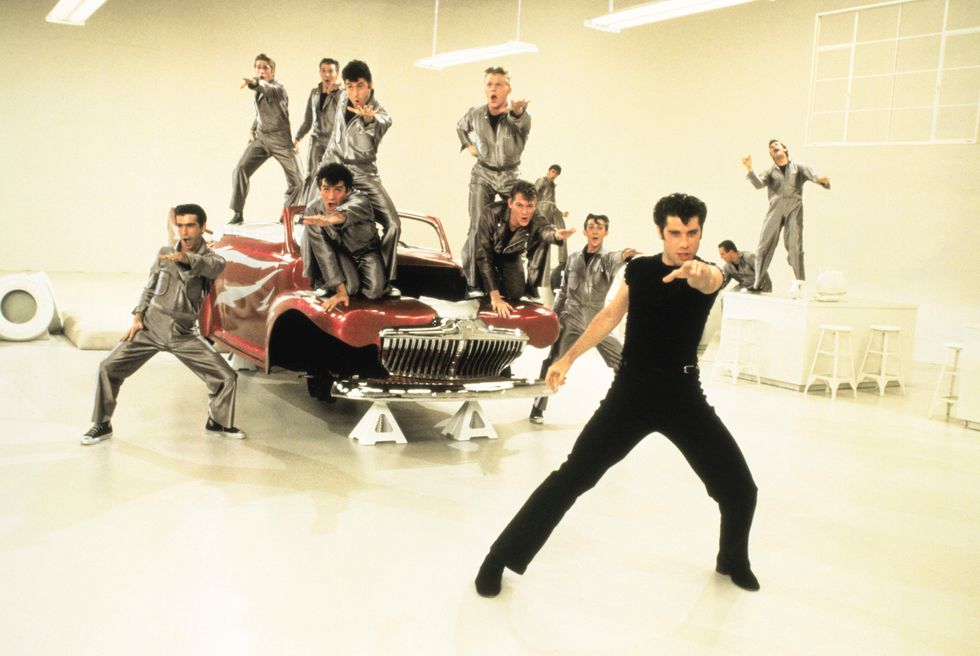 The T-Birds sing the praises of their "systematic, hydromatic, ultamatic" car in "Greased Lightning."
Photo Credit: © Paramount. All Rights Reserved.
The film powers-that-be did a lot of rejiggering of Jim Jacobs and Warren Casey's toe-tapping 1950s-pastiche score. In the stage show, as many high school drama clubbers remember, Kenickie leads the group number "Greased Lightning"; on screen, the song went to Travolta's Danny Zuko. A couple of the Broadway show's songs were axed altogether (so long, "Mooning" and "Freddy, My Love"!).
A heap of new songs were written, including the zingy title number (the reason we can't stop saying "Grease is the word"); "Hopelessly Devoted to You," eventually a massive hit for Newton-John; the drive-in solo "Sandy" to spotlight Travolta; and the "electrifying" duet "You're the One That I Want." And "There Are Worse Things I Could Do"—the cuts-so-deep ballad made famous by Stockard Channing as tough-cookie Rizzo—almost didn't make it on screen at all! Producer Allan Carr thought it was, according to Channing, "a downer." Cutting that would have been the worst thing they could do.
Sandy's so-called come-and-get-it costume raised loads of cash for charity.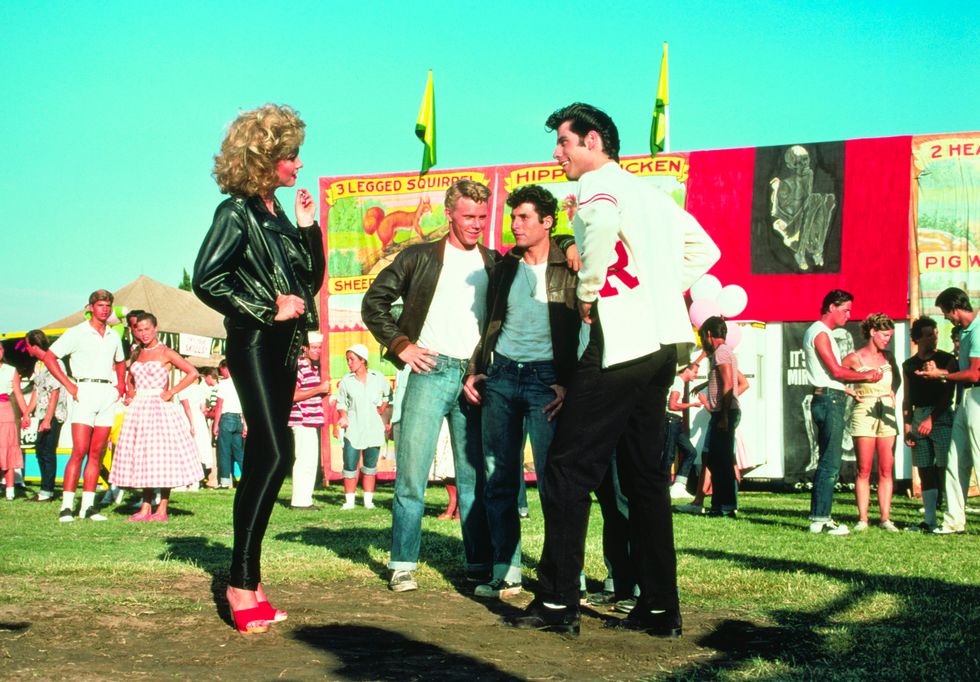 Danny takes in Sandy's head-to-toe leather and spandex transformation.
Photo Credit: © Paramount. All Rights Reserved.
In November 2019, Julien's Auctions worked with Newton-John to sell more than 500 of her personal photos, awards, accessories, souvenirs, and costumes—including the iconic black leather jacket and figure-hugging pants she wore in the final scene of Grease—to raise money for the Olivia Newton-John Cancer Wellness & Research Center in her hometown of Melbourne, Australia.
The pants—so tight that the actress had to be sewn into them on the set—sold for $162,500, and the leather jacket for $243,200. But in a wonderful, and surprising, act of kismet, the jacket's buyer (and self-proclaimed No. 1 fan) returned the beloved piece to its "rightful owner": "This jacket belongs to you," he told Newton-John, who couldn't contain her tears. "It should not sit in a billionaire's closet for country-club bragging rights."
Grease Sing-A-Long airs Sunday, June 7 (8:30–11 p.m. ET/PT) on CBS and CBS All Access.