Paramount+ offers a frighteningly good lineup of horror films.
By Katey Clifford
Ghouls and ghosts and goblins, oh, my! Halloween is right around the corner, so it's time to tee up your horror movie playlist. Luckily, Paramount+ offers the perfect one-stop shop for things that go bump in the night. We've rounded up 10 top chillers to binge ... if you dare.
SUBSCRIBE NOW: Enjoy 4 Digital Plus 2 Print/Digital Issues Of Watch Per Year — For Free!

---
Night of the Living Dead (1968)
This cult favorite written and directed by horror movie great George A. Romero, and marking his movie debut, is considered the first modern zombie film. In Night of the Living Dead, the dead come back to life and start feasting on the townspeople. Terrified locals barricade themselves in a farmhouse. Will they survive the night?

Child's Play (2019)

Dolls aren't my thing, but if you can deal with those dead, creepy eyes, then Child's Play—from the producers of IT—is the film for you. When Buddi, a new doll that can control all of the family's smart electronics, comes to market, people won't be able to resist the convenience. But at what cost?
Paranormal Activity: Next Of Kin (2021)
Arriving just in time for Halloween, Paranormal Activity: Next of Kin premieres exclusively on Paramount+ October 29th. If you're a fan of the hit "found footage" horror series, you'll love this installment. When a documentarian accompanies a young woman into a secluded Amish community in search of her missing mother, they soon discover there's something very strange going on in the secluded countryside.
A Quiet Place (2018)
Starring husband and wife duo John Krasinski and Emily Blunt, A Quiet Placecaptures the sufferings of a post-apocalyptic world. Aliens with an otherworldly sense of hearing have decimated the human population, and those who survived must live in utter silence.
A Quiet Place Part II (2020)
Naturally, the next on our list is the sequel, A Quiet Place Part II, available exclusively on Paramount+. SPOILER ALERT for those who haven't seen the first film: Although the Abbott family has lost two members, they're a little more prepared to handle the aliens. Their home was destroyed in the last attack they endured, so they'll have to move on with their newborn baby in tow.
Gretel & Hansel (2020)
The classic Grimm Brothers fairy tale Hansel & Gretel gets a gruesome 2020 re-imagining, Gretel & Hansel. When two hungry children are turned out of their homes, they explore the countryside looking for food and work until they stumble into the cottage of a cannibalistic enchantress.
The Ring (2002)
The Ring is a classic horror film, perfect for Halloween frights. A mysterious VHS tape is floating around that's rumored to kill whoever watches it seven days later. When four teens die, reporter Rachel Keller (Naomi Watts) watches the videotape herself. With just seven days left to live, she'll have to solve the mystery behind the tape—or face the consequences.
World War Z (2013)
Brad Pitt stars as Gerry Lane, a former United Nations investigator, in World War Z. When his city is suddenly overrun with zombies, he'll do anything to protect his family—even if that means leaving them unprotected to figure out how to stop the worldwide outbreaks.
Zodiac (2007)
An independent team of investigators recently claimed to have ID'd the real zodiac killer, which makes this movie especially timely. In the 2007 film Zodiac—starring Jake Gyllenhaal, Robert Downey Jr., and Mark Ruffalo—the self-proclaimed Zodiac Killer, who has already murdered one, sends coded messages to the San Francisco Chronicle threatening to kill again. As the body count rises, political cartoonist Robert Graysmith and crime reporter Paul Avery struggle to identify the murderer.
Bonus: Evil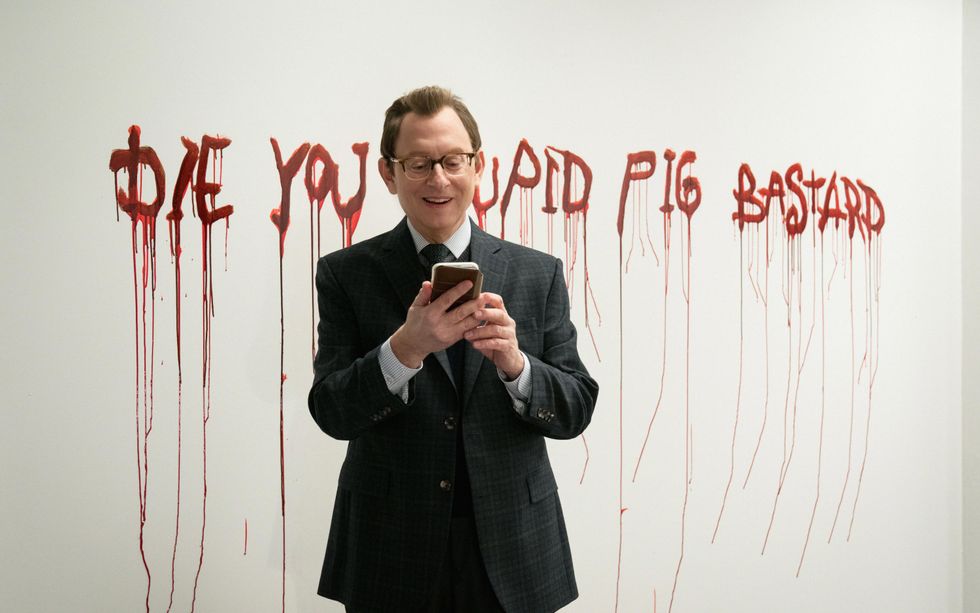 Michael Emerson as Leland Townsend in the series EVIL.
Elizabeth Fisher/CBS 2021Paramount+ Inc. All Rights Reserved.
Paramount+ also offers bone-chilling shows for those who like their frights to last longer than two hours. Catch the first and second seasons of Evil. In this spooktacular series, an unlikely trio—a forensic psychologist, a Catholic seminarian, and a technology contractor—teams up to investigate supernatural phenomena.
SUBSCRIBE NOW: Enjoy 4 Digital Plus 2 Print/Digital Issues Of Watch Per Year — For Free!