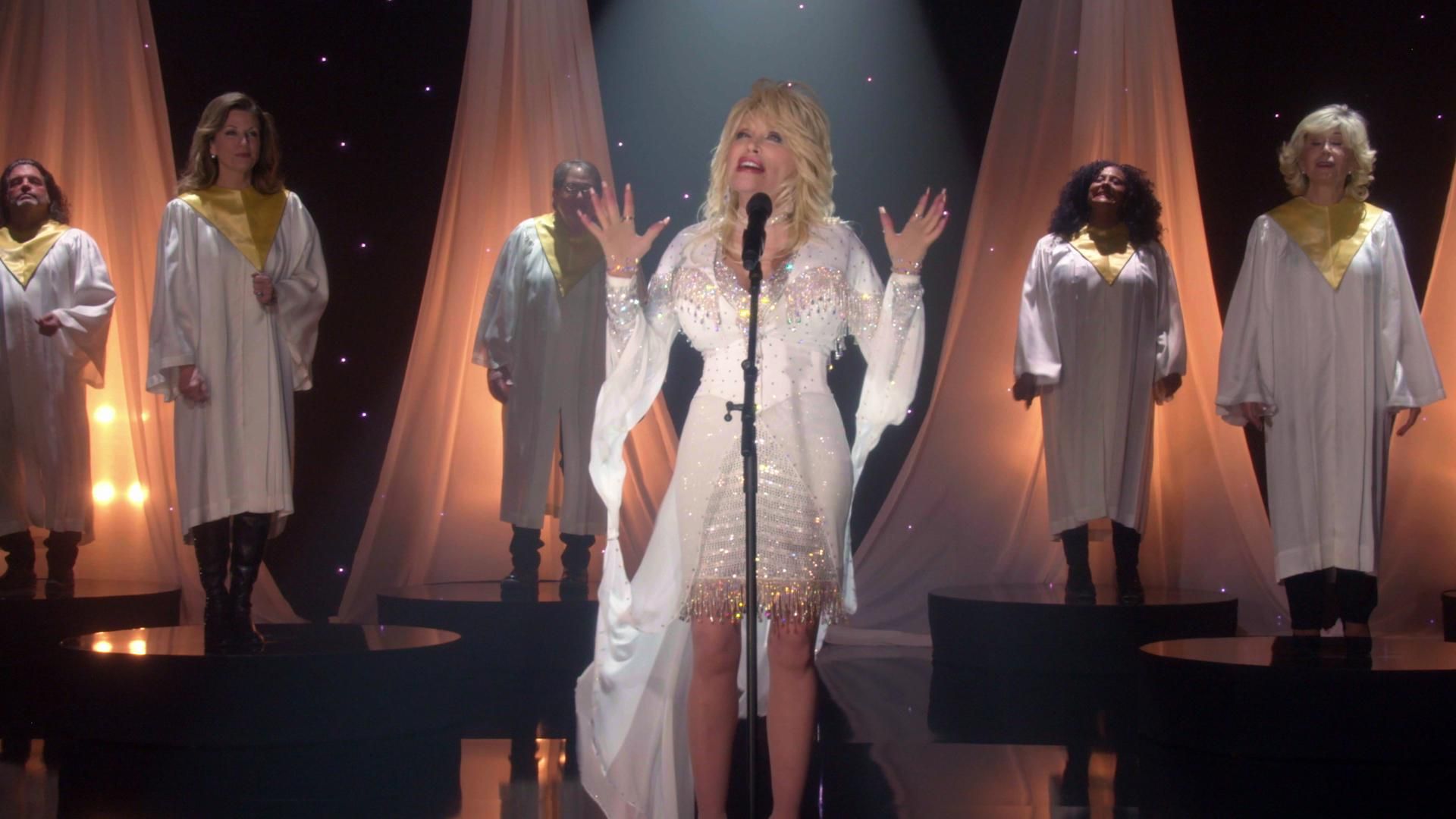 Screen Grab/CBS 2020 CBS Broadcasting, Inc. All Rights Reserved
Join the iconic singer/songwriter for a festive holiday concert on CBS
By Kathy Passero

Oh by gosh, by golly, have A Holly Dolly Christmas! Celebrate with country music star and national treasure Dolly Parton during an hour-long entertainment special on Christmas Eve (Friday, Dec. 24), at 8 p.m. ET/PT on CBS. Parton performs hymns and holiday songs from her 2020 album A Holly Dolly Christmas, and shares memories of her favorite time of year.
"There's only one Dolly Parton, and we are so excited to be bringing her to viewers," said Jack Sussman, Executive Vice President, Specials, Music & Live Events/Alternative & Reality for CBS, of the special, which originally aired in December 2020.
Can't wait for Christmas? Get into the festive holiday (or should we say "Dolly-day"?) spirit early with these eight great Parton hits—and some Dolly trivia.
A Holly Dolly ChristmasairsFriday, Dec. 24, at 8 p.m. ET/PT on CBS and streams on Paramount+.
SUBSCRIBE NOW: Enjoy 4 Digital Plus 2 Print/Digital Issues Of Watch Per Year — For Free!
"Coat Of Many Colors"
Dolly Parton never hid the fact that she grew up poor. The fourth of 12 children of a sharecropper and a homemaker, she shared a two-room cabin with her large family in Tennessee's Great Smoky Mountains as a child. Money might have been scarce, but love was plentiful.
Parton wrote her 1971 hit "Coat of Many Colors" about a jacket her mother made for her from fabric scraps. As she sewed, Avie Lee told her daughter the bible story of Joseph's coat of many colors. Parton rushed to school excited to show off her new garment, only to be ridiculed by her classmates for wearing rags. The song reminds listeners that you can be poor financially but rich in more important things. As the lyrics attest, the love her mom "sewed in every stitch" made her coat "worth more than all their clothes."
In her book Dolly: My Life and Other Unfinished Business, Parton remembers trying to buy her mom a fancy coat many years later: "'Mama, let's go to Knoxville. I'm going to buy you a mink coat.' … At first, she came back with a joke: 'It's bad enough we have to eat little varmints … I don't want to have to start wearing them …' Then she took on a more serious tone as she said, 'Shoot! Where would I wear a mink coat … to a pie supper? Give me the money instead.' So I did."
Naturally, it wouldn't be A Holly Dolly Christmas without this chestnut. Don't miss Parton performing "Coat of Many Colors" in her holiday special on CBS.
"Dumb Blonde"
Parton grew up performing for her family on the front porch of their cabin with a tin can for a microphone. The day after she graduated from high school in 1964, she moved to Nashville. While launching her career as a singer and songwriter, she helped pay the bills by filling salt and pepper shakers at Couser's restaurant.

She was already making a name for herself when hit songwriter Curly Putman penned "Dumb Blonde" for her. The song captured what fans would soon recognize as Parton's charmingly self-aware sense of humor—and became her first hit, taking her to #11 on the Billboard Top Country Albums chart.
Among the Backwoods Barbie's best-known self-deprecating witticisms are "It takes a lot of money to look this cheap"and "If I hadn't been born a girl, I would have been a drag queen." BTW, she once entered a Dolly Parton lookalike drag contest … and lost to a drag queen!
The 2018 film Dumplin' (based on the young adult novel of the same name) introduced "Dumb Blonde"—and Dolly Parton—to a whole new generation of fans. The uplifting comedy celebrates not only Parton herself but drag queens, body positivity, self empowerment for young women, Southern culture, and other topics near and dear to Parton's own heart.
"Jolene"
There's no hidden meaning behind Parton's 1973 hit. Though she took the name from a young fan she met, "I wrote this song about this woman down in Nashville," she once told an audience. "She was trying to take care of my husband while I was on out the road. Well, that didn't go over too big with me. I fought that red-headed woman like a wildcat. She jerked my wig off and almost beat me to death with it. But I kept my husband. I got that sucker home and I beat the tar out of him."
Parton and her famously reclusive spouse, Carl Thomas Dean, met in front of the Wishy Washy laundromat just after she moved to Nashville. "My first thought was I'm gonna marry that girl," Dean remembered. The two spent their first date sitting on the fire escape of a home where Parton was babysitting, tied the knot two years later, and celebrated their 55th anniversary this year.
"I've always tried to keep him out of the limelight as much as I can," Parton told ET. "He said, 'I didn't choose this world, I chose you, and you chose that world. But we can keep our lives separate and together.' And we do and we have."
One of Parton's first performances of the song came when she was still a singer on The Porter Wagoner Show. Years later, the tune still has legs—as Parton's famous goddaughter, Miley Cyrus, proved in 2012, when recorded a cover of "Jolene" as a tribute to Parton. Cyrus was born in 1992—the same year dad Billy Ray's "Achy Breaky Heart" became a sensation. Parton invited him to go on tour with her as a warmup act, and the two have been close friends ever since.
"Here You Come Again"
Though Parton didn't write this one, the song turned her from a country star into a pop star in 1977. Her rendition of the tune, by powerhouse writing team Barry Mann and Cynthia Weil, hit #1 on the Billboard country charts (where it spent five weeks) and #3 on the Billboard Hot 100 chart. The single was Parton's first to sell a million copies. The album, also titled Here You Come Again, became her first platinum LP.

If Parton feared her country fanbase might desert her when the pop world took notice, she needn't have worried. The album earned her a Grammy for Best Female Country Vocal Performance, and she was crowned both ACM Entertainer of the Year and Country Music Association Entertainer of the Year in 1978.
"Two Doors Down"
In 1978, Parton was staying at a Howard Johnson's Motor Inn while touring with her band. She was trying to stick to a liquid protein diet, so she locked herself in her room to resist the chain's famous fried clams.

"The band was down there in the cafe. I could hear them laughing and talking," she recalled in her book Songteller: My Lifetime in Lyrics. "I remember just feeling so sorry for myself in this lonely-ass space." She figured, if she couldn't eat and she couldn't join the party, why not write a song?
Though her waist now reportedly measures 18 inches (eat your heart out, Scarlett O'Hara), Parton battled the bulge for years—and talks about it with typical candor. "I tried every diet in the book," she said. "I tried some that weren't in the book. I tried eating the book. It tasted better than most of the diets."
"9 to 5"
Parton's first movie role was the 1980 comedy 9 to 5. She agreed to the part on the condition that she could write the theme song. The Oscar-nominated number became an anthem for working women and helped solidify Parton as an unlikely feminist icon.

"I was real comfortable with the part I played because it was so me," she said. "My best scenes are the ones where I'm really mad at the boss. I play mad real good. It gave me a real chance to do something besides being my own sweet self." She called the film "a joy to make" and said working alongside Jane Fonda and Lily Tomlin was "just like having two new girlfriends."
Almost 30 years later, the cult classic inspired 9 to 5: The Musical, which opened on Broadway in 2008 with music and lyrics by Parton. It garnered four Tony nominations and 15 Drama Desk nominations.
9 to 5 also kickstarted Parton's screen career: She went on to act in a dozen feature films. And driving past the Hollywood sign inspired her to create Dollywood, a theme park, water park, and resort that is now the largest provider of jobs in Sevier County, where Parton grew up.
Dollywood is far from her only hometown humanitarian project. Parton's now worldwide Imagination Library, which gives free books to preschool age children to kickstart learning, started in Sevier County, too. The charity has donated more than 165 million books to children in need. Parton credits her late father, Robert Lee Parton, as the inspiration.
"My dad and a lot of my relatives that grew up hard ... couldn't actually get a chance to go to school, because they had to work," Parton told CNBC Meets' Tania Bryer. He "was so smart, he could just do numbers in his head. But ... after he was grown, he couldn't read or write; he thought that it was just too hard to do." Parton resolved to help kids from similar backgrounds get a better head start. And what better place to start than her home county?
"I Will Always Love You"
Parton penned this classic in 1973 as a tribute to her former mentor Porter Wagoner, who helped launch her career by featuring her on TV's The Porter Wagoner Show in 1967. (The Country Music Hall of Famer was one of Nashville's biggest stars at the time.) It was a tumultuous partnership and when Parton told Porter she wanted to venture out on her own, he was livid. He sued her—and won—though he later said he regretted it. Parton, with typical magnanimity, at his bedside when he died in 2007.

Parton recorded a new version of the song when she starred in Best Little Whorehouse in Texas in 1982, but "I Will Always Love You" is arguably better remembered for Whitney Houston's cover a decade later, in her film The Bodyguard (1992). Houston's version of the song spent 14 weeks in the #1 spot, and Parton invested the royalties in an office complex in a largely Black neighborhood. She calls it "the house that Whitney built."
Less well known is the fact that Elvis Presley himself asked to record the song. Parton was thrilled, but the deal fell through when his team asked for half the publishing rights. "I wanted to hear Elvis sing it, and it broke my heart. I cried all night," she told W magazine. "But I had to keep that copyright in my pocket. You have to take care of your business!"
"Islands in the Stream"
Written by the Bee Gees as an R&B tune for Marvin Gaye with a title taken from an Ernest Hemingway novel, this song seems an unlikely candidate for a country duet. The story of how Kenny Rogers and Dolly Parton teamed up to record it in 1983 is equally surprising.

Rogers was working with Barry Gibb of the Bee Gees but struggling to get the song to gel for him. After a few days in the studio, he told Gibb, "I don't even like this song anymore." Gibb replied, "What we need is Dolly Parton."
"And my manager said, 'I just saw her downstairs,'" Rogers recalled. "So I said, 'Go get her and bring her back … once she came in, that song was never the same. She lit it up and we became good friends from that point on."
The duo's single made it to #1 on country, mainstream, and adult contemporary charts and is still considered an iconic pairing by music fans of all stripes. In 2005, CMT voted it the greatest country duet of all time.
Encore!
As Parton's 9 to 5 costar Jane Fonda summed up, "Dolly has terrific intelligence and resilience. You underestimate her at your peril." And if being nominated for all four major annual American entertainment awards (Emmy, Grammy, Oscar, and Tony) weren't an impressive enough lifetime achievement, Dolly Parton won a Living Legend Award from the U.S. Library of Congress in 2004.

Most recently, she was named one of the World's Most Influential People of 2021 by TIME magazine, thanks in part to her $1 million donation to Vanderbilt University to fund COVID-19 vaccine research.
"Though she created an identity that she downplays as being built on wigs, lots of gingham and silicone, the foundation for this empire is actually her honesty, truth and her faith," Miley Cyrus wrote in TIME. "She recognizes how impactful her choices will be … and she leaves no one behind…There's a theory that you shouldn't meet your heroes, but I wish everyone had the chance to meet Dolly Parton, because she's even better than your sparkliest dreams. She may be my fairy godmother, but I think she's that to everyone else too."
A Holly Dolly ChristmasairsFriday, Dec. 24, at 8 p.m. ET/PT on CBS and streams on Paramount+.
SUBSCRIBE NOW: Enjoy 4 Digital Plus 2 Print/Digital Issues Of Watch Per Year — For Free!