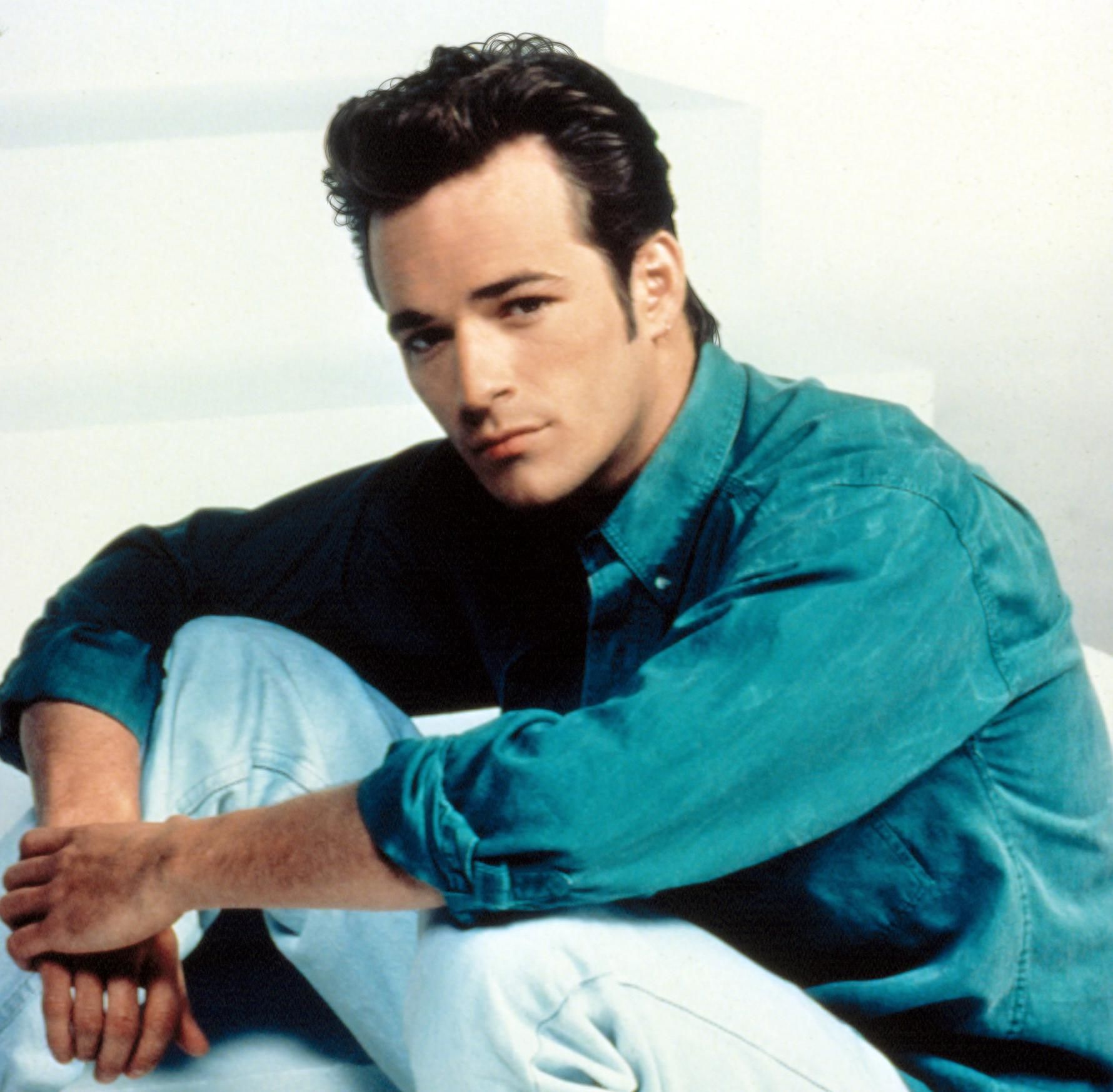 Photo credit: Spelling Television/Courtesy Everett Collection
Why I Love Beverly Hills, 90210's Dylan McKay 4eva.
It's the Summer of Love—and we're loving these TV favorites. Read up on why our contributors picked these shows as their favorites in our series of love letters—an ode to the best of the best on Paramount+.
If you were a preteen girl in the early '90s, two things were certain: You were obsessed with Beverly Hills, 90210, and you were either Team Brandon (Jason Priestley) or Team Dylan (Luke Perry). I was firmly in the Dylan McKay Fan Club. Not since Patrick Swayze in Dirty Dancing had a man made me feel the way that Dylan made me feel when I first saw him perched on the steps of West Beverly Hills High reading what could only presumably be On the Road by Jack Kerouac. Forget Minnesota-nice Brandon with his job at the Peach Pit. I was all about the Porsche-driving, squinty-eyed, and forever furrowed-brow, Dylan.
In the summer of 1992, my Dylan obsession was taken to new heights when a mini season was released during summer break between Seasons 2 and 3. This six-episode season had a beachy-themed intro and more drama than my 11-year-old brain could handle. That summer, Brandon worked as a towel boy at the Beverly Hills Beach Club; Brenda (Shannen Doherty) and Donna (Tori Spelling) went to Paris and pretended to be French and flirt with a pre-Superman Dean Cain; David (Brian Austin Green) decided to become a musician (a storyline that would haunt us for seasons to come); Andrea (Gabrielle Carteris) and Steve (Ian Ziering) … did whatever they did, because who cared about Andrea and Steve? And Dylan? What did Dylan do that summer? He began to cozy up with Kelly (Jennie Garth). They flirted, played tug-o-war (literally and with their hearts), and shared their mutual mommy and daddy issues with each other. Finally, after a romantic jet skiing adventure, they kissed. And I died a little. I could not believe what I was seeing. Dylan McKay, BOYFRIEND of Brenda Walsh, was KISSING Kelly Taylor, Brenda's BFF. This love triangle was the most amazing thing I had ever witnessed.
Brenda would return to California two episodes later, and Dylan and Kelly would agree to keep their kissing sessions a secret—a decision that would haunt the two of them (and me) until a few months later when Dylan would officially choose Kelly. They would celebrate this moment in Kelly's swimming pool with an epic make-out that left me squealing and jumping up and down in my living room to the horror of my father, who sat watching in his recliner. This was pure romance in my eyes.
I would continue to watch Beverly Hills, 90210 until the series ended in 2000, and I probably possess enough knowledge to win top prize at a 90210 bar trivia night. And I never stopped loving Dylan. When I happen to catch a rerun, I have to stop whatever I'm doing to catch a glimpse of him. The hair. The eyebrows. The white T-shirts. The brooding. The unmistakable coolness. It's all still there. The ripped-out pages and posters of Dylan from Tiger Beat and Teen Beat that decorated my childhood bedroom 30 years ago may be long gone, but Dylan will forever live in my heart.
— Lindsay Brown
Want another Love Letter from our contributors? Try Love Letter: "I Know It Was You, Fredo."
SUBSCRIBE NOW: Enjoy 4 Digital Plus 2 Print/Digital Issues Of Watch Per Year — For Free!