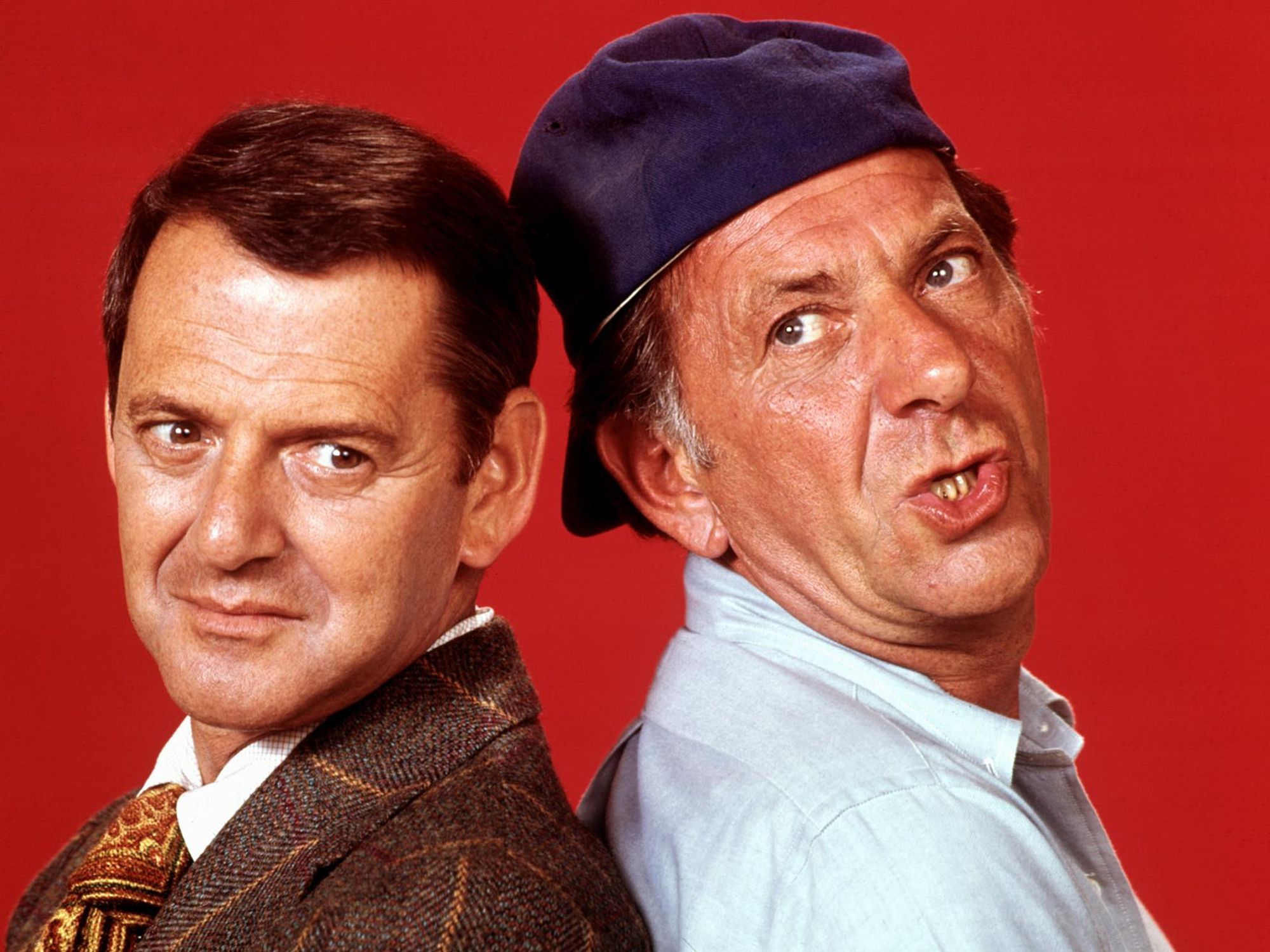 Photo credit: Everett Collection
Why I Love the "Password" Episode of The Odd Couple
It's the Summer of Love—and we're loving these TV favorites. Read up on why our contributors picked these shows as their favorites in our series of love letters—an ode to the best of the best on Paramount+.
The episode was called "Password," but it might as well have been "Aristophanes," because never has the name of that ancient Greek playwright gotten such an uproarious laugh. Growled through Jack Klugman's clenched teeth to a preternaturally annoying Tony Randall during what is explained as a special New York taping of Password, it's perhaps the funniest moment in all 114 installments of The Odd Couple. I simply love it. The classic show was at its peak.
Curmudgeonly sportswriter Oscar Madison (Klugman) was never more Oscar-y than when he paired with his fussy roommate on the TV game show within the sitcom; persnickety photographer Felix Unger (Randall) never Unger-er than when he is giving absurdly erudite clues. He actually tries to get Oscar to guess "bird" from the hint "Aristophanes." When that clue leaves his teammate clueless, Felix maintains, "Everybody knows Aristophanes wrote a play called The Birds." "Everybody but me," an exasperated Oscar grouses.
Given such sidesplitting absurdity, it's no wonder that TV Guide once ranked the Dec. 1, 1972, installment at No. 5 on a list of TV's all-time greatest episodes. The classic sitcom, in its fourth season, was part of what I like to remember as the greatest TV lineup in Baby Boom history: The Brady Bunch, The Partridge Family, Room 222, The Odd Couple, and Love, American Style, all on the same channel on Friday night. It was heaven.
It doesn't hurt that this particular Odd Couple installment features three TV icons in supporting roles—Elinor Donahue of Father Knows Best as Felix's girlfriend, Miriam; Al Molinaro, who'd go on to run his own diner on Happy Days, as the duo's pal Murray the Cop; and Penny Marshall, the first half of Laverne & Shirley, as Myrna, Oscar's forever-nasal secretary. When asked to pretend to be a celebrity contestant during an at-home practice round of Password, Marshall drips, "Can I be Peggy Cass?"
I howl every time.
The amazing thing, though, is seeing Allen Ludden and Betty White playing themselves on The Odd Couple—he, as the genial game show host; she, as the nearly impossible-to-beat celebrity contestant. In 1972 it was Ludden's career that was on fire. White was known for appearing on game shows like, well, Password; as the host of the short-lived series The Pet Set; and as Ludden's wife. When she did The Odd Couple, her first appearance as Happy Homemaker Sue Ann Nivens on The Mary Tyler Moore Show was still nine months away; her role as Rose Nylund on The Golden Girls, more than a decade in the offing.
But White's appearance on The Odd Couple was major, one that made Ray Richmond's 2021 book, Betty White: 100 Remarkable Moments in an Extraordinary Life. "It's unquestionably one of White's finest moments," he writes. "It's uproariously good fun." To consider the "Password" episode of The Odd Couple anything less than that would be, as Felix says, "Ridiculous!"
— Frank Decaro
Want another Love Letter from our contributors? Try Love Letter: Goooal!
SUBSCRIBE NOW: Enjoy 4 Digital Plus 2 Print/Digital Issues Of Watch Per Year — For Free!