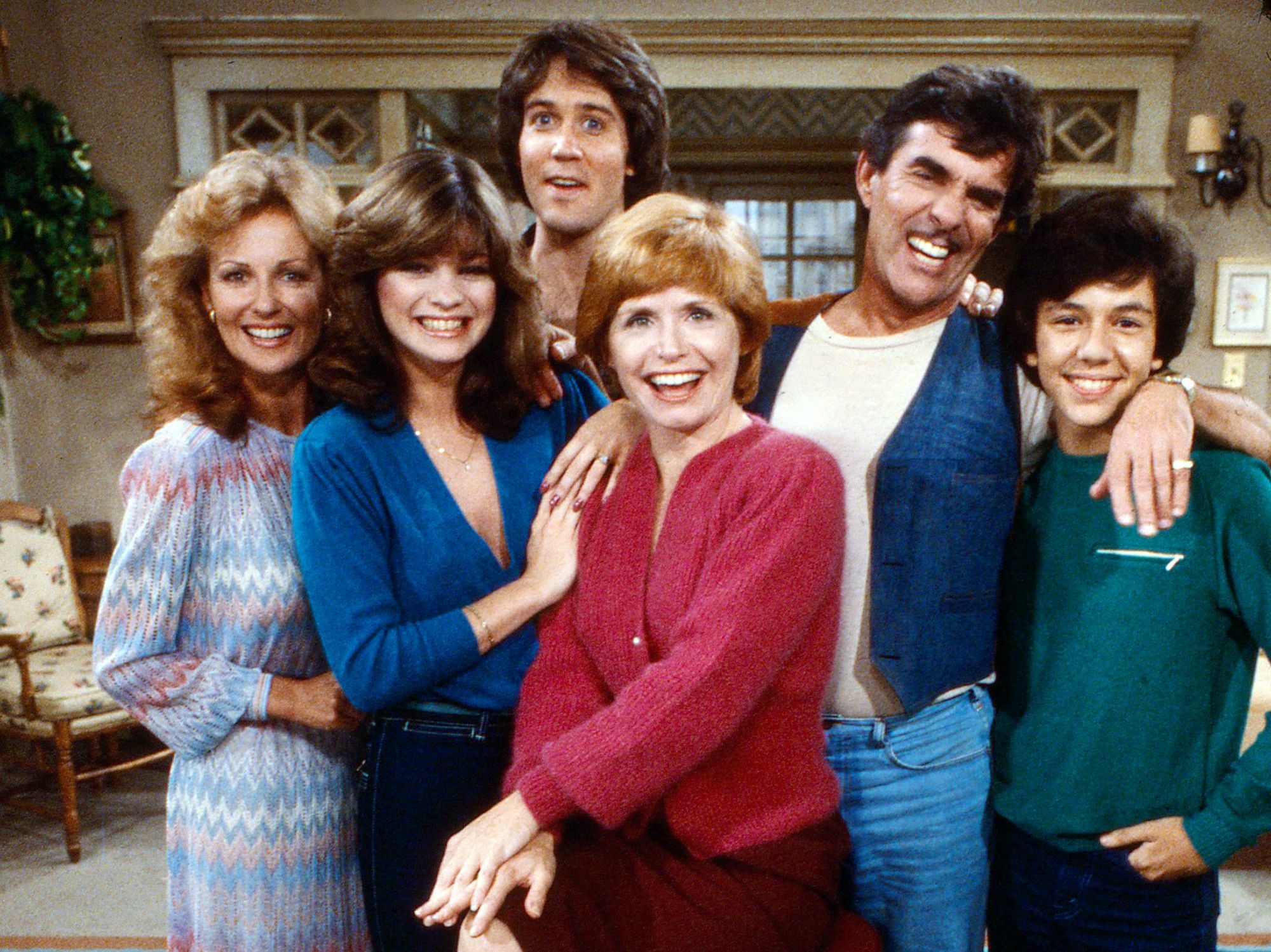 Photo credit: Courtesy Everett Collection
Centered on a divorced woman raising her two teenage daughters, this show didn't shy away from dealing with real issues.
By Marc Berman
Contrary to popular belief, Bonnie Franklin as Ann Romano on the original One Day at a Time was not the first divorced female character on a TV series. That distinction goes to legendary "second banana" Vivian Vance on The Lucy Show (1962–68). But One Day at a Time was the first to deal with the issues of raising a family as a divorced woman.
Debuting on December 16, 1975, the show followed the lives of 30-something Ann Romano (Bonnie Franklin) and her two teenage daughters—Julie (Mackenzie Phillips) and Barbara (Valerie Bertinelli)—as they began a new chapter in Indianapolis. Pat Harrington Jr. was their apartment building superintendent, Dwayne Schneider, who became a personal friend and a surrogate father, of sorts, to the girls. And Richard Masur as David Kane was Ann's divorce lawyer, whom she was dating.
When Masur asked to depart the series early in Season 2, Mary Louise Wilson as cocktail waitress Ginny Wroblicki was briefly added for comic relief. But Wilson, like Masur, made a quick exit, and the focus remained on the three women, and Schneider, through Ann's tribulations facing single life and the girls' young adulthood (including eventual marriage and parenthood).
Dealing With Real Issues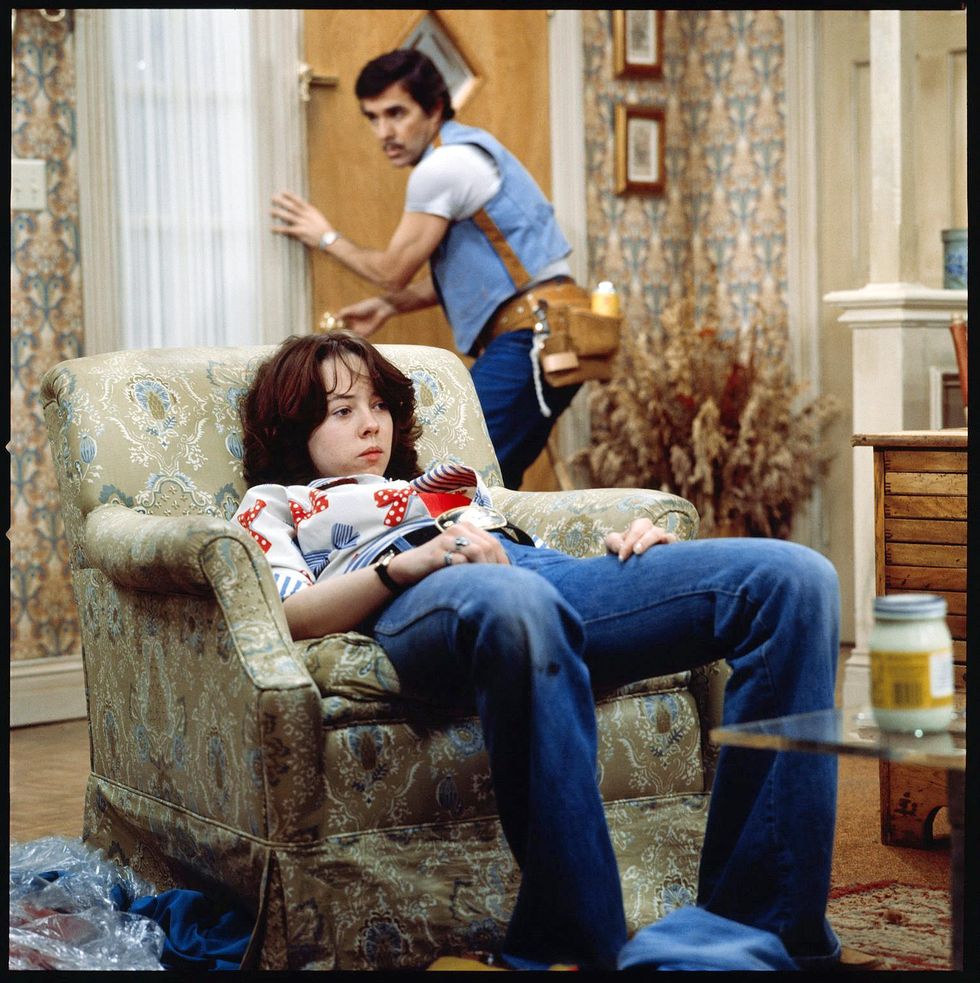 One Day at a Time cast members Pat Harrington Jr. as Dwayne Schneider and Mackenzie Phillips as Julie Cooper.
Photo credit: CBS via Getty Images
Like any Norman Lear sitcom, One Day at a Time dealt with real issues: teen runaways, workplace sexism, shoplifting, infertility, etc. And, like any series on the air for a certain number of years, there were cast additions: Michael Lembeck (Max Horvath), Glenn Scarpelli (Alex Handris), Shelley Fabares (Francine Webster), Boyd Gaines (Mark Royer), and Nanette Fabray (Katherine Romano).
The action in the ninth season switched to the two young married couples (and eventually the three young adults after Mackenzie Phillips left the series for the second time) living together, which led CBS to express interest in a two-season renewal. But Franklin decided it was time to move on. At series end, Ann Romano Royer, now married to Mark's father, Sam (Howard Hesseman), decided to accept a job in London. "Look at you, Mom, all grown up and married," said Bertinelli's tearful Barbara as the series concluded.
A New Generation
In 2017, 33 years after its conclusion, Netflix created a reboot of the show. Lear was still onboard, but the focus this time was on a Cuban American family (Justina Machado, Isabella Gomez, Marcel Ruiz, and Rita Moreno). Todd Grinnell played Schneider, Gloria Estefan sang the snazzy, updated theme song, and the series tackled serious issues like immigration, homophobia, gender identity, mental illness, and racism.
After three seasons on Netflix, Pop TV picked up the new One Day at a Time for an abbreviated seven final episodes.
While both the original and the reboot of One Day at a Time showcased a single woman with two children, the first pilot (titled Three to Get Ready) featured Bonnie Franklin's Ann raising one teen daughter and not two.
SUBSCRIBE NOW: Enjoy 4 Digital Plus 2 Print/Digital Issues Of Watch Per Year — For Free!
Factoids about One Day at a Time
One Day at a Time was created by husband-and-wife acting and writing duo Whitney Blake and Allan Manings. Blake, actor Meredith Baxter's mother, was best known for playing Dorothy on the 1960s Shirley Booth sitcom, Hazel.
The travel agency set where Barbara and Max worked in the final season was later used as Al Bundy's (Ed O'Neill) shoe store on Married with Children.
One week after the series finale of the first version, Pat Harrington Jr. starred in a pilot called Another Man's Shoes. Here Schneider had left Indianapolis and moved to Florida to take care of his orphaned niece (Natalie Klinger) and nephew (Corey Feldman). The pilot was not picked up.
Harrington Jr., who won the Emmy Award for Outstanding Supporting Actor in a Comedy Series in 1984, also won the Golden Globe for Best Supporting Actor in a Series, Miniseries, or Motion Picture Made for Television in 1981.