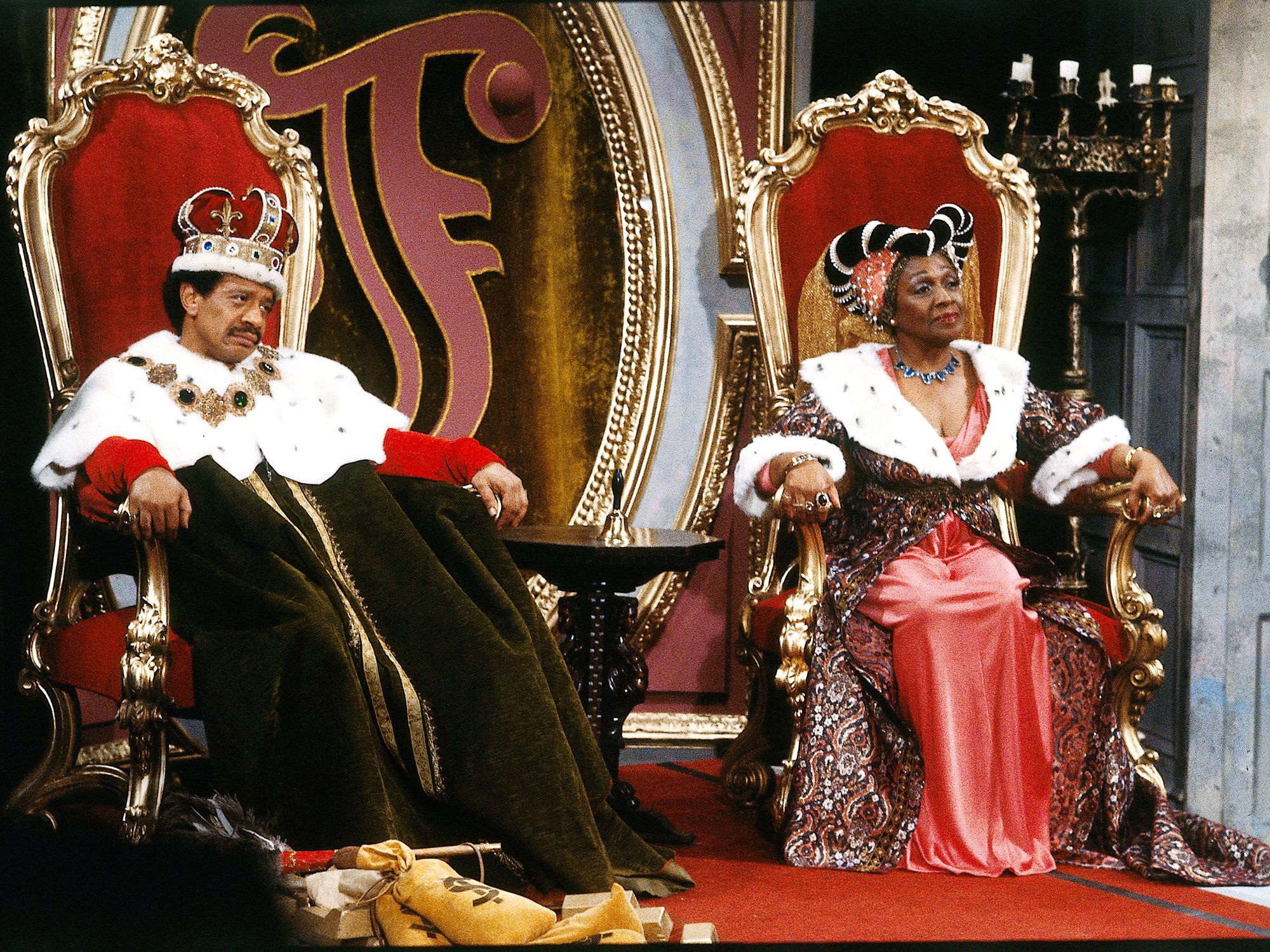 Photo credit: CBS Photo Archive/Getty Images
The longest-running Lear series, The Jeffersons moved on up the charts as the seasons went on.
By Marc Berman

I could not believe what I was hearing out of Carroll O'Connor's mouth the first time I saw All in the Family," Isabel Sanford once said. Sanford made her first appearance as neighbor Louise Jefferson in the first season episode titled "Lionel Moves into the Neighborhood" (March 2, 1971). "But, at second glance," she said, "I just fell down laughing. And then I received a call for an audition, initially to play Louise Jefferson's sister."
Flash-forward to January 18, 1975, and Archie and Edith's neighbors—George (Sherman Hemsley), wife Louise (aka "Weezy"), and son Lionel (Mike Evans)— were "movin' on up to that dee-luxe apartment in the sky" in spinoff The Jeffersons.
SUBSCRIBE NOW: Enjoy 4 Digital Plus 2 Print/Digital Issues Of Watch Per Year — For Free!
Comical Combatants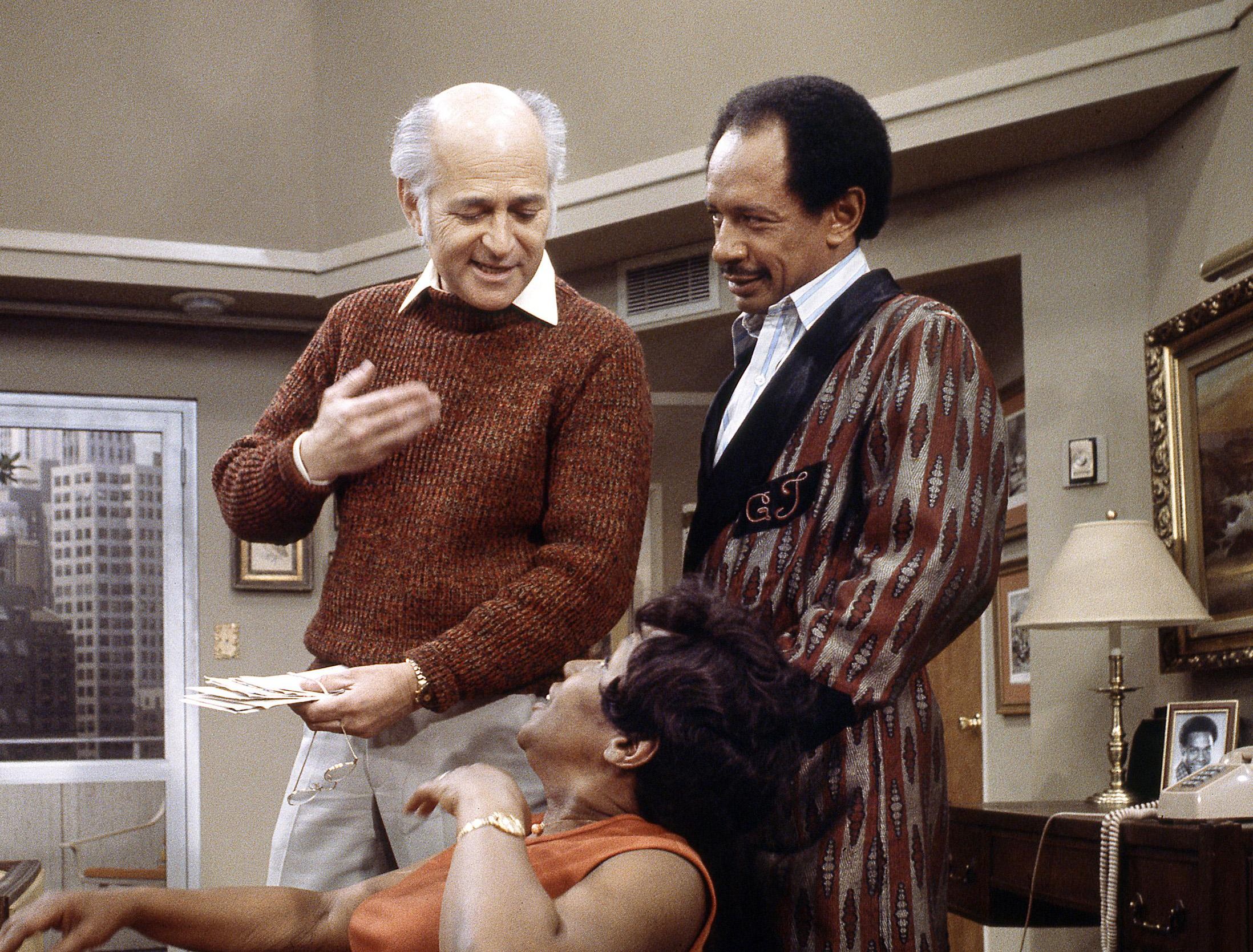 Lear (standing left) talks with actors Sanford (seated) and Hemsley on the set of The Jeffersons.
Photo credit: Brian Hamill/Getty Images
On All in the Family, Archie's racist thinking was usually challenged by George, while Edith and Louise were the voices of reason. On The Jeffersons, the now-successful cleaning store franchise owner George comically combated Lionel's future in-laws—Tom (Franklin Cover) and Helen Willis (Roxie Roker)— who as an interracial couple ("zebras," according to George) were often the butt of his remarks. Berlinda Tolbert played Jenny, Lionel's future wife. Paul Benedict as Harry Bentley was the loyal but somewhat dimwitted British next-door neighbor. Zara Cully as George's feisty mother, Olivia Jefferson, was none too fond of her daughter-in-law, Louise. And Marla Gibbs, initially in a recurring role, was the Jeffersons' wisecracking housekeeper, Florence Johnston, who knew how to put George in his place.
An Immediate Sensation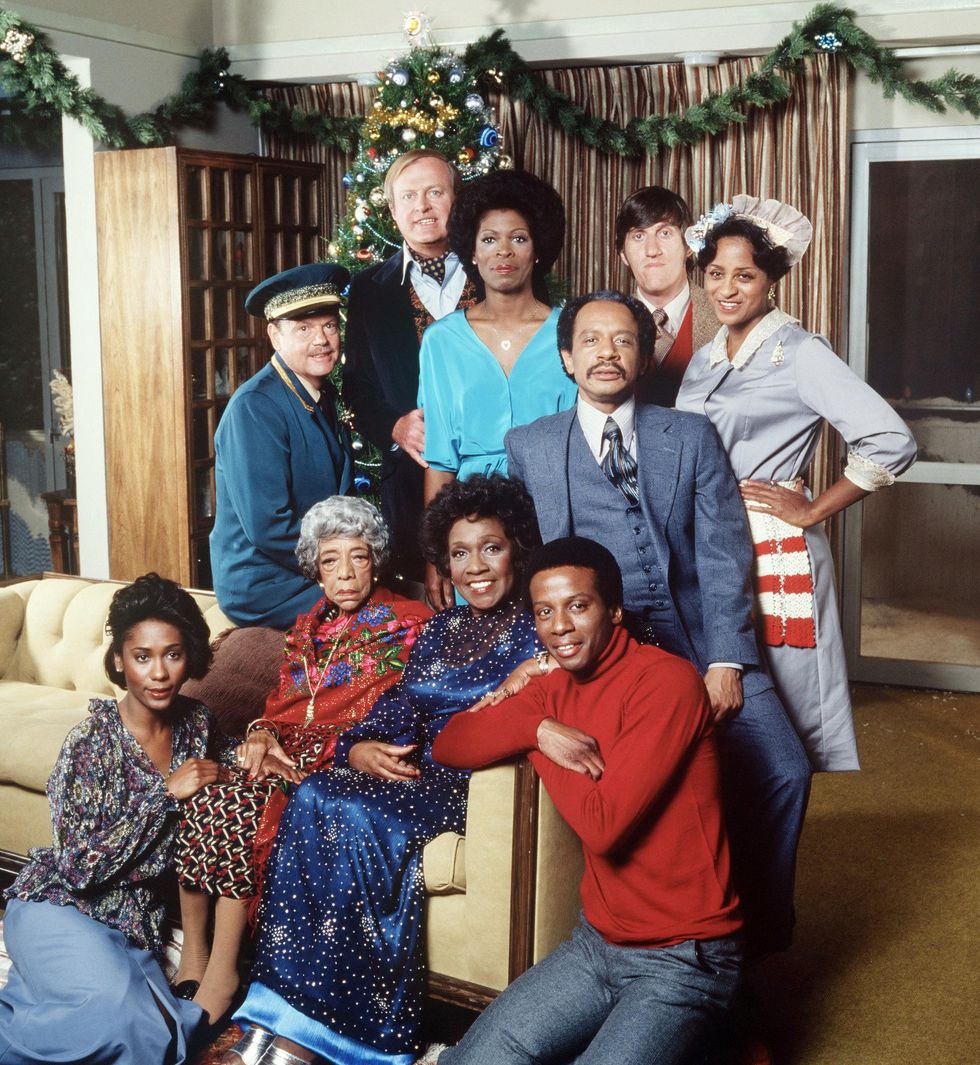 Portrait of the cast of The Jeffersons.
Photo credit: CBS via Getty Images
"How come we overcame and nobody told me?" noted Gibbs as Florence at the end of the first episode upon realizing the Willises also lived in the building.
Debuting out of parent All in the Family into the plum Saturday 8:30 p.m. ET (The Mary Tyler Moore Show) time slot, The Jeffersons was an immediate sensation, finishing that abbreviated first season ranked No. 4 overall (behind Lear's All in the Family, Sanford and Son, and Chico and the Man). While most series tend to start tiring by Season 5 or 6, the show actually peaked in Season 8 (1981–82), with an overall third-place finish.
The Longest-Running Lear Series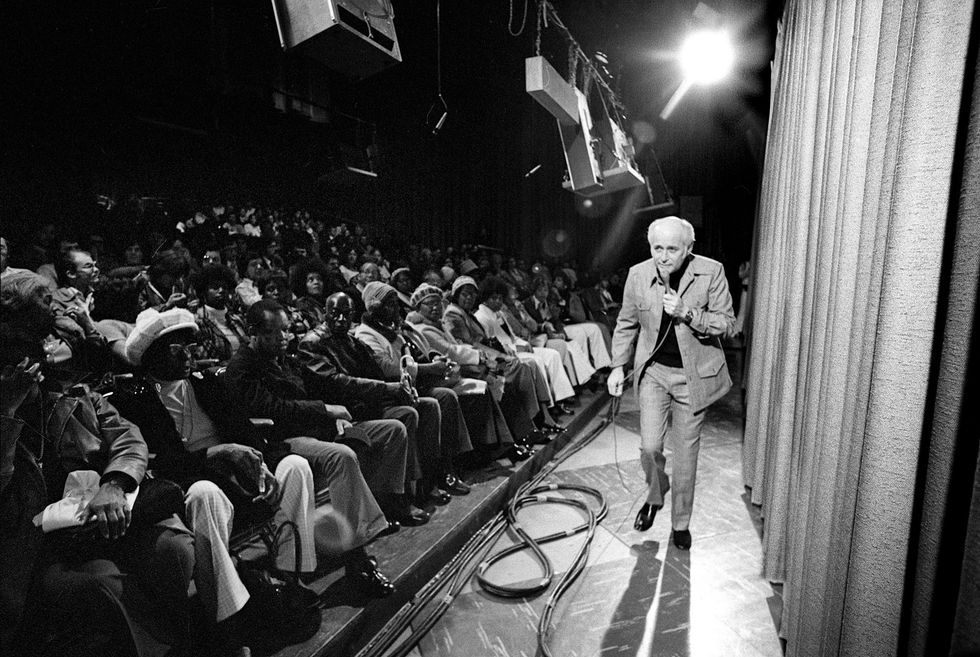 Lear talks with the studio audience on set of The Jeffersons.
Photo credit: Brian Hamill/Getty Images
The Jeffersons ran for 11 seasons, making it the longest-running Lear series. While there was no official final episode, George and Louise did reunite for two episodes of Will Smith's The Fresh Prince of Bel-Air (including the series finale on May 20, 1996, which also featured Marla Gibbs as Florence).
SUBSCRIBE NOW: Enjoy 4 Digital Plus 2 Print/Digital Issues Of Watch Per Year — For Free!
Factoids About The Jeffersons
As compatible as they seemed in real life, Sanford was actually 56 when the series began, versus just 37 for Hemsley. Mike Evans was only 10 years younger than his TV dad.
While Sanford appeared on a recurring basis on the first five seasons of All in the Family, Hemsley did not debut as George until the Season 4 episode titled "Henry's Farewell" (October 20, 1973). Lear created the role of George with Hemsley in mind, but he was not immediately available; Mel Stewart, as George's brother Henry, occasionally appeared.
The characters of Tom and Helen Willis were television's first Black and white interracial couple. The late Roxie Roker was the mother of singer-songwriter Lenny Kravitz.
Gibbs as Florence exited The Jeffersons briefly for spinoff comedy Checking In, which aired for four episodes in April 1981. There was also talk of giving Benedict's Harry Bentley his own series.
In addition to The Fresh Prince of Bel-Air, Hemsley appeared as George in the first two episodes of one-season CBS sitcom E/R in 1984. This was prior to NBC's long-running medical drama ER (which, ironically, also featured George Clooney).
Sanford was the first African American actress to win the Emmy for Outstanding Lead Actress in a Comedy (in 1981).
DuBois (Willona Woods on Good Times) wrote and performed the classic opening theme song on The Jeffersons.