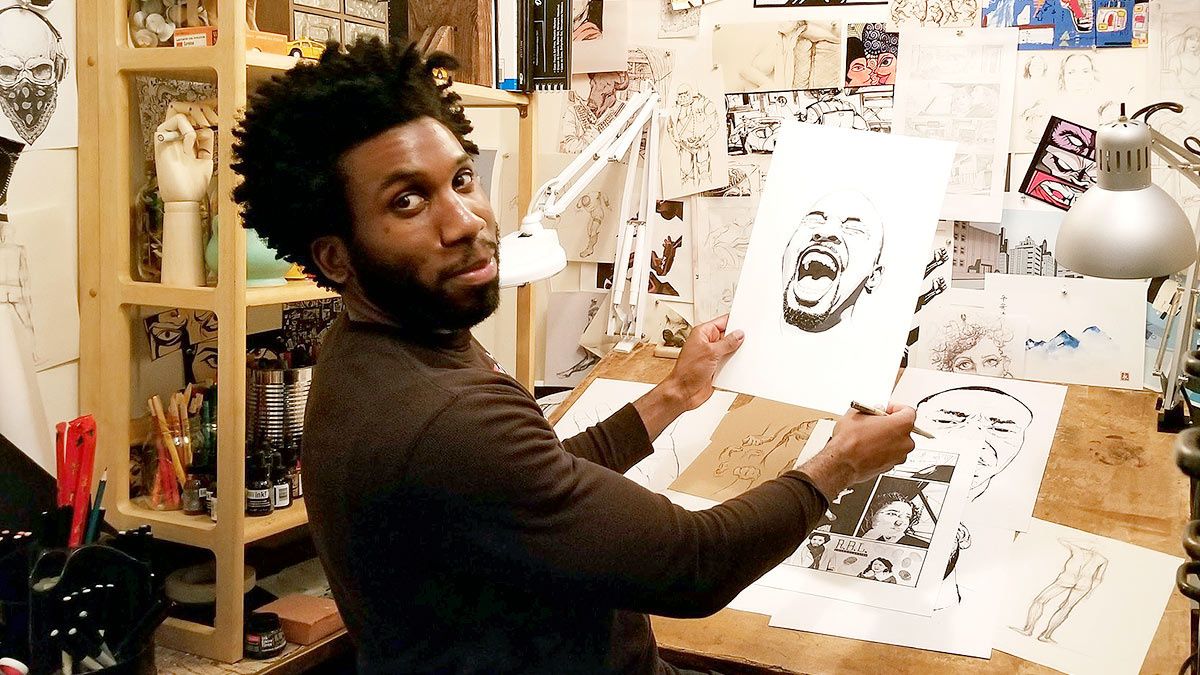 Photo Credit: Courtesy of Nyambi Nyambi.
How a lifelong love of comic books (and a seriously huge collection) inspires The Good Fight's Nyambi Nyambi to create his own works of graphic art.
By Oliver Jones
The Good Fight streams exclusively on Paramount+.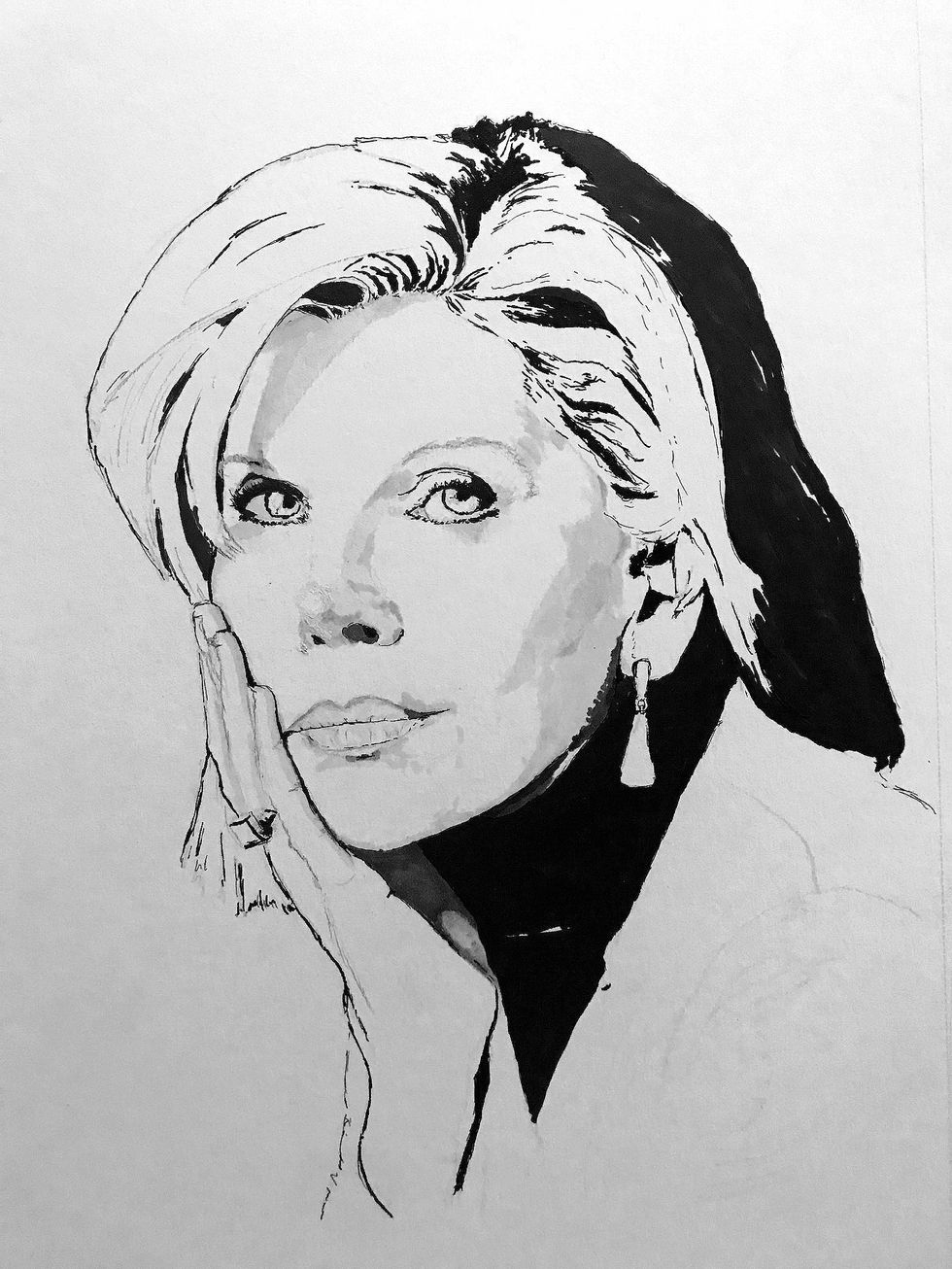 Nyambi's portrait of The Good Fight star Christine Baranski.
Photo Credit: Courtesy of Nyambi Nyambi.
Some actors dream of awards and accolades; Nyambi Nyambi covets another prize."I would love to one day own the first printing of the very first issue of Teenage Mutant Ninja Turtles," says the star of CBS All Access original series The Good Fight, referring to the 3,000-print black-and-white comic that kicked off an unlikely half-shell revolution in 1984.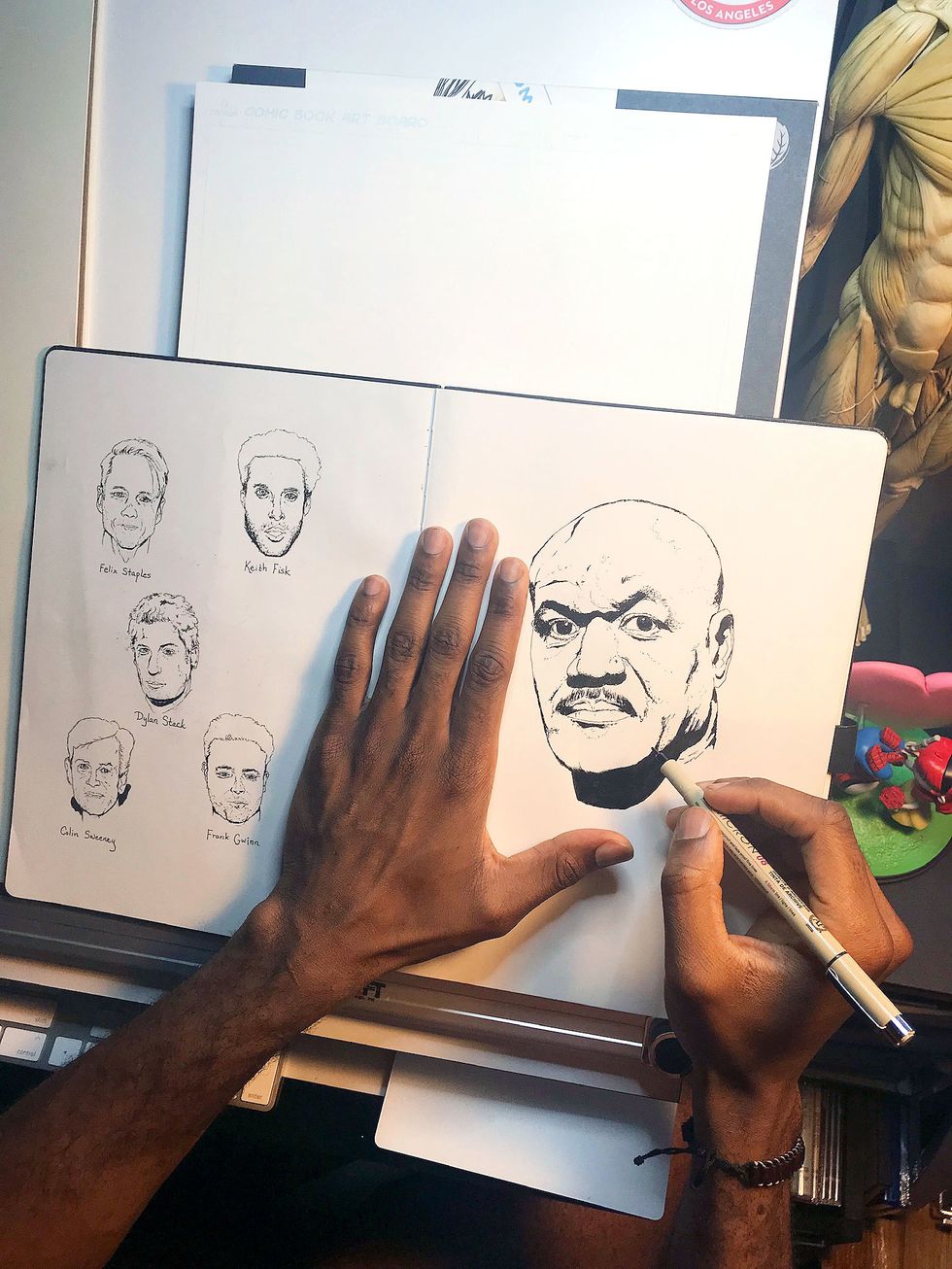 Nyambi's sketches of The Good Fight stars.
Photo Credit: Courtesy of Nyambi Nyambi.
If he ever does get his hands on one (an investment that could set him back anywhere from $3,800 to $38,000, depending on its condition), the issue will have plenty of company. Since first landing the part of Samuel the waiter on CBS' Mike & Molly a decade ago, Nyambi, a first-generation Nigerian American who was a voracious reader of Sunday comic strips growing up in Oklahoma and Virginia, has amassed a collection that rivals many of the comic book shops he frequents every Wednesday. (For the uninitiated, that's the day new comic books arrive in stores.)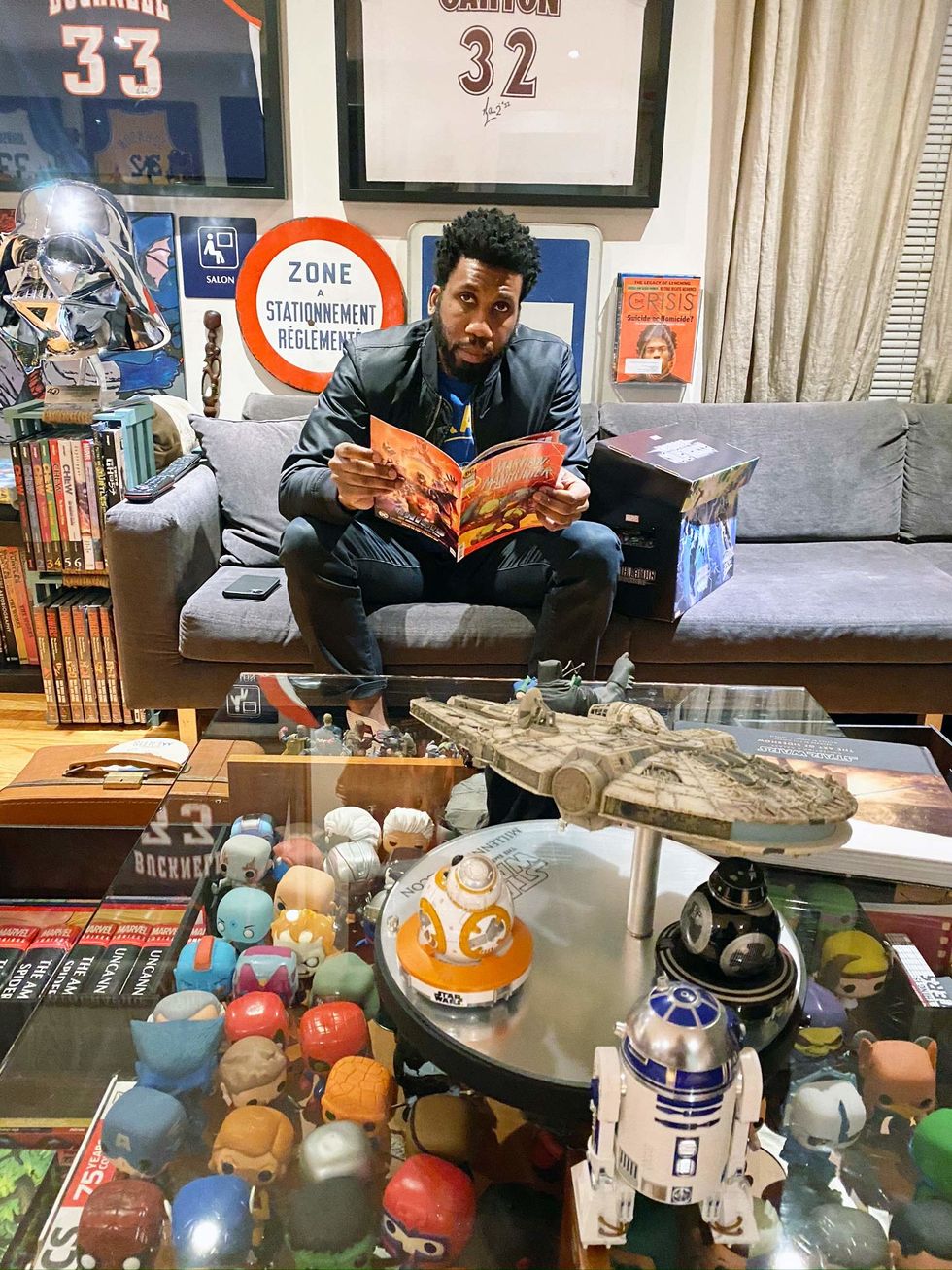 Nyambi at home with various collectibles.
Photo Credit: Courtesy of Nyambi Nyambi.
Along with hundreds of statue collectibles of most of the DC and Marvel characters, his thousands of comic books spill over from his home into storage units. The 41-year-old explains the nature of his obsession straightforwardly. "For me, comic books have always inspired my imagination in a way that other mediums don't," he says. "And drawing is another creative way for me to explore as an actor or a storyteller."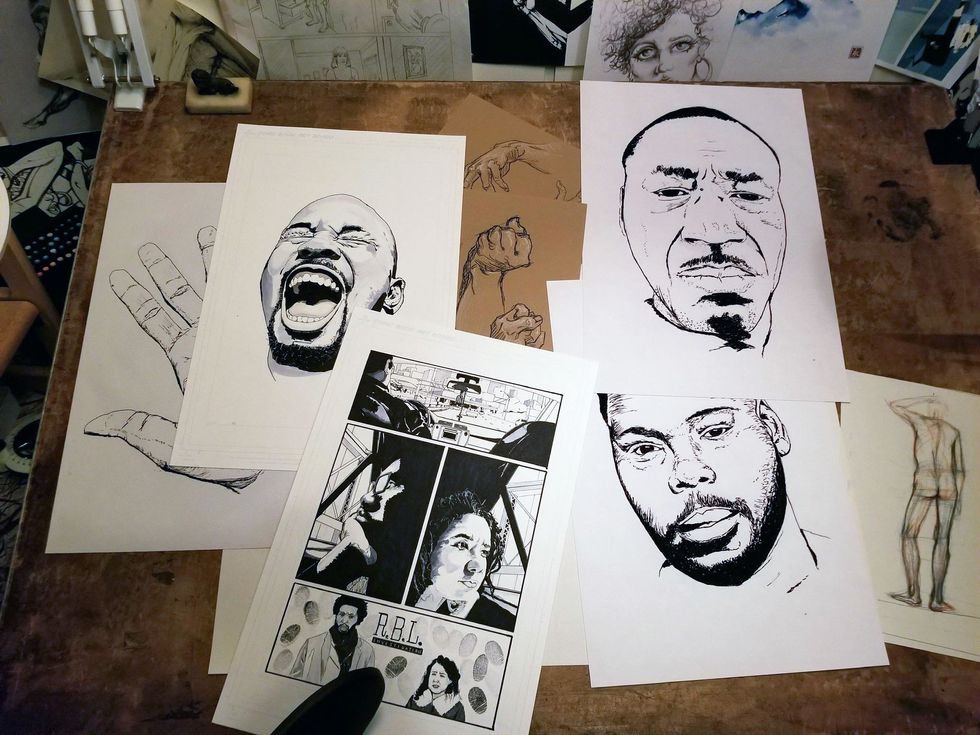 A sample of Nyambi's sketches and comic book work.
Photo Credit: Courtesy of Nyambi Nyambi.
Nyambi's comic book dreams are not limited to collecting. He also takes art classes, draws every day, and is working toward illustrating and writing his first comic. Ultimately, he wants to complete a trade paperback. "My artwork is good for a single page, but telling a story [over multiple pages] is still something I need to learn," says Nyambi, who shares his artistic talent with his Good Fight character, investigator Jay Dipersia, and whose personal drawings (pictured left) were included in the series.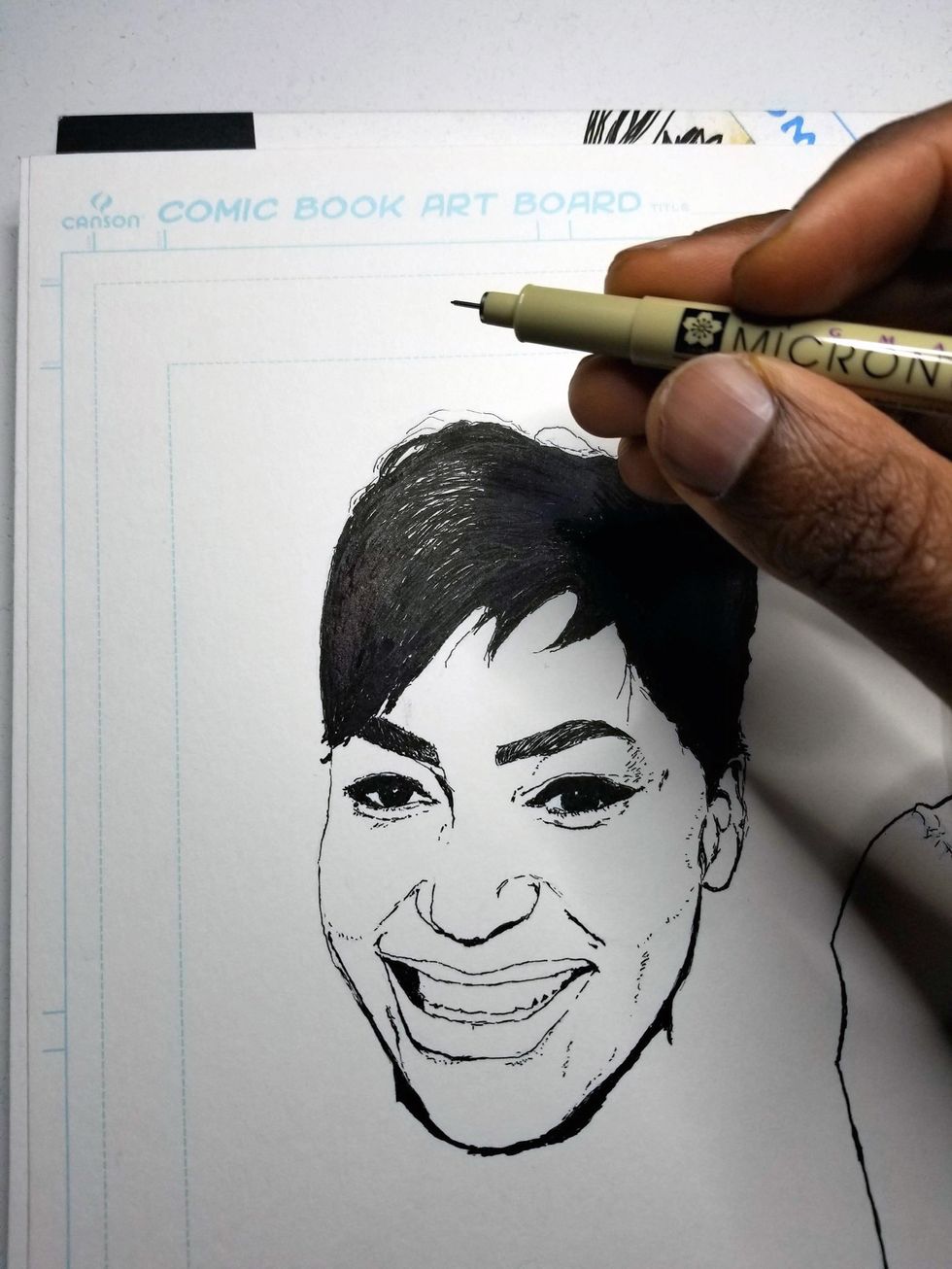 A portrait of The Good Fight star Cush Jumbo.
Photo Credit: Courtesy of Nyambi Nyambi.
Adds Nyambi: "I'm an actor who absolutely loves comic books and loves to draw, but it would be a disservice to comic book artists to say I am a comic book artist. At least for now."
NYAMBI NYAMBI'S GREATEST HITS
Calvin and Hobbes by Bill Watterson: "As a kid, I never knew that comic book stores existed. For me, comics were all about the Sunday paper and Calvin and Hobbes, The Far Side, and Hi and Lois."

Batman: Year One by Frank Miller: "This was the first comic book I bought when I walked into Midtown Comics in New York City in 2005. Nothing has ever been the same."
Sweet Tooth by Jeff Lemire: "To watch how a story like that can breathe without dialogue and to witness the emotional life that unfolds on the page—panel to panel—is incredible."
Originally published in Watch Magazine, May-June 2020.
The Good Fight streams exclusively on Paramount+.