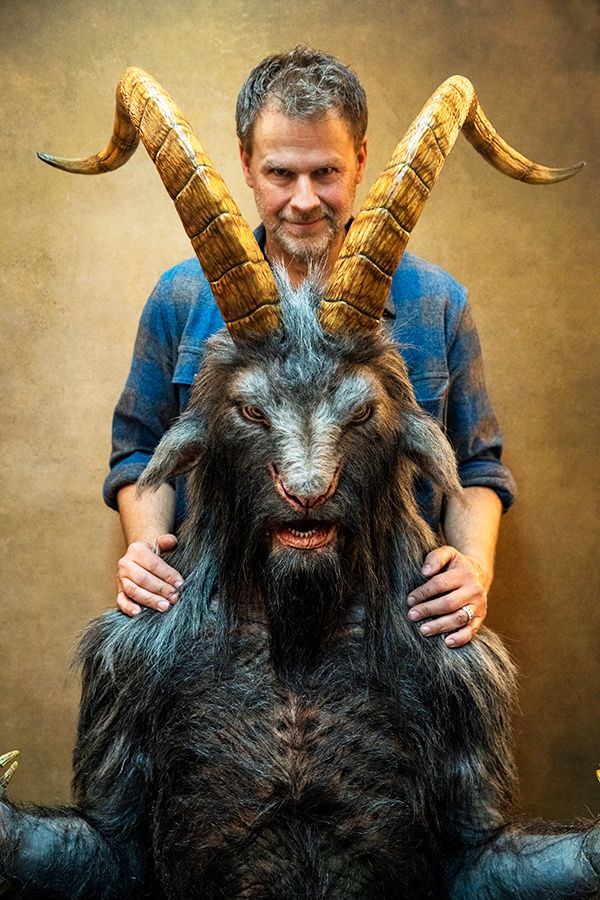 Photo Credit: Courtesy of Joel Harlow.
Evil makeup and effects artist extraordinaire Joel Harlow expands his fantasy-filled workspace studio. Bring on the monsters.
By Maria Neuman
Stream full episodes of Evil on CBS All Access.
There are very few people in the world who lament the fact that there's not enough storage in their workspace for a small army of monsters, ghouls, and underworld creatures. In his San Fernando Valley studio, special effects makeup artist Joel Harlow has enough masks and prosthetic paranormal body parts to make anyone else afraid to turn out the lights. Instead, he recently relocated so he could make and store more.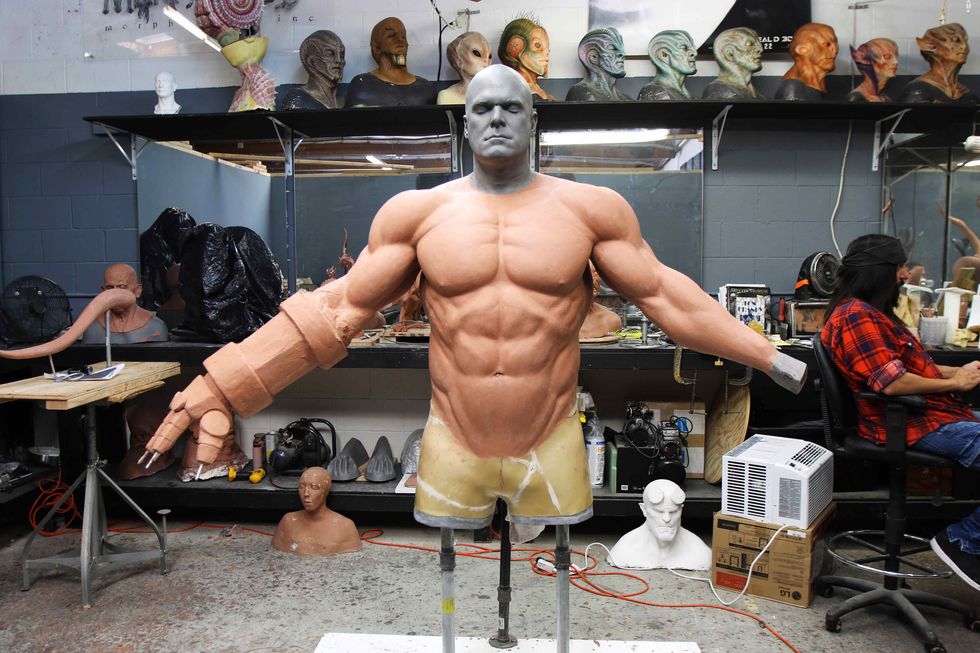 A sculpture of the Hellboy (2019) body, which was used to create a foam rubber body suit worn by star David Harbour.
Photo Credit: Courtesy of Joel Harlow.
"I moved about four blocks down from my other studio," says Harlow, who is responsible for designing and crafting (along with a small team) all the creeps on Evil. The one-hour drama tags along with a clinical psychologist (Katja Herbers) who, with the help of a priest-in-training (Mike Colter) and a tech-savvy carpenter (Aasif Mandvi), aims to solve a backlog of New York City mysteries with a mix of faith, skepticism, and science. This is where the fun (and creepy creativity) begins for Harlow, as the series delivers a nail-biting stream of supernatural enigmas.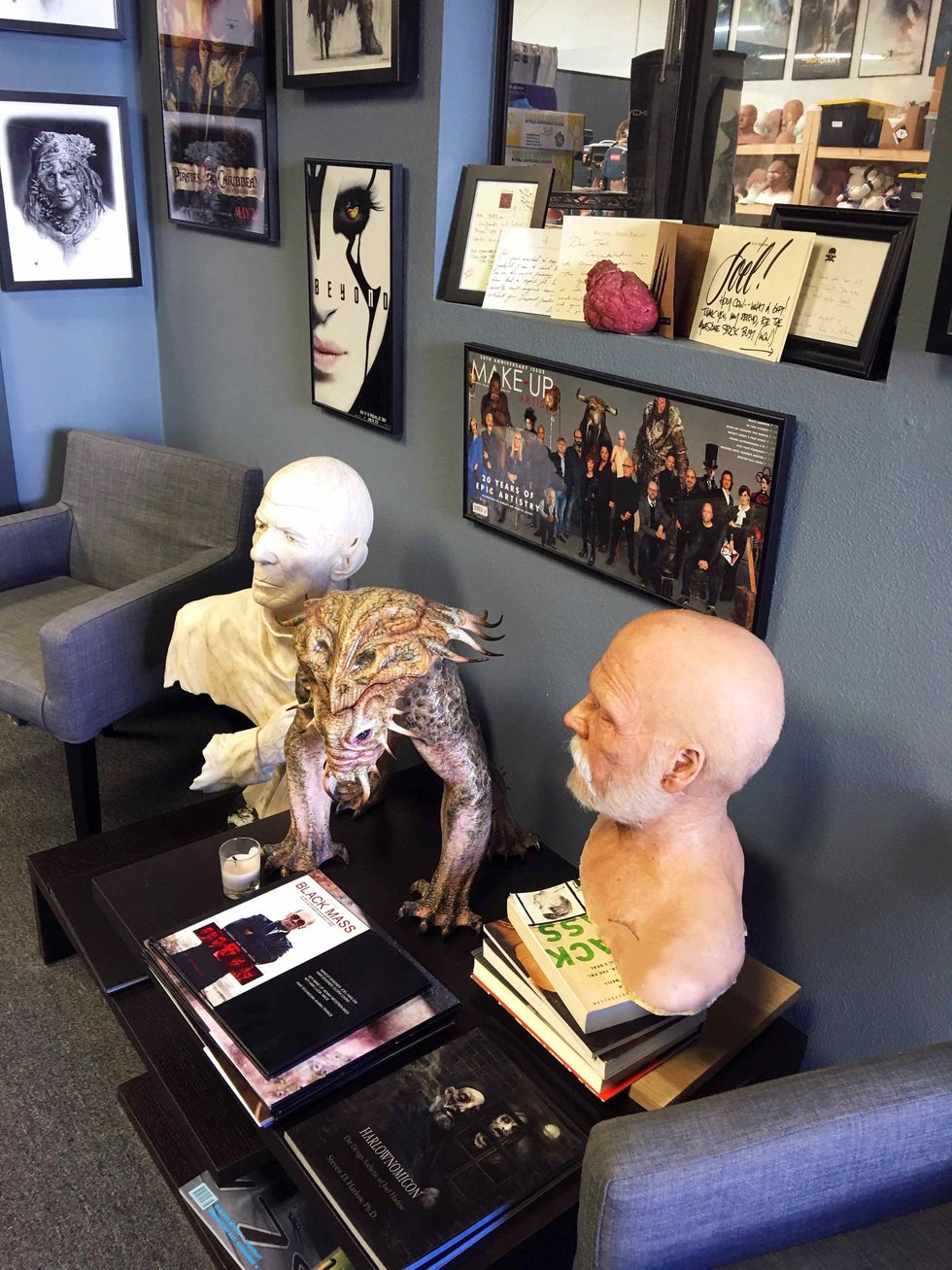 The lobby of Harlow's first studio space.
Photo Credit: Courtesy of Joel Harlow.
"Our space is about 3,500 square feet, and we store all the crucial elements of characters that could reoccur," he says. "For instance, on Evil we keep everything mold-related or prosthetic-related, so if a character comes back, we can use all of it."
Another bonus of his new-and-improved studio? The extra space helps his crew keep all the different parts of the effects process separated. "In my old space, you'd have someone grinding plaster next to someone who was doing painting, and that was not ideal. Now each department has its own room." Harlow likens his Morphology FX Inc. to a one-stop shop of sorts, as he's able to offer special effects and straight makeup, as well as provide and supervise a crew.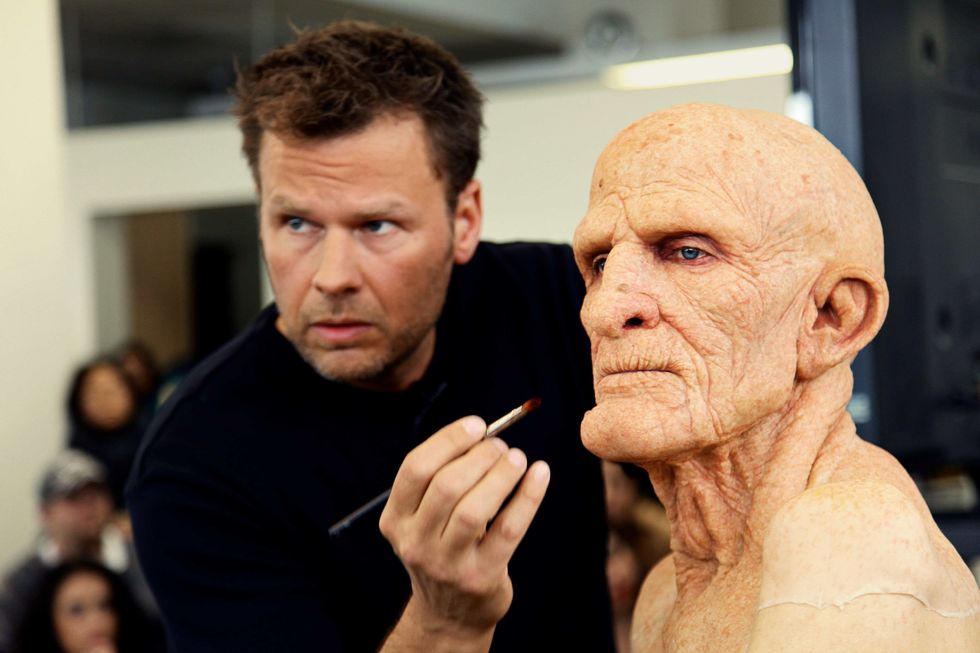 Harlow demonstrates the art of horror makeup.
Photo Credit: Courtesy of Joel Harlow.
One of the most detail-oriented characters Harlow creates for Evil is George, played by Marti Matulis, who is a pro at staying glued into head-to-toe prosthetics for long days of filming. A full-body piece like George takes about two and a half hours to get into. "He has a bodysuit reproduced in foam latex with a spandex undersuit, as well as foam and gusseting so the muscle movement looks correct," says Harlow of the recurring incubus character. The headpiece (or cowl) also covers the shoulders but, unlike the body piece, can be used only once.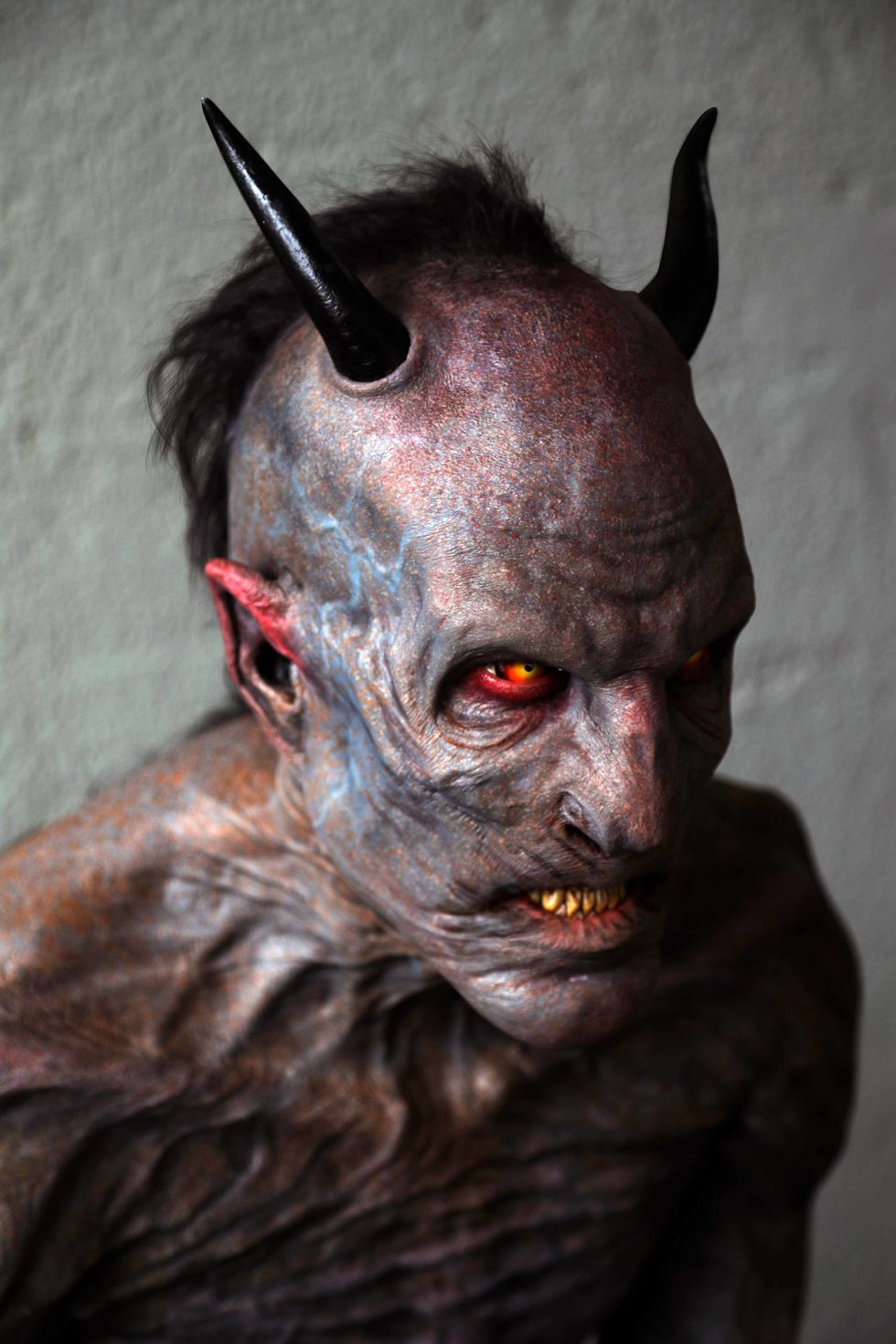 Creepy character George from Evil.
Photo Credit: Courtesy of Joel Harlow.
"After we've filmed for the day, we use an oil to get the headpiece off so it's easy on the skin. When the oil touches the mask, it's done." Add to that ear, face, and lip prosthetics combined with teeth, contact lenses, and hair, and it's easy to see why Harlow campaigned for Matulis—with his sheer patience and acting acumen—to get the role. "There's a natural tendency for performers to be uncomfortable. If they're not used to wearing all this gear, they'll feel like they can't work through that."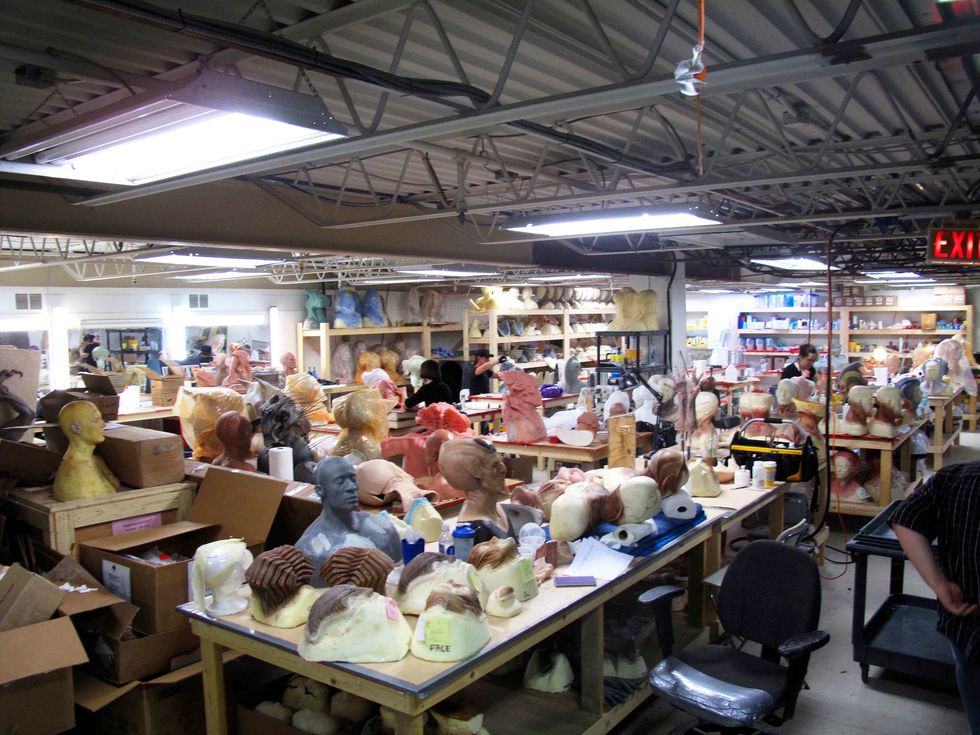 Harlow designed 56 alien races for Star Trek Beyond.
Photo Credit: Courtesy of Joel Harlow.
While Harlow has designed and created for everyone from Johnny Depp in the Pirates of the Caribbean film franchise to superheroes in blockbusters such as Logan and Green Lantern, it's the monsters that are his favorite. "It's Frankenstein syndrome," he says with a laugh. "You get to think of a character, design it, build it in your lab, and once you've glued it onto the actor, the monster comes to life!"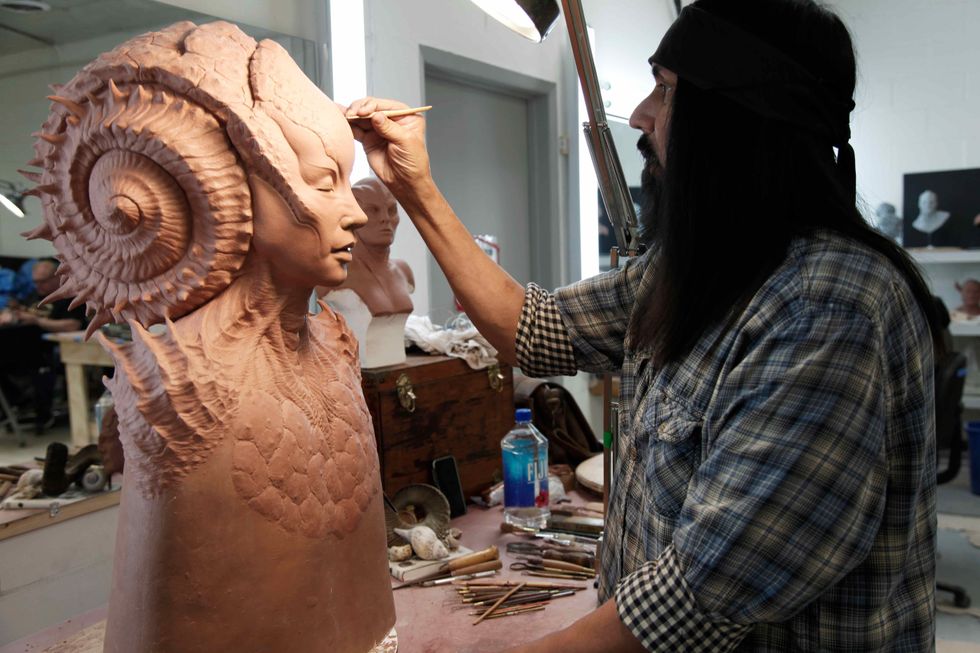 A studio artist creatively sculpts a creature.
Photo Credit: Courtesy of Joel Harlow.
Harlow first caught the creature bug as a kid in Grand Forks, North Dakota, when he and his dad went to see the original black-and-white King Kong movie, coupled with other scary faves like An American Werewolf in London and The Thing. "Those films redirected me from animation towards makeup and effects," he says of his time at Manhattan's School of Visual Arts. He's also constantly on the lookout for new inspiration, whether it's an interesting face on the street or the work of his peers.
Even in his downtime, Harlow confesses to picking horror over a lighthearted rom-com. "I love all kinds of movies and television, but horror speaks to me," he says. "And Evil has been a dream come true." That extra storage is already coming in handy.
MONSTER MASH
Harlow shares some of his favorite creature creations.
Cast, Star Trek Beyond
"It's hard for me to pull out one in particular from this movie because we had 56 completely different characters to do. We started in Los Angeles and brought everything up to Vancouver."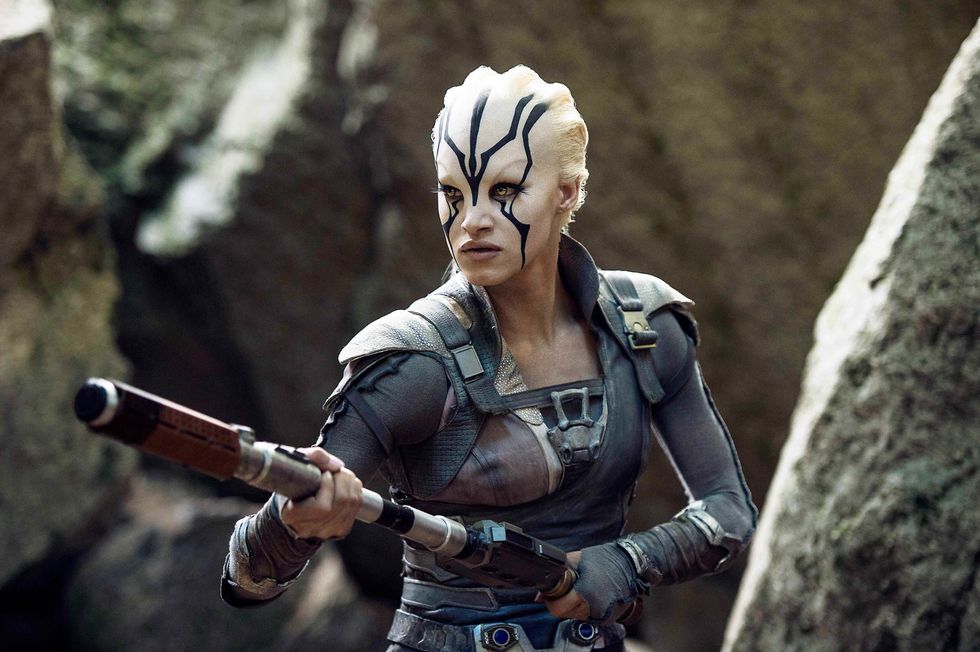 Photo Credit: Paramount Pictures/Everett Collection.
Bootstrap Bill, Pirates of the Caribbean series
"He's completely encrusted [by sea creatures] and was actually a 250-piece makeup job because the skin was silicone and each barnacle was a separate piece."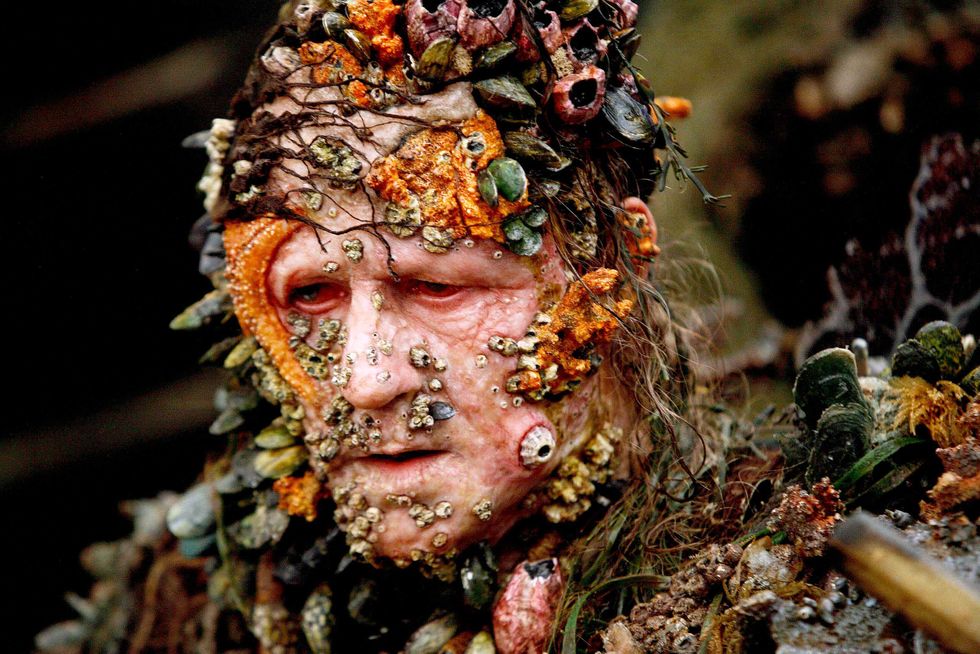 Photo Credit: Buena Vista Pictures/Everett Collection.
Erik Killmonger, Black Panther
"I'm very proud of all the body scarification on Michael B. Jordan's character, as well as a lot of the older members who have the ornamental plates in their lower lips."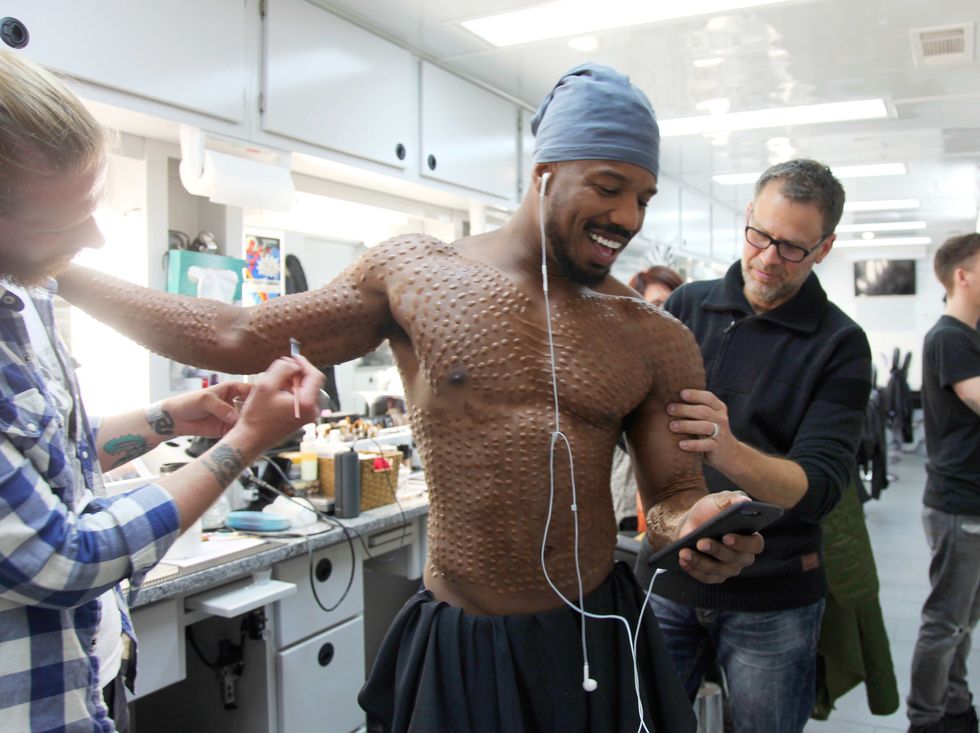 Photo Credit: Courtesy of Joel Harlow.
The Devil, Evil
"It's a goat-headed animatronic character with giant horns, and it required a team of three people just to apply the hair."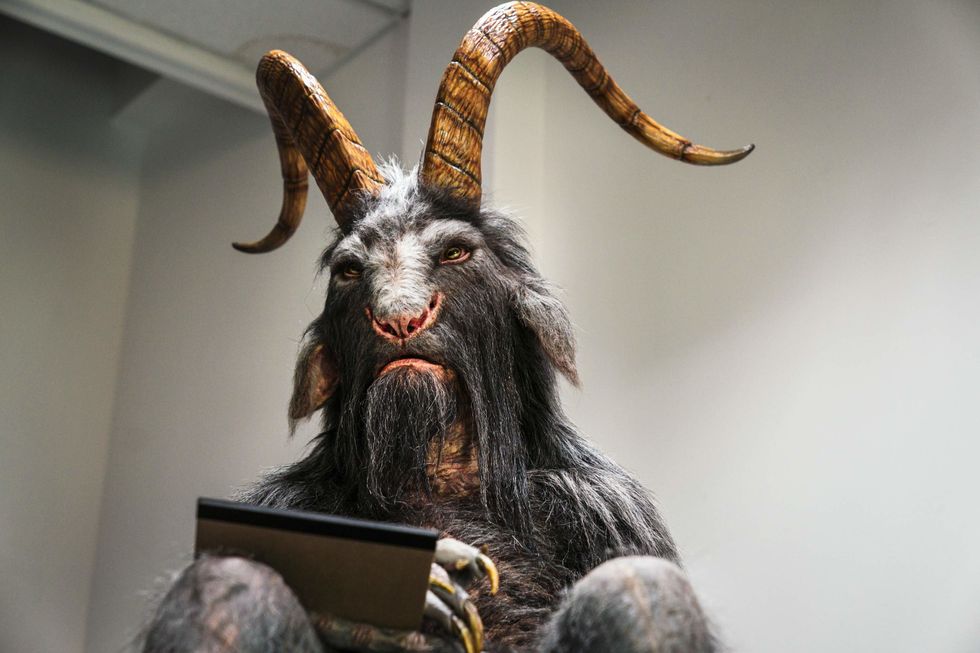 Photo Credit: Elizabeth Fisher/CBS.
Originally published in Watch Magazine, May-June 2020.
Stream full episodes of Evil on CBS All Access.