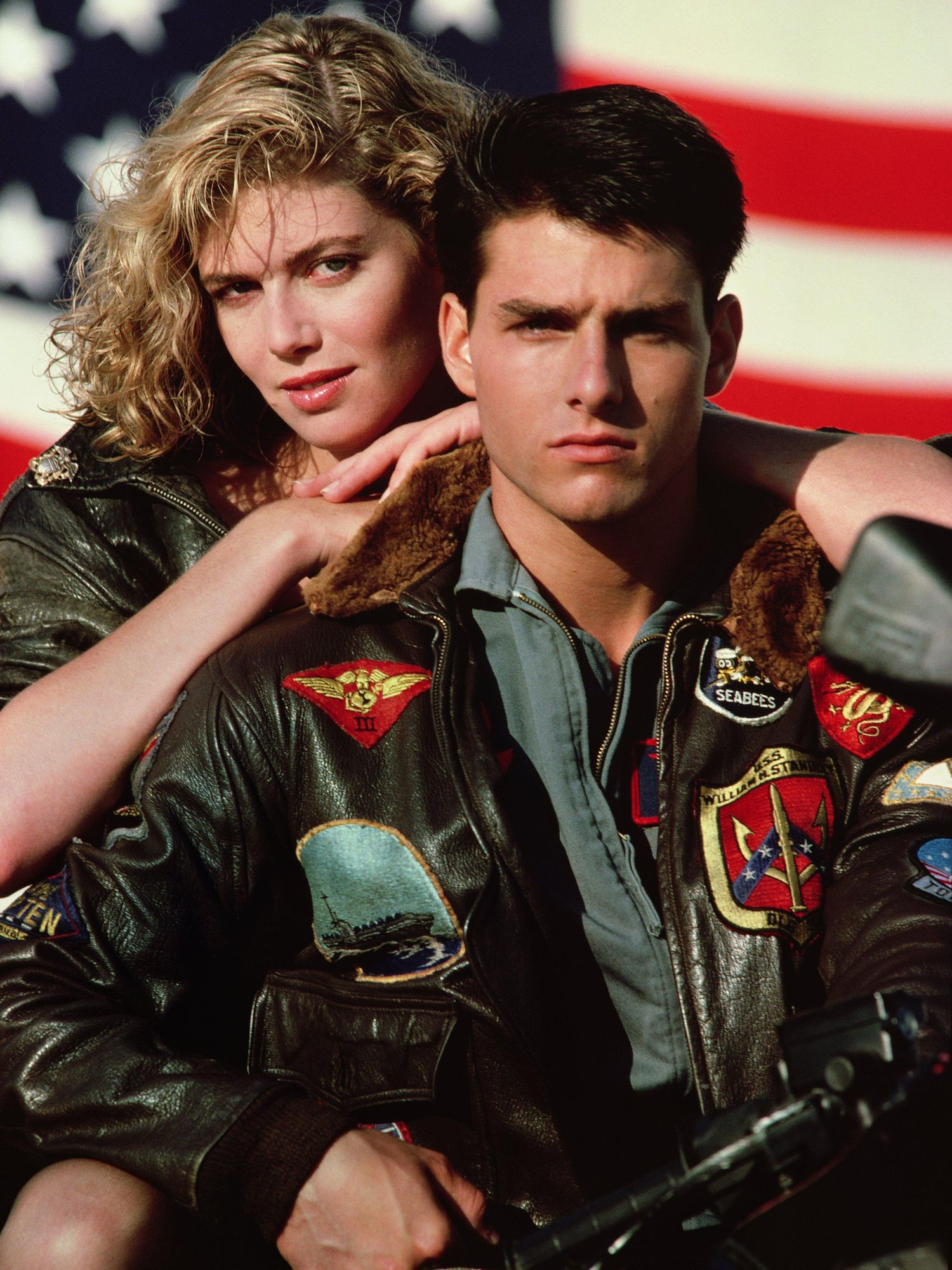 Paramount Pictures
Before you head into the danger zone with the upcoming Top Gun Maverick premiere, here's a look at what made the '80s blockbuster iconic.
by Sarah Deming
The wait is over. Top Gun Maverick touches down in theaters May 27th. Tom Cruise reprises his iconic role as Pete "Maverick" Mitchell, the hotshot Navy pilot who does things his own way.
Maverick's new mission: to train the next generation of Top Gun graduates for a perilous assignment. Things heat up when one of the youngsters turns out to be Bradley "Rooster" Bradshaw (Miles Teller), son of Maverick's late flying partner "Goose." Of course, no sequel would be complete without Val Kilmer as Maverick's arch frenemy "Iceman." Also starring are Jennifer Connelly, Jon Hamm, and Glen Powell.
To get in the Maverick mood, let's revisit Paramount's original Top Gun. The biggest hit of 1986, it grossed over $350 million. Applications to Naval aviation school soared as a whole generation of Americans felt the need for speed. Here's a look back at what made the movie iconic.
You can stream Top Gun on Paramount+.
SUBSCRIBE NOW: Enjoy 4 Digital Plus 2 Print/Digital Issues Of Watch Per Year — For Free!
An Epic Hero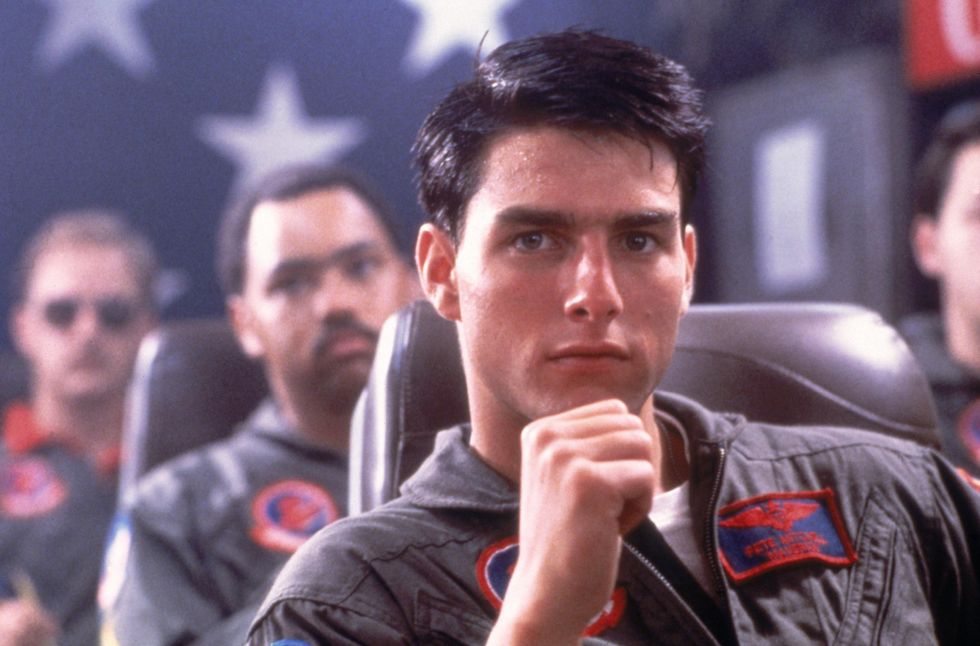 Tom Cruise as Pete Maverick strikes a pensive pose.
Paramount Pictures
This was the role that vaulted Tom Cruise to superstardom. Maverick is the ultimate hotshot. When his squadron encounters Russian MiG-28 fighters, he flips into an inverted dive to flip a Russki the bird. Yet his heart is in the right place. When shaken wingman Cougar can't land solo, Maverick goes back to guide him.
Although his disregard for rules infuriates superiors—and leads to lots of spilled coffee—his skills land him in Top Gun, the Navy's prestigious graduate program in air combat and air superiority.
An Epic Rivalry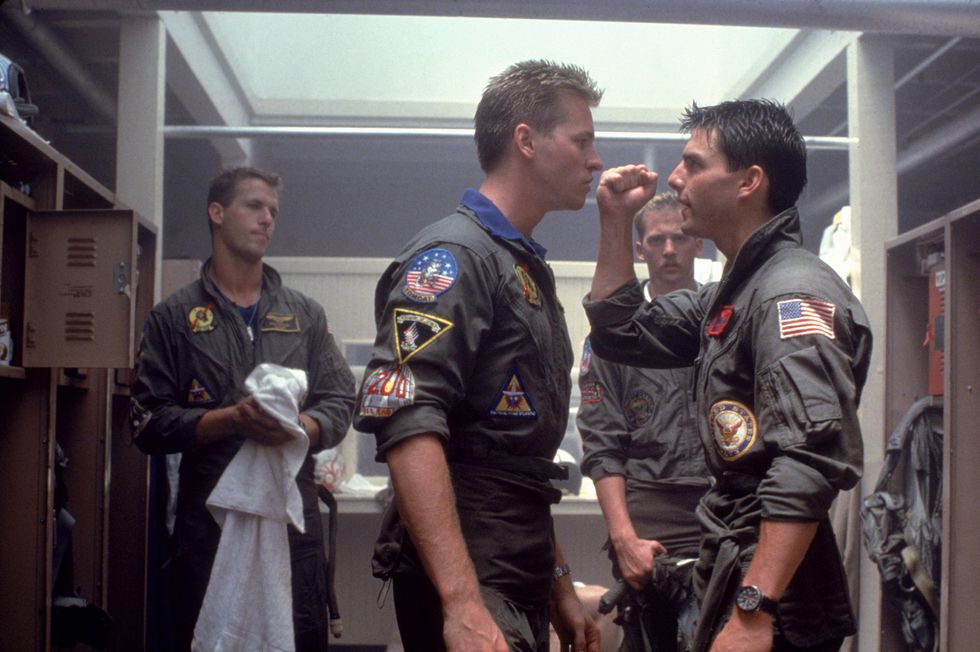 Iceman (Val Kilmer) and Maverick (Tom Cruise) confront each other in the locker room at Top Gun.
Paramount Pictures
Val Kilmer's "Iceman" is Maverick's opposite number. He's cool, calm, and collected. He always puts his seatback in the upright position and ensures his carry-on is safely stowed. Tempers flare as the two compete for the Top Gun Trophy, but the real winner is the audience, because we get to enjoy their sweaty locker room tiffs.
Top Gun Maverick takes the rivalry to a deeper level. After 30 years of service, Maverick has only made captain, dodging promotions that would land him behind a desk. Ever the schmoozer, Iceman has ascended to admiral. It's anyone's guess who will win this next round; we're just rooting for more shirtless volleyball.
An Epic Wingman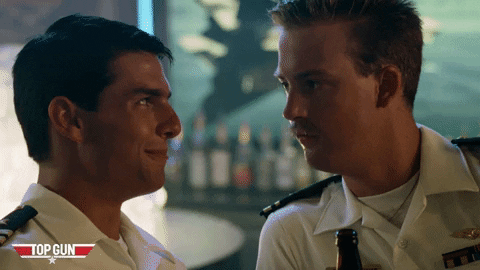 Best buds Maverick and Goose clink beers
Giphy
In the fog of war, it's hard to tell friend from foe. The F-14 was the first aircraft equipped with a phased-array radar that could track multiple targets. The Radar Intercept Officer, or RIO, sat behind the pilot, monitoring threats. Maverick's RIO was Lt. Nick "Goose" Bradshaw, sensitively portrayed by Anthony Edwards, who went on to TV fame as Dr. Mark Greene on ER.
Goose was the ultimate "wingman"—a loyal, dependable friend and companion as well as an ally to help you chat up attractive strangers without seeming creepy. It was the first time most movie fans had heard the term, and it caught on like wildfire. In today's parlance, it's close to "ride or die." Speaking of that …
The F-14 had one tragic flaw: It was prone to a flat spin. During a training exercise, Maverick and Goose pass through Iceman's jet wash, causing an engine to blow. Goose manages to eject, but the uncontrolled spin throws off the timing and his head hits the canopy, killing him. Although a tribunal absolves Maverick, he still feels responsible for his friend's death. He will confront this unresolved guilt in Top Gun Maverick, in the form of Goose's son, Rooster.
Epic Women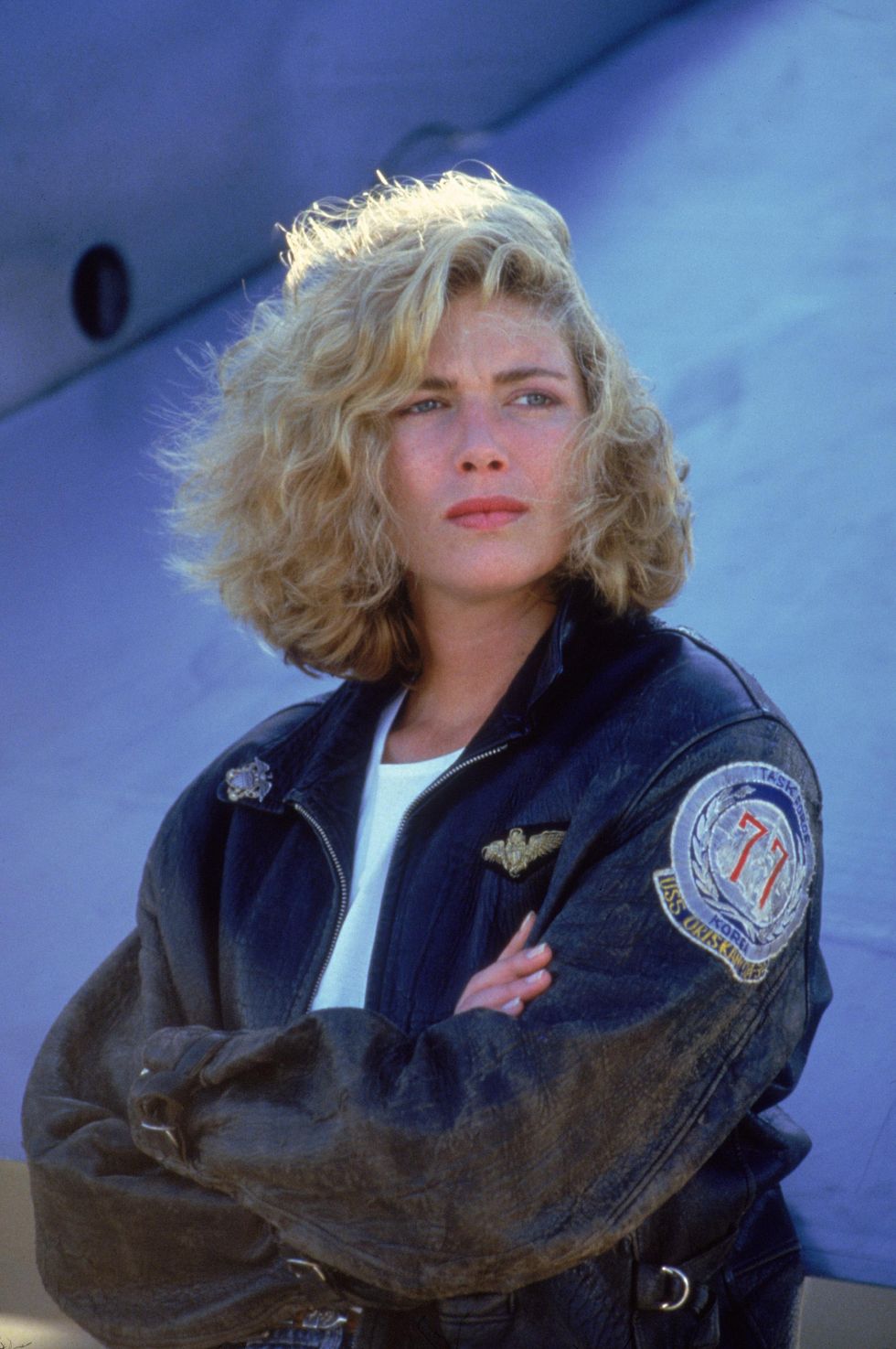 Kelly McGills as Charlie, an instructor at Top Gun
Paramount Pictures
Kelly McGillis and Meg Ryan were Top Gun's top women—and by '80s standards, both were tough cookies with survivor spirit to rival the boys'. McGillis played Charlie, an astrophysicist and instructor at Top Gun (and Maverick's love interest); Ryan played Goose's cheerful, resilient, tougher-than-she-looks military wife.
(Charlie's character was based on a real person: Christine Fox served as an instructor at Naval Air Station Miramar before becoming Acting Secretary of Defense in 2013, then the highest-ranking position a woman had ever held in the Department of Defense.)
Neither actress will return in the sequel, so cue up the original to enjoy Ryan's wisecracks, McGillis's aviation insights, and both women's fabulous coifs.
Starring opposite Cruise this time around is Jennifer Connelly, 2002's Academy Award winner for Best Supporting Actress in A Beautiful Mind. The year the original Top Gun hit theaters, a teenaged Connelly was getting chased through a maze by David Bowie and the Muppets in the cult classic Labyrinth.
Monica Barbaro(Stumptown, Unreal) will play "Phoenix," one of Maverick's elite students. Barbaro told The Hollywood Reporter she drew inspiration from the female aviators she met while filming. "You're watching a pilot up there. I happen to be a woman, but first and foremost, Phoenix is a pilot, and a really good one."
Epic Fashion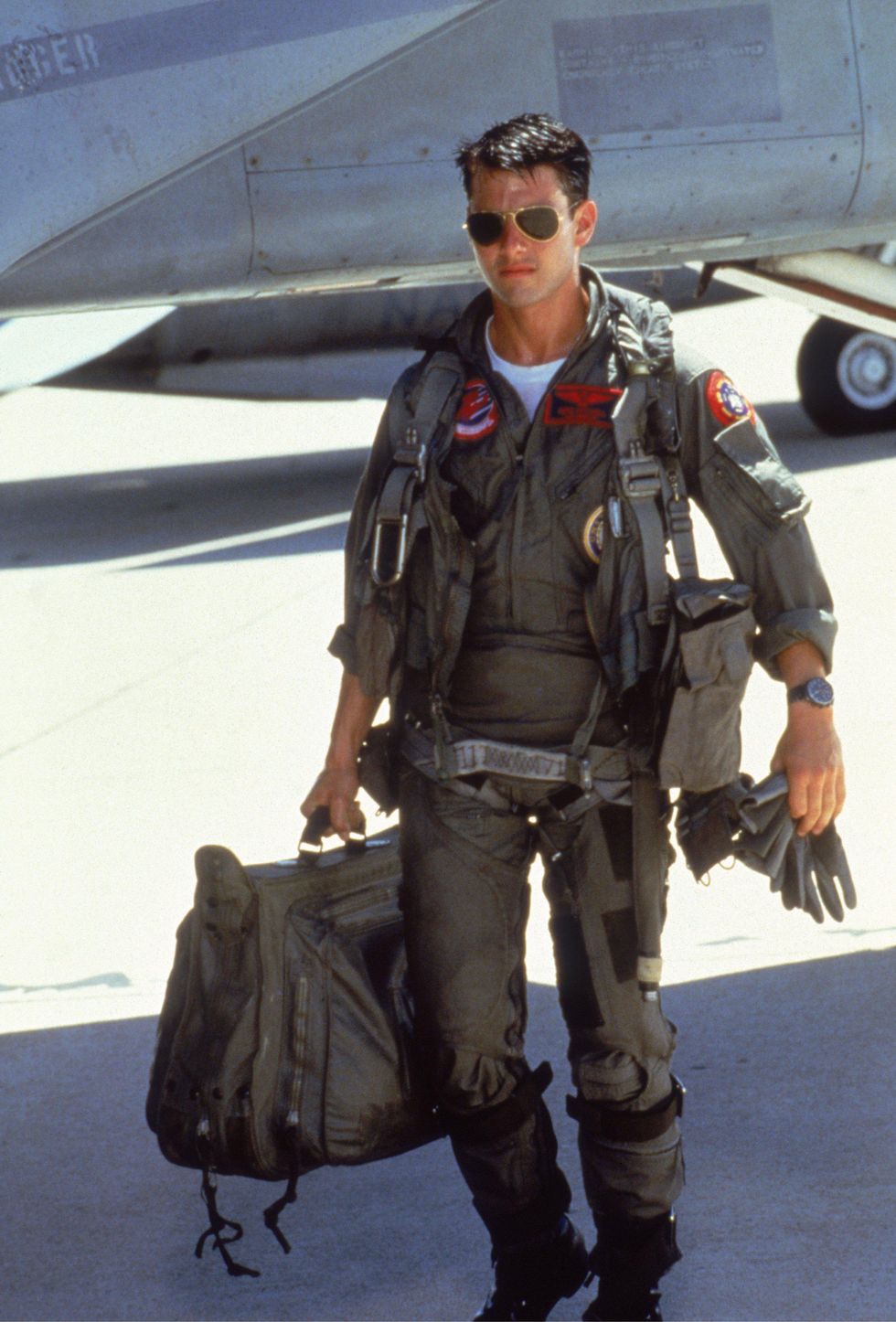 Maverick dressed for flight and wearing the famous aviator shades
Paramount Pictures
In 2015, the Library of Congress added Top Gun to their permanent archive of films "of importance to cinema and to America's cultural and artistic history." But anyone who survived the '80s could have told you that.
Cruise and Kilmer looked so cool in aviators that suddenly everyone needed a pair. (Better yet, two pairs: one dark and one mirrored.) The original CWU-45P bomber jacket is still hot today—"CWU" stands for "cold weather uniform"—rad patches sold separately. Even the simple white tee shirt trended after Cruise wore it so well.
An Epic Soundtrack
During the opening credits, "Top Gun Anthem" blares as jets take off from an aircraft carrier at sunset. Harold Faltermeyer won the Grammy for Best Pop Instrumental Performance for this synth jam, featuring Billy Idol's legendary guitarist Steve Stevens.
Segue into Kenny Loggins' "Danger Zone" as the jets touch back down, and the hits just keep coming. Another Loggins classic, "Playing With the Boys," backs the testosterone-soaked volleyball scene.
But the most memorable moment might be Berlin's "Take My Breath Away" throbbing through the love scene between Cruise and McGillis. It won the Academy Award for Best Original Song, and the Top Gun soundtrack went platinum nine times.
Top Gun Maverick brings the big guns, too. Lady Gaga contributed to the score, which features her new single "Hold My Hand." Speaking on the Late Late Show With James Corden, Cruise said Gaga's power ballad "opened the doors to the emotional core of the film."
Epic Jets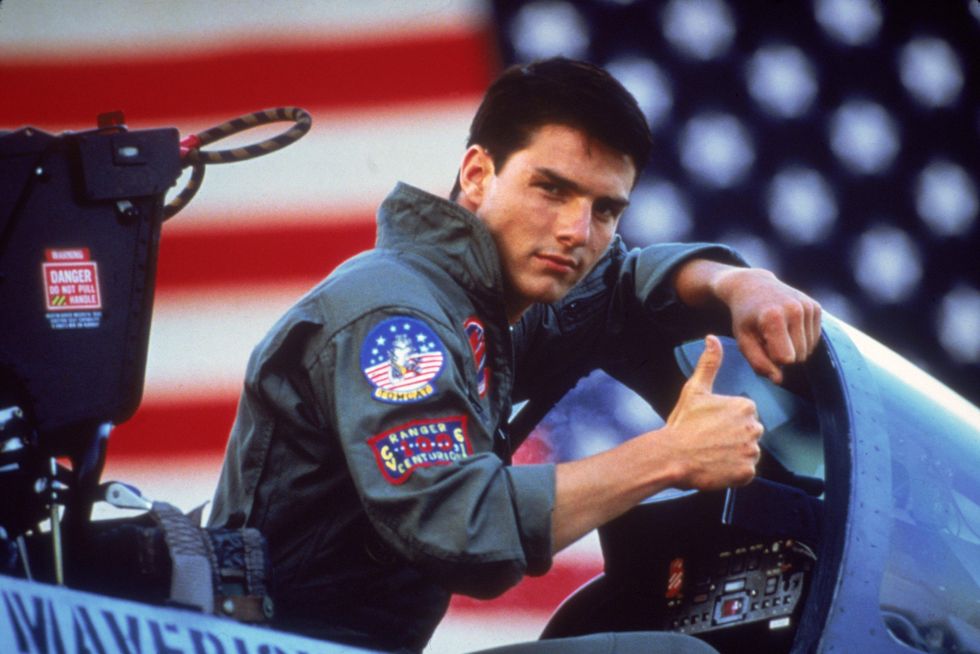 Thumbs up from Maverick
Paramount Pictures
The real hero of Top Gun might be the F-14 Tomcat. At high altitudes, the twin-engine fighter jet could go faster than twice the speed of sound. We talked to Dr. Steve Schallhorn, a former Top Gun instructor whose real-life experiences helped inform Jim Cash and Jack Epps Jr.'s screenplay.
"What the film got right was the intensity of flying," he says. "Dogfighting is a very, very dynamic environment that requires very fast thinking. It's also extremely physically demanding. When you turn, there's tremendous g-force. Imagine a 200-pound weight on top of your head, and you're already craning your neck, trying to look back. You also have to manage vertigo. The sensor in the inner ear that tells you what's up and what's down can really be a source of confusion."
Whew! Good thing we'll all be watching Top Gun Maverick from the safety of a theater. If you're feeling adventurous, you might try IMAX.
Epic Fans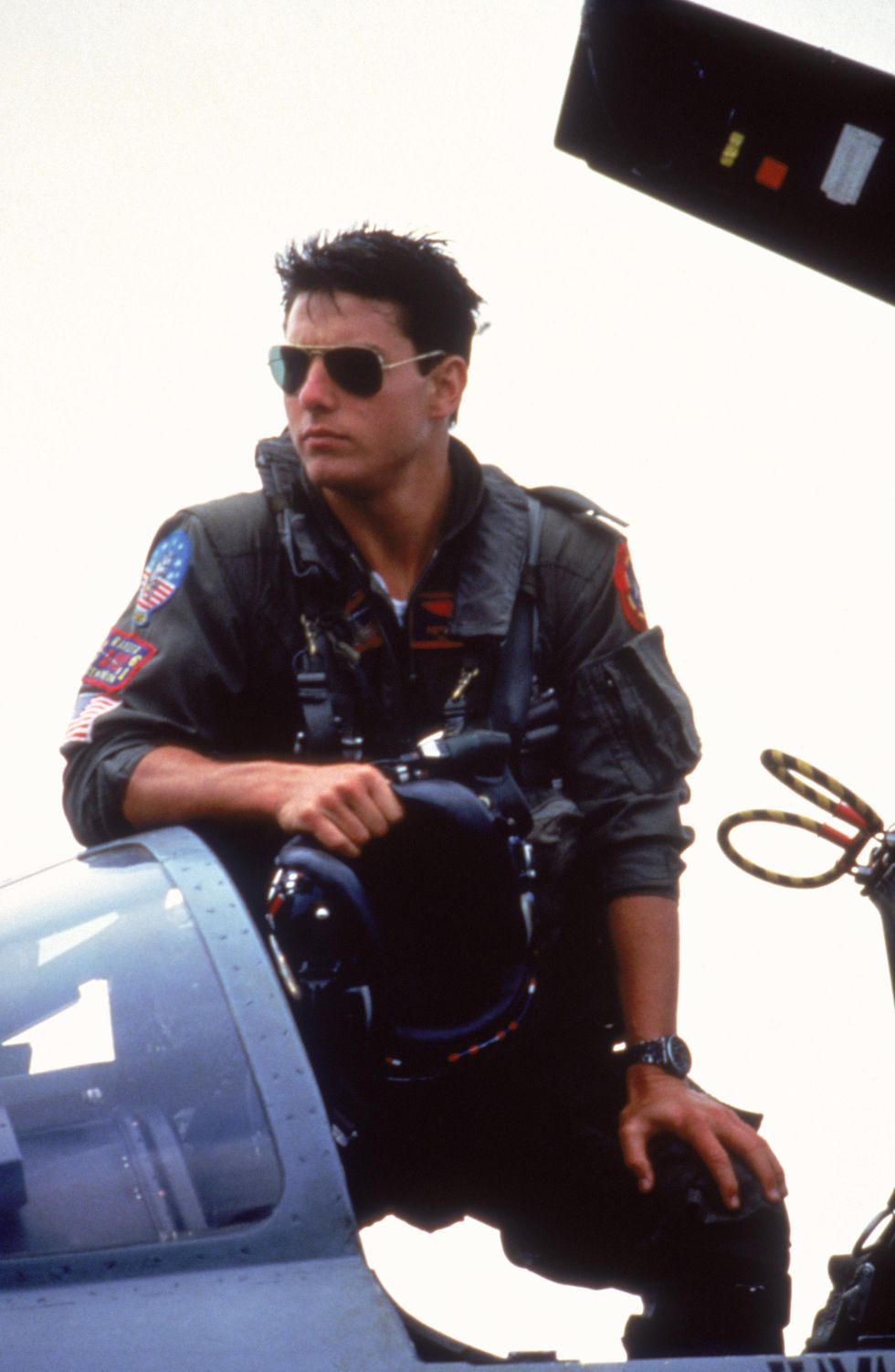 Maverick, ready for a new mission
Paramount Pictures
How much do people love the first film? Top Gun first landed in theaters in May 1986—36 years ago. More than three and a half decades later, fans still honor the movie's anniversary by celebrating Top Gun Day on May 13th.
Looking for suggestions on how to celebrate? Check out topgunday.com. Change your profile picture to Val Kilmer, play volleyball in jeans, or see how many times you can drop quotes from the movie into conversations. There's even a call sign generator. Dust off your Ray-Ban Aviator shades, grab your wingman, and kick back with a cool glass of hemlock.
You can stream Top Gun on Paramount+. Then get ready to head back into the danger zone when Top Gun Maverick hits theaters on May 24th.
SUBSCRIBE NOW: Enjoy 4 Digital Plus 2 Print/Digital Issues Of Watch Per Year — For Free!