Extras
Star Trek: Discovery's Cat —Everything You Need To Know About The Intergalactic Kitty
Photo Credit: James Dimmock/CBS.
Grudge, the Maine Coon cat on Star Trek: Discovery, is ready for her close-up. Meet the newest addition to the cast.
By Oliver Jones
The script called for a fat cat. Grudge, the feline companion of new character Cleveland "Book" Booker (David Ajala), was meant to just plod around in the background of scenes in the current season of CBS All Access' Star Trek: Discovery. But that wasn't an easy assignment for expert animal wrangler Paul Rutledge and his colleague Lesley Laurence.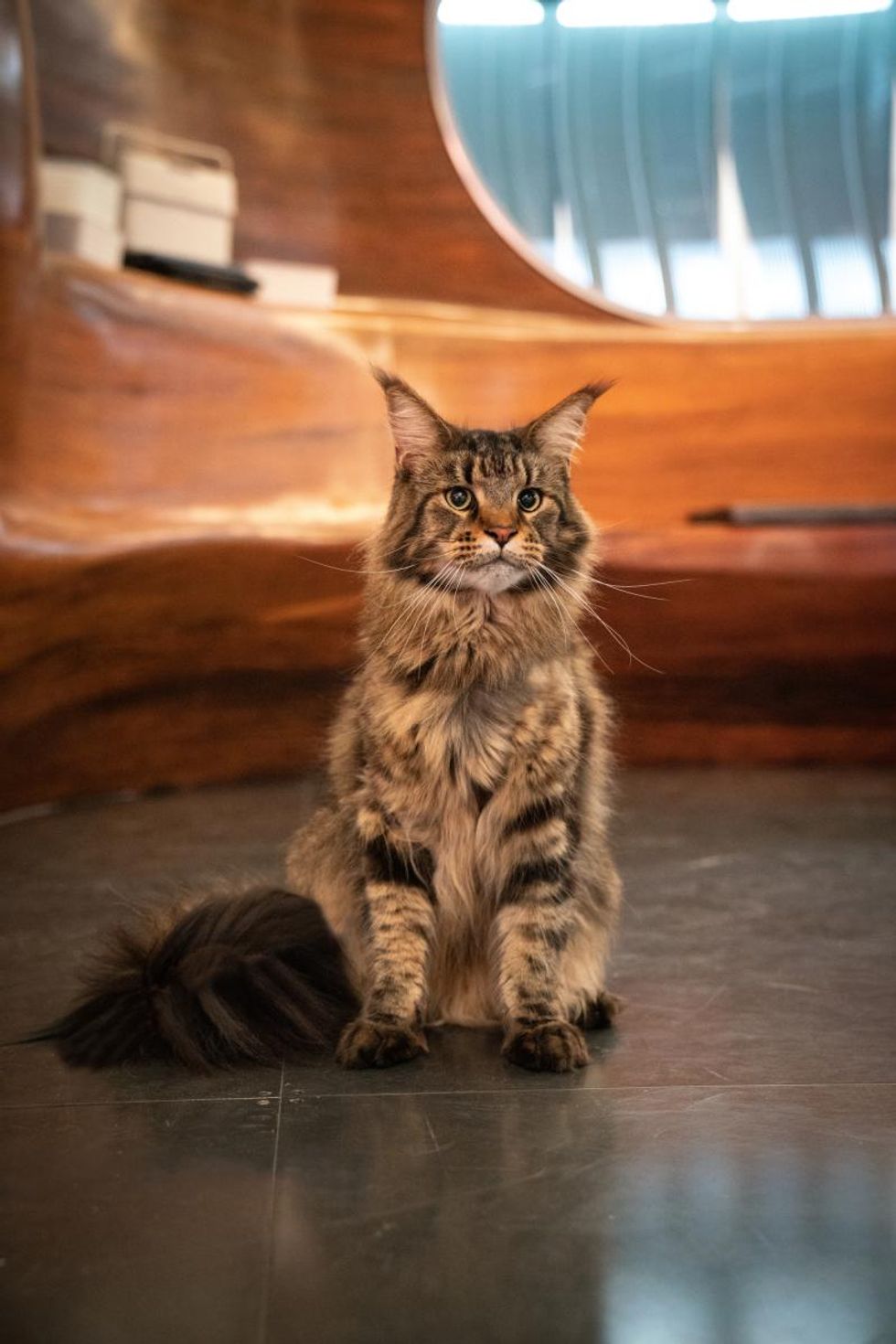 Grudge the cat on the set of Star Trek: Discovery.
Photo Credit: Michael Gibson/CBS.
"Being on set can be an extremely stressful situation for an overweight cat," says Rutledge, who worked with several Discovery producers on The CW's historical romance Reign.
Then the veteran wrangler got a burst of inspiration. Why not cast a Maine Coon? This exotic-looking feline is the largest domesticated cat breed and one of the oldest bred in North America.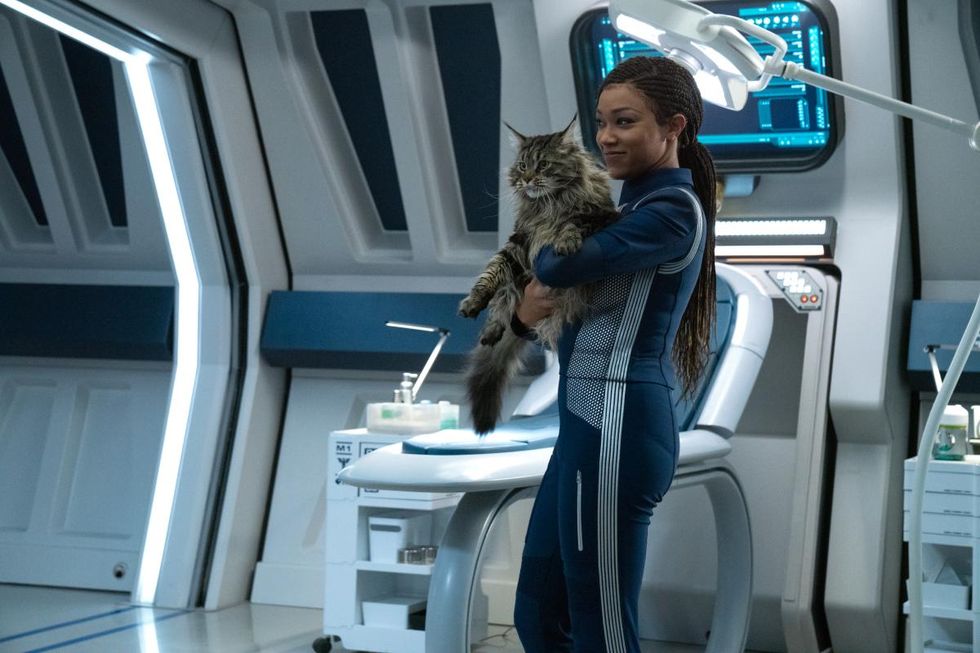 Sonequa Martin-Green as Commander Burnham and Grudge of the CBS All Access series Star Trek: Discovery.
Photo Credit: Michael Gibson/CBS.
Enter Leeu and Durban, two lookalike brothers who belong to restaurateur Michelle Smith and take turns playing the part. Far from portly (though the still-growing Leeu, 3, is over 40 inches long and weighs more than 20 pounds), the breakout animal stars of the new season have brought a playful athleticism to the role. They have even been known to deviate from the script during takes and leap suddenly onto their co-stars' backs.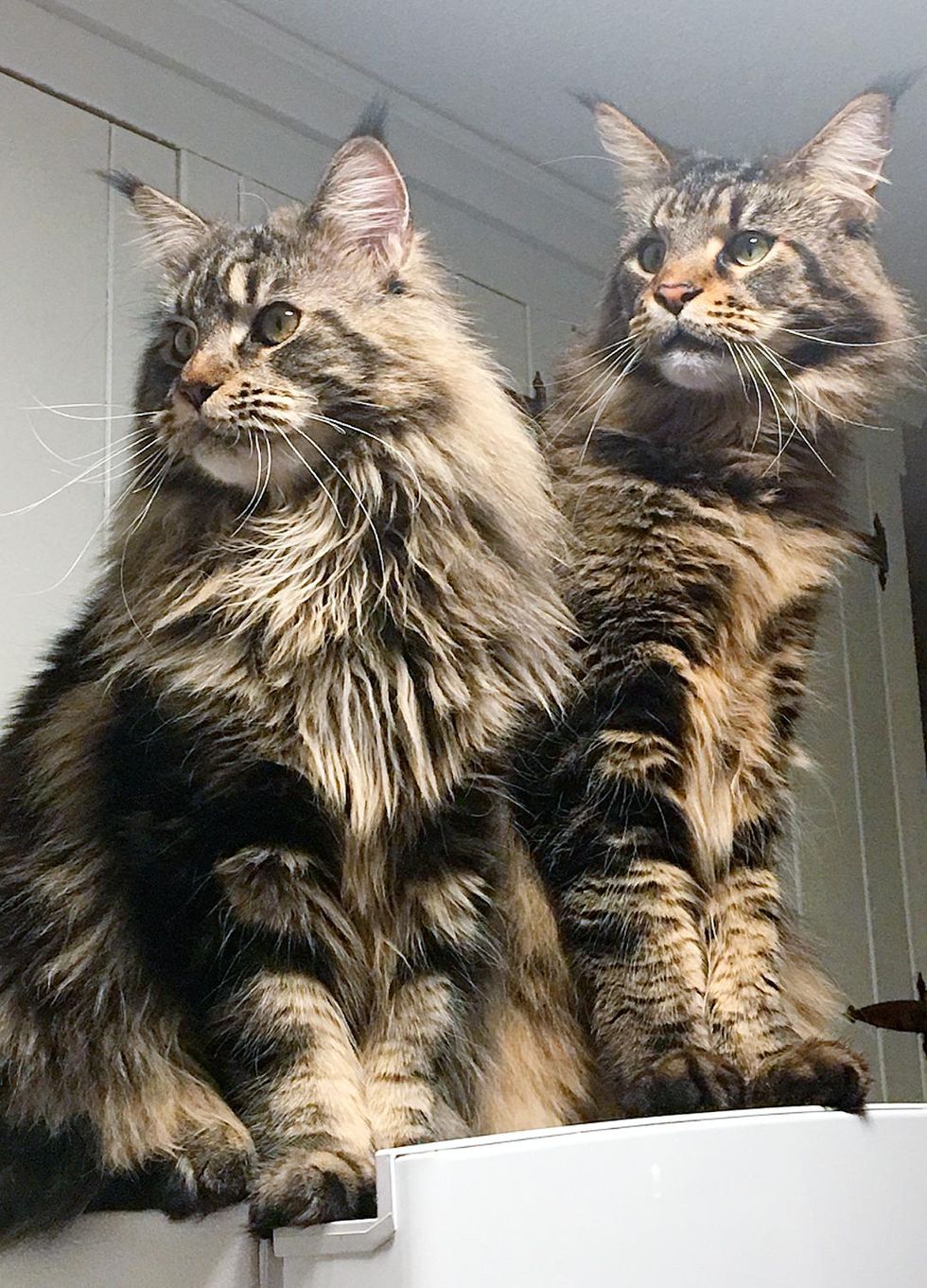 Siblings Leeu and Durban share the role of Grudge.
Photo Credit: Michelle Hendry.
As for stressed out? Not these tabbies. "Leeu is a very relaxed, easygoing cat," says Smith. "The littler one, Durban, can be more uptight. But then on set, they tend to switch spots." Smith, who also keeps two Wheaten Terriers, describes her Maine Coons as doglike. They rush the door when she returns home, come when called, and Leeu will do most anything for a treat. (Durban, on the other hand, is motivated by the sound of a can opener.)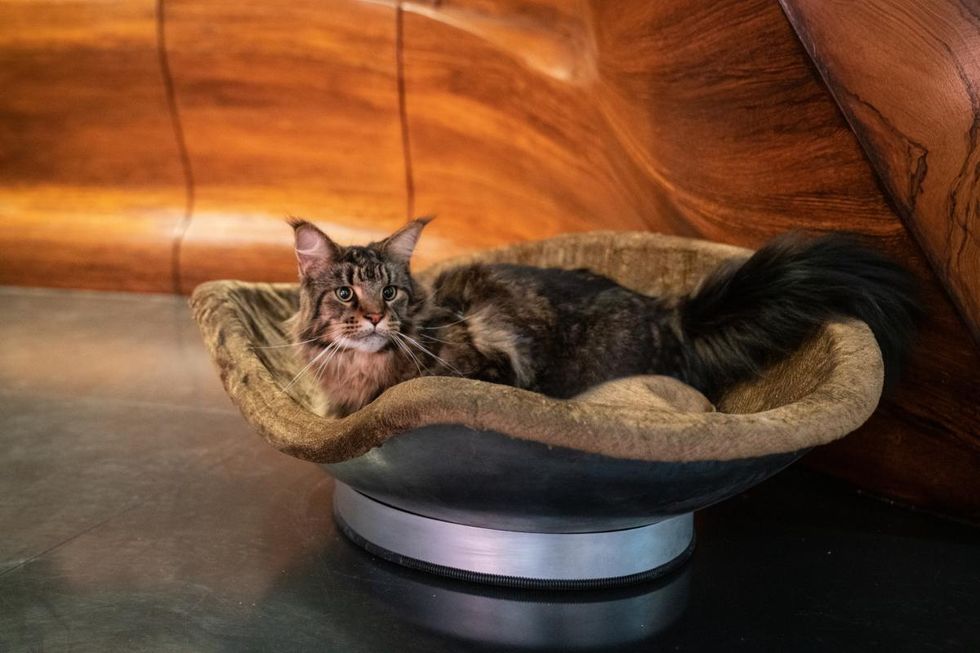 Life is pretty purr..fect for this Hollywood feline.
Photo Credit: Michael Gibson/CBS.
While these two are extraordinarily well trained (Leeu knows how to use the toilet), Smith keeps a backup plan in her pocket just in case. Says Smith, "I have some really excellent catnip."
Originally published in Watch Magazine, November-December 2020.
Star Trek: Discovery streams exclusively on Paramount+.