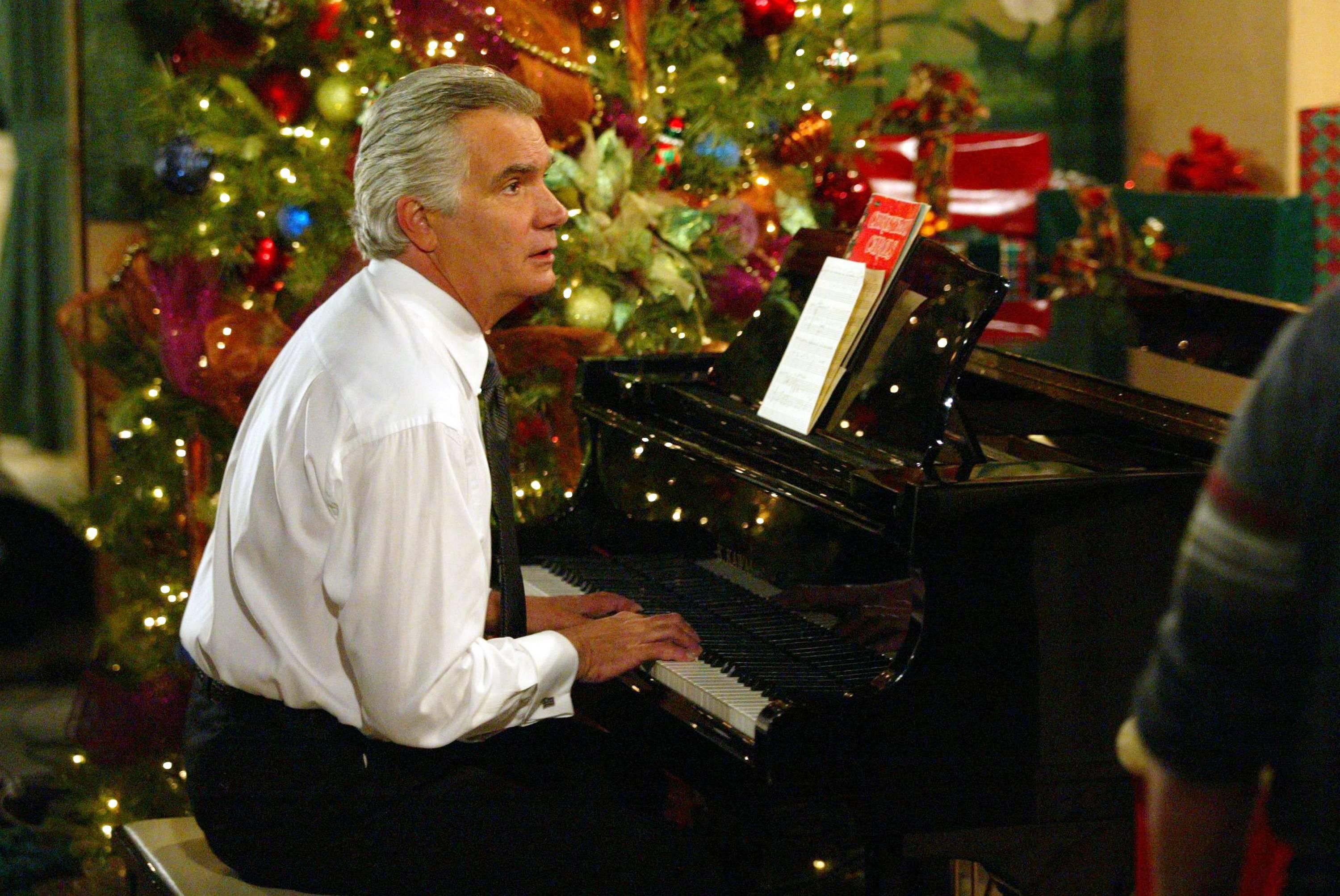 Photo Credit: JPI Studios/CBS
Decking the halls for the Christmas episodes of The Bold and The Beautiful is no easy feat.
By Michelle Darrisaw

Maybe it's watching Eric Forrester (John McCook) gather his family around the piano to sing Christmas carols year after year on The Bold and the Beautiful. Perhaps it's the eye-catching Christmas tree on display in the Forrester mansion or the garland-wrapped staircase that gives us all something to aspire to when decorating. Or it could be the anticipation of Baby Hayes celebrating his first Christmas with new parents, Steffy (Jacqueline MacInnes Wood) and Finn (Tanner Novlan).
No matter your favorite moment or which character made the naughty list (here's looking at you, Sheila Carter!) or nice list this year, one thing's for sure: There's no shortage of nostalgia on The Bold and the Beautiful. It's all thanks to a devoted team working behind the scenes to bring the spirit of Christmas to life on set. One of the masterminds creating these inviting, luxorious spaces is Charlotte Garnell, a set decorator who has been with the show for 25 years.
Garnell shares with Watch what it takes to create a fabulous Forrester Christmas, one that's steeped in tradition and brimming with style. Turns out, to put your own spin on The Bold and the Beautiful's holiday décor, you don't need a golden one-horse sleigh or a thriving fashion house. Here's how you can inject a little Forrester cheer into your home this season.
Watch The Bold and the Beautiful weekdays on CBS and streaming on Paramount+.

SUBSCRIBE NOW: Enjoy 4 Digital Plus 2 Print/Digital Issues Of Watch Per Year — For Free!
Planning a Bold and Beautiful Holiday Season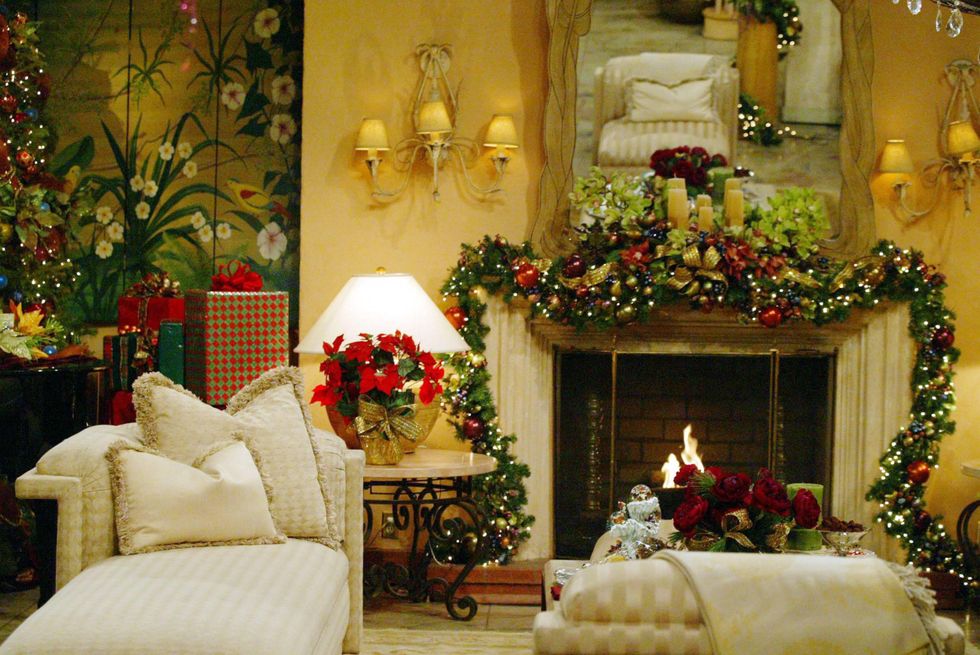 Creating a Christmas to remember is all in the details.
Photo Credit: JPI Studios/CBS
Soon, it'll begin to look a lot like Christmas on the set of The Bold and the Beautiful. "Everyone likes to see the Forrester family open their home for Christmas," says Garnell. "We all want to feel like we're guests and part of their holiday celebration." Prepping for the season is no simple feat, spearheaded by a four-person team that includes fellow set decorator Rand Sagers, production designer Jack Forrestel, art director Sabrice Kenwood, and head of props Linda Grande. According to Garnell, Forrestel reviews the script and creates the spaces fans get to see on TV, including hotel rooms, gardens, mansions, and science labs.
Tip: "For fans who want to recreate a Forrester Christmas, remember there are 30 to 40 people involved in making that happen," says Garnell. "Pick something beautiful that you see on the show, embrace it for the holidays, and find a space in the house that will make that item stand out."
The Script Brings the Spirit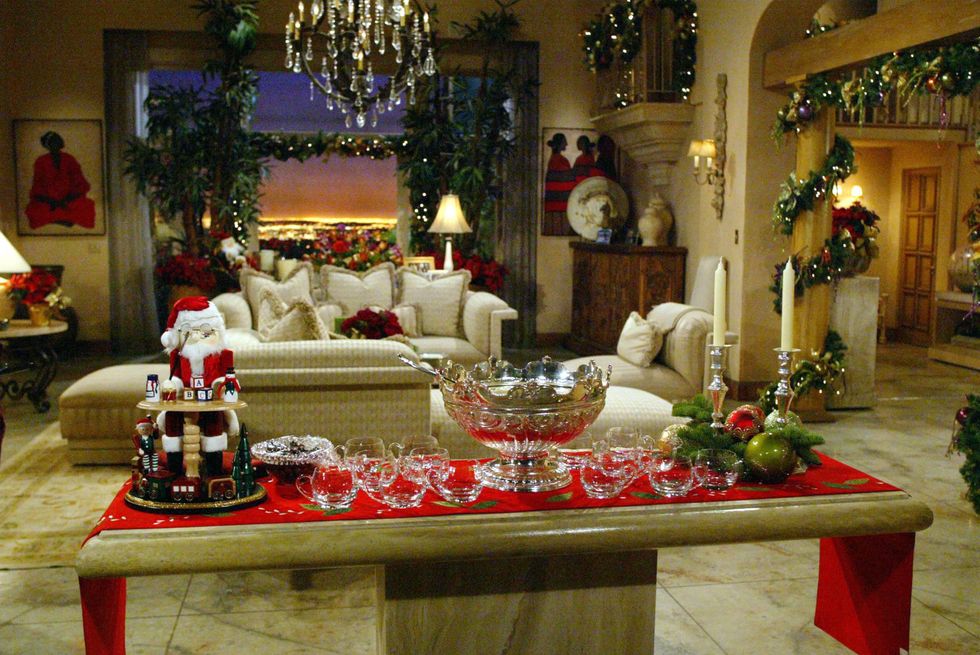 Every piece of decor is carefully though through to make sure it fits in with the character's home.
Photo Credit: JPI Studios/CBS
There's so much that goes into creating the fantastic holiday scenes you see year after year. "Like a dollhouse, I get the exterior of the new environment to fill with objects that are large, small, personal, or impersonal—all to make the space believable," says Garnell. "We all work together in this wonderful ballet, and what happens at the end is that we have these personalized spaces based on story and character. Even though it's the imagination of my team and I, it's everyone's heartfelt attitude towards Christmas on the show that makes it special."
But, as Garnell notes, that teamwork wouldn't be possible without a spirited script directing them on how to decorate for the holidays. "It's always a joy that Bradley Bell writes us a beautiful Christmas show to share with our fans," Garnell adds, of the Emmy Award-winning writer and executive producer of The Bold and the Beautiful.
Tip: "Decide what's important to you and look at the space and environment to see what will work. Do you live in an apartment where a small Christmas tree is your best choice? Make it special by adding an interesting vase with fresh-cut pine and lights," says Garnell.

Unwrapping Christmas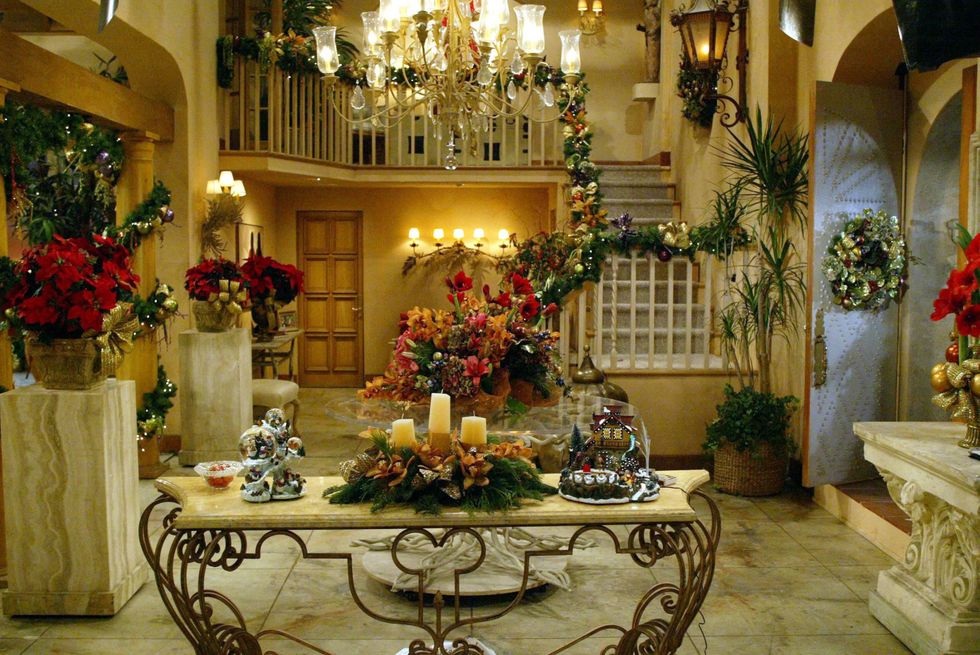 A traditional Christmas at the Forrester home is made possible through decor with customary reds and greens.
Photo Credit: JPI Studios/CBS
Though characters and matriarchs may come and go from the Forrester mansion, some traditions never fade, like using customary colors and, of course, singing songs around the piano. The piano, per Garnell, is tuned by expert Ben Gaffin every time Eric sits down to tickle the ivories of Yuletide classics.
"We use a lot of red and green in Mrs. Bell's home [the location of the Forrester mansion] because Eric wants a traditional American Forrester Christmas," says Garnell. "We place garland decorated with lights, ribbons, and Christmas ornaments to the scenery, including the columns and fireplace mantel. The poinsettias build on the Bell tradition. It's a desert flower, and since the show is based in California, it's very appropriate. We also use different flower arrangements for Christmas that have pine, white lilies, and red flowers blooming that time of year in Los Angeles, like amaryllis. We don't have big clumps of red or green, using contrast for viewers to see the outlines of the lilies and poinsettias, offset by the greenery."
Garnell adds: "We don't throw away anything for Christmas, so when we open the boxes of stockings, we see the names of characters over the years. I make all the stockings with the drapery department, sourcing and personalizing them. Getting a chance to reflect on the details shown on camera and how much goes into the holidays is gratifying."
Tip: "For home decorating, less is more," Garnell recommends. Around the holidays, take the time in advance to remove some of your everyday items to really see the décor and let your efforts shine."
Trimming the Tree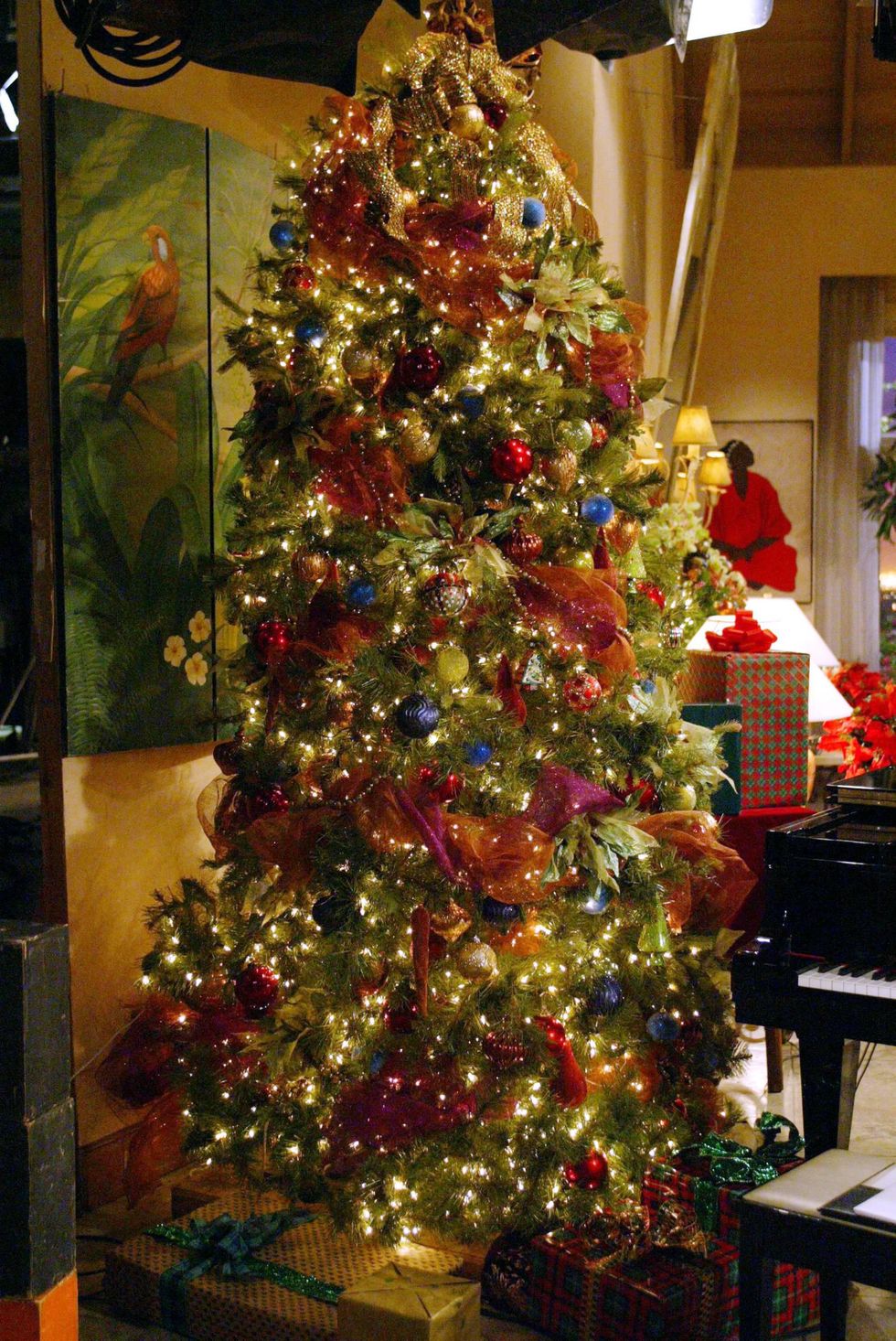 The Forrester Christmas tree sits right by the iconic piano.
Photo Credit: JPI Studios/CBS
Superfans of the daytime soap may have gathered that the Forrester Christmas tree looks similar every year; it's not a coincidence or lack of creativity. Garnell suggests it's intentional to capture the show's sentimentality. "There are a lot of pictures of the actors from when they were children added into the tree, and we pile gifts underneath that the Forresters would perhaps give each other on Christmas Day," says Garnell. "There's even a lighted carousel on a pedestal, placed front and center."
Tip: "A little goes a long way," Garnell notes. "You can even get a small live tree that you can plant after Christmas to keep the spirit of the holidays going."
Breaking Tradition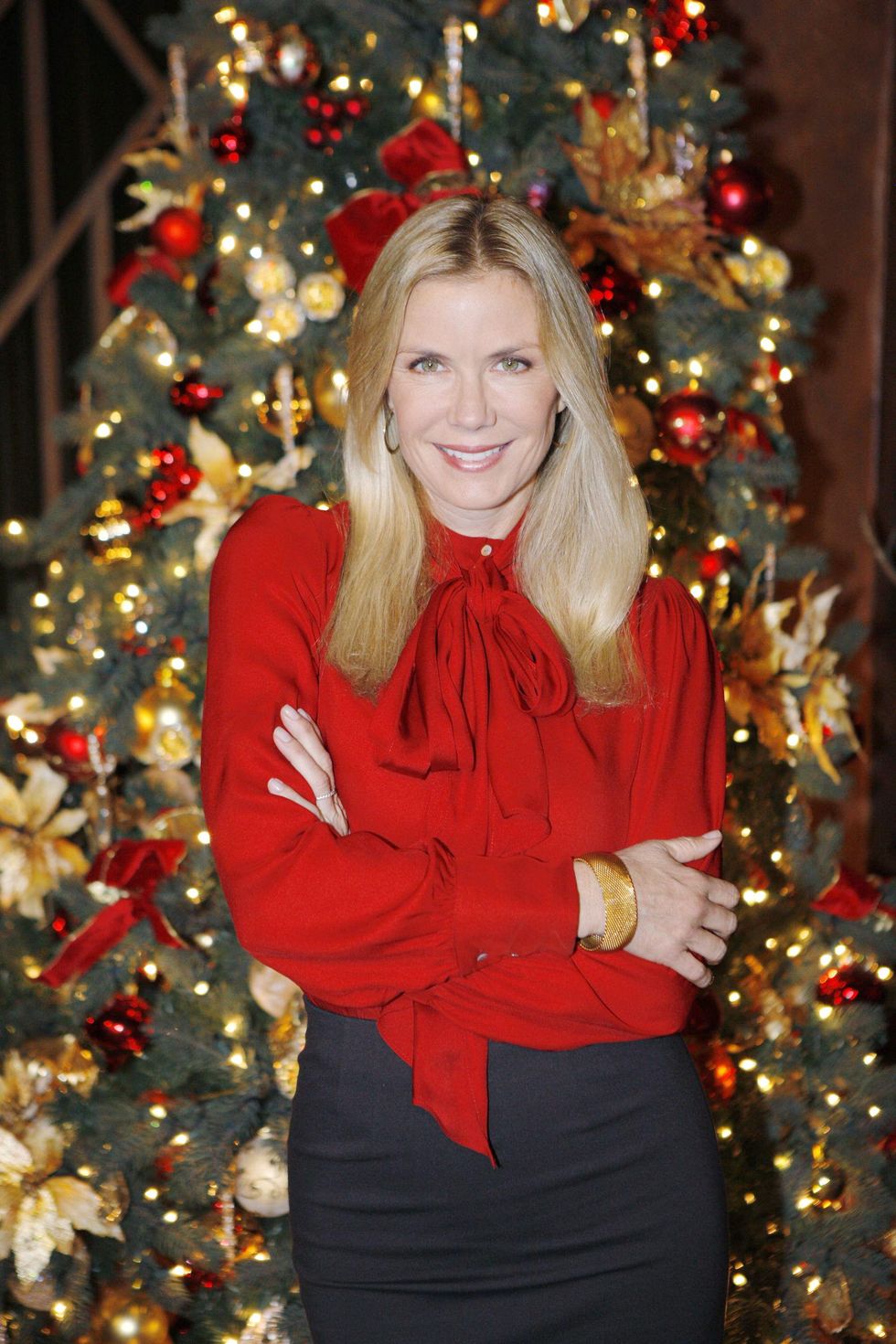 A cabin-themed Christmas works best for the Logan family.
Photo Credit: JPI Studios/CBS
But there are times when the art team gets to break Forrester tradition, decorating the trees and sets for Bill Spencer (Don Diamont) and the younger cast members on the show. Take, for example, Brooke's (Katherine Kelly Lang) cabin where Hope (Annika Noelle) and Liam (Scott Clifton) reside or the Spencer-Forrester cliff house currently housing Steffy, Finn, and their bundle of joy, Hayes.
"In 2016 or 2017, we created a small Christmas tree for Liam, Hope, and their children," Garnell explains. "We decorated it with all kinds of children's toys, adding plaid ribbon to reflect a cabin theme. There were gingerbread men, glass ornaments, wooden toys, and cookies also hanging on the tree. Color is really important. We always make sure that the center and theme of the tree represents what is happening in the characters' lives and is the best color suited for that set."
Tip: "Decorate with what you have," advises Garnell. "When my kids were little, we used to have a million teddy bears, so we put them in sleds, in and around the tree, and on the mantel."
Coastal Christmas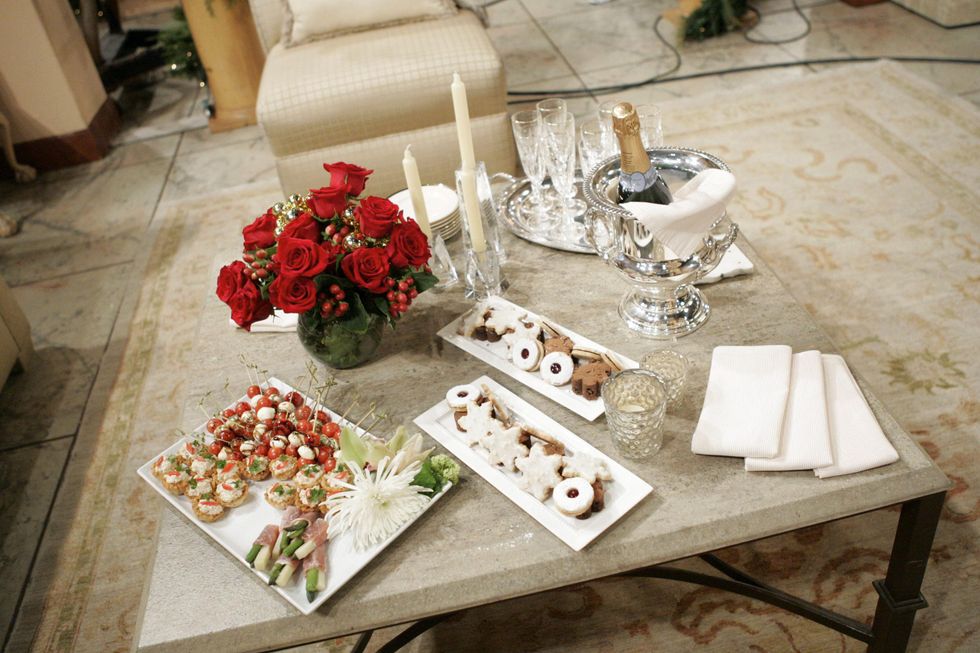 A brightly lit home brings a merry and bright holiday.
Photo Credit: JPI Studios/CBS
"Rather than compete with the red, green, and gold of the Forrester living room," Garnell says they try to give the cliff house its own character during the holiday season."We tend to use more blue, green, and silver because that set has a lot of gray driftwood," she adds. "We try to give a beach vibe. One year, we did a surfer-themed Christmas tree that was really fun. Right now, Finn and Steffy are celebrating Hayes' first Christmas, so we're going to pay special attention to that detail. It's important to continuously refer to what the characters are doing and the emotional connection to Christmas in their house. If the characters are having an uplifting, joyful time, we want the audience to be happy with them."
As one would expect for "Dollar Bill," Garnell and crew get to bend the rules…a little.
"When Bill was married to Katie (Heather Tom), and they were living in the Forrester beach house, we did a white Christmas tree filled with blue and green décor," Garnell says. "Bill marches to the beat of his own drum and is a sentimental guy deep, deep, deep down. We went over the top with that tree, giving him a different look that was more modern and more in line of expertly designed than nostalgic."
Tip: "Around the holidays, turn on your lights and brighten your home," Garnell recommends. "Do you have a lightbulb that's too harsh? Put in a golden one to create a nice atmosphere for yourself."
Eat, Drink, and Be Merry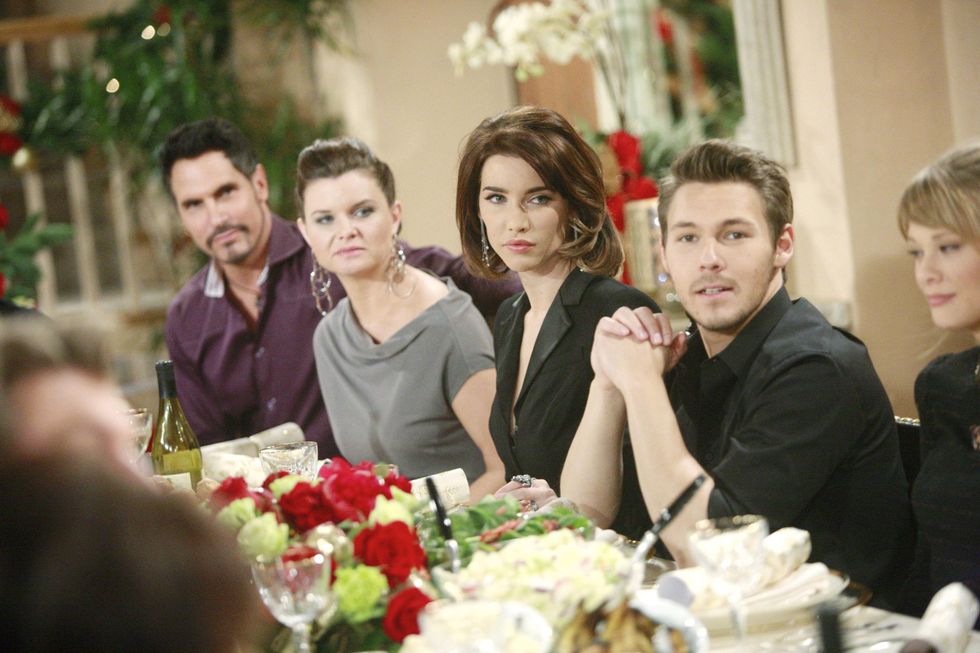 Bill and Katie and love triangle Steffy, Liam, and Hope all sit together at the Christmas dinner table.
Photo Credit: JPI Studios/CBS
With 25 Christmases under her belt, what is Garnell's most important décor on the set? Food and drinks to share! Naturally, she only uses the best serveware for the family dinner scenes.
"I always make sure the sets are filled with things to offer guests," says Garnell. "You can't smell them on TV, but our sets smell amazing with all the flowers and food. The Forrester china used on the tables are things we've carefully kept safe for years and years. We fill the beautiful Christmas punch bowls with Eggnog, and we have tons of silver arranged with the Christmas cookies and holiday treats. The actors are actually holding the beverages, nibbling on the food, remarking on it in the script, and it becomes part of the show on Christmas."
Tip: "If you have a set of coffee cups you never use, put them out on a tray," says Garnell. "Add some votive lights and sprigs of pine and rosemary. Got ribbon? Make bows. Did someone give you a beautiful tablecloth? Put it on the table along with your pretty plates and pile Christmas cookies on top."
'Tis the Season for Kindness and Inspiration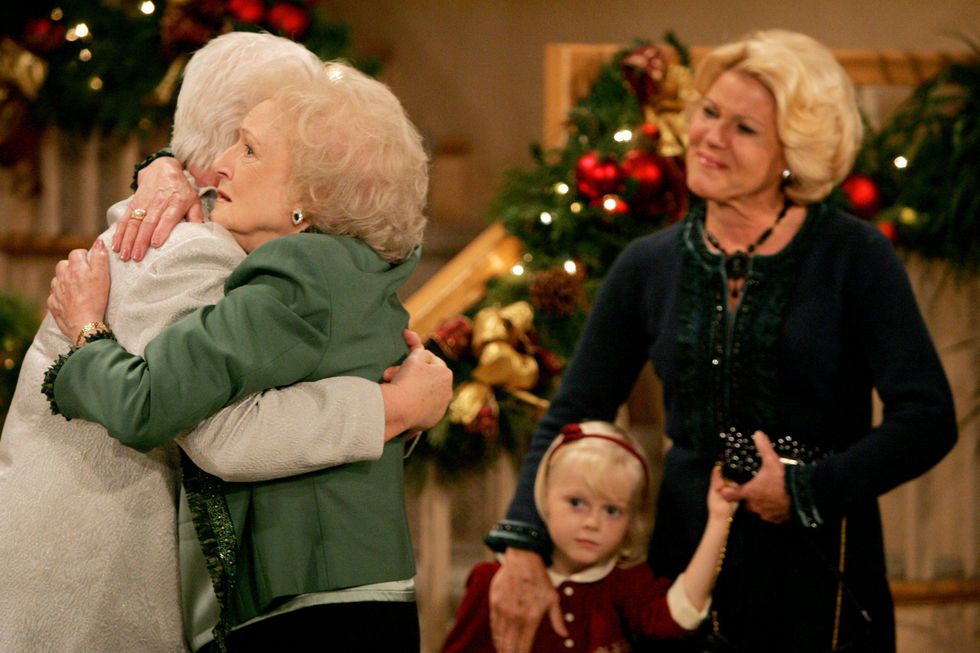 In an emotional Christmas reunion, Stephanie forgives her mother Ann while Eric Forrester sings Bing Crosby's "I'll Be Home for Christmas" on the piano.
Photo Credit: JPI Studios/CBS
We can't promise the story lines will continue to be as joyful as the decorations on The Bold and the Beautiful, but, as Garnell reminds us, "being kind and loving one another is the most important part of any holiday."
"As a decorator, I realize everyone can't physically be in a room like the Forrester mansion," says Garnell. "I try to put the most beautiful things in front of the camera so people can see something really pretty while watching our show."
Watch The Bold and the Beautiful weekdays on CBS and streaming on Paramount+.

SUBSCRIBE NOW: Enjoy 4 Digital Plus 2 Print/Digital Issues Of Watch Per Year — For Free!