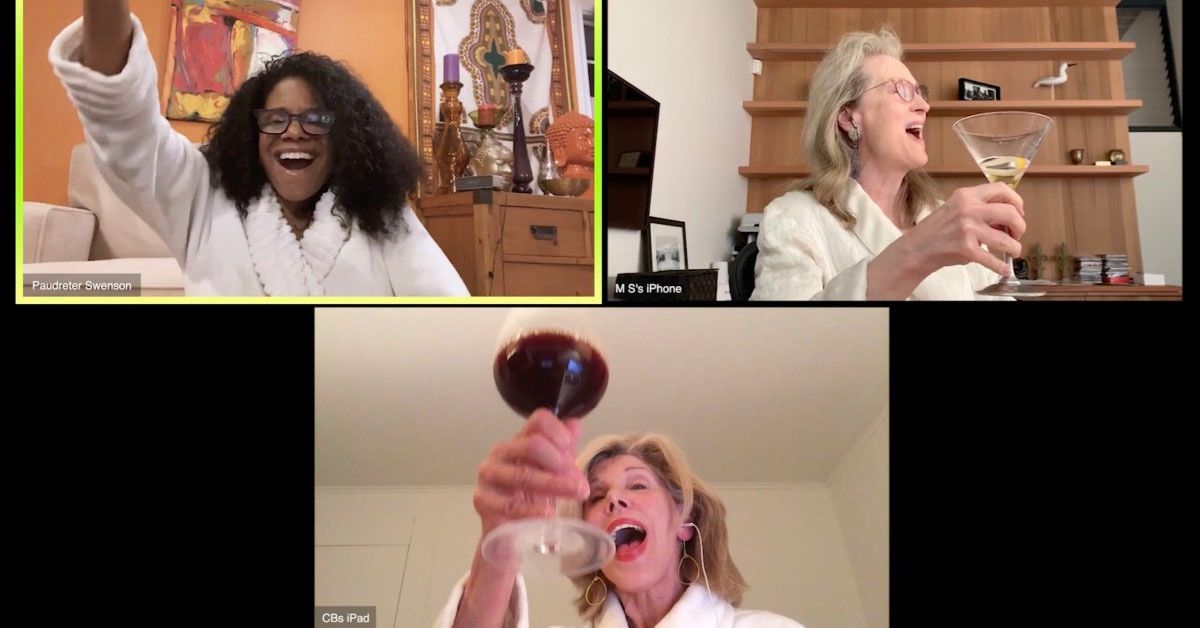 The Good Fight stars Christine Baranski and Audra McDonald—and oh yes, Meryl Streep!—clinked glasses and crooned in honor of composer Stephen Sondheim's 90th birthday.
By Melissa Rose Bernardo
It's not every day that two stars of The Good Fight—plus the incomparable Meryl Streep—get together in their robes to throw a few back and sing a classic musical-theater song.
Thankfully, that day was Sunday April 26, and the occasion was Take Me to the World, an online benefit concert in honor of legendary composer Stephen Sondheim's 90thbirthday. (The show raised funds for ASTEP, Artists Striving To End Poverty.)
You may be used to seeing Christine Baranski as impeccably dressed, flawlessly accessorized lawyer Diane Lockhart on The Good Fight, but here, to sing "The Ladies Who Lunch"—Sondheim's sardonic salute to vodka-soaked emotionally vapid middle-aged women, from the 1970 musical Company—she's far more casual, wearing a fluffy white bathrobe. While drinking red wine. Bravo!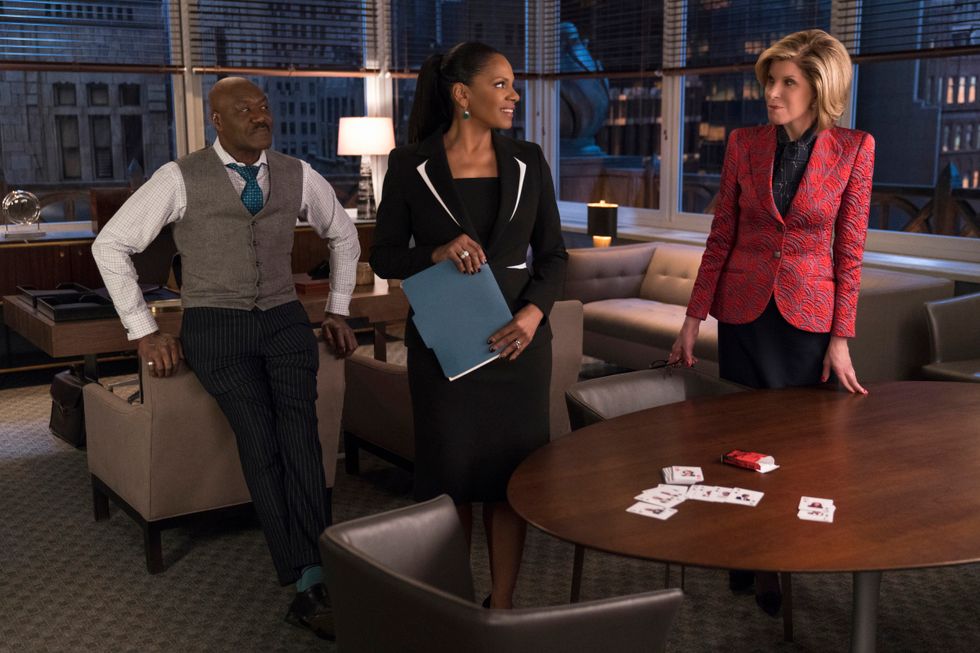 Delroy Lindo as Adrian Boseman, Audra McDonald as Liz Reddick-Lawrence and Christine Baranski as Diane Lockhart in the CBS All Access series The Good Fight.
Photo Credit: Patrick Harbron/CBS.
Baranski is soon joined by her Mamma Mia! costar Meryl Streep—playing percussion on a martini shaker—and by her Good Fight co-star Audra McDonald, both also bathrobe-clad, both pouring out drinks of their own. ("I'll drink to that" is repeated throughout the song.)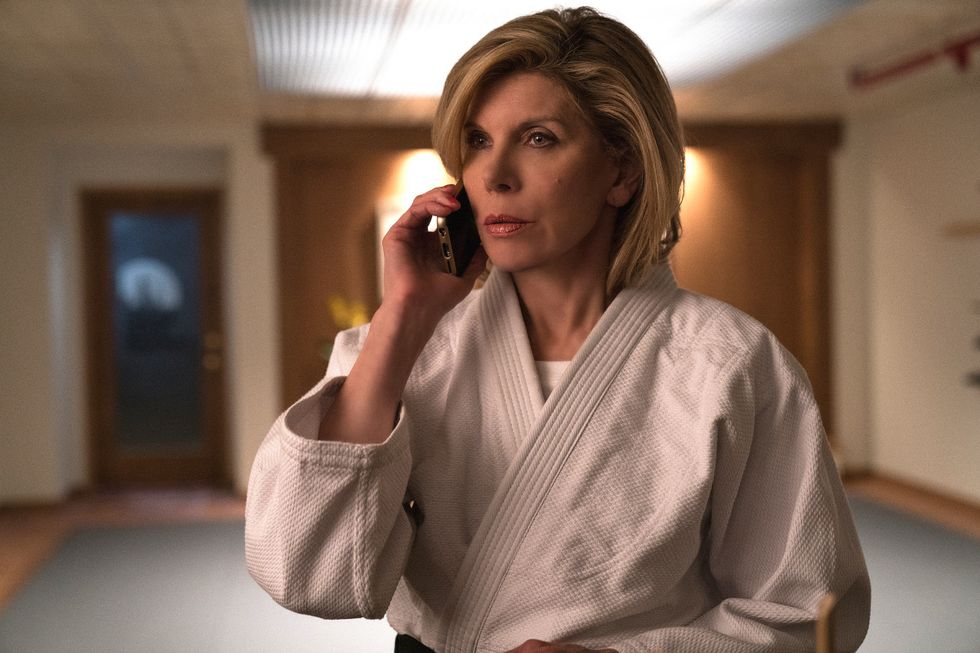 Christine Baranski as Diane Lockhart, who on occasion has been spotted in a white bathrobe.
Photo Credit: Elizabeth Fisher/CBS.
Of course, all three stars are there because of their stage backgrounds and their Sondheim credits. Baranski is a two-time Tony winner, McDonald has six Tonys, and Streep more or less grew up at New York City's Shakespeare in the Park. Streep starred as the Witch in the 2014 Rob Marshall–directed film version of Sondheim's fractured fairy tale Into the Woods.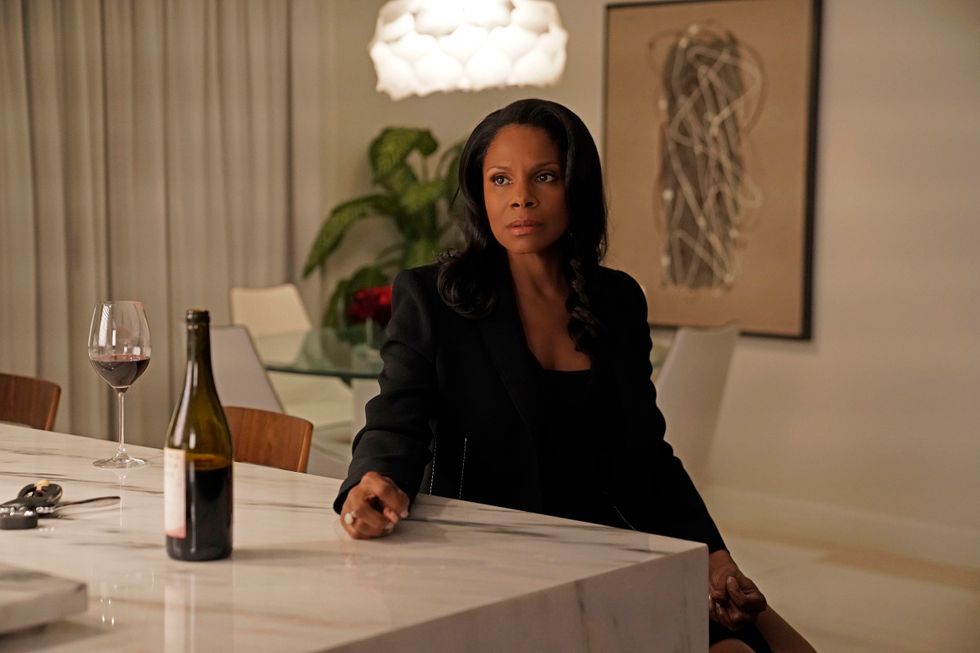 Audra McDonald as Liz Reddick-Lawrence, a character who also enjoys a glass of red wine.
Photo: Patrick Harbron/CBS
McDonald starred with Patti LuPone in a revival of the moody, haunting Passion, and is renowned for her concert and gala performances of Sondheim standards (such as "Somewhere" from West Side Story, for which he wrote the lyrics).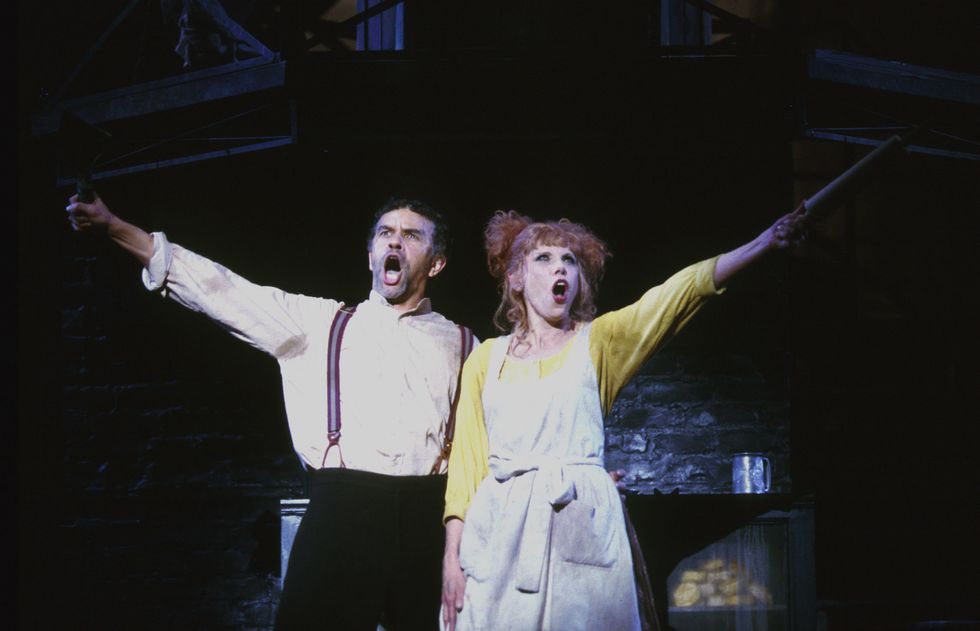 Brian Stokes Mitchell and Christine Baranski in Sweeney Todd.
Photo Credit: Joan Marcus.
And Baranski, who had a small role in the original 1983 off-Broadway production of the Seurat-inspired musical Sunday in the Park With George, was featured as Cinderella's Stepmother in the Woods movie. She's done a couple concert versions of Follies, playing the glamorous Carlotta (where she belted out one of Sondheim's most famous tunes, "I'm Still Here") and the elegant, acerbic Phyllis. She's also had a couple turns as the Cockney cannibal piemaker Mrs. Lovett in Sweeney Todd, opposite both Frasier's Kelsey Grammer and Broadway star Brian Stokes Mitchell.
The Good Fight streams exclusively on CBS All Access.