By Malcom Venable
It's a brutal, historically hot day in Los Angeles when Wilmer Valderrama sits down for a talk—so hot that merely walking from the car to the pristine sushi spot he's chosen would make most of us lose our composure. Yet when Valderrama glides in, wearing a hip AllSaints T-shirt and a cap pulled low over his eyes, he is the very definition of cool and collected—even greeting the server, who remembers him, with the warmth and sincerity of an old childhood friend. It makes sense that he's so calm and even-keeled, though; with all that's on his plate, he has to be. As the actor, producer, and media mogul reveals all that's on his mind, heart, and very busy calendar these days, it's clear Valderrama is working to realize a vision—a vision he has of a brand-new world. And when you're basically functioning as a real-life alchemist, as he is, nothing can rattle you—not even the feeling that you're walking through fire.
"I think I have found the groove in how to be as ambitious as I am, with all I have to do," he says while nibbling on impeccably carved tuna and salmon—the kind of clean, high-protein dish he uses to fuel 15-hour or more workdays. "I'm running a lot of things. Your brain has to be firing on all cylinders."
Watch NCIS on Mondays at 9 PM, ET/PT on CBS and streaming on Paramount+.
Star Supertasker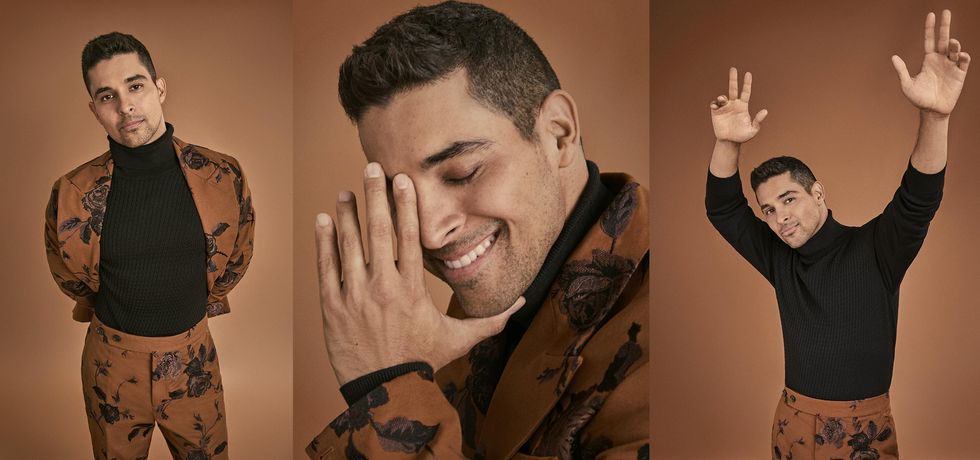 ERDEM suit, Canali turtleneck
Photo credit: David Needleman/CBS
It's been seven years since Valderrama became NCISSpecial Agent Nicholas Torres, a role that at the time marked a significant shift from what the public thought they knew of him. In his biggest previous role—foreign exchange student Fez on That '70s Show—Valderrama charmed millions from 1998 to 2006 as a goofy and inappropriately randy misfit with an intentionally ambiguous ethnic background.
Fez was not meant to be taken seriously, but behind the scenes Valderrama was much more focused and determined than viewers might've known. Born in Miami, he mostly grew up in Venezuela and Colombia before returning to the U.S. at age 13. His experience as an immigrant had a profound impact on him: It still shapes his fierce devotion to family, the lens through which he views his experience as an American, the projects he chooses, everything. Now, heading into NCIS' historic 20th season, the 42-year-old has emerged as one of the franchise's new-school elder statesmen—and a multi-hyphenate ready to unleash the unique power he's cultivated over the decades with a dizzying slate of projects and development initiatives meant to transform Hollywood and the world at large. Most of all, he wants to transform the world his daughter, Nakano Oceana, who'll be 2 in February, inherits.
"I feel like I'm in a very unique position," he says. "I'm the first one in my family to have the audacity to be what I am now. I get emotional talking about it. It's not just about self-achievement. It's about what you're leaving behind."
Collaborative Spirit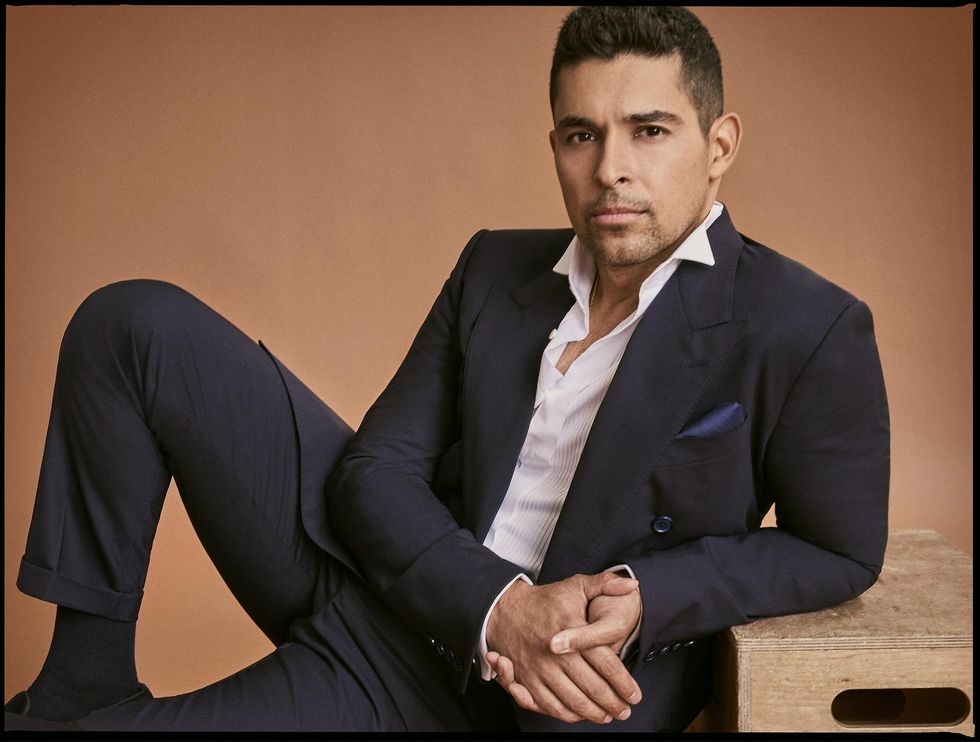 Dolce and Gabbana suit and shoes, Canali shirt, Tom Ford pocket square, Falke socks
Photo credit: David Needleman/CBS
He turned down NCIS when first approached. "I was like, 'It's number one. They don't need me. I'd rather go to a place where they really could use me.'" Fortunately for fans, he took a meeting with persistent producers who, like him, were looking to collaborate rather than fit him into a rigid preexisting role. That synergetic spirit was nonnegotiable for Valderrama; after leaving That '70s Show, where he was asked for his input and ideas, he worked on projects where he was expected to just read lines. The experience made him unhappy, and he knew he couldn't go backward.
Particularly in a landscape where Latinos are still vastly underrepresented (despite being 18.5% of the population, Latinos had only 6.3% of broadcast roles in the 2019–20 season according to a 2021 UCLA study), Valderrama was uncompromising in his need for agency behind the camera. "When I first got on set, I had a big sobering conversation about what we're going to do and not—what [Torres] is not going to sound like. In my experience, a lot of writers and directors need it so that authenticity in storytelling doesn't fall apart and the story gets to the audience in a way it needs to be told."
Complex Character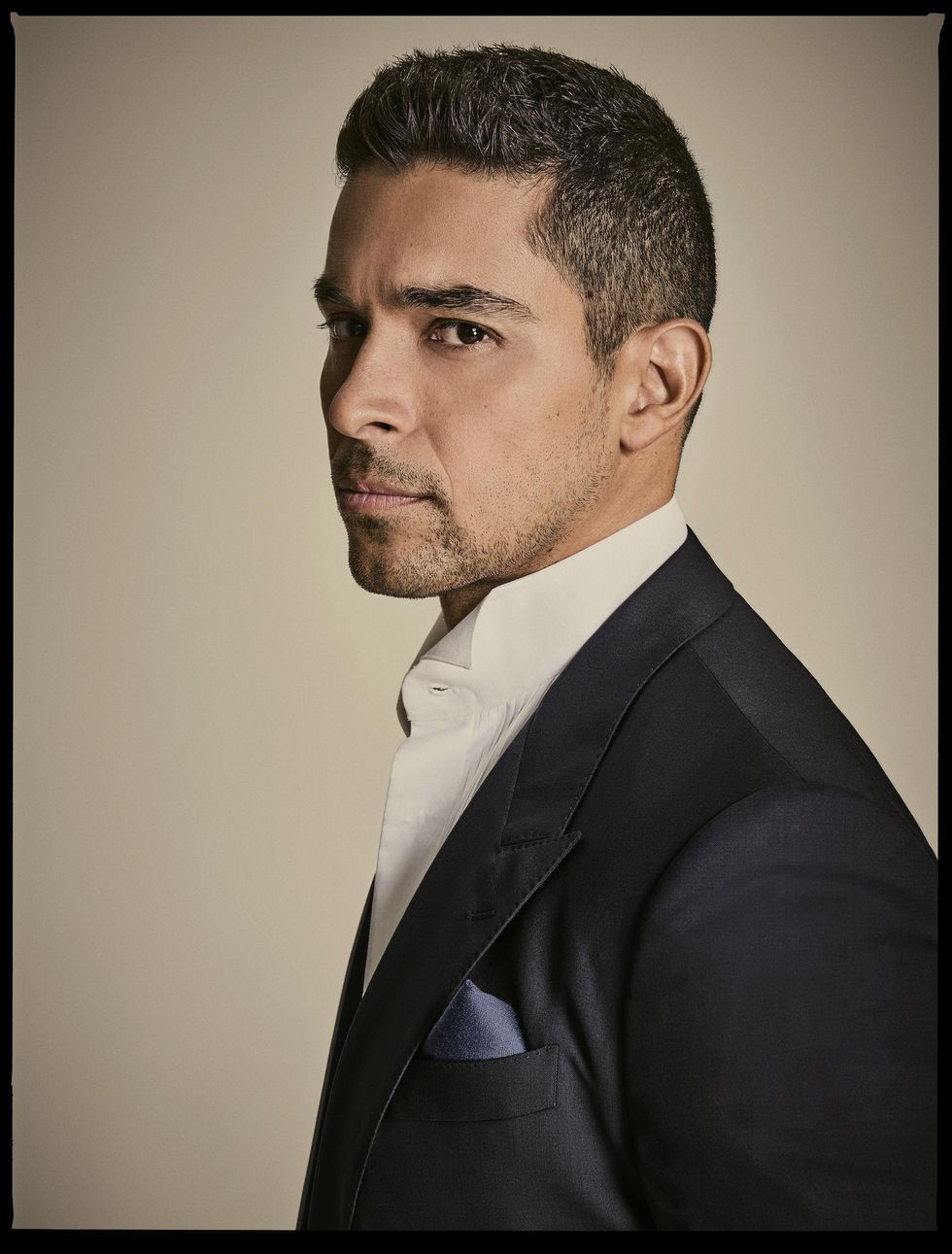 Dolce and Gabbana suit and shoes, Canali shirt, Tom Ford pocket square, Falke socks
Photo credit: David Needleman/CBS
Everyone was receptive to his input, he says, thus beginning a more than 120-episode journey that has seen Torres blossom into one of the most complex and compelling characters across the franchise. "I love the character I'm playing," he says. "I love the freedom the writers have given me to collaborate. That collaboration keeps me coming back—and my cast. At NCIS, they understand the importance of evolving."
Torres helped usher in a decided tonal shift for the series—a subtle shift, but a change nonetheless. Torres came to the team with baggage: abandonment issues from his father, difficulty trusting women as romantic partners, an aversion to even being on a team in the first place. He says that he and Mark Harmon, whom he misses greatly, worked hard to give Torres and Harmon's Special Agent Leroy Jethro Gibbs complementary inner lives—to make it so that both the characters and the audience would see their similar instincts and ways they needed each other. "We ramped up the action, too," says Valderrama, who hits the gym in his home nearly every day, from 4:30 a.m. to 6 a.m. on days he has to get to set. "But the biggest factor we changed was tonal. With Torres, it became way more personal. It wasn't about the case of the week; it was about the people solving the case. We went deeper, and the show evolved into something more grounded and more real."
Mentorship Role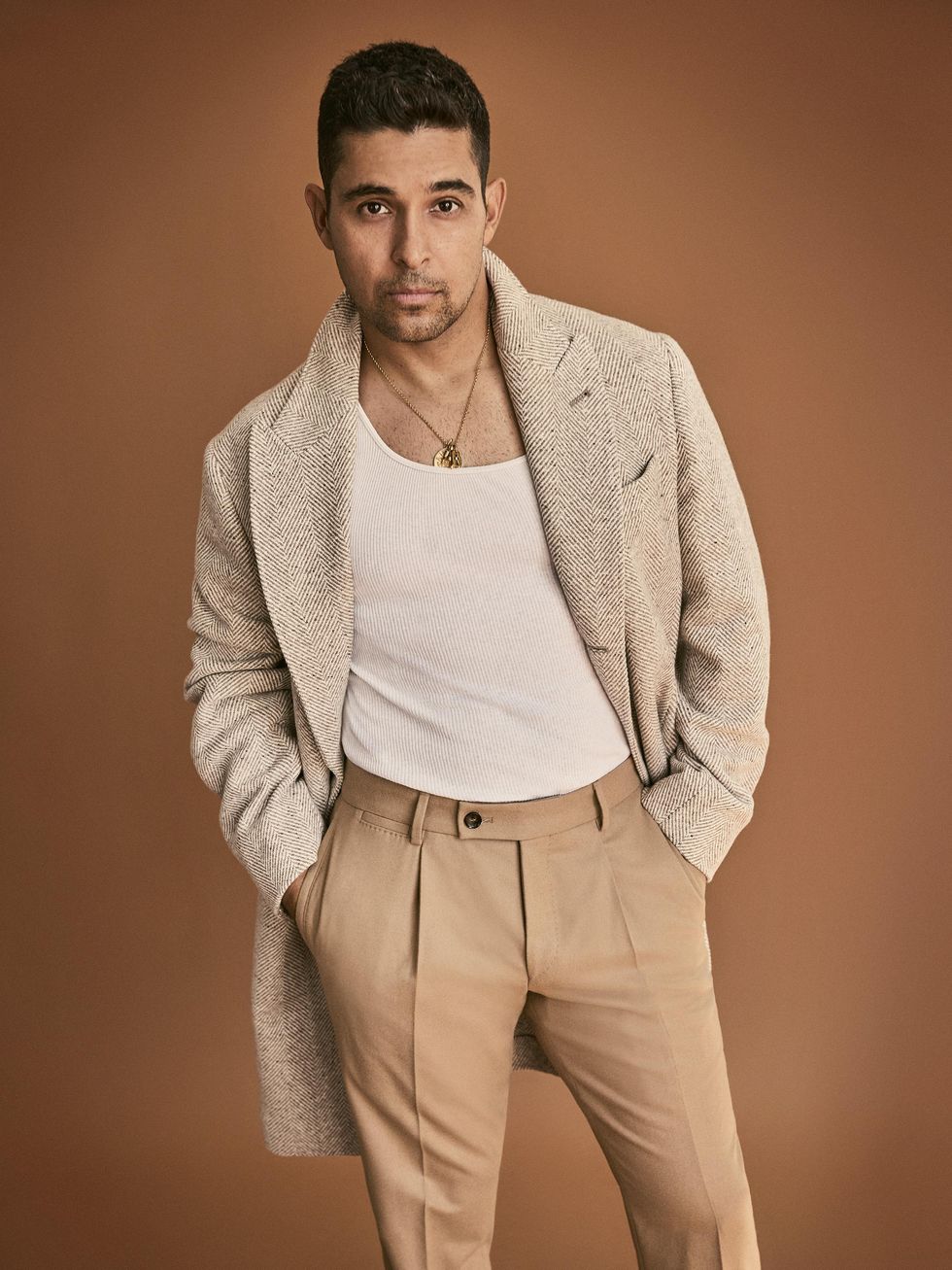 Brunello Cucinelli coat, Hanes tank top, Hugo Boss trousers
Photo credit: David Needleman/CBS
He's evolved, too, a process that's now accelerating at double speed. Among the initiatives on his roster: his film and television production company, WV Entertainment, founded in 2006; a management company, Allied Management Group, launched in 2022, which focuses on amplifying Latino voices across traditional and digital media; a new partnership with iHeartMedia to cultivate intellectual property in the podcast space; an apparel line designed to benefit veterans; and a book project he's mum about for now.
"When I realized that there were not enough destinations in this industry to develop, to empower, to cultivate, and to mentor the next generation of leaders, it became, 'How can we build a well-rounded ecosystem that can answer the right questions but also create solutions?' So my production company started doing that. Allied will be a company that bridges the gap for Latin American talent, and we're only going to represent people behind the scenes: writers, directors, producers, and showrunners."
Becoming Zorro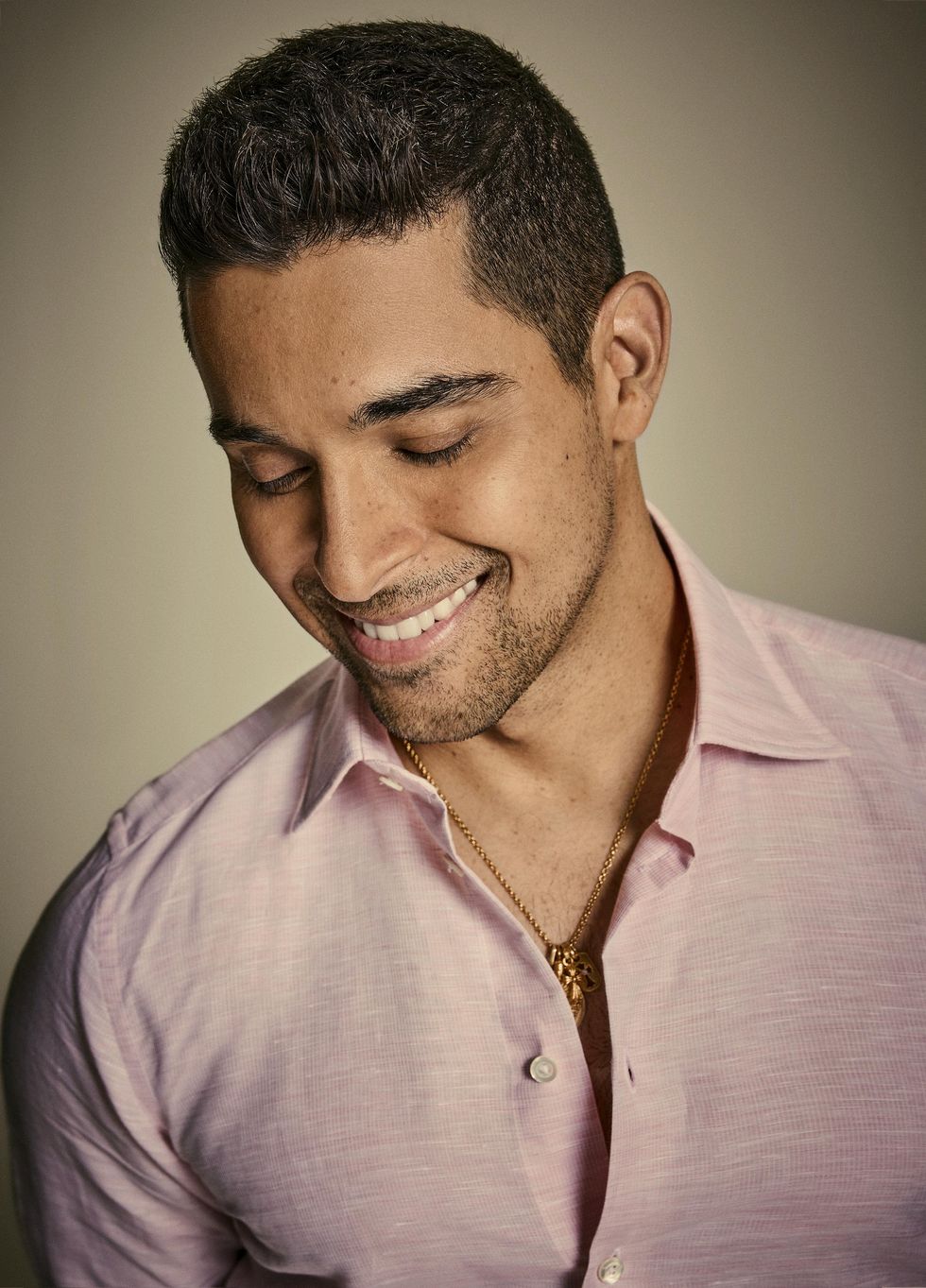 Richard James shirt
Photo credit: David Needleman/CBS
Then there's the game changer on the horizon: He'll be portraying the swashbuckling masked hero Zorro in a live-action series for Disney. It's a massive role for many reasons, not least for its physical demands. The action and stunts are so intense, he's in pre-pre-pre-training at the moment—conditioning to stabilize his muscles and joints before moving on to "building a foundation and a frame that can get beaten up." After that it's shredding and sculpting ("I'm gonna get a little beefy," he promises), and then of course a ton of mixed martial arts, sword fighting, and stunts—even flamenco dancing and singing.
More exciting for him, though, is what the show has to show the world and what it has to say. Zorro will be set in 1800s Spanish California, allowing all who watch to get a glimpse into the rich blend of Mexican and Spanish cultures that thrived in the same place he now lives and works. It will mark a kind of full-circle moment for Valderrama: an apex of all the acting, stunt work, producing, and storytelling he's honed over decades, and the representation of Latin culture he's passionate about.
"We had so few images of Latin people growing up," he says. "The only one that made me feel this was possible was Desi Arnaz. I used to watch him in Venezuela, and I thought, 'Maybe I can do that, too.'" He cites Antonio Banderas as another inspiration—someone who made him feel "like I didn't have to change myself in order to do what I loved."
Family Man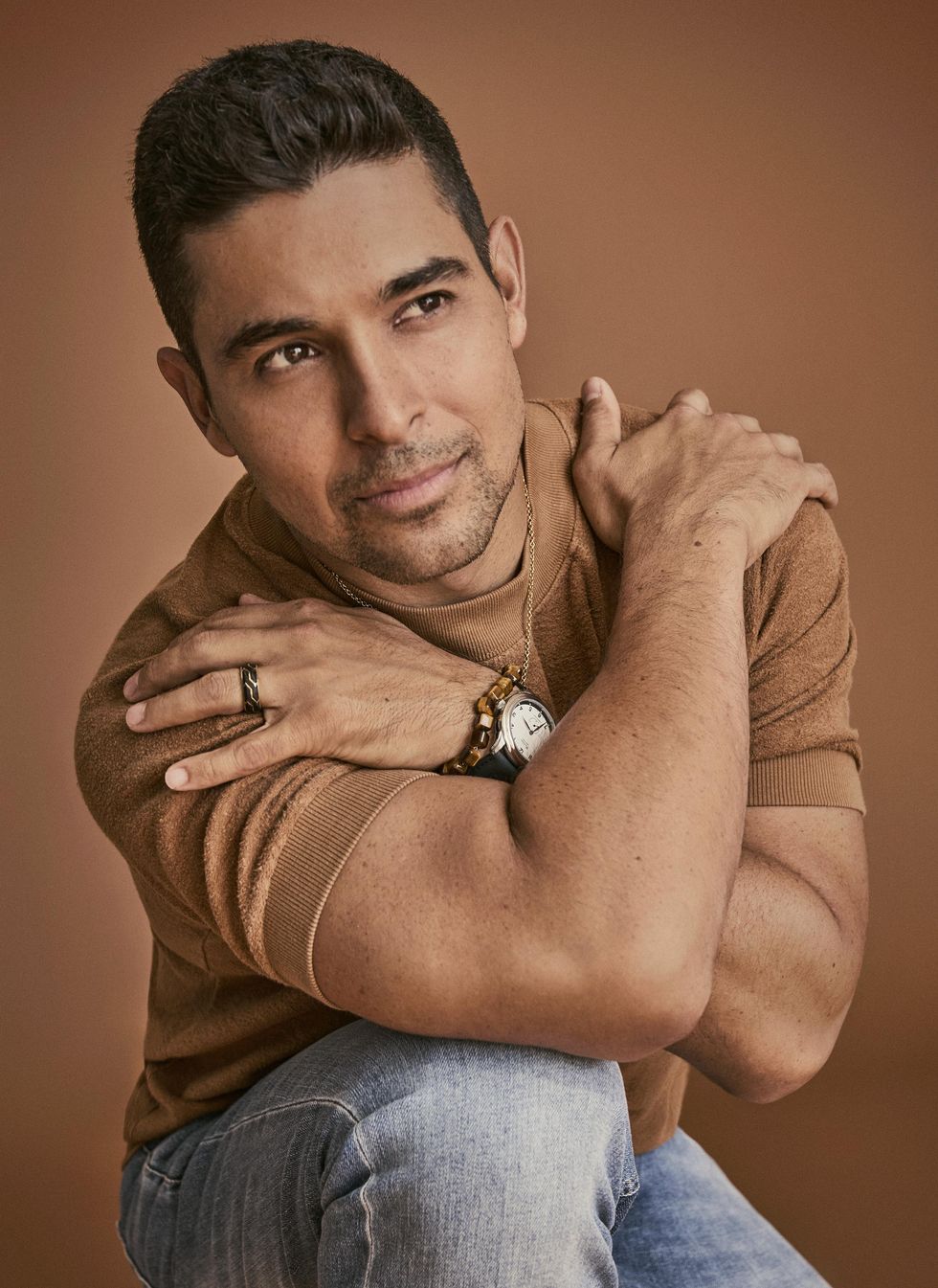 Buck Mason shirt, Brunello Cucinelli jeans, Waldan watch
Photo credit: David Needleman/CBS
The most important project of all is his growing family. He and fiancée Amanda Pacheco welcomed their daughter in February of 2021, and she quickly became the center of his world. "When my daughter was born," he says, "I realized that one day she won't be conscious of the fight that it took for her to see herself. If I and my colleagues do what we can, one day she will be a teen who realizes she can be any version of whatever she wants to be: an astronaut, a pilot, an athlete. Because once people see themselves, it can't be taken back. We have to dream ourselves into things we've never been before."
Family has always been the primary driver of Valderrama's life and work; as an immigrant, family is everything. And there may be no greater example of his ability to hold a vision and create it than the space he's created for his family—the three-acre compound where he lives with Pacheco, their daughter, and his parents, who split ages ago but are on good terms. In the media, the arrangement is often described as "unconventional," but for Valderrama it's a sort of utopia (free on-site babysitters!) that is a reflection of his wise decision-making, his commitment to caring for his family, and his ability to imagine a future and create it. The estate began with one property—it famously belonged to Chuck Norris—purchased in 2005 with money from
That '70s Show
and then grew. "I was like, 'I don't know when I will ever make this money again,' so I bought it."
Future Shaper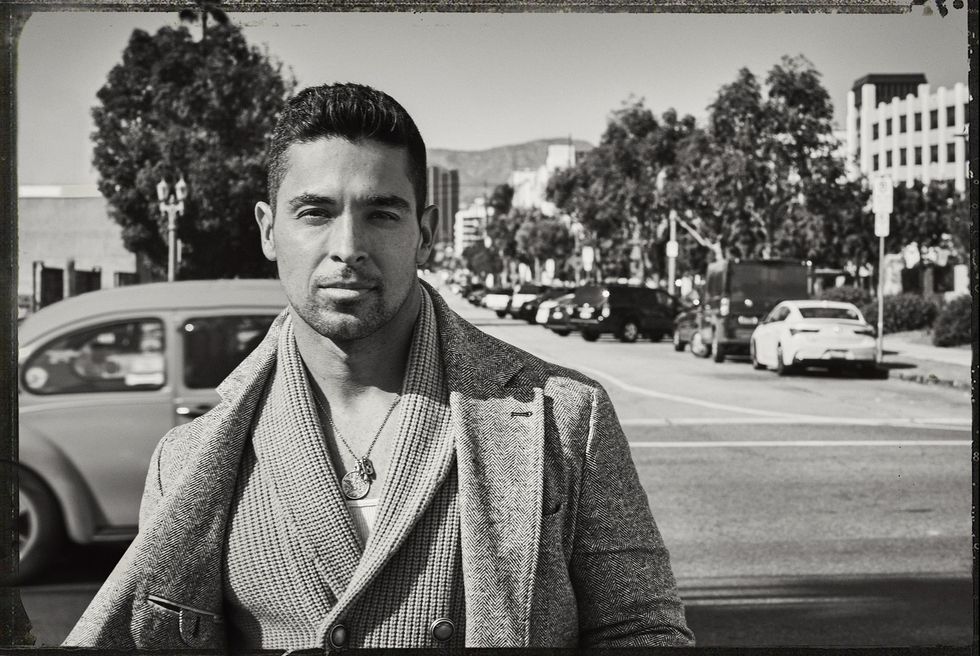 Brunello Cucinelli jacket and cardigan, Hanes tank top
Photo credit: David Needleman/CBS
The house needed repair—he chuckles at memories of its dated, padded wallpaper—but, glimpsing into a life decades down the road, the young actor saw something his 40-something self couldn't yet. "When I walked in, I saw my kids running around. I had no plans for kids at the time. But I could see my kids and my family here." Almost 20 years later, the dream was realized—a strong indicator that all the work he's doing now in front of and behind the camera will create the world he envisions, too.
"I feel responsible not just for my daughter. I feel responsible to leave the door open a little bit wider for everyone."
Photography: David Needleman, Styling: Evan Simonitsch, Groomer: Kat Thompson
Watch
NCIS
on Mondays at 9 PM, ET/PT on CBS and streaming on
Paramount+
.