The co-host of ET is famous for reporting on the famous. Off the red carpet, this South Carolina native is all about sweatpants, girl time with her daughter, and snuggling with P,B & J.
By David Hochman

4:30 a.m. I set two alarms. One is across the room so I'm forced to get up. My daughter, Ashby, who's 12, is still asleep. So are our three dogs, Shih Tzu Penny and Yorkies Buttercup and Jewels—or P, B & J, as we call them. This is my sacred quiet-house time.

5:00 a.m.Entertainment Tonight sends out its daily news alert, which gets me up to date on what's happened overnight in showbiz. Meanwhile, coffee!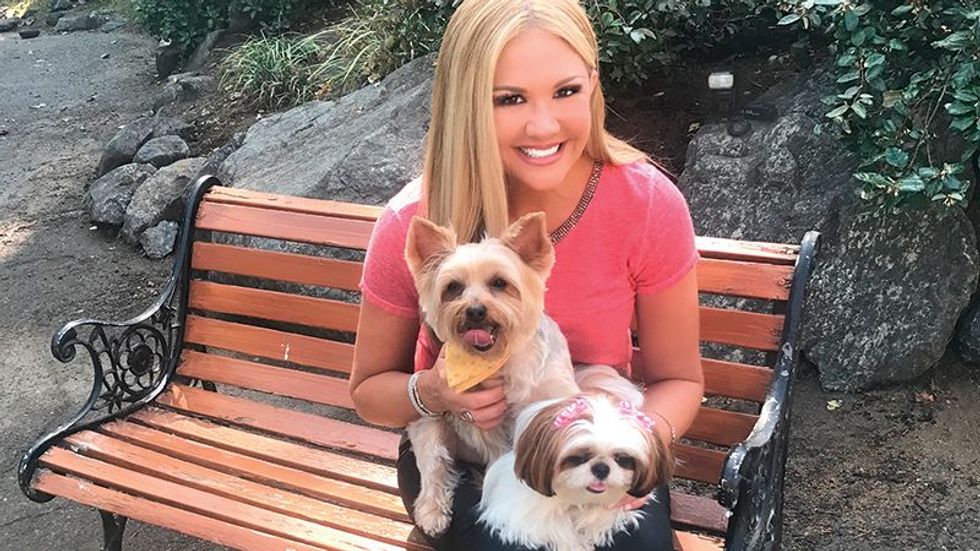 Nancy O'Dell with two of the P, B, & J triad.
5:42 a.m. I try to get in a 45-minute workout. During awards season, which feels like half the year, I'm on the elliptical catching up on movies, TV shows, Netflix. I'll often speed-watch, but sometimes I get so into something, I forget the time and watch the whole thing.

6:40 a.m. It usually takes 15 minutes and a lot of back-rubbing to get my daughter out of bed.

7:04 a.m. A typical breakfast is poached eggs, protein, toast. I'll make Ashby a Southern breakfast; she loves biscuits and grits. Grits are weirdly hard to find in L.A. I have to order them from Amazon.

8:01 a.m. My mother always drove me to school, and I do the same for Ashby. Her school has assembly every morning. She recently won a high jump award. I was real proud of that.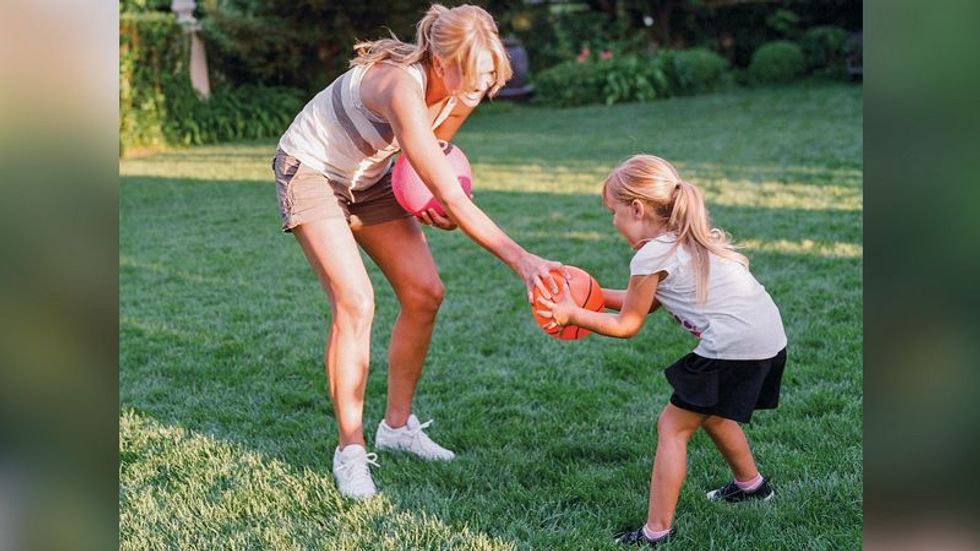 Nancy O'Dell and her daughter Ashby, 2011.
8:33 a.m. Back home to do a CBS Radio spot before I drive to work. It can take 45 minutes to an hour, but L.A. traffic helps you get a ton accomplished. I'll listen to news, call friends, call my sister.

10:00 a.m. I'm always in sweats and no makeup. I'm very much a tomboy. You'll never find me in heels other than on ET.

10:16 a.m. As soon as I'm in the office, the producers and I are working out what we'll put on the show that day. Let's say I did an interview with Rob Lowe or my friend Garth Brooks that week; we'll figure out the best sound bites to use.

READ MORE: Entertainment Tonight Hosts Nancy O'Dell And Kevin Frazier Dish On Their Dreamy Jobs

10:47 a.m. Another day, another fitting for a red-carpet event!

11:10 a.m. The story rundown comes together. Newsy stuff goes first. Everyone loves when a celebrity gives birth. But my favorite topic to cover is a celebrity wedding, especially having the opportunity to cover both royal weddings in London.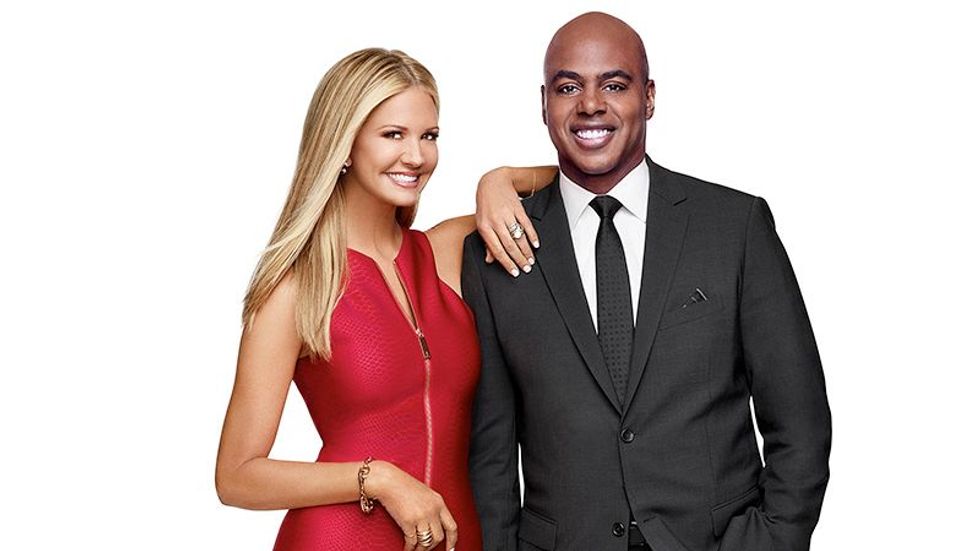 Nancy O'Dell and
Entertainment Tonight co-host Kevin Frazier.

11:30 a.m. Lunch is usually something green and healthy. I'm trying to be good because I've noticed I can't always fit into certain ET outfits. That's when I go, oops, time for salad and grilled chicken.

12:00 p.m. Bring on the magicians from hair and makeup with their eye drops and a shiny makeup called Artist Couture Diamond Luxe Luminizer, which makes your skin look dewy. Another trick: not washing my hair every day.

1:31 p.m. By now I'm dressed for the show but still tweaking scripts and texting publicists and celebrities to confirm last-minute details.

2:15 p.m. On set, I'm being mic'd and updating voice-overs for the show as news breaks or changes.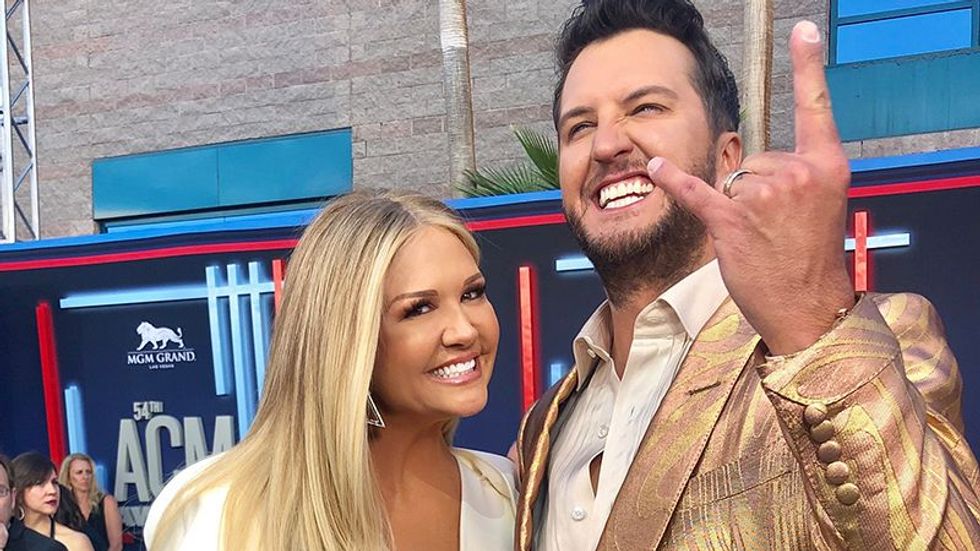 Nancy O'Dell interviewing country music artist Luke Bryan at the ACM Awards.
2:30 p.m. We're live! Hello from Holly-wood! Did you hear who had a baby?

2:42 p.m. Gotta get those famous names right. We've long debated Cate "BLANchett" vs. "blanCHETT" but it's actually "BLANchitt." And it's "EE-vah Longoria" and "AA-vah Mendez."

3:25 p.m. After the show, we shoot updates for other markets like the West Coast. Entertainment never stops.

SEE MORE PHOTOS: Your Favorite Entertainment Tonight Cast Members Looking Fabulous

4:00 p.m. ET has a nice family atmosphere with about 100 staff members. There's always a birthday celebration. Or if someone like Oprah visits the set, the entire staff will come watch and say hi.

4:10 p.m. Now's my time to focus on my other projects, like the Reelz series I'm producing called Fatal Addiction: Hollywood's Secret Epidemic. I also do work for Augie's Quest, an awesome charity for ALS, which my mom passed away from.

4:35 p.m. If there are no additional wardrobe fittings, I'll go get my daughter after sports practice. She does track, softball, tennis, you name it, and then we'll play at home in the driveway to decompress. She beats me in soccer, but I'm still a foot taller so I can kick her butt in tetherball. For now.

6:00 p.m. We'll walk the dogs and grab takeout for dinner so Ashby can get her homework done.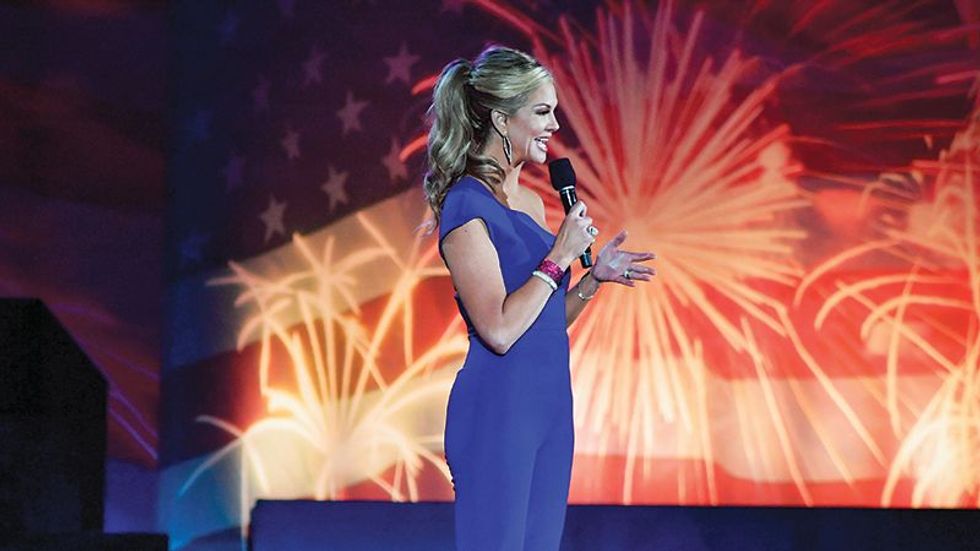 Nancy O'Dell hosting the Boston Pops Fireworks Spectacular rehearsal in 2016.
7:01 p.m. A big perk of my job is fun events like movie screenings and concerts. I hosted the Fourth of July celebration on CBS in Boston a few years ago, and Nick Jonas was performing. My daughter thought that was OK, but she's a country music fan like her mom and was way more excited to meet the band Little Big Town.

8:35 p.m. We're early-to-bedders, and I try to go to sleep the same time my daughter does. But first we'll sneak in a girls' night and watch some of the shows I grew up with. I've introduced her to The Brady Bunch, Mork & Mindy, and Gilligan's Island. We're now into The Golden Girls, and it's the only time I let our golden girls—P, B & J—up on the bed to snuggle before we all say good night.

Originally published in
Watch! Magazine, July-August 2019.

Photo Credits: Courtesy of Nancy O'Dell (2); Courtesy of ET (2); Paul Marotta/Getty Images (Boston Pops).
Watch
Entertainment Tonight Weekdays on CBS and CBS All Access. Check local listings for times.