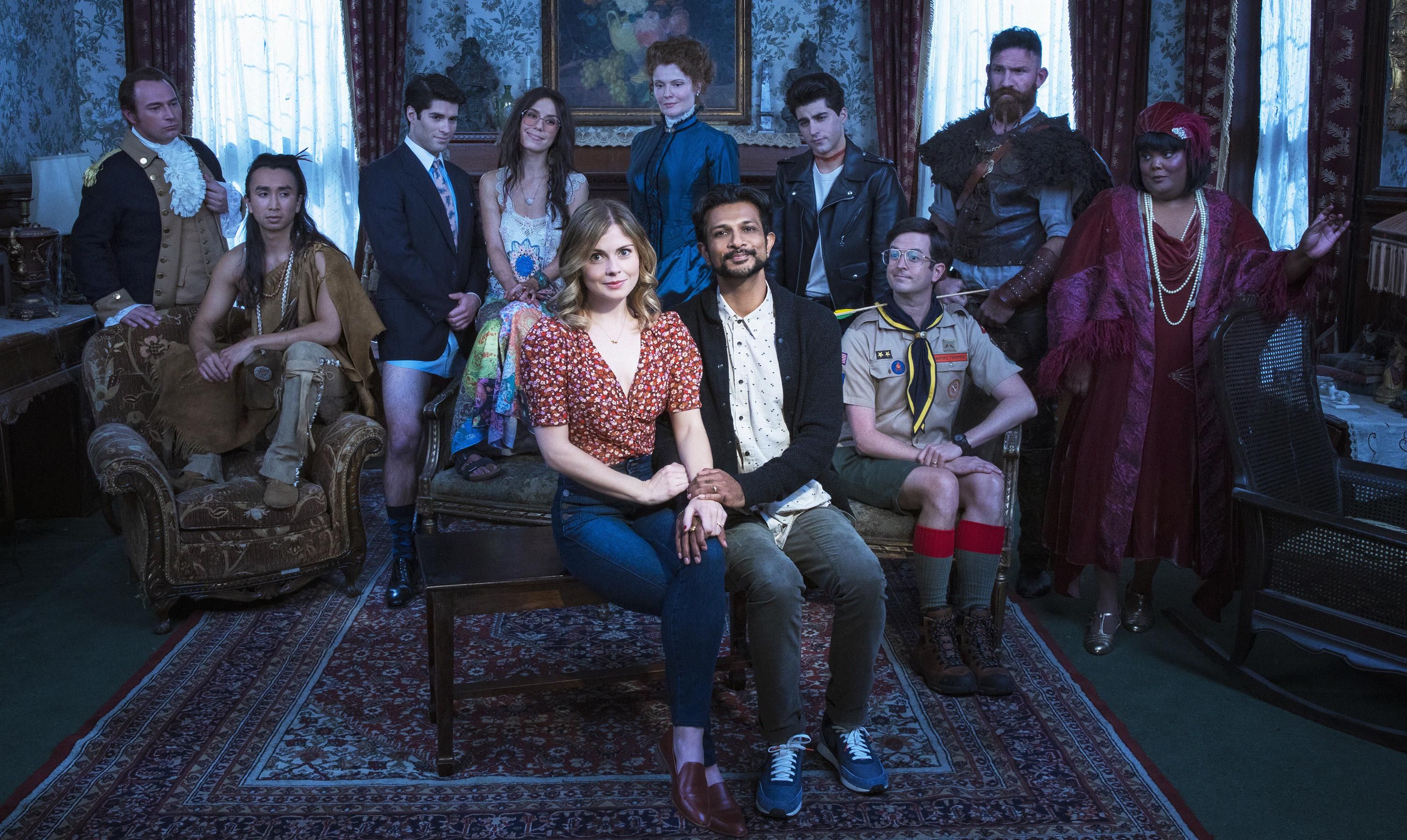 Photo: Cliff Lipson/CBS
This Ghosts story tells how the new CBS comedy came together brilliantly in spite of the ghastly pandemic.
By David Hochman
They say change can be scary. A new town, an unfamiliar house, a bunch of deceased former residents who want you out of there pronto.
That's the spirit of Ghosts, a new CBS comedy—yes, comedy—about a cute young couple who inherit a rundown 300-year-old country estate (thanks, Great Aunt Sophie) along with a tight-knit group of dearly departed souls from time periods who hilariously haunt the place.
---
You might think a free mansion with nine bedrooms on 10 acres in the picturesque Hudson Valley would be a welcome windfall for struggling freelance journalist Samantha (played by Rose McIver from The CW's supernatural comedy iZombie) and her fast-talking chef husband, Jay (comedian and rapper Utkarsh Ambudkar from The Mindy Project and Pitch Perfect). And it is—for a minute.
One look at her gorgeous family hand-me-down and all Sam can think is, "Dude, this could be the best bed and breakfast." Unfortunately, it's the property's prior inhabitants—including a cod-obsessed Viking, a feisty Prohibition-era lounge singer, a trippy '60s hippie, and an entitled '80s Wall Street bro—who have reservations.
The ghosts (who only Sam can see) don't want new owners and definitely don't want beds full of space-hogging overnighters, and so the kooky spooking begins. A lightbulb flickers mysteriously here, a vase crashes to parquet floors there—all to frighten Sam and Jay back to the big city. A spectral Yelp reviewer might sum up the guest experience in a single word: Boo!

SUBSCRIBE NOW: Enjoy 4 Digital Plus 2 Print/Digital Issues Of Watch Per Year — For Free!
Catch up with Ghosts streaming on Paramount+.
Adapted from the hit BBC One series of the same name, Ghosts is a sitcom in the tradition of TV classics like The Addams Family, The Munsters, and, more recently, What We Do in the Shadows. The wise cracking is spine chilling without giving actual shivers. The real scares happened camera shortly after the pilot got picked up by CBS in February 2020. "We got the go-ahead just as the pandemic set in, and there was worry, along with everything else, that we'd lose momentum," says Joe Wiseman, who is writing and executive producing the series with Joe Port, his creative partner from New Girl and other comedies. "But it's such an inventive idea and has so much heart, we kept the faith that it would work out."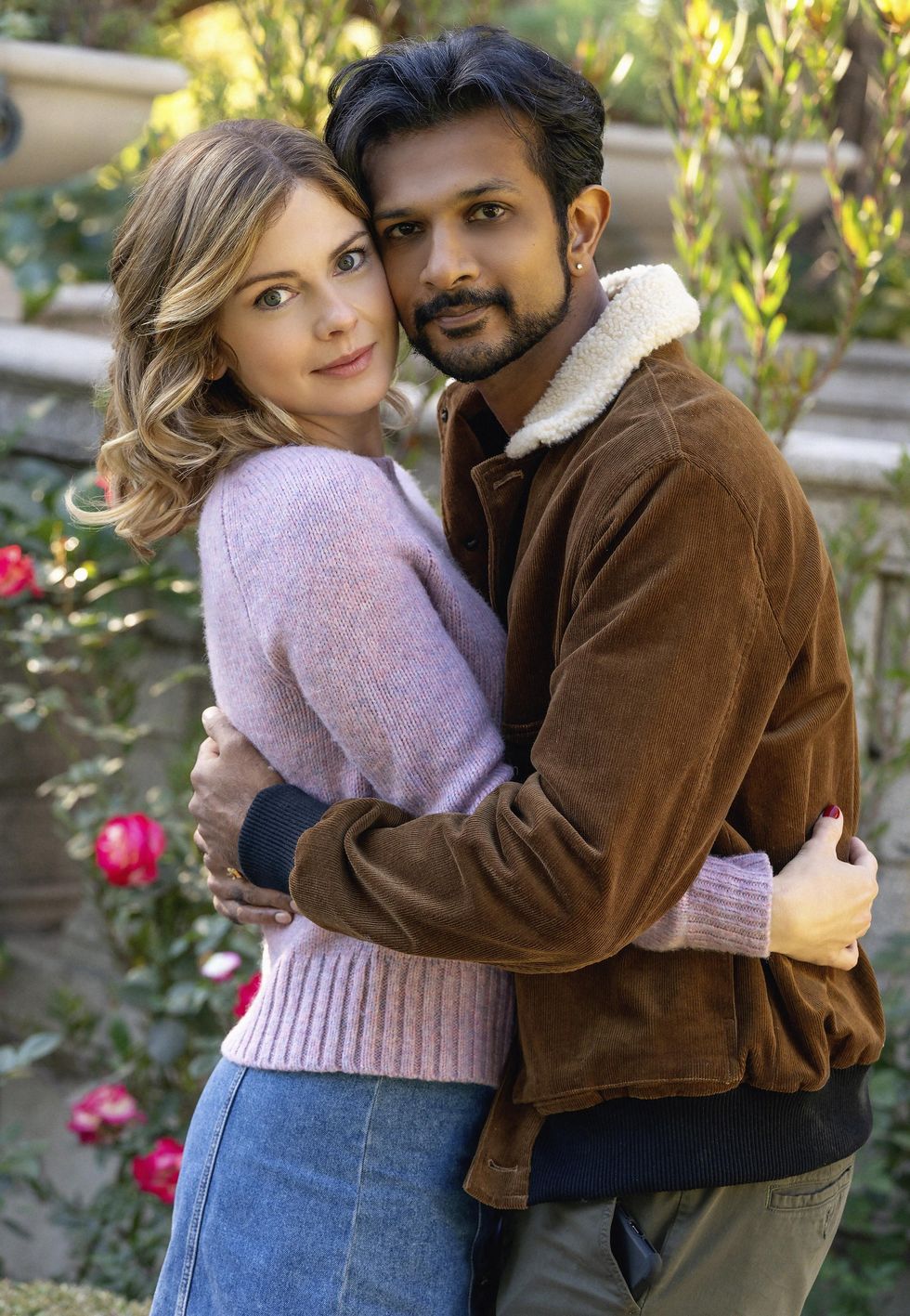 Rose McIver and Utkarsh Ambudkar (right) play a couple who take on a hilariously haunted house.
Photo: Cliff Lipson/CBS
After months of precautionary delays, Ghosts shot its pilot episode last December in Los Angeles under tight COVID-19 protocols, and the cast and crew couldn't help noticing eerie parallels between the comedy and the lockdown life everyone had been living. As Port says: "It was suddenly very relatable to have people trapped together in a house and forever unable to escape each other. We imagine viewers will relate, and hopefully in a humorous way."
It helps to have a dead-funny cast that includes Danielle Pinnock from Young Sheldon as a 1920s chanteuse, Brandon Scott Jones from The Good Place as a conflicted Revolutionary War–era militiaman, and Richie Moriarty (What We Do in the Shadows) as a 1980s scout leader who clearly got the bum end of an archery lesson: There's an arrow through his neck. Ghosts' two leads are the stand-ins for the rest of us—that is, if the rest of us were standing in an abode full of freaky
ghouls. Here's what McIver and Ambudkar say about seeing dead people in prime time.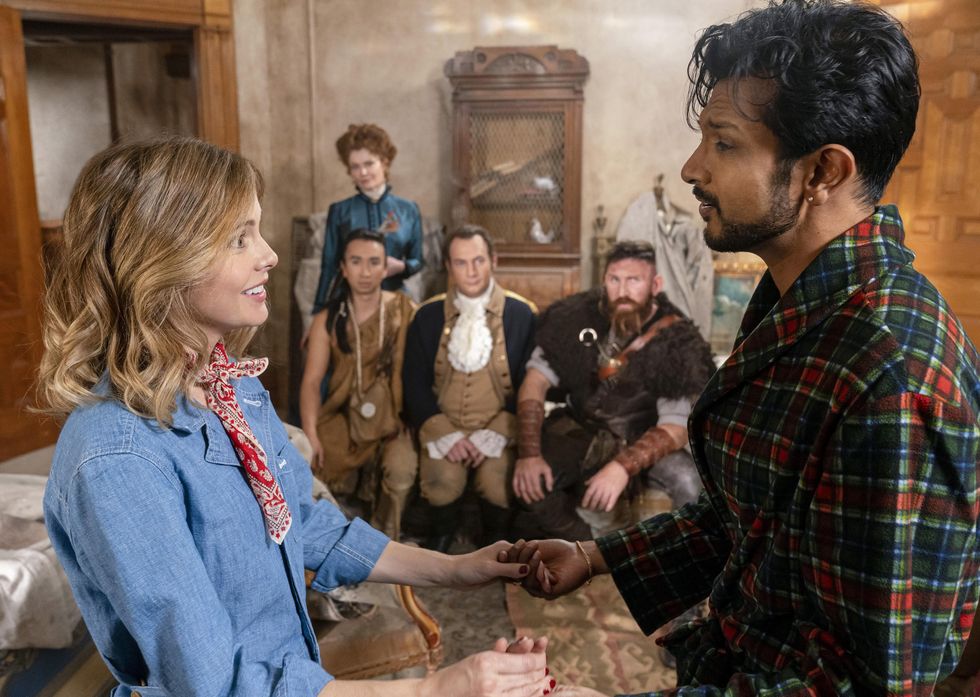 "On the back of this insane year, we've all learned we have to tolerate other people's living habits." –Rose McIver
Photo credit: Cliff Lipson/CBS
Let's start with the obvious. Do you believe in ghosts?

McIver: I haven't seen any Victorian children sitting at the foot of my bed, if that's what you mean. But I've heard enough stories to wonder about, you know, quantum entanglement and all that.

Ambudkar: Quantumwhat now?

McIver: It's something to do with two entangled particles interacting remotely, but that's all I know. Look, you're gonna have to ask Einstein. He called it spooky science, and quantum entanglement is the technical term for it.

Ambudkar: Nobody told me there would be a quiz. I'll just say I don't believe in ghosts as malevolent spirits or lost souls. If anything, I believe in angels looking out for us, which means all my ghosts are good.

McIver: Are you saying ghosts are angels that just haven't been marketed as well?

Ambudkar: Yes, kinda like squirrels versus hamsters. You only want one of them living inside your house, right?

McIver: Hmm.

Ambudkar: OK, so it's a working theory.
Ghosts is based on a popular British series of the same name. What are the challenges and advantages of that?

McIver: Well, there's a reason the BBC version is an absolute hit. It's just so good! I watched the first couple episodes and completely love it, and there's a bit of a built-in fan base. But I don't plan on watching any more till we finish the season so that we can make it our own without feeling in the shadows of these giants.
Ambudkar: I watched maybe five minutes of the original and was laughing and found it super fresh and charming. That was enough for me to want to join the Ghosts family and then, yeah, do our own thing.
What excites you most about the CBS version?

Ambudkar: I love that it's funny without being mean. In that way it's got touches of The Good Place, which is so well written and also charming. It's also a family comedy like Modern Family, where you have this very diverse cast exploring their stories together.
McIver: It's topical, too. On the back of this insane year, we've all learned we have to tolerate other people's living habits and how we need to cooperate to cohabitate. To explore that with humor might actually help us laugh a little at what we've all just experienced in quarantine.
Ambudkar: I also appreciate that I get to play a lead role where the ethnicity of the character doesn't really matter. It's so great to see that happening more. For me that slowly began with [the 2019 comedy film] Brittany Runs a Marathon. But to have this situation on TV every week, it feels really fortunate and meaningful.
Did you two know each other before Ghosts?

McIver: This is one of my favorite stories to tell. Utkarsh's wife [costumer Naomi Campbell, no relation to the
supermodel] and I are good friends. She's a fellow Kiwi and we worked together in New Zealand. Right after
I was cast for Ghosts, I was invited to go to their baby shower, and I was like, "Hey, I know who that guy is! He's that
rapper—UTK the INC—who rapped at the Oscars. He's awesome." [The Academy recruited Ambudkar to perform a rhythmic recap of the show with Questlove two-thirds of the way through the broadcast of the awards in February 2020.] Then I thought, he'd be so great as Jay in the show, so I told the producers, who were, like, Yeah, yeah, we
know. We really want him.
How hard was building cast chemistry during COVID? Group bonding is tricky with masks on, no?

Ambudkar: It's interesting. When COVID shut us down, we started this group text chain with the cast and really got to know each other. We were joking all the time and sharing links to things. By the time we finally met, it was like relaxing into a family. We were all genuinely rooting for each other to succeed. We weren't unknown actors. We were just people playing people playing ghosts.
McIver: Your character's not a ghost. Have you not read the script?

Ambudkar: Allow me to rephrase: We're people playing people playing with people playing ghosts.

McIver: Ah, spoken like a true freestyle rapper.

Ambudkar: I'm paid by the word, just so you know. That line will cost you $6.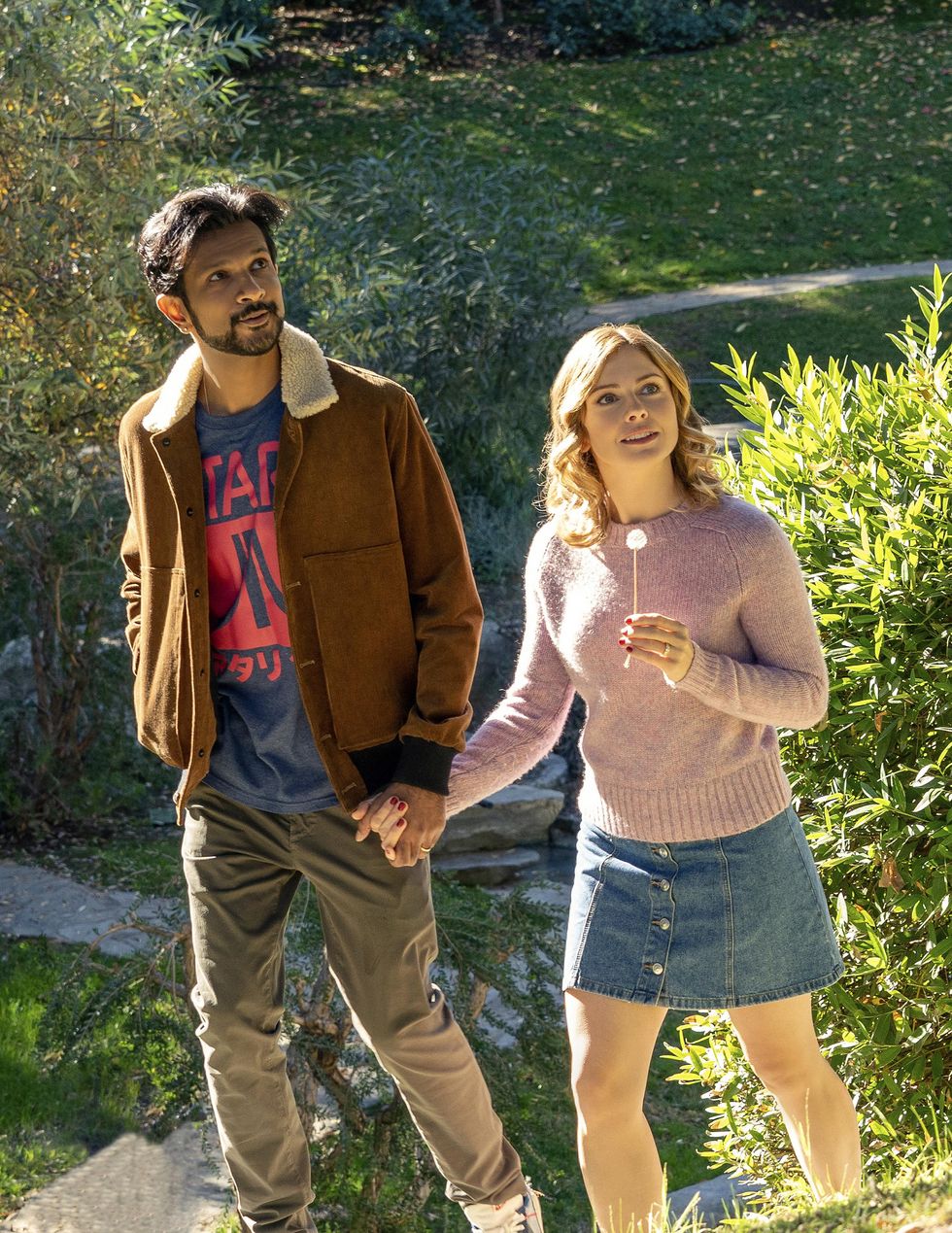 "I love that Ghosts is funny without being mean. I also appreciate that I get to play a lead role where the ethnicity of the character doesn't really matter. It's so great to see that happening more." -Utkarsh Ambudkar
Photo credit: Cliff Lipson/CBS
Let's talk about the ghosts of your past, Rose. How did playing Tinker Bell on Once Upon a Time prepare you for this role?
McIver: Tinker Bell readied me appropriately for wearing a harness for all the flying sequences, which prepped me for the inevitable stunts we will be discovering in Ghosts. No spoilers for those who haven't seen the pilot, but you might be in for a bit of a treat there if you're a fan of my aerial work.
The ghosts on the show are consigned to eternity in the outfits they were wearing when they met their demise. Is that a sticky subject around the set?

Ambudkar: They actually do change their clothes in the time travel episodes.
McIver: Utkarsh, we talked about this. No spoilers!

Ambudkar: I mean, when the aliens come … and, uh, Brad Pitt makes an
awesome cameo.
McIver: Is that public yet?
Ambudkar: It is now, Rose.

McIver: Honestly, I can't wait for cosplay fans to start dressing like these characters, although I don't know who'd want
to get stuck dressing as boring old Sam and Jay, right Utkarsh?

Ambudkar: Speak for yourself! I'd like to think there are plenty of young South Asian men out there who would kill to
play Jay during Comic Con. Rockin' the flannel and khaki pants. Who wouldn't want to dress up as us?
Last question: If you could be visited by any ghost from Hollywood's past, who would that ghost be and why?
McIver: I'll go with a great old school writer-director—Billy Wilder. I just think he'd have an incredible intellect, and I imagine he'd be a masterful storyteller. I absolutely love his films.
Ambudkar: I'd probably make it a ghost party: Robin Williams, Charlie Chaplin, maybe Buster Keaton. The technical genius of the physical comedy that they pulled was so phenomenal, and I'd love to learn as much as possible from them. And maybe Bruce Lee, too. He could protect me if it turns out I'm wrong about ghosts not being malevolent spirits.
SUBSCRIBE NOW: Enjoy 4 Digital Plus 2 Print/Digital Issues Of Watch Per Year — For Free!
Catch up with Ghosts streaming on Paramount+.