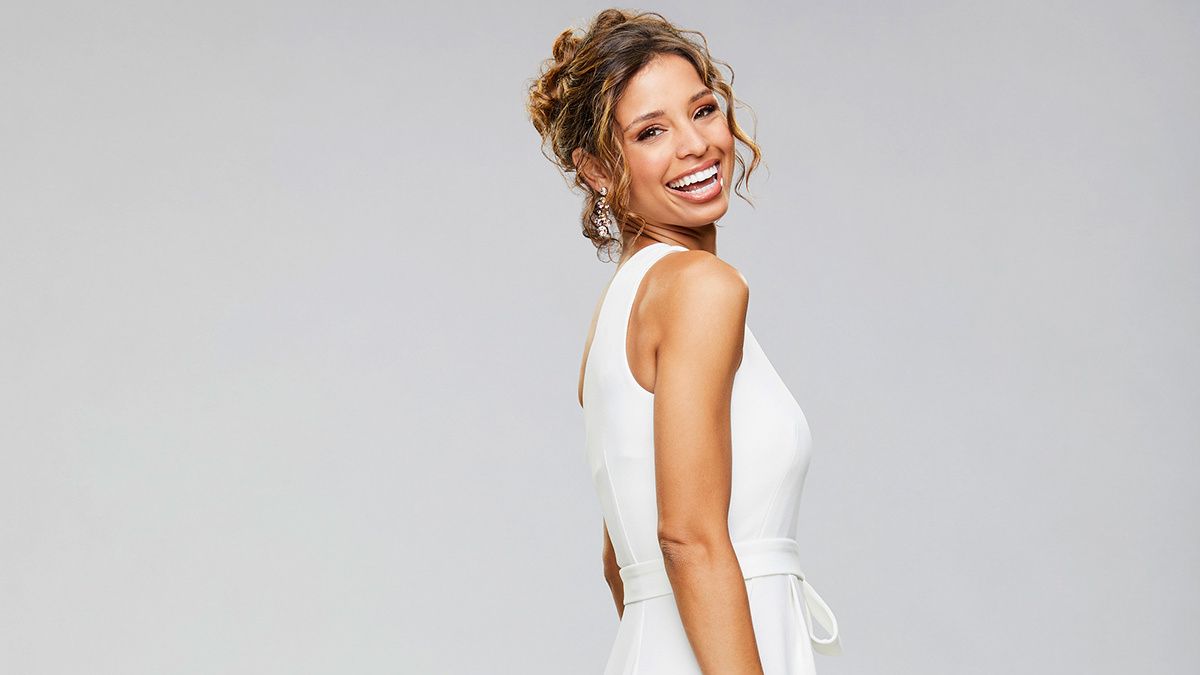 Photo Credit: Sonja Flemming/CBS.
Brytni Sarpy's first year on CBS was a beautiful love story—on-screen and off! Learn more about the actor who plays Dr. Elena Dawson on The Young and the Restless in this exclusive interview.
By Deanna Barnert
Daytime may be known for its divas, cat fights, and soapy turns, but Brytni Sarpy adores playing the grounded and caring Dr. Elena Dawson on The Young and the Restless. Sarpy has also enjoyed being part of the sweet Y&R love story between characters Elena and Devon Hamilton—and not just because she ended up falling for co-star Bryton James in real life!

Watch The Young and the Restless weekdays on CBS and streaming on Paramount+.
---
SUBSCRIBE NOW: Enjoy 4 Digital Plus 2 Print/Digital Issues Of Watch Per Year — For Free!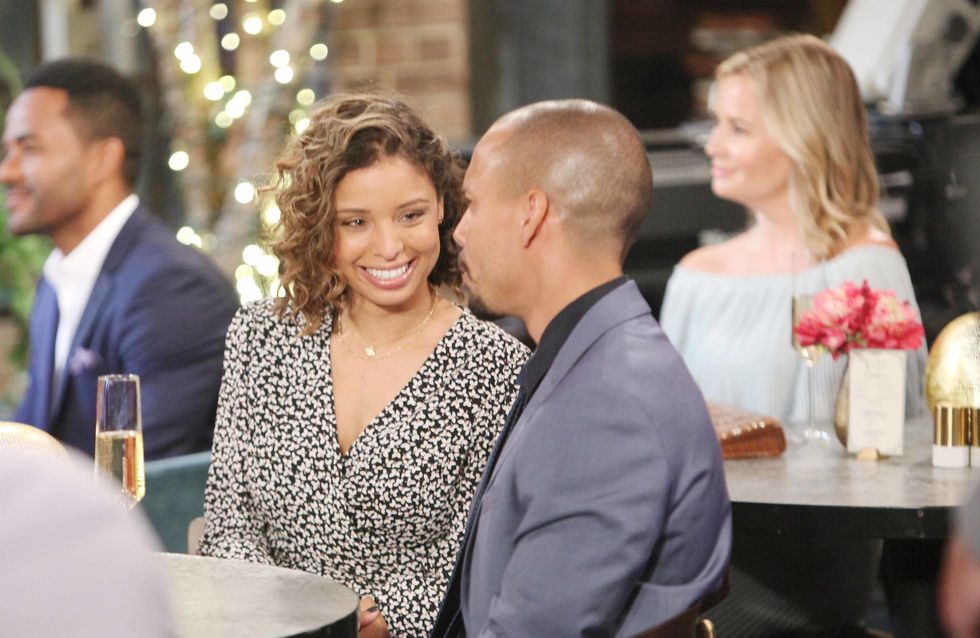 Brytni Sarpy as Elena Dawson and Bryton James as Devon Hamilton in The Young and the Restless.
Photo Credit: Howard Wise/JPI Studios.
In addition to her Daytime work, Sarpy is set to begin an explosive arc on The Have & Have Nots when the show returns in Fall 2020. She also crossed with the dark side in the thrillers Truth or Dare and The Wrong Husband and went for laughs on sitcoms like New Girl and My Crazy Ex.
Watch spoke with Brytni Sarpy about her CBS romance, her character and the Black Lives Matters movement, and how yoga keeps her centered during these turbulent times.
Thanks for talking to Watch. How are you doing with sheltering in place?
For the most part, I'm doing really well. A Virgo like me, I like to create structure. So I've been hard at work at creating my new normal, being indoors all day. And I'm super old school. I still have a planner, where I write things down. Having a list and being able to tick things off every day gives me peace of mind.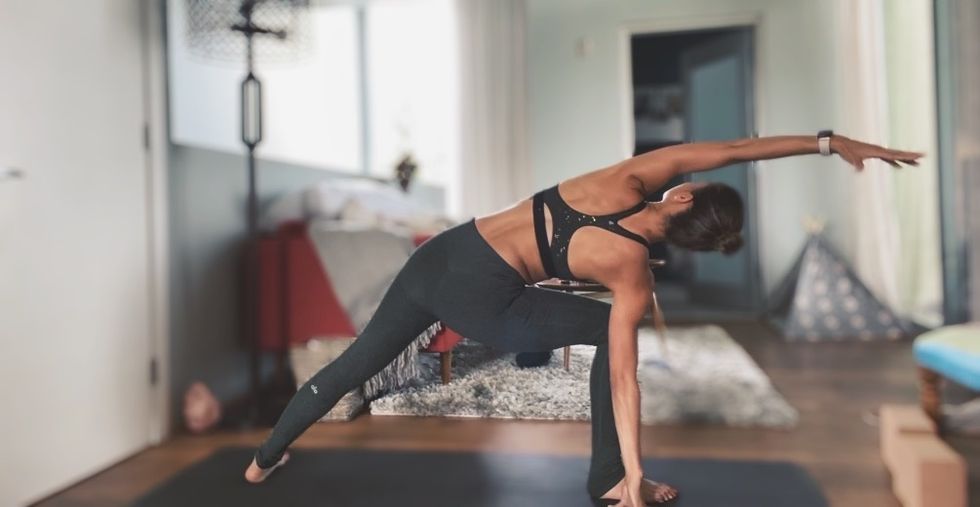 A long stretch
Photo Credit: Courtesy of Brytni Sarpy.
I have had a few mopey days. But what's cool is, I've taken this as an opportunity to tackle some things I haven't been able to do due to lack of time. I've been writing. I've been able to do yoga full-time. I've been going on longer walks with my dog, Charli. Because why not?
I've been cooking a lot. I've been designating times to do these things. I now even schedule when we're going to the grocery store!
Is that "we" you and your on and off-screen beau, Bryton James (Devon Hamilton)?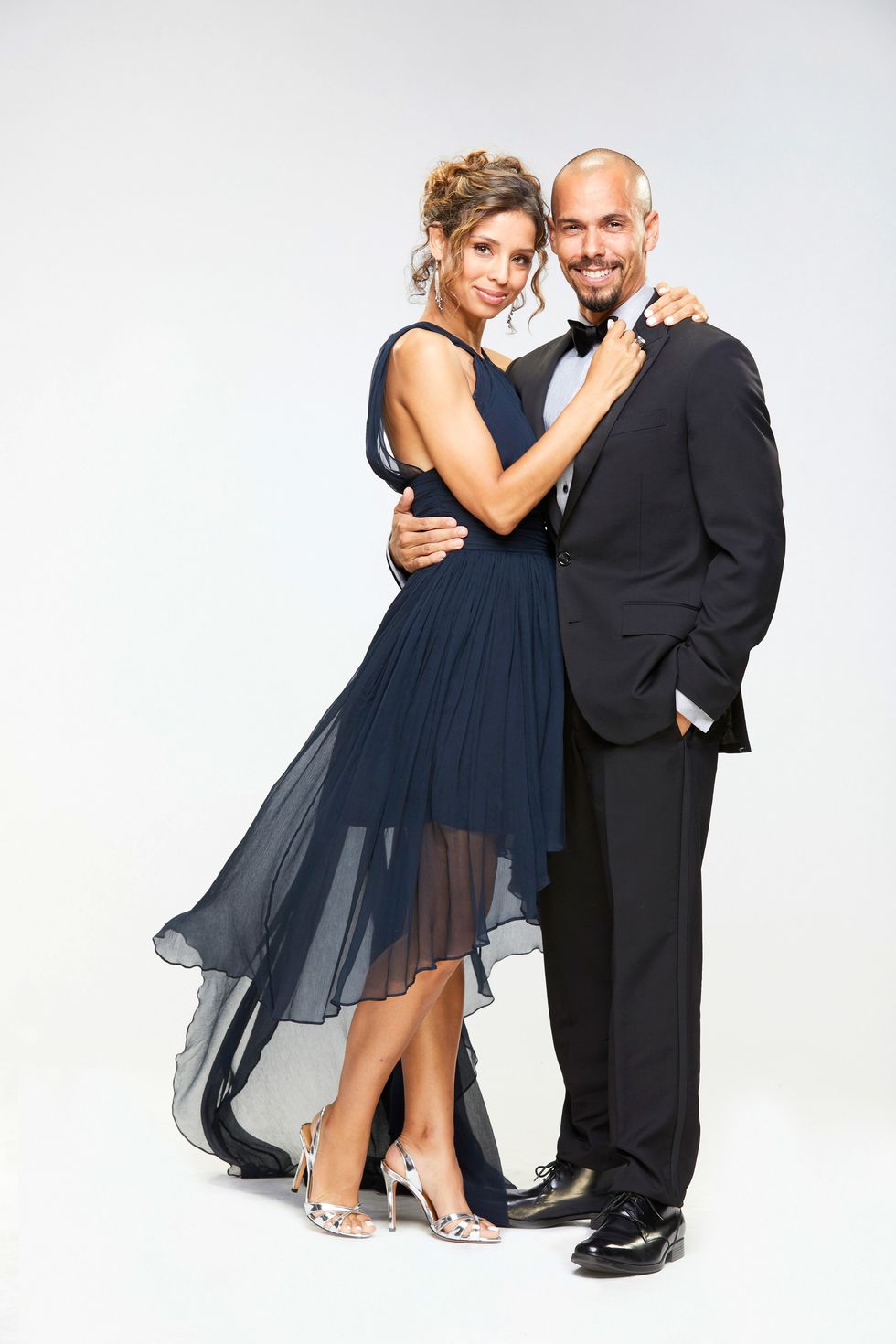 Brytni Sarpy and Bryton James of The Young and the Restless.
Photo Credit: Sonja Flemming/CBS.
Yes. We actually just bought a condo together and moved in about a month before quarantine, so thankfully, we weren't in the middle of moving or anything. Now, we have the opportunity to really get used to the walls around us. [Laughs]

If there was ever a test, I guess we go hard. "We're going to move in together and spend 24-hours a day together!"
You actually share your yoga workouts daily via Instastories, with the handle @brytni. What inspired you to start doing that?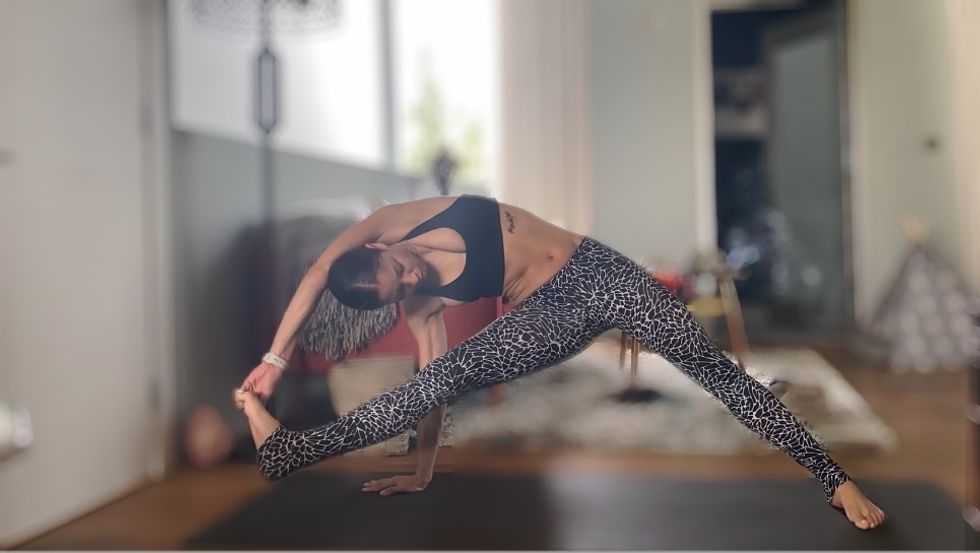 Engaging the core
Photo Credit: Courtesy of Brytni Sarpy.
Well, in a class setting, I'm not really able to set my phone up and record! Had I been able to, I probably would have posted more before. I got into yoga three years ago and when all the gyms closed, my Equinox teacher switched over to Zoom. Now, I'm able to go five to six days in a row and the classes are longer.

I'm actually hitting poses and doing inversions I've never done before. It's really exciting. I used to be a trainer, so fitness is kind of my thing. But since I haven't been doing yoga my whole life, I need structure and class and somebody to push me.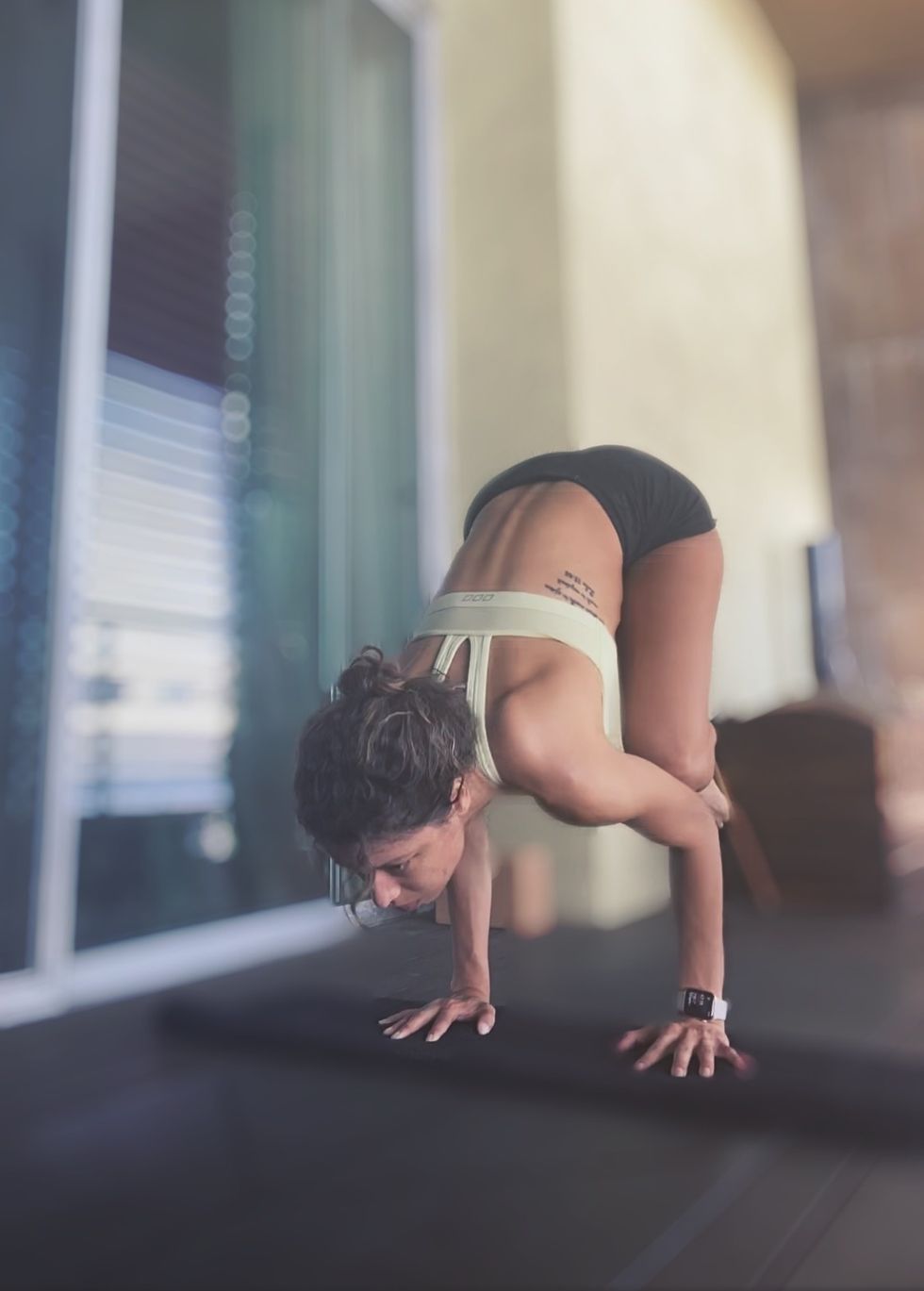 Holding a pose
Photo Credit: Courtesy of Brytni Sarpy.
I am also a visual learner, so I started recording my practice so I could see my progress and self-correct my poses. Then I started posting them because I want to inspire people—especially in the beginning of this. We were all just sitting in our houses staring at the walls.
I've gotten so many messages from people wanting to start yoga or even start this particular class I'm in. I'm glad it's inspiring people—even if it's just to walk outside for 20 minutes.
How have you been using social media to connect with your audience/followers, especially with what's happening in the world today?
Social media can be such a beautiful device in helping to raise awareness, educate, and share perspective. It is an incredibly helpful tool for those of us who have a platform to directly engage and positively influence our audience. I have always understood this about social media and really appreciate the ability to utilize this kind of reach and connectivity.

Honestly, it is always my first instinct to go inward when I am faced with emotional turbulence, injustices, and anything that really attacks me to my core. I think because I feel things very deeply, sometimes exposing those tender places within myself is tough.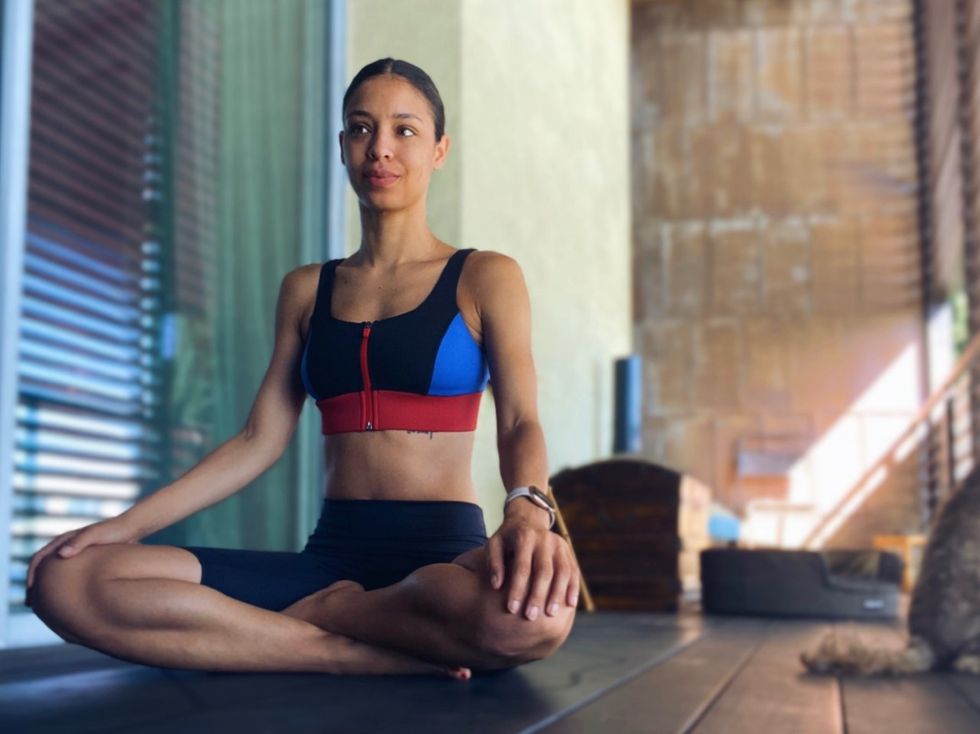 Practicing mindfulness
Photo Credit: Courtesy of Brytni Sarpy.
But today, it is more important than ever to rise above my personal insecurities and emotional limitations, and use my words and my perspective for the greater good of my home and my community. I do not claim to know everything, but what I do know is that energy and intention are a language that we speak innately, and when that energy and intention is in alignment with love and standing up to fear, it is imperative to spread that to a community of people who don't relate or understand, and to a community of people who are hurting and not sure which way is up anymore, because of the fear based tactics and actions that have been used to keep them (us) down for so long.
What I do know for sure is that my heart is in the exact right place, I am and will forever be, an advocate of love and celebrating and elevating our oneness. It is my duty to impart that knowledge, humanity, and compassion to anyone who needs to hear it, feel it, understand it.
Have you found your regular meditation practice a lifesaver or a challenge during this time?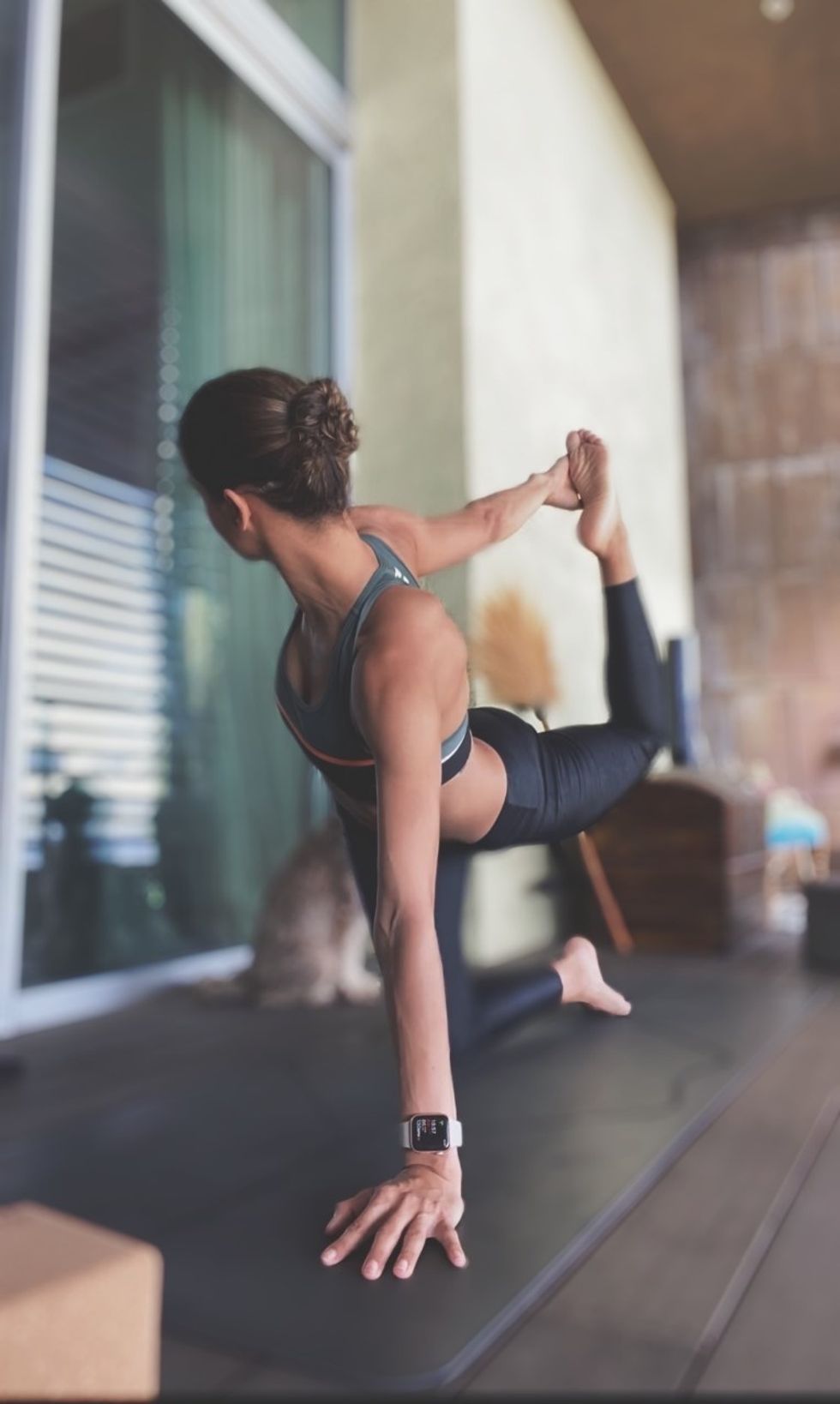 Stretch it out
Photo Credit: Courtesy of Brytni Sarpy.
The yoga has actually elevated my meditation experience, because it's a practice in focus and not allowing myself to get too worked up or too overwhelmed or worried about time. It's taken it to a different level. But I have found meditating more difficult—mostly because this is also my first time living with somebody else! I take my time to do my yoga alone, but then we have to eat and do this that and the other. So it's been a little tougher to just have that quiet space that I had when I lived alone to do it.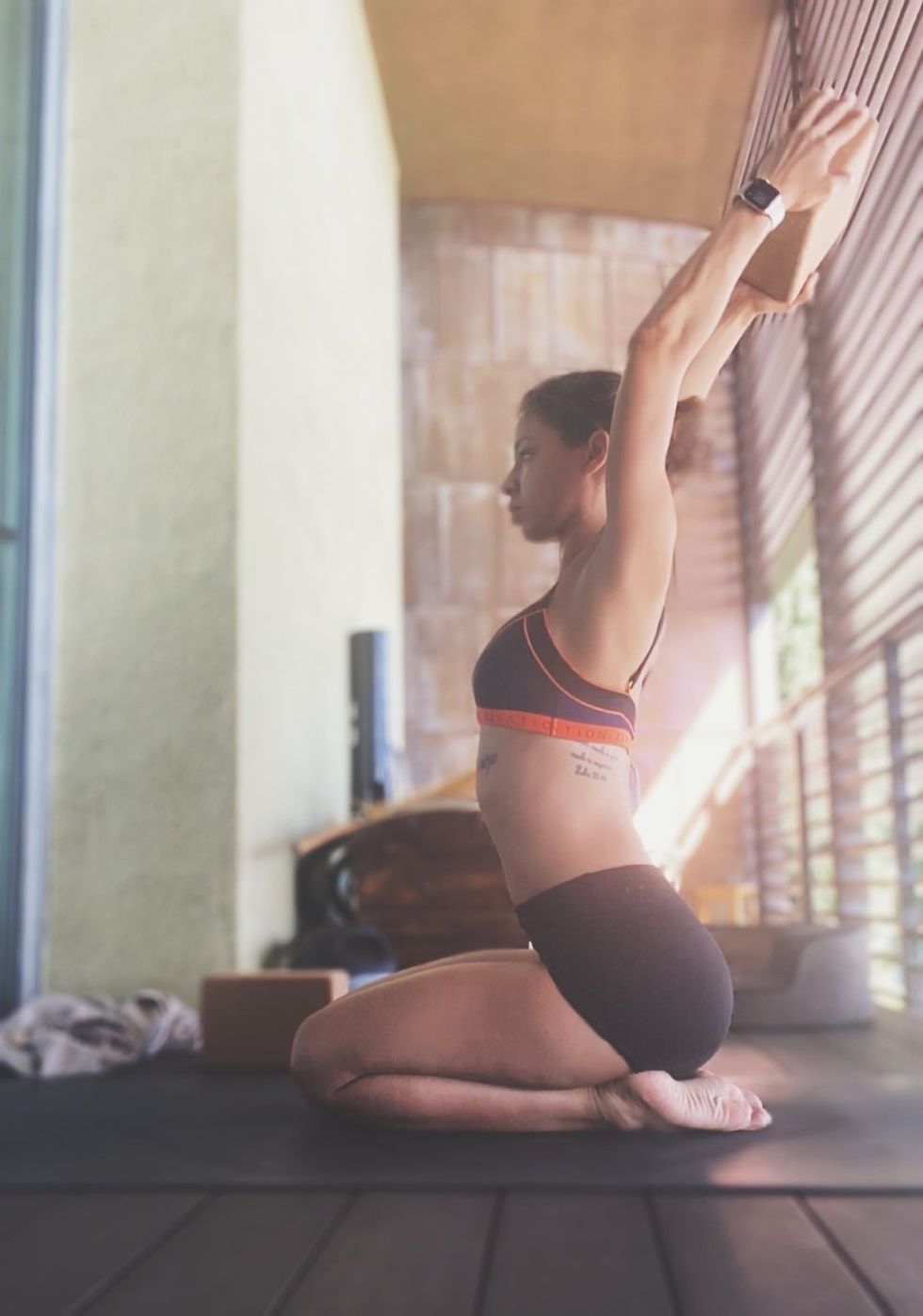 Practicing yoga
Photo Credit: Courtesy of Brytni Sarpy.
Brytni Sarpy Yoga At Home
Watch is all about television's hottest shows. Tell us about your character Elena Dawson on The Young and the Restless.
The great thing about soap characters is that because they're continuous and because we shoot daily, they're more reflective of who we actually are. So Elena's super reflective of who I am, right now. She's a fierce woman and she's passionate. She's caring, she's strong, and she's in love. She's incredibly protective of everyone in her life.

She also is a doctor. She started a new health clinic. I can't even imagine what poor Elena's going through during all of this. She'd be in the trenches during this pandemic. I wonder if they'll write it in ...
Y&R has always been in forefront of tackling social issues. How would you feel if your character Elena Dawson examined Black Lives Matters and racial injustice?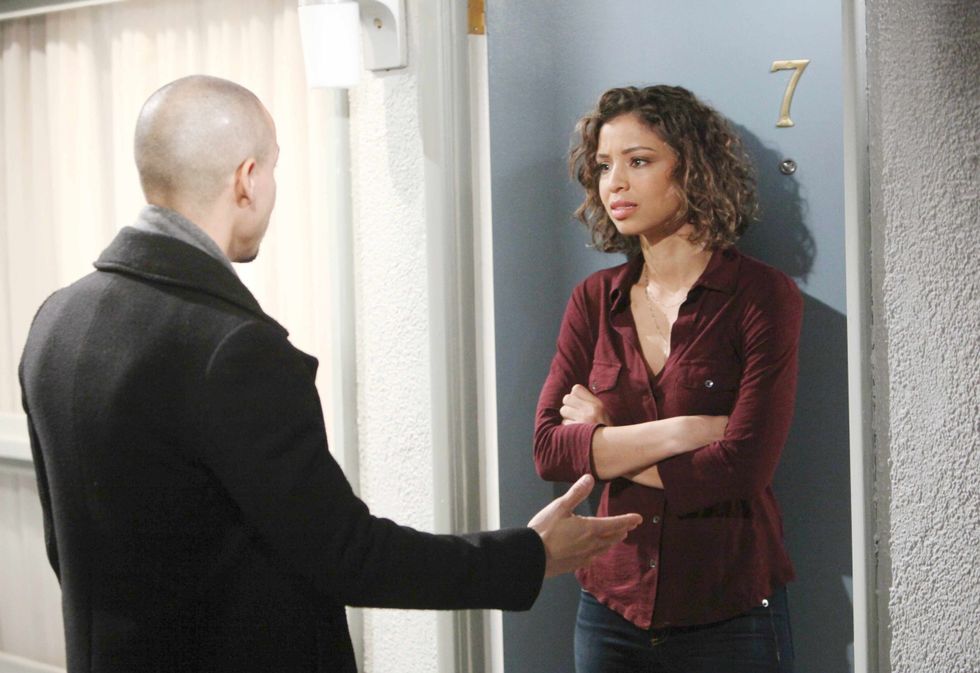 Bryton James as Devon Hamilton and Brytni Sarpy as Elena Dawson in The Young and the Restless.
Photo Credit: Howard Wise/JPI Studios.
I would be honored beyond measure to tackle a story as poignant and important as dissecting and understanding the Black Lives Matters movement, and reflecting on and working to resolve the racial injustices my Brothers and Sisters have suffered through in our country. A storyline like this could help reach viewers who do not relate or understand the plight of the Black Man and Black Woman in America.

Tackling this issue on a show as loved as Y&R would allow those viewers a chance to open themselves up enough to gain perspective and empathy from a show and a character they have learned to trust and love. It can also help heal a lot of pain from those who have suffered and are suffering, to see situations they are overcoming, being both discussed and highlighted. This is what art is meant to do, give us a chance to process our emotions, heal us, it is our therapy.
Fans immediately fell for Elena and started shipping her with Devon. Why do you think your character and this couple resonate with fans?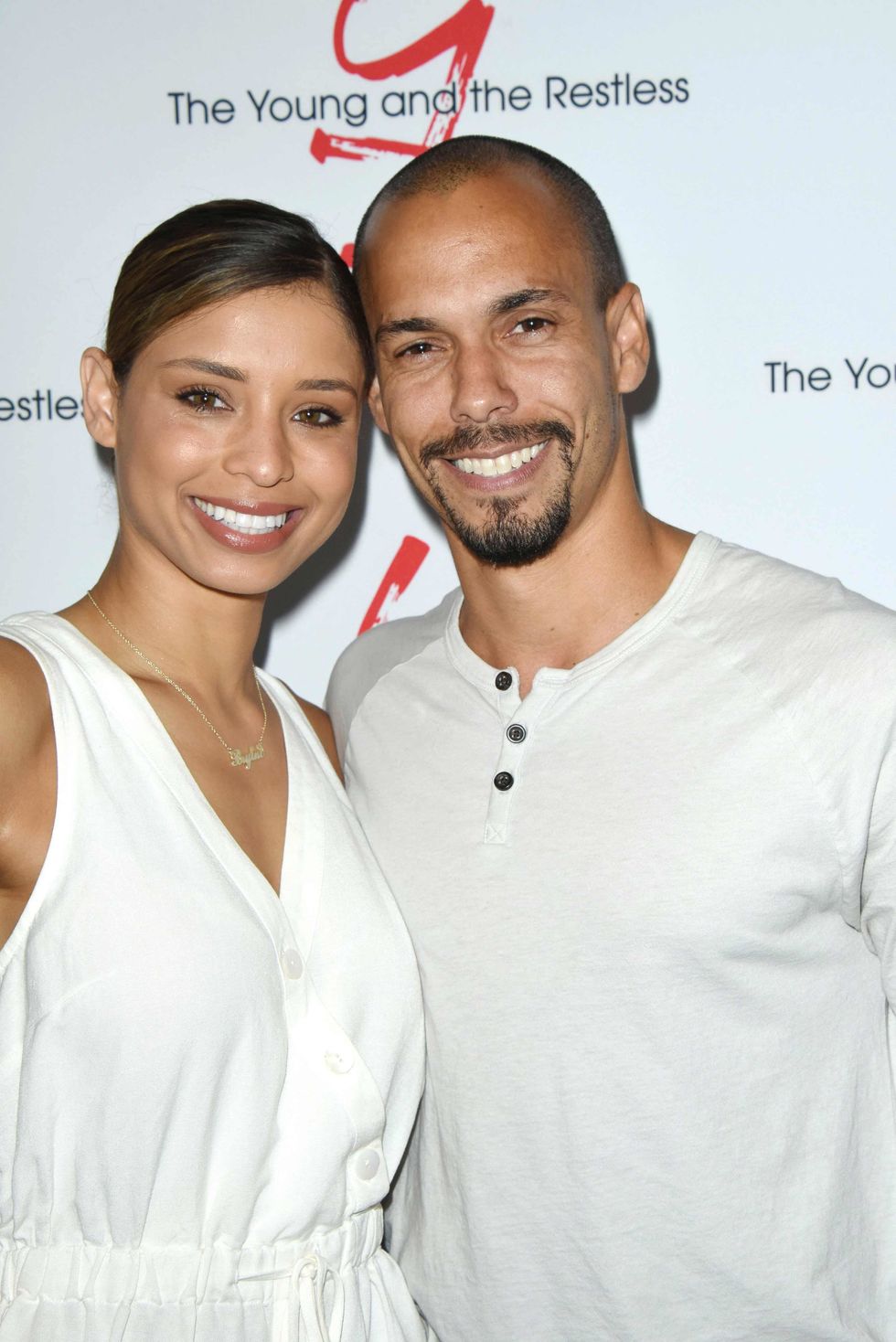 Brytni Sarpy and Bryton James at a Y&R press event.
Photo Credit: Jill Johnson/JPI Studios.
It was really nice to be embraced and to play a character that's so aspirational. People resonate with things they can relate to, and they can see themselves in Elena. She wears her heart on her sleeve and she's a kind person.

Elena met Devon when he was going through so much tragedy. Everyone was rooting for him to finally have something positive. Elena's character represented that. Still, I didn't think people would fall that hard for them, because I saw what a strong fanship there was for Devon and [his late wife] Hilary.
In a way, Elena could have been just another distraction before Devon ended up with [Hilary's doppelganger] Amanda. But there's an honesty and a true connection there. There was so much drama surrounding Devon and Hilary, which was great. But it was a lot! With Elena, it feels like a seamless love story.

What was the first day on the Y&R set like?
It was cool. It was familiar, in that I knew a good handful of people there, already. When I got there, I saw Camryn Grimes—who I've done some charity work with over the past two years. I saw Jason Thompson, who I worked with on General Hospital. And Melissa Ordway, who I did the project with like 9 years ago!

After my first day on set, the entire cast and crew clapped for me. I thought that was the sweetest, nicest thing ever. I thought that would be indicative of my time there, and it has been.
Tell us about your TV family and co-stars Bryton James, Mishael Morgan, and Sean Dominic.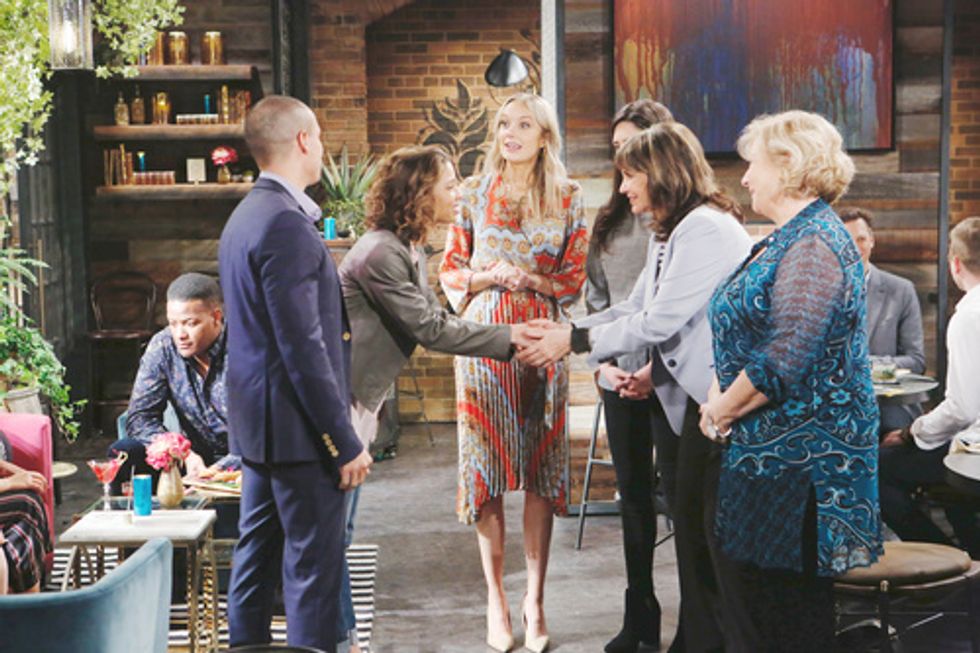 Bryton James, Brytni Sarpy, Jess Walton, Beth Maitland, Melissa Ordway, and Sasha Calle on the set of Y&R.
Photo Credit: Howard Wise/JPI Studios.
Obviously, Bryton and I never got along. No! We hit it off, literally from day one. I showed up for my screen test and didn't know where to park. That was just the beginning of me getting lost at CBS! And he happened to be the person that I asked for help. I didn't know he was the one I was going to screen test with until we went upstairs. We laughed and just had great chemistry and became fast friends.

And I started working with Mishael Morgan before she came back as Amanda, because we still had her coming in for Hilary's ghost scenes. She is just such a force and such a beautiful person with a beautiful smile. I like her a lot. Sean Dominic came a little after me—so it was kind of nice to not be the newest kid on the block! And he's amazing. They all are.

Who fell first: Elena for Devon or you for Bryton?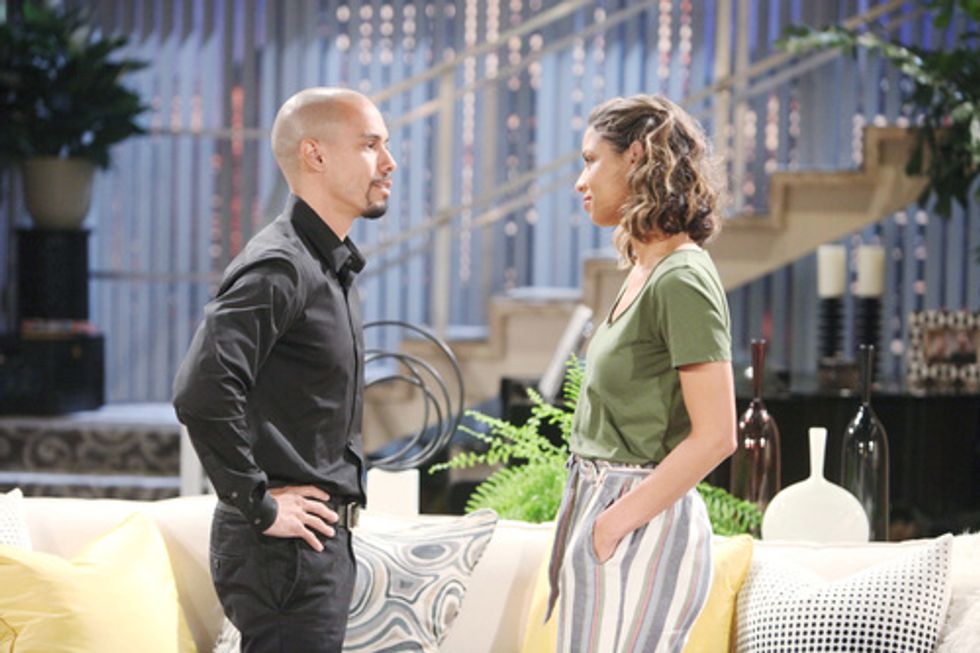 Bryton James as Devon Hamilton and Brytni Sarpy as Elena Dawson in The Young and the Restless.
Photo Credit: Howard Wise/JPI Studios.
It was around the same time. Their "I love you" scene is really poignant because it was right around the time we also said "I love you." So it was so very very real and so vulnerable. Bryton's awesome.

Who is your inspiration?
The human connection is my inspiration. My inspiration is the scientific study of who we are as humans and why we do the things we do. I love being able to step into roles where I can say something that doesn't make sense to everyone.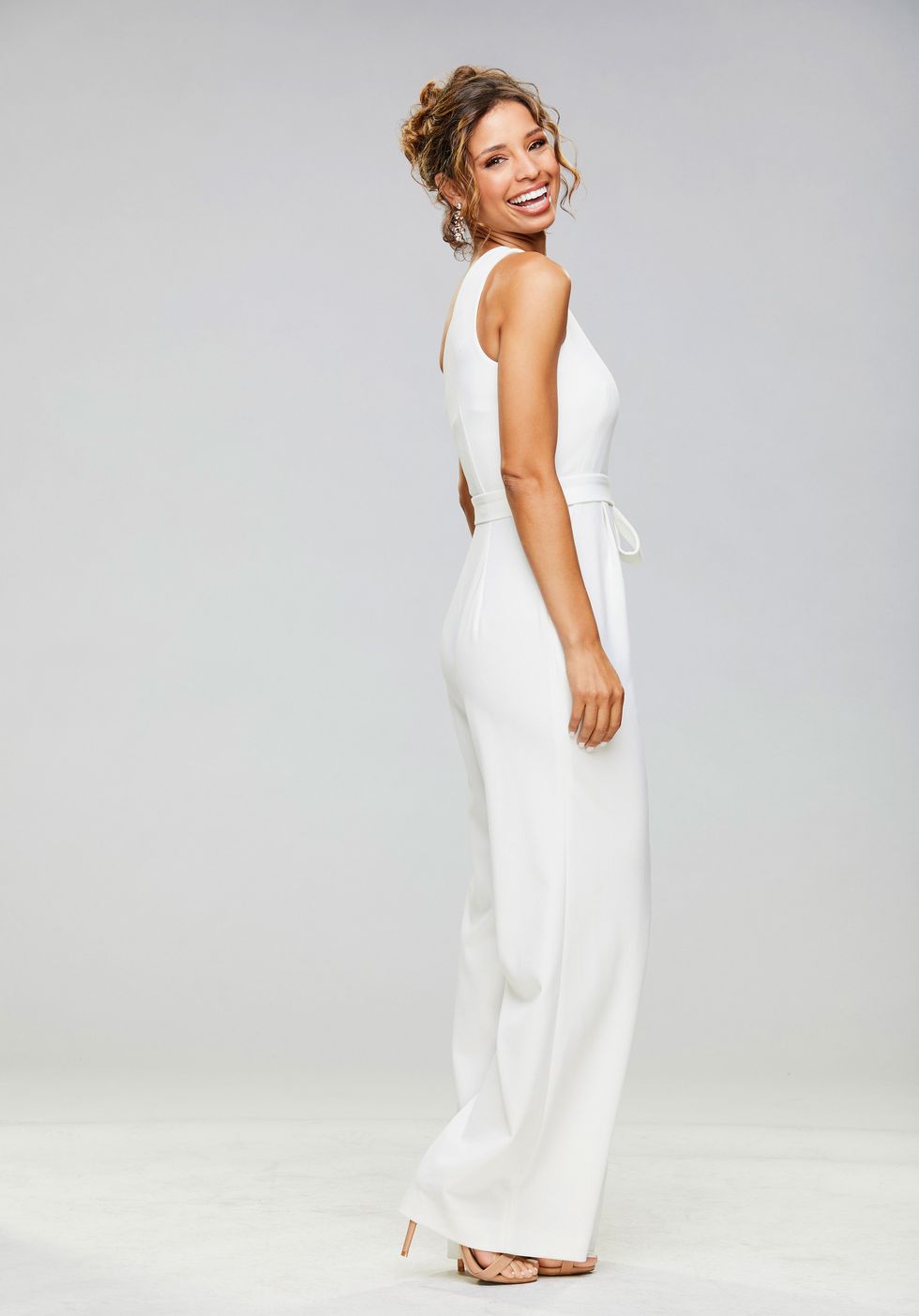 Smiling Brytni Sarpy
Photo Credit: Sonja Flemming/CBS.
If I get to play someone who killed someone, there's something cool about getting into the mindset of that person and looking 5 steps back: How did they get to the point where they wanted to do something so tragic? What does it mean to be human? What does it mean to experience these ranges of emotion that bring you to these places? I just love exploring and understanding what it means to be human.
Watch The Young and the Restless weekdays on CBS and streaming on Paramount+.

SUBSCRIBE NOW: Enjoy 4 Digital Plus 2 Print/Digital Issues Of Watch Per Year — For Free!