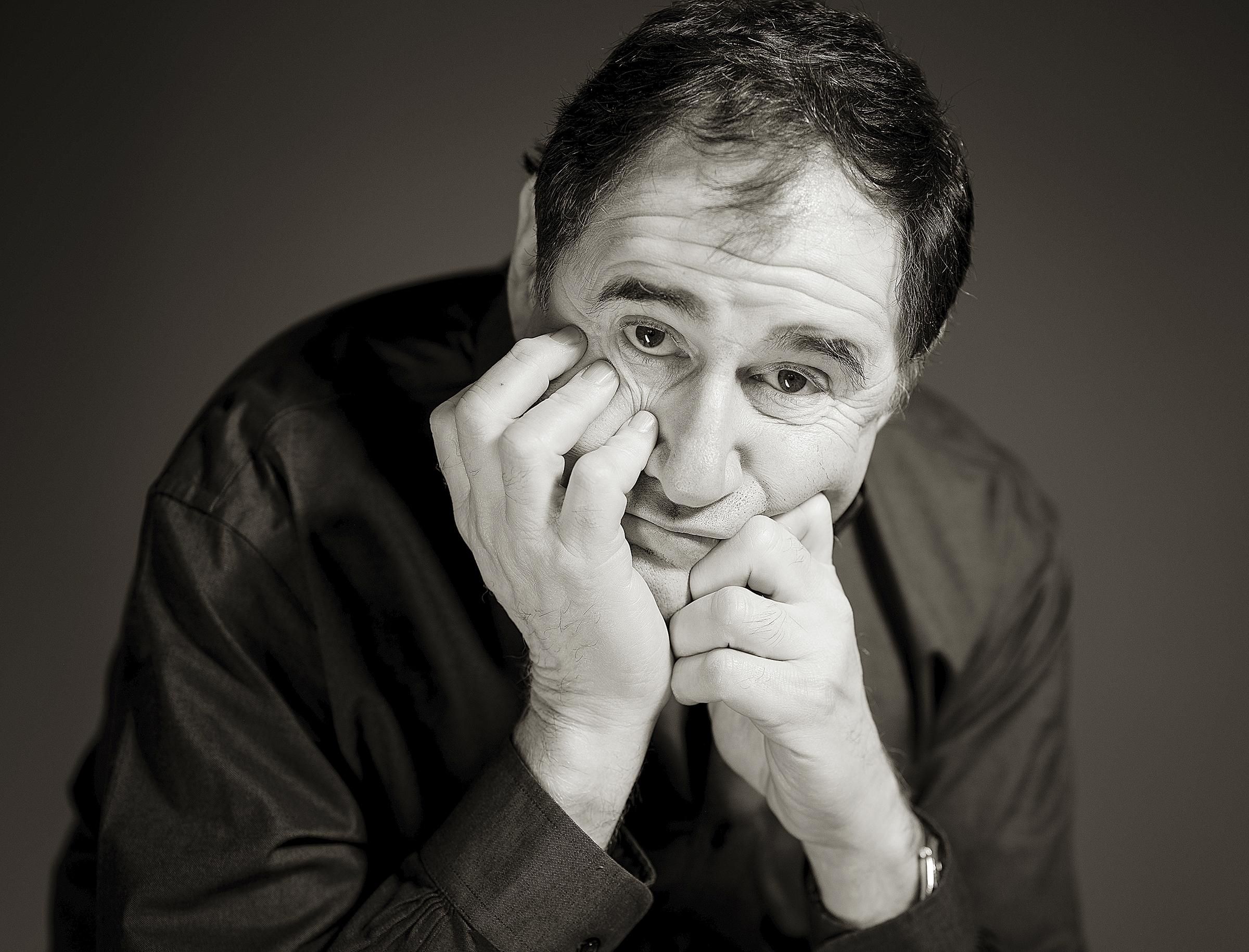 Photo credit: Eric Korenman
Richard Kind—star of the new police drama on CBS this fall—on heroes, humanity, and the power of celebrity
By Brantley Bardin
When Richard Kind shows up onstage (The Producers, Bounce), in film (Inside Out, the upcoming Monsters of California), and in classic TV comedy staples such as Mad About You, Spin City, and Curb Your Enthusiasm, you are guaranteed guffaws. A brilliant physical comedian, Kind can ace a villain with ease, but the 6'2", die-hard New Yorker who rarely ceases to work ("I love acting— there's no business like show business, there's no people like show people!") is oft acclaimed as the funny guy specializing in urban eccentrics. He's carrying on the tradition of his childhood idols: W.C. Fields, Zero Mostel, and Robert Preston.
Now the father of three—who enlisted close pal George Clooney as his best man for his 1999 wedding—is returning to network TV as Capt. Stan Yenko, a garrulous but nerdy and insecure Brooklyn police captain, in the new cop drama East New York. The show was co-created by William M. NYPD Blue, Law & Order, The Good Fight Finkelstein and Mike Big Sky, Queen Sugar Flynn. Is that tony pedigree why Kind bit? No, he says. Then why? "Because they offered me the job," he jokes.
Watch East New York Sundays at 9 p.m. ET/PT and catch it streaming on Paramount+.
SUBSCRIBE NOW: Enjoy 4 Digital Plus 2 Print/Digital Issues Of Watch Per Year — For Free!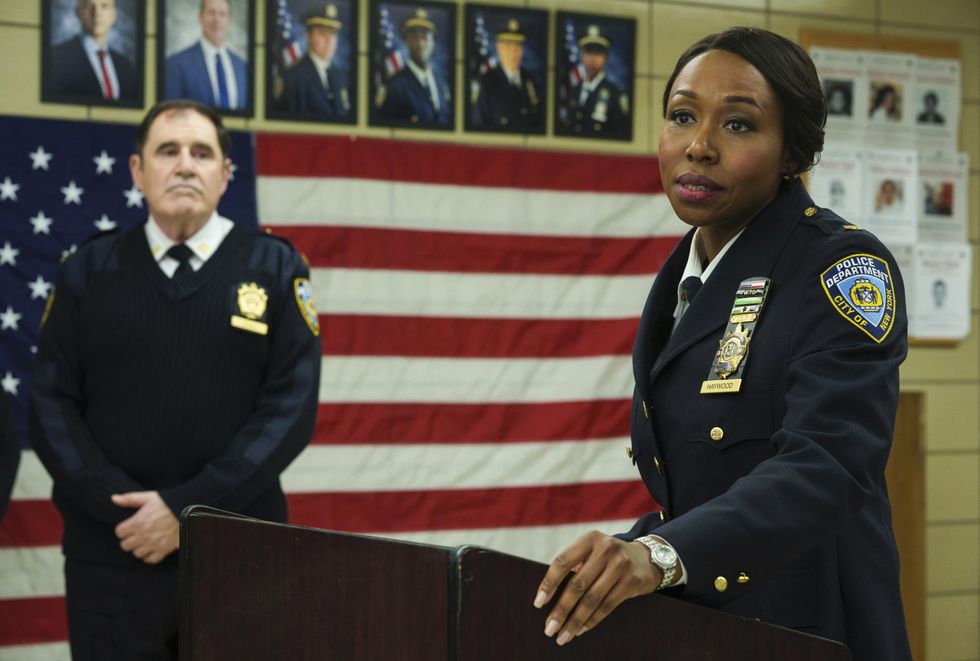 Richard Kind with Amanda Warren as Deputy Inspector Regina Haywood
Photo: Peter Kramer/CBS ©2022 CBS Broadcasting, Inc. All Rights Reserved.
Ha ha ha, buddy. What's the real reason?
I've never said this out loud, but if you must know: I am Bill Finkelstein's muse for some of his characters. I think he finds in me that Jimmy Breslin type of New Yorker who has humanity—and can act. Bill's a very good actor, but he's always writing, so he can't act much. So I am his microphone.
Ruben Santiago-Hudson plays a gritty street cop under the show's lead—Amanda Warren's newly promoted deputy inspector, Regina Haywood. Jimmy Smits plays her mentor, Chief John Suarez. Unlike them, you're the (surprise) eccentric outlier who obsesses over such things as bidding on a vintage Chrysler Cordoba online.
Stan is an eccentric! Bill writes on different levels and wanted some levity, a bit of a softer tone than the other, more grizzled cops.
As a king of comedy, that's the perfect assignment. Confession: The world knows you from your smash TV comedies, but I know you best onstage from your divine Max Bialystock in The Producers at the Hollywood Bowl and really know you from the cast album of the Harold Prince–directed, Chicago production of Stephen Sondheim's Bounce so—
I love it! I like it best when people know me from the theater. I think I'm best onstage. When most kids were lying in bed dreaming of being Mick Jagger or Mickey Mantle, my goal in life was to do a Sondheim/(Harold) Prince (-directed) musical.
That's specific. And miraculously, in 2003 you actually landed one of the two leads in Bounce, the very final Sondheim/Prince collaboration.
[Exhales.] Ah! I loved it. Sondheim was our genius, our Shakespeare, our poet, our philosopher. We laughed, we learned, we were able to emote through his lyrics.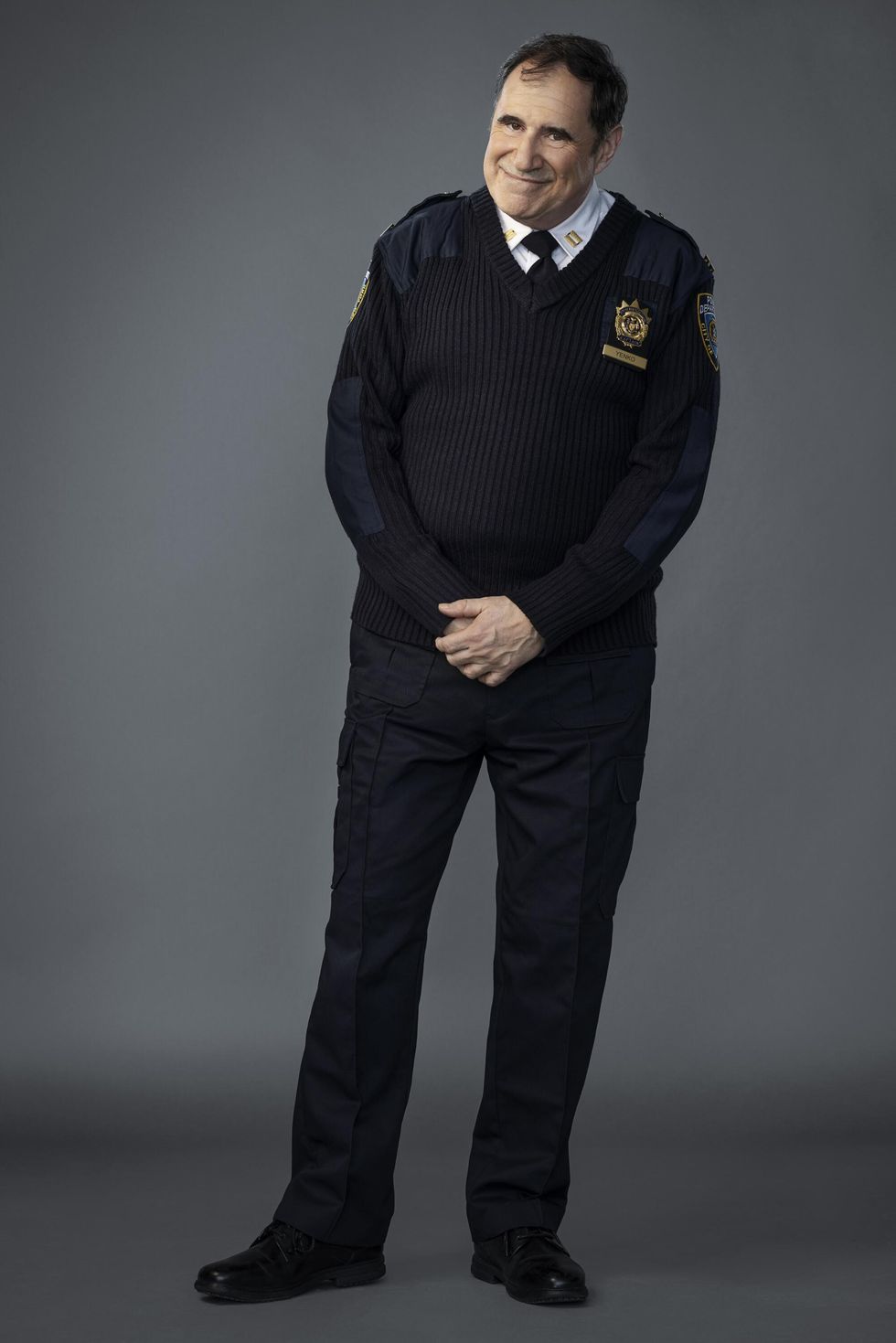 Richard Kind in character for East New York
Photo credit: Matthias Clamer / 2022 Warner Bros. Entertainment Inc. All Rights Reserved.
It's just the truth. OK, I'm gonna jump right to a question about your best man back in 1999, George Cloo—
I don't talk about him. Number one, he gets enough publicity. Number two, everything everybody knows about him, he is: a good and talented man.
Like him, you're a charity and political beast, hosting countless benefits every year. And last Fourth of July weekend, you announced a new project, one specifically to fight voter suppression, The Kind Foundation. The social media unveiling came with a searing video message on Twitter and Instagram. Crazy powerful.
Good. I'm not making a dime off of it. But if I think about what the gerrymandering is doing … and what now the Supreme Court might do in the future …. well, if votes aren't being tallied and your voice isn't being heard, then our democracy is faltering. The best way to be heard is your vote, and I think people are being squelched in their power by not being able to vote.
The Kind Foundation will raise money to channel into organizations that already exist to, for instance, provide cars to get folks to the polls or [provide them] with money for lawyers if their votes aren't counted and they have to go to court, right? And it's so stupid that Richard Kind should have power like that, but I am on TV, therefore I am a celebrity, therefore— and it's the silliest thing—but if people will donate money because I'm a celebrity, why should I keep my celebrity in my apartment?
Word. What's your greatest hope for East New York?
One, that we show the humanity of and respect for the police that I grew up with in the '60s and '70s. Two, I want economic success for the show, meaning more seasons. And three, I hope for good craft services.
SUBSCRIBE NOW: Enjoy 4 Digital Plus 2 Print/Digital Issues Of Watch Per Year — For Free!
Watch East New York Sundays at 9 p.m. ET/PT and catch it streaming on Paramount+.