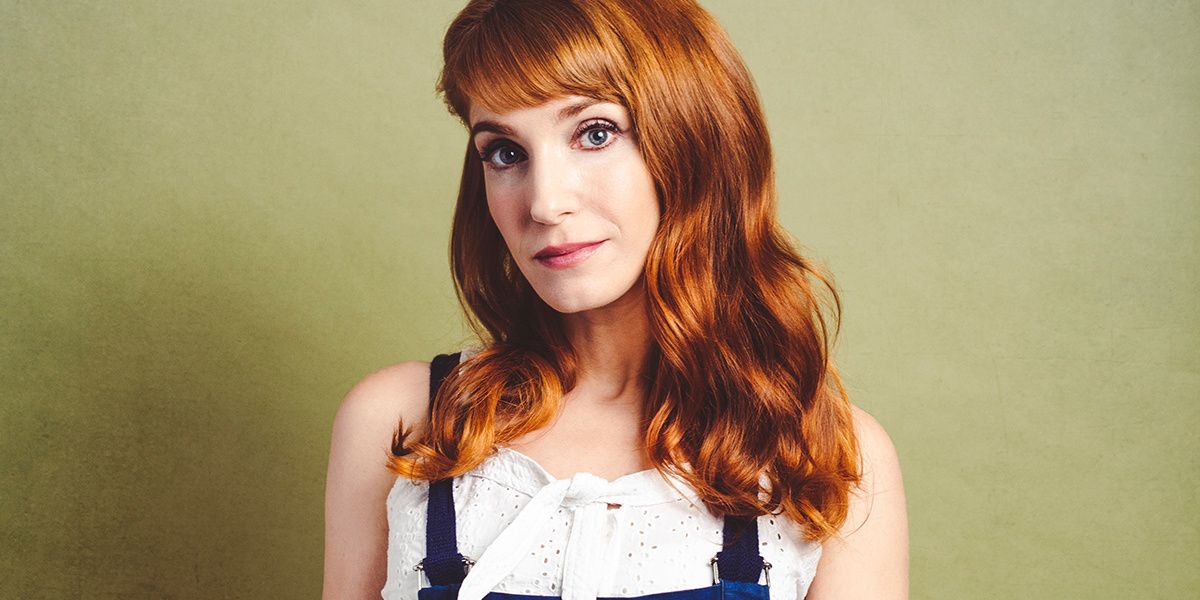 Photo Credit: Birdie Thompson. Hair/Makeup: Lisa Truong.
Get to know the actor who plays Sheryl on the SHOWTIME original comedy series Kidding.
Reporting by Mona Buehler

If you haven't checked out the heartbreaking and hilarious SHOWTIME original series Kidding yet—we've got your weekend binge-watching plans!
Best known for her role as Sheryl on the hit series, actress Gwen Hollander adds comedic spunk as a puppeteer on the fictional children's television show Mr. Pickles' Puppet Time—who brilliantly brings life to the character of Astronotter, a transgender otter who is an astronaut.
Watch! interviewed Gwen Hollander and chatted about her unique role, funny moments filming the show, and how she spends her downtime.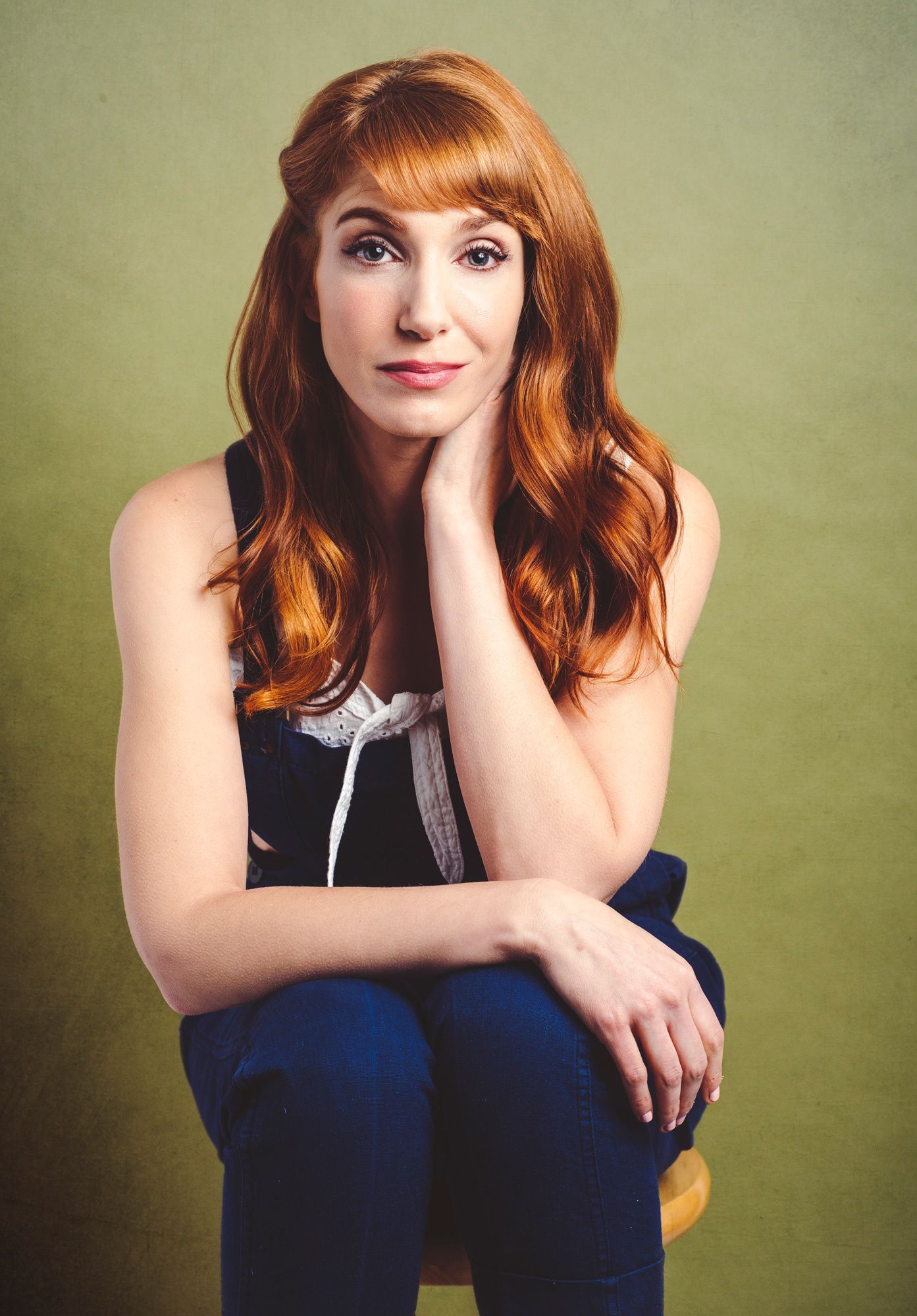 Photo Credit: Birdie Thompson. Hair/Makeup: Lisa Truong.
1. Who's your biggest inspiration?
My mom was, and will always be, my biggest inspiration. She was the kindest and most selfless person I've ever met, but she was a fierce little warrior when it came to the people she cared about. She was an amazing mother, friend, and teacher. I aspire to be like her in every way.
2. Watch! is all about television's hottest shows. Tell us about Kidding on SHOWTIME and your character Sheryl aka Astronotter. Favorite story line or episode? What's coming up for Season 2?
The show follows Jeff Piccirillo (played by Jim Carrey), the star of a beloved children's television show called Mr. Pickles' Puppet Time, as he struggles to pick up the pieces of his personal life after a tragic loss. Sheryl is one of the puppeteers on the show-within-the-show, and she plays Astronotter...who's an Astronaut Otter.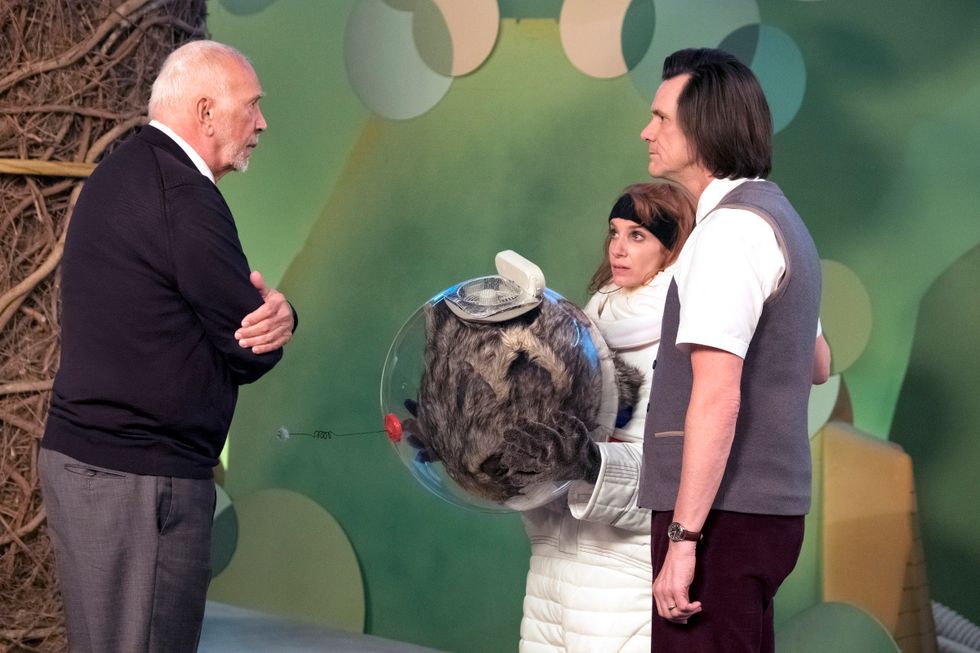 Jim Carrey and Gwen Hollander on the set of SHOWTIME comedy series Kidding.
Photo Credit: Erica Parise/SHOWTIME.
It feels impossible to pick a favorite storyline because I truly love everything about this show, and every script I read just blew me away. I love all of the puppet sequences, of course, the musical numbers, and the "magical moments."
Season 2 has even more music, more puppets, and more incredible guest stars (including Ariana Grande). It picks up right where Season 1 left off: Mr. Pickles' Puppet Time is off the air for the first time in 30 years, and Jeff is trying to figure out a way to reach his fans who still need him. The solution he comes up with is very controversial and there's a lot of fallout from that. Episode 5 of this season was my favorite to shoot!
3. When not filming Kidding, what do you like to do? (Do you have a hidden talent, passion project or creative pursuit that your fans may not know about you?)
I'm addicted to crossword puzzles. I do the New York Times puzzle every day, and I've also tackled the older puzzles from the archives on the app. According to my "stats," I've solved 5,527 puzzles, and I'm not sure whether to be proud or embarrassed...
And I love to write song parodies! I've been doing it since I was little...I loved Weird Al as a kid. I wrote a parody medley of Disney songs for International Women's Day last year called Princesses Clap Back: A Musical! that I'm very proud of; you can find it on YouTube!
4. What was the first day on set like? First scene you filmed? Any memories or fun stories?
The first day on set was hilarious because it was my first day in the huge costume, and we realized that I couldn't hear anyone speaking to me when I had the helmet on, especially because there's a fan in there to keep the helmet from fogging up. We found that if you wanted to talk to me, you had to talk to the back of my neck.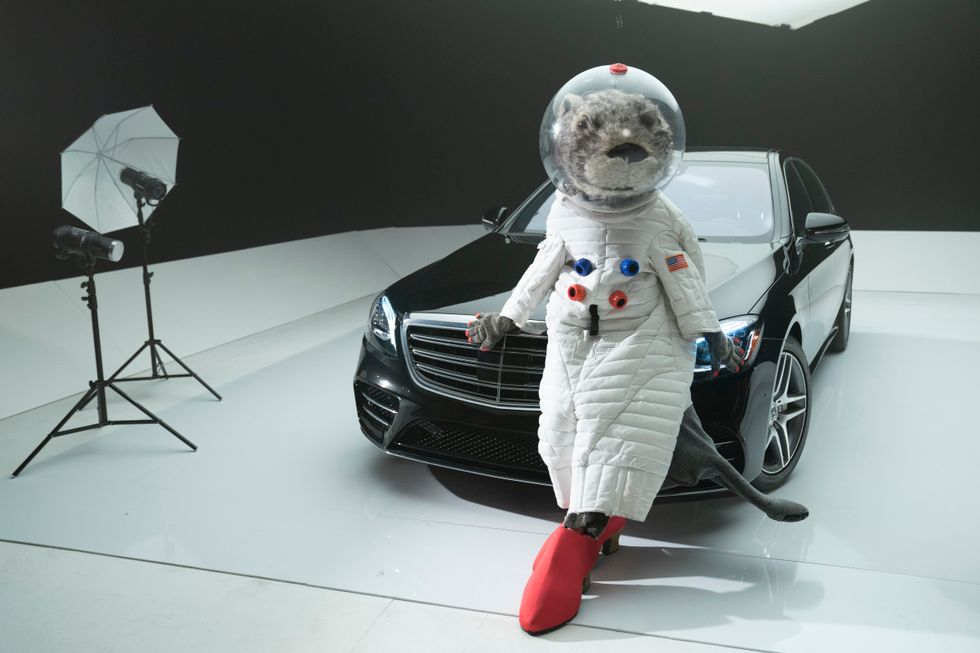 Gwen Hollander as Astronotter in SHOWTIME comedy series Kidding.
Photo Credit: Nicole Wilder/SHOWTIME.
So that made for some interesting interactions. My first shoot day was a musical number, and I had never really worn a giant costume like this before and I had this massive tail that kept knocking things over and made it impossible to sit down, so I figured out how to do a controlled fall forward onto a fake grassy knoll that was part of the Pickle Time set, and I would just lay there in between takes. It was actually pretty comfortable!
I have so many funny stories from set, simply because we were always in funny situations with a bunch of puppets and some of the funniest actors on the planet. I don't want to be too specific because I don't want to give anything away, but Season 2 is full of moments like that... moments where I'd say to myself "Well, that's something I never thought I'd do!" It was always an adventure and so much fun!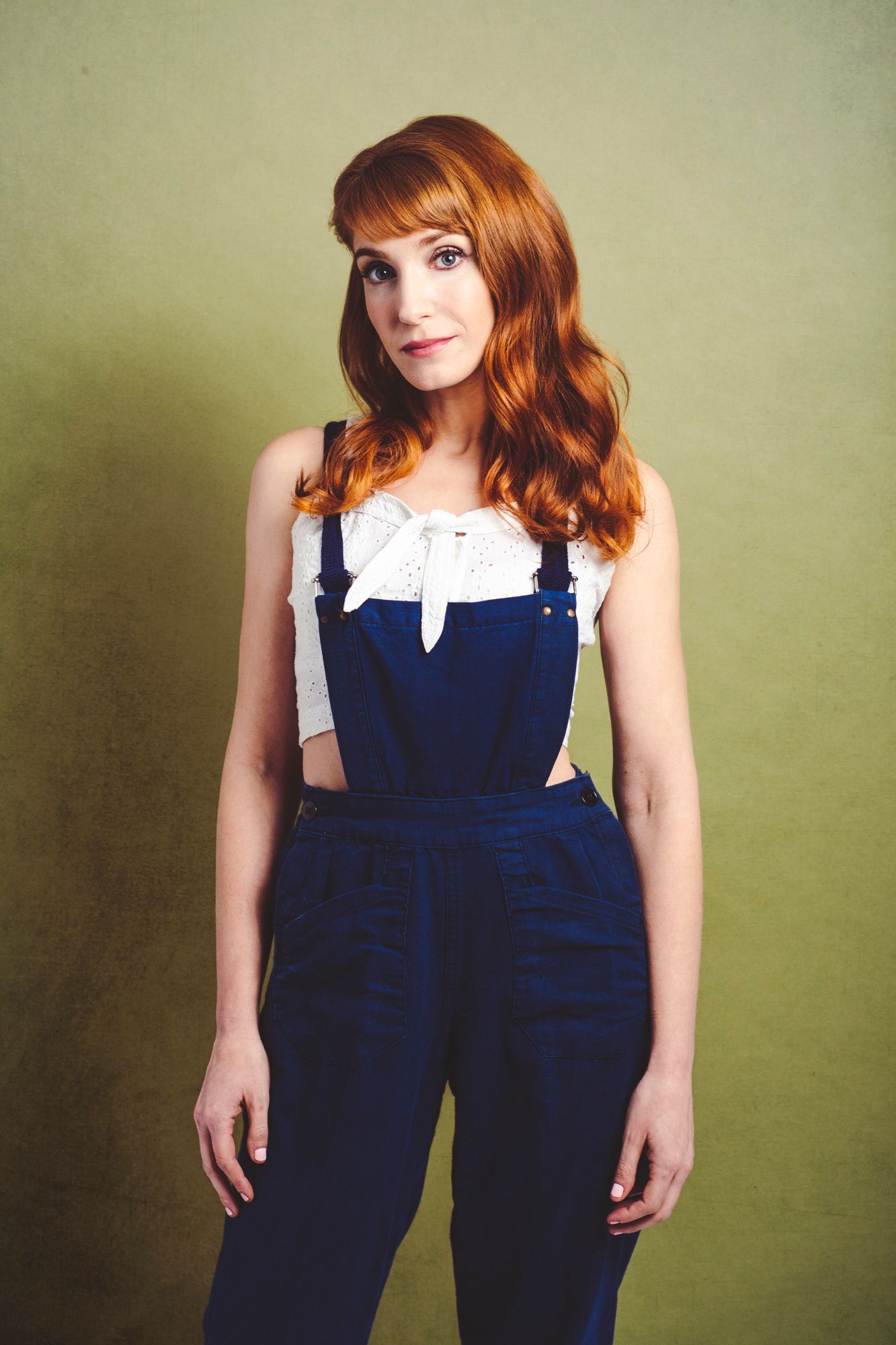 Photo Credit: Birdie Thompson. Hair/Makeup: Lisa Truong.
5. Why did you decide to become an actor?
I was always into performing as a kid, but my real "aha" moment was when I was 13 and went on a field trip with my drama class to see the touring production of The Phantom of the Opera. I was immediately obsessed. I'd seen lots of big musicals before, but something really struck me that night. I couldn't get up from my seat afterward; I was just sitting there in shock.
I think that feeling is what hooked me, the feeling of the audience member who's sucked into the story and fully transported. It was so powerful. As much fun as it is to perform, I think it's my experiences as an audience member that have really made me want to be an actor.
Watch back-to-back episodes of Kidding on Sundays at 10PM ET/PT on SHOWTIME. Catch up on the SHOWTIME and SHOWTIME ANYTIME® apps, as well as via SHOWTIME On Demand.