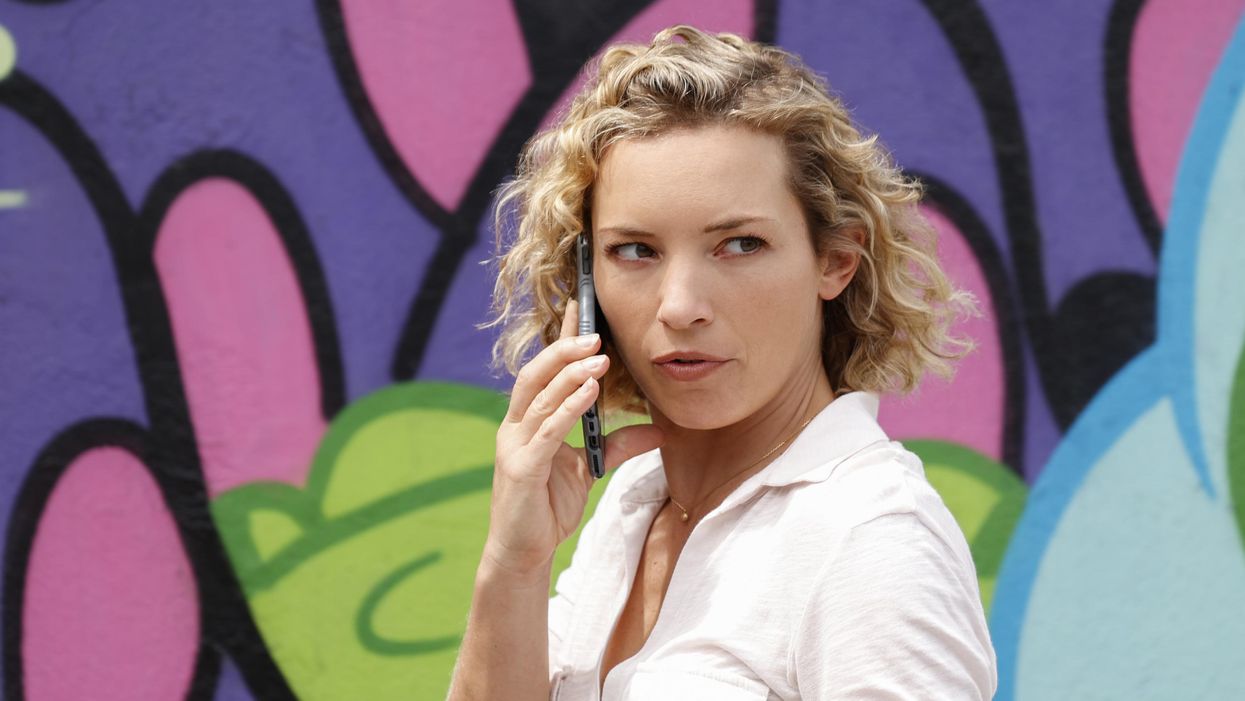 Photo: Zack Dougan/CBS
Get to know the actor who plays Juliet Higgins on CBS's high-octane Magnum P.I. reboot.
Reporting by Marc Berman and Watch digital
If you haven't tuned in to CBS's modern take on classic drama series Magnum P.I., we recommend you make it your Friday night mission to check out Season 4 and find out what you've been missing.

Early in the series run, Watch met up with Perdita Weeks, a.k.a. Juliet Higgins, on a press tour and chatted about her role, Hawaii, and being bitten by the acting bug. We've added a few updates to highlight what Weeks has shown us about Higgins since the show began.
Stream episodes of your favorite shows on Paramount+.
SUBSCRIBE NOW: Enjoy 4 Digital Plus 2 Print/Digital Issues Of Watch Per Year — For Free!
Meet Juliet Higgins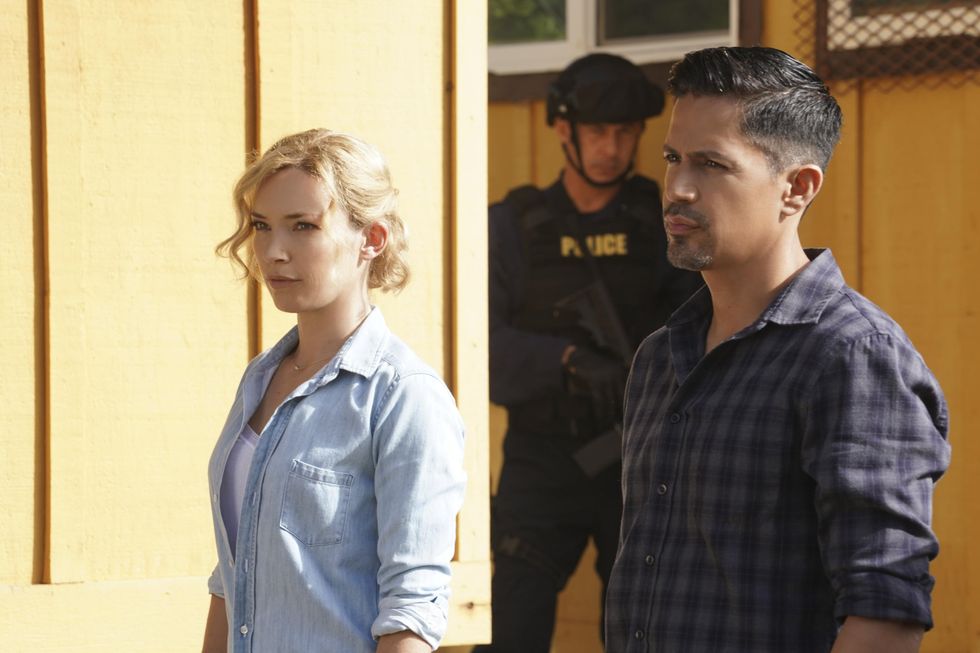 When Juliet Higgins (Perdita Weeks) stands shoulder-to-shoulder with Thomas Magnum (Jay Hernandez), they make a formidable duo.
Photo: Karen Neal/CBS
Watch is all about television's hottest shows. Tell us about your role as Juliet Higgins.
My character was originally played by a man, John Hillerman. And the writers are trying to give it a more modern slant with a female perspective. It is an interesting progression.
Higgins Vs. Higgins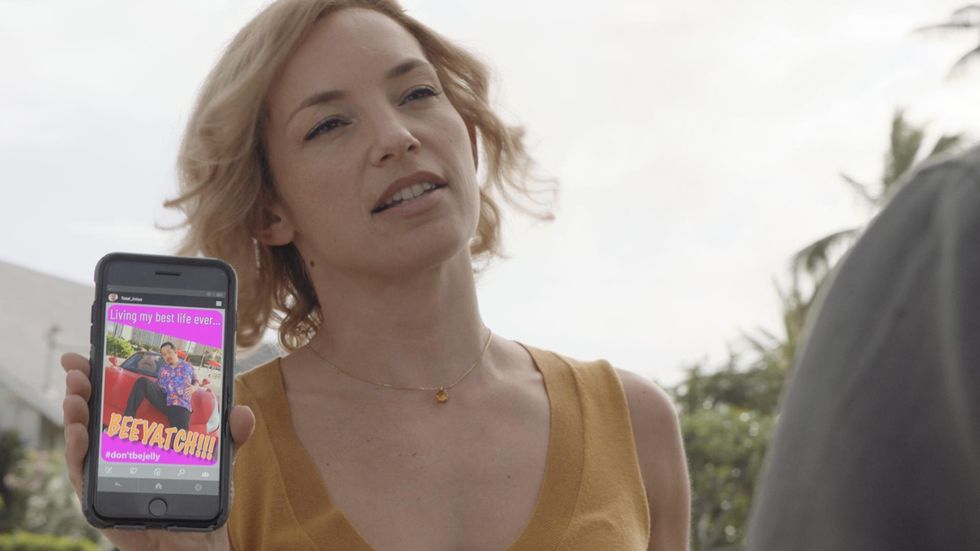 Perdita Weeks plays Juliet Higgins with a new set of skills and swagger that John Hillerman's old Higgins might find a little unsettling.
WATCH WORDS: Jonathan Quayle Higgins III, the original Robin Masters majordomo, was not just British, but an Etonian proud of tradition. He was a lover of military history, polo, fencing—and quite a bridge player. A long-serving military officer, he could handle himself and weapons, but he was more inclined to fire a cannon than to keep up with the latest innovations.
Juliet Higgins, as we've come to know her, is also British with a history of service that prepared her to take care of herself—and Magnum—but she is no traditionalist. She doesn't like tea (that alone might be enough to make Higgins 1.0 fire a cannon in her direction) or fish and chips. Our new Higgins doesn't come from the military, but from the MI6 British intelligence services, the same people signing paychecks for James Bond. She's a whiz with cutting-edge technology, but she won't shy away from a fight either.
One thing Juliet Higgins shares with Jonathan Higgins: love for a pair of loyal canines named Zeus and Apollo. And bemusement that Magnum doesn't have an easy relationship with Zeus and Apollo.
Acting Inspiration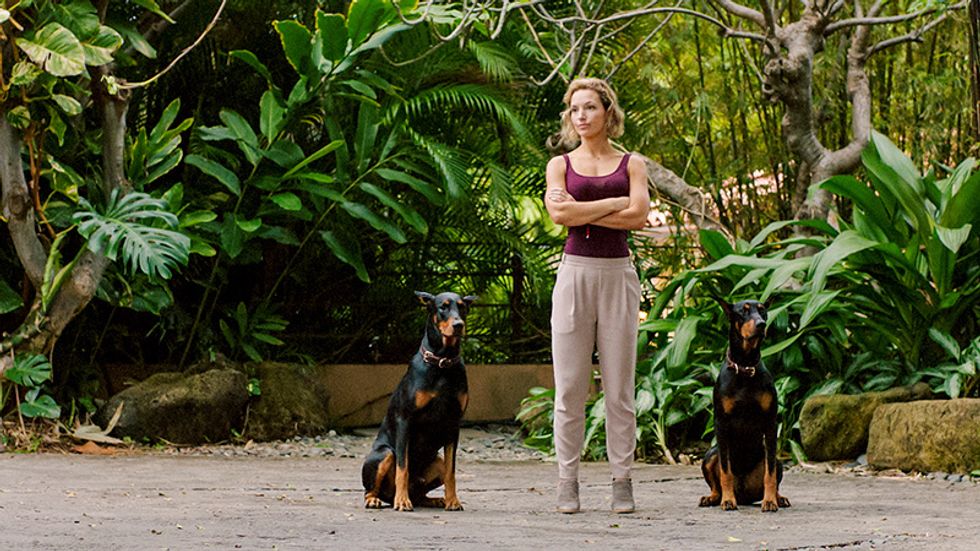 We admire Weeks for her acting chops—she stands tall and composed next to anyone on set, including her intimidating canine costars.
Credit: Francis Specker/CBS
Who's your biggest inspiration?

Leonardo DiCaprio. He is just a real person and an extraordinary actor, and I admire him so much in so many ways.
Cool Jules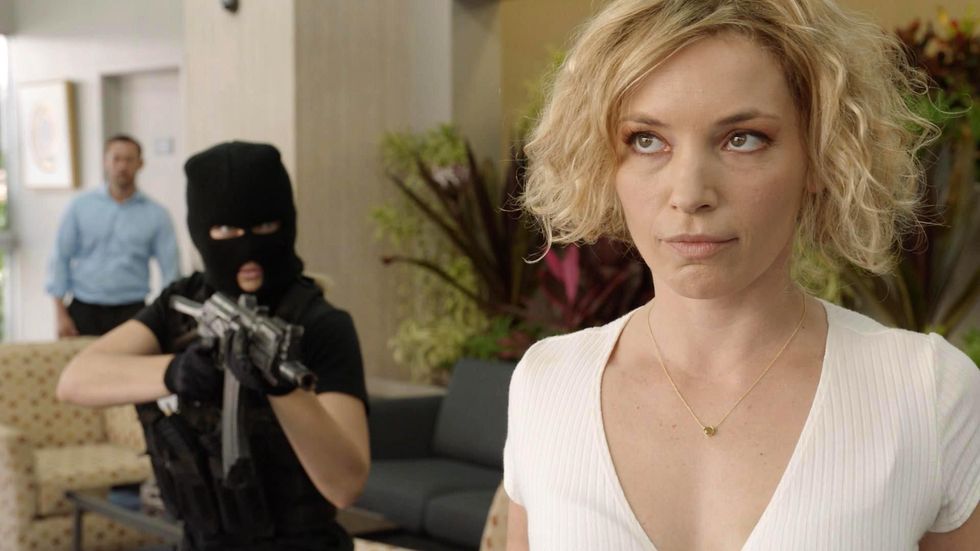 When Weeks puts an expression like this on Higgins' face, your average ski-mask-wearing troublemaker is in for rough times. The baddie brought a gun to a fistfight—but she pointed it at the wrong target.
Photo: Screen grab/CBS
WATCH WORDS: Higgins has affectionately been called "Jules" and "Higgy" on the show—but no one's ever called her afraid of a challenge. Maybe someone should consider the nickname "Grace," as in grace under fire, because she never seems to lose her cool.
Best Job In The World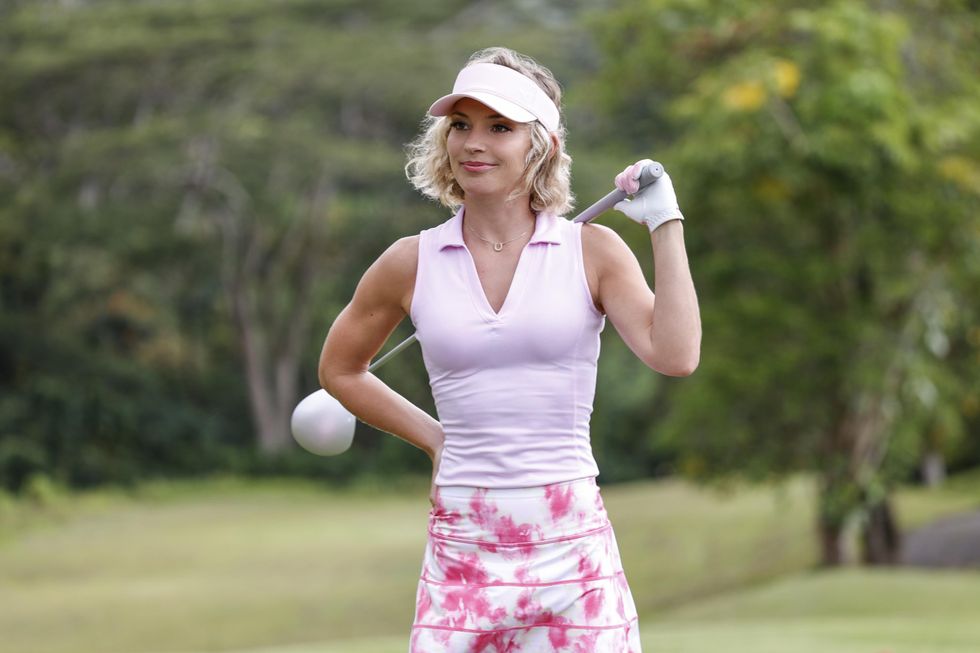 Shooting on a golf course in Hawaii makes Perdita Weeks' choice of vocation look pretty appealing.
Photo: Zack Dougan/CBS
Why did you decide to become an actor?

It was never really a decision. I did it from when I was age 6. This is just the best job in the world. You get to travel, you meet interesting people, and it can be so much fun.
Climb Time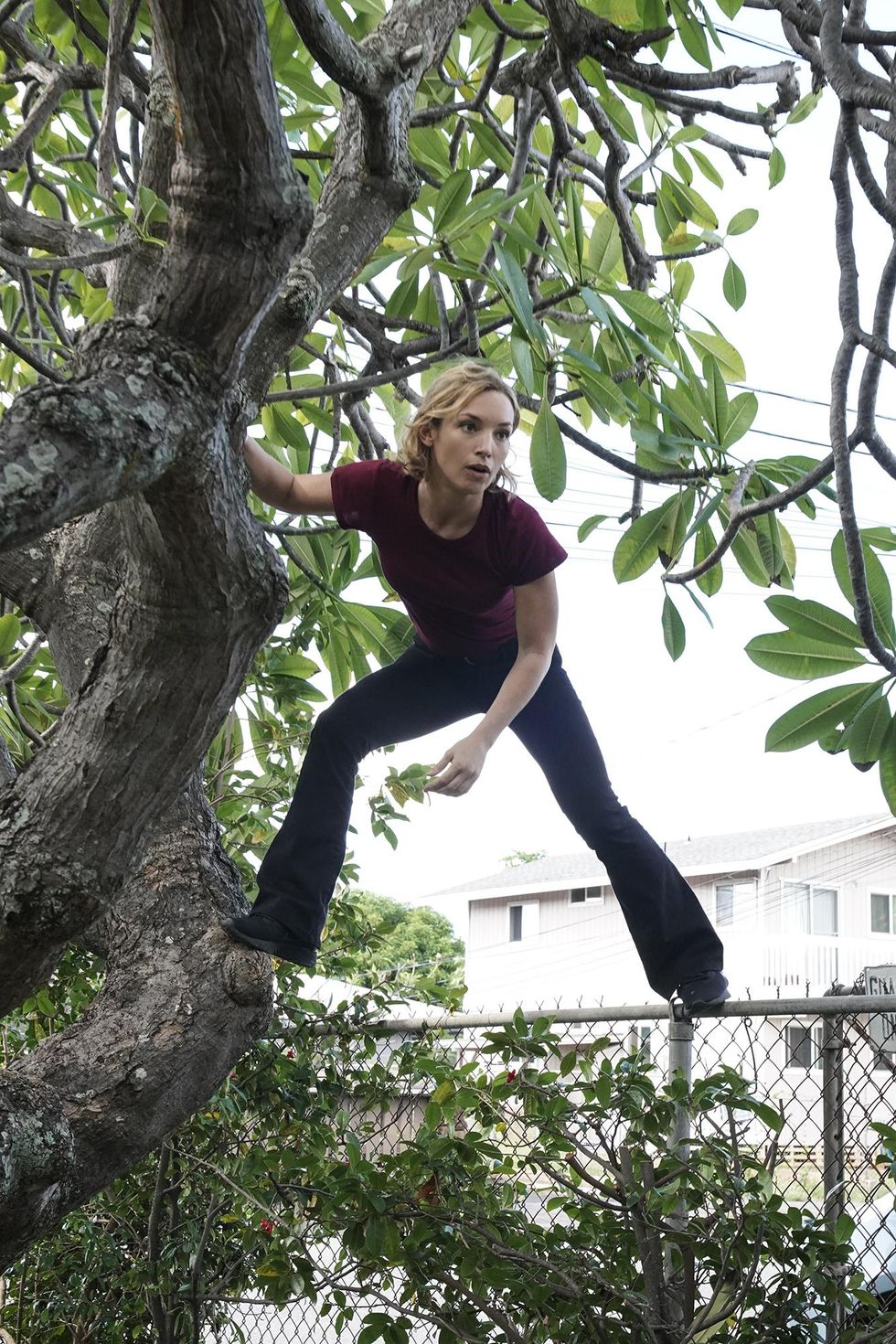 Climbing trees can be another part of the working day on Magnum P.I.—not a required skill in too many office jobs.
Photo: Karen Neal/CBS
WATCH BONUS:Playing a character as dynamic as Higgins on a primetime adventure drama comes with all kinds of physical challenges. Thankfully, Weeks is a weekly yoga practitioner who uses her core strength and balance to take her wherever the job demands—including up a tree!
What Does Weeks Watch?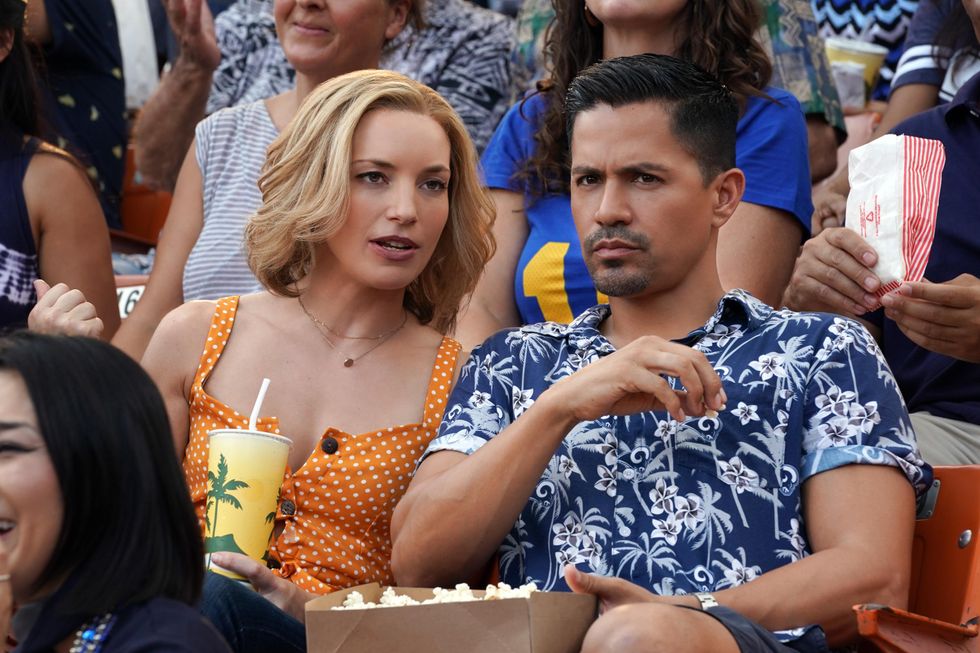 It's hard to imagine that a fit, active, and successful actor has much time for TV, but who wouldn't spend the time they can find streaming Christine Baranski! We approve.
Photo: Karen Neal/CBS
Besides Magnum P.I., what TV shows are you into?
I am currently binge-watching The Handmaid's Tale and The Good Fight. There is just so much good TV at the moment. And I really need to catch up with The Walking Dead.
Talk About The Good Fight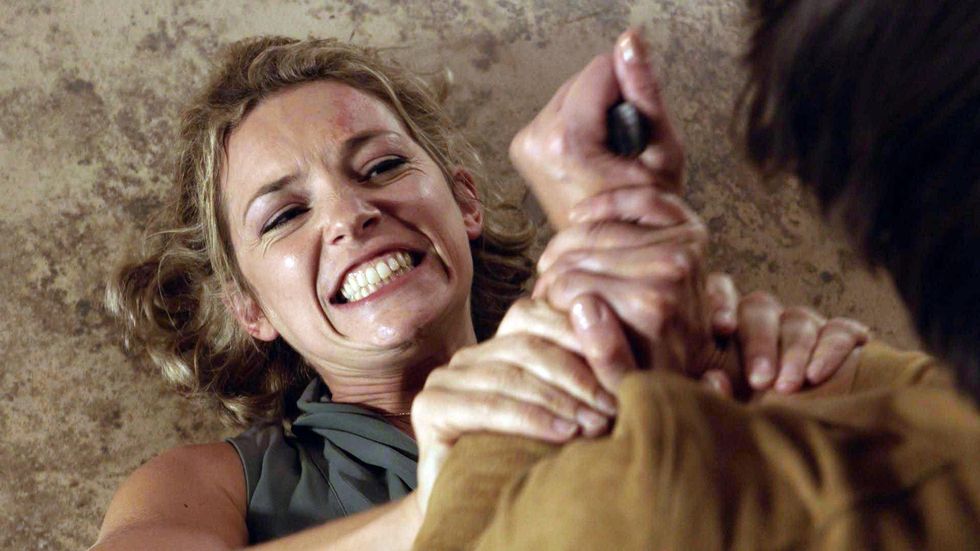 While we may not want to trade places with Higgins (or even Perdita Weeks shooting this scene!), she has shown again and again that down never means out.
Photo: CBS
WATCH BONUS:Higgins has already seen her fair share of action—including a couple of gunshot wounds in the arm. It's safe to say that she's a force to be reckoned with, whether leading the charge through the wilderness or a closed window. Adversaries quickly learn that Higgins can back up her sharp wit with an even sharper jab.
Hawaiian Pursuits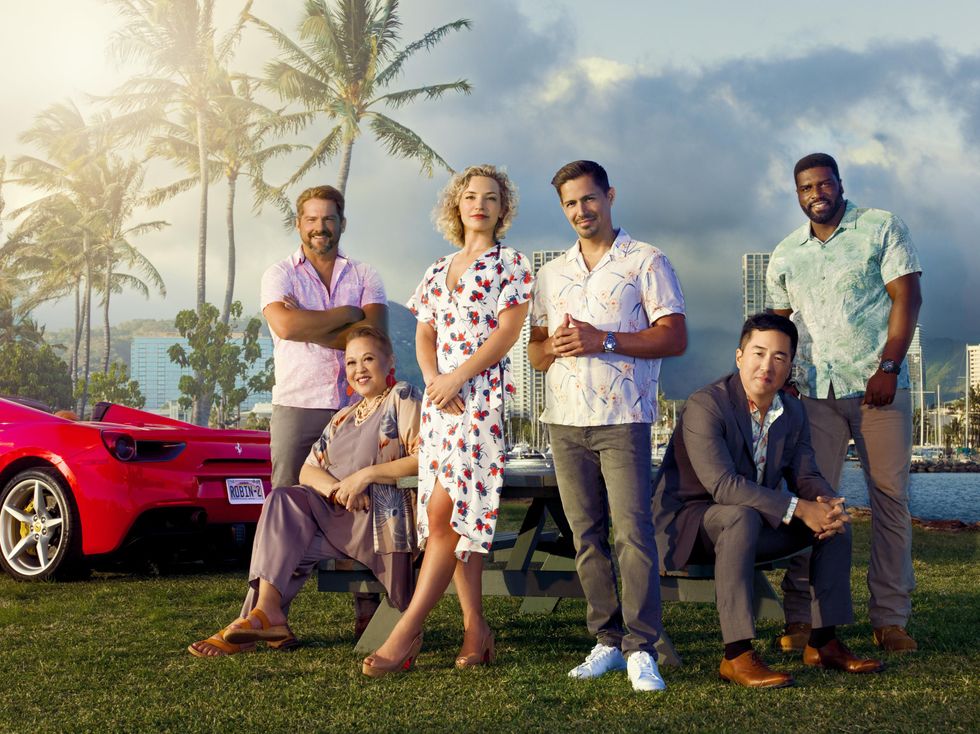 It's hard to imagine a better place on the planet to film a TV series than Hawaii, especially alongside a cast featuring Zachary Kingston, Amy Hill, Perdita Weeks, Jay Hernandez, Tim Kang, and Stephen Hill.
Photo: Christopher Patey/CBS
When not filming Magnum P.I., what do you like to do?

Hiking–there are just so many wonderful places to hike in Hawaii. Swimming in the sea. And I am learning to surf.
Jungle Boogie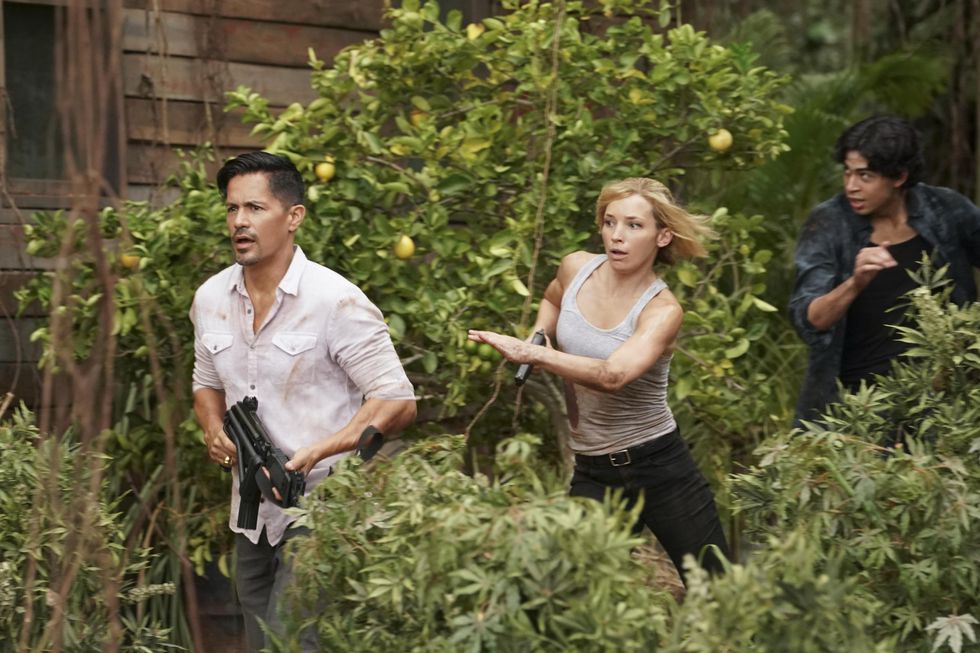 All we can say is: "Welcome to the gun show." And if you think we're talking about the weapons in their hands, then you haven't been paying attention to Perdita Weeks' shoulders and biceps. Just wow.
Photo: Karen Neal/CBS
WATCH BONUS: Even if Weeks didn't spend her leisure time outdoors, the Magnum P.I. shoots would make sure she saw the natural riches Hawaii has to offer. Apart from frequent scenes on tennis courts, golf courses, beaches, and the Masters estate, there are the episodes like "Easy Money," from Season 3, where a crash landing leads to a full-blown jungle adventure.
Gazing Into The Future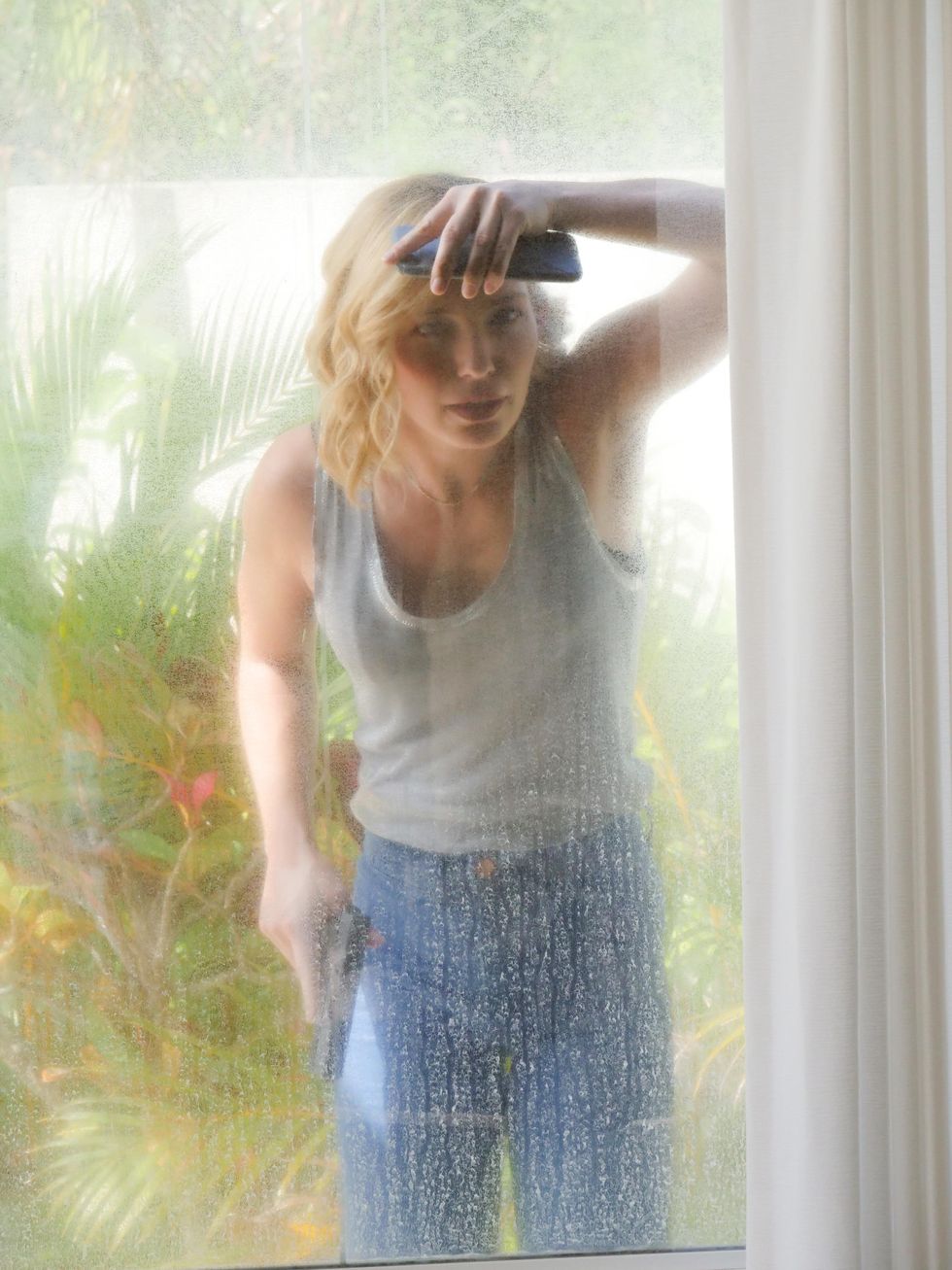 The future is always a mystery, but we'll bet on Higgins—and Weeks—any day of the year.
Photo: Mario Perez/CBS
Where do you see yourself in 10 years?
Oh, that's easy ... still on Magnum P.I. Maybe Higgins will have a couple of children by then.
Who Can Say?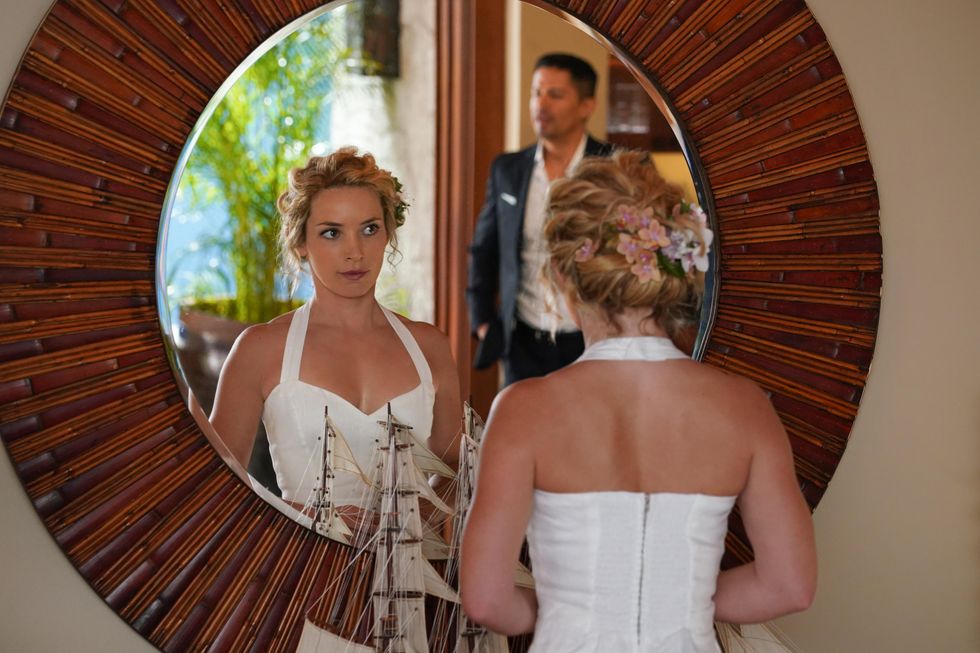 Mirror, mirror, on the wall, what do you do when MI6 calls? Season 4 is pointing Higgins back to the spy business, but we've caught a few discreet glances over the years that have nothing to do with espionage.
Photo: Karen Neal/CBS
WATCH BONUS: Juliet Higgins has had a few shots at love, but—Weeks' speculation notwithstanding—Higgins is not a mother yet. And, as Perdita Weeks' ardent and vocal fans make clear (and contrary to some tabloid reports widely republished and some industry-standard sources like imdb.com), Weeks is not a mother either.
Still, who knows what the future may bring? Spy kids, perhaps?
We're not even going to whisper about a Higgins-Magnum brood. But with all the twists and turns that undoubtedly lie ahead, who are we to rule it out?
Stream episodes of your favorite shows on Paramount+.
SUBSCRIBE NOW: Enjoy 4 Digital Plus 2 Print/Digital Issues Of Watch Per Year — For Free!