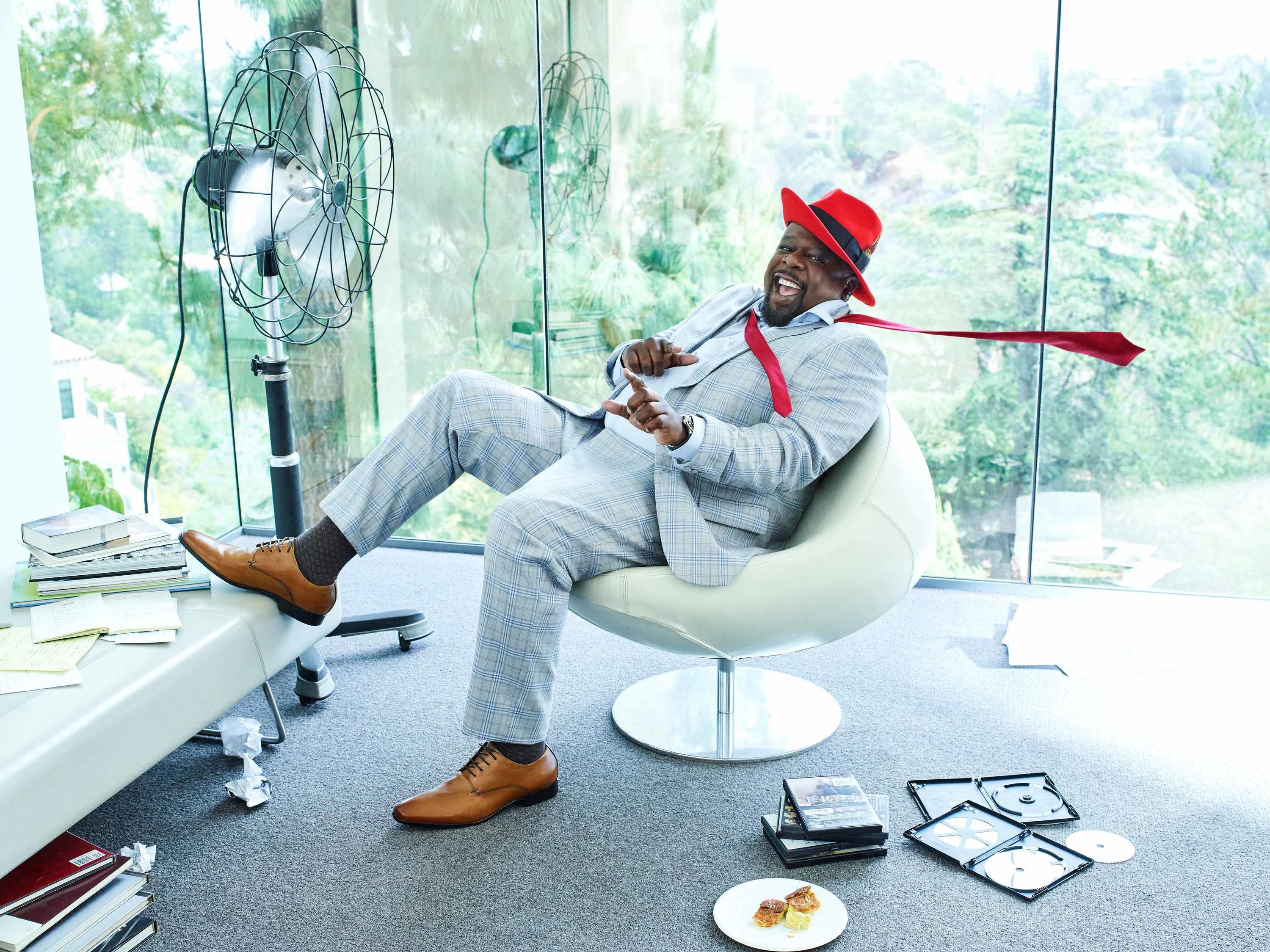 Photography by Peggy Sirota. Styled by Jordan Grossman.
Won't you be my neighbor? Cedric the Entertainer rules CBS' hit sitcom The Neighborhood.
By Malcolm Venable
The Neighborhood airs on Mondays at 8 p.m. ET/PT on CBS and streams on Paramount+.
SUBSCRIBE NOW: Enjoy 4 Digital Plus 2 Print/Digital Issues Of Watch Per Year — For Free!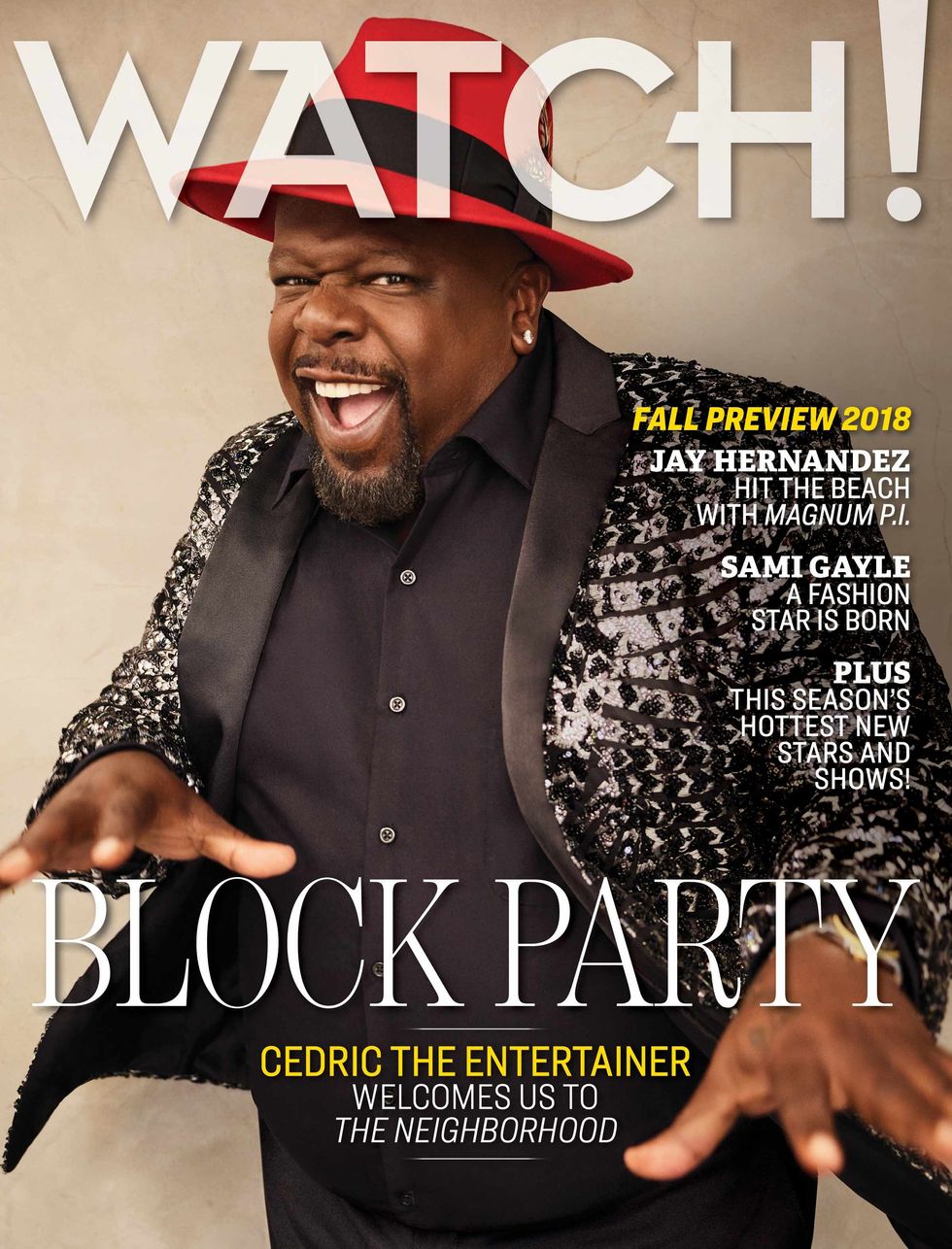 Blazer, shirt, and pants by INC International Concepts. Hat by Bailey Hats. Earrings and watch, Cedric's own.
Photography by Peggy Sirota. Styled by Jordan Grossman.
Except for the smoke-colored Maserati he eases into his parking space, Cedric the Entertainer arrives for his interview on the CBS lot in uncharacteristically low-key fashion, dressed in an NFL T-shirt, athletic shorts, and a baseball cap pulled low over his tired eyes. He deserves some slack for not appearing in one of the suave ensembles and sharp fedoras he's become known for: He's just landed in L.A. after an overnight gig in Las Vegas and came straight to the set of The Neighborhood, the family sitcom costarring Max Greenfield, Beth Behrs, and Tichina Arnold.
As both an executive producer and a Midwesterner with an unrelenting work ethic, Cedric is not a man who lets either wardrobe or a lack of sleep get in the way of the work, and you'll never hear him complain. "I love this job," he says. "I'd rather stay busy than sit still."
Clearly. Born Cedric Antonio Kyles in Jefferson City, Missouri, Cedric the Entertainer may be best known as one of the Original Kings of Comedy, the group whose 2000 concert film made him (along with Steve Harvey, D.L. Hughley, and Bernie Mac) a household name, but he's also king of the Hollywood hustle. From playing cantankerous coot Eddie in the Barbershop franchise to hosting Who Wants to Be a Millionaire to doing stand-up in clubs, performing voice work for animated hits (Ice Age, Madagascar), and even popping up on rap albums (Jay-Z, Nelly), Cedric the Entertainer has the most apt moniker in the business. He's been entertaining across every conceivable platform—more than 30 shows and 20 movies under his belt—for more than three decades.

But it's his latest turn, as Calvin Butler in The Neighborhood, that marks a new milestone for him: playing the lead on a network comedy in front of his widest audience yet.
It's a role that hits home for Cedric, who is a strong believer in the importance of community—his philanthropy includes raising funds for a wing of St. Mary's Hospital in St. Louis named after his mom. And though he's never been one for partisan fights (he headlined the White House Correspondents' Dinner for George W. Bush in 2005), he feels that America's new, divided climate makes it vital to bring people together, make them laugh, and reconcile tough issues. It's a tall order, but for a man who makes high-stakes multitasking look as smooth as, well, pulling up in a Maserati, getting it done is just another day at work. Watch spent some time with Cedric [for our September-October 2018 issue] as he prepared to invite America into his Neighborhood.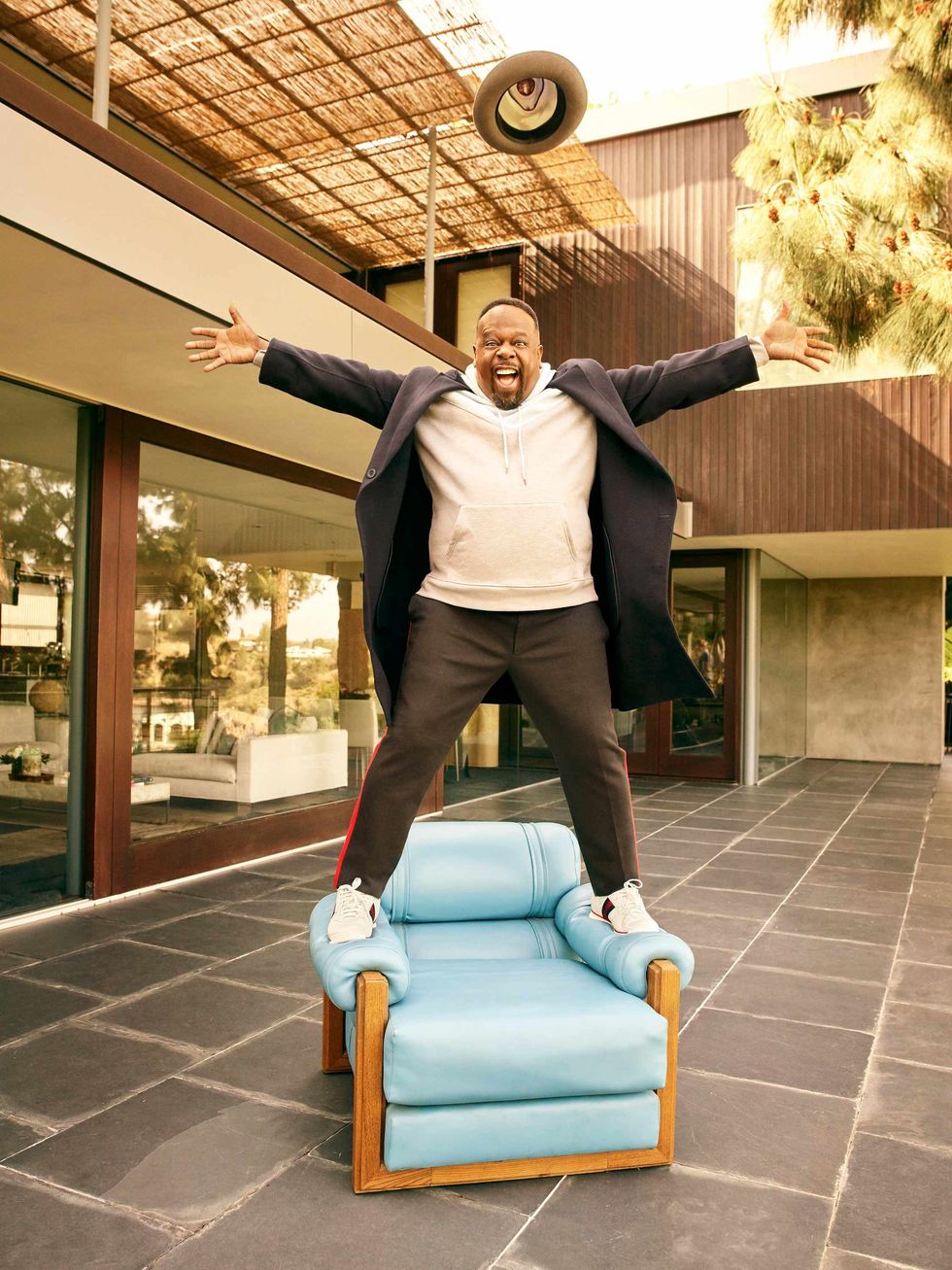 Coat and sweatshirt by Vince. Pants by INC International Concepts. Shoes by Gucci. Hat by Hollywood Hatters. Watch, Cedric's own.
Photography by Peggy Sirota. Styled by Jordan Grossman.
What attracted you to this project?

The context. The original story was about a white family moving to a black neighborhood. That was something I started to see when I came to L.A. in the early '90s. My kids' godparents lived in Ladera Heights [a neighborhood home to affluent African-Americans since the 1960s], and you would see white guys jogging with headphones on. We recognized that property values were starting to go up and people were beginning to be displaced—the texture changed in neighborhoods they grew up in. This was the idea I wanted to express, to show that [African-Americans] had great cultural neighborhoods, yet when you see the money coming in, it's going to change. I felt it was a great thing to explore through comedy.
Tell me about your character, Calvin Butler. How'd you approach playing him?
Cal Butler is a guy I knew: the patriarch of the neighborhood. There were guys who would be the fathers of the whole neighborhood. If you went by Mr. Chapman's house, you better turn your music down and don't go on the grass. You'd better say hello. That was the idea I was trying to capture: He cares about the neighborhood.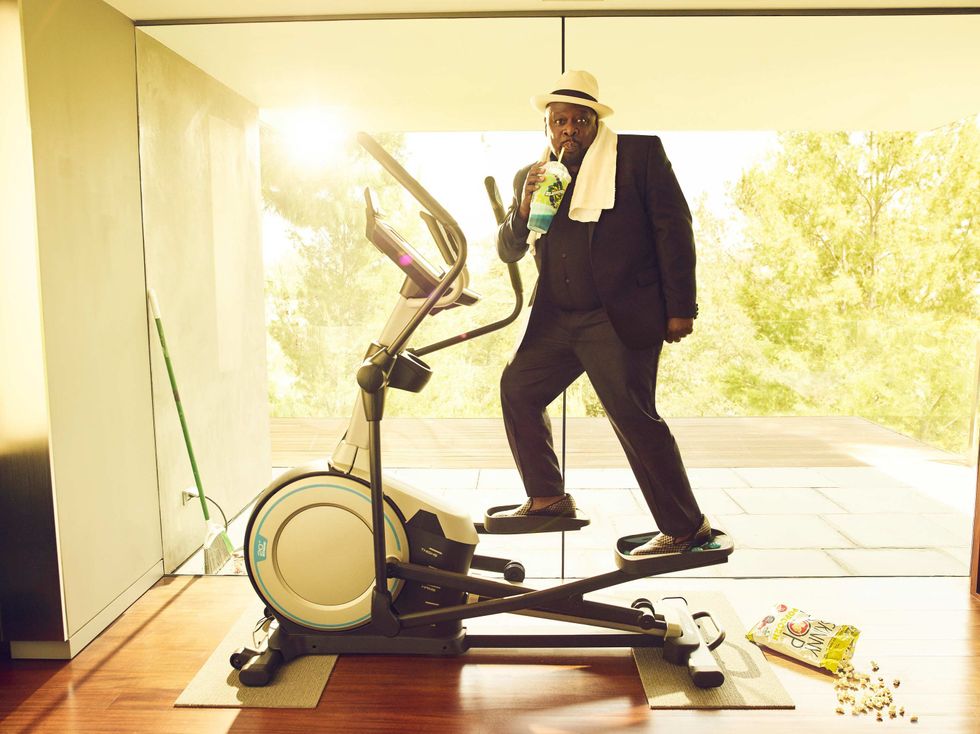 Suit and shirt by INC International Concepts. Shoes by Mezlan. Hat by Hollywood Hatters. Watch and earrings, Cedric's own.
Photography by Peggy Sirota. Styled by Jordan Grossman.
You've been on so many scripted shows, but none with as much reach as The Neighborhood. Do you feel like mainstream audiences know you, or will this be an introduction?
I've been around a long time, and people know who I am. I am surprised when people know some movies and programs. Kings of Comedy was one. It was such a big phenomenon as a concert and concept that when it broke out as the No. 1 movie, there were some white people who were like, "Who are these guys?" Even as popular as I am, there's still a large group of people who don't know who I am. I had to take that and be motivated by it in a positive way and not think that I'm at a plateau where I can't afford to grow and hustle. That's what I look forward to in trying to make sure this show is dope. Even if you think you know me, you've never seen [me] like [this]. There are things you have to take on for growth.
Do you feel pressure to make The Neighborhood successful?

To be on a major network, yeah, I feel that pressure. When the opportunity came for me to play on the biggest platform, which CBS is, as an African-American lead, you see you have the opportunity to tell our culture, and our storytelling. If you hit it out of the box, there's an opportunity to have a long run. I desire that, but I don't put it at the forefront; I'm focused on being funny and having a great show.
My run on Broadway [a revival of David Mamet's American Buffalo in 2008] was a master class in becoming a great actor. I always say each week that we are literally doing a live play in front of you guys. You are going to ride the story for 30 minutes. We're going to take you and drop you off somewhere where you should laugh, feel something, have opinions. I want all these things to happen with The Neighborhood.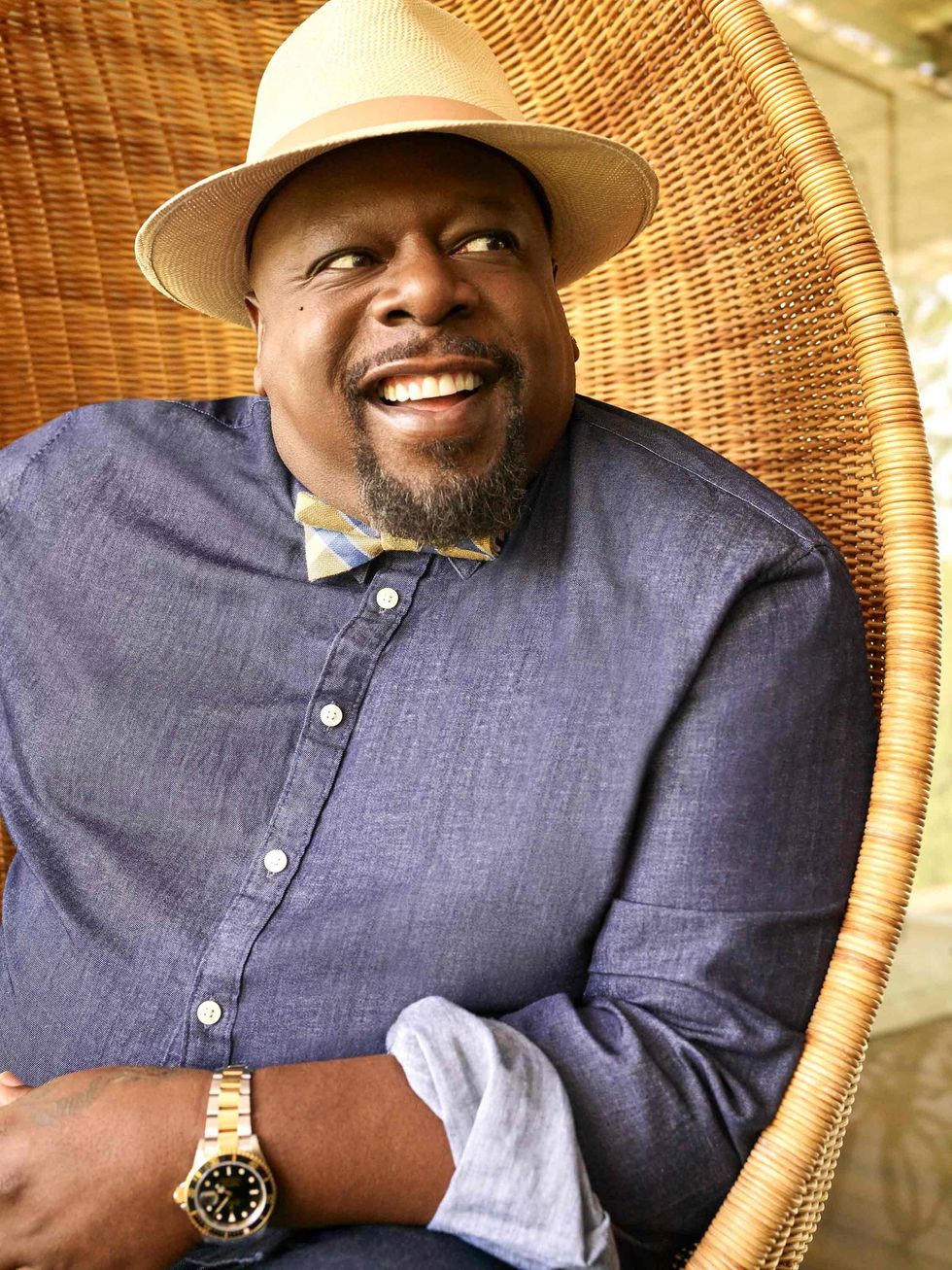 Shirt by Rag & Bone. Bow tie by Kenneth Cole. Hat by Hollywood Hatters. Watch and earrings, Cedric's own.
Photography by Peggy Sirota. Styled by Jordan Grossman.
You work a lot. Where'd that work ethic come from?

I think it's Midwestern. I think that's the way I approached my career early on; you had to prove a lot because you weren't on either coast. The idea that you've got to hustle is where that ethic came from.
What was your neighborhood like growing up? Was your situation at all like the story in The Neighborhood?

I lived most of my life in a small town called Caruthersville, located between Memphis and St. Louis. There was a lot of family around. We lived with my grandmother for a minute; my mom went to college and came back to teach. We lived close to uncles and cousins; I could walk over to another aunt's house. It was a very Norman Rockwell version of what America was supposed to feel like—catching lightning bugs, june bugs, real country stuff.
Then we moved to St. Louis, which was inner city. My mom got her master's degree; we stayed with my mom's sister who had 11 kids. We got thrown into another lifestyle: throwing rocks at people's windows and stealing bikes. Especially without a paternal figure, other kids teach you that. In the early '80s, at an early age, I saw this was where life was going. Mom moved again, to an African-American suburb, with maybe one or two white folk.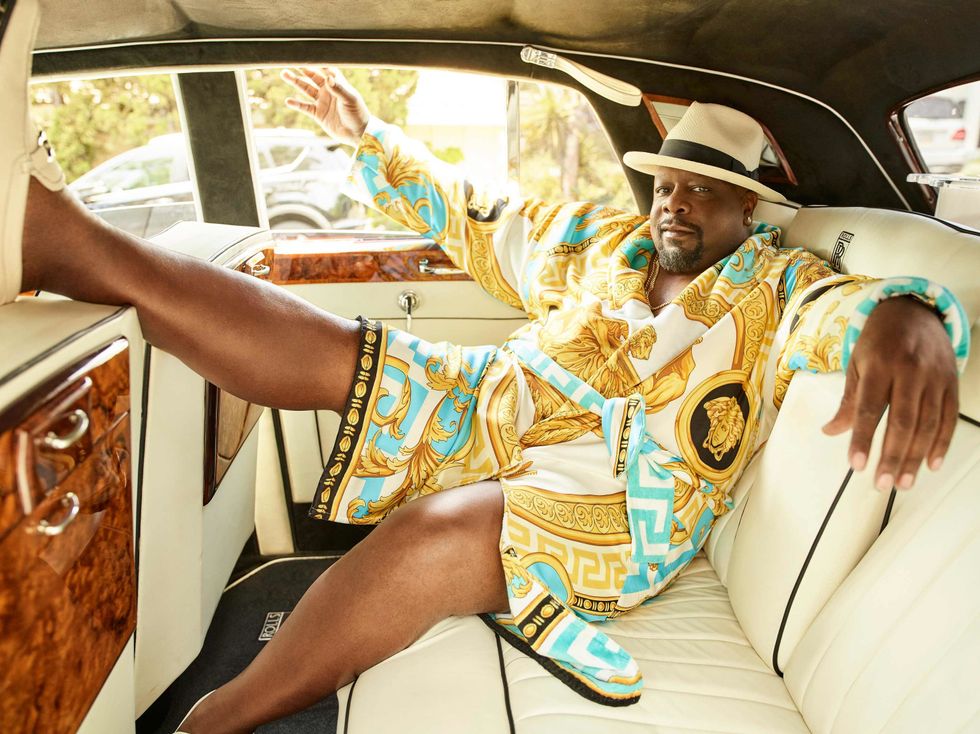 Robe by Versace. Shoes by Salvatore Ferragamo. Hat, watch, and earrings, Cedric's own.
Photography by Peggy Sirota. Styled by Jordan Grossman.
You're known for always looking dapper, with the fedoras and smooth outfits. What did clothes mean to you growing up?
Thinking back in Caruthersville, clothing was a big thing. My mom was a young mother. She was ahead of the game. She went to college, she ordered things from catalogs. As kids we would always be fly to the point where people thought we were rich.
What's your hometown like now, and why's it been important for you to do the philanthropic work you do there?

The town is still separated by race to this day. The thing I like to do is taking people outside their environment—trips for kids so they can visualize beyond their few blocks. In older times, the area was dope. We had pride and self-identity. We knew each other. It was great to have our own restaurants. Now you're not hot if you are not at Starbucks. So that kind of thing I think is important as a celebrity, as a brand, to be able to show our culture is real. That's what I want to do with this show.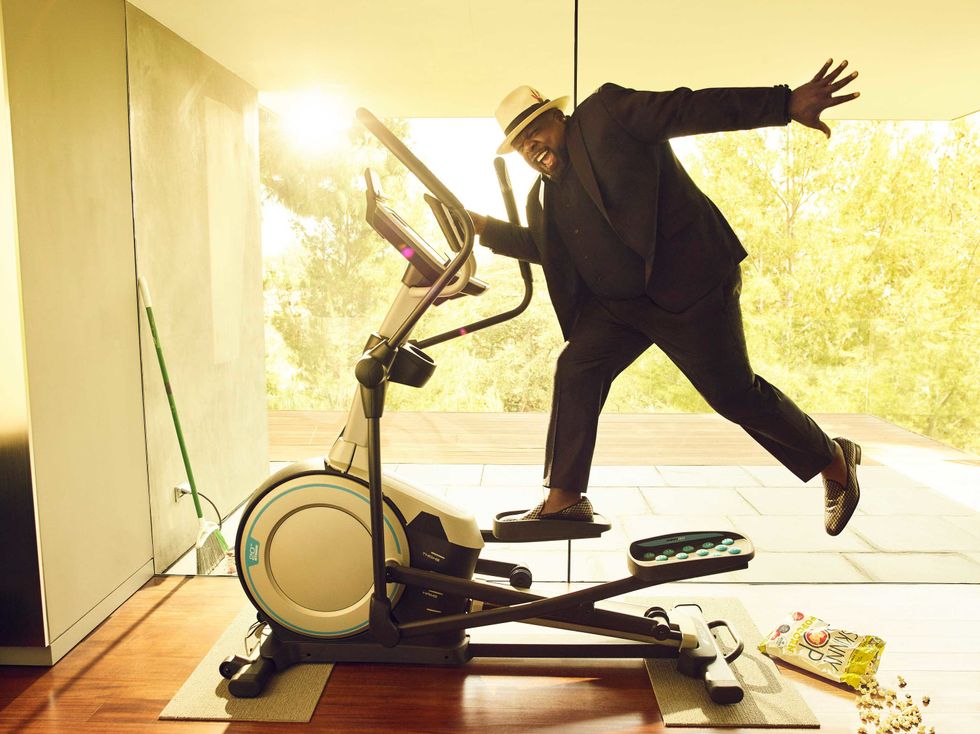 Suit and shirt by INC International Concepts. Shoes by Mezlan. Hat by Hollywood Hatters. Watch and earrings, Cedric's own.
Photography by Peggy Sirota. Styled by Jordan Grossman.
You have a reputation for being super nice, which is rare in Hollywood. Why?
It's important to lead with the attitude you want to receive. I try to operate from that space, where everything is calm, everybody has a good time. The thing about being nice is, it leads to an efficient job. It won't feel like a hard job as opposed to when you go in and people are mean and ornery. If you are going to spend time doing anything, you might as well take a positive route. I try to lead. If somebody is gonna be ugly around me, I shut it down.
You and your wife, Lorna Wells, have two children, Croix, 20, and Lucky Rose, 17. Does your family have a spiritual practice?
My wife and I pray together. Not every night, but that's our thing. When I came here, I visited a couple churches, but it didn't feel right—it was very Hollywood, with VIP parking. You realize as a celebrity you've got to have those things, but it doesn't feel like church, it feels like a club. I went to one and they made people get up so we could sit down. People clapping for you. At another, as soon as the service was over, nine people were up in the front with their phones, ready to take a picture. I don't think they closed their eyes during the prayer.
What kind of dad and husband are you?

I'm engaged. I spend a lot of time with my son. He's on a gap year in kung fu camp in China, living in a monastery. He's never had that kind of regimen. I told him, "For you to go forward in life, it's very important for you to have that kind of structure." Next he'll go to France to cook—he already speaks French. My daughter has a dance class, and I learned [a routine] with her. It's fun to have a good time with them. My wife and I laugh a lot—we've got a great relationship. She's such a dynamic individual and one of my greatest protectors.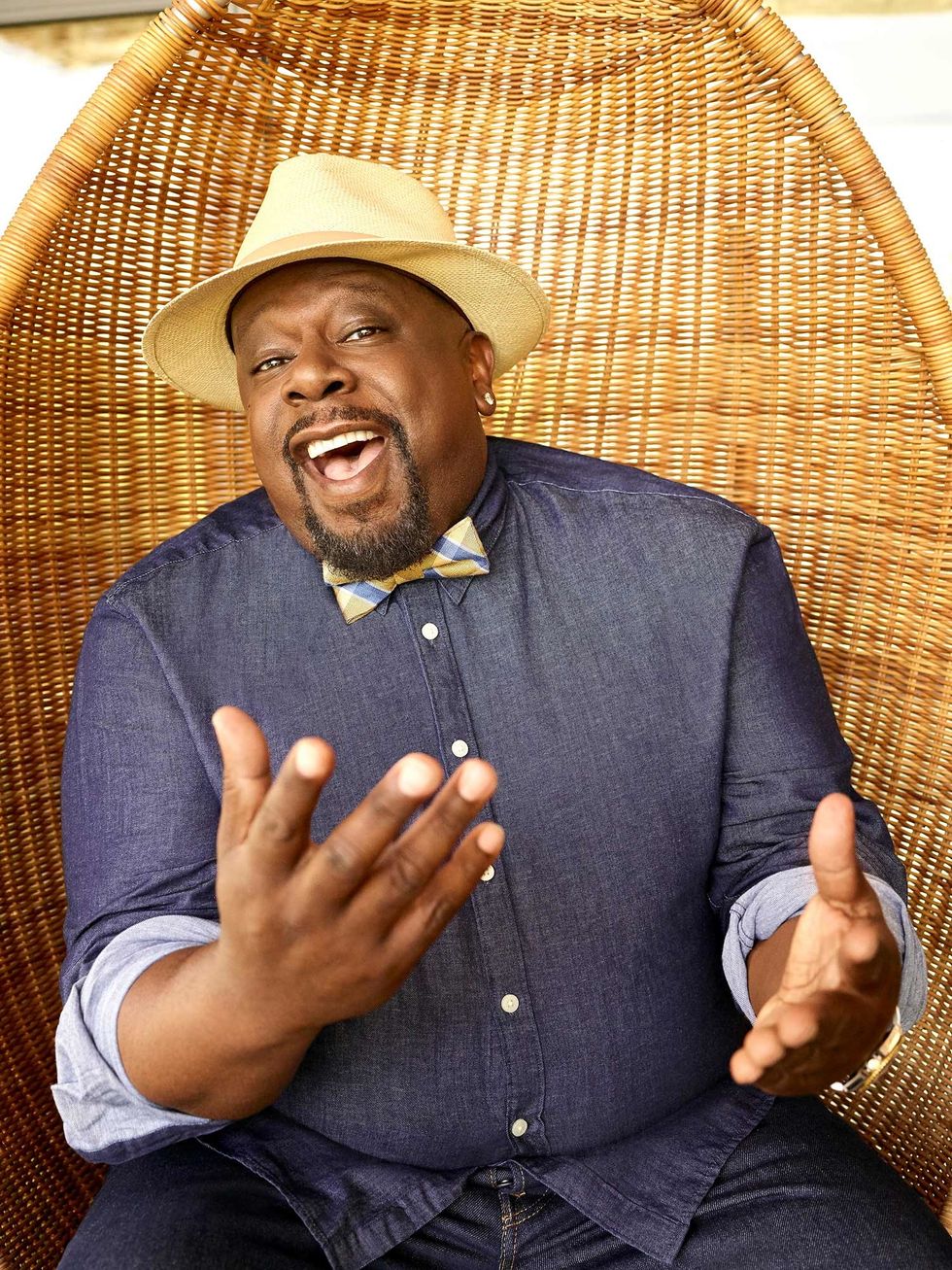 Shirt by Rag & Bone. Bow tie by Kenneth Cole. Hat by Hollywood Hatters. Watch and earrings, Cedric's own.
Photography by Peggy Sirota. Styled by Jordan Grossman.
What makes you angry?
Rudeness. Bullying. People who misuse power. If somebody is a jerk to somebody else, that ticks me off.
Will we ever see another Kings of Comedy?
I would love to do another Kings of Comedy. But how do you do it without Bernie Mac? I don't know. It's always been our dilemma. Bernie Mac was such a unique and strong figure. Do we try to replace that? Do we go out with just the three of us? It never felt quite right.
For me, being in the Kings of Comedy, it's like the Rolling Stones going on tour. Like, how old are these guys? But people are going to come up to you and say, "I know all your music. You are a part of my life." That's what The Original Kings of Comedy is like. Of course I would love to do it.
Is performing where you're most happy?

Yeah, doing comedy, acting. I love the opportunity to perform for people, living in the moment of discovery where you connect with people. I still remember in the beginning, when I was working a corporate job [at an insurance company]; I wrote a joke and told my mom I wanted to be a comedian. She laughed so hard [at the joke], she went to the ground.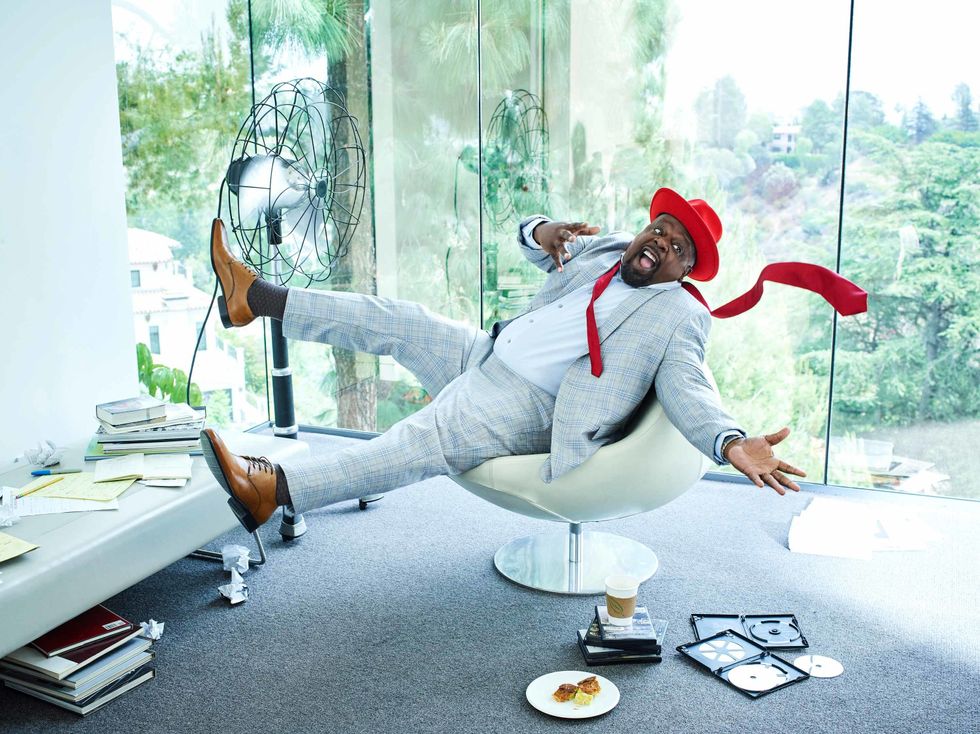 Suit, shirt, and shoes by Stacy Adams. Socks by The Tie Bar. Tie by Ted Baker. Hat by Bailey Hats. Watch and earrings, Cedric's own.
Photography by Peggy Sirota. Styled by Jordan Grossman.
Flash forward years from now. What would you like to be doing?
I see myself directing TV shows, finding young talent. I would love that as a choice to have for later as opposed to looking for roles. I've lived that life.
And you're getting recognized for doing it well—not only with your own television show, but with a star on the Hollywood Walk of Fame! How does that feel?
That's exciting. When you start your career, you have no idea where it's going. When I first moved [to L.A.], I lived one block from Hollywood Boulevard, so we would go and see stars. Then you start seeing the ceremonies, watching people get recognized for what they do. I'm just thankful to be even wanted!
Originally published in Watch Magazine, September-October 2018.
The Neighborhood airs on Mondays at 8 p.m. ET/PT on CBS and streams on Paramount+.