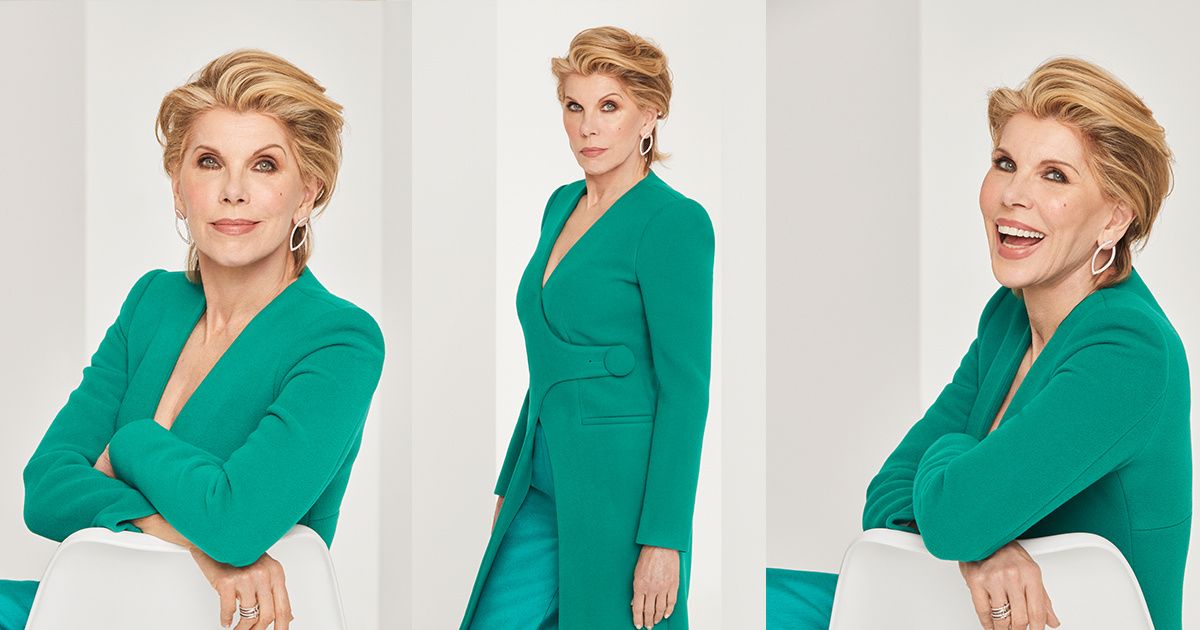 Photography by David Roemer. Styled by Cristina Ehrlich.
As Diane Lockhart on The Good Fight, the legendary Christine Baranski has created a character who is equally legendary.
By Chip Brown
The Good Fight streams exclusively on CBS All Access.
Editor's Note: This interview took place in March, as COVID-19 took hold in the United States.
An actress doesn't get to be No. 1 on the call sheet without the ability to create an air of intimacy, even when "social distancing" is the order of the day. Faced with the unexpected peril of a face-to-face meeting, Christine Baranski picked up the phone. It was the second Friday in March 2020. The repercussions of a worldwide viral outbreak were surfacing in New York City. Schools were closing. Broadway was going dark. Lines were forming outside grocery stores suddenly bereft of chicken and hand sanitizer. City residents accustomed to teeming sidewalks and sardine subway cars, not to mention up-close-and-personal interviews, were being advised to stay at least six feet away from each other.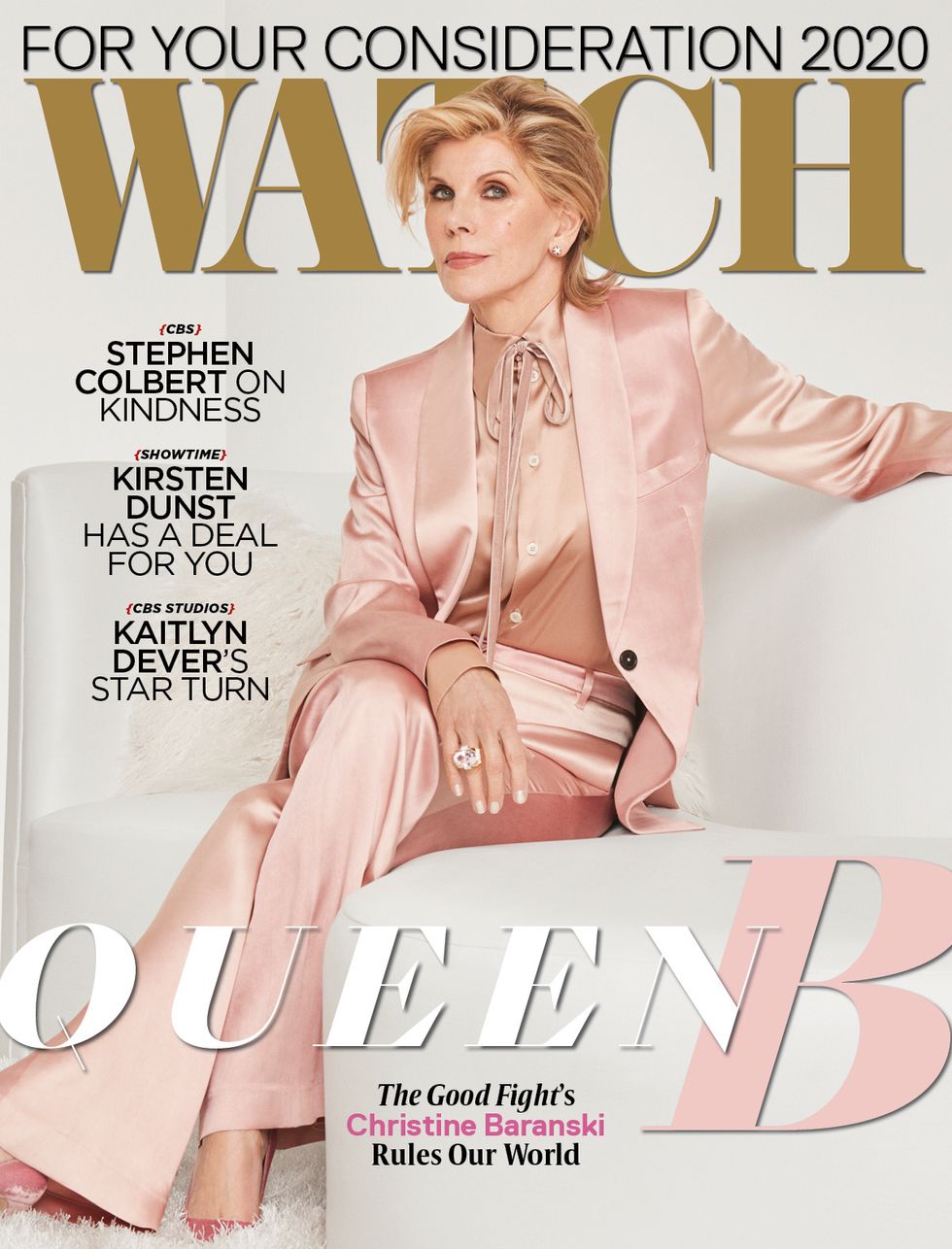 Suit and blouse by Ann Demeulemeester. Shoes by Manolo Blahnik via Albright Fashion Library. Ring by David Webb. Earrings by Genevieve Jones.
Photography by David Roemer. Styled by Cristina Ehrlich.
"We were supposed to talk on the set," Baranski says with such genuine regret that anyone would be tempted to get jimmied into a hazmat suit to make it happen. Baranski was holed up in her Manhattan apartment. CBS had temporarily suspended production of the fourth season of The Good Fight, the streaming-platform hit in which Baranski stars as the sharp-tongued-and-tailored litigator Diane Lockhart.
"When they shut down The Good Fight yesterday," she says, "one of the actresses actually asked the producers if she could take home some toilet paper. There was a run on toilet paper in Brooklyn."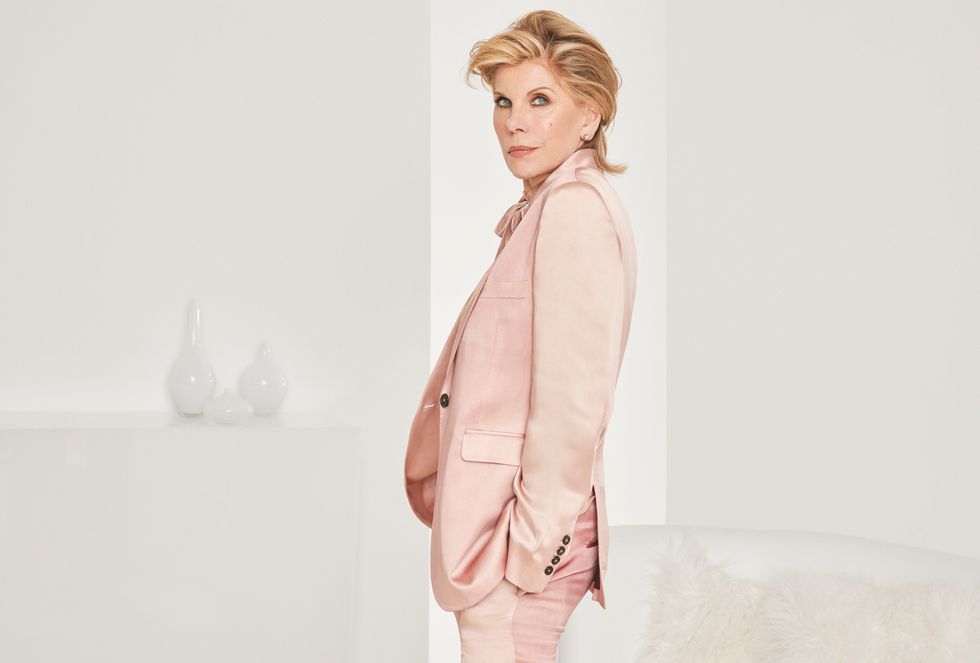 Suit and blouse by Ann Demeulemeester. Earrings by Genevieve Jones.
Photography by David Roemer. Styled by Cristina Ehrlich.
On the strength of her voice alone—a tony metropolitan alto gifted with drop-dead timing and readily effervesced by her signature brass-and-bubbles laugh—it was easy to imagine Baranski proceeding imperturbably as workaday routines and expectations faltered all around her. And why not? For more than 40 years, the Juilliard-trained actress has been a consummately versatile, self-assured pro, elevating musicals, stage dramas, and film and television roles in the course of amassing a résumé as lengthy as her famously long legs. Among her many awards, she counts two Tonys and an Emmy (and 15 Emmy nominations).
She manages the paradox of being both regal and down-to-earth, a grande dame happy to hang a teaspoon off her upturned nose. She's as comfortable handling the boozy, over-the-top rants of Maryann Thorpe on the ahead-of-its time sitcom Cybill from the mid-1990s as she is launching out on grandiloquent flights of Shakespeare and Shaw. As at home as a saucy Mrs. Lovett singing "shepherd's pie peppered with actual shepherd" in Stephen Sondheim's Sweeney Todd as she is tendering witheringly crisp assessments of cathected emotion as the Freudian-in-barrettes psychiatrist Beverly Hofstadter, better known as "Leonard's mother" on The Big Bang Theory.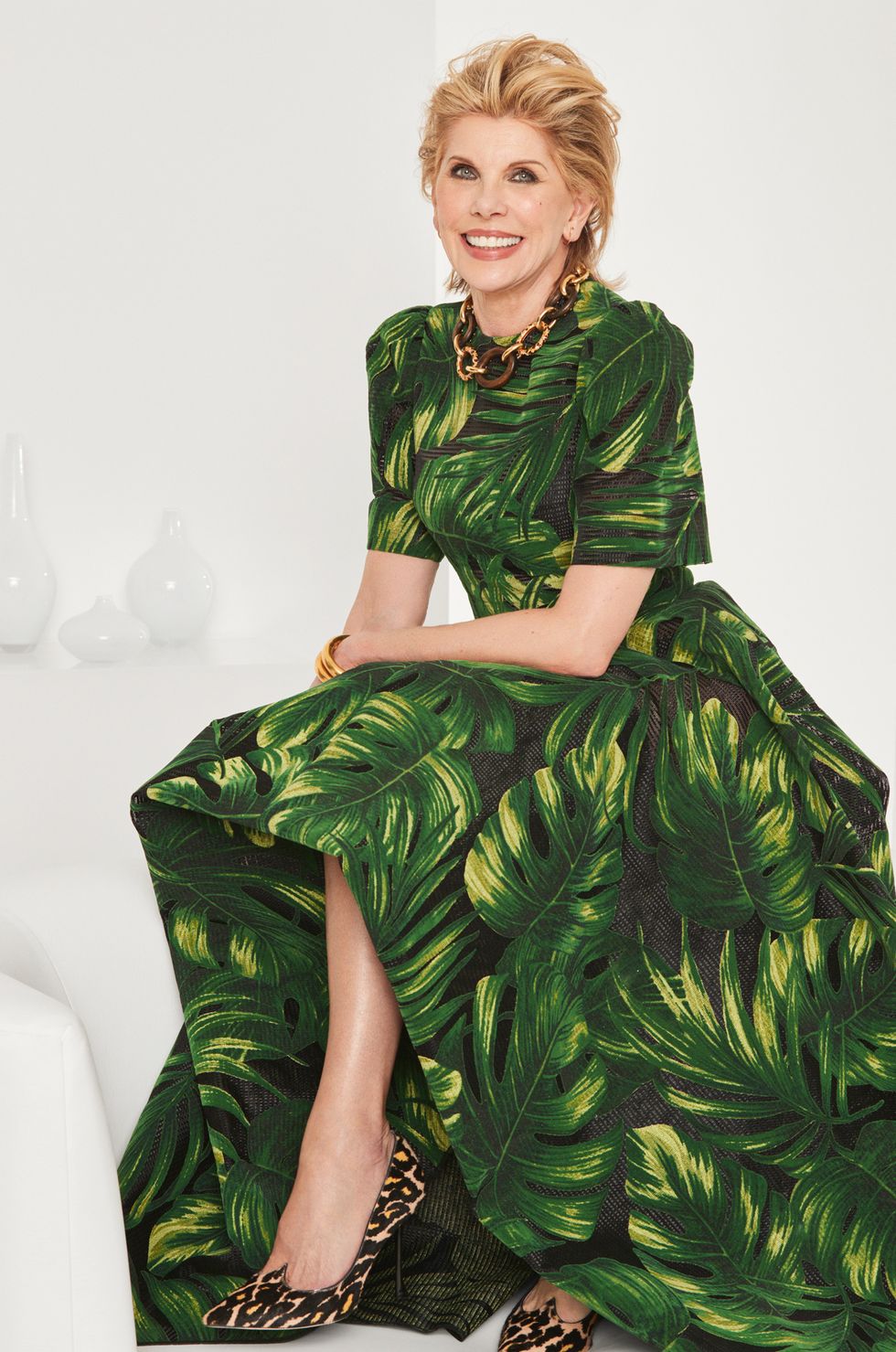 Dress and necklace by Dolce & Gabbana. Earrings by Dauphin. Shoes by Roger Vivier.
Photography by David Roemer. Styled by Cristina Ehrlich.
As if that were not enough, two years ago Baranski was inducted into the Theater Hall of Fame.
At an age—68 this month—when most people are filing for Social Security and glumly wading through junk mail from the American Association of Retired Persons, Baranski seems almost to be sizzling in a second prime, or to have enviably extended her first. She has her pick of projects and parts. (After completing the fourth season of The Good Fight, she's scheduled to shoot an HBO series, The Gilded Age, and will appear in the coming holiday season as the town grinch in a Dolly Parton Netflix movie, Christmas on the Square.)
Having grieved for her husband, the actor Matthew Cowles, who died in 2014, Baranski often says she's never been happier in her work. She's in remarkable shape and still fast on her feet. Consider how she handled a screwball question during a red-carpet TV interview at the premiere of the Mamma Mia sequel in Los Angeles in 2018.
"Strange question," said the interviewer, catching Baranski who played the character Tanya in the 2008 original and in the follow-up, Mamma Mia! Here We Go Again. "'Big Dick Energy'—have you heard of it? And that people are saying that you have it?"
"That I have what?" said Baranski, leaning in close. She was wearing a white-dotted brown dress, cut low to show most of her throat, and bright red lipstick, her blonde mane coiffed in a frisky bob. Fans of The Good Fight might have stopped her on the red carpet to ask for legal advice, so much did she look like Diane Lockhart.
"Big Dick Energy," the interviewer said.
"People are saying you have an abundance. They put you up as the poster child of it."
"Big Dick Energy? Is that a new saying? Just tell me it's a good thing."
"It's a very good thing."
"OK, then I'll take it."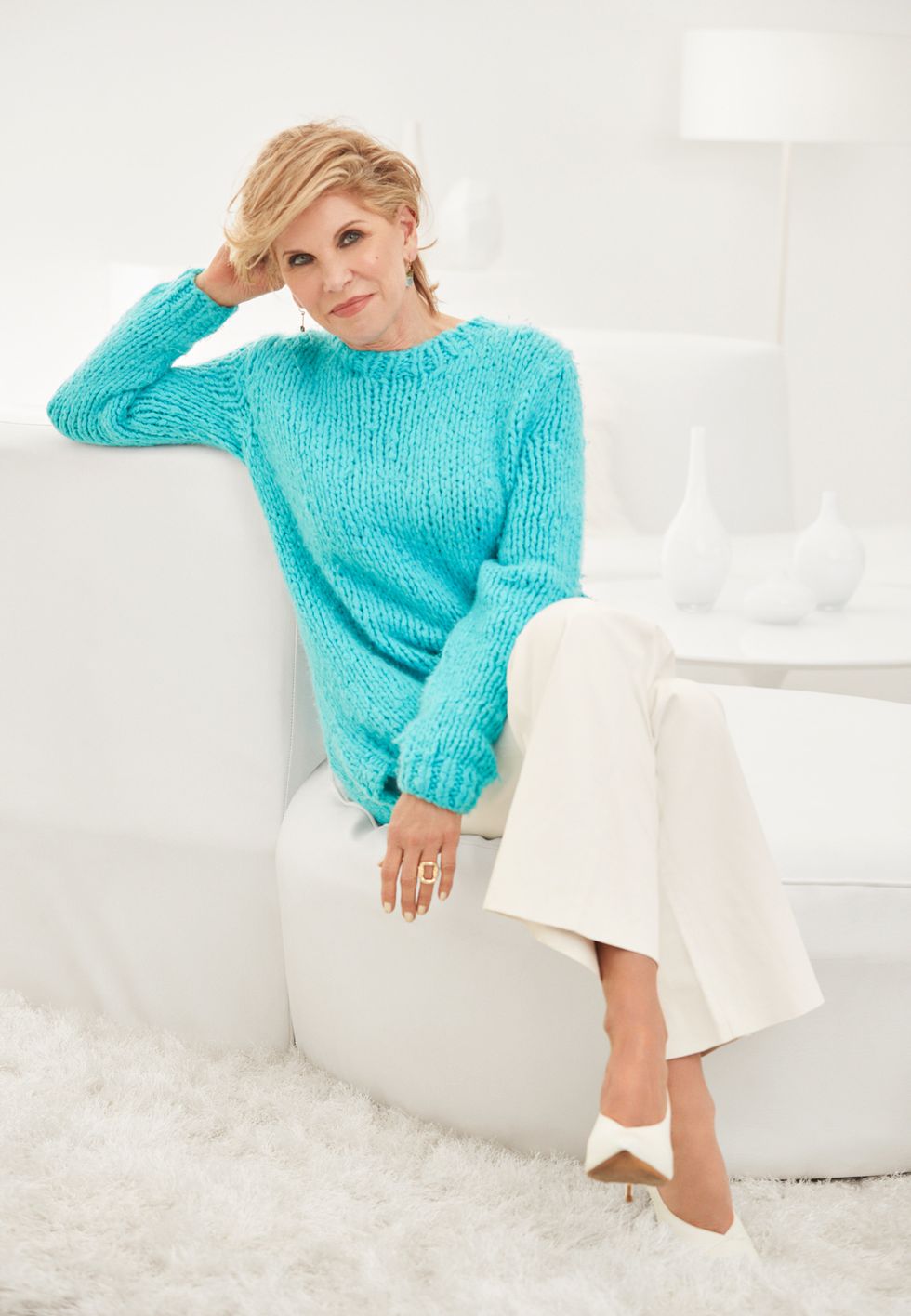 Sweater and pants by Gabriela Hearst. Shoes by Alexandre Birman. Ring by Jennifer Fisher. Earrings by Irene Neuwirth.
Photography by David Roemer. Styled by Cristina Ehrlich.
"Do you have any idea what it might mean?

"My energy—Big Dick Energy?" Baranski asked, eyes dancing to the right, red lips in a twist as she mulled the question. And then, not unamused, she accepted the challenge, not only willing to go with a kooky left-field prompt as befits a theater improvisor adept at being in the moment, but quick enough to construct an artful answer and carry it to what might be considered a perfect, uh, climax.
"Ah ... staying power," she said, starting to shimmy as if the choicest way to itemize the elements of "BDE" was to demonstrate them physically. "Passion. Full of life. Ready to explode!"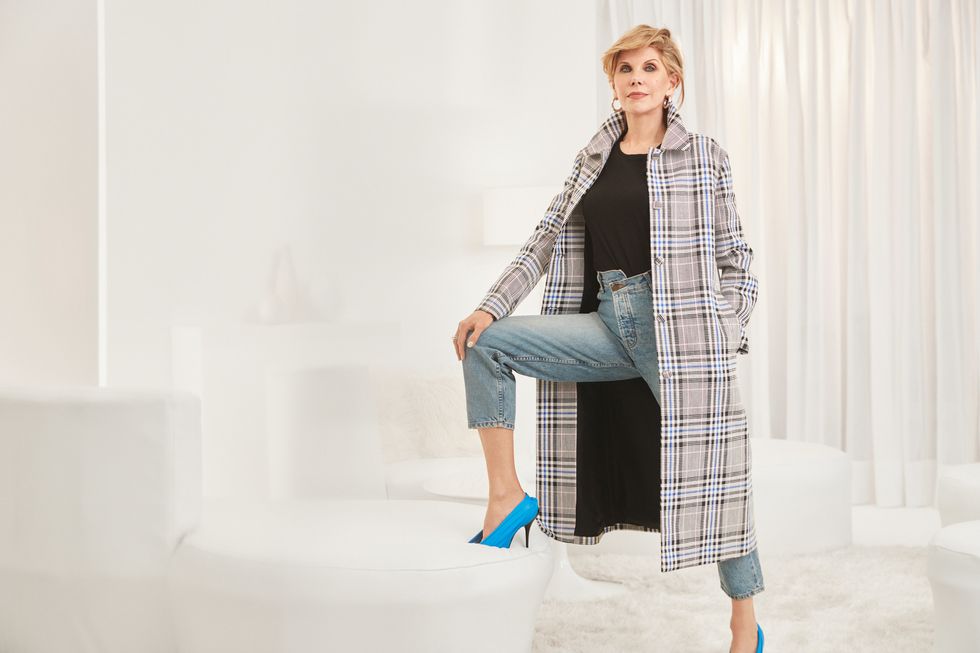 Coat by Christopher Kane. T-shirt by Plays Well With Others. Jeans by Monse. Shoes by Balenciaga. Earrings by Fisher.
Photography by David Roemer. Styled by Cristina Ehrlich.
Albeit under more elegant definitions, Baranski has been bringing such gifts to the character of Diane Lockhart for more than 10 years. Diane, of course, is the same master of the courtroom Baranski played for seven seasons behind Julianna Margulies on the CBS broadcast mega-hit The Good Wife. For six of those seven seasons, she was nominated for an Emmy. In the episode that concluded the series, Baranski smacked Margulies in the face with a slap heard 'round the internet. (As she has explained, the key to not hospitalizing your scene partner is a loose, limp wrist.)
A year later, in 2017, it was Baranski's turn at the head of the call sheet. In the sequel, the self-assured liberal Democrat litigator discovers that her dream of a house in Provence and a comfortable retirement has been dashed by a trusted friend's Ponzi scheme. Compelled by necessity to reenter the workforce, Diane plunges into the fray of a politically fractured culture as a partner at an all-black law firm. The setting, as before, is Chicago; the new show retains many familiar faces in front of and behind the camera.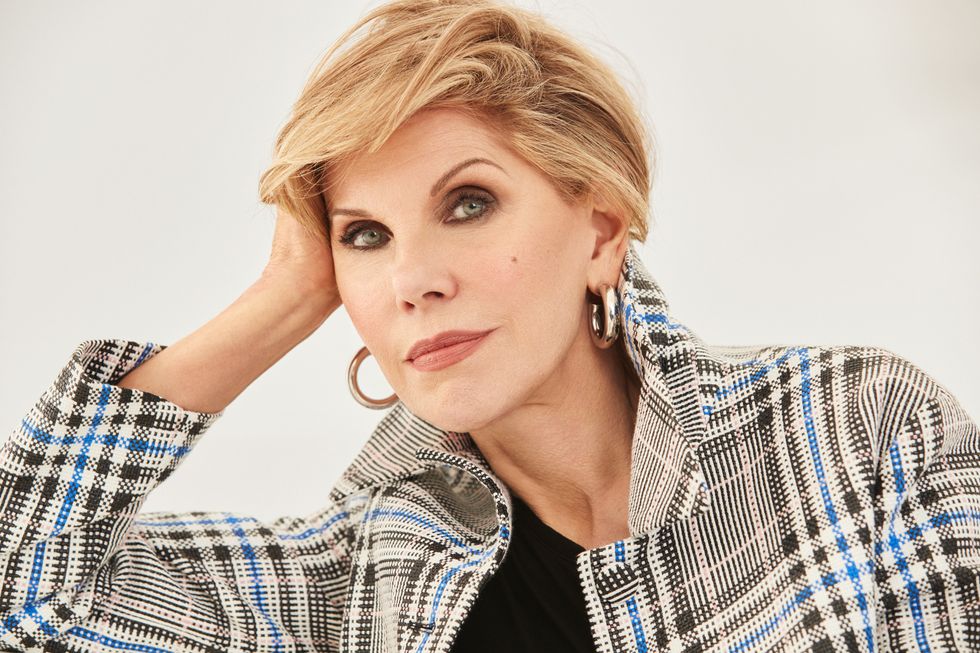 Coat by Christopher Kane. T-shirt by Plays Well With Others. Earrings by Fisher.
Photography by David Roemer. Styled by Cristina Ehrlich.
One reason Baranski jumped into The Good Fight was that the show was earmarked for CBS' then-new streaming platform, CBS All Access, which meant working from scripts unfettered by network prohibitions on characters cursing and disporting in ways that might make you blush if you were watching with your mother. Freed as well from the grueling 22-episodes-a-season schedule of a network show, Baranski has had summers off to work on other projects, take courses at Oxford on Oscar Wilde and Lawrence of Arabia, and spend time at her lake house in northwestern Connecticut with her two daughters, Isabel and Lily, and her three grandchildren. (Isabel, who trained as a lawyer and worked as an assistant district attorney in Brooklyn, is now the mother of Baranski's grandchildren; younger daughter Lily is an actress on The CW show Roswell.)
What really sealed the case for continuing as Diane was Baranski's esteem for Robert and Michelle King, the show's creators and main writers, whose scripts dramatize the pro-and-con arguments of polarizing hot-button issues like abortion, the alt right, fake news, unqualified judges, a mendacious president, and what increasingly seems to many people the unraveling of American norms and institutions.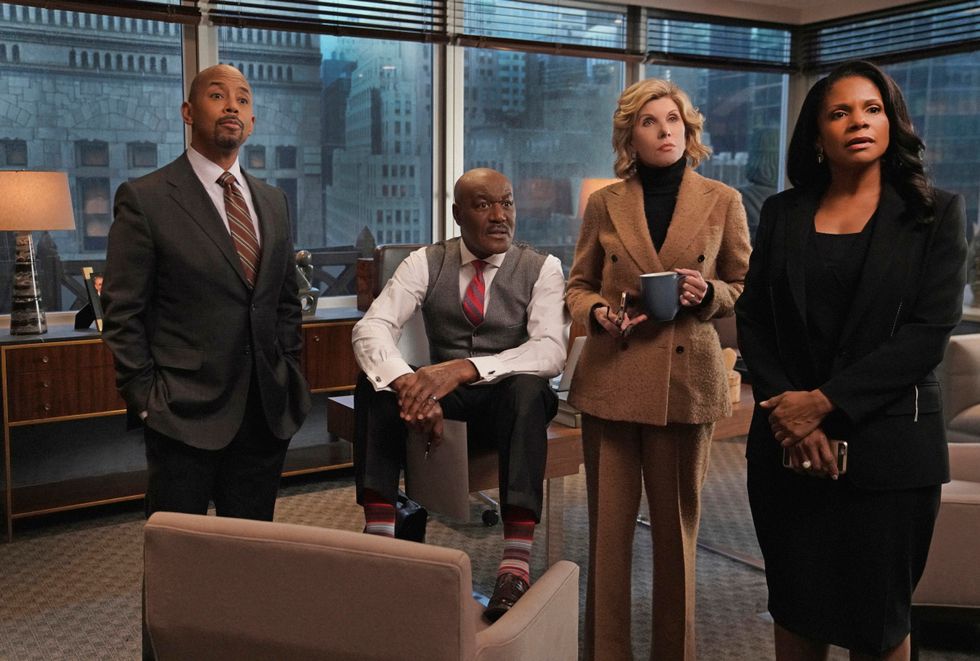 Diane Lockhart (Christine Baranski) with colleagues Julius Cain (Michael Boatman), Adrian Boseman (Delroy Lindo), and Liz Reddick-Lawrence (Audra McDonald) in The Good Fight.
Photo Credit: Patrick Harbron/CBS.
"If we can go back into production, I will have finished my 11th year as Diane, with the possibility of a few more," Baranski says. "I think it's the only show streaming or on the air that addresses this dystopian moment in history. Diane can't cope with living in the age of Trump. She joined a resistance movement last year. This year we go even deeper into the rabbit hole and ask why certain people no longer have to honor subpoenas. Why are certain people above the law? What is happening to the rule of law in this country? It's an incredible story arc I have this season. I'm very excited about it. I hope we get to finish it."
Actors, of course, shouldn't be mistaken for the characters they play, but anyone who has watched Baranski stride through courthouses and conference rooms in Diane Lockhart's uncompromisingly high heels for 10 years might be excused if they find it hard to distinguish the performer from the part.
"I would that I had Diane's brains and her legal expertise," Baranski says. "I love playing someone so much sharper in that department, but I am not that person, it's not how my mind works. I don't think I could pass a bar exam. Nor do I need to dress as well as Diane does every day. But the nice thing is that, because Robert and Michelle King are such gifted writers, and because I've been playing the role so long, they have kind of tailored it to me. They use my human qualities. They use my sense of humor. They use my laugh. They often have it scripted that 'Diane literally guffaws.' I have a very robust laugh, as you've heard. They have not written my character as an edgy, angry, feminist quote-unquote bitch. You never see a woman who wallows in her victimhood. Diane is heroic without being Joan of Arc. Heroic on a daily basis. She's got terrific equilibrium, and sanity and clarity, and when she loses it, you think, 'Wow, things must be really bad if Diane is losing it.'"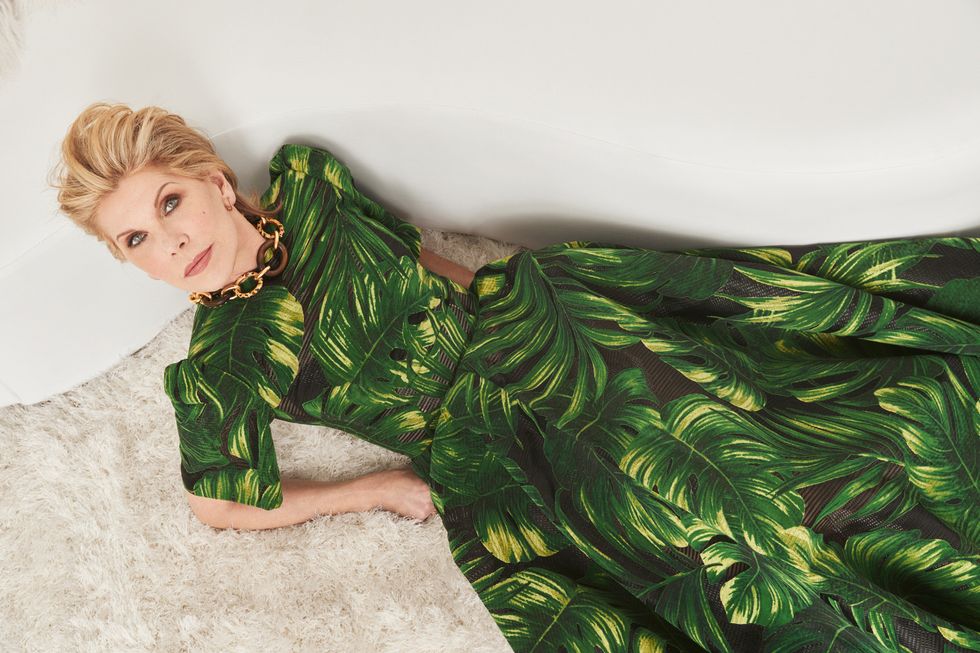 Dress and necklace by Dolce & Gabbana. Earrings by Dauphin.
Photography by David Roemer. Styled by Cristina Ehrlich.
Baranski's scriptable laugh and comic talents don't bespeak a childhood of unbroken joy. She and her older brother were raised in blue-collar Buffalo. Her mother, Virginia, took care of the kids; her father, Lucien, worked as the editor of a Polish-language newspaper. Both her parents sang in amateur choruses. It was her paternal grandmother, "my Nana," who left the mark of the theater on Baranski. Her paternal grandparents had been actors in Buffalo's Polish theater, and for a number of her early years Baranski shared a bedroom with her grandmother.
"She was my Auntie Mame; she had all these friends from Poland with very effusive personalities," Baranski says. "She loved getting together for nights of singing and drinking. I remember being in the bedroom and my mom and I couldn't sleep because Nana was making so much noise. She loved music and theater and ballet; she wore colorful clothing; she wrote her own comedy show and did skits. She taught me so much about life."
In 1960, when Baranski was 8, her father died of an aortic aneurysm (a malady that later claimed her brother's life as well, at age 48), and Nana moved out."My father's death was awful in retrospect," Baranski recalls. "I went into survival mode. Unlike my grandmother, my mom wasn't physically affectionate or very communicative emotionally. She was a strong woman; she was raised in the Depression and got through the war, but she wasn't good at comforting. She was suddenly a single mom and had to raise kids on her own and find work. She held us together.
But I remember suffering a sense of shock and fear that we weren't going to be OK. I knew my grandmother and my mother were at odds. I would often hear arguments. We moved, and that meant changing schools and making new friends. I chewed my nails down to the bone—I was very nervous. I wasn't an outstanding student. But by seventh grade, I became this achiever. That's the way I coped. I was president of my class all through high school."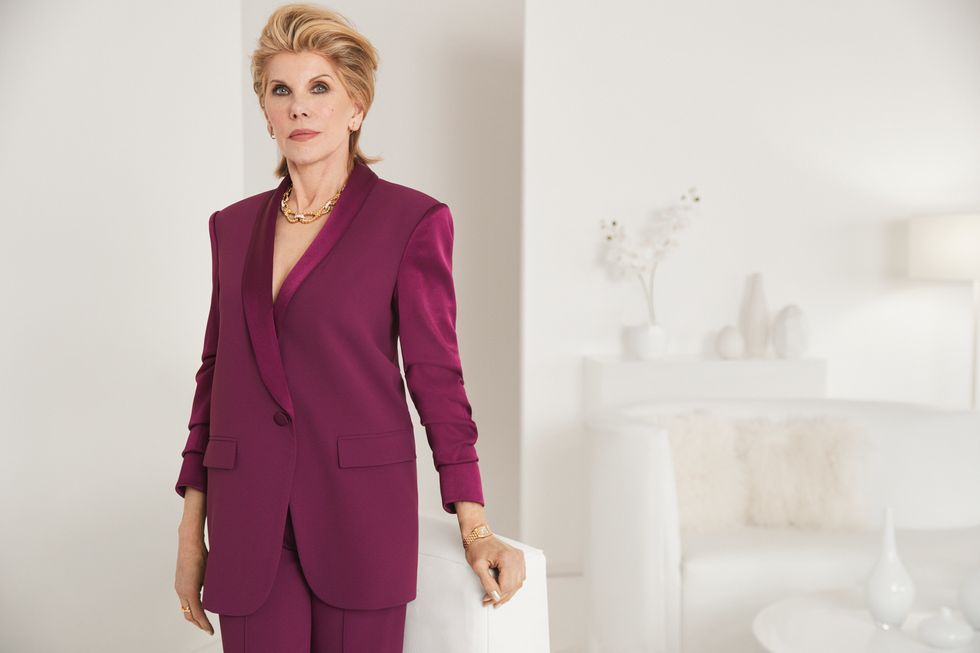 Suit by Alice + Olivia. Necklace by Jennifer Fisher. Watch by Cartier. Earrings by Dauphin.
Photography by David Roemer. Styled by Cristina Ehrlich.
At Villa Maria Academy, an all-girls Catholic high school in Buffalo, Baranski was drawn to theater but initially too shy to audition for roles, so she worked backstage, helping with costumes and makeup. "I remember distinctly looking onstage and thinking, 'Wow, how do they do that?'" She'd known since she was a kid that she could make people laugh—"I was a smart aleck"—and by junior year she'd overcome her fears and was getting leading roles. Her mother had sprung for once-a-week ballet and tap lessons. What really enlarged her horizon was getting into an experimental-theater workshop run by the University of Buffalo in the summer of 1969.
"Suddenly, at the age of 16, I was acting and dancing and doing improvisation and drumming with Jewish kids and African American kids and kids from other parts of Buffalo," Baranski says. "It just opened my life up in a way that might not have happened if I hadn't done it—I would have just been the girl from the Polish Catholic neighborhood. I don't even know if Juilliard would have happened, because the workshop was so liberating. I was so passionate. It empowered me. I remember reading about Juilliard in the Buffalo Evening News and putting the article on the wall and saying, 'That's my goal, that's where I want to go.'"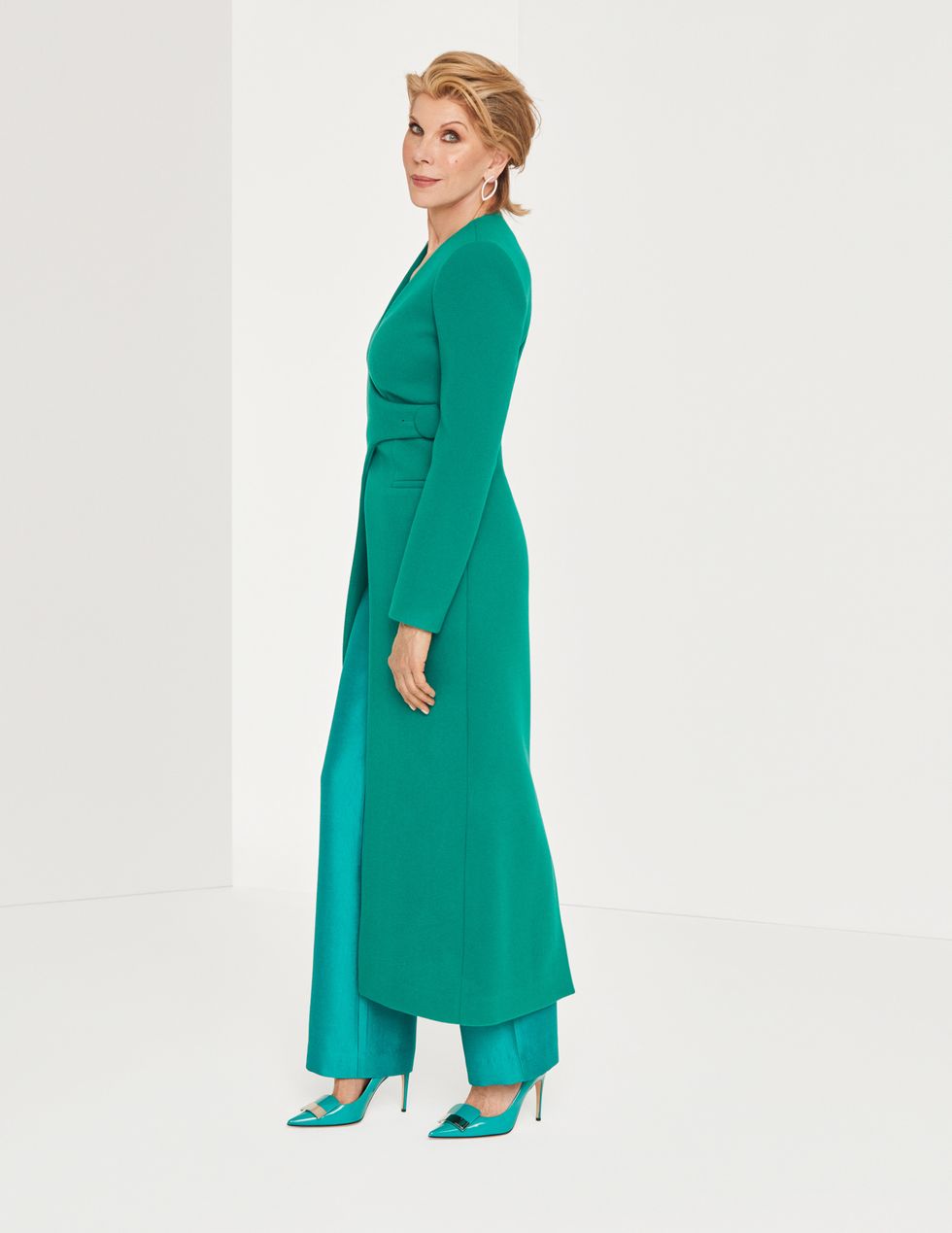 Coat and pants by Allette. Shoes by Sergio Rossi. Ring by Spinelli Kilcollin. Earrings by Vhernier.
Photography by David Roemer. Styled by Cristina Ehrlich.
Go she did.
In May 2016, Baranski returned to Juilliard to give the commencement address. She told the story about how she had been waitlisted in 1970 because the drama division, led by the formidable actor John Houseman, was concerned about a gap in her teeth that was causing an unpleasant sibilance on her S's. It was suggested she get speech therapy and have her teeth capped; her mother, who was pressed to make ends meet, came up with the $500 to fix Baranski's teeth.
After a few months of speech therapy, she auditioned at Juilliard again and clipped crisply through a page of S-words put before her, and owlish Houseman turned to the voice and speech teacher and said, "Well, Elizabeth, what do you think?" Baranski saw her nod almost imperceptibly and began to shake with what one day would be known as BDE. She ecstatically found her mom, who was waiting in the lobby of Philharmonic Hall, and they went off together to celebrate at the Algonquin Hotel, where they each knocked back two cherry-garnished Southern Comfort Manhattans, the only time mother and daughter ever got drunk together. Baranski missed her own graduation in 1974 because she already had a gig at the Shakespeare Theater in Stratford, Connecticut.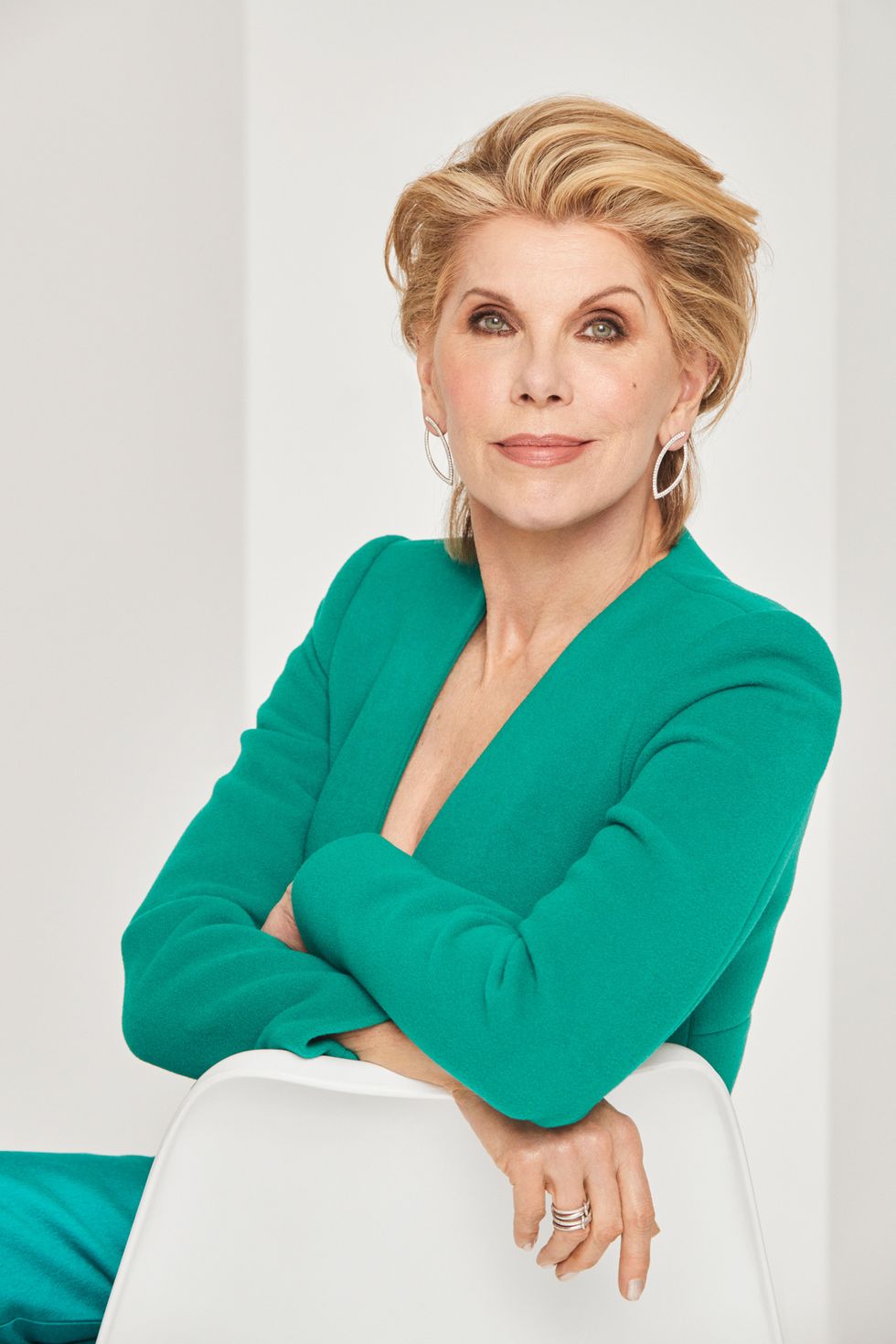 Coat and pants by Allette. Ring by Spinelli Kilcollin. Earrings by Vhernier.
Photography by David Roemer. Styled by Cristina Ehrlich.
And years later, when Baranski was one of the school's face cards, the head of Juilliard planned to surprise the star with her diploma at an alumni event. She missed his speech, too, because she was in the women's room. Ruminating over what to say to the class of 2016, she wondered if there wasn't some "quintessential observation" she could share about life in the performing arts, and she realized her theme was staring her in the face. It was the importance of "showing up."
"That is simply, essentially, what our life is. It is all about showing up. That is our passion, our task, our responsibility, our privilege. Our presence with a capital P is required. ... The most glorious aspect is this: on cue, on point, on the downbeat, or on action, we get to show up in the fullness of our being and present not just our talent and technique but the depth of our character, the force of our personality, the breadth of our life experience, our point of view. And this is worthy of a lifetime of discipline and exploration, to refine that presence with a capital P."
When she was finished, there was a huge ovation, and if there had ever been any social distance in the hall, it was gone.
Originally published in Watch Magazine, May-June 2020.
Photography: David Roemer
Stylist: Cristina Ehrlich
Hair: Matthew Monzon
Makeup: Gianpaolo Ceciliato
The Good Fight streams exclusively on CBS All Access.