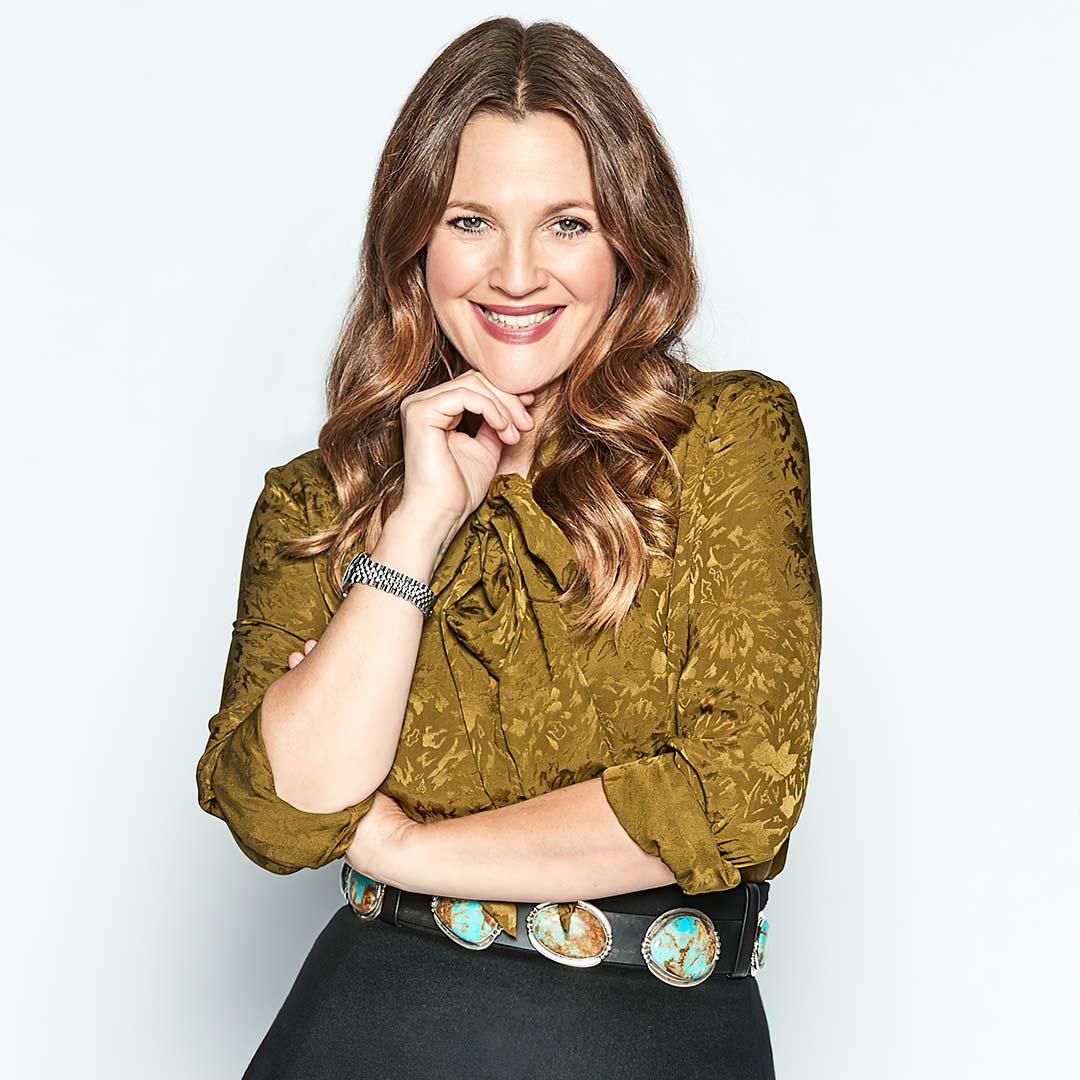 Photo Credit: Ben Watts/CBS.
The actress-entrepreneur delivers a new CBS talk show full of heart, humor, and hope. Would you expect anything less?
By David Hochman
There's no school for talk show hosts, but Drew Barrymore has been studying for the job since childhood. Promoting her first big movie role, in E.T. the Extra-Terrestrial at age 7, the precocious newcomer popped out her fake front teeth (kid- size dentures put in place by her handlers while her baby teeth grew in) and plunked them onto Johnny Carson's desk. ("Now, don't forget that when you leave," The Tonight Show host said, unable to contain his laughter.) At 15, after years of personal struggle and a widely publicized stint in rehab, Barrymore confessed on Oprah that she had grown up too fast. Then there was that time in 1995 when Barrymore climbed atop David Letterman's Late Show desk and flashed him on air for his birthday. "It's almost like I was a different person," she says now of that classic TV moment, "but I still think it's completely hilarious."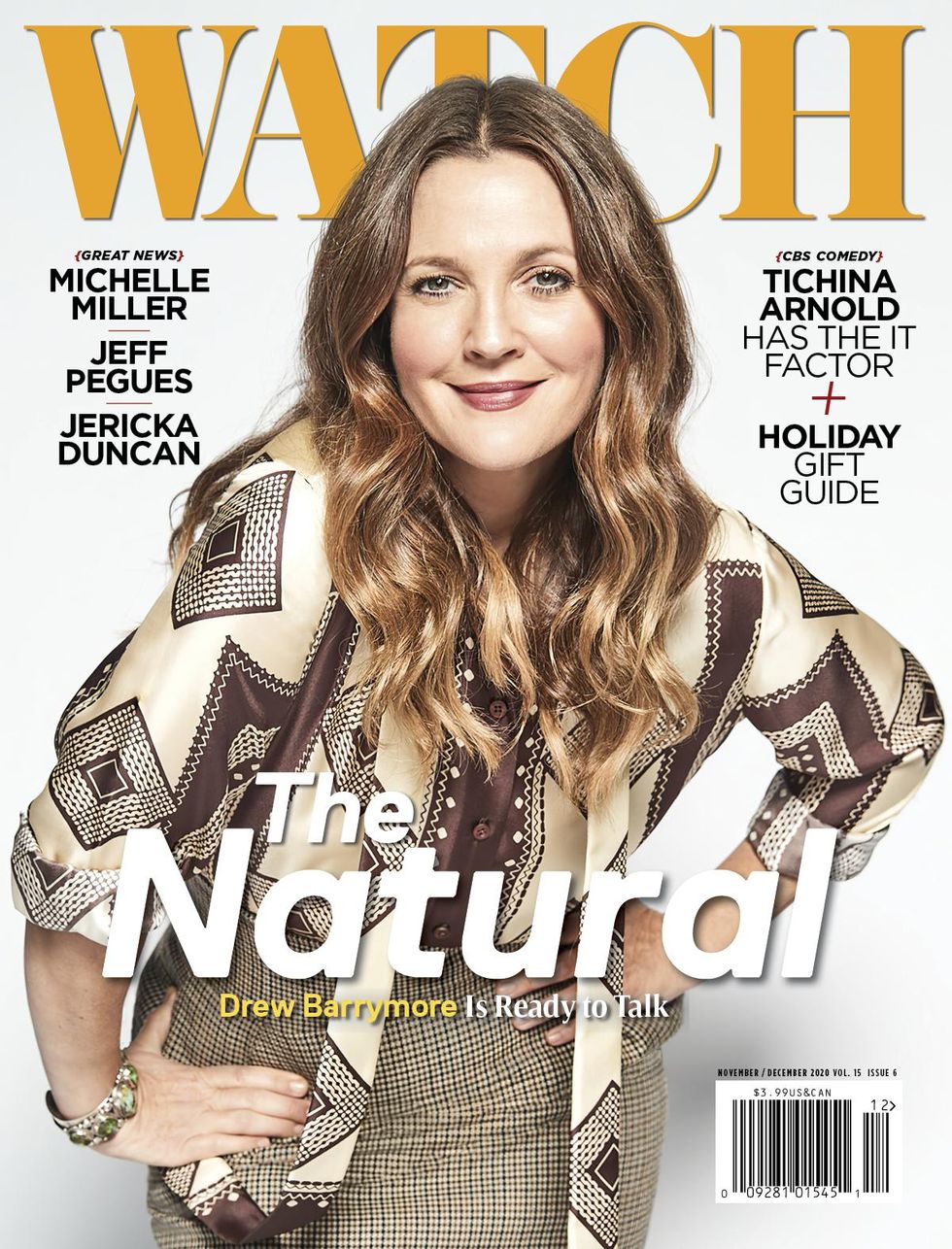 Blouse by Marc Jacobs. Skirt by Alexandre Vauthier. Bracelet by Hippie Cowgirl Couture.
Photo Credit: Ben Watts/CBS.
In short, Barrymore, 45, whose great-grandparents and grandparents (including the renowned John Barrymore) were actors, was born for the hosting chair, although she is not doing much sitting lately. Since the debut last September of The Drew Barrymore Show, her new syndicated daytime talk program, the Hollywood royal, entrepreneur, and single mom (Frankie, 6, and Olive, 8, are her daughters with ex-husband Will Kopelman) has been "moving pretty much nonstop, even after the whole world stopped moving ," she says.
Launching a show like hers during a pandemic means being able to "roll with each new crazy adventure as it comes along , and then roll again," she says. Instead of gathering with her staff in conference rooms, the team meets regularly in Brady Bunch–style Zoom calls. Without an in-person crowd for her live program, Barrymore chitchats with VFFs (short for Virtual Friends and Family—her grinning and waving livestreamed audience) projected behind her at CBS Broadcast Center in New York. The most ingenious workaround comes by way of stunning green- screen effects that make Barrymore's celebrity guests appear as if they're sitting with her on set—even if those guests happen to be in Los Angeles. "I'm so proud of what we've been able to do with technology," Barrymore says. "It's like social distancing meets Star Trek."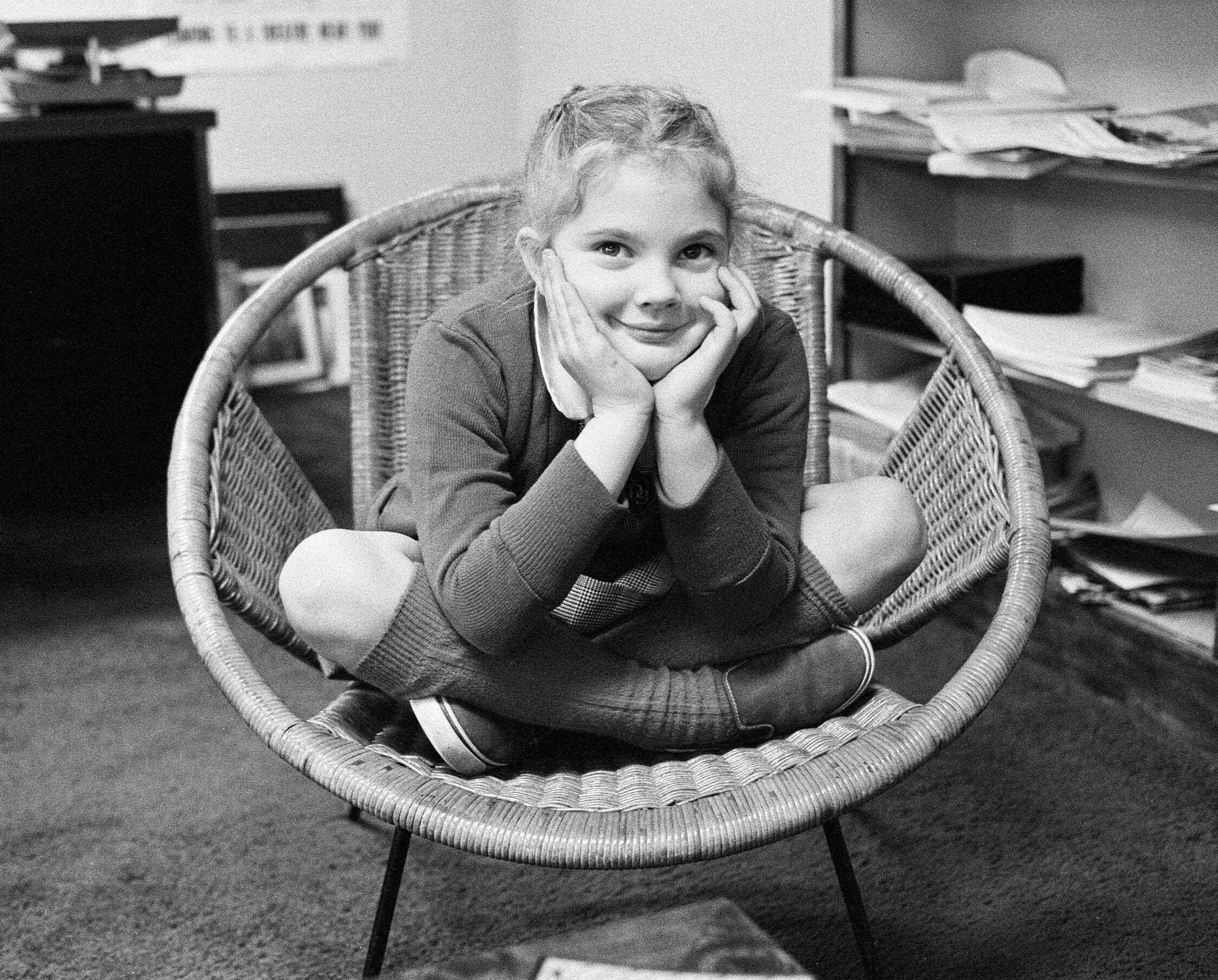 A 7-year-old Barrymore behind the scenes of E.T. the Extra-Terrestrial (1982).
Photo Credit: Mirrorpix/Getty Images.
Until there's a cure, Barrymore hopes her program can serve as "feel-good medicine during these messy and difficult times." That starts with visits from high-profile pals, including Gwyneth Paltrow, Reese Witherspoon, Tyra Banks, Adam Sandler, and Barrymore's Charlie's Angels co- stars Lucy Liu and Cameron Diaz. The show also features trademark segments like "Drew's News," a daily dose of inspiring human-interest stories from around the world.

But it's Barrymore's energy, honesty, and sense of hope that are the main draw. "I'm focusing on the things we're all struggling to find these days," she says, and she's not talking about sanitizing wipes. "This show is about little moments of joy, huge moments of laughter, and an almost forgotten sense of thoughtful optimism. We're desperate for optimism right now. I know I am. Tapping into that feeling isn't easy, but if you can get there, it's more rewarding than ever."
Originally published in Watch Magazine, November-December 2020.
SEE MORE: Check Out The Latest Issue Of Watch Magazine—Available Now!
The Drew Barrymore Show airs Weekdays on CBS. Check local listings.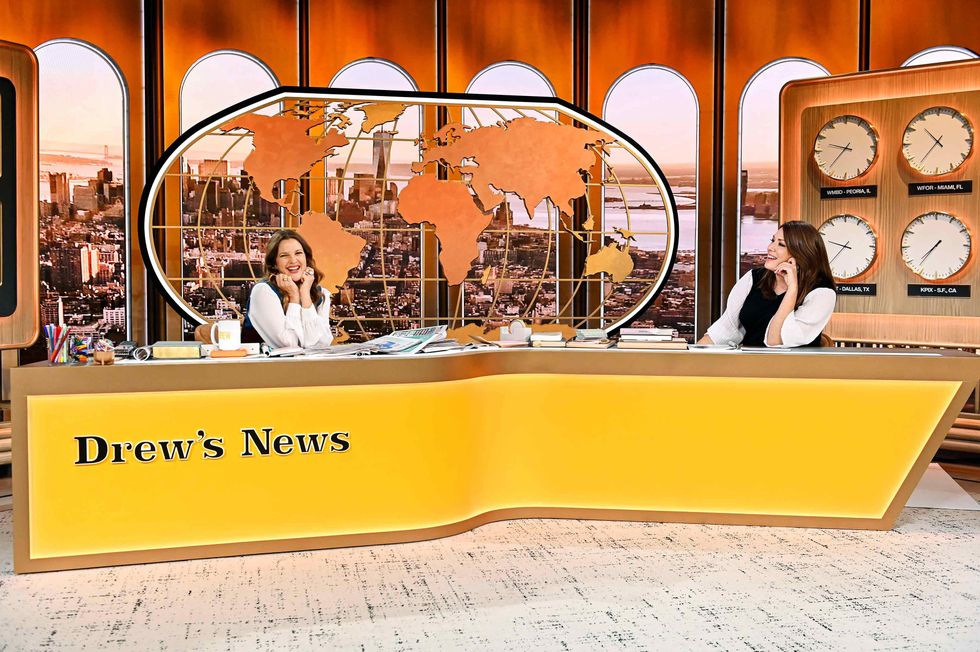 "This show is about little moments of joy, huge moments of laughter, and an almost forgotten sense of thoughtful optimism. We're desperate for optimism right now. I know I am." -- DREW BARRYMORE
Photo Credit: Mike Coppala/CBS.
You've been an actor, a director, a producer, an author, a designer, an entrepreneur, even a winemaker. What made you want to host a talk show?
I can't think of a better way to link all my eclectic passions—and I have a ton of them—into one thing. As a talk show host, your job, in a way, is to have a limited attention span. You do best if you can bounce from subject to subject. I'm interested in a wide variety of topics and genres and tones and worlds, and I get to explore all those curiosities. I can help people design a kitchen, because I love interior design. But I can also have an incredible singer like SZA or a personal hero like David Sedaris come on, followed by a fun food segment, and then show cute pictures of puppies. Because you can't show enough cute pictures of puppies.
You look like you're having a blast.

I love what we're doing , partly because we don't get into politics and we don't bring people down. There are so many other opportunities out there for people to point fingers and yell at each other. I'm not saying we should be blind to what's going on in the news. I'm definitely not blind to it. But it's nice to have a place on TV that's on the sunnier side.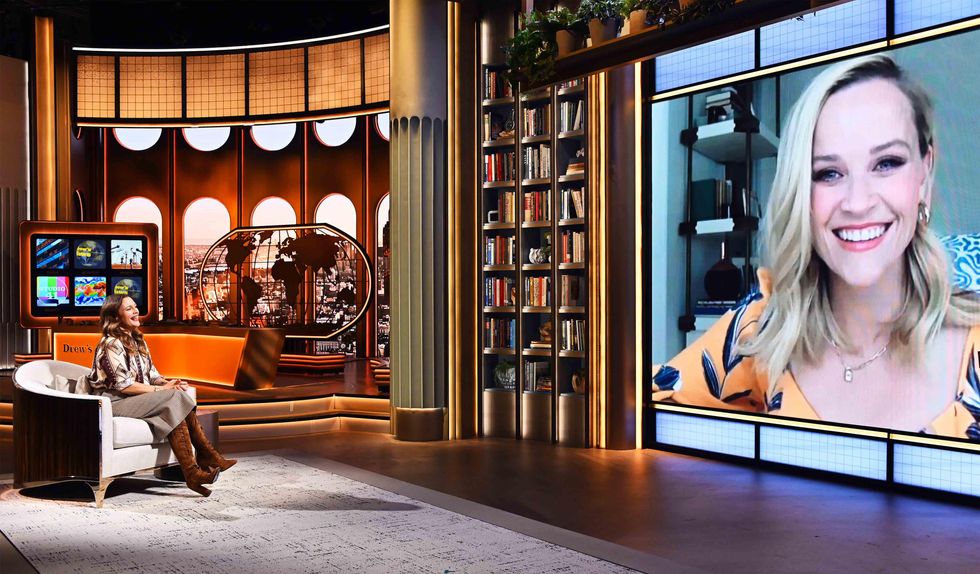 Drew Barrymore and tele-guest Reese Witherspoon
Photo Credit: Mike Coppala/CBS.
Does it feel more exposed to be out there as Drew Barrymore rather than playing a role?
I did worry about that at first because there's definitely no fakery and no veil. It's all you. But I'm happy in the role of me. I've lived this big , bloated life, but I'm also a very heads-down person. This might surprise you, but I'm not in the Hollywood scene. I'm not out there in the parties and the fabulousness. I live a quiet life with my old friends and my kids. That's my deal. I also never make the assumption that people are paying attention to me. That's kept my head on my shoulders all these years. So I act as if nobody's watching and that lets me stay true to who I am.
Beyond a lifetime of guest appearances on other people's talk shows, how did you get up to speed?
Oh, we had a million conversations behind the scenes about what the set should look like, what the vibe should be, what to do live versus what to polish as a taped segment—and I really love that combination of live and tape, by the way. Probably my best training ground was Saturday Night Live. I've been hosting since 1982, and I've seen how much fun it is to produce intelligent comedy on the fly. If you mess up, if you do something silly, if something totally fails, you lean into it. I never want to be a perfect automaton. I'm so imperfect myself. Accidents and goofy mistakes—they're truer to life and more respectful to the audience. I don't do veneer. So, yes, we made a plan, but mostly we just jumped in.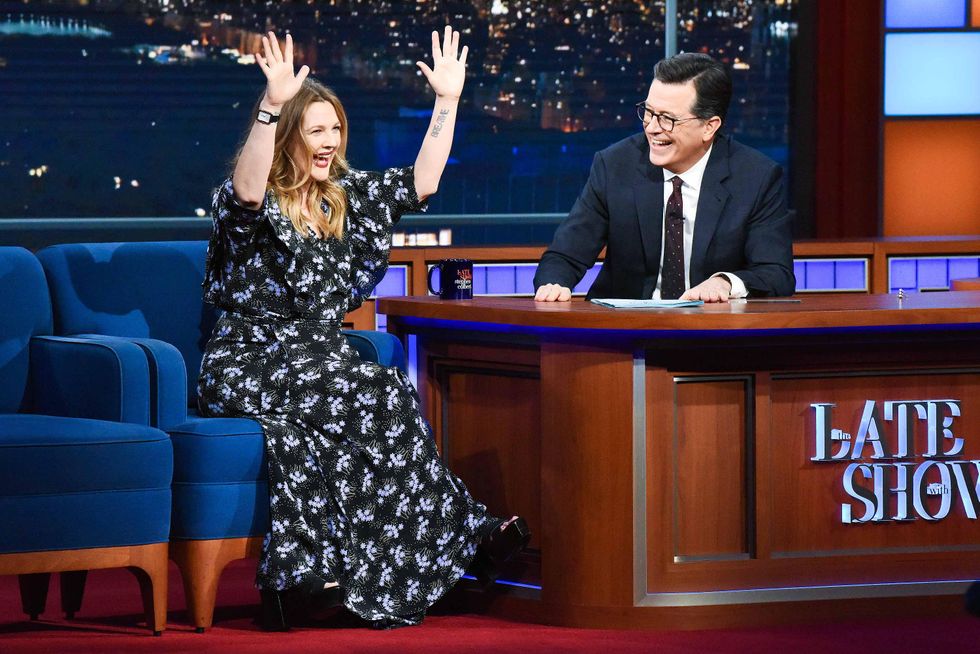 Drew Barrymore on The Late Show with Stephen Colbert (2019).
Photo Credit: Scott Kowalchyk/CBS.
And then coronavirus happened.

Yep, and we had to adjust everything. That caused major amounts of anxiety. There were tears. But it felt completely human. I feel with this turn of events that it's a privilege to be doing this show. We're literally here for you if you're at home—and almost everybody's at home. Comedy is a source of subconscious survivalism, and being able to laugh, and make others laugh, it's healing for us all. I talk about that a lot with Stephen Colbert.

Who else gives you advice?
I've spent some amazing time with Gayle King recently. She's a burgeoning friend and mentor and we work in the same building. She's so incredible in her body of work and knowledge of the television space. She's rocking daytime and evening specials, she's brilliant with pacing , so I just soak up what she has to say. She also helps me with bigger-picture stuff.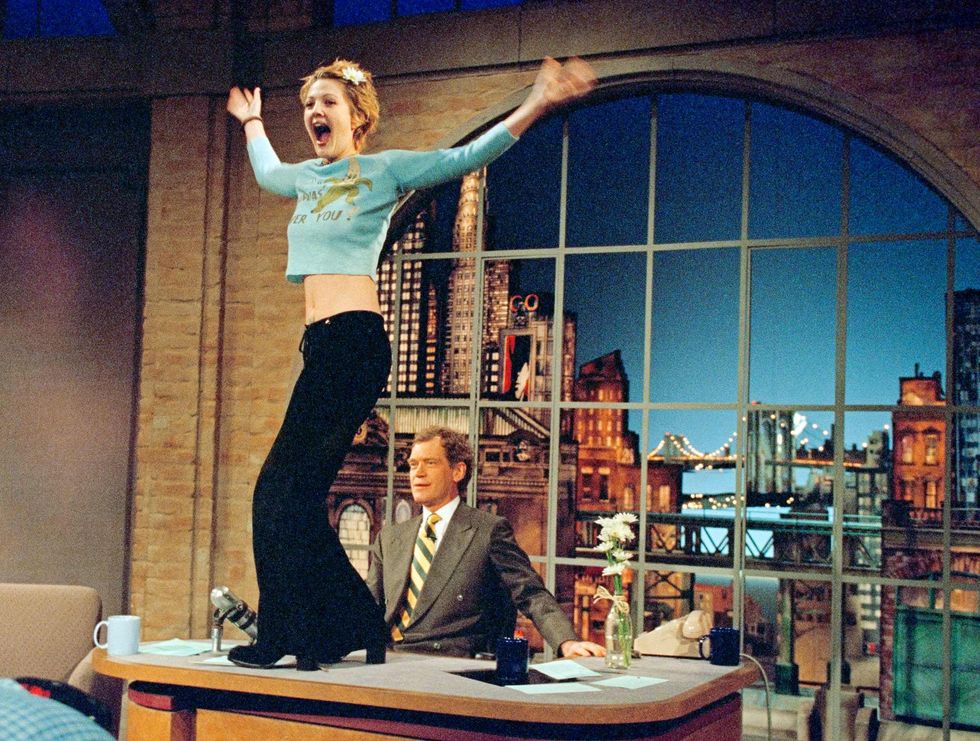 Drew Barrymore's wild night with David Letterman (1995).
Photo Credit: CBS Photo Archive/Getty Images.
Like what?

She's a parenting mentor for me. She's all about leading by example. She recently told Oprah this story about taking her son to college in the heat of summertime and stopping to give a traffic cop a bottle of water. In a tiny moment like that, you're teaching your kid what kind of person to be. I also love the fact that she chooses kids and family over work a lot of the time, and I've done the same thing. Seeing her make those choices makes me feel like I have my priorities in the right place.
What would you say you're learning from your daughters?
How to stay calmer, how to be present, how unbelievably big your heart can grow. I didn't have a great blueprint of traditional parenting. I would be a jackass and hang out with jack-asses, but those jackasses weren't who I imprinted on. I can't believe how my daughters convince me on a daily basis that I'm OK as I am and that liking myself is the best reward.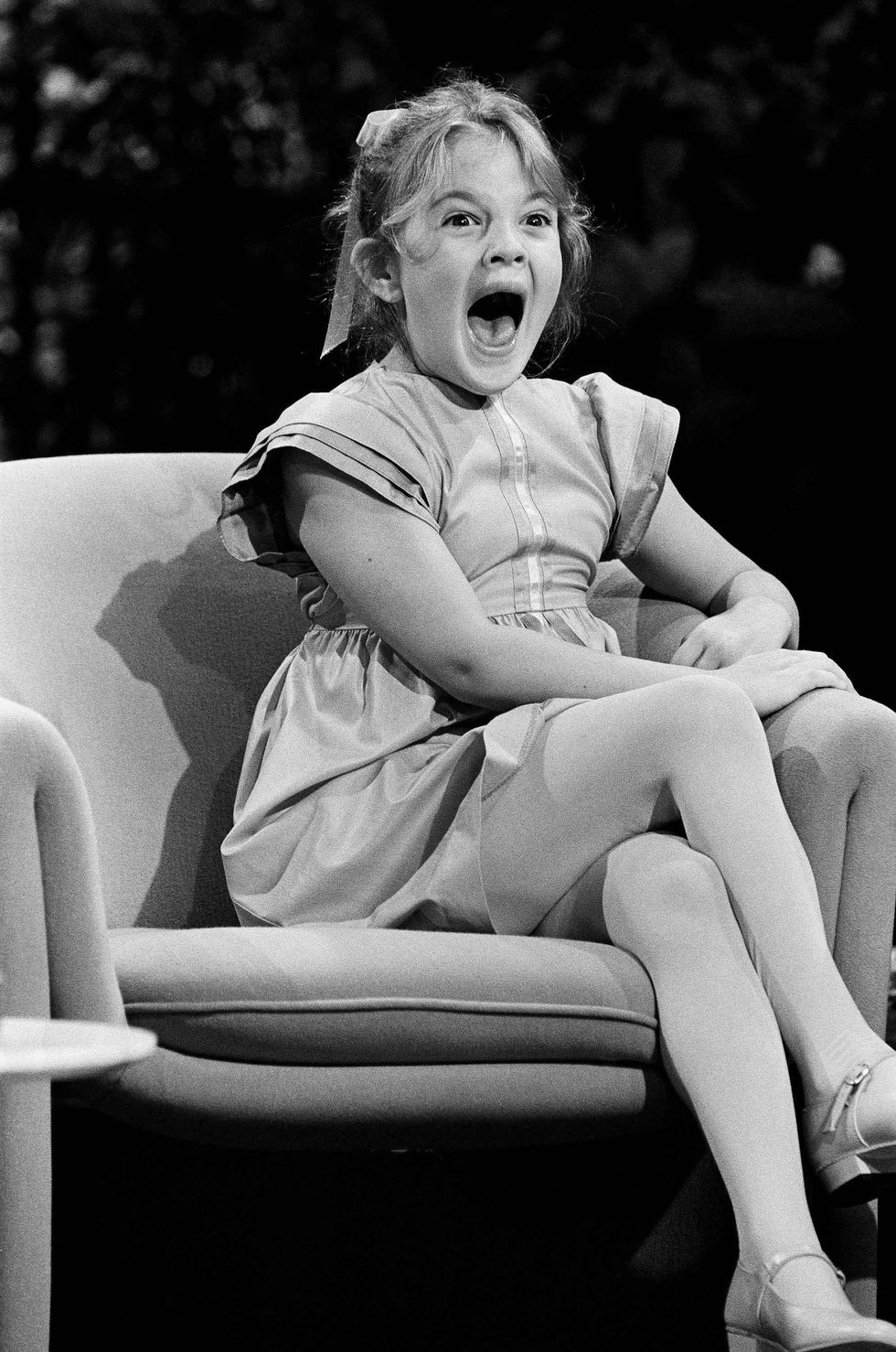 Young Barrymore shows host Johnny Carson her missing choppers (1982).
Photo Credit: NBC Universal/Getty Images.
After being on all day at work, how do you shut things down and relax?

That's tricky sometimes. There are definitely some nights and weekends when we have to button up business. But the mom-to-work balance is going OK. I run home at the end of every day. Any free time I have is with the kids. Unfortunately, that means other things come off the table, like spending time with friends and get-ting alone time. But I'm happier cutting those things out. My only regular appointment with myself is working out. I get up every morning at 4:30 and run through different exercises with Katrina, my godsend of a trainer. I'm never going to be bikini-ready, but it feels so much better to do something healthy for your body, and it is the absolute key to my parental sanity.
I heard you say recently you'll never marry again. What if destiny comes walking through the door?
Nope. Never. Not a chance. I mean, I certainly am open to being swept off my feet and becoming the ultimate romantic. I'm happy to eat my words that way. But I will never get married again, I promise.
Getting back to the show, who would be your ultimate guests?
Well, I would have liked to have had my grandfather on [actor and early tabloid target John Barrymore]. I'd want to know, Why are our genetics so powerful? Why do I feel the pull of the court jester and the hedonist and not want to walk the straight line? I love what my family put out in the world, but I'm determined to get it more right in my lifetime than some of them were able to.
But if we're talking ultimate fantasies, oh, my God! Tom Cruise! I'd just want him to ride a motorcycle onto the CBS Broadcast Center roof and then drop down into the studio as his Tom Cruise rad self. A girl's gotta have dreams, right?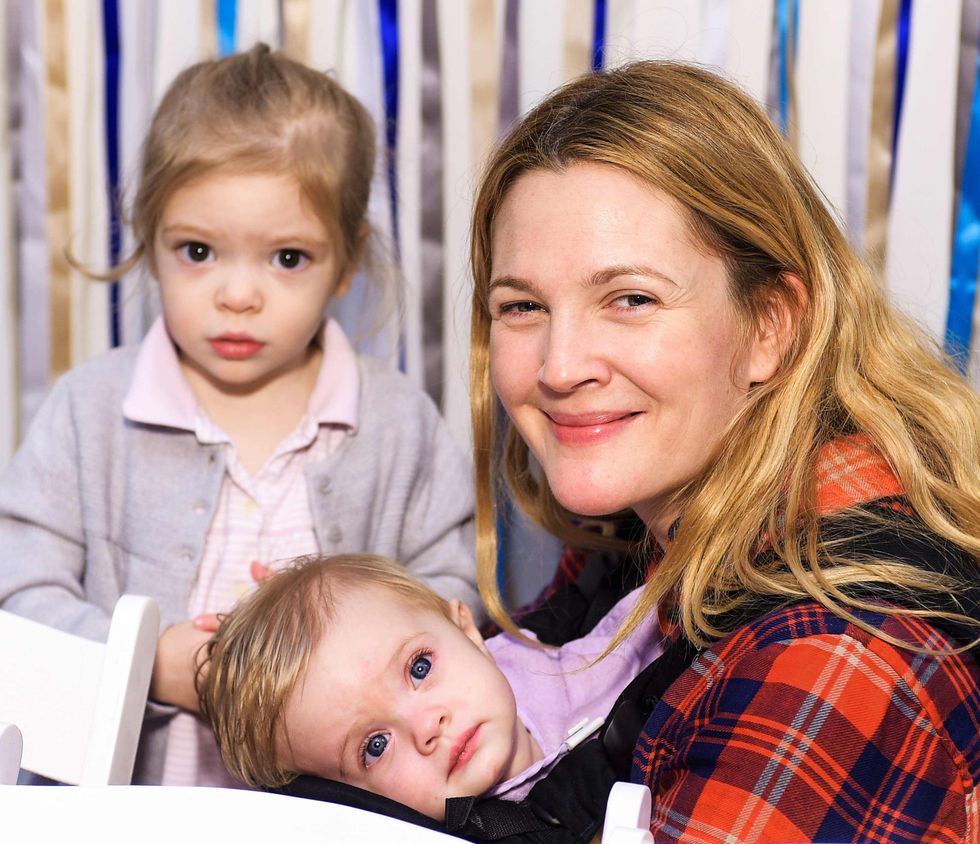 Drew Barrymore with daughters Olive and Frankie.
Photo Credit: Stephanie Keenan/Getty Images.
DREW'S HOLIDAY TIP
For me, anything goes on the holidays. We do a big Thanksgiving, but Christmas is whatever we feel like doing, even if it's just a few people. To be perfectly honest, I was never big on the holidays. I used to be by myself at Christmas. You'd find me reading, like, Rainer Maria Rilke poetry. Having my own family around at the holidays is new for me, so I've had to let go of the Grinch.
I'm still a bit of a Grinch, but now my heart is too big, so I do whatever I can just to enjoy the people around me and take in that love.
DREW'S GREATEST HITS
From starring in iconic films to delivering a Golden Globe–winning performance, Barrymore has done it all.
E.T. the Extra- Terrestrial,1982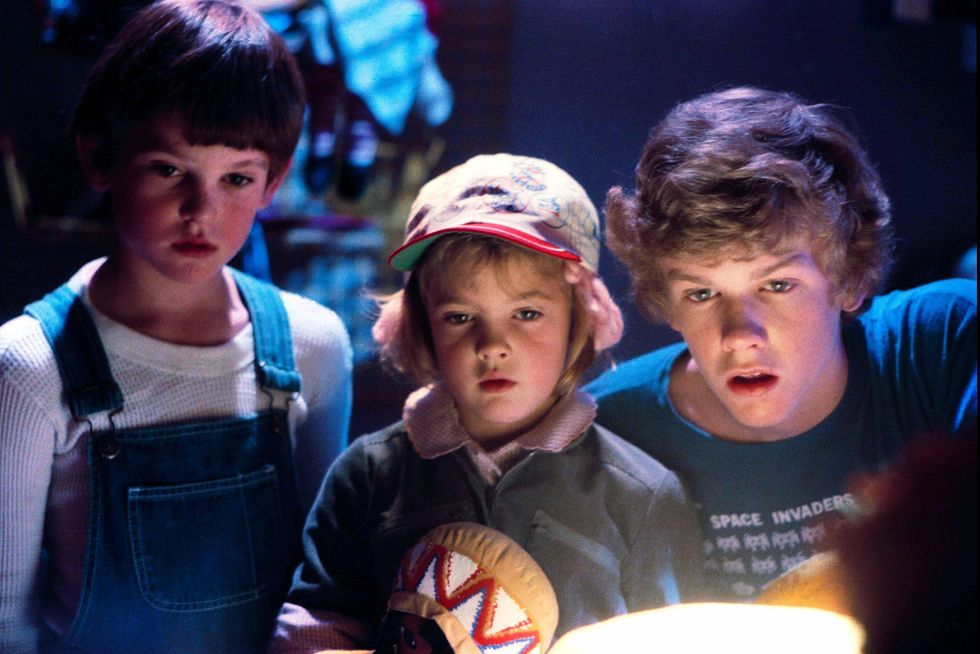 Photo Credit: Universal/Courtesy Everett Collection.
"The ultimate power of storytelling in a suburban setting. You can go to space and talk about time travel, but to make it relatable, you need kids riding bikes and backyards and the human experience. It's almost like a home movie, it's such a part of my childhood."
The Wedding Singer,1998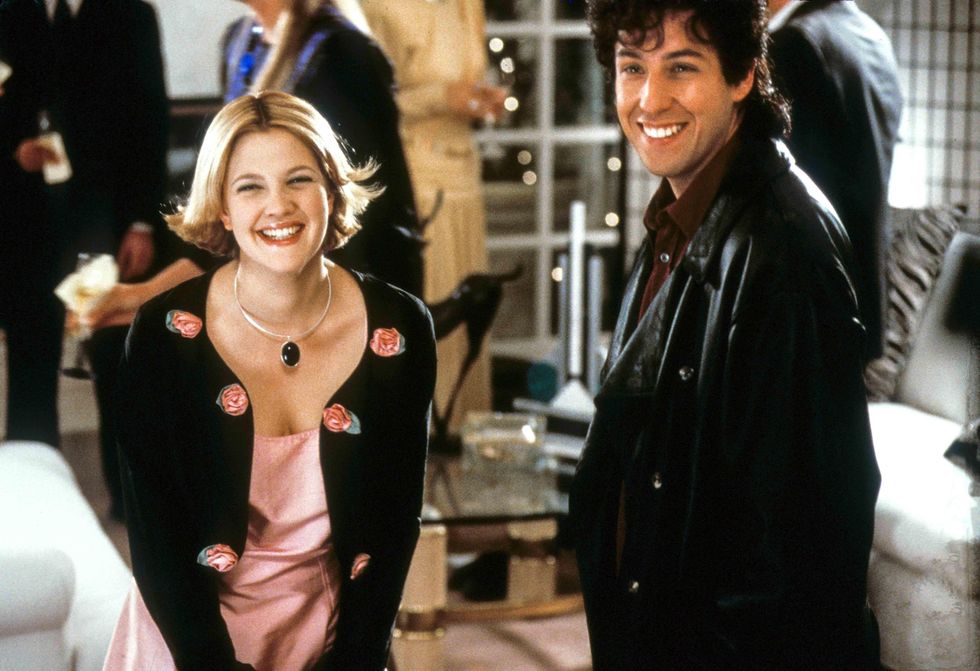 Photo Credit: New Line Cinema/Everett Collection.
"A romantic comedy when romantic comedies ruled the box office. It sent me on a trajectory of romantic movies that became a big part of my life for the next 10 years. It's not a genre that really works the same way now. We're in a time where you have to be a giant franchise, a tent pole. I'm so glad I got to make these movies at a time when people wanted to see them on dates on Saturday night."
Charlie's Angels, 2000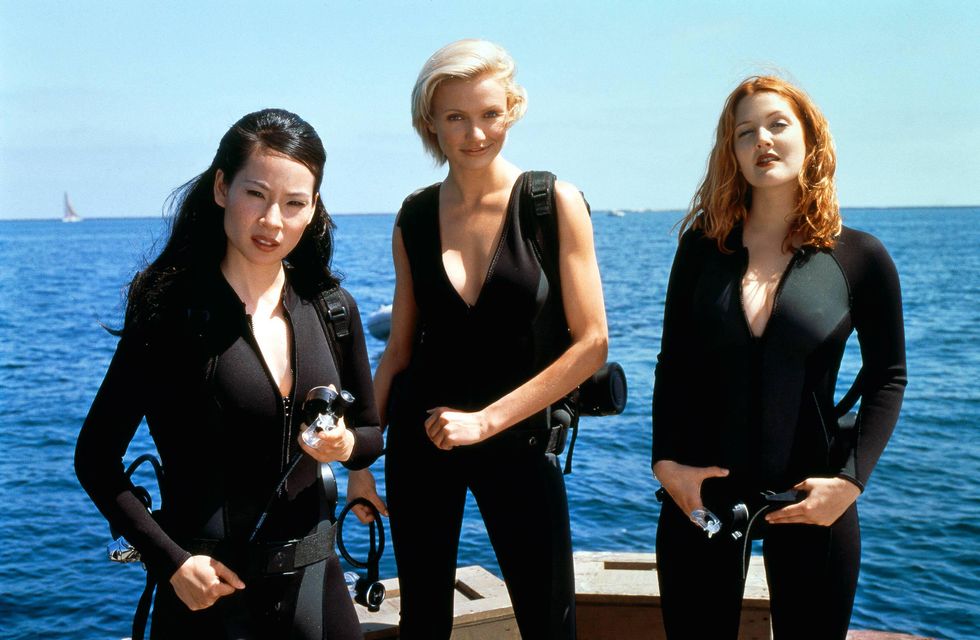 Photo Credit: Columbia Pictures/Courtesy Everett Collection.
"I wanted to be able to see girls do what boys do without having to bend themselves. We got to be silly and serious without having to compartmentalize. The cliché is that women can't get along on a movie like that. But the support we've given each other has lasted for over 20 years, and these powerful female friendships have been some of the most formative experiences I've had."
Grey Gardens, 2009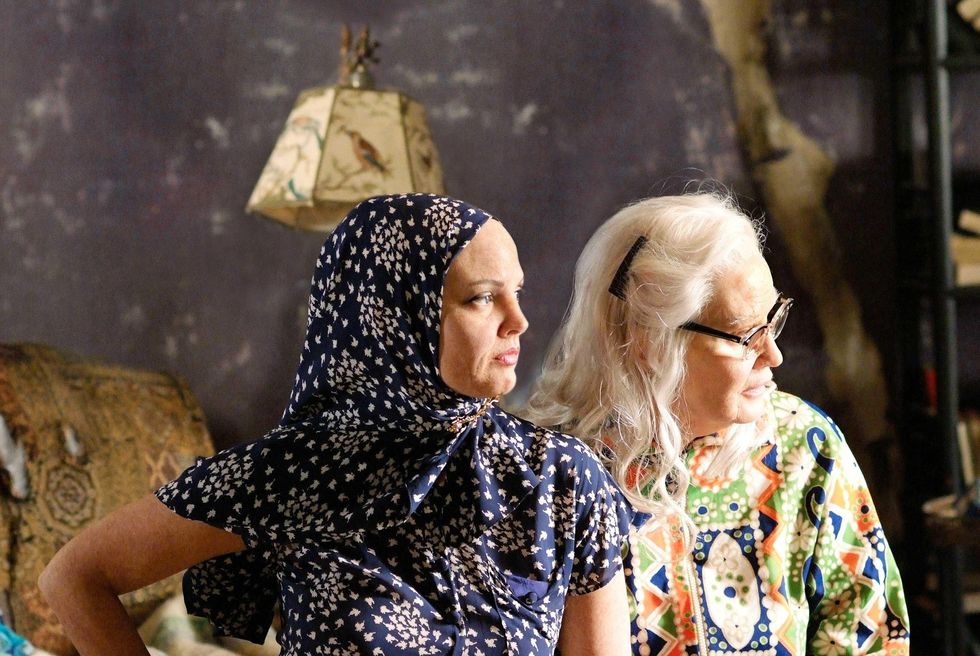 Photo Credit: HBO/Courtesy Everett Collection.
"Doing this TV movie scared the crap out of me. It was so different and so challenging that I basically immersed myself like a crazy monk to do my homework and get it right. I didn't speak to anyone for months. I was all about creativity and nailing it. Once I buttoned it up, I felt like I was flying free."
Santa Clarita Diet, 2017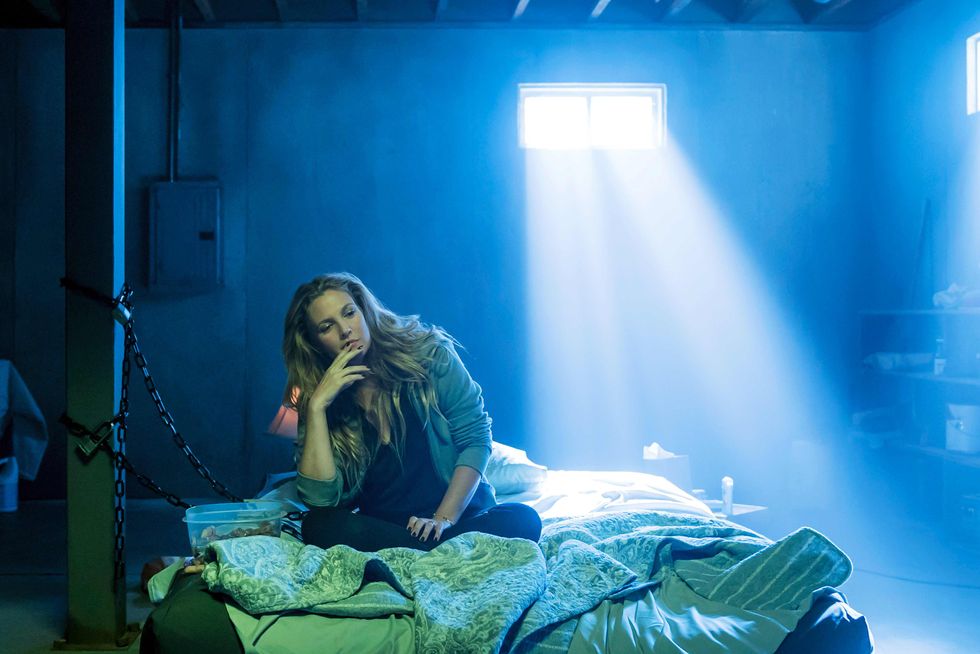 Photo Credit: Netflix/Courtesy Everett Collection.
"My kids were very young and, going into it, I worried I'd maybe lost some of my skill set. But it was such an amazing project; it kindled a fire I'd forgotten I had. It was the most electric, delicious, juicy, funny, weird comedy character I've ever played, and I ate it up, almost literally."
Originally published in Watch Magazine, November-December 2020.
SEE MORE: Check Out The Latest Issue Of Watch Magazine—Available Now!
The Drew Barrymore Show airs Weekdays on CBS. Check local listings.