Photography by David Needleman; Styled by Toye Adedipe.
How the Nigerian-born actress followed her passion—and became an indomitable sitcom star.
By Lisa Kennedy
During a video call with Folake Olowofoyeku —the Nigerian American star of the hit comedy Bob ❤️ Abishola—something subtle but unmistakable occurs. Although it's two days before her birthday, a cloud drifts over her face, blocking her smile—a gap-toothed wonder of an event that can take her from serious to incandescent in a heartbeat.
Four days earlier, protests against police brutality in Nigeria (hashtagged #EndSARS for the police force's rogue Special Anti-Robbery Squad) turned deadly, with soldiers firing on peaceful protesters at a well-known toll gate in Lagos. Although Olowofoyeku just marked her 17th year in the U.S., the news of the Lekki Toll Gate Massacre was more than distressing. And a flat-footed question about her childhood led to an impassioned tutorial in contemporary Nigerian politics. Her parents would be proud.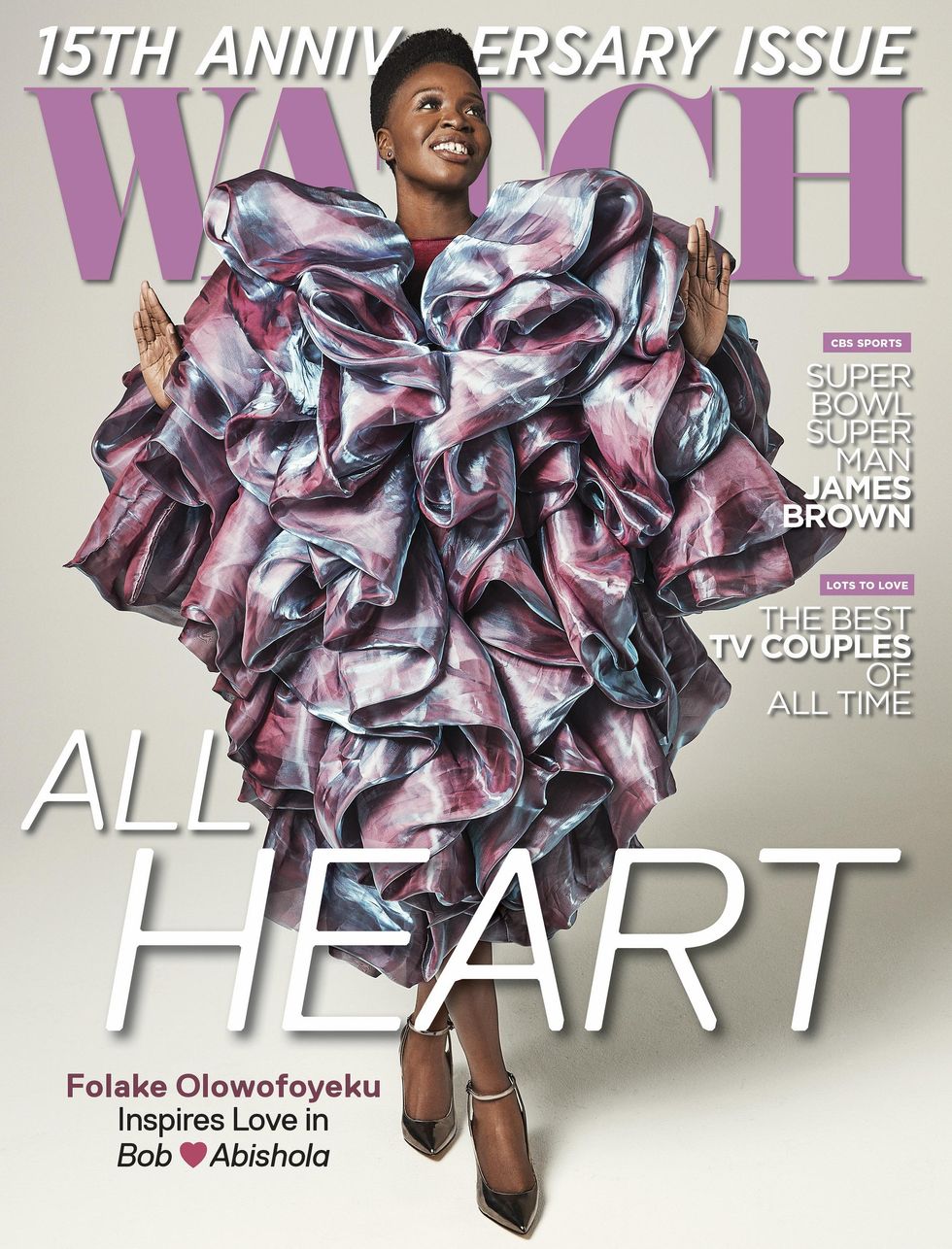 Puff gown by BCALLA. Shoes by Nine West.
Photography by David Needleman. Styled by Toye Adedipe.
SUBSCRIBE NOW: Enjoy 4 Digital Plus 2 Print/Digital Issues Of Watch Per Year— For Free!
Felicia and Babatunji Olowofoyeku (the latter a significant player in Nigeria's independence) named their baby girl after a woman of firsts: Folake Solanke, the African nation's first female senior advocate. And though the actor/musician veered away from the political ambitions her parents harbored for her, she, too, is a woman of firsts. One half of the romantic pair in Bob ❤️ Abishola, she brings gravity, grace, and a sly smile to the first American TV show to spotlight a Nigerian family.
Olowofoyeku pulled a fast one nearly two decades ago when, as an 18-year-old, she visited New York City and found a way to stick around: enrolling at the City College of New York, feigning interest in economics and law on calls back home when in reality she was diving deeply into theater and music.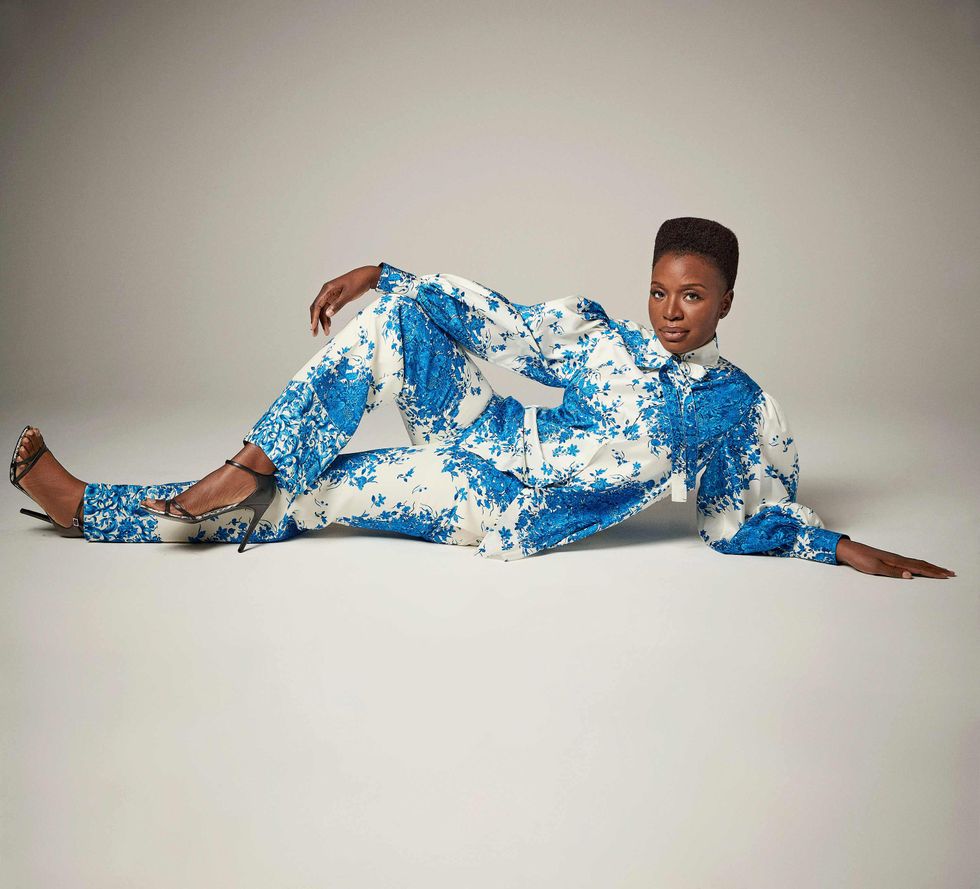 Top and pants by Valentino. Shoes by Nine West.
Photography by David Needleman. Styled by Toye Adedipe.
She did off-Broadway theater, had turns in television (Westworld and Transparent), and rocked the bass in two David Bowie videos, but Abishola has been a grand leap. The single parent of a young son and thoughtful niece of two hilarious kin (Barry Shabaka Henley and Shola Adewusi as Uncle Tunde and Auntie Olu), Abishola works as a nurse in Detroit. Which is how she meets Bob. The impossibly endearing Billy Gardell portrays the harried compression-sock company scion. In last season's pilot, Bob's looney family and family-business stress found him rolled into an ER and awaking post-surgery to Abishola's lovely if stern visage. He was smitten. Abishola, well, not so fast.
Comedy hitmaker Chuck Lorre and co-creators Eddie Gorodetsky, Al Higgins, and Gina Yashere have delivered a valentine to the immigrant experience, to the clumsy cultural grappling and heartfelt embraces that make America so much more than the sum of its parts. In addition to writing , Yashere, a British Nigerian comedian, also plays Abishola's bestie, Kemi. Yashere's creative influence and Olowofoyeku's star turn give the show a warm yet ground-breaking feel. Olowofoyeku and Gardell's chemistry make it an "Audience Heart" pleasure.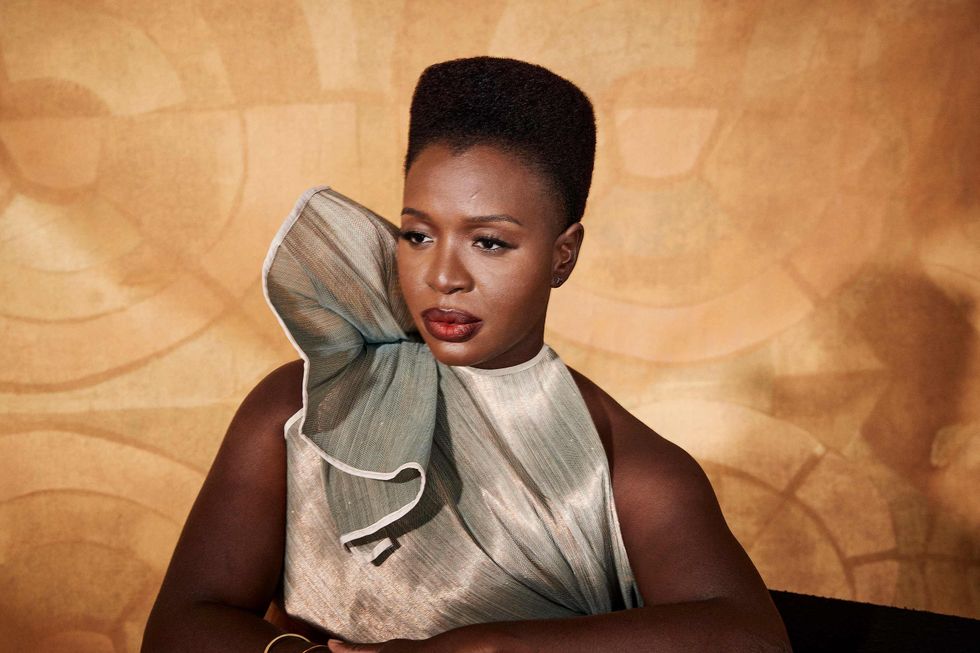 Top by Rajo Laurel. Bracelet by Timelapse Co.
Photography by David Needleman. Styled by Toye Adedipe.
"That's her! That's Abishola." That's how Chuck Lorre and Billy Gardell recall your audition. How do you remember it?
It's vivid. It was one of the easiest auditions I've ever experienced. I mean, there was a lot of work that went into it at home. It was very important for me that Abishola not be a caricature. I wanted her to be real and relatable, not just to Nigerians but also all immigrants as well, and, of course, Americans. So I put a lot of thought into that. But the actual process of meeting casting and meeting the producers, that was a breeze.
Do you feel you're carrying a lot of weight, being a Nigerian actress playing a major role on American television?
That part hasn't sunk in yet. [Laughs.] I don't feel a burden so much as a responsibility. Now the sitcom is showing in Nigeria. It started this year, so I'm getting a lot of fans trickling in from back home. Each fan feels like they know best how she should be portrayed. I don't know how much power they think I have. I'm able to offer suggestions—and it's a great dynamic—but at the end of the day, the final say doesn't rest with me. I go to work and remind myself I have to be present. I'm here to do my job: learning my lines, showing up on time.
There must be some satisfaction in the clarity of that—of doing the work.
I know that some would argue that more important than the work is social justice and what you're saying and your contribution to society as a whole and what sort of imagery you want to put out there, and I believe that very strongly. And there will come a time where I get my own project and I'll be able to fuse all my beliefs into it.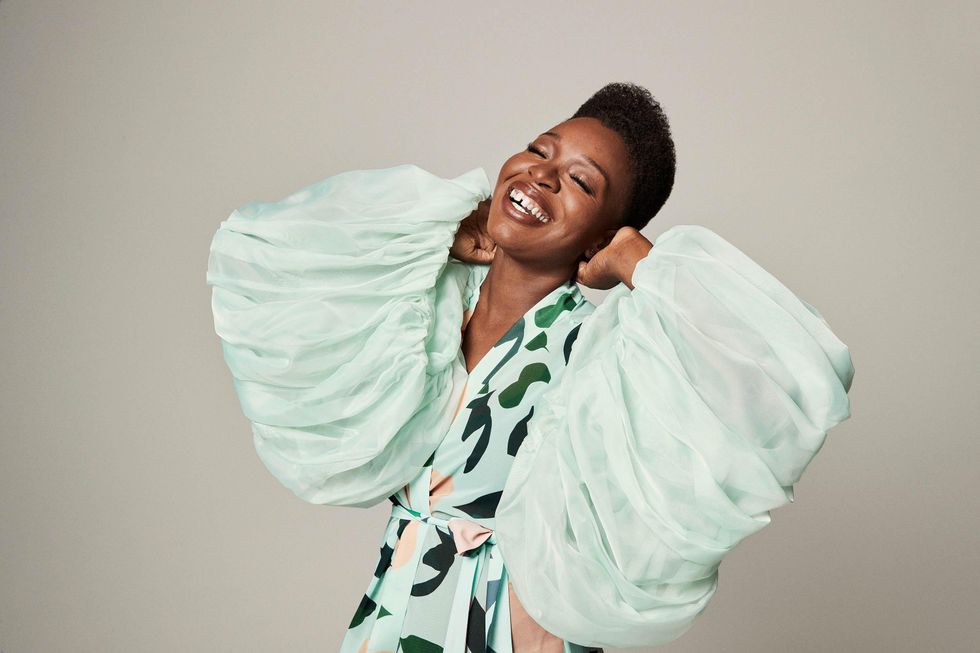 Dress by Fe Noel.
Photography by David Needleman. Styled by Toye Adedipe.
Billy Gardell used one word a lot in talking about the show before it premiered—"kind." It's a great word, and a great approach to other human beings. Is he that guy?
Yeah, he is. I'm trying to live up to him. He's my role model. He's very kind. Very forthcoming. I go to him for advice, just about managing it all. He's a funny guy, super comfortable. It's really easy. And everyone tells me that—how easy I have it working with Billy. One day we'd been doing publicity and I'd taken my shoes off in the car. When we got to the front of wherever we were about to go into—a restaurant in New York, I think—the valet kept on rushing us. And Billy got upset. He's like, " Wait! She needs to put on her shoes!" My agent at the time was blown away. He was like "Folake, this doesn't happen often." I can't imagine doing this with anybody else.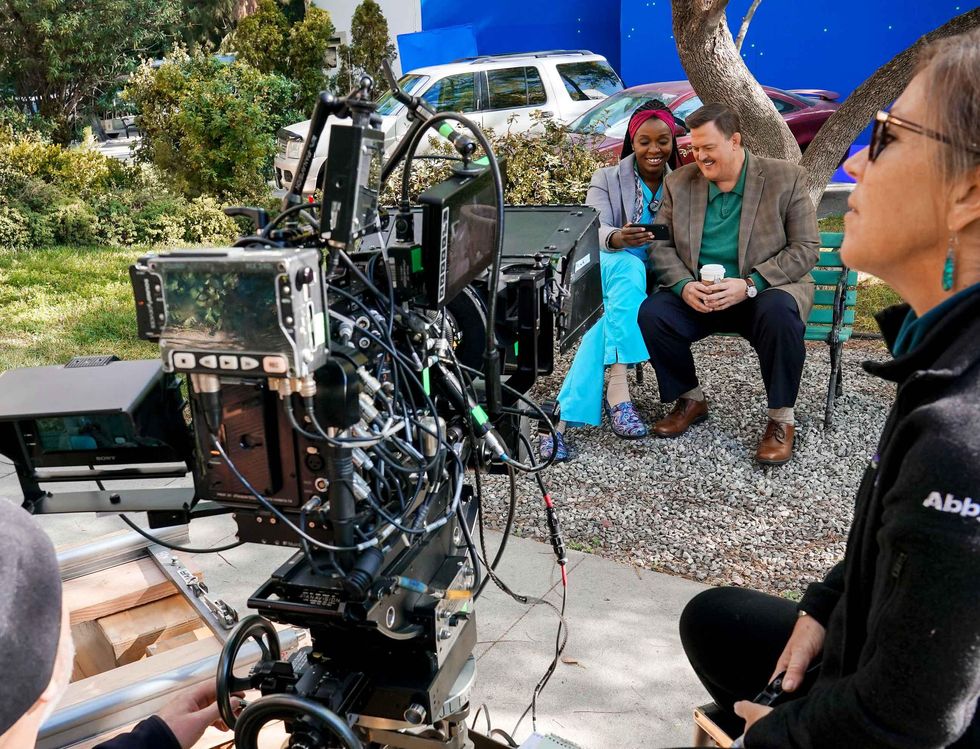 Folake Olowofoyeku as Abishola and Billy Gardell as Bob on the set of Bob ❤️ Abishola.
Photo Credit: Michael Yarish/CBS.
There's something very contained about Abishola, but she's not just the "straight man" to Bob's comedy. Was that your choice?
The writers do an amazing job. And Chuck. He's brilliant. He shows up and whatever isn't fine-tuned, he just [makes a gesture of waving a wand]. Magic. But it's interesting that you say that. Abishola is nothing like me. We're similar in some ways but vastly different in the way we present ourselves in the world. I created the choice for her to be kind of rigid. But I'm finding room to loosen her up. As Billy put it—and I've come to realize as well—Bob and Abishola are the straight men. The straight "folks"—to be politically correct—in this crazy world.

Do I have to spell "folks" with an "x"?
Why not? [Smiles.] The world is spinning around them, and they're like " What is going on? " They find each other in this tornado. It's love. It's this is my person.
Tell me a little bit about growing up in Nigeria. You left at 18.
Yeah. [Pauses.]
Hold on a second. Was that face because of what's going on right now?
Um hum.
So talk to me about that. Are people safe?
For now none of my family members are injured. Where the initial massacre occurred is where I grew up. Whenever I go there, that's where I am. And my family, they're all there. So my auntie, from her home, heard all the gunshots.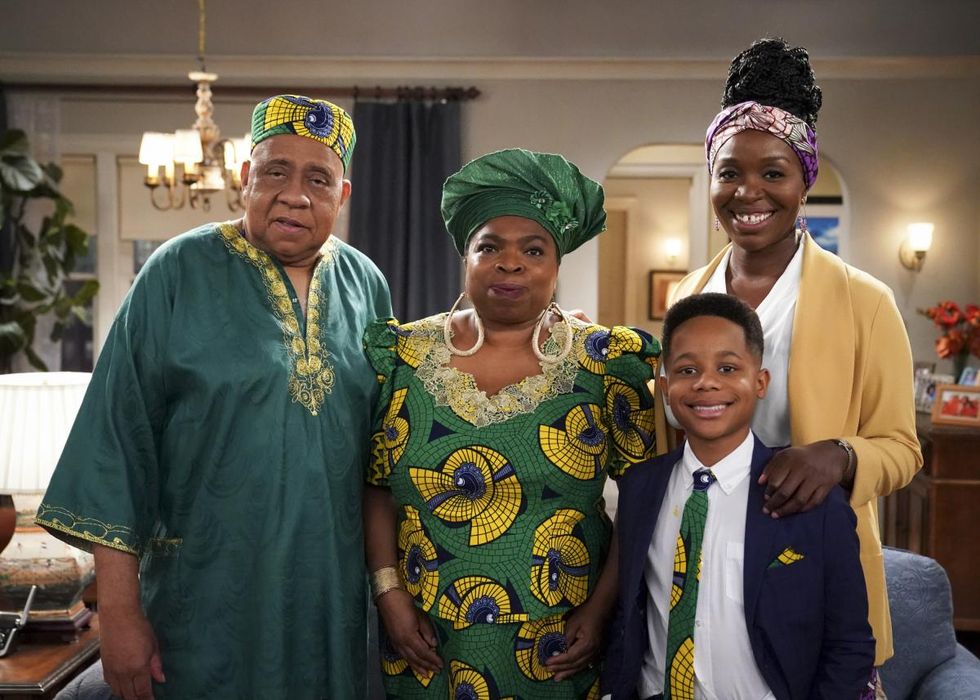 Pictured (L-R): Barry Shabaka Henley as Uncle Tunde, Shola Adewusi as Auntie Olu, Travis Wolfe, Jr. as Dele, and Folake Olowofoyeku as Abishola of Bob ❤️ Abishola.
Photo Credit: Michael Yarish/CBS.
This must weigh on you.
Yeah, peaceful protesters were just sitting down on the ground in front of the tollgate. You have to understand the history of the tollgate to understand that it is itself a symbol of oppression. That's why it was a significant point for people to go protest—protesting police brutality, protesting unemployment, and just all the crazy injustices that exist within the country. Apparently, it's escalated. So the #EndSARS protests were about that. The youth that are so often called "lazy" stood up and said, "No more." And they were gunned down.
What do you do with all that when someone's asking you about a show that's pretty effervescent—nuanced to be sure, but very different from the concerns you're carrying at this moment? Do you compartmentalize?
Well, I have to. What happened in Nigeria hit me hard. I was at work yesterday and—it was tough—I had to talk to everyone and tell them, " We're doing a show about Nigeria, and I think it's important that you know what's going on in Nigeria. I know I'm a little late today, but there's a lot going on in my world. I want you to understand, I'm not being an a—hole, I just need a minute to regroup and focus." So, yeah, I do have to compartmentalize. I guess we all do. I'm straddling so many experiences: the Black experience in America, the immigrant experience in America, the woman experience in America, the Nigerian experience in America. There are so many different worlds I feel I have to juggle.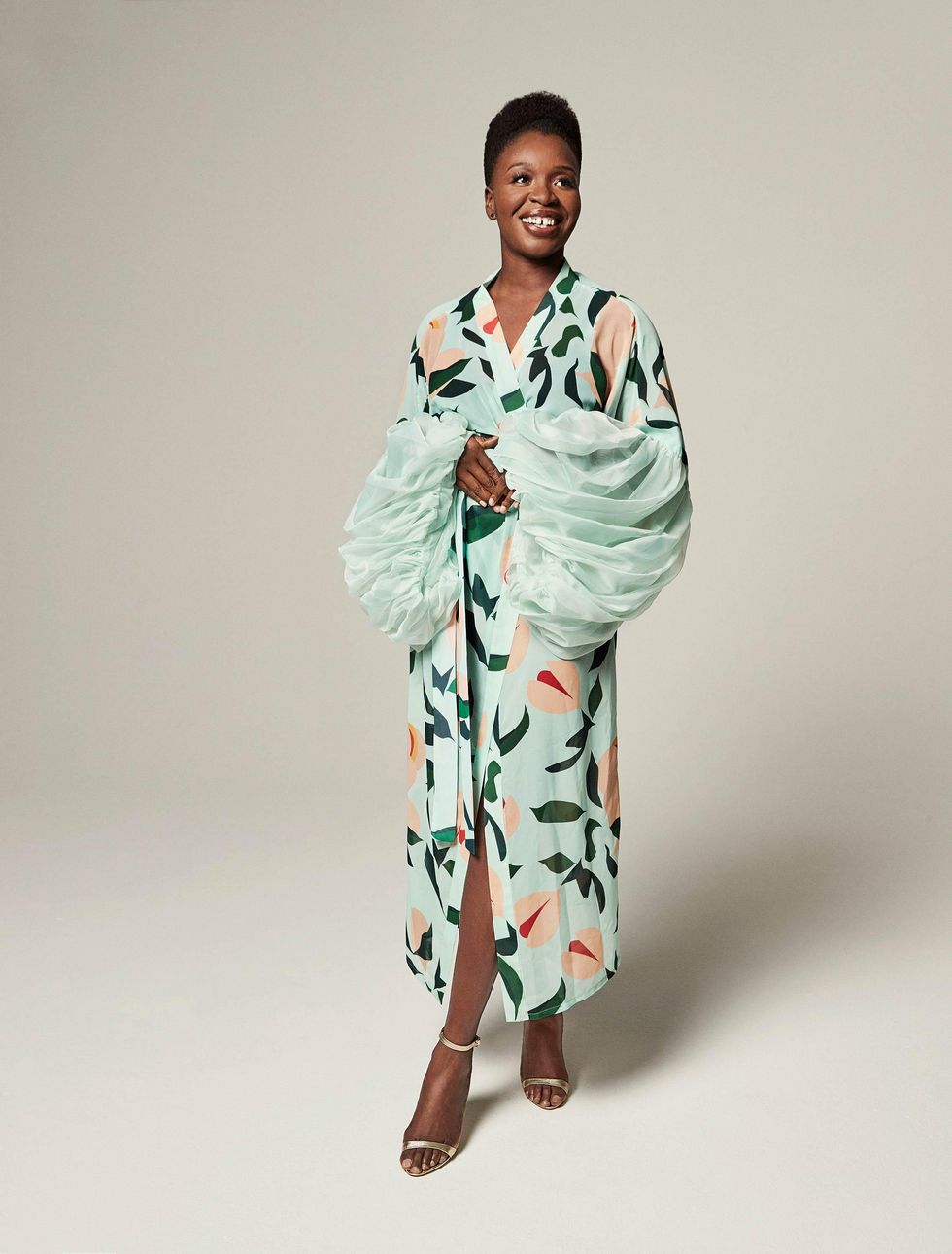 Dress by Fe Noel. Shoes by Imagine by Vince Camuto.
Photography by David Needleman. Styled by Toye Adedipe.
"Intersectional" isn't a great word, but as the concept of overlapping identities, it's pretty spot on.
I feel like I'm at all the intersections. But I'm up to it.
An interview show you were on last year displayed this blown-up photo of you as a baby in your mom's arms. Tell us about her.
My mom . . . gosh, I wish I knew her a little bit more. She was a strong woman, super strong. She was born in Lagos. Her family was from Akure. She grew up in Lagos, Lagos Island. Her name was Felicia. She dealt with a lot of things in the family, and then just being a woman in Nigeria. She was so funny and charming and goofy at times—especially when she left Nigeria and she could relax a little bit. She died of breast cancer.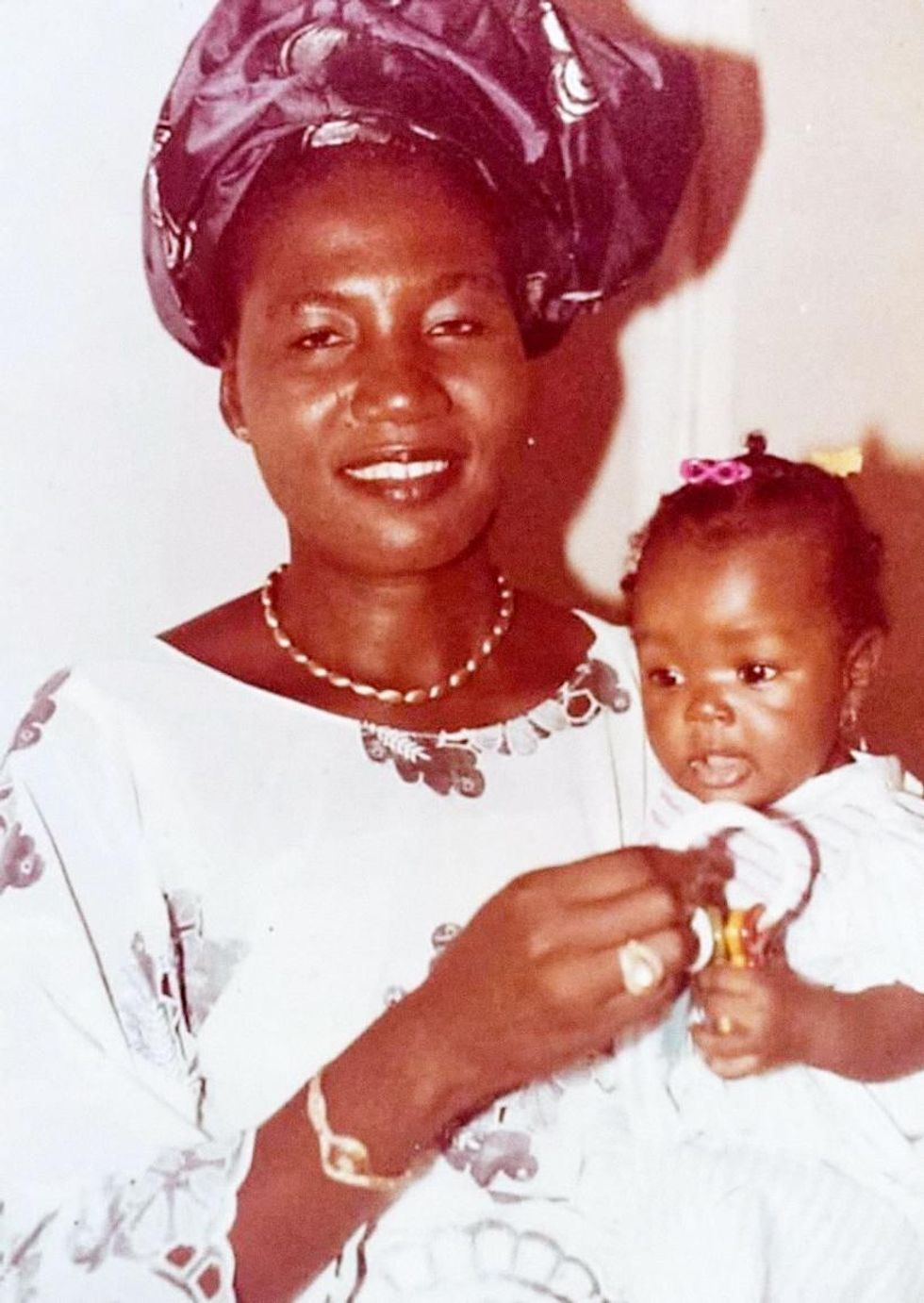 Folake with her mother.
Photo Credit: Courtesy of Folake Olowofoyeku.
How old was she when she passed?
I think she had just turned 60. She was very resourceful—resourceful and tenacious. I think I get that from her.
What's an example of your resourcefulness?
Well, I'm here.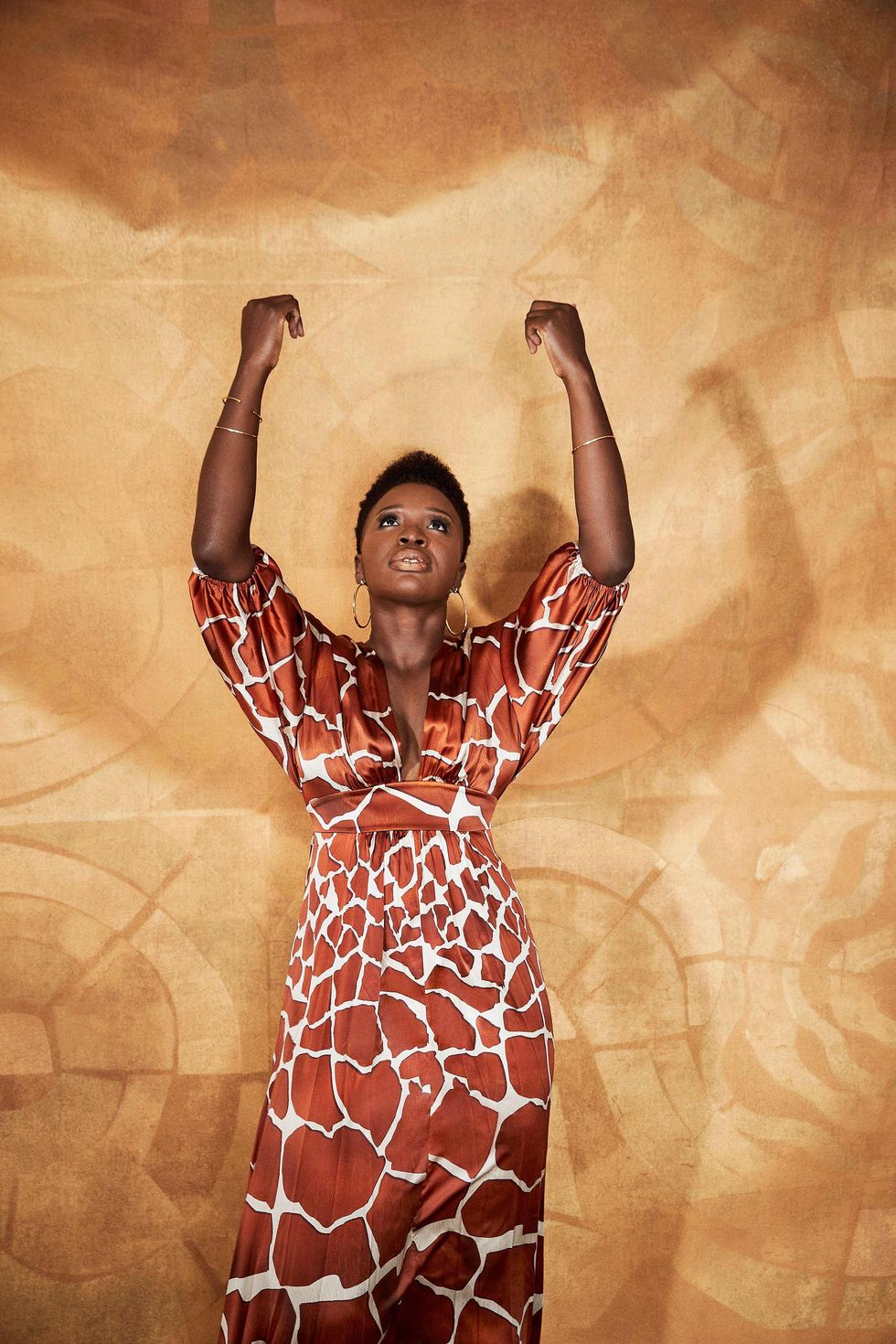 Dress by Retrofete. Earrings by Noa. Bracelets by Timelapse Co.
Photography by David Needleman. Styled by Toye Adedipe.
There is that.

I've been pretty much here on my own since I was 18. My parents didn't want me to be in the arts. They wanted me to follow my father. "Acting? Music? What the hell are you talking about? " The first time I visited New York was on my birthday in October 2001. I figured out a way to stay. And I found a way to say I was studying economics and then ended up in the theater department. Then eventually here.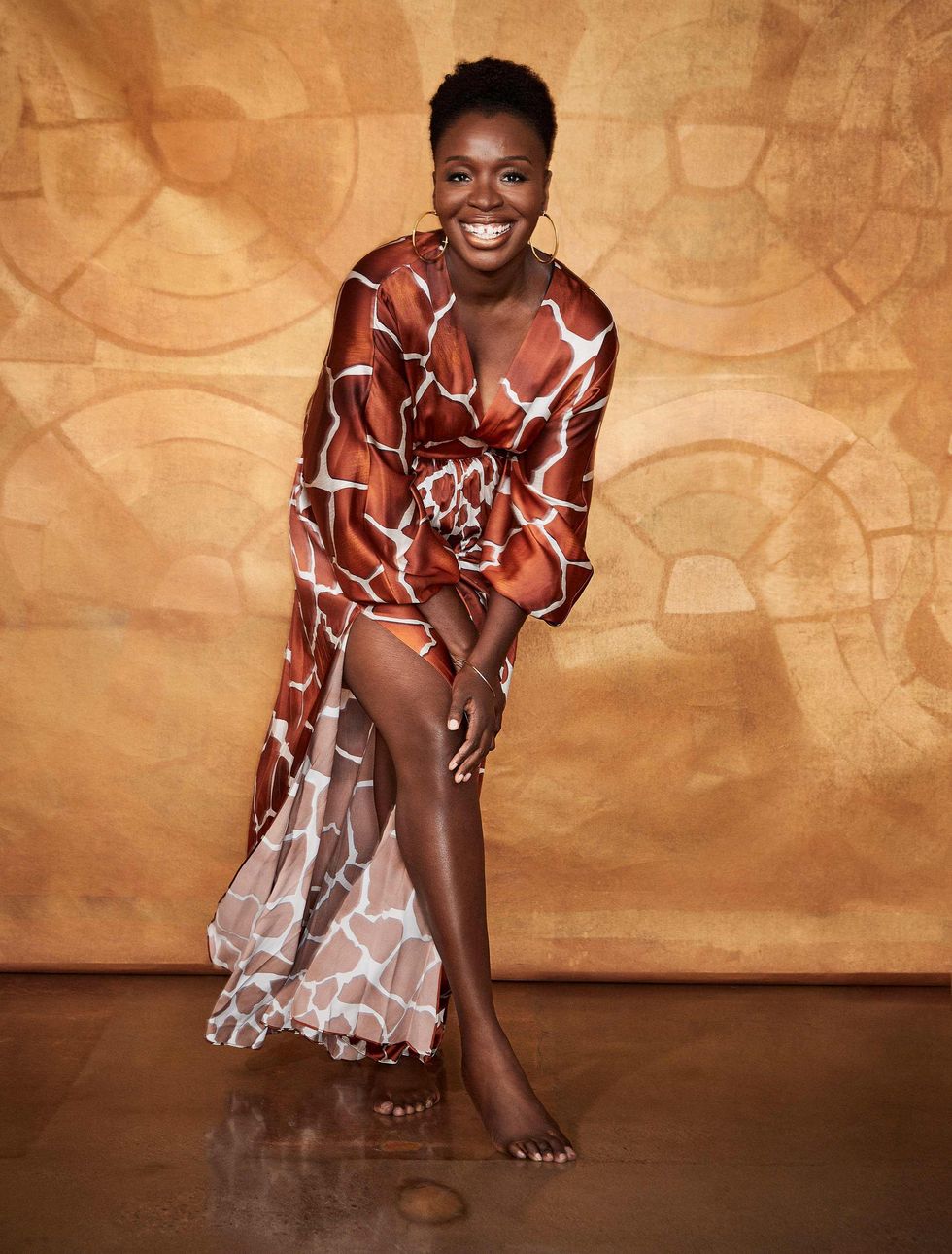 Dress by Retrofete. Earrings by Noa. Bracelets by Timelapse Co.
Photography by David Needleman. Styled by Toye Adedipe.
How long were you in New York?
This was 2001 to around 2012.
Music is a love, right?
That's my first love. Music's what I always wanted to do. My father played organ and classical piano. He taught all his kids. My lessons stopped when he was getting old and was ill. I was very young , probably like 6 or something. I would still dabble, trying to teach myself stuff.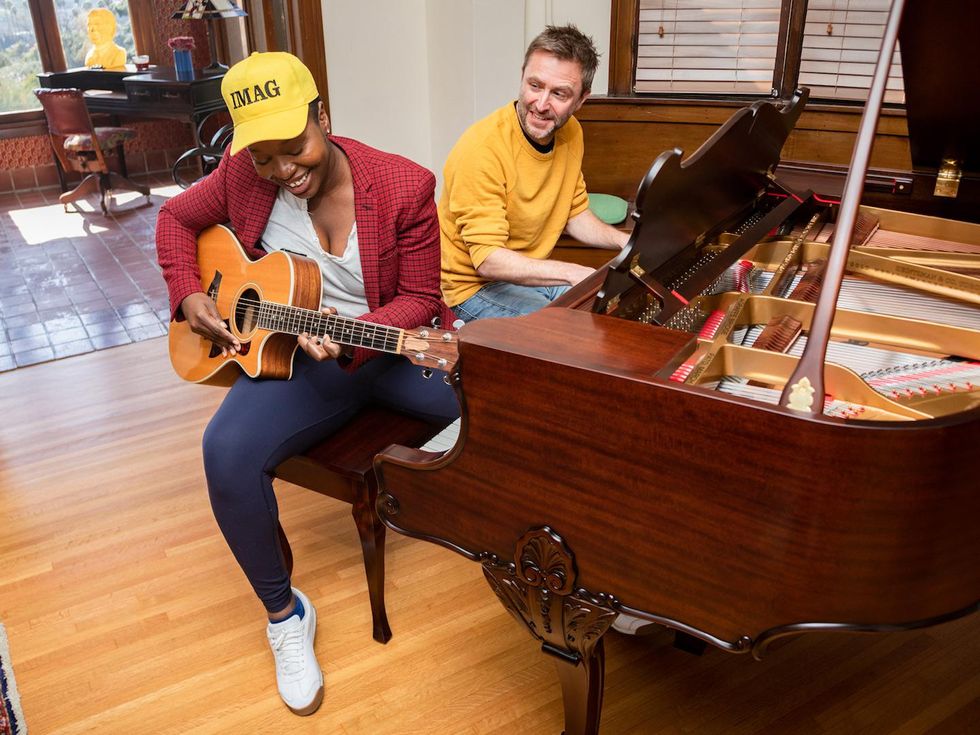 Folake Olowofoyeku with Chris Hardwick, recording for her appearance on his podcast.
Photo Credit: iD10t
But what I really, really wanted was to learn how to play the guitar. I was obsessed with Michael Jackson, and because of that I got introduced to Slash. I loved his melodies. I used to beg my mom for guitar lessons. It was always a "No!"
This guy at church, I got him to show me some stuff on the bass. That was right before I left to come to America. When I got to America, I bought an acoustic guitar. The first thing I taught myself to play was the first guitar solo from Guns N' Roses' first album.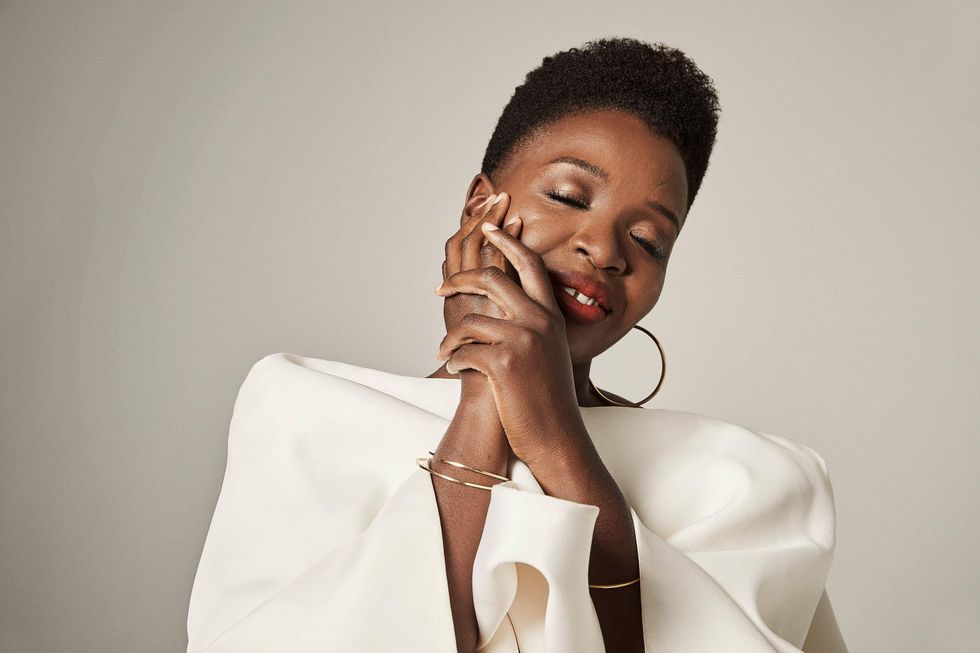 Top by Antonio Grimaldi. Earrings by Noa. Bracelets by Timelapse Co.
Photography by David Needleman. Styled by Toye Adedipe.
At some point won't they write music into the show for Abishola? It'll be this great reveal.
We talk about that. One of the songs I sing in the shower in the show, me and my writing partner actually did that together.
What are your ambitions for this show? By the way, congratulations. Bob and Abishola are getting engaged.
I'd love us to shoot a couple of episodes in Nigeria. Because a Nigerian wedding is quite a thing. It goes on for over a week sometimes. We have the traditional wedding that could be one episode. We have the white wedding that could be another episode. It would be so magical. I pitched the idea, so it's out in the universe. I'd love to see that. I think I can go for eight or 10 seasons. I'm down to do that. I think Billy's down for that, too. I'm ready to do this for a while.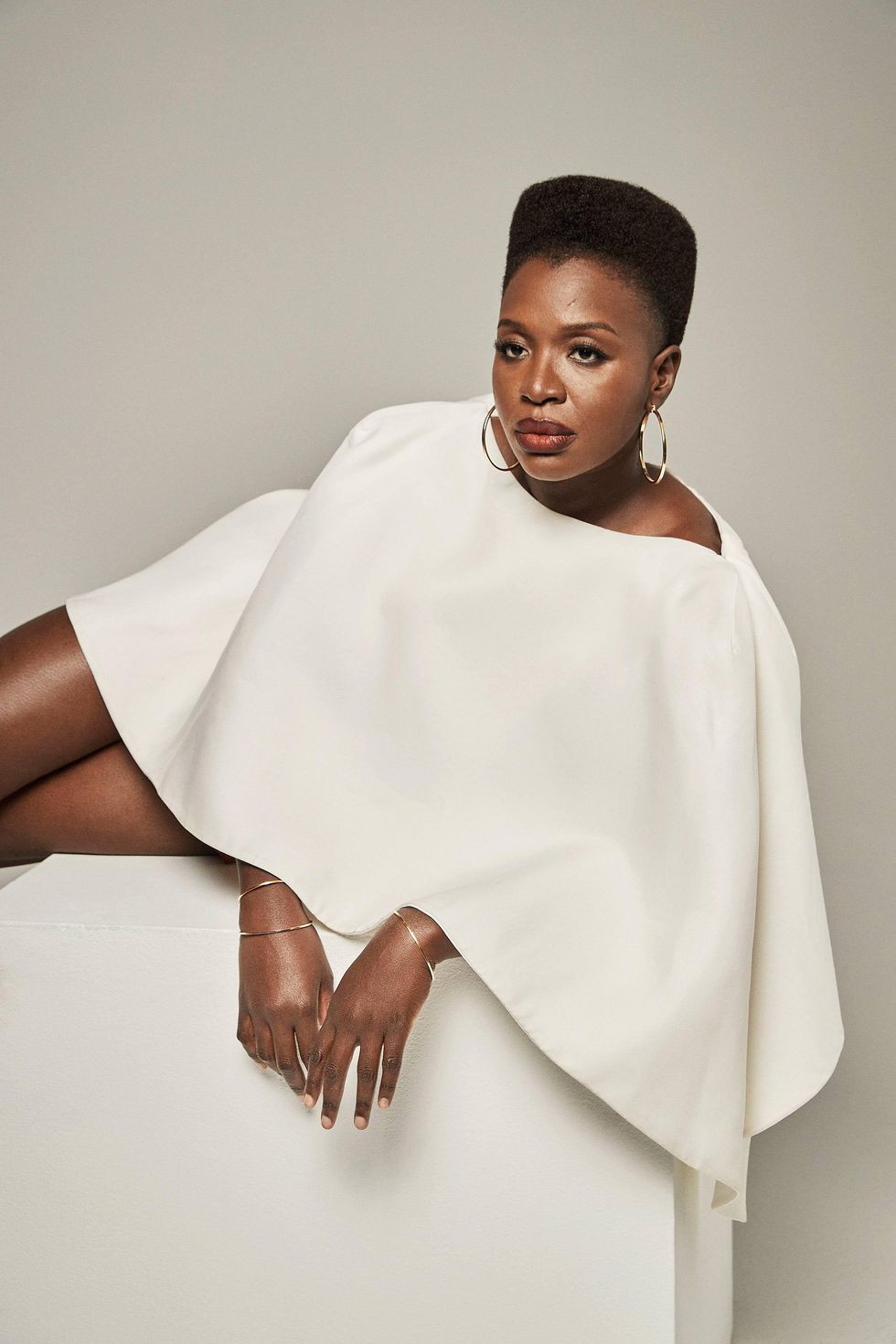 Top by Antonio Grimaldi. Earrings by Noa. Bracelets by Timelapse Co.
Photography by David Needleman. Styled by Toye Adedipe.
HAIR: Zion Illiwood | MAKE-UP: Samuel Paul

Originally published in Watch Magazine, January-February 2021.
SUBSCRIBE NOW: Enjoy 4 Digital Plus 2 Print/Digital Issues Of Watch Per Year— For Free!
Bob ❤️ Abishola airs Mondays at 8:30/7:30c on CBS and streams on Paramount+.