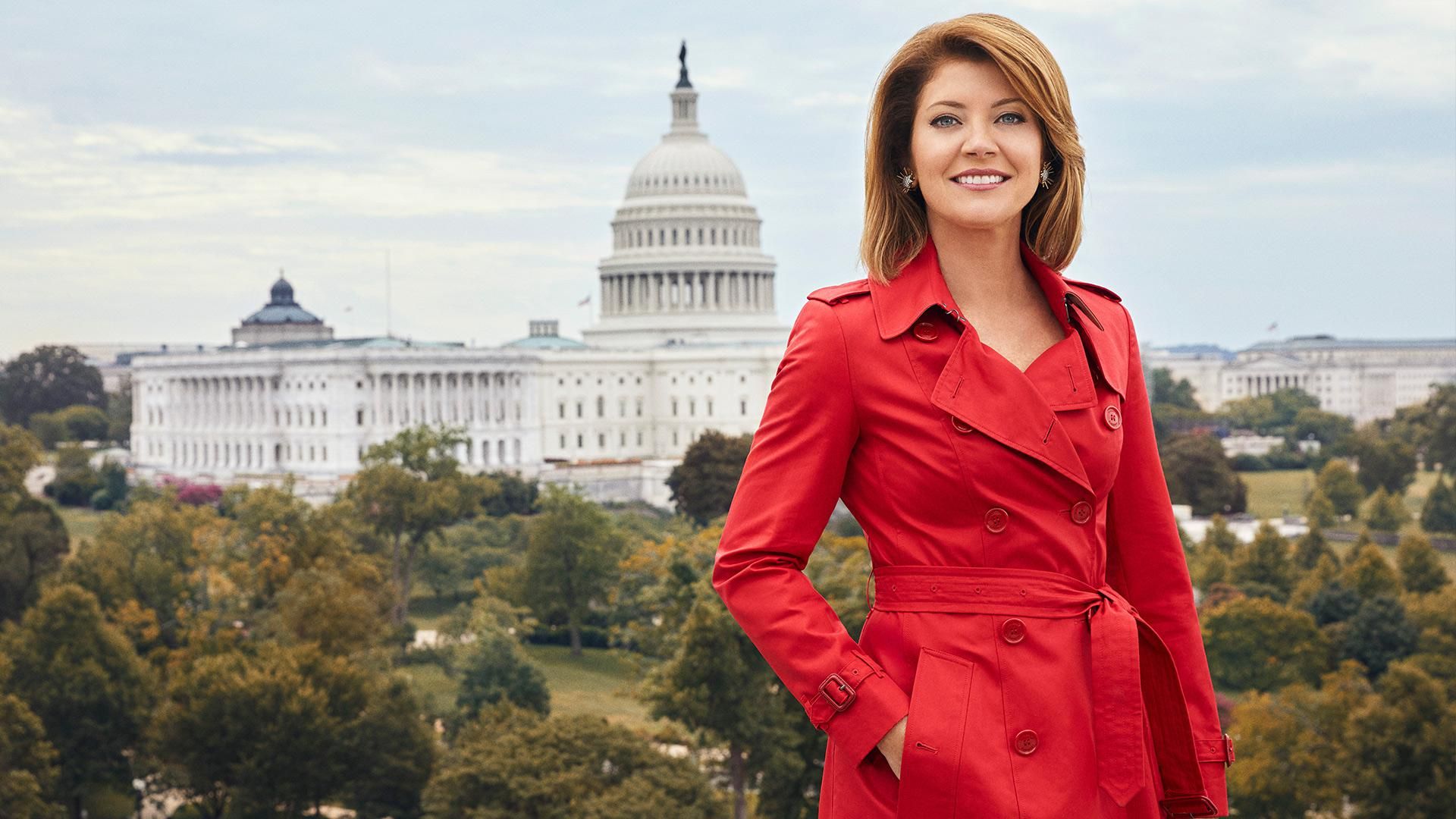 Photography by Sami Drasin.
Anchor and managing editor Norah O'Donnell takes CBS Evening News to the nation's capital in this exclusive interview.
By Melina Bellows
Tell me something I don't know," says Norah O'Donnell. She's not being challenging, but instead stating what the audience should expect from her each evening as the CBS Evening News anchor. It's the dream job for someone whose personal mission is to satisfy her own relentless curiosity by getting the facts, and getting them right.

Sitting behind her desk in her New York office at CBS News, O'Donnell projects authority, dressed in a vivid purple sheath dress, her hair and makeup camera-ready. As anyone who meets her can attest, the former anchor of CBS This Morning is also incredibly warm. She's generous with full body hugs and has a contagious, husky laugh. But it's O'Donnell's intellectual rigor and inquisitiveness that define her.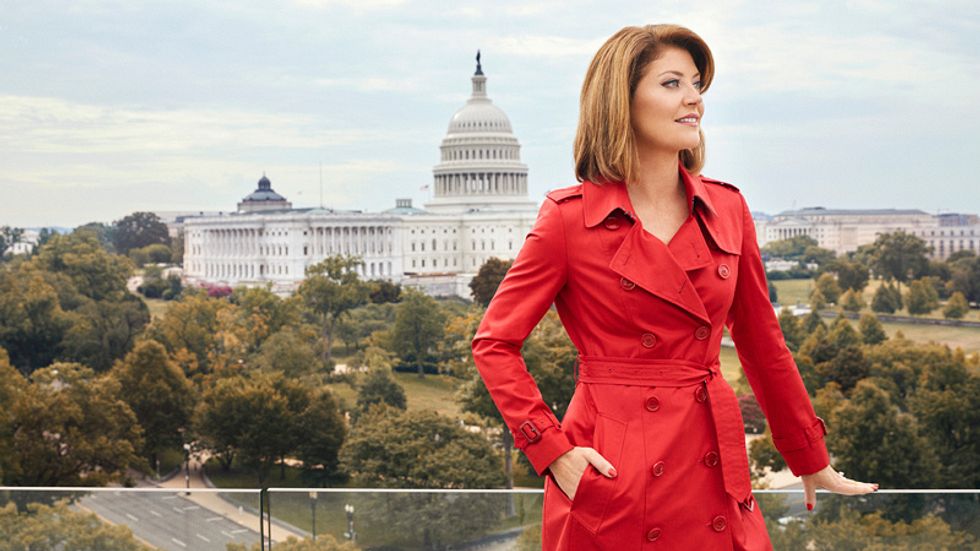 Jacket by Burberry. Jewelry, O'Donnell's own.
Photography by Sami Drasin.
Her desk holds stacks of books, including In Search of Light by Edward R. Murrow and A Reporter's Life by Walter Cronkite, both CBS News legends, as well as The Mueller Report. There's also a coffee mug with an image of Ruth Bader Ginsburg and the phrase, "Women belong in all places where decisions are being made."

For O'Donnell, that place is Washington, D.C., where CBS Evening News will soon move to a new studio from New York. "America is the most powerful country in the world, and Washington's the most powerful city in the world," she explains. "And we believe that the best way to tell a story and understand what's happening is to get as close to it as we can."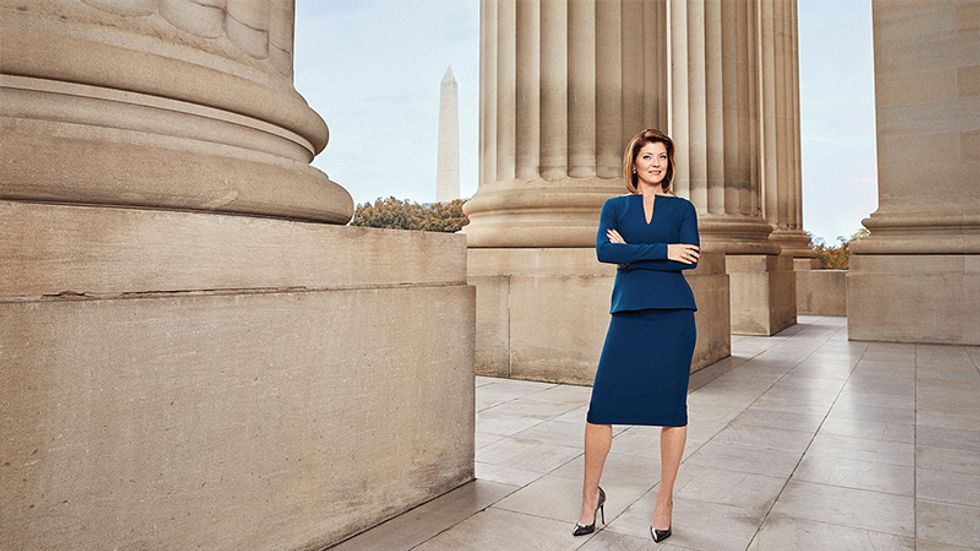 Dress by Safiyaa from Saks Fifth Avenue. Shoes and jewelry, O'Donnell's own.
Photography by Sami Drasin.
It will be a relatively easy transition. This month, she will relocate from Manhattan along with husband Geoff Tracy and their 12-year-old twins, Grace and Henry, and 11-year-old daughter, Riley. However, Tracy has owned restaurants in Washington since 2000. After two decades of the family's commuting, Norah O'Donnell is delighted to have one home base, and in the city where she was born.

A self-described military brat, the 45-year-old grew up in Texas, Germany, and South Korea before graduating from Georgetown University. She began her career as a beat reporter for a Capitol Hill newspaper and spent a decade at NBC covering the White House, the Pentagon, and Congress before making the move to CBS This Morning in 2012 and 60 Minutes in 2013. She has interviewed some of the world's most important leaders, including five of the last seven U.S. presidents, and won two Emmy Awards along the way.

Norah O'Donnell spoke with Watch about the upcoming Super Bowl of elections, the best advice she's ever been given, and why Justin Timberlake is a dream catch.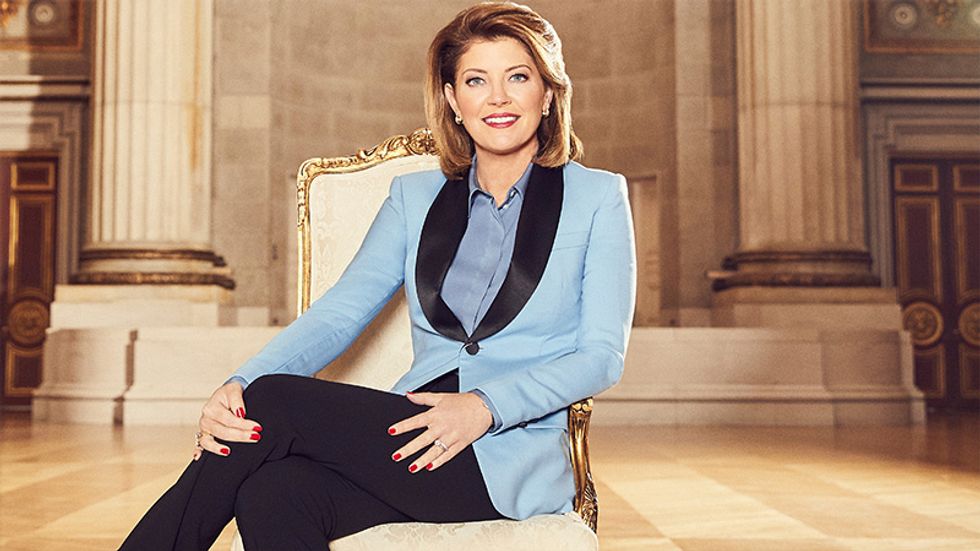 Tuxedo jacket by A.L.C. Blouse by Theory. Pants by Altuzarra. Shoes and jewelry, O'Donnell's own.
Photography by Sami Drasin.
You say you want viewers to learn something new every night from the show. Why is that so important to you?

I started my broadcast career at NBC, and I would run into Tim Russert [NBC's longest-running Meet the Press moderator, who died in 2008] in the hallways. He would always say, "What do you know?" It'd be 7:30 a.m. and I'd be sitting in the car outside the D.C. bureau, dialing up my sources in case I ran into Tim so I'd have something to say. Tim taught me that every day you have to bring value to the table.
What did other mentors teach you?

Ann Compton, who covered the White House for decades for ABC News, used to drive me home when I was an intern at the White House. She said, "You need to get a Rolodex, you need to keep everybody's phone number and information, and you need to reach out and ask for help." That was a lesson from day one, that your relationships matter. Andrea Mitchell [NBC News chief foreign affairs correspondent] told me, "You can actually succeed by outworking the competition." Hard work equals success. Bob Schieffer [CBS News' former chief Washington correspondent] was one of the most important mentors in my entire career. He took me under his wing and taught me the importance of being a great storyteller.

What's the secret to that?

Trust your instincts. That's ultimately the difference between a good reporter and a great reporter, or a good anchor and a great anchor. Use your skills, and add your instincts and your confidence.

How do you use your reporting skills as an anchor?

In my first job, as a reporter for Roll Call newspaper in Washington, I would take a pad, tape recorder, and my camera and go cover congressional districts. That close connection with sources is something that I use in this job, whether it's covering the Kennedy Space Center and reporting about Apollo 11, or being in McAllen, Texas, at the border, interviewing [then] acting secretary [Kevin] McAleenan and trying to bring understanding to the immigration issue.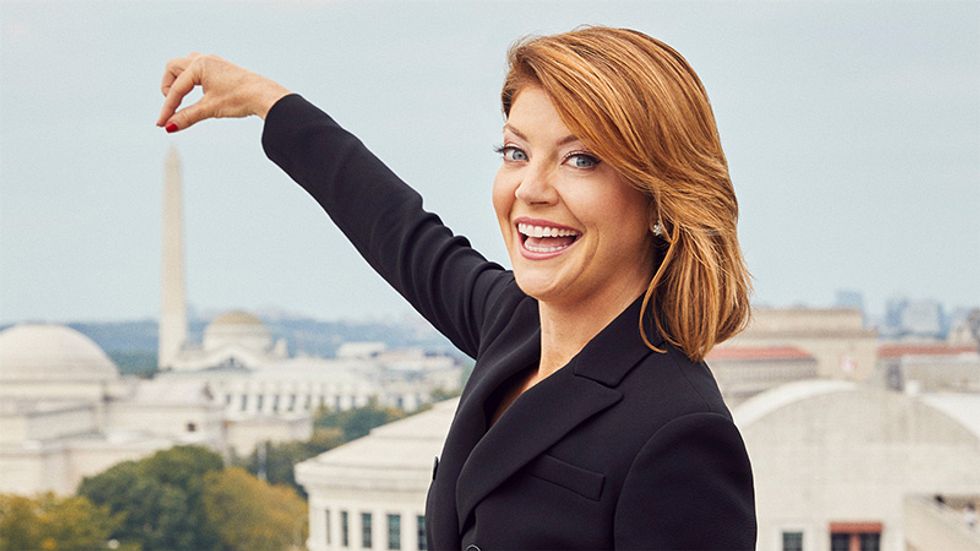 Suit by Altuzarra. Jewelry, O'Donnell's own.
Photography by Sami Drasin.
What do you see as your biggest professional strengths?
My reporting abilities. And the trust factor. I've worked my whole life to make sure that both Republicans and Democrats trust me, and that I'm going to give them a fair shake, whether it was Joe Biden's first big interview on 60 Minutes in 2016 when he decided not to run or Steve Scalise, the most conservative member of Congress, talking to me. And I'm the only person to do a long-form interview in America with Mohammed bin Salman of Saudi Arabia.
What makes you say, "That was well done"?

I'm incredibly hard on myself. A story has to meet two standards: It has to tell people something they don't know, and it has to foster understanding. I feel really good about the trip we took to McAllen, Texas. I was the first anchor to go inside these migrant detention facilities that have been at the heart of this debate. If people understand the complexity of an issue, it gives a better sense of who is to blame or what might be a potential solution.

How central is coverage of the 2020 election for you and the show?

This is going to be the Super Bowl of all presidential elections. It's certainly the most important one of my lifetime. We're focused on a unique Republican president and the Democrats trying to defeat him—and there's the new element of influence and potential manipulation of social media. We dealt with Russian interference in the 2016 and 2018 elections, but we now have the Chinese and the Iranians also trying to interfere. The Department of Homeland Security is on high alert to make sure that the 2020 presidential election is protected from foreign influence and that every vote counts. I don't think that's on everybody's radar yet.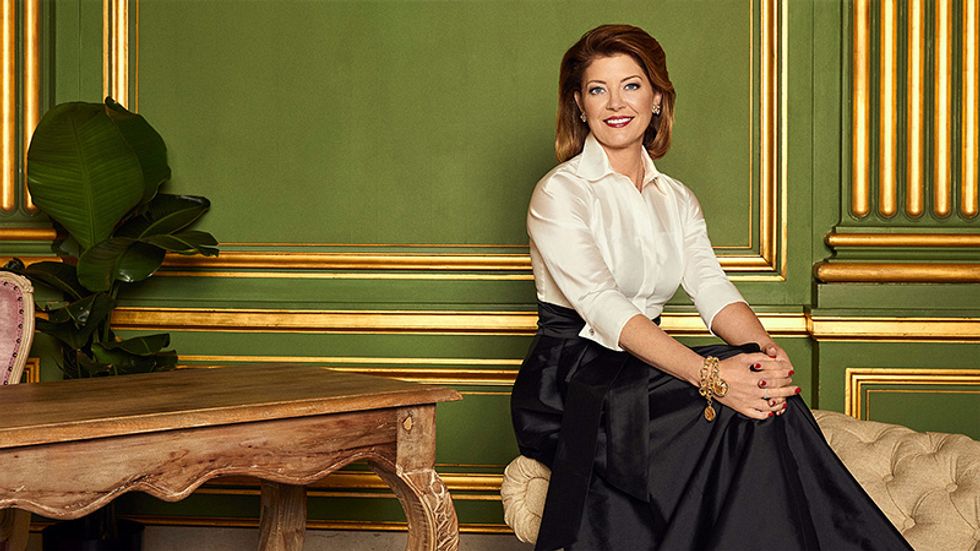 Gown by Teri Jon. Jewelry, O'Donnell's own.
Photography by Sami Drasin.
Given that most people now see the news on their devices throughout the day, how does that change the job of a nightly anchor?

What we have to do well is provide context, in-depth analysis, and clarity. We have to choose the most important stories to tell in a 30-minute broadcast. As Walter Cronkite said, "Journalism is what we need to make democracy work." I've never felt more strongly about that in my life, and I think that Americans are craving an independent source of news. There are plenty of channels for affirmation. We are a channel for information.
It should be noted that you're also having fun—you got to interview Prince Harry. What was that like?

Fascinating. I wanted to interview Prince Harry because he'd served overseas and in Afghanistan, but also because of all of the work he has done with the Invictus Games and helping veterans. When we got to the interview in Orlando, he was in jeans and a polo shirt. He said, "Hey, Norah, you're so dressed up." [Laughs.] And I said, "Well, that's because I'm interviewing a prince!" He was incredibly genuine and disarming.

Back to civilian life: Your husband owns several restaurants in D.C., but you were working and raising your children in New York. Now that you're all under one roof full time, who does the heavy lifting?

I have an incredibly supportive and organized husband who handles a lot of the logistics. We have these very complex spreadsheets that he does, showing where everybody is at any time. You can't succeed without a support system.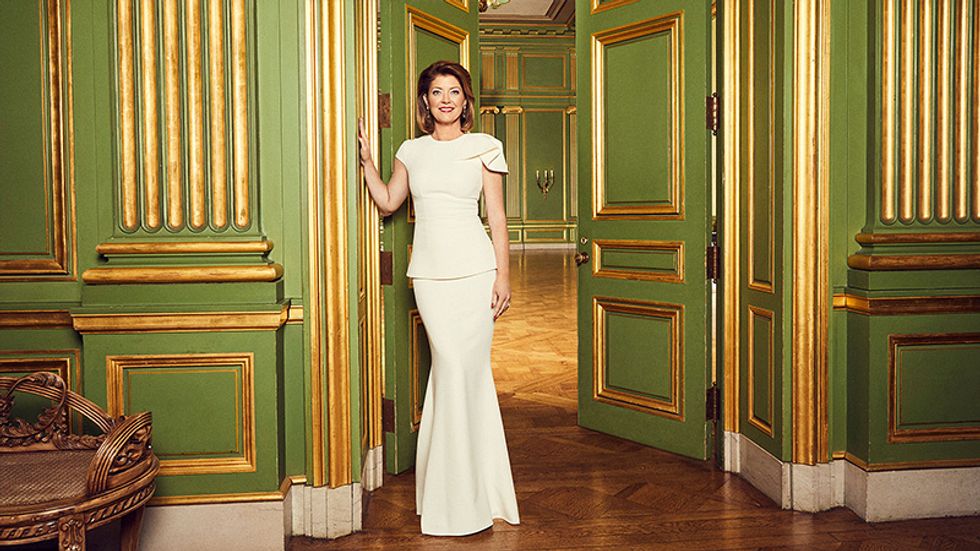 Gown by Safiyaa from Saks Fifth Avenue. Jewelry, O'Donnell's own.
Photography by Sami Drasin.

How do your kids feel about the move?

Now that I'm not doing a morning show, they're very excited to have breakfast with me. I took Grace to an orientation for her school, and she said, "I think this is the first time I've ever had both my parents take me to school." My husband got all emotional. It was really sweet.

How do you teach your children about what's happening in the world?

My kids are now preteens, and they get alerts on their phones so they know what's going on. We try to have very honest conversations with them, and also about the proper use of the telephone.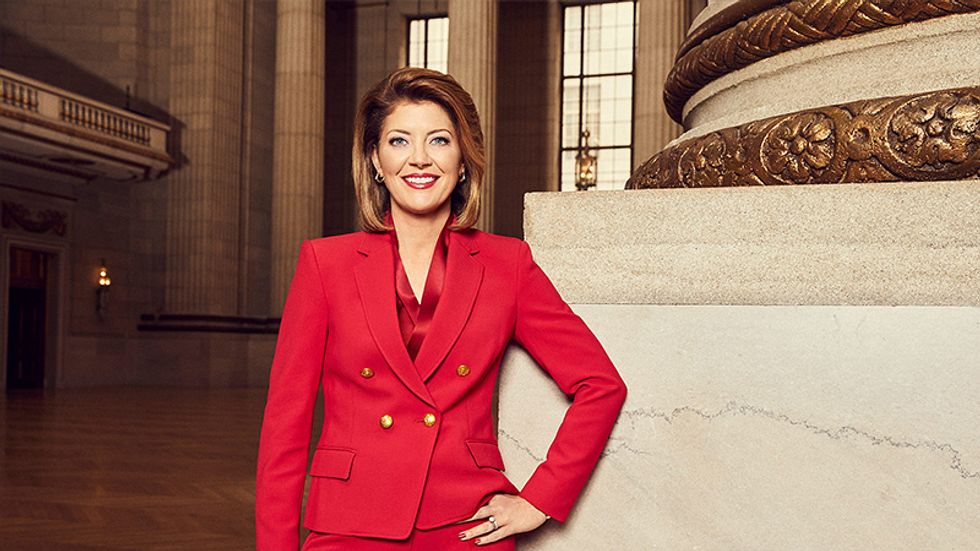 Suit by Altuzarra. Jewelry, O'Donnell's own.
Photography by Sami Drasin.
Do you limit screen time?

Yes, and I would like to do a series on that. It's the number one issue affecting most parents, and it has to do with the health and well-being of their children. We have rules: No phones after 8:30 p.m. or at breakfast, lunch, or dinner. No phones in the car. Whenever we're in a family environment, no phones because you have to talk to one another, and we have a device in the house where after an hour or an hour and a half, they're allowed to text us, but it shuts off everything else.
So you are using technology to limit technology?

[Laughs.] Yes. But once parents know that those tools exist, it's incredibly empowering. Also, if the kids' phones break and they don't have them for a week, all of a sudden they end up reading two or three books. It's awesome!

Are you good about carving out time for yourself?

I remember sitting next to someone at a wedding, and he said, "How are you doing?" And I answered something about, "Work is this, and the kids are this." And he said, "No, I've asked you, 'How are you doing?'" It was a profound lightbulb moment that I was not talking about myself. Your work and family define you, which is important but not the same. Lisa Damour is a psychologist who wrote Untangled and Under Pressure, and she said on CBS This Morning that the most important thing we can teach our adolescent girls is self-care. What are you doing that feeds the health of your body and your mind?

What are those things for you?

I nourish my body with exercise. Yesterday I went to core power yoga. Today I went for a run. This weekend, I'll play tennis and golf. And I nourish my mind with positive relationships. The quality of your life depends on the quality of your relationships.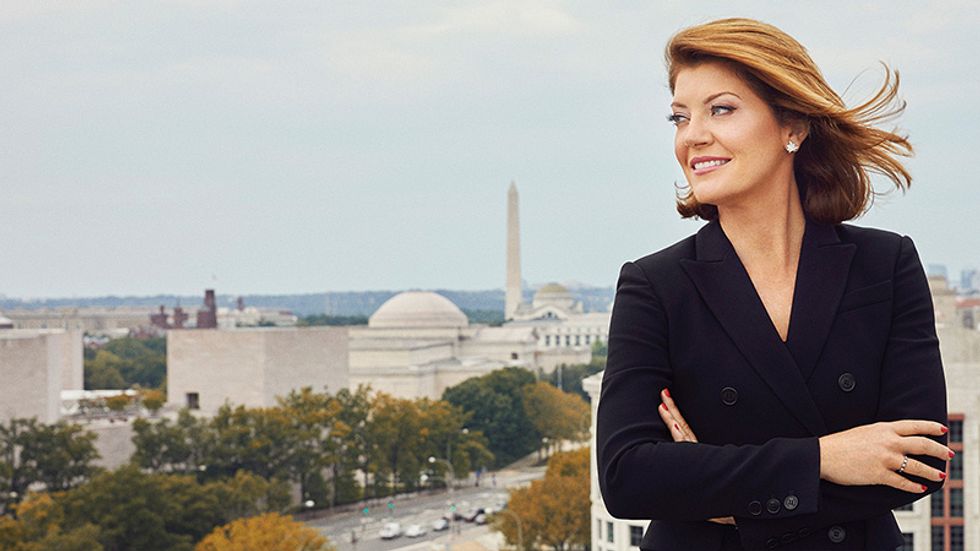 Suit by A.L.C. Blouse by Max Mara. Shoes by Christian Louboutin. Jewelry, O'Donnell's own.
Photography by Sami Drasin.
Who is on your bucket list to interview?

[North Korean leader] Kim Jong-un. North Korea is one of the biggest national security threats to America. I grew up in South Korea, and the Korean peninsula has always been a huge fascination of mine. And I interviewed President Moon, who has been the South Korean president at the center of convincing Trump to meet with Kim Jong-un.

Anyone else?

Justin Timberlake. He's an incredible artist, and he really does very few interviews.
Given all the leaders you've interviewed, what's the best advice you've ever been given?

[Laughs.] If I got tired, my mom would always say: "Have a peanut butter and jelly sandwich and take a nap. It will be better when you get up."
Photography by Sami Drasin. Styled Fran Taylor. Hair by Kim Serratore. Makeup by Ally Castillo.
Originally published in Watch Magazine, November-December 2019.
CBS Evening News airs Weeknights on CBS and streams on CBS All Access and cbsnews.com. Check local listings for times.