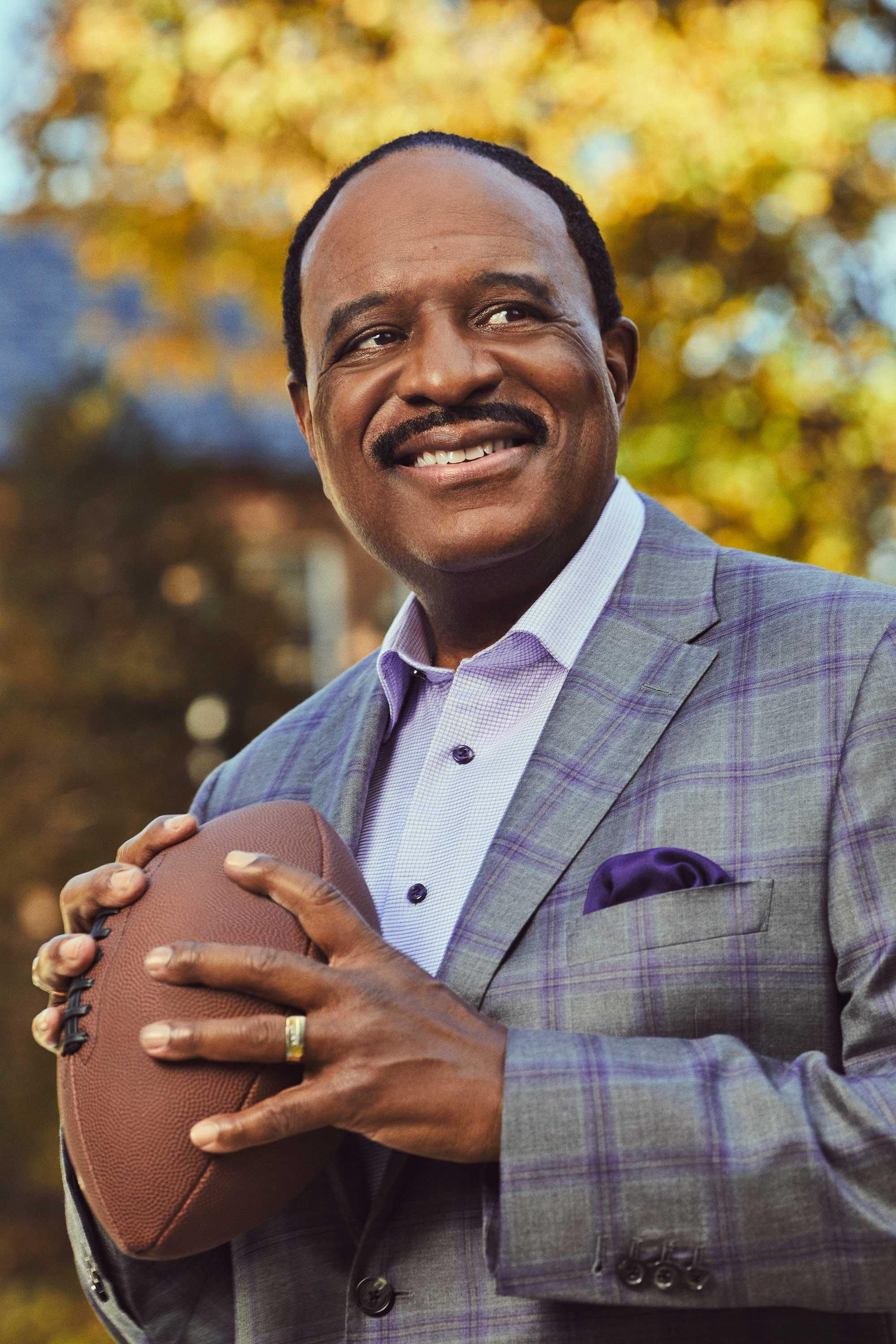 Photography by Christopher Ross.
James Brown on what matters most: faith, family, football, and following your heart.
By Chris Raymond
Certain things leave a lasting mark on your soul.
In the early 1960s, back when he was just a boy, all of 9 or 10 years old, James Brown discovered a book in the grade- school library about how to become a doctor when you grow up. As he flipped through the pages, his teacher walked by, saw him reading it, and stopped in her tracks.
"You may want to consider another profession," she said. "Because kids like you don't do well in math and the sciences." He was crushed, so rattled by the insult he never could bring himself to discuss what had happened with his mother and his father."
Sticks and stones may break my bones, but names will never hurt me? That's a lie," he says. " Words are powerful. Kids think they can do anything , and that needs to be fed, fueled, steered in the right direction."
From his early days as a basketball star to his record-breaking run as 10-time host of the Super Bowl pregame show, Brown has found that kind of inspiration and direction from legendary sports giants such as Wes Unseld, Red Auerbach, and Tony Dungy.
But sports has not been the biggest influence on his life. It doesn't even rank in the top three, says Brown, affectionately known to NFL fans as JB. He points instead to the teachings of his high school basketball coach, the man who echoed the lessons he'd learned from his parents: the importance of education, family, and faith.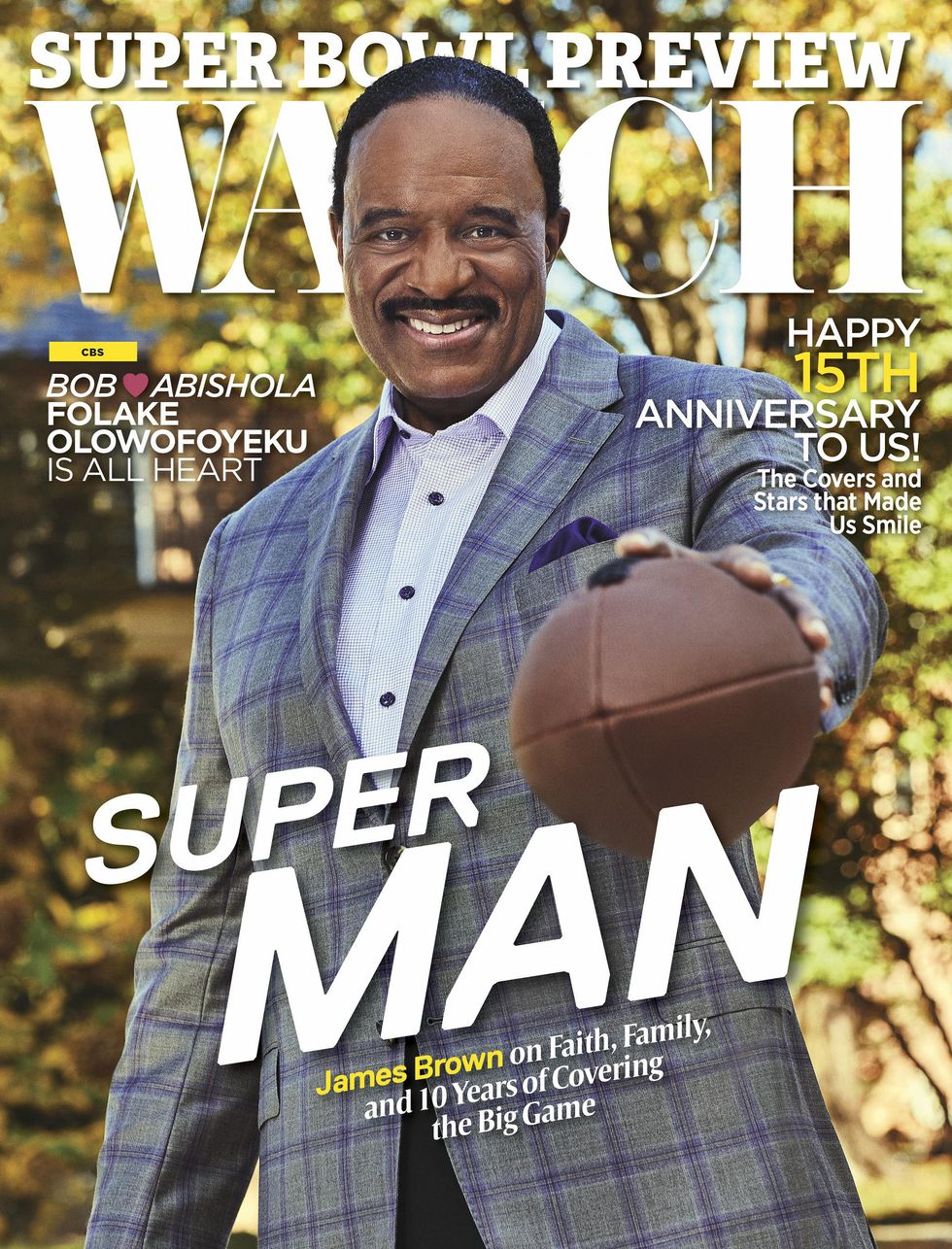 James Brown, host of The NFL Today, graces the cover of the January-February 2021 issue of Watch.
Photography by Christopher Ross.
DISCOVER MORE: Check Out The 15th Anniversary Issue Of Watch—Available Now!
Over the course of 46 years, Morgan Wootten would log 1,274 victories and five national titles at all-boys DeMatha Catholic High School in Hyattsville, Maryland, earning a plaque in the Naismith Memorial Basketball Hall of Fame. For Brown, though, it was the principles Wootten championed off the court that helped guide him through the most challenging moments in his life.
JB was born and raised in Washington, D.C. His father was a security guard in a local prison. To provide for his five children, he also drove a taxicab, served in the Army Reserve, and took on odd jobs each holiday season. His mom ran the household, working tirelessly to raise her offspring. She was a five-foot-five taskmaster, JB says, playfully calling her "the sergeant."
The family had a deep-rooted respect for sports stars. JB's maternal grandfather owned a baseball team in Hattiesburg , Mississippi. It wasn't a Negro League team, but it brought big names like Hank Aaron, Cool Papa Bell, Mudcat Grant, and Satchel Paige into the fold.
But Mary Ann and John Brown were determined not to let athletics lure their children away from real success. "They had PhDs in drive and determination," JB says, "a desire to see all five kids do well in the game of life."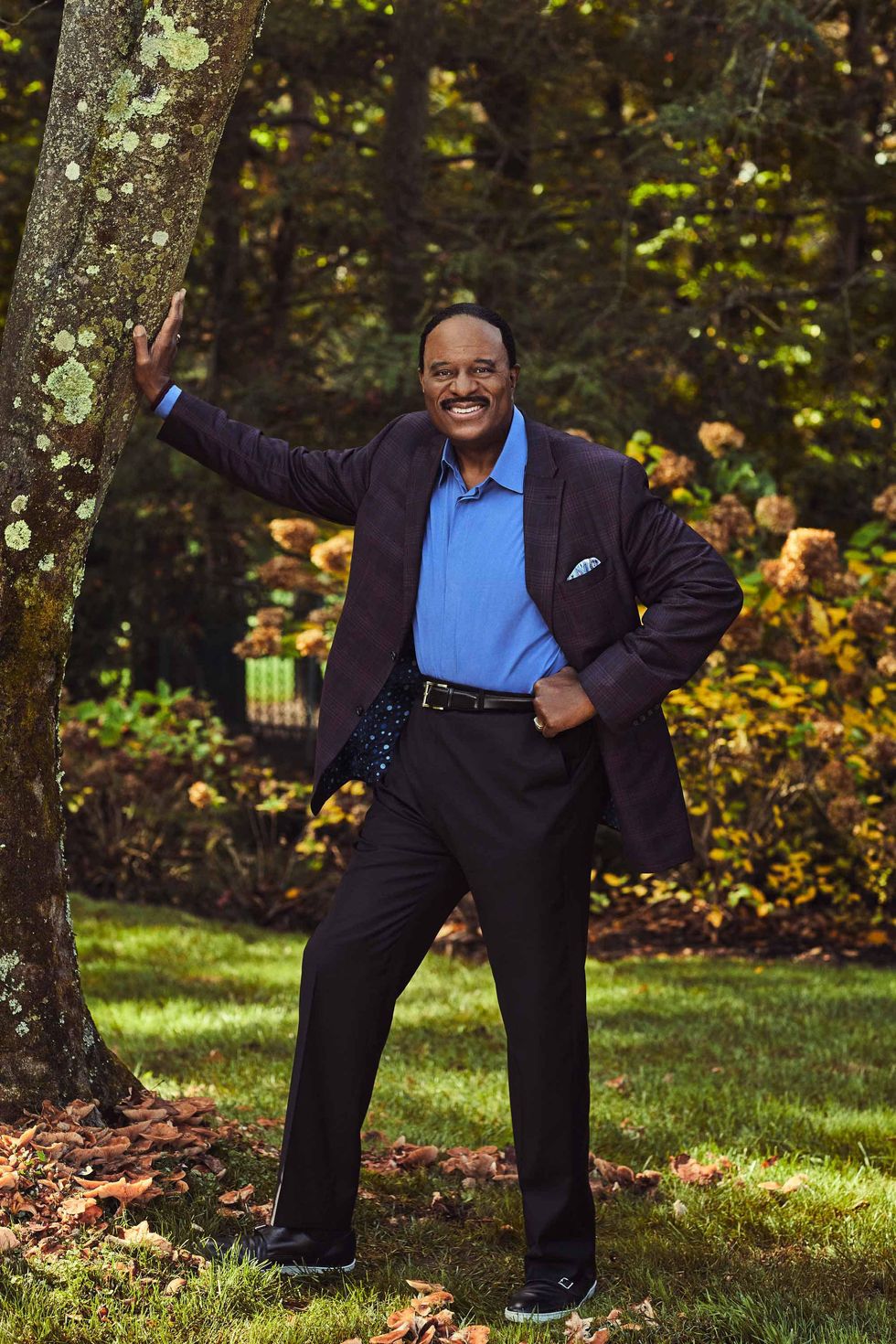 Photography by Christopher Ross.
And that meant JB and his siblings had to be home at the kitchen table, doing their homework, when the streetlights came on. They had to help around the house, wash-ing dishes, ironing clothes, and waxing the floors. And they had to assist neighbors in mowing the lawn and carting groceries from the car.
God forbid you misbehaved when you were outside playing. Not only did a nearby adult set you straight, but a phone call to Mary Ann usually ensued, ensuring that you got "another dose of discipline" the moment you got home.
JB's sister had her own bedroom. He and his three brothers piled into the two bunk beds in another. It was a modest upbringing—one pair of dress shoes and a few nice shirts. But Mary Ann Brown inspired her children to think big. "She instilled in all of us the idea that there is a spirit of excellence in our family," says JB.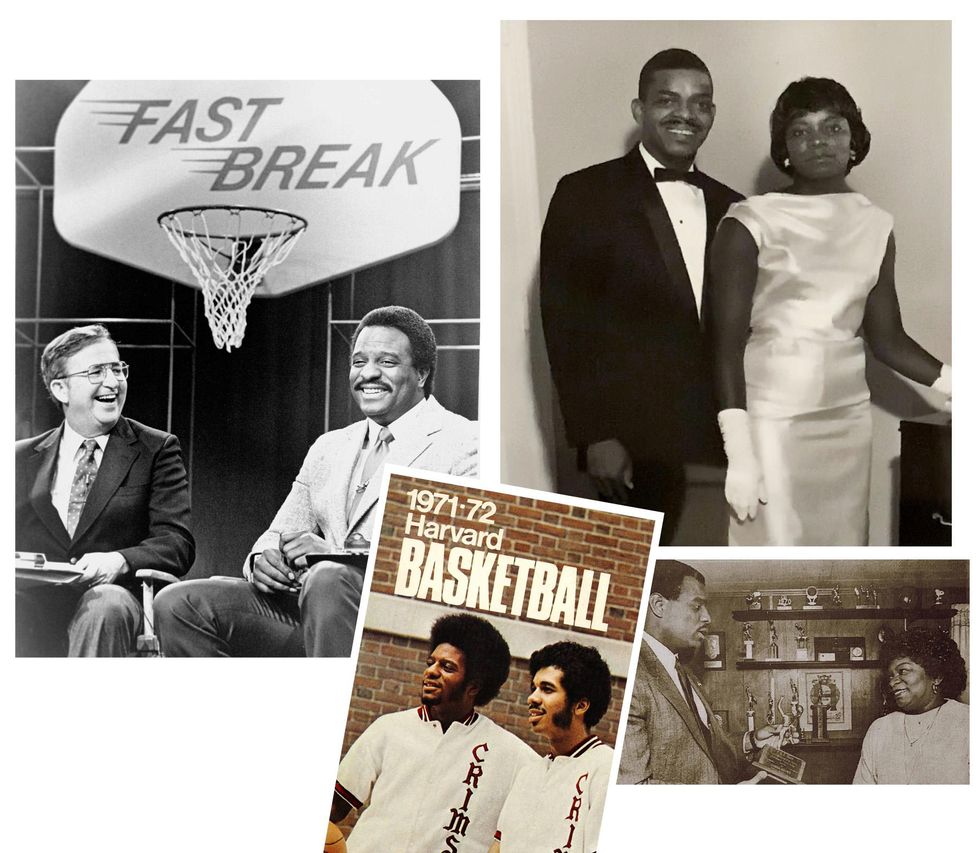 Clockwise from top left: Morgan Wootten and JB; JB's father and mother; JB with his mother; JB with Harvard teammate Floyd Lewis.
Photos courtesy of James Brown.
Morgan Wootten shared the Brown Family's values. He also had a knack for cultivating excellence. It's almost like fate brought him to JB.The would-be prospect was playing in a youth baseball game, doggedly pursuing his first love, when Wootten turned up to scout another boy. Impressed with the lanky outfielder's spirit, the coach invited him to a summer basketball camp, where JB found himself soaking up every word on the finer points of passing and shooting. "I never picked up a baseball bat after that," he says. "It was all basketball."
After playing for local legend Don Fugel at Backus Junior High and enrolling at DeMatha High, Brown blossomed into a skilled center, helping to propel Wootten's team to three city champion-ships in four years. In 1969 he was named Washington Player of the Year. "He would park his ego at the door and make everyone on the team better," Wootten once told Washingtonian magazine.
To thrive in Wootten's world, though, you had to do much more than that. Before you scored points on the court, you had to fully commit yourself to God, family, and school. It was important to get good grades and master the material in every class. "But it also meant becoming a person who contributed significantly to strengthening the fabric of your community," JB says, "taking what you learned and making certain it was being used for the benefit of others."
JB was onboard with all that. Before graduating , he was elected class president. He had his choice of universities. UCLA's John Wooden came calling. North Carolina's Dean Smith, too. Ted Kennedy sent a car to ferry him to Capitol Hill for a chat about Harvard. The Crimson won out, in part because JB admired the success of an Ivy League player named Bill Bradley, but also because he valued the input of two other Harvard alums: an influential D.C. real estate developer named Barrett Linde, and Clifford Alexander, who would go on to become, under Jimmy Carter, the first Black secretary of the Army.
Linde and Alexander had met in Cambridge in the 1950s and remained lifelong friends. It was a testament to the school's enduring influence. "I saw with my own eyes how successful they were in life," JB says. "That had a palpable impact on me: to see it and touch it and recognize what they were doing and how it made a difference."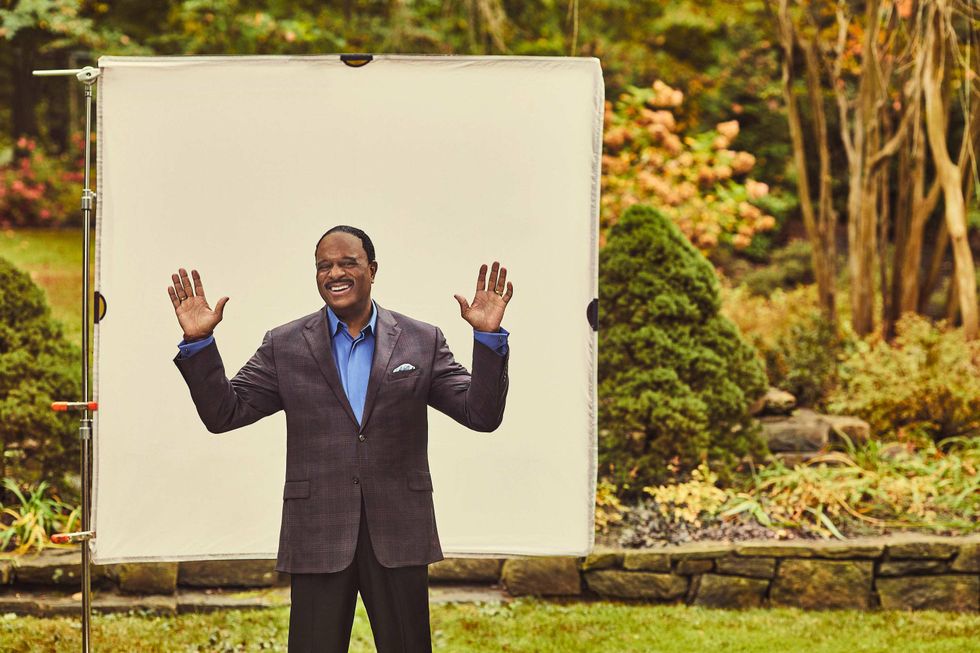 Photography by Christopher Ross.
If Morgan Wootten's principles were pivotal to JB's rise to success, they served him well in times of crisis, too.
He didn't need long to get the hang of life at Harvard. After rooming with future philosopher Cornel West, captaining the basketball team, and earning All-Ivy honors for three years running , he graduated with a degree in American government. He was selected by the Atlanta Hawks in the fourth round of the 1973 NBA draft. He was on his way. Or so he thought.
In a head-spinning turn of events, he got cut from the roster by Coach Cotton Fitzsimmons before training camp had even ended. Just like that, game over. His days as a star athlete were done. "I was in a funk," he says. "That hurt tremendously." He retreated to his bedroom for weeks, wrestling with the shockwaves from his great stumble. It wasn't a dearth of talent that had stopped him. It was a lack of drive, he decided. He hadn't put in the effort required to succeed.
As Wootten had taught him, there's no such thing as standing still. You're either working to get better or you are regressing.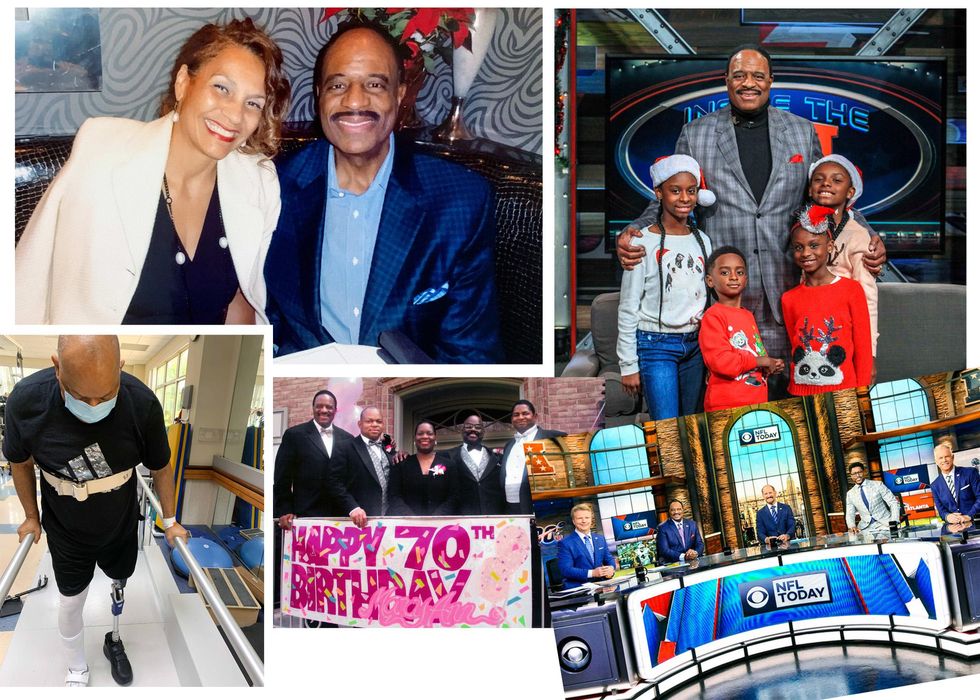 Clockwise from top left: JB and his wife, Dorothy; JB with his grandchildren; NFL Today team at Super Bowl LIII in 2019; JB with his siblings; JB's brother Everett.
Photos courtesy of James Brown.
With those words echoing in his head, JB vowed to be prepared, well prepared, for his next opportunity—and every one that followed. He moved on to a series of corporate jobs, working in sales and management for Xerox and Eastman Kodak, asking himself the sorts of questions Wootten would have posed.
Are you moving in the right direction? Taking stock of where you are? Using the proper metrics to measure your success?
Drawing on his experience as an athlete, he focused on seeing the court, mastering the fundamentals, making everyone on the team better. And he was rewarded for his work. But the paycheck, the nice clothes, and the Corvette could not replace what he had lost.
JB remembers being struck by a feeling of emptiness while driving home one evening from a happy hour gathering. Life had to be about more than just going to the latest club, he thought. That's when he opened his heart to faith. "I prayed," he says, "and said, 'God, if you're real, reveal yourself to me and I'll be a willing vessel, do whatever you want me to do.'"
It was not an overnight transformation. He took time to find the right ministry, a church that valued teaching beyond simply preaching. But the search lifted him up. It led him to appreciate the wisdom of his mother and sister more, too. "I was a good young man," he says. "But that doesn't mean I was a man of faith. I certainly grew in that regard. There are absolute truths, and I learned them over the years. It laid a foundation for me."
Around that same time, he appeared on a local TV show to talk sports, and the host Petey Greene encouraged him to apply for a job as a color commentator on Washington Bullets games. Before long, he was devoting nights, weekends, and vacation days to a budding broadcast career. He joined CBS in 1984, where he covered college and NBA basketball, NFL football, and then both the 1992 and 1994 Winter Olympics.
In 1994 he left the network to join Terry Bradshaw, Howie Long , and Jimmy Johnson on Fox's NFL pregame show, but he returned to CBS in 2006 to anchor The NFL Today alongside Boomer Esiason, Shannon Sharpe, and Dan Marino.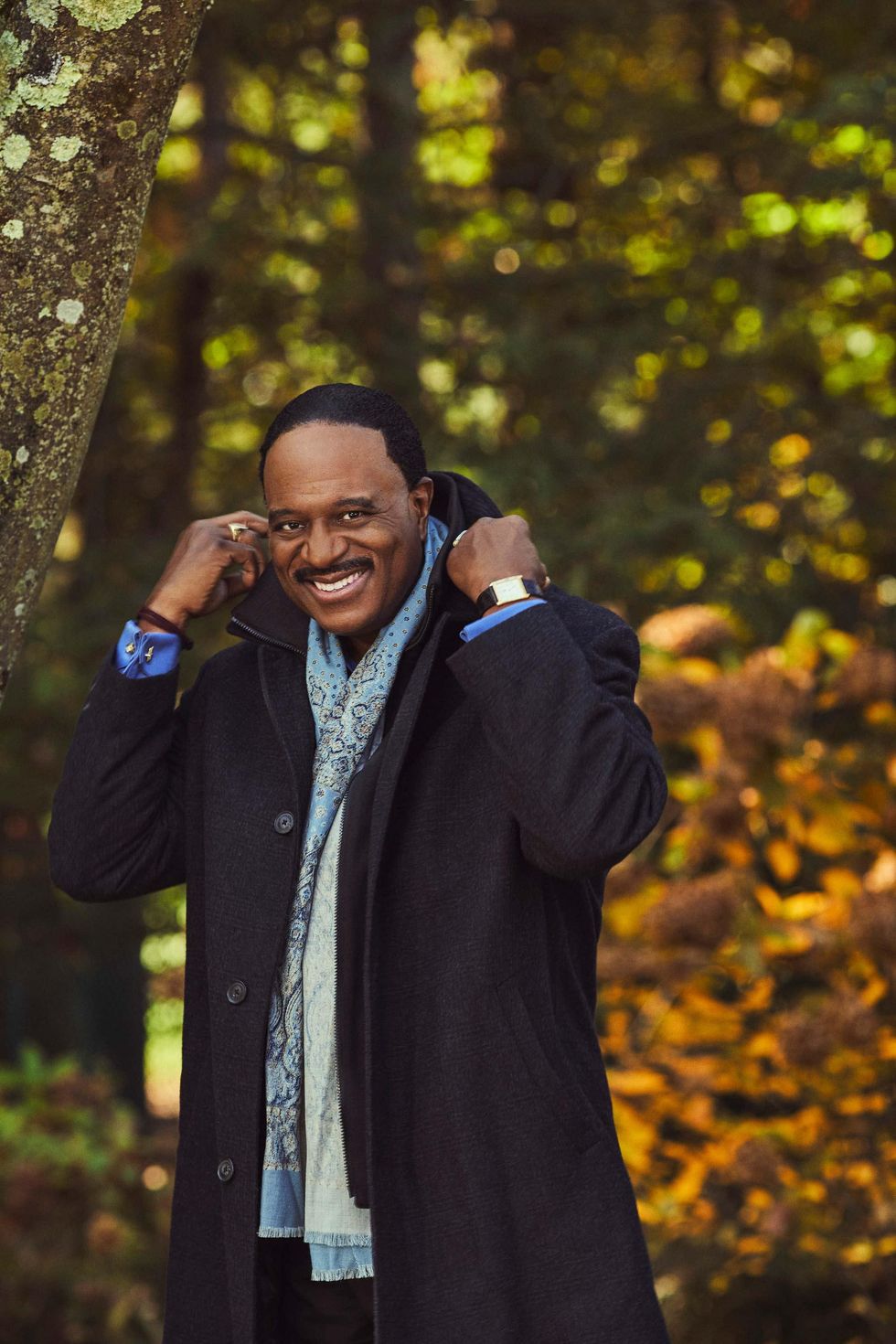 Photography by Christopher Ross.
In June of that year, Mary Ann Brown passed away after a lengthy struggle with health challenges. It would take JB two years to over-come his sorrow. (His father had died years earlier from stomach cancer.) During a grief counseling session, a close pastor friend pointed out to JB that his mother had been grooming him for some time to be the family standard-bearer, JB says.
He would meet a woman, fall in love, and ask her to be his wife. "I was blessed to marry Dorothy, who, much like my mother, is a strong woman of faith," he says. "After mom's passing , our home became Family Central.
In 2009 JB was ordained a minister. A nondenominational Christian, he now delivers sermons to congregations large and small across America. He also assists his pal Tony Dungy in running a weekly Bible study call. "I have a pretty aggressive speaking/teaching/preaching schedule in the off-season," he says.
He uses his voice, the strength of his platform, to address critical issues of the day—racial inequality, food insecurity, domestic violence—through a number of cause-related organizations. But he does it in a Christian manner, stressing the need for love and compassion.
"I always want to be a unifier," he says. "That's the way I've been from the very beginning."
On the air he still relishes the role of team captain, the ability to elevate the players around him and set them up to perform at their absolute best. He has flexed his muscles beyond The NFL Today studio, too, reporting stories for 60 Minutes and CBS Sunday Morning. In 2014 he even covered for Scott Pelley, anchoring the CBS Evening News.
Thanks to JB's parents and Wootten, he has developed a keen eye for success. Not the run-of-the-mill kind, but the kind that brings lasting influence. For CBS Sunday Morning, for example, he profiled Ken Chenault, CEO and chairman of American Express from 2001 to 2018.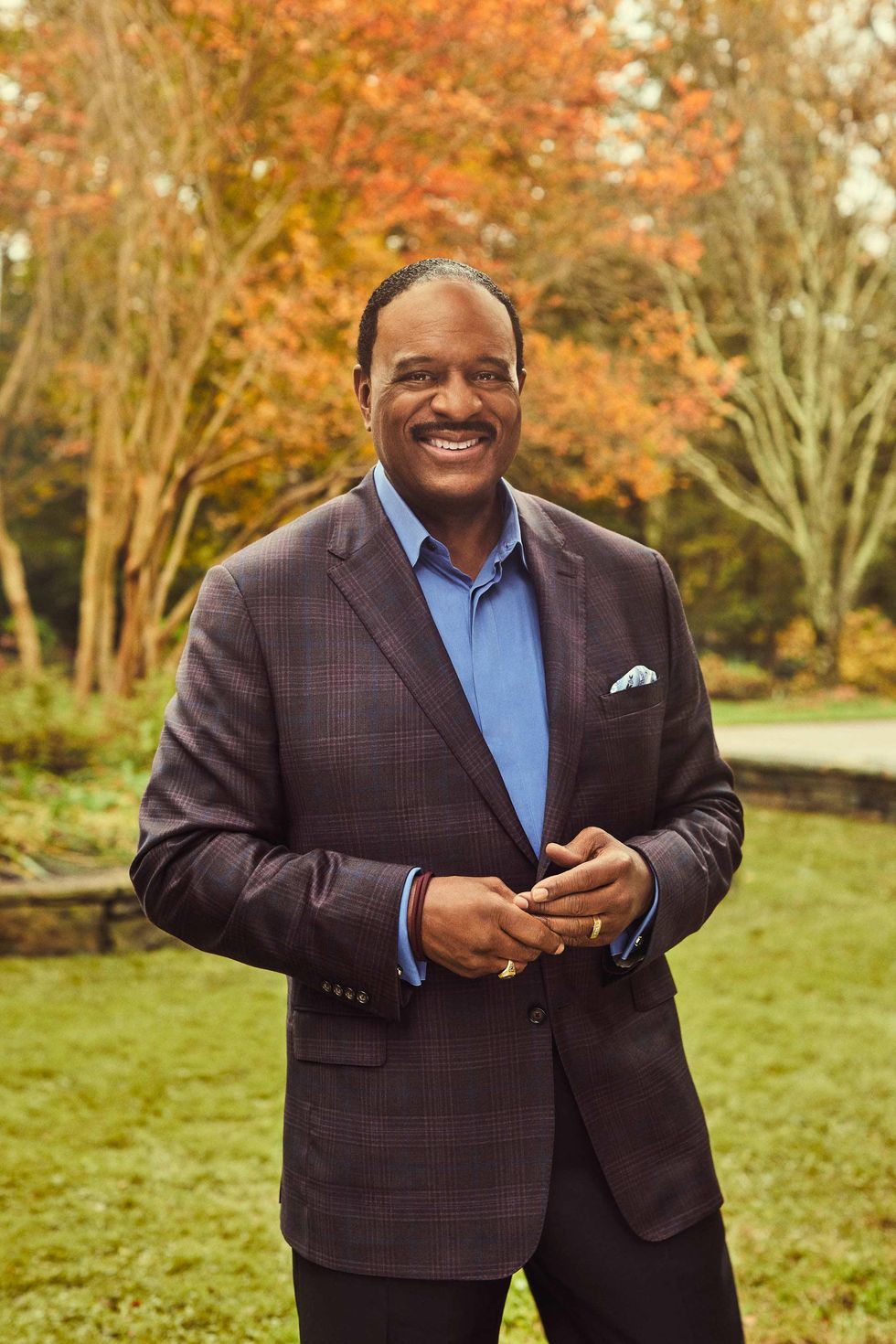 Photography by Christopher Ross.
He has hosted a speaker series featuring men like President George H. W. Bush and Tony Robbins. That's where he heard General Norman Schwarzkopf, who oversaw all coalition forces during the Gulf War, lecture on the hallmarks of great leaders. "All have tremendous talent and potential," Schwarzkopf said. "The ones who do not last, who do not enjoy sustained success, lack character and integrity."
JB had heard those words before. "I'll never forget Marv Levy, the Hall of Fame football coach, saying that personality is who you are when the camera light comes on," he says. "But character and integrity, they explain who you are behind closed doors—and should be on display at all times."
True to his word, JB is well-prepared for the opportunity that awaits him. On February 7, he will lead the NFL Today team onto the set at Tampa's Raymond James Stadium to kick off yet one more Super Bowl. With every molecule of his character and integrity on display, he will look into the camera and set the stage for the 100 million viewers. "I refuse to think of the magnitude of the game," he says, "because that would have me focusing on the wrong thing."
When you ask JB for his favorite Super Bowl moments, he doesn't invoke fourth-quarter comebacks, one-handed catches, or goal-line stands. His thoughts turn instead to personal triumphs: Doug Williams' barrier-breaking MVP performance at quarterback versus the Denver Broncos, Reggie White earning a ring with the Packers in the 13th season of his NFL career, the resilient staging of the Rams-Patriots showdown in New Orleans less than five months after the tragedy of 9/11.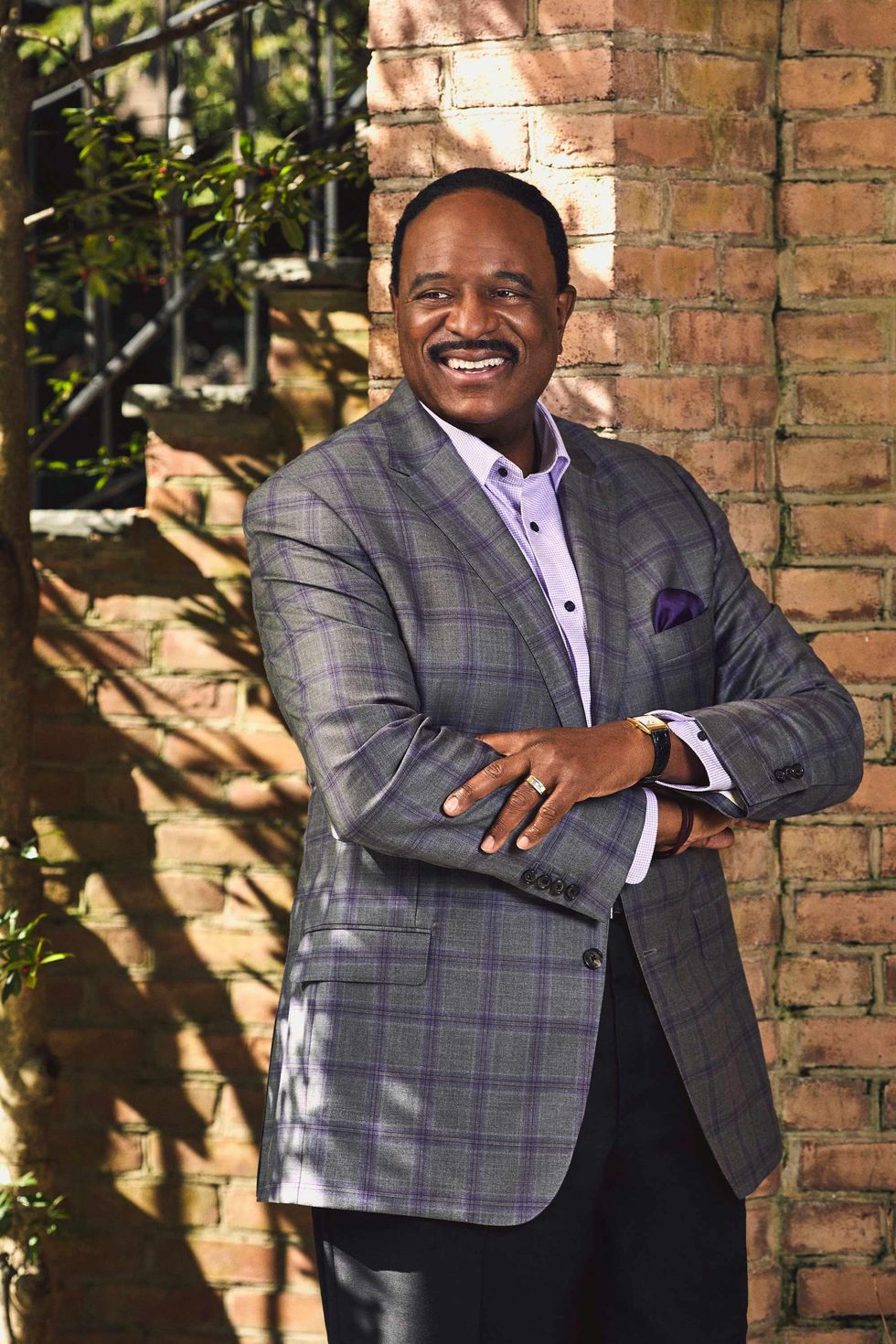 Photography by Christopher Ross.
It's the same impulse that helps him revel in the story of his younger brother Everett, who wrestled for years with drug addiction. After a number of failed attempts at rehabilitation, he finally found a treatment center that helped him outrun his demons, then met and married a God-fearing woman, Rosilene. Yes, he's been plagued by health problems—a heart attack, two strokes, a leg lost to amputation—but he presses on, firm in his renewed faith. "He encourages me now, because he has persevered through it all," JB says. "You would think he has a million dollars in the bank."
And so it was only fitting that in January of 2020, more than 50 years after graduating from DeMatha High, JB found himself back in the school's gym, delivering the eulogy for his old coach, relishing the opportunity to lead all those assembled through the man's hallowed principles: God first, family second, school third, and then—and only then— sports."
He spoke the truth," he says. "Those are the things that will see you through life, carry you through every difficulty that comes your way."
Originally published in Watch Magazine, January-February 2021.
SEE MORE: Experience The Full Digital Version Of Watch—The 15th Anniversary Issue!
Don't miss Super Bowl LV on Feb. 7th at 6pm ET/3pm PT on CBS and Paramount+! Also stream free on CBSSports.com and the CBS Sports App—and check out pre-game coverage on CBS Sports HQ!
The NFL Today airs live on Sundays at 12 p.m. ET/9 a.m. PT on CBS and streams on Paramount+.