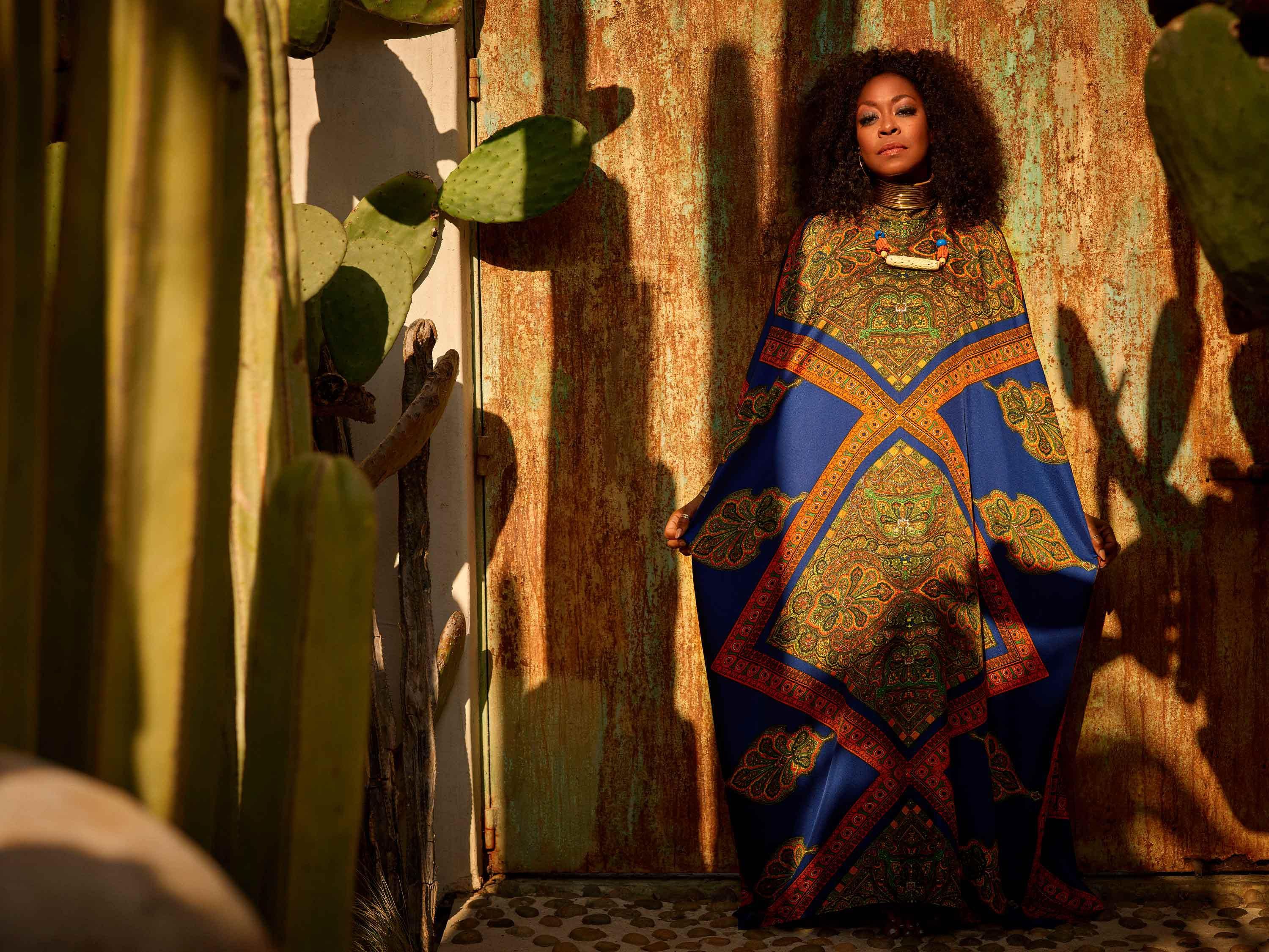 Photography by Kwaku Alston. Styled by Dana Campbell.
The luminous Tichina Arnold brings laughter and love to The Neighborhood.

By Lisa Kennedy
When Tichina Arnold hopped on the video call, she was in a parking structure in Century City messing with a boot. No, not a DMV boot, but an orthopedic one. Social media followers of Arnold (and you are legion) know that the star—who gives such verve to Tina Butler on the hit sitcom The Neighborhood—has been recovering from foot surgery. (Her path to healing gets a nod at the start of Season 3.) "Hold on one second, one second—I'm getting the boot," she shouts to someone honking for no good reason. She waves said boot. "I never thought I'd be so excited about a goddamn boot," says Arnold, adding with a laugh, "I'm trying to get my sexy back, or at least half of my sexy back."
Arnold, 51, has spent more than 30 years working in television and film. The Queens, New York native started acting at 11 and hasn't had many lulls since. She did soaps (Ryan's Hope), sang and danced (Little Shop of Horrors), and played pivotal roles in two popular comedies that were part of the surge in Black television programming: first as Pam, Tisha Campbell's bestie on Martin, and a few years later as mom Rochelle on Chris Rock's critically appreciated Everybody Hates Chris.
Now she's bringing no small amount of smarts and sparkle opposite another comedy luminary. Cedric the Entertainer (an executive producer on The Neighborhood) portrays Calvin Butler, who's vexed—and over time kind of charmed—when small-towners Dave and Gemma Johnson (Max Greenfield and Beth Behrs) and their young son settle next door in a predominantly Black neighborhood.
The Neighborhoodairs on Mondays at 8/7c on CBS and streams Paramount+.
---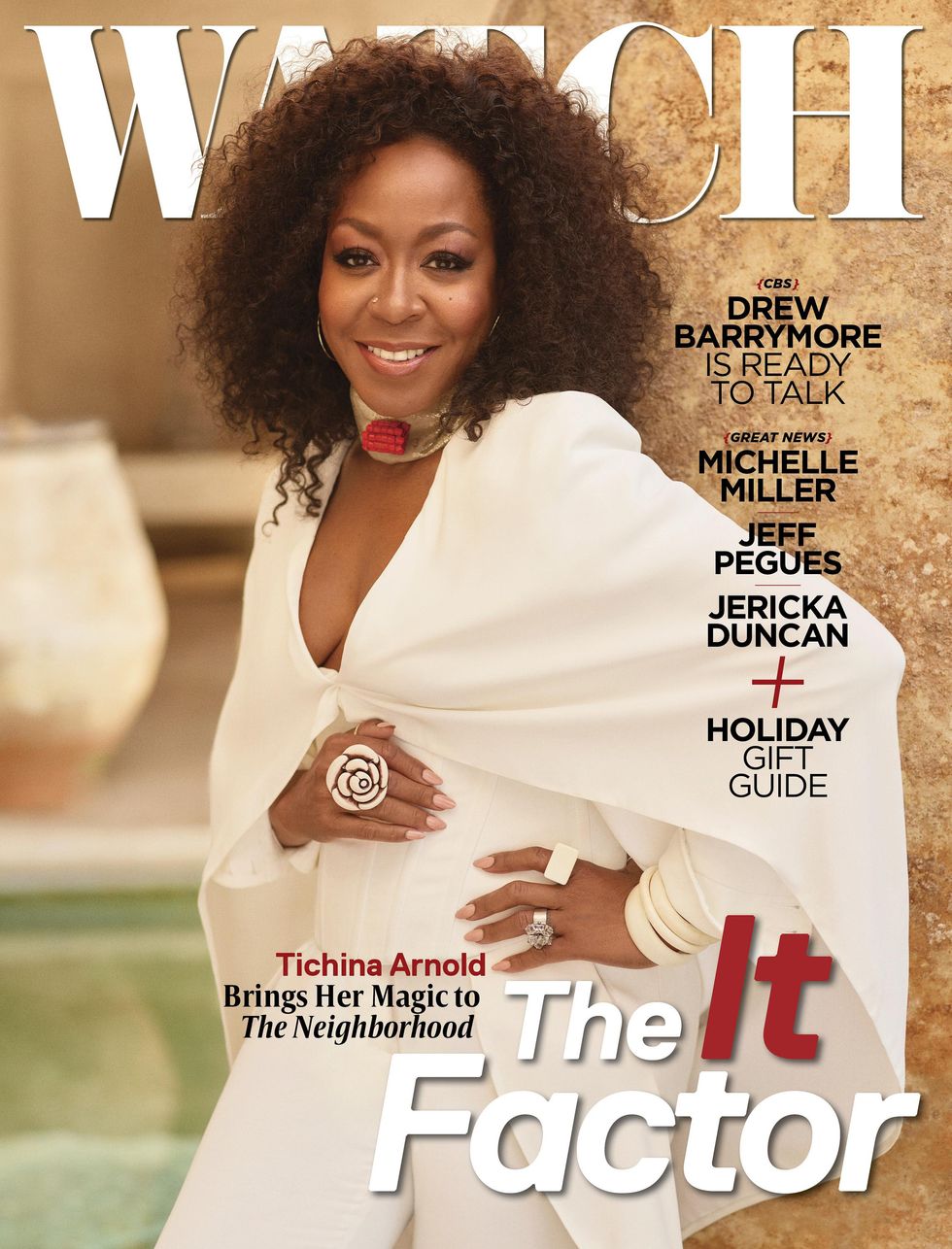 Top by Balenciaga. Pants by Halston. Jewelry by Dana Campbell.
Photography by Kwaku Alston. Styled by Dana Campbell.
How long have you been in L.A. now?
I've been here since 1991. I moved here right before I did Martin and ended up staying.
To say the least. You've been doing television for nearly 30 years. What's changed for you and what's changed in television?
A lot has changed in the industry, period. Television definitely became more open, more racy, a little more real. If we did Martin now and we were able to say what we wanted to say, it would be a completely different show. Back then we had a censor, this guy named … what was his name? He used to come and count the "damns," count the "hells."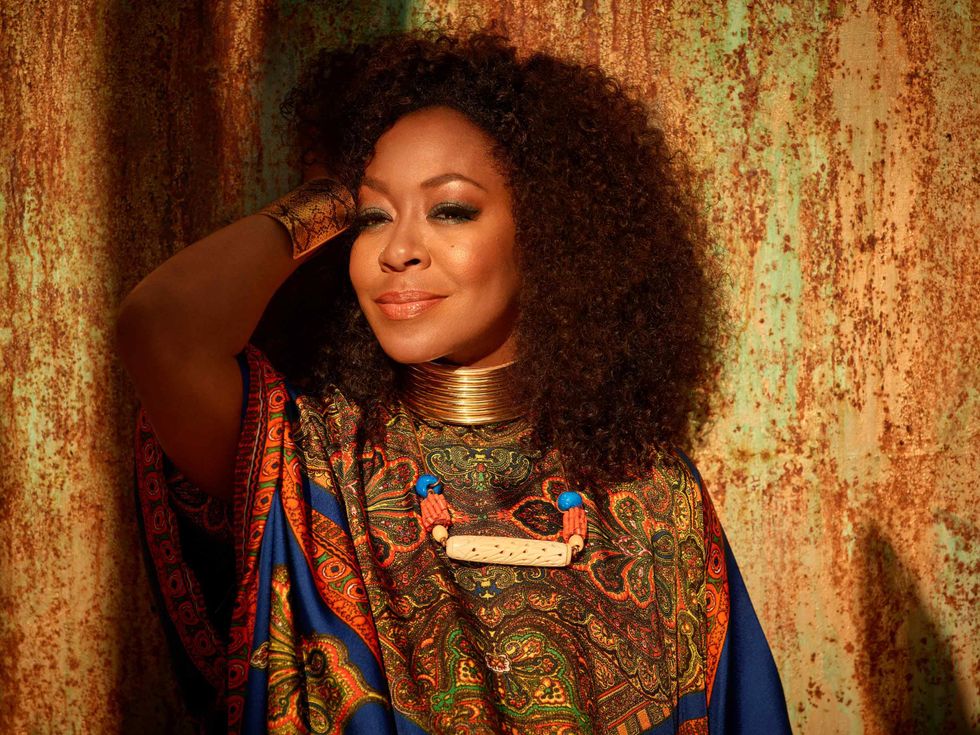 Gown, vintage. Jewelry by Dana Campbell.
Photography by Kwaku Alston. Styled by Dana Campbell.
What drew you to The Neighborhood?
What attracted me initially were two things: being able to work with Cedric and, I've been on great shows, but this was a wonderful opportunity to finally be on a major network. CBS didn't have a whole lot of Black folk, so I was happy that CBS was being a lot more open to having more color on the network. That, to me, showed television was definitely changing. It's not just a Black show. You have a lot of inclusivity. So I was like, "Yeah, I want to be part of this."
It's crazy you haven't worked with Cedric before.
It's bananas. We have all the same friends.
The Neighborhood has such sweet cast chemistry. Is it as good as it seems?
Everybody is just really good. Everybody's like their characters. Creator Jim Reynolds had Tina all mapped out. But when I came and read for the role, he saw other things. So I'm appreciative of that, because Black women, we're not just one thing. We have so many facets to us. Every time I open the script, there's always something new about Tina that I learn, which is fun. Jim will ask me, "Tichina, do Black women do this?" And I'll tell him abso-frigging-lutely-not. You see her flaws, and Cedric makes sure of it.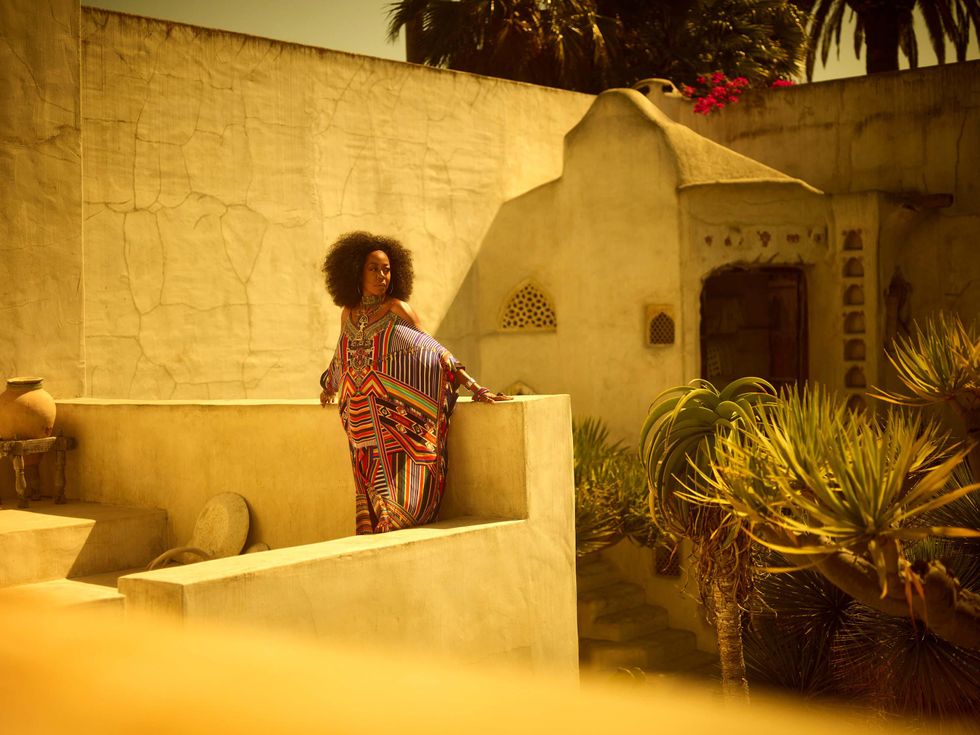 Robe by Camilla and Marc. Jewelry by Dana Campbell.
Photography by Kwaku Alston. Styled by Dana Campbell.
Where do you overlap with Tina?
You know, most women, we want to keep our youth as much as we can. I knew then, when I played on Everybody Hates Chris, that once you play a mother, you will always be a mother. Goddammit. [Laughs.] OK, this is the first time I'm a mother of grown sons—one got a beard. Omigod. I just have to accept that. But it's television, and I can be whatever I want to be. I'm 51 and a lot of my friends had kids by the time they were 17. So you have a lot of Black mothers who look like they are 25 or 30, but they're 50. Snoop made a post that was hysterical. He posted this little girl, and it said something like, "Yeah, I'm really 42." Like "Black don't crack."
Did Cedric help you figure it out?
He's very hands-on. So he said, "Look I want you to be comfortable, but we're parents … You still smoking." Cedric's really good at being this amazing Black man on camera as well as off. Cedric's always been such a wonderful human being, and the show has that temperature. The show has that texture to it because he is a good leader. He is a good leading man. He's smart. He's respectful. He has a lot of empathy for people. He knows how to communicate. He never raises his voice. This show could not have come at a better time.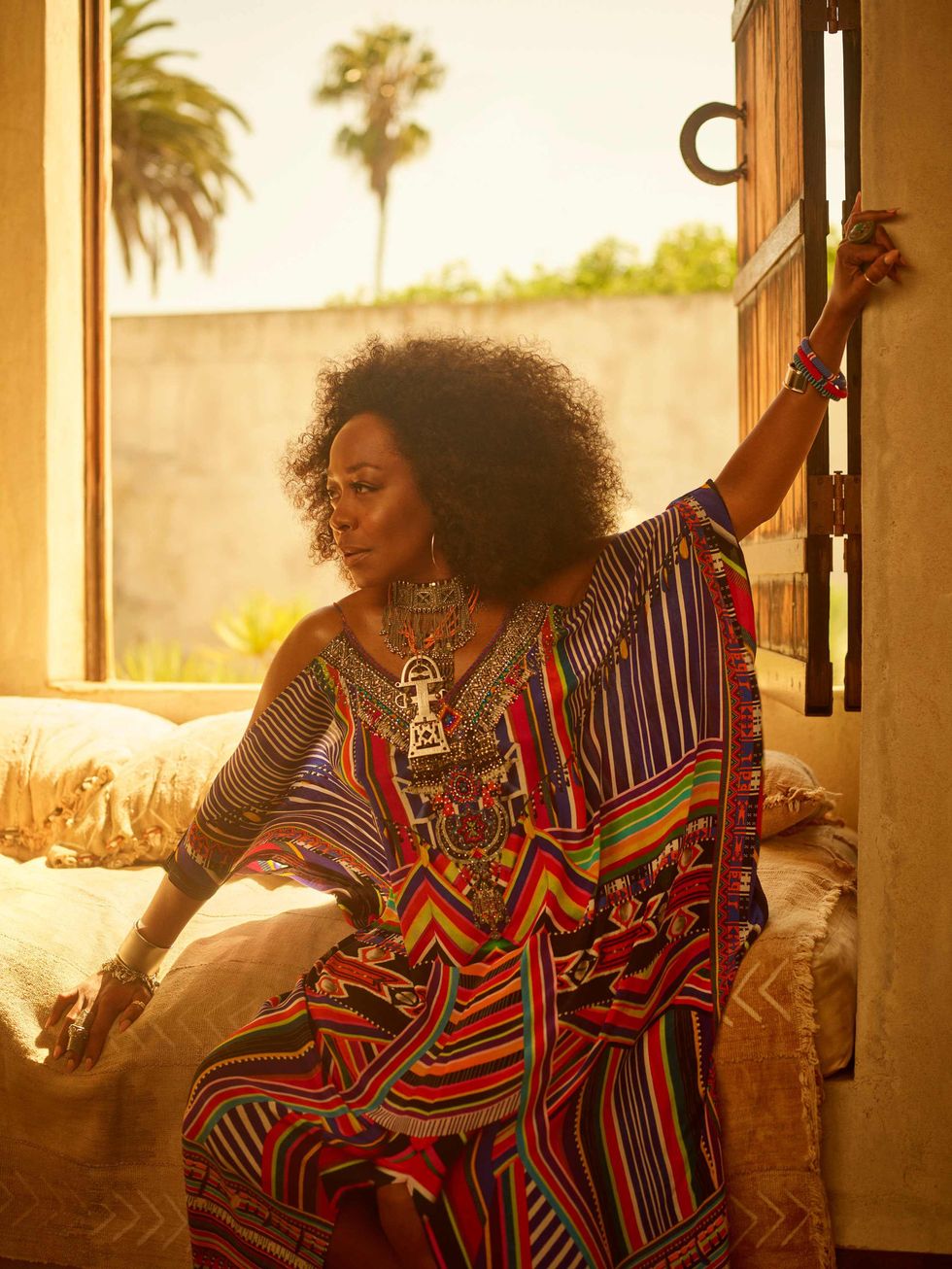 Robe by Camilla and Marc. Jewelry by Dana Campbell.
Photography by Kwaku Alston. Styled by Dana Campbell.
Could you expand on that? I can think of all kinds of reasons, but as my dad said, "You know what 'assume' spells?"
Well, a lot of negativity has been stirred up—and this negativity is nothing new. This is what we as Black people have been dealing with, and I always speak from the Black perspective because that's what I am. And I think this show created a wonderful platform to start dialogue. This show displays our differences. It happens at the table reads all the time: We'll be sitting at the table, and a Black joke will happen, and Beth and Max will go, "What?!" because everybody Black in the room laughs. But it happened with me, too. In the script someone says, "Hey, I'm going out for a froyo." I was like, "Sorry guys, what's a froyo?" The point is, whether we're White, Black, we have different ways of communicating with each other. So what I love about being on the show is that we continue communication.
The first episode of the third season addressed Black Lives Matter. Some people who love the show have said they'll stop watching. What is that?

Guess what, sometimes when the truth is told, it's uncomfortable. This is part of change. It's a natural human instinct; you don't want to be uncomfortable. But it's what we do with our being uncomfortable. I'm happy that we have a platform. We deal with real topics. This is not fantasy. I think it's wonderful we've tapped into Black Lives Matter. Just add "too" behind it. We matter, too. For me to be on a show that's on CBS, and CBS is able to say Black lives matter, that's change. And it's change for the better.
I'm grateful that I can be a part of a body of work that understands me as a Black woman in America and that actually displays me as a Black woman in America. We have a long way to go in understanding each other, and The Neighborhood really addresses that. And we do it off-camera as well. So Beth and I always talk about that. She's like, "What can I do as a White woman?" And I said the fact that you asked allows me to share my story with you. Now, I need to hear your story. What makes you uncomfortable? What do you want to learn? What do you want to know? Trust me, I ask questions. You learn till the day you die. That's what matters to me.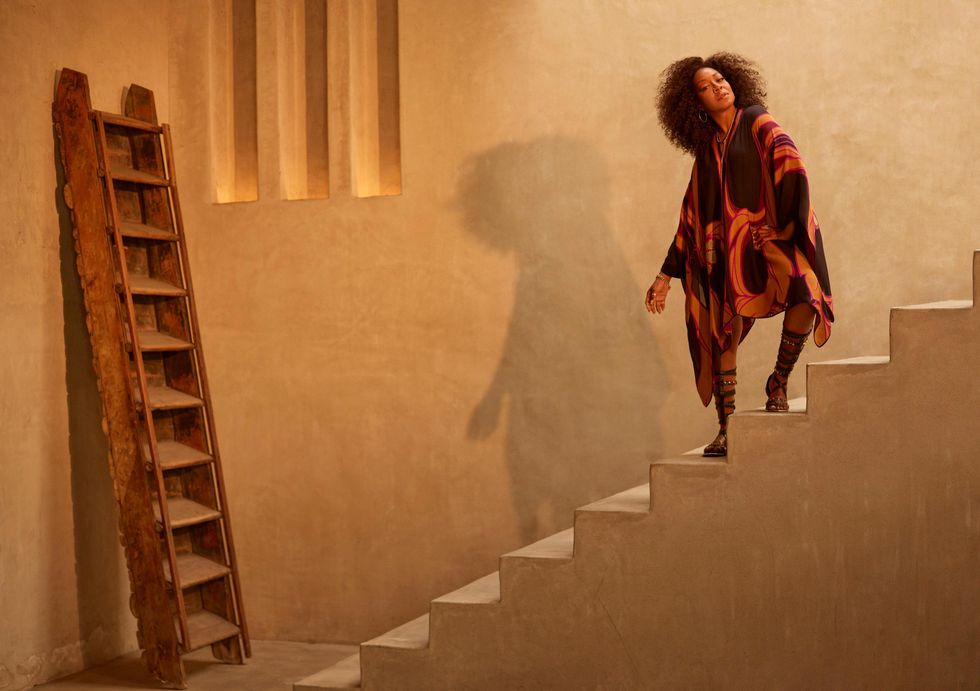 Dress by Gucci. Sandals by Steve Madden. Jewelry by Dana Campbell.
Photography by Kwaku Alston. Styled by Dana Campbell.
So, where did you get that perspective? Life? Family? You grew up in the church, and that seems to feed your understanding of the world, and you still have a compassionate way of expressing that.
That's a nice way of putting it.
No, really. You and [your sister] Zenay were on Beth's Harmonics with Beth Behrs podcast, and she said she considered herself a "lapsed Catholic." One of you said about church that we go to meet God by ourselves. Such a great insight.
I get it from my parents. Both of my parents are givers. My mother will give the shirt off her back and so will my dad. They've just always been that way, and we came up really staunch Christians. Me being in show business, I was kind of the heathen. [Laughs.]
Did you know at 11 that you were going to want to keep doing this?
I didn't know anything else. I did shows for free. I did it because I loved it. Not until I got to L.A. and I had to start paying rent did that change. I was like, "Omigod, I got to depend upon this?!" Prior to that, I was just doing what I love doing.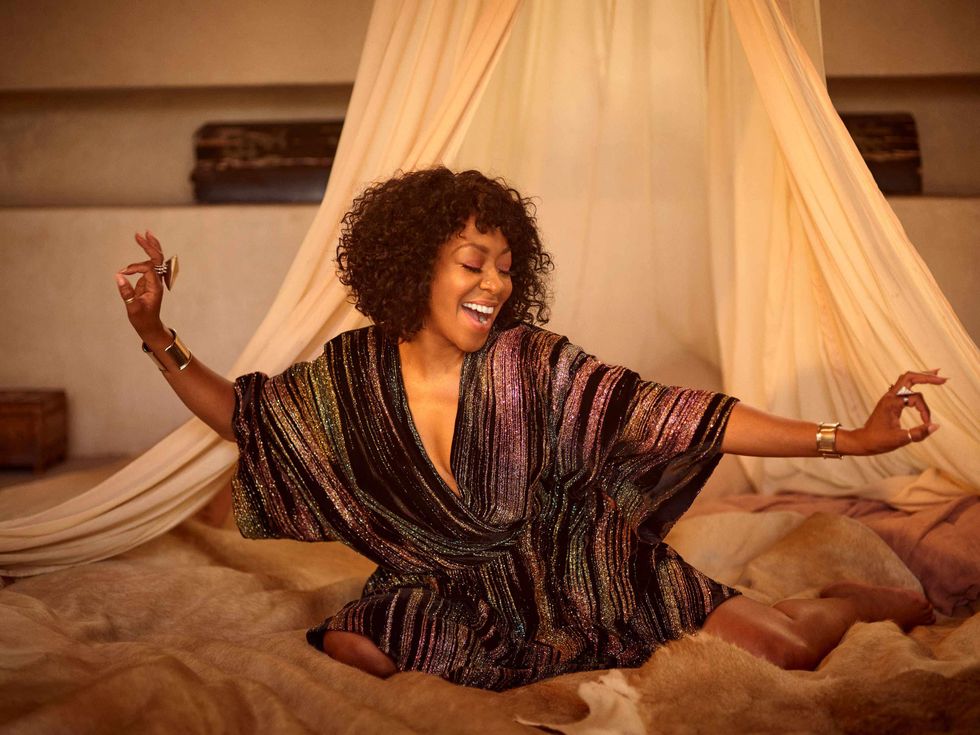 Dress by Zadig & Voltaire. Jewelry by Dana Campbell.
Photography by Kwaku Alston. Styled by Dana Campbell.
How do you protect that relationship to what you love?
Well, I've been at a point where I didn't have two nickels to rub together, and still I turned down work because I did not believe in what that piece of work was. I didn't want to wake up every day doing that.
Do you have any episodes of The Neighborhood that you loved or that you thought, I nailed that?
Now you're asking me to tap into my menopause problem—let me think. I have moments. I laugh at moments, not episodes. But I don't think I've ever said Oh, I nailed anything. I'm not interested in watching myself. The one time somebody made me watch Hope & Redemption: The Lena Baker Story [2008], we watched it in my agent's office. And I forgot that I was watching myself.

Now that was weird. It freaked me out. I said, "Wow, God gave you exactly what you wanted." I did a film with absolutely no comedy in the character whatsoever. I kept saying, I just want to do a dramatic role. I want to see if I can do it. So here I played a real woman who walked this earth, to be the first woman executed in the state of Georgia. Just reading and watching and hearing about her life. I was like, how can I do this woman justice? So after I watched the movie, I felt grateful that I was able to fool myself. Because I forgot that I was watching myself. I felt like I did it; I reached a goal.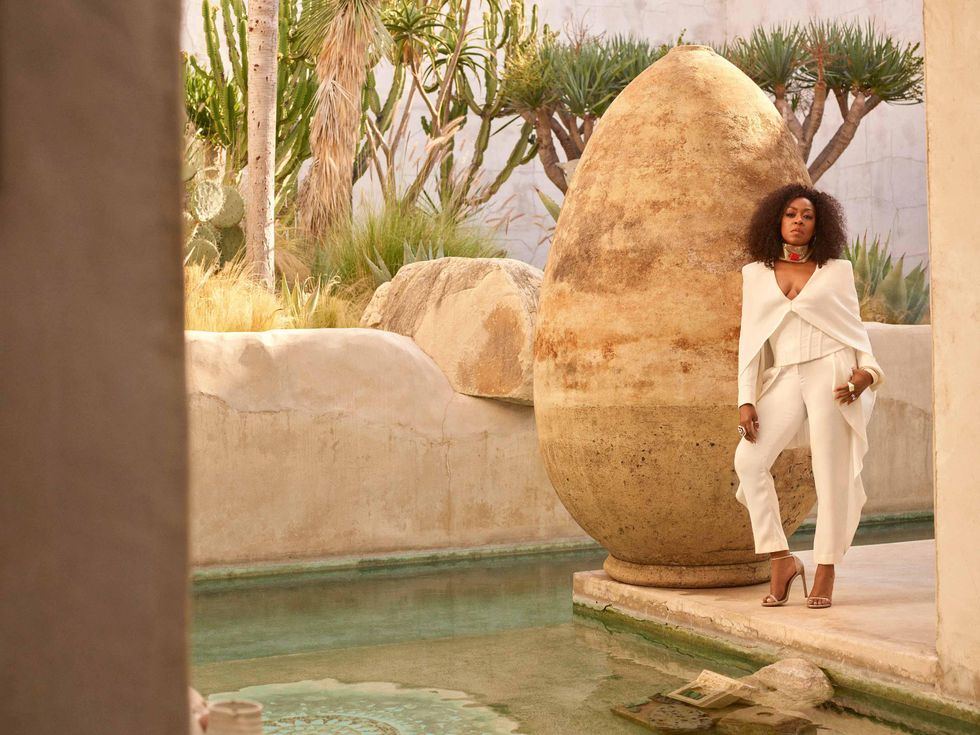 Top by Balenciaga. Pants by Halston. Jewelry by Dana Campbell.
Photography by Kwaku Alston. Styled by Dana Campbell.
So do you have some rules for yourself about how you engage on social media?
I do. I don't reply to people. You reply to one, you have to reply to all. I make it a point that if I am joking about something, I'm not being insensitive. It's like sending text messages: A lot of stuff could be misread. That's what happens with Twitter all the time. What I do is, I never have a cocktail and tweet. And if I know that it's really, really socially edgy, I'll ask my sister, "Should I?"
Speaking of Zenay, who's also your manager, what were you two like as little kids?
We were opposites but the same. She was a lefty. I'm a righty. But she insists on sitting on the side where our arms knock. Constant fights. I tortured her. She used to think she would go down the drain. We would take baths together, so I'd push her toward it. My parents taught us that all we have is each other. So even to this day, we are very good with separating our business relationship from our sisterhood.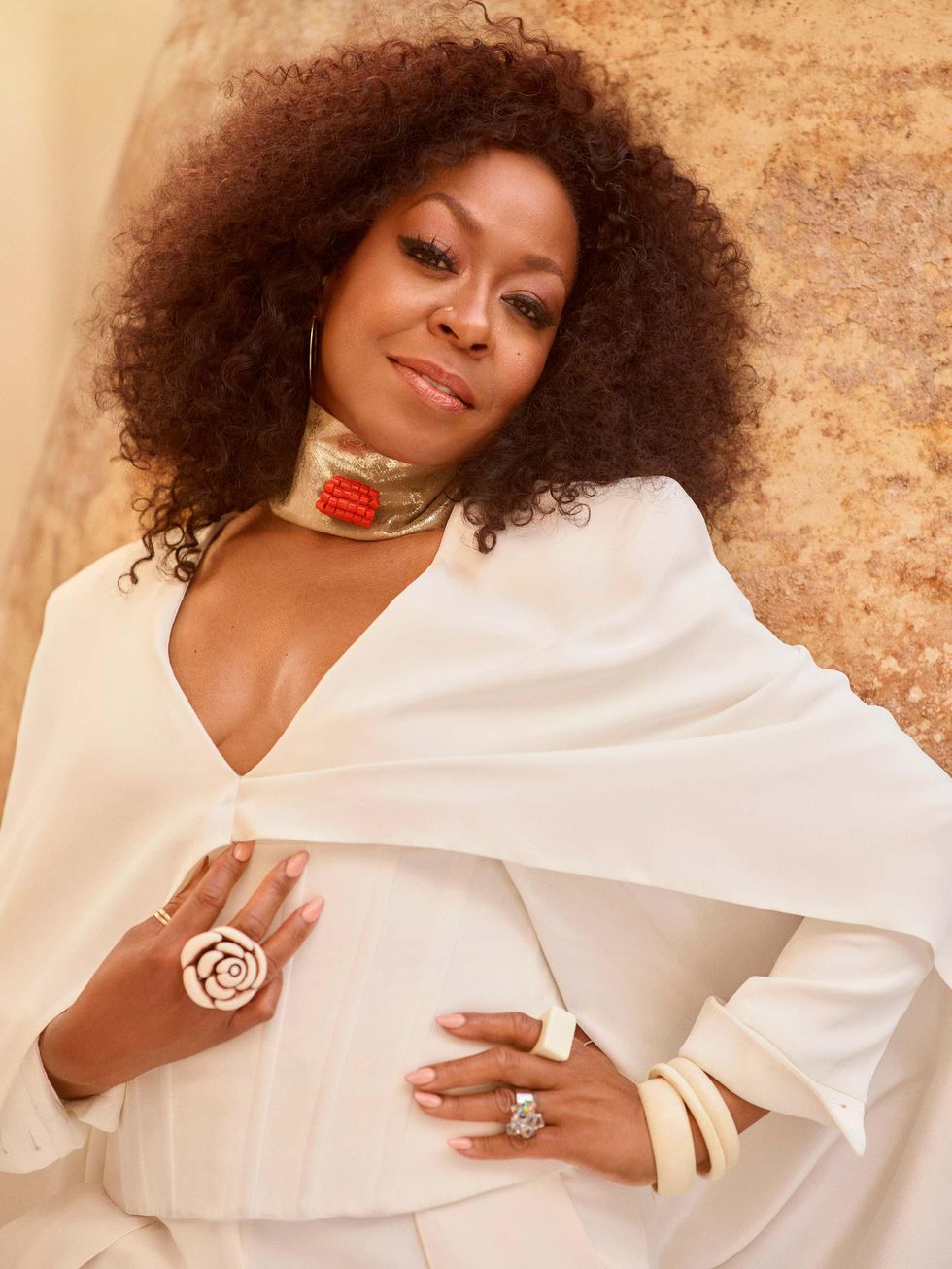 Top by Balenciaga. Pants by Halston. Jewelry by Dana Campbell.
Photography by Kwaku Alston. Styled by Dana Campbell.
So how do you get 2 million–plus Instagram followers?
That came from me trying not to lose my mind. Because I used to fight with my daughter [Alijah, age 16] every morning. By the time she was 3, we were in the car all the time and she didn't want to be in the seat. Here I am a single mom and I'd start singing. She loves dancing and I wanted her to sing. We started singing in the car. I posted: "For all you parents out there that had a hard time getting your kid up this morning, this is for you. You're not alone."

I had grandmothers hitting me, aunts hitting me, single dads hitting me. We all really do go through the same things, right?Different times, different places, different levels, different households. I never ever mind sharing my pain as long as I've learned from that pain. So now I can tell you what that pain feels like, but I can also tell you what I learned.
PHOTOGRAPHY: Kwaku Alston
STYLED BY: Dana Campbell
HAIR: Robbi Rogers
MAKEUP: @bethcarterbeauty using MAC
Originally published in Watch Magazine, November-December 2020.
The Neighborhoodairs on Mondays at 8/7c on CBS and streams Paramount+.