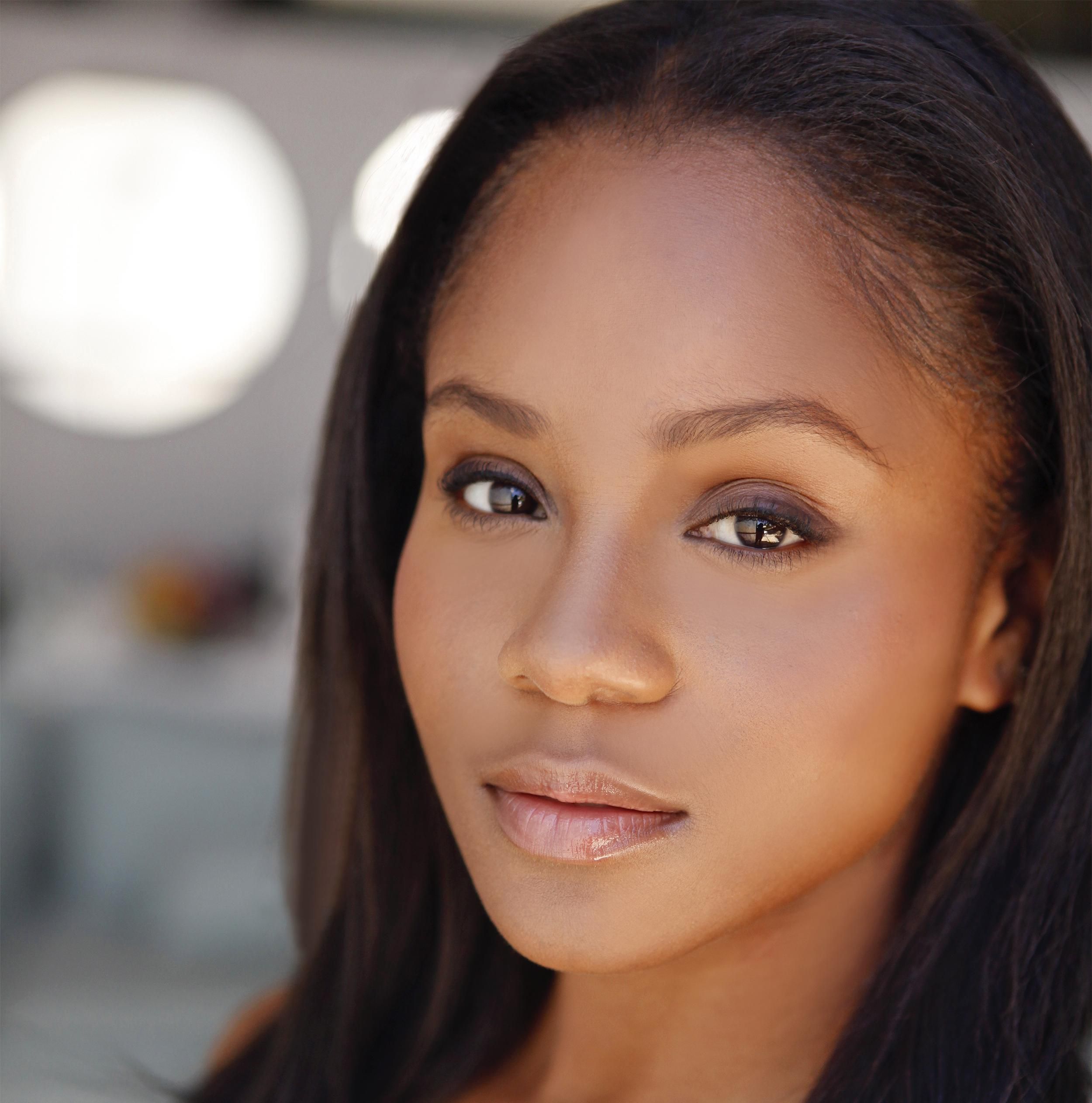 Photo credit: Paul Gregory
Strength training and healthy boundaries create a winning combination for All American: Homecoming star Geffri Maya.
By Michelle Darrisaw
Playing a student-athlete on The CW's All American isn't a stretch for Geffri Maya—it's her destiny. Before landing the recurring role as Simone Hicks in Season 2 of the sports drama, the 21-year-old grew up dancing and training under famed choreographer Debbie Allen.
The muscle and movement memory she developed at Allen's dance academy came in handy when performing the celebrated dance sequence in the Season 3 episode "All American: Homecoming," which launched the new spinoff series of the same name. "Luckily, my relation to Simone and the dichotomy [of the character] is not that far," says Maya. "I didn't grow up in Beverly Hills like Simone, but I was exposed to different walks of life in South Central L.A. that play a huge part in who I am today."
Now the ball is in Maya's court, as she takes the lead in All American: Homecoming. In the spinoff, Maya's character embarks on a new journey as a college student/tennis champ at a fictional HBCU in Atlanta named Bringston University.
SUBSCRIBE NOW: Enjoy 4 Digital Plus 2 Print/Digital Issues Of Watch Per Year — For Free!
All American: Homecoming airs Mondays at 9p.m.ET/PT on The CW and streams on CWTV.com.
To accurately bring Simone and her tennis pursuits to life, Maya did not have to look far for inspiration. She pulled from her real-life experience attending Clark Atlanta University, a historically Black college and university. "Being able to translate the HBCU experience in Homecoming feels like my purpose," she adds.
The health-conscious, self-proclaimed "breakfast enthusiast" says she's focused on longevity and having a legacy in Hollywood akin to Cicely Tyson's. Her game plan? Embracing beauty from within while acing her sculpting and wellness goals.
Finding her perfect match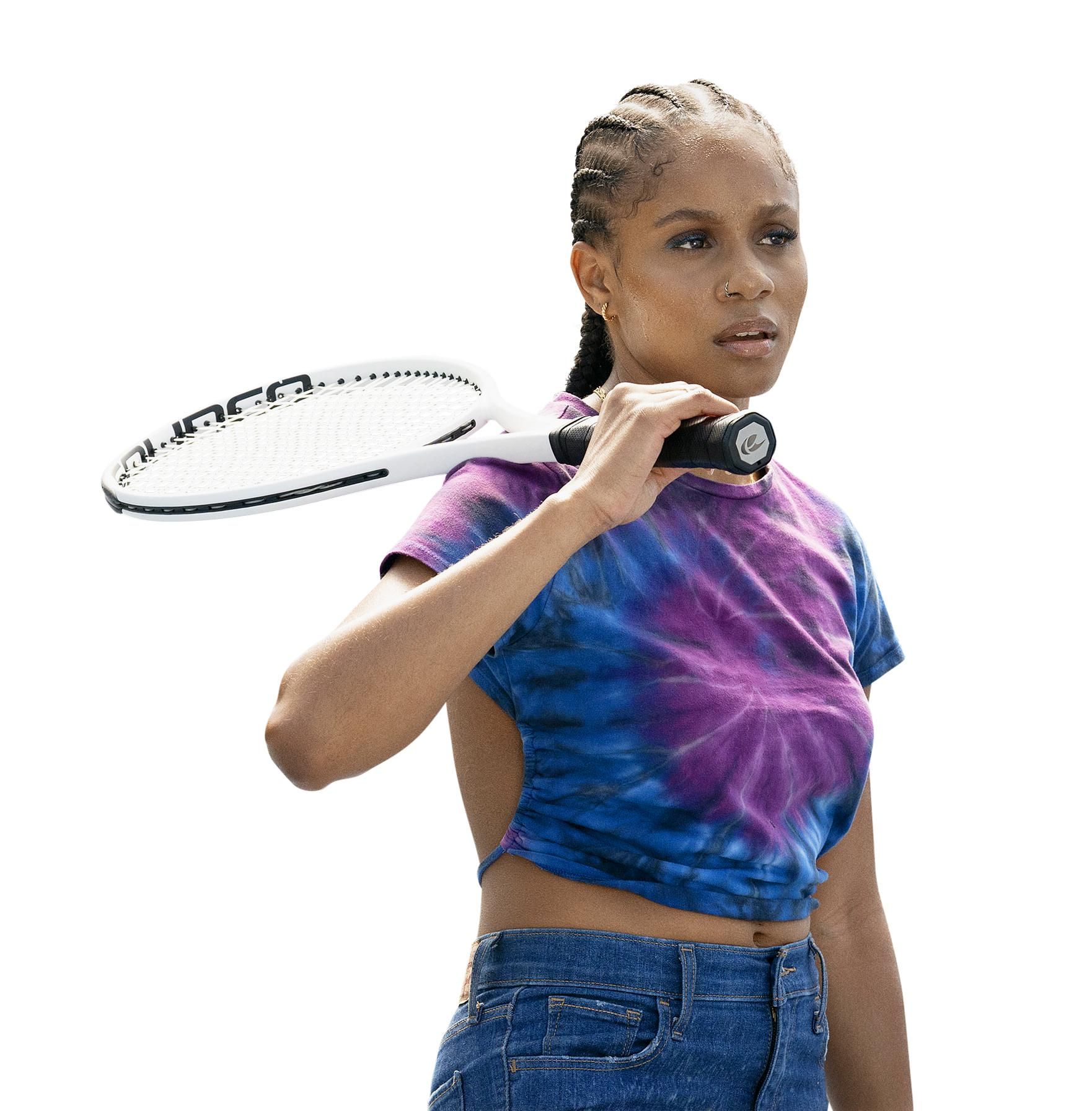 Geffri Maya works up a sweat as Simone Hicks.
Photo credit: Erik Voake/The CW
I've been dancing since I was 7, but learning how to play tennis was a challenge. I had never picked up a racket in my life.
The second we found out a pilot was possible, I got an amazing Black female trainer named Troy Titus. To work with someone who looks like me and cares about physical, emotional, and mental health is inspirational. It took a lot of hard work, consistency, and diligence and pushed me in ways that were necessary.
Setting boundaries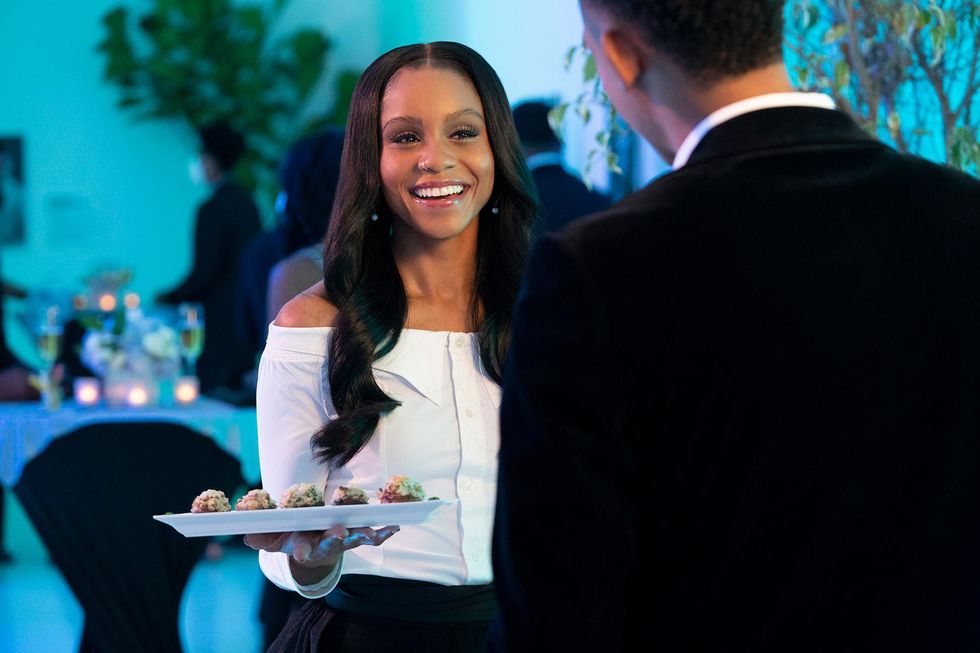 Maya is thoughtful about what she eats.
Photo: Erik Voake/The CW -- (C) 2022 The CW Network, LLC. All Rights Reserved.
Eating brings me joy. I try not to diet because it can have a negative connotation that can be harmful depending on how you view yourself. What I have are boundaries.
I can't eat and drink the same things I did when I was 14, so I fuel my body with food that will allow me to perform my best when working 15-hour days. I take care of my body and skin because what you put in is what you get out.
Minding her assets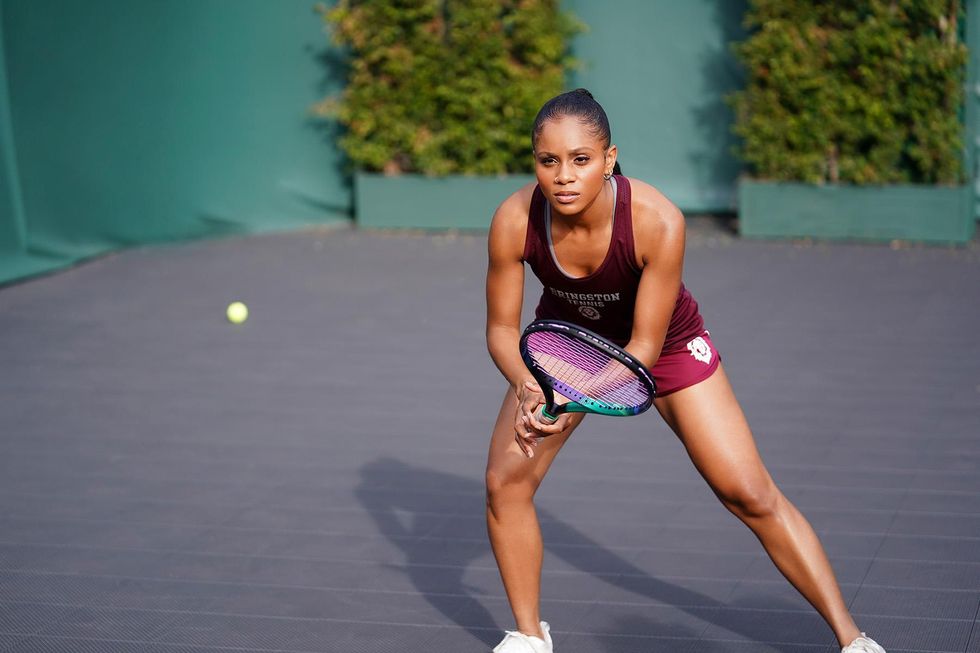 Now Maya looks like a natural with a racket in her hands.
Photo credit: Ser Baffo/The CW -- (C) 2022 The CW Network, LLC. All Rights Reserved.
Honestly, I focus on the booty! I do squats, donkey kicks, fire hydrants, and deadlifts. I incorporate full-body, arms, and crunches, but who doesn't want a lifted and shifted butt? I have an athletic frame that I used to have a hard time accepting.
Now I think it's important to take care of the body you're blessed with. Never do something because of someone else's beauty standards.
Serving looks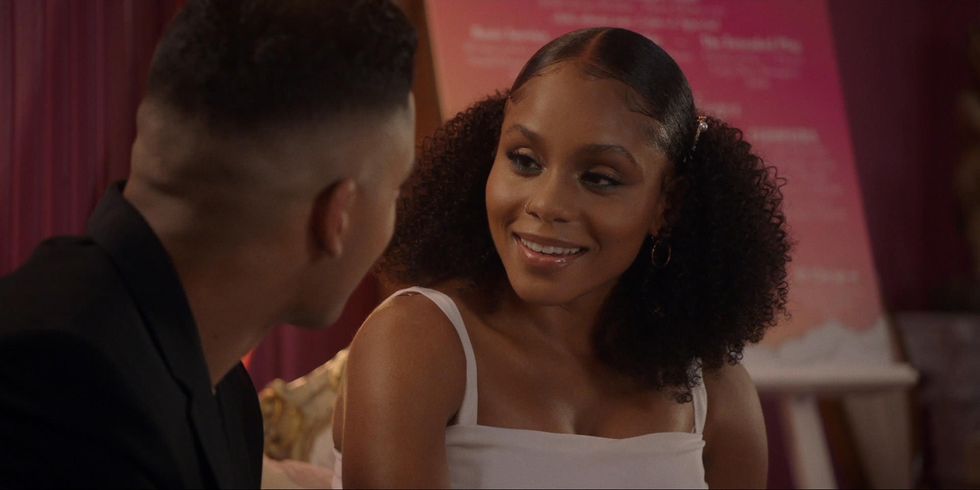 Michael Evans Behling as Jordan and Geffri Maya as Simone
Photo credit: The CW
I love wearing workout gear that is comfortable and cozy and makes me feel beautiful, such as Fabletics and Aritzia. One of my best friends, Taylor Polidore, has a clothing brand called Good Body Athletica.
She started this company to let everyone know that no matter the goals or struggles, your body is good because it's yours. Like me, she truly cares about being confident within herself as a Black woman.
Practicing self-love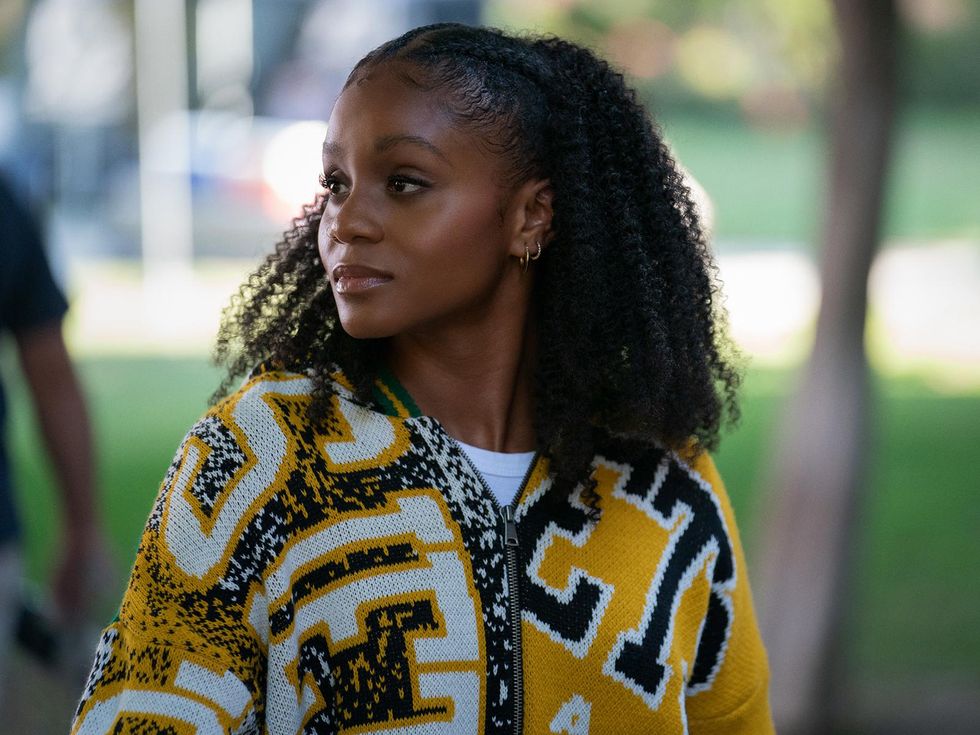 Photo: Ser Baffo/The CW -- (C) 2021 The CW Network, LLC. All Rights Reserved.
My favorite thing to do is my nighttime routine. If I could have a spa in the house, I would. I wash, exfoliate, and put my oils on. How I go to bed plays a huge part in how I wake up. In terms of feeling good and starting my day, I must cleanse my body, wash my face, brush my teeth, and prepare my vessel. All that leads to how I feel about myself, and it plays a part, physically, in how I adapt and exhaust that energy. Self-love is the key to everything, because if we wake up every day and
don't like what we see, it has a domino effect on how we carry ourselves in the world.
Perfecting her form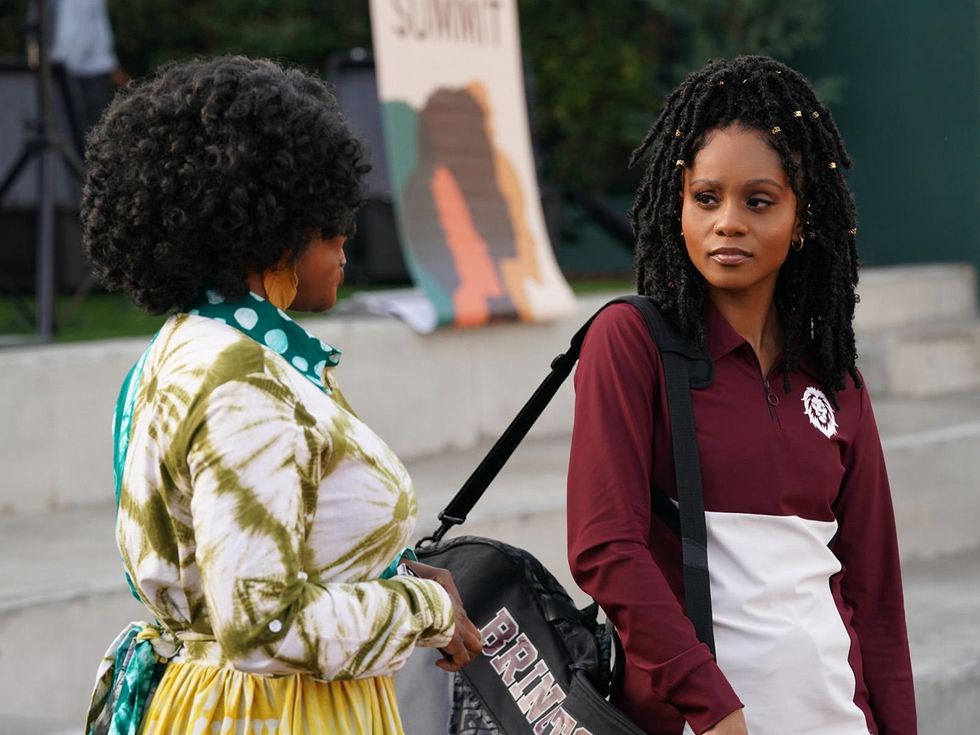 Kelly Jenrette as Amara Patterson and Geffri Maya as Simone Hicks
Photo credit: Troy Harvey/The CW -- (C) 2022 The CW Network, LLC. All Rights Reserved.
The beautiful thing about getting the opportunity to portray a young tennis hopeful is knowing these people existed. I studied the courage and diligence of Althea Gibson.
When it comes to Coco Gauff, Venus and Serena Williams, Sloane Stephens, and Naomi Osaka on the court, all these women exude confidence and love for their sport. But I had to think beyond surface-level and physicality to channel what it means to be a Black female athlete.
It's more than what they accomplished sports-wise; it's about who they are and what we can all take from that.
Fueling her day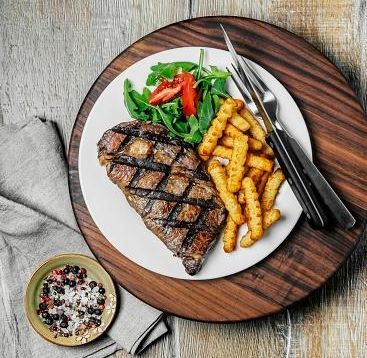 Steak frites is a treat Geffri Maya enjoys.
Photo credit: Claudia Totir/Getty Images
BREAKFAST:
If it's brunch, I'll have shrimp and grits or catfish. But I love scrambled eggs or a frittata with diced potatoes and chicken apple sausage, or perfectly cooked French toast.
LUNCH:
I can eat Thai food at any time. I don't like super-heavy lunches—just something to get me through the day. I always enjoy a nice salmon with arugula salad or rice on the side. Pasta is good at lunchtime, too.

DINNER:
I like for dinner to be a surprise: I recently had steak frites, and it was so good!

SPLURGE:
Whenever I'm celebrating something with my friends, we always have crab legs and wine. I love a good seafood boil!
SUBSCRIBE NOW: Enjoy 4 Digital Plus 2 Print/Digital Issues Of Watch Per Year — For Free!
All American: Homecoming airs Mondays at 9p.m.ET/PT on The CW and streams on CWTV.com.