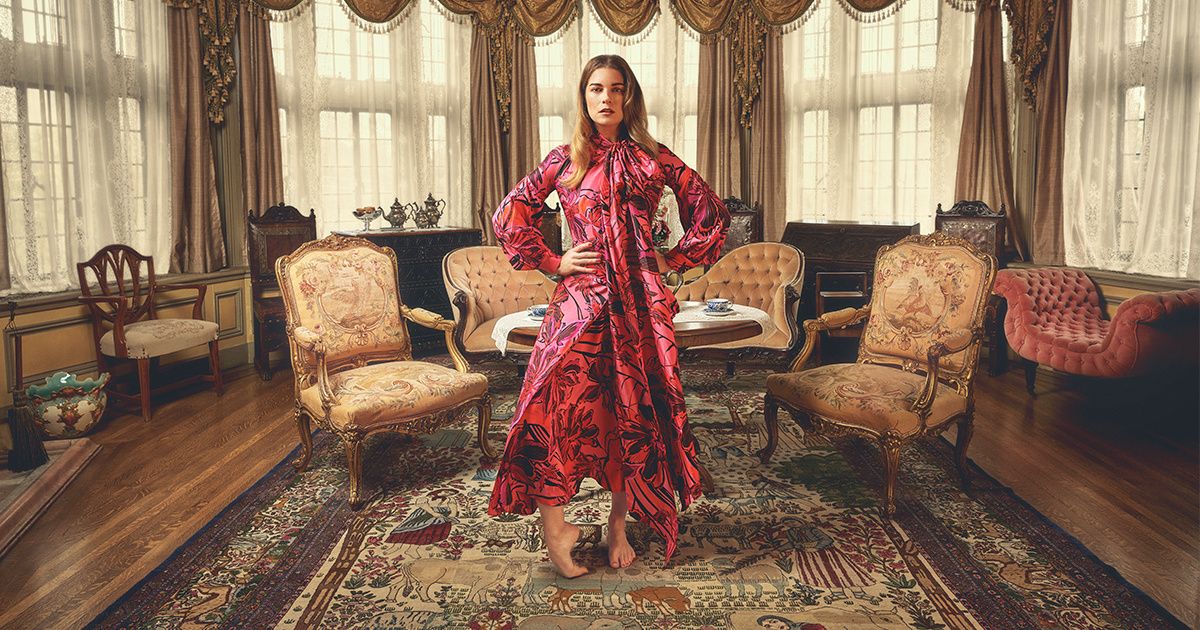 Photography by Christopher Ross. Styled by Sasha Charnin Morrison.
Thanks to Schitt's Creek stunner Annie Murphy's sparkling talent, self-effacing humor, and inherent goodness, anything that can go right, should go right.
Originally published in Watch Magazine, January-February 2020.
Watch every episode of Schitt's Creek on Pop TV and on the Pop Now App.
By Johanna Schneller
Five seasons into Schitt's Creek, the hit comedy series created by Dan and Eugene Levy, this little nugget popped up in a script: Alexis, the spoiled socialite who sets tiaras atremble, "sings the theme song from her short-lived reality series A Little Bit Alexis." But there was no further information—no lyrics, nothing. So Annie Murphy, the Canadian-born actress who plays Alexis, asked Dan if she could write the song herself.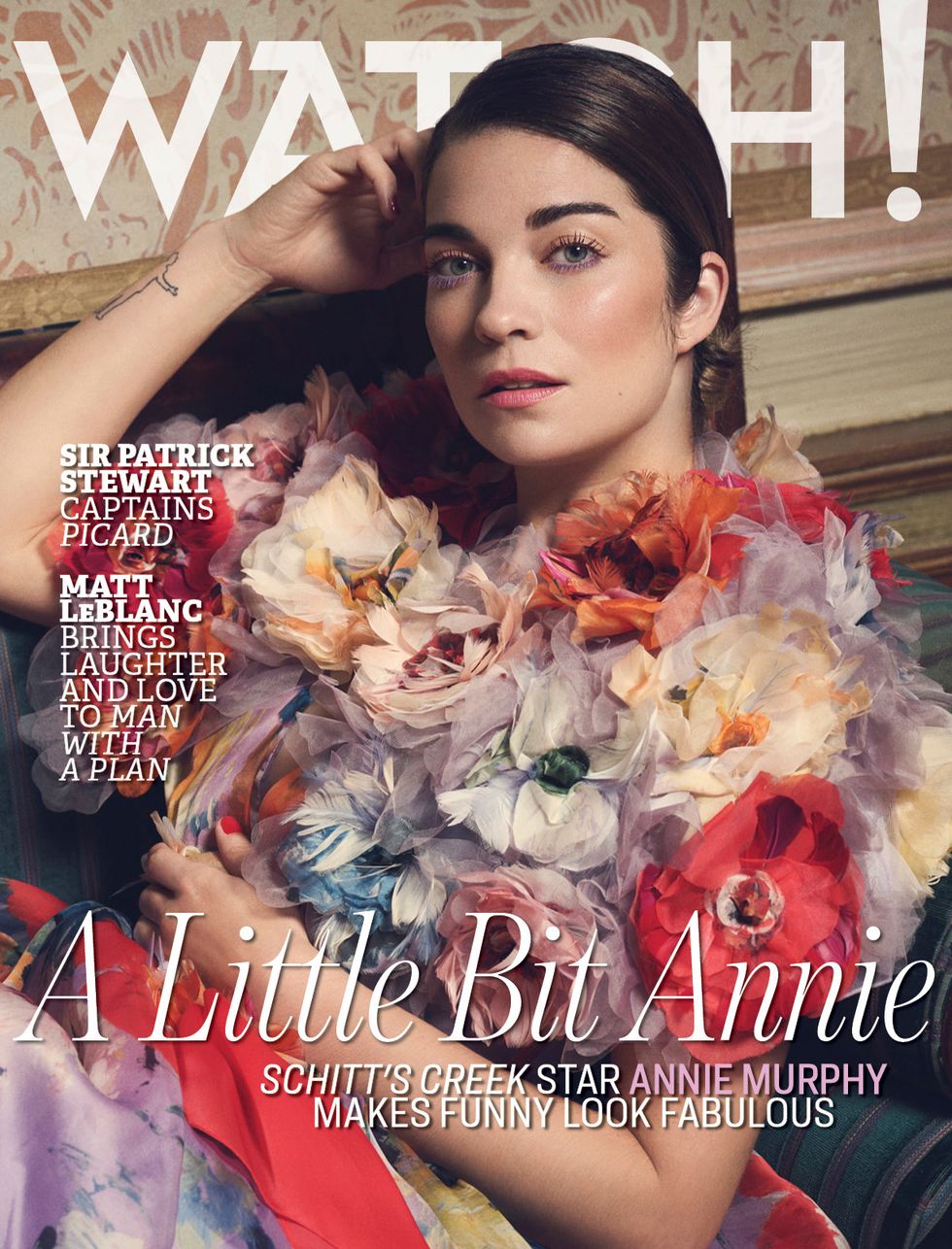 Gown by Marchesa.
Photography by Christopher Ross. Styled by Sasha Charnin Morrison.
By this point, Schitt's Creek had evolved from a charming CBC showcase for its legendary stars, Catherine O'Hara and Eugene Levy, to a worldwide phenomenon on Pop TV. (The sixth and final season just began; the cast and show received multiple SAG and Critics' Choice Award nominations, including a best supporting actress nod for Murphy.)
The story of the Rose family—Moira (O'Hara), Johnny (Eugene), David (Dan), and Alexis, clueless one-percenters who lost their video store fortune but somehow found their souls in a Podunk town—touched a collective longing for goodness in this mean-spirited era. A behind-the-scenes live show sells out wherever it lands, and costume-clad devotees attest that the series helped them accept their queer kids or come out to their families, got them through chemo treatments or the loss of a loved one.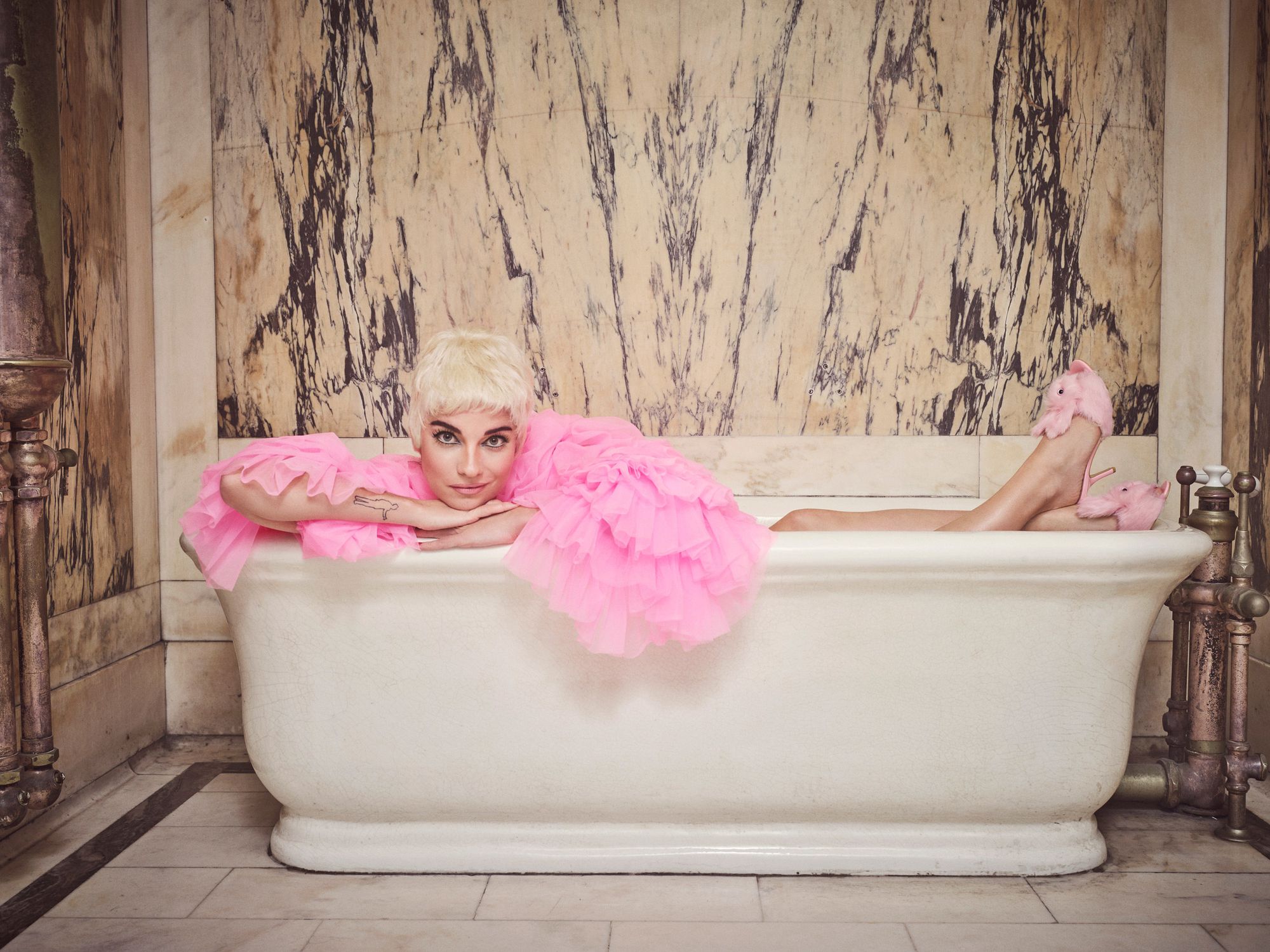 Coat by Modern Mistress. Slippers by Streetzies.
Photography by Christopher Ross. Styled by Sasha Charnin Morrison.
The show retained its comedic edge; O'Hara was vocal that if people change, it's a gradual process. The once-horrid family moved slowly down a bumpy road toward betterment, and the way Annie Murphy plays Alexis—heart first—is a big part of that.
It's a sunny October afternoon in Toronto, where Murphy lives, and she's curled up in a corner of a friend's couch. Her hair has been professionally styled into glamorous waves, but the rest of her is hangout comfy in a gray sweatshirt and black leggings. The contrast seems very Murphy: star on the outside, down-to-earth underneath. In person she's a self-deprecating storyteller, funny and warm. She gives your knee the occasional squeeze, and when she takes a bite of her microwaved sandwich, she apologizes for talking with her mouth full.
Murphy knew Alexis' theme song had to be spoofy, "but I secretly wanted to make a banger," she admits. After saturating herself in Britney Spears and Paris Hilton—"My ears started to bleed a little, but I got the vibe"—Murphy wrote the lyrics, and her husband, Menno Versteeg, and one of her best friends, Nixon Boyd, musicians in the Canadian indie rock band Hollerado, produced the song. On shoot day, everyone gathered on Schitt's Creek's biggest set, Town Hall. Murphy started the playback, launched into the teetery-sexpot choreography she'd concocted in her trailer 20 minutes earlier, and sang, "I'm a Lamborghini, I'm a Hollywood star, I'm a little bit tipsy, when I drive my car."

Instantly, the air filled with muffled snorts of people desperate to hold back laughter. When the director, Jordan Canning, finally called cut, the room exploded. ("I'm going to take it to my grave as one of my favorite things I ever got to do," Canning says.) The Schitt's verse responded with similar rapture, and the song blew up. Gay clubs added it to their playlists; T-shirts sport her lyrics ("Hide Your Diamonds, Hide Your Exes"); and impersonators send her videos from drag brunches. Most touchingly, Murphy overheard Eugene at the crafts services table quietly singing to himself, "I'm a little bit thing, I'm a little bit thing."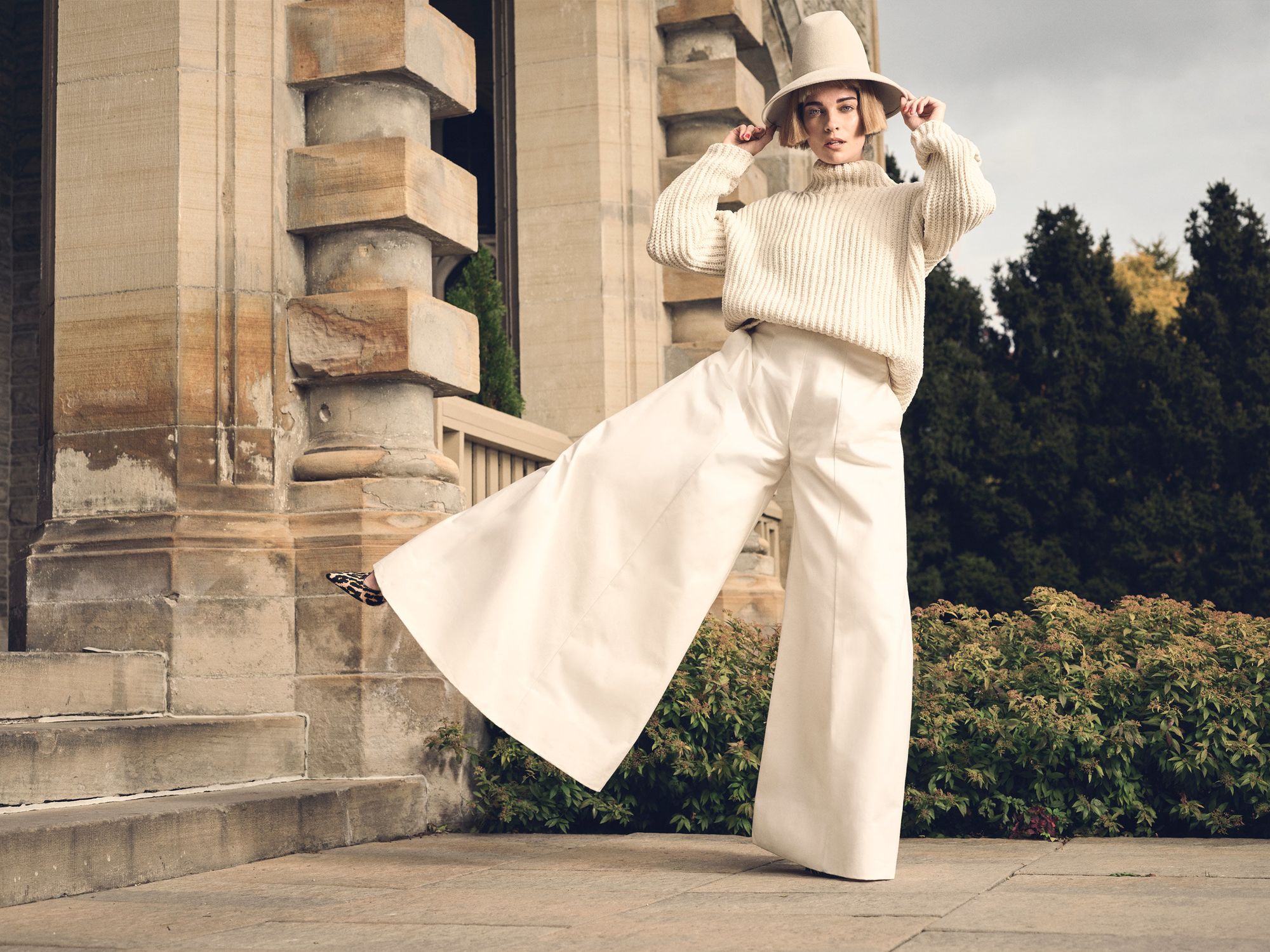 Sweater by Sally LaPointe. Pants by Hogan McLaughlin. Shoes by Roger Vivier. Hat by Esenshel.
Photography by Christopher Ross. Styled by Sasha Charnin Morrison.
"Not knowing any of the lyrics, but needing to sing along," Murphy says, clutching her heart. Her Eugene impression, which is basically lowering her voice and punctuating key words, is a source of much merriment for the show's writers, who tried, unsuccessfully, to work it into an episode. "It's not a good impression, but she clearly loves doing it so much," says writer David West Read. (Watch for her Moira impression in Season 6.)
"A Little Bit Alexis" is a little bit of a metaphor for what Murphy, 33, has pulled off with this character. On paper, Alexis was ditzy, selfish, shallow as a sheet pan. Dan auditioned hundreds of actresses; he had to find someone who would win over the audience. "Inherent likability is not something you can put on," he says. "You either have it or you don't. Instantly I knew I could throw a lot at Annie and she could handle it, because she has that special something. She makes you feel things without seeing them. They simmer under the surface with this magical vibration."
Murphy tricked out Alexis with tics from various Olsens and Kardashians, "these incredibly privileged women going about their day"—lazy, elongated vowels, and a habit of carrying her wrists bent like she's holding an imaginary purse. "My description of it—which I think is accurate—is a T-Rex playing piano at an old-timey saloon," she deadpans. But she also gave Alexis a startling depth—especially startling to Alexis herself. Watch the myriad expressions of bewilderment and surprise that flit across her face when she feels (gasp) an emotion. Watch her in Season 2 as she backs around a room, away from the realization that she has to hurt someone (she ends up climbing backward onto a desk and crouching in a corner). "It takes a self-aware, intelligent, empathetic actor to play with so much compassion a character who lacks self-awareness," West Read says. "Annie's happy to play the butt of a joke, and she can do so much with so little. Ten seconds of her awkwardly walking out a door is as great as anything we could write."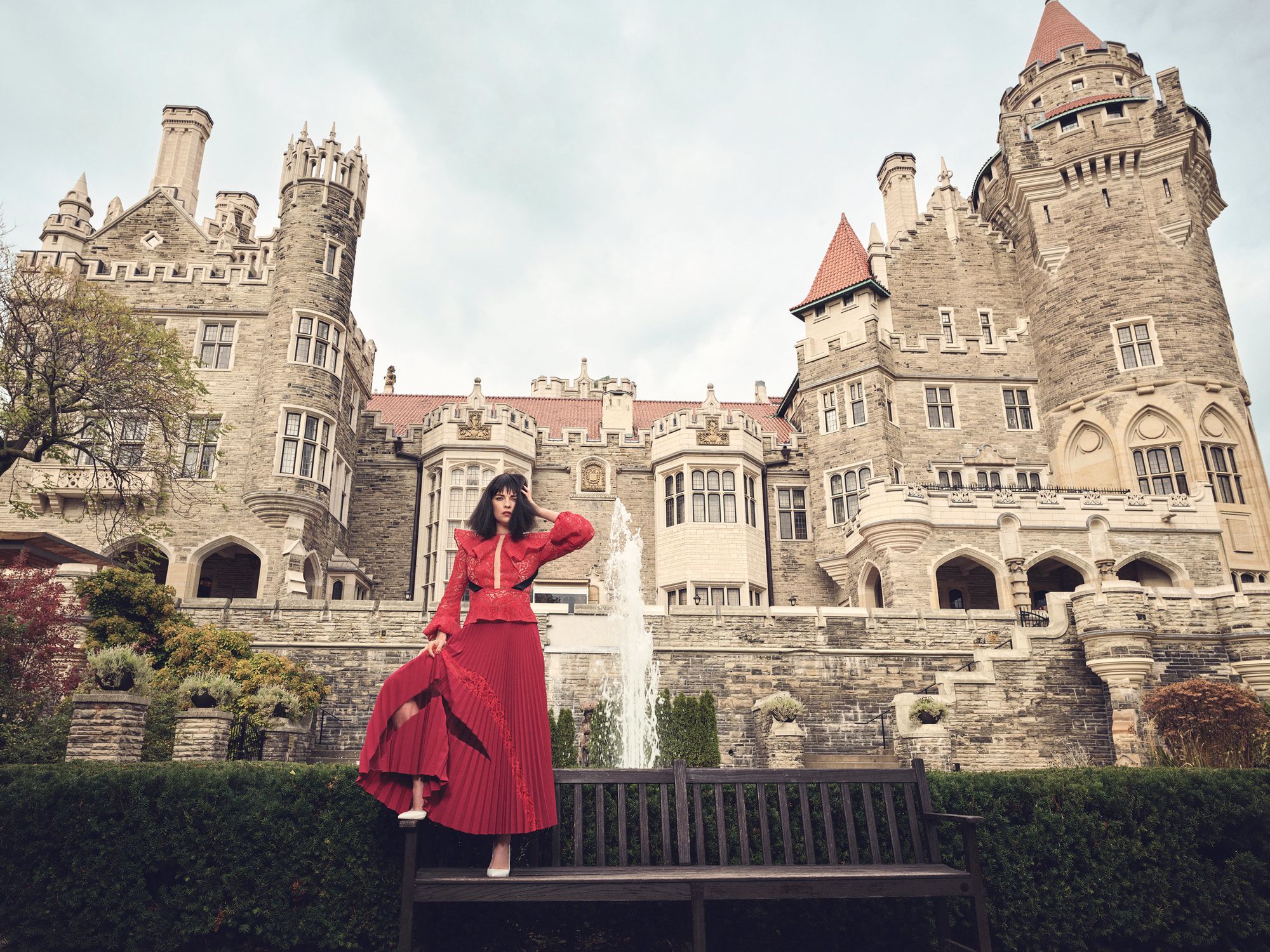 Top and skirt by Bibhu Mohapatra. Shoes by Gianvito Rossi.
Photography by Christopher Ross. Styled by Sasha Charnin Morrison.
Both Eugene and O'Hara avow that they love Murphy like their own daughter. In the long list of comedic talents they've worked with in their storied careers, they put her at the top. "It's her timing, her physicality, her delivery, it's the whole package," Eugene says. "I'm in awe of what she can do. She runs the gamut from the funniest moments to the tiniest looks that tug right at your heart."But unlike so many actors," he continues, "Annie doesn't possess what my wife calls the 'Look at Me' gene. She likes the simple things in life: a good meal, a good time with friends. She likes to be at the back of the crowd, watching someone else at the front."
O'Hara felt it from their first scene together. "When someone's really good like Annie is, they give you all the reality you need," she says. "People always ask, 'What's harder, comedy or drama?' But the best comedy is a mix of both. You have to do all the work you do for drama, and on top of that, you have to get a laugh. You have to have a sense of humor about life, and about yourself. Annie knows how to walk that line." Though Schitt's is clearly a comedy, there are hints of darkness between the jokes—loneliness, neglect, a longing for love—especially in Moira's blithe disregard for Alexis. Murphy makes those moments hit home.
On set she's a buoyant presence, always ready to help Dustin Milligan (who plays Alexis's boyfriend, Ted) make an audition tape, or chat about some of her obsessions—Goldfish crackers, World War II movies, the Backstreet Boys, and rain/clouds/weather. Milligan marvels at how Murphy came into a preexisting family—Levy and O'Hara had worked together so much; Dan Levy and Sarah Levy (who plays Twyla) are Eugene's children—and held her own. "She was so fresh, and she brought this vulnerable naiveté," he says. "I think she was the first crack into the heart of all of them." Murphy grew up in Ottawa, an only child; her father was a speechwriter and her mother taught English as a second language. (They remain very close.) A voracious reader with a vivid imagination—"I'm fine, don't worry, but I would play by myself a lot," she says—she recalls a shopping trip when she was 11 where she morphed into a character called Strong Person. She remembers running with it, and how it felt to make adults crack up.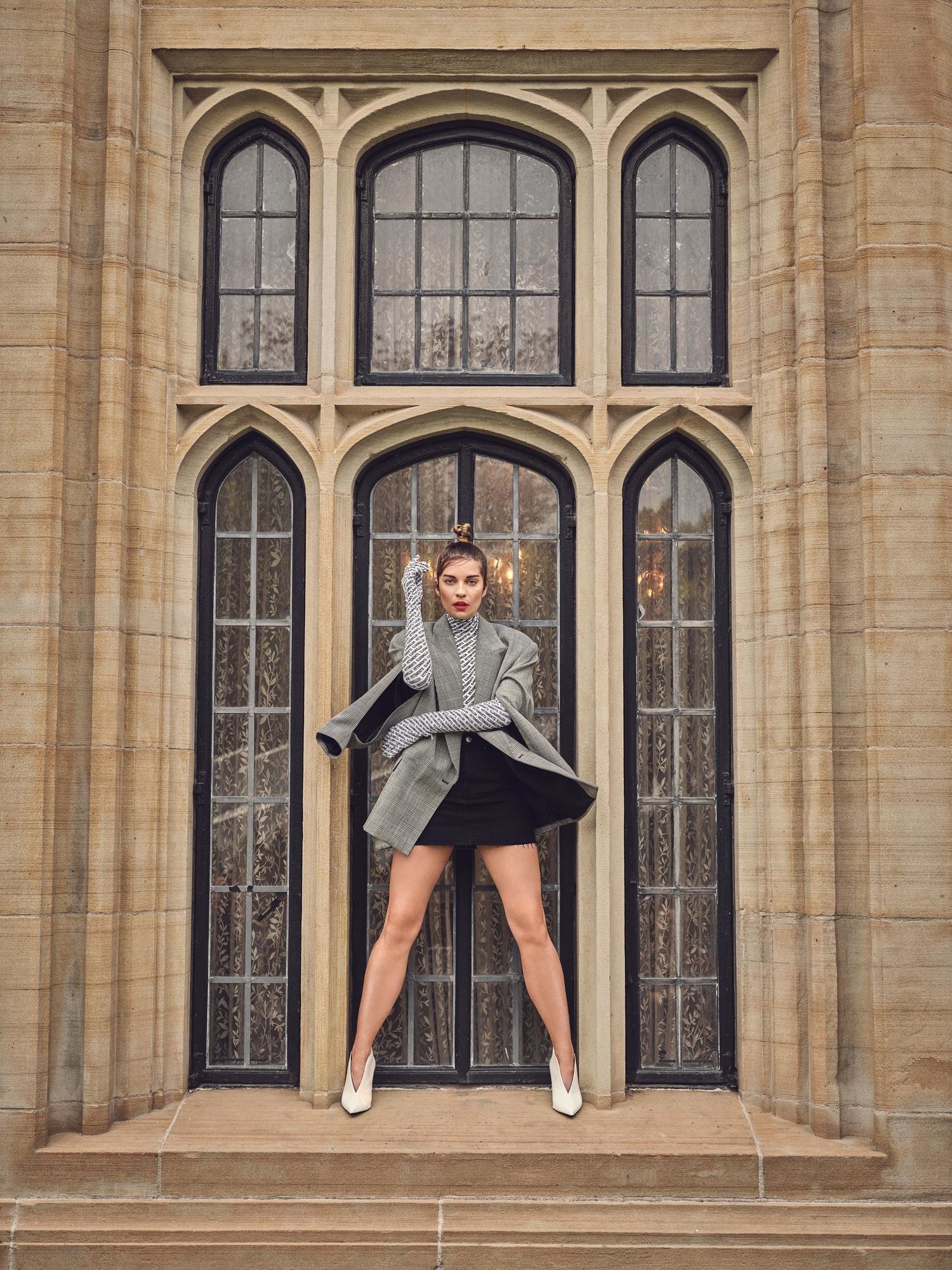 Jacket and bodyshirt by Vetements. Miniskirt and shoes by Zara.
Photography by Christopher Ross. Styled by Sasha Charnin Morrison.
From her earliest years, she suffered "this weird panic about only getting one life," she recalls. Books were a remedy to that. So was acting: first playing Hyena No. 2 in her second grade production of Green Cheese Pie (written by her teacher), and later in all her high school plays. Her dad introduced her to the British series Fawlty Towers and to black-and-white movies. She fell especially hard for James Stewart in the 1950 film Harvey.
"Harvey has always been such a safe, wonderful place for me to go," Murphy says. "It's about leading with kindness and awe, and really believing in something. That you're never totally alone, even though it looks like you are sometimes." On her 32nd birthday, she had an outline of Stewart's character, Elwood P. Dowd, tattooed on her wrist.
She was going to Concordia University's theater school in Montreal when she started dating Versteeg; they married four years later. She spent much of her 20s on the road with his band, going to China and Brazil, "driving all over North America in a van with four smelly dudes." It was her first experience of travel, and it blew her mind. "It was formative," she says. "I wouldn't change a thing."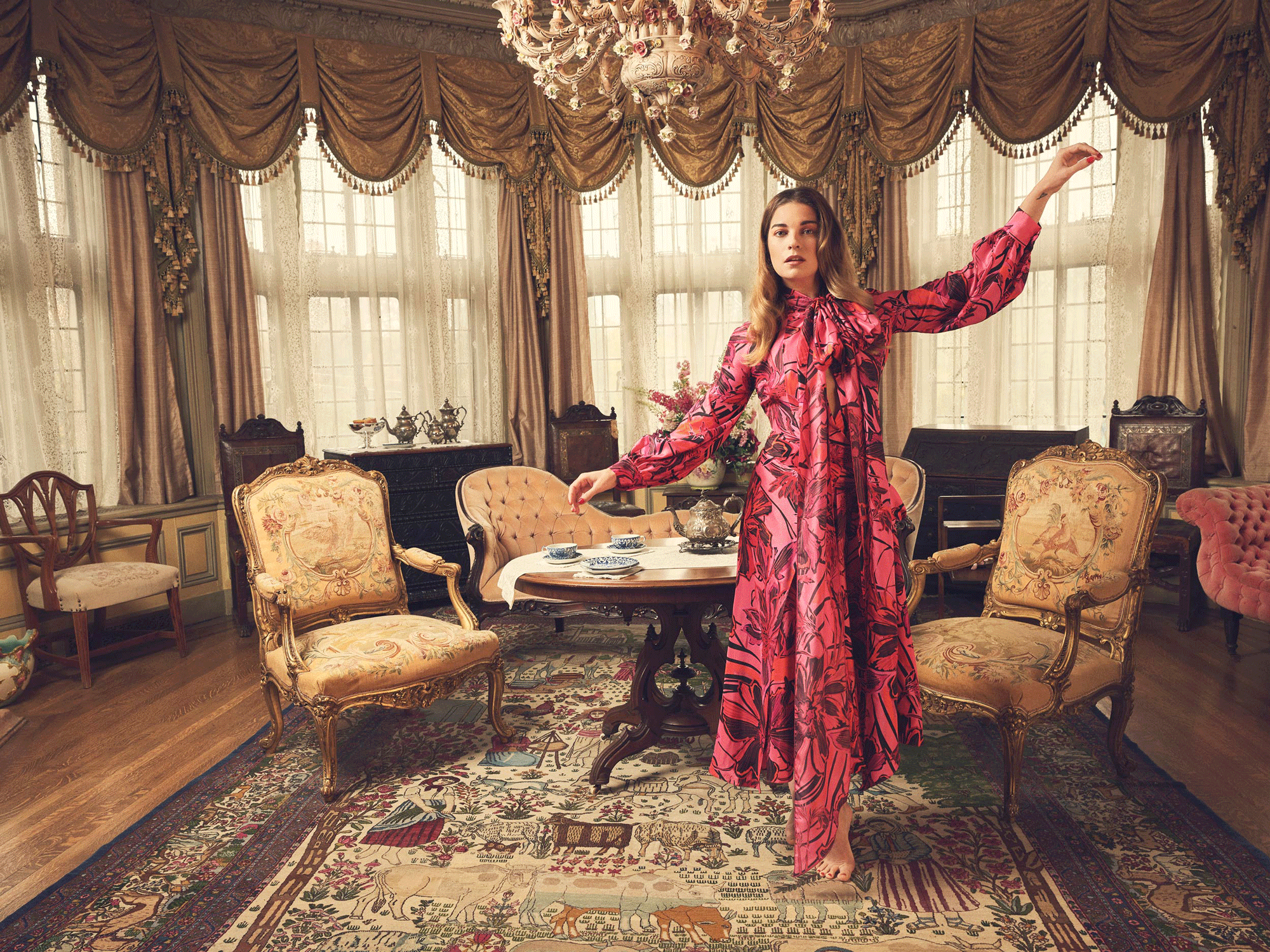 Dress by Antonio Berardi.
Photography by Christopher Ross. Styled by Sasha Charnin Morrison.
She and Versteeg moved to Toronto, where she attended the Actors Conservatory at the Canadian Film Centre. She spent five years doing bit parts in series and small films, and had a lot of close calls—"down to me and another girl, waiting by the phone, the phone not ringing"—but by 2013, she was feeling bleak. She hadn't booked a job in two years. She pled with her then-manager, Couldn't she go in for comedies? "I would get a pat on the head, 'But you're pretty though,'" she recalls. Her bank account was down to $400. To top it off, her Toronto apartment burned down. In Los Angeles for pilot season, she had a long cry in the Pacific Ocean and determined to find something else to do. The next day she got the audition for Schitt's. "That was the moment my life changed," she says. "It sounds so cheesy and cliché, but it truly did."
Every person you speak to mentions Murphy's down-to-earth openness—and here's where our conversation gets real. Despite her considerable success, lately she's been struggling. This past summer, "I was in a place where it was hard to see two feet in front of me," she says. "It was hard to get out of bed. Having a shower was the job for the day that sometimes didn't get done. That's a scary place to be."
Those close to her, as well as her therapist, suggested that she might be in a clinical depression. She denied it. "I so desperately didn't want to be that person," Murphy says. "I wanted to be the happy person I know I am and can be. But you don't get to choose if you're depressed."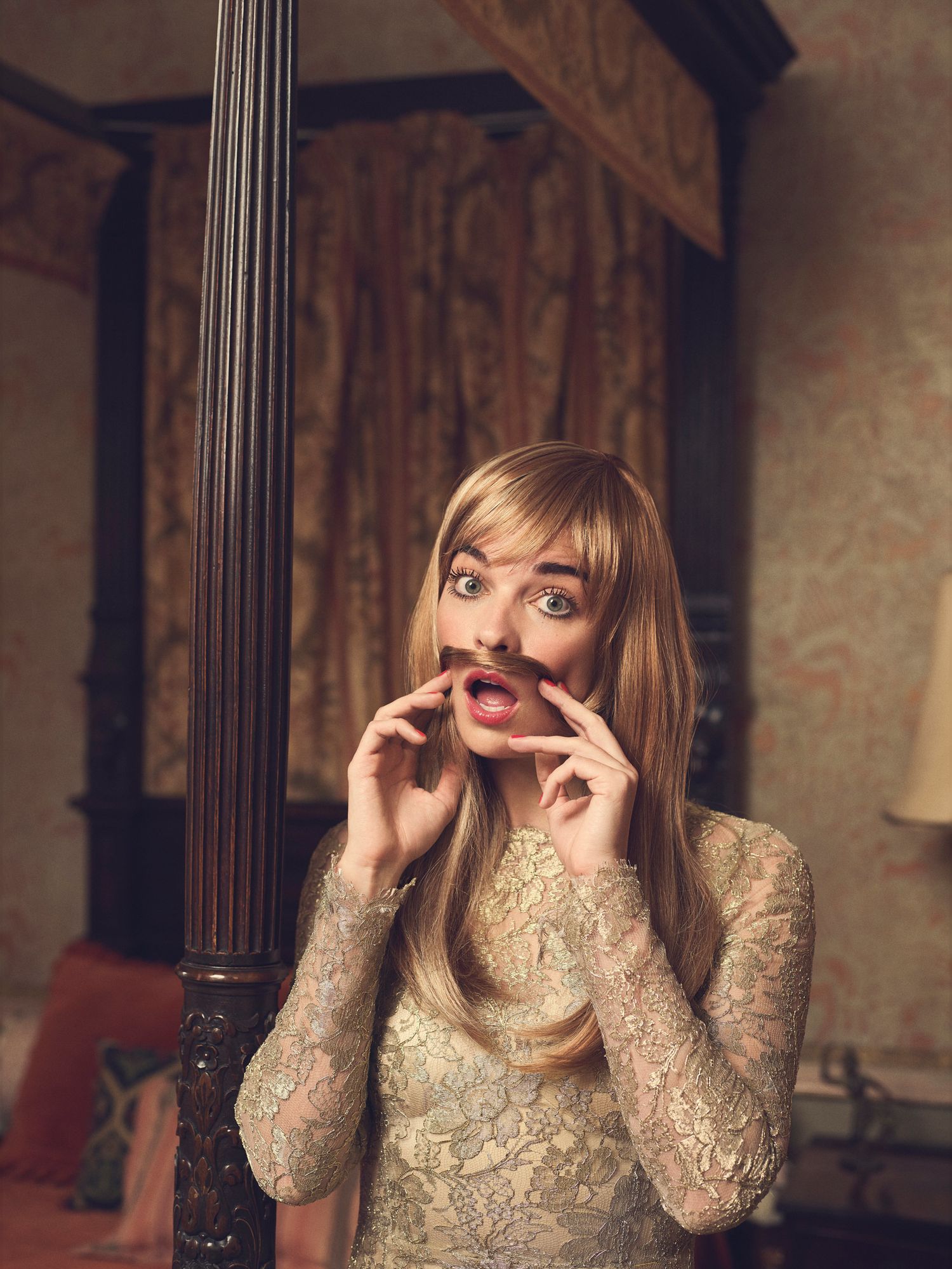 Dress by Dolce & Gabbana.
Photography by Christopher Ross. Styled by Sasha Charnin Morrison.
Now she's on antidepressants, and feeling better. "I hope this is just a little piece of time where I need extra help," she says. "Things are still hard and sad, but I feel like I can get through it as opposed to it weighing down on me. I think it's an important thing to talk about. Most people that we know are dealing with some kind of anxiety or depression. Therapy is an incredibly helpful tool. So much can be fixed. We can avoid so much sadness and turmoil. I want to do everything I can to help lift the stigma and encourage more support for mental health." Depression has nothing to do with failure or success, she stresses: "It's the weight of being human that just catches up to you sometimes."
In September, she traveled to Jordan as an ambassador for CARE Canada, which helps women and girls in developing countries raise themselves out of poverty and crisis. Meeting some of the 36,000 refugees at a camp in the desert "really put things in perspective for me," Murphy says. "They had gone through horrors, but were so full of hope and goodness and kindness." As of this moment, she doesn't know what her next project will be. "It's pretty spooky to be auditioning again," she admits. "I'm trying to look at it as a great adventure, as opposed to a scary hellscape of uncertainty." She'd love to do theater again, a period piece, "a super-low-budget weird indie." "Anyone with a brain should be jumping to get Annie," O'Hara says. "I hope she knows how good she is."

Murphy would love to work with Phoebe Waller-Bridge, Amy Poehler and Kristen Wiig, Abbi Jacobson and Ilana Glazer. "I want to be on Succession," she says. "I'd love to work with Steve Carell. These are lofty dreams." She may not play another Alexis type right away. "But I'm sure that in no time I'll be begging strangers, 'Please let me say Ew, David for you,'" she jokes.On the final day of Schitt's Creek, they shot the final scene of the series, and everyone dissolved into what Murphy calls "a therapeutic sob." Dan Levy took himself on a farewell tour of the sets; in the motel bedroom David and Alexis shared, he found Murphy, doing the same. Sarah Levy snapped a picture of them huddled on the couch, tears streaming.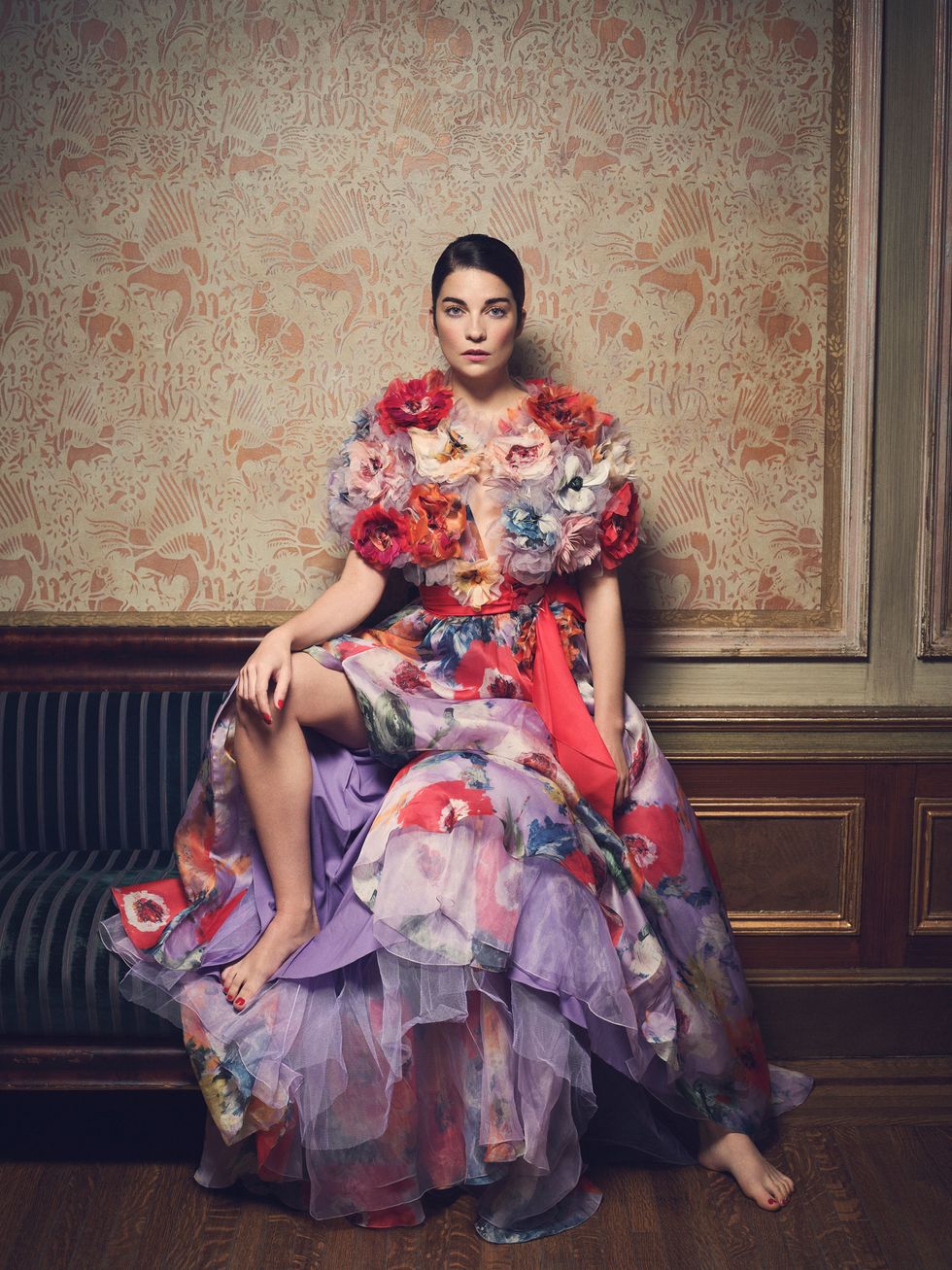 Gown by Marchesa.
Photography by Christopher Ross. Styled by Sasha Charnin Morrison.
Murphy saved only a few pieces of Alexis's wardrobe: a pair of Gucci sandals, a chunky Isabel Marant sweater. "I didn't want to be cosplaying myself," she says. Oh, and she kept the velvet babydoll dress she wore to sing "A Little Bit Alexis." "I'll never wear it again, but ..." she trails off, pretending to be a little bit choked up.
She also hopes to keep something else of Alexis's: her self-confidence. "It's the most anti-Canadian way of being," she says, laughing. "Canadians are like, 'I'm sorry I'm here, oops.' So taking a sprinkle of confidence from her would be nice. Also her up-for-anything lust for life. And learning from mistakes. If you screw up, it's OK. I've had a hard time doing that. But it's a good thing.
"That extra bit of belief in yourself goes a long way," Murphy sums up. "Just being a supporter of yourself, that's a valuable thing to try to achieve."
SEE MORE: Schitt's Creek Star Annie Murphy Makes Funny Look Fabulous
Originally published in Watch Magazine, January-February 2020.
Watch every episode of Schitt's Creek on Pop TV and on the Pop Now App.