Formerly cast as a bad guy, the Blood & Treasure star makes a change for the better as former FBI agent Danny McNamara.
By Jeanne Dorin McDowell

Playing it straight as FBI agent-turned-antiquities expert Danny McNamara in CBS' action-adventure series
Blood & Treasure is a different kind of role for Matt Barr, 35, who is more familiar being a rogue or a rebel in television series like Hatfields & McCoys, One Tree Hill, and Hellcats.

STREAM: Full Episodes Of Blood & Treasure On CBS All Access

Barr, who was raised in Dallas by his father, a football coach and real estate agent, and mother, a portrait artist, was active in high school theater programs. When he was 17, he won the lead role as a teenage skateboarder in the indie film
Levelland, which filmed in Austin.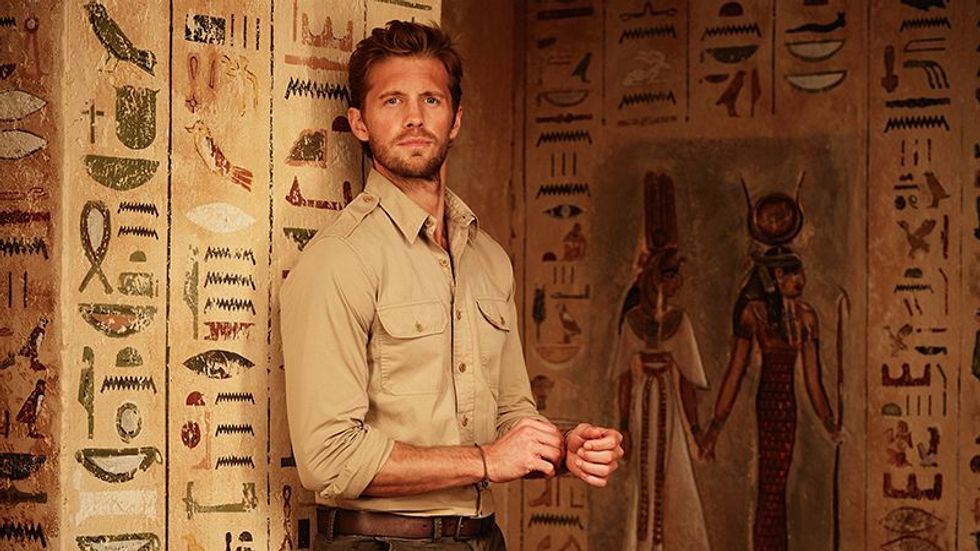 Matt Barr as Danny McNamara, a former FBI agent specializing in stolen art and antiquities in
Blood & Treasure.

Soon after wrapping production, Barr headed to L.A., where he got his first acting job: reciting three lines on
ER. A guest spot on Commander in Chief followed a year later, followed by a recurring role on One Tree Hill; he was soon landing starring roles in series like Sleepy Hollow and Valor, and the William H. Macy-directed comedy The Layover.

READ MORE: Behind The Scenes: The Making Of Action-Adventure TV Series Blood & Treasure

In Danny, Barr says he's found the role of his lifetime—and not just because it's allowed him to travel the world, an experience he calls both "a great adventure" and "exhausting." As he enthuses, "I've spent my entire career dreaming of doing a treasure hunter show." Now, "My life has aligned with my dreams."
Excerpt originally published in
Watch! Magazine, July-August 2019.

Photo Credits: Kharen Hill/CBS; Benjo Arwas/Contour by Getty Images (Portrait); Didier Baverel/CBS; Kharen Hill/CBS.
Watch
Blood & Treasure on Tuesdays at 10/9c on CBS and CBS All Access.