Sam Jaeger gets passionate as a philandering husband on CBS All Access' new TV series Why Women Kill.
By Brantley Bardin
With quietude and soul (those empathy-filled eyes!),
Sam Jaeger, 42, has become a beloved perennial in our living rooms and cinemas over many years now.

Most famous as "super husband" Joel Graham on
Parenthood, the Ohio native has worked with three of our greatest film directors—Steven Soderbergh (Traffic), P.T. Anderson (Inherent Vice), and Clint Eastwood (American Sniper)—and starred or guested on virtually every hit TV show nameable.

READ: Why Women Kill, A New Comedic Drama From Marc Cherry, Premieres On Aug. 15

Now, his cleft-chinned chops are gracing
CBS All Access. He appeared in the first season of Kevin Williamson's (Scream) hyper-twisty crime thriller, Tell Me a Story, opposite Kim Cattrall as his mother. And this summer, he's starring in Marc Cherry's (Desperate Housewives) hotly anticipated Why Women Kill, which co-stars Lucy Liu, Ginnifer Goodwin, and Kirby Howell-Baptiste as three cheated-upon wives out for revenge.

"It's wonderful working here," says Jaeger of the digital streaming service. "CBS All Access is willing to take real and edgy risks, and that's a great place for actors and creators to be."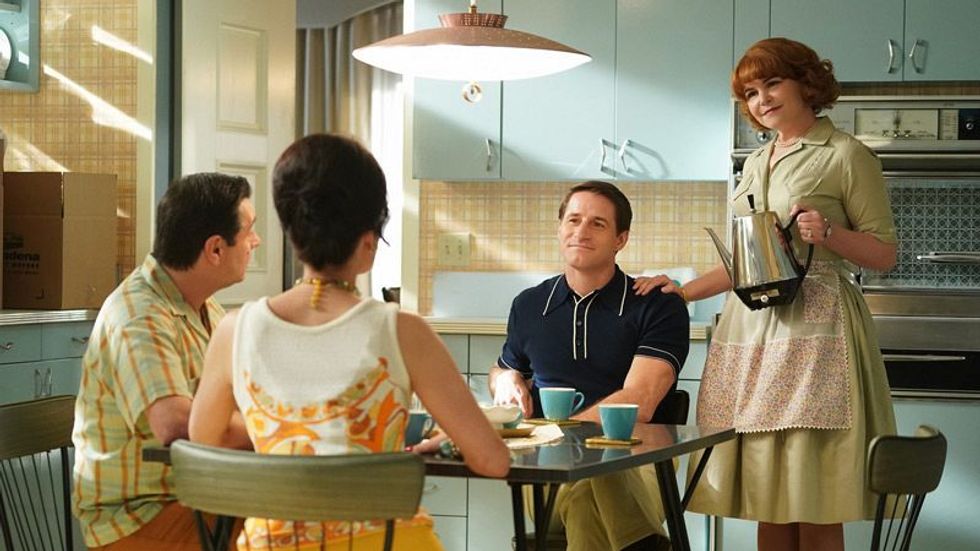 Sam Jaeger as Rob and Ginnifer Goodwin as Beth Ann of CBS All Access series
Why Women Kill.

Yes, it's to die for ... which you may well be doing in Why Women Kill, a seriocomic series that takes place in one Pasadena house occupied in three different decades by a trio of wronged wives and their philandering partners. Sounds juicy, yes?

I relate it to a good summer novel. Much like
Tell Me a Story, you can't miss an episode, because so much happens and then you have to look ahead to the next chapter. In Why Women Kill, we get to watch relationships in different eras—the '60s, '80s, and present day—where situations between men and women have changed yet remain much the same. The tone is dark, but with a wink. It's about how, in relationships, we're looking for love and trust. But these are people who are dealing with maybe not the most, um, committed partners. [Laughs.]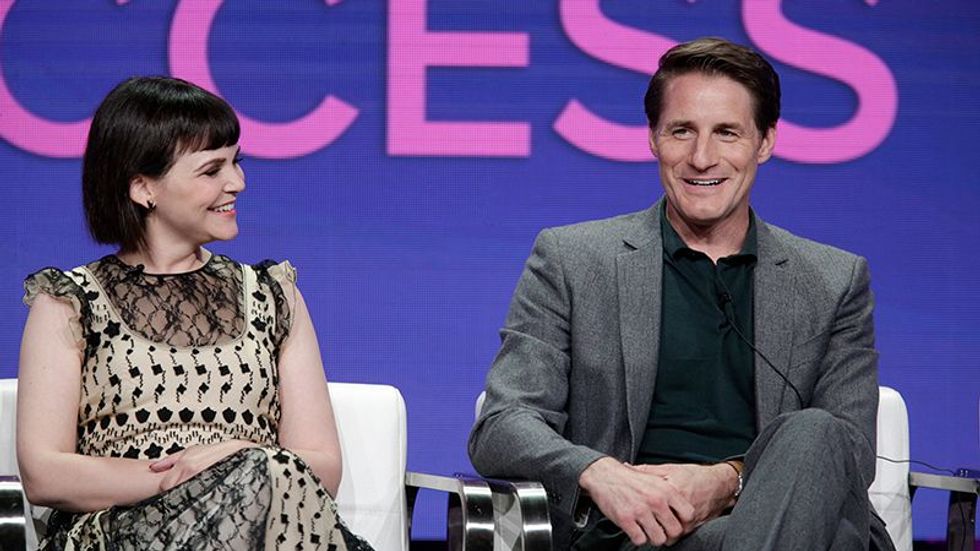 Ginnifer Goodwin and Sam Jaeger during the
Why Women Kill panel for TCA Summer Press Tour 2019.

Your story's arc unfolds in 1963, playing Rob to Ginnifer Goodwin's housewife, Beth Ann. What's Rob like?

Rob was a blue-collar guy who now helps design rockets, which is a huge leap from where he was. He's worked really hard and there's a sense of entitlement in what he does, and a kind of clueless aloofness when it comes to how far removed he is from his wife. When Beth Ann is told he's having an affair, the wheels start to come off.
Tell Me a Story, which is returning for a second season, is another high-concept show that riffs on Grimm fairy tales in the context of a modern-day thriller. You play Tim, a recently widowed, formerly absentee parent of a dad. What drew you to the character?

His earnestness and the fact that he's in a spot where he's doing something he's not very good at, which is parenting. It's a show that ... well, you know something's a hit when your own folks say, "It's definitely not our kind of show ... but we couldn't stop watching!" [
Laughs.]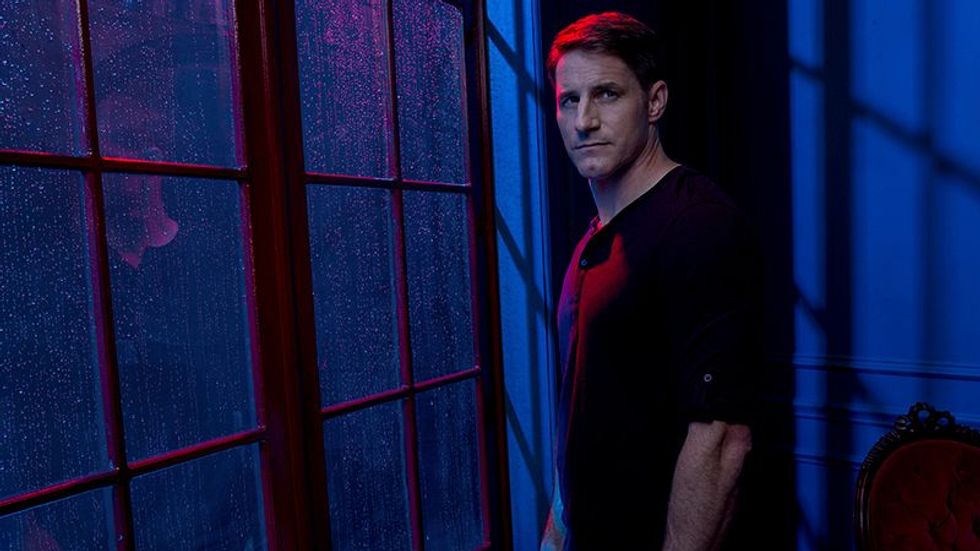 Sam Jaeger as Tim on CBS All Access series
Tell Me A Story.

These are both binge-begging shows—how much of a binger are you?

Amber [Jaeger, his actress wife] and I put our boys down at 8:30—if we're lucky—and then we've got one hour together to catch up, and then we're exhausted. So I'm a good decade behind on bingeing.
Well, you do share four kids: A 24-year-old and three boys of 3, 5, and 9. You also work with Five Acres, a 131-year-old foster home placement organization. And right before this interview began you were at Costco shopping for Teacher Appreciation Week. I've been helping with a friend's kid lately and I've decided parenting is nothing less than heroic.

It is heroic. And like any amount of heroism, it's also directly connected to a kind of stupidity because you have to be slightly crazy to do it. [
Laughs.] There's not a day that isn't exhausting, but there's seldom a day that isn't worthwhile.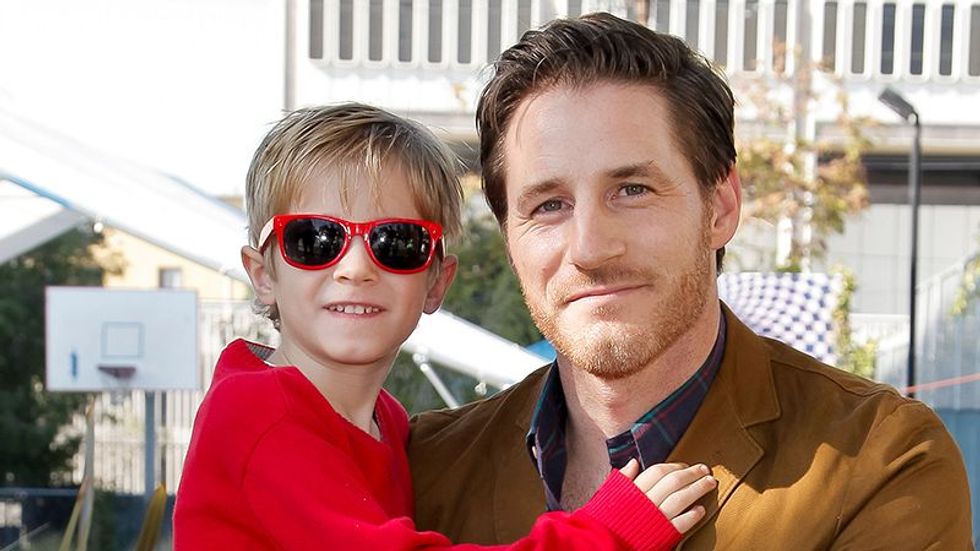 Sam Jaeger and his son Gus Jaeger attend the annual holiday charity toy drive.
This August is your and Amber's 12th anniversary. Celebration plans?

Probably just crack a bottle of wine open and try to spend some good quality time together. One of the hardest things to come by as parents is making sure that the kids understand that if you aren't happily together, then they're not happily together, either.
Speaking of success, you're in a great spot in your career now. Are you enjoying it?

I still get rejected more than I get accepted, but the ratio is far less than it used to be. So it's a comfortable place to be!
SEE MORE: Watch The Official Trailer For Why Women Kill

Photo Credits: Francis Specker/CBS; Ali Goldstein/CBS (2); Francis Specker/CBS; James Dimmock/CBS; Tibrina Hobson/Getty Images.
Why Women Kill premieres Thursday, Aug. 15 on CBS All Access. Look for all-new episodes on demand every Thursday, exclusively on CBS All Access.