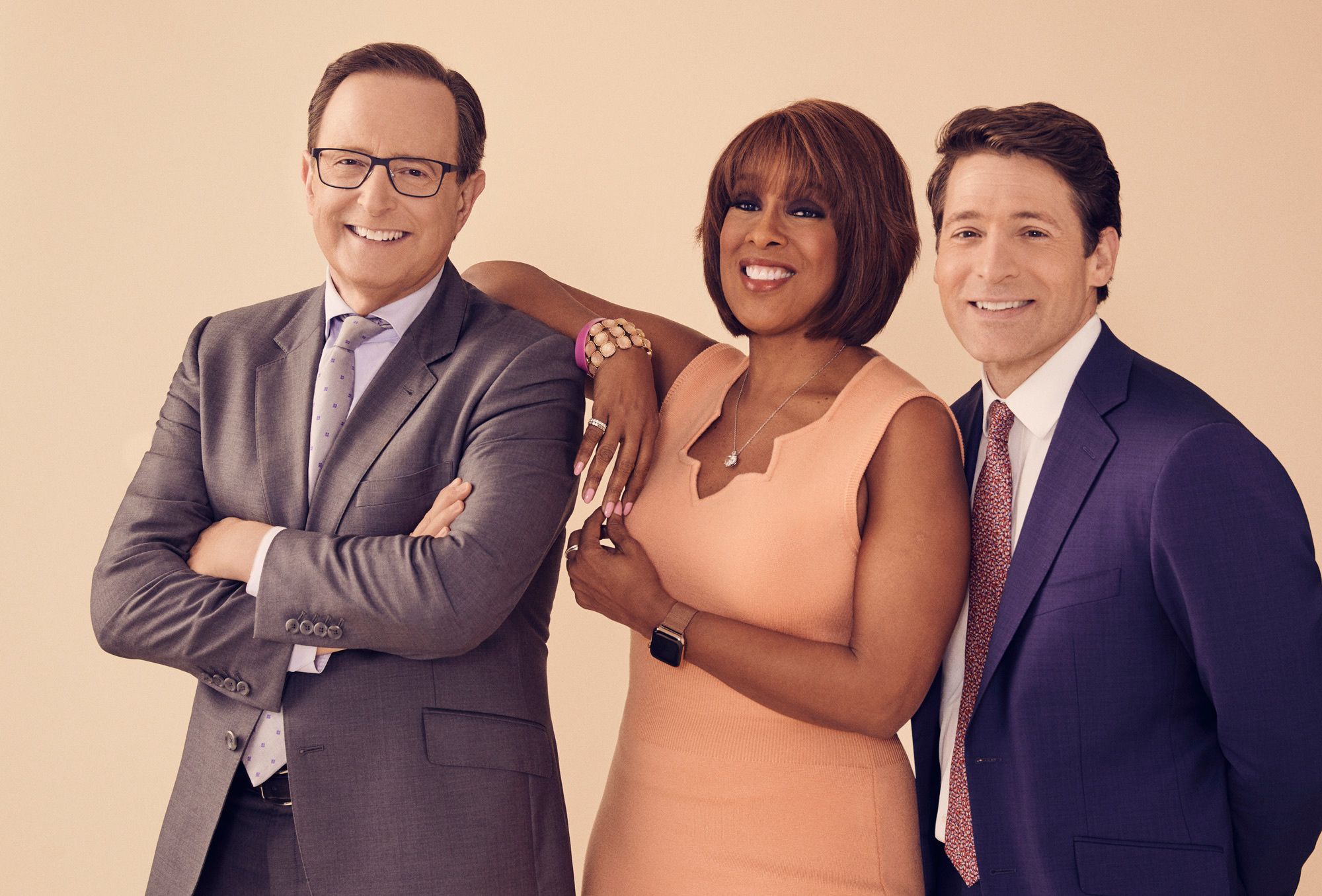 Photography by Ramona Rosales.
Exclusive interview with Gayle King, Anthony Mason, and Tony Dokoupil of CBS This Morning, the broadcast journalists who make getting up in the morning a whole lot easier.
By Lynn Darling

A conversation with the anchors of CBS This Morning is a dive into the deep end: Gayle King, Anthony Mason, and Tony Dokoupil are three of the most knowledgeable, sophisticated, and experienced broadcast journalists out there. Every morning they make it look easy, delivering breaking news with authority and feature stories with panache, coaxing insightful answers out of important people, aiming straight for the heart of the zeitgeist, helping us understand the world a little better.
Naturally you want to bring your A game when you sit down to talk to them—ask the complicated questions, the ones that drill down to the Really Important Stuff. Then again, details define us. All those superficial, deeply rooted personal preferences tell us a lot about each other, about who's really there beneath the smooth patter and perfect hair. Plus, they're more fun.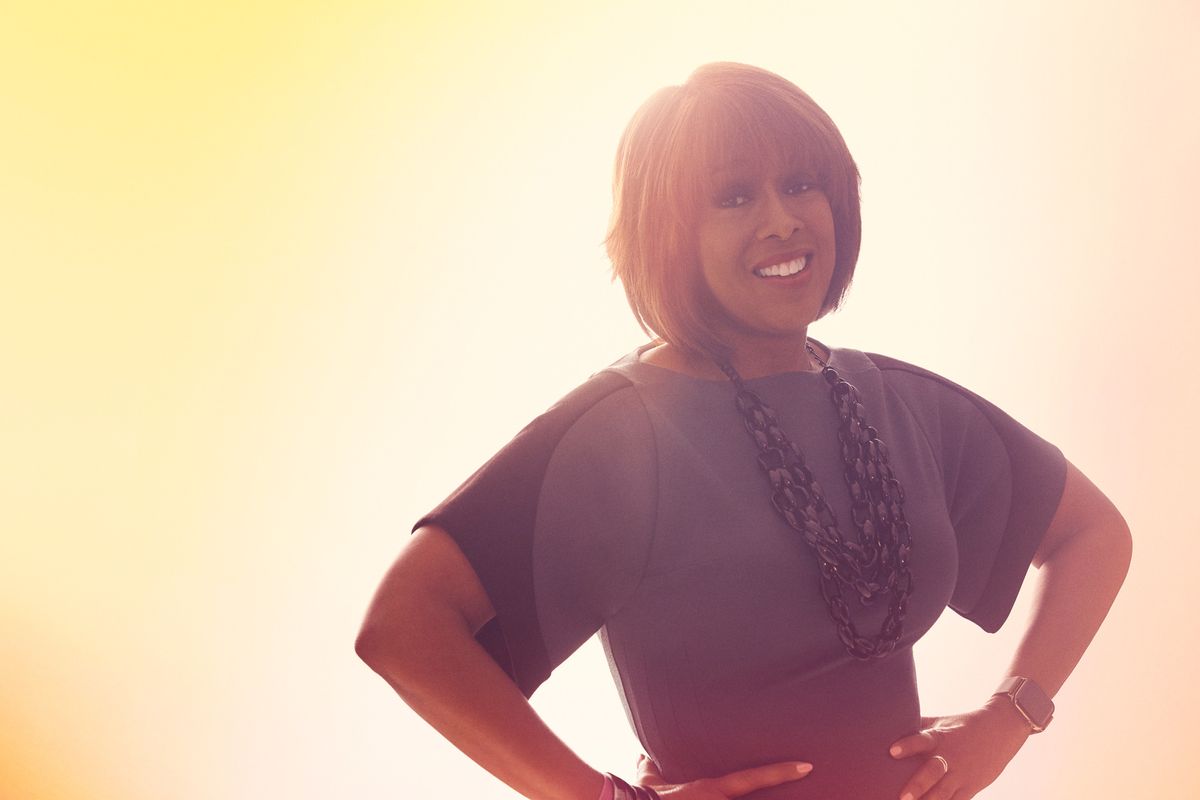 Photography by Ramona Rosales.
So, Gayle, what's your favorite drink?
Guilty pleasure?
Best-loved song?

Gayle King looks a little bemused, but gracious, as she considers the inanity of the questions. She deserves better: This, after all, is the woman who has faced down an enraged, chest-pounding, fist-shaking, accused sex abuser with the impassive command of an umpire waiting out the spit-fueled temper tantrum of a major league baseball coach, found herself dubbed one of the most influential people of the year, and watched her salary fly skyward.

On the other hand, she's also the woman who, via social media, keeps us abreast of her weight, (not always thrilled about it), the state of her pedicure (smeared! after only 20 minutes!), and her opinion of the bathrooms in the Minneapolis-St. Paul airport (extremely positive). So there isn't much that can faze her. She has endeared herself to us by her enthusiastic, unembarrassed embrace of life's small, universal, quotidian moments and by an on-air presence so compelling it seems to melt the flimsy TV and laptop screens that separate her from her audience.

"A Shirley Temple," she answers (Nothing alcoholic).
"Trashy TV."
And the song? Turns out it's "Walking on Sunshine," which is pretty much what Gayle King is doing these days.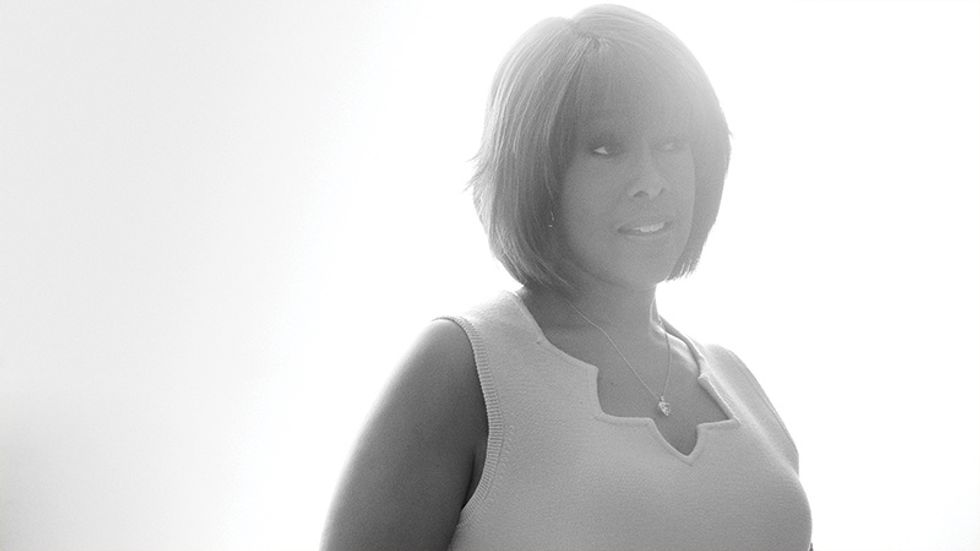 Photography by Ramona Rosales.
It's only been a few short months since CBS News president Susan Zirinsky watched the live feed of King's interview with R. Kelly and immediately called the West Coast, saying "Gayle King is doing the most impactful interview I've ever seen." Not long after that, Zirinsky tapped her to be the new CBS This Morning's centerpiece and catalyst. For those who knew her only as Gayle Oprah's-Best-Friend, her sudden supernova celebrity seemed to come out of nowhere--she got a lot of compliments on what a quick study she is, when, in fact, she's worked in broadcasting since her 20s. (She and Oprah first met when they were both working for a Baltimore TV station.)

The fact that this cascade of good fortune came her way at an age when a lot of professionals are being gently (or not so gently) shown the door to retirement has to be particularly satisfying. "I'm 64," she says. "It's interesting to me that this is all happening at 64. I keep waiting for this grown-up feeling to kick in. I know I'm, like, a grown-ass woman. I know that, and I've had all the grown-up stuff. You know, married, divorced, you know, death of parents. All of that. But I still have such joy for life and being on the planet. And, you know, knock on wood, may that never change."

In a recent CTM interview, King talked to Christine Baranski, star of The Good Fight, and asked her how she was feeling these days. "And she said, 'You know what I think? I think I'm working harder now than I ever have. I'm older and I'm making more money and I love every minute of it.' And I said, 'Christine, I have that feeling too.'"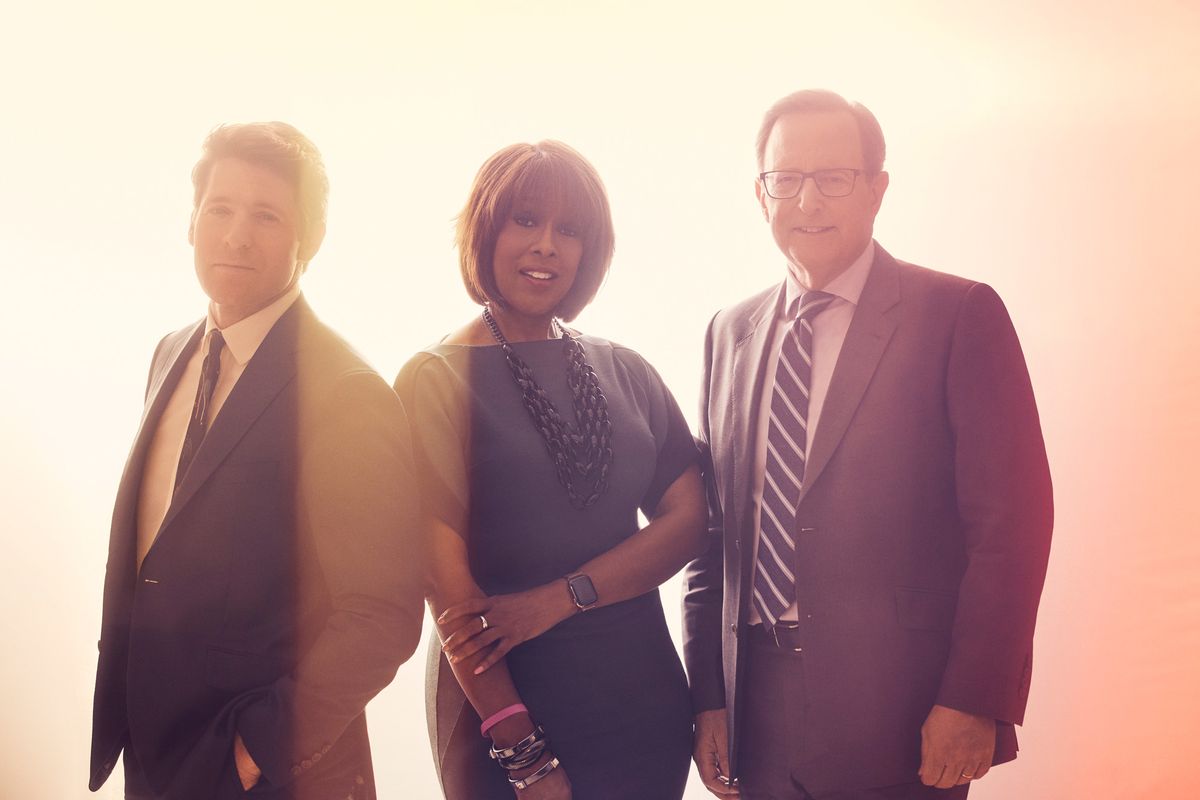 Photography by Ramona Rosales.
She's living her life at hurricane force, holding down two jobs (she's also editor-at-large for O magazine) and making nonstop public appearances, all of which must leave her with about a 15-minute sleep window. She's not complaining. "It's a good thing to be wanted," she says, in that husky it's-OK-you-can-tell-me-everything contralto. "That's a good thing." And so she somehow seems to conjure up extra hours in every day to meet the clamor and the claims on her attention, "because the time will come when they don't ask you to do anything."

That time isn't coming anytime soon: These days, there's a lot of talk about Gayle King as the new face of television, as the future of CBS News.

She's having none of it.

"You know, I don't take all of that in, about the face, the future," she says firmly. "I don't believe it because I know it's not true. So I don't feel the pressure of that."

Instead, King emphasizes the teamwork it takes to pull off a show like CBS This Morning, and the crucial roles played by her two co-anchors, Anthony Mason and Tony Dokoupil. "I know that you can't do this by yourself. I don't care how great people think you are. I don't care how great they think the job is. So I don't think, I hope this works, it's all on me. I don't feel that." Invoking the immortal wisdom of an old R&B hit, she says, "One monkey don't stop no show."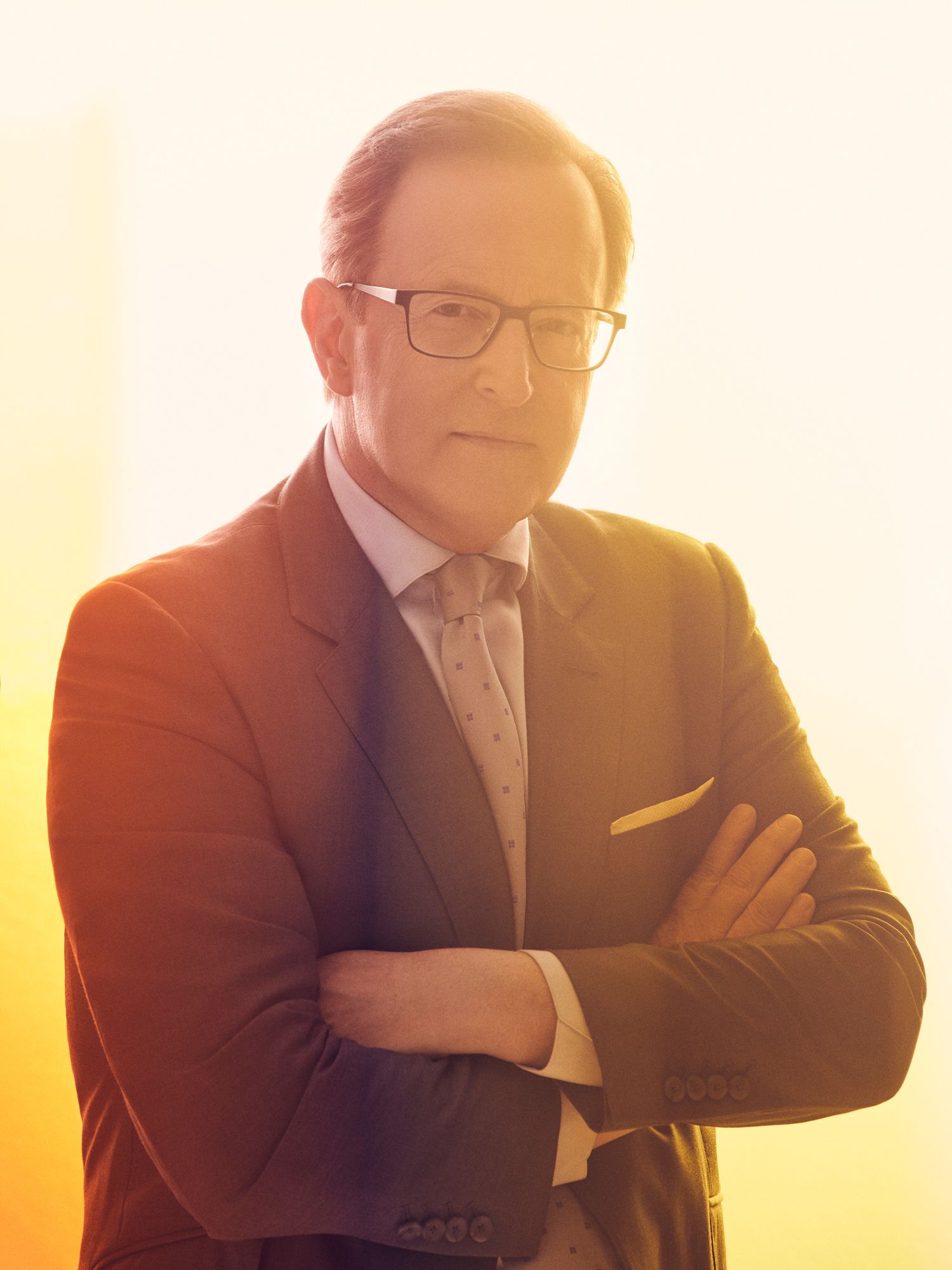 Photography by Ramona Rosales.
After all, King points out, the new CBS This Morning is more of a new configuration than a replacement of the old one, and the three people in the anchor chairs aren't strangers to one another.

Anthony Mason both hosted the Saturday edition of CBS This Morning and frequently sat in for co-host Charlie Rose. "If it was Anthony, I was like, 'Oh, great, I don't have to worry,'" King says. "'I don't have to be extra vigilant.' It was always so easy. So to me it's very exciting that I have that easiness and comfortability every single day. It's great."

Mason, 63, returns the compliment. "The moment I sat down next to this lady for the first time, I was blown away by how natural a broadcaster she was, and how much herself she was on television," Mason says. Afterward, on his way to the airport, Mason sent King a note saying, "I have learned today that I have so much more to learn. And I'm really actually excited about that idea."

It's difficult, he says, for those who haven't been on television to understand how hard that is. "Because it's scary as hell to expose yourself in front of millions of viewers. Especially now, with social media, where people can tell you exactly what they think about every hair on your head."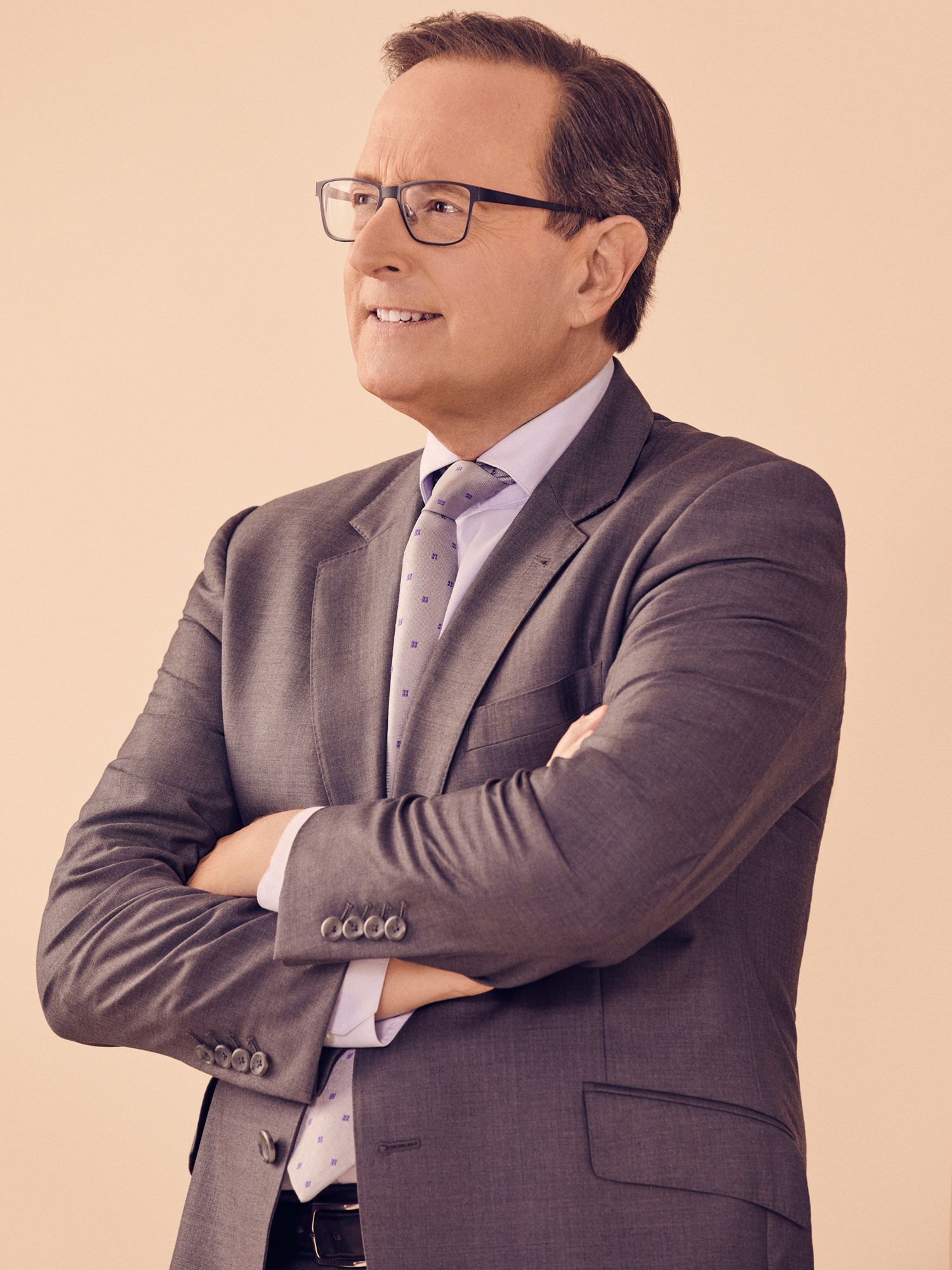 Photography by Ramona Rosales.
Mason's own career in television began early: As a child, he was the president of his own TV network. "It was the Allied Broadcasting System," he says. "Our flagship station was WGHB, which stood for Green Hornet Broadcasting. We broadcast 24 hours a day, pretty much whatever was in my head at the time." At an age when other boys were playing with toy soldiers, Mason was making miniature TV cameras out of three paper clips, a rubber eraser, and an X-Acto knife.

Since then he has built a storied career as a TV journalist, covering an astonishing range of subjects, from the fall of communism to the rise of rock stars, racking up seven Emmys, a James Beard award, and a Raven from the Mystery Writers of America along the way.

"I get bored with one thing after a while and I have to do something else," he says. "Everybody is always putting people into boxes, and I have this sort of visceral reaction when I get put in a box. I start throwing elbows because I want to get out."

Mason is a bourbon man, which makes sense—it's a straight-up, no-nonsense, not-for-amateurs drink that truly reveals its complexity only to those who can throw a counterpunch. His guilty pleasure is pretty generic--ice cream. And while there's no one favorite song, "Thunder Road," from Springsteen's Born to Run is right up there—"I spent two years in Moscow listening to that album almost nonstop."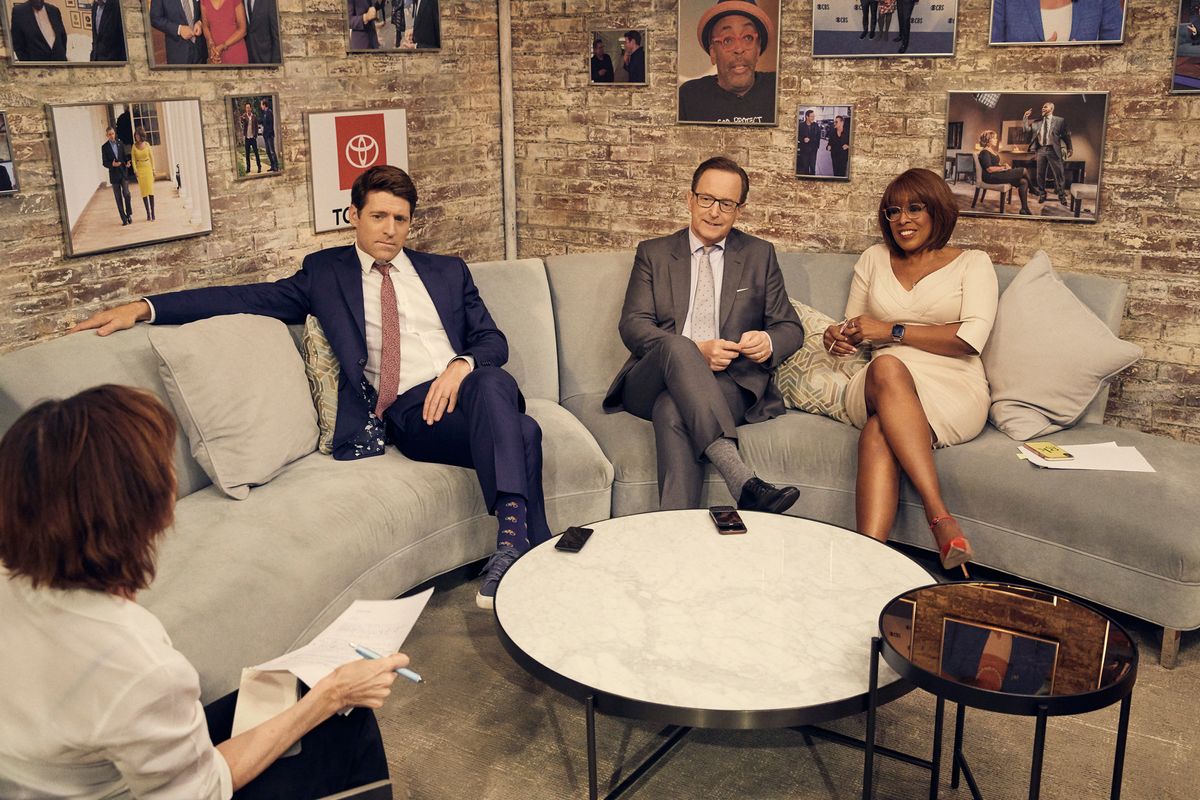 Photography by Ramona Rosales.
Mason talks about broadcast journalism the way a concert pianist talks about music—with passion, experience, and nuanced understanding. He's thought about it deeply, its rhythms and demands, its exhilarating potential, its vulnerability to misuse.

"So much of television now is set up to actually make you feel angry," he says. "Which is not a good feeling to leave with. It's a really poisonous feeling. It's programmed to create confrontation, to create a fight and to create a reaction in you. You're mad at what's on TV."

Mason grew up in New York City, the Stuart Little version, featuring Young People's Concerts at Lincoln Center and idle afternoons at the Central Park model boat pond. "My mother was an interior decorator. My stepfather was a painter. My favorite room in my entire life was the library they created. The walls were covered in pictures, and there were all kinds of things everywhere you looked. My stepfather made these amazing juxtapositions, so that every picture was kind of commenting on what was next to it and then creating something larger. And the more I looked at it the more fascinated I was." Mason felt comforted and excited in that room, he says, and that's what he wants the viewer to feel watching the show. "That you're in a place where we're going to talk about really interesting stuff, and you're never going to feel like we're in the middle of a fight or something like that."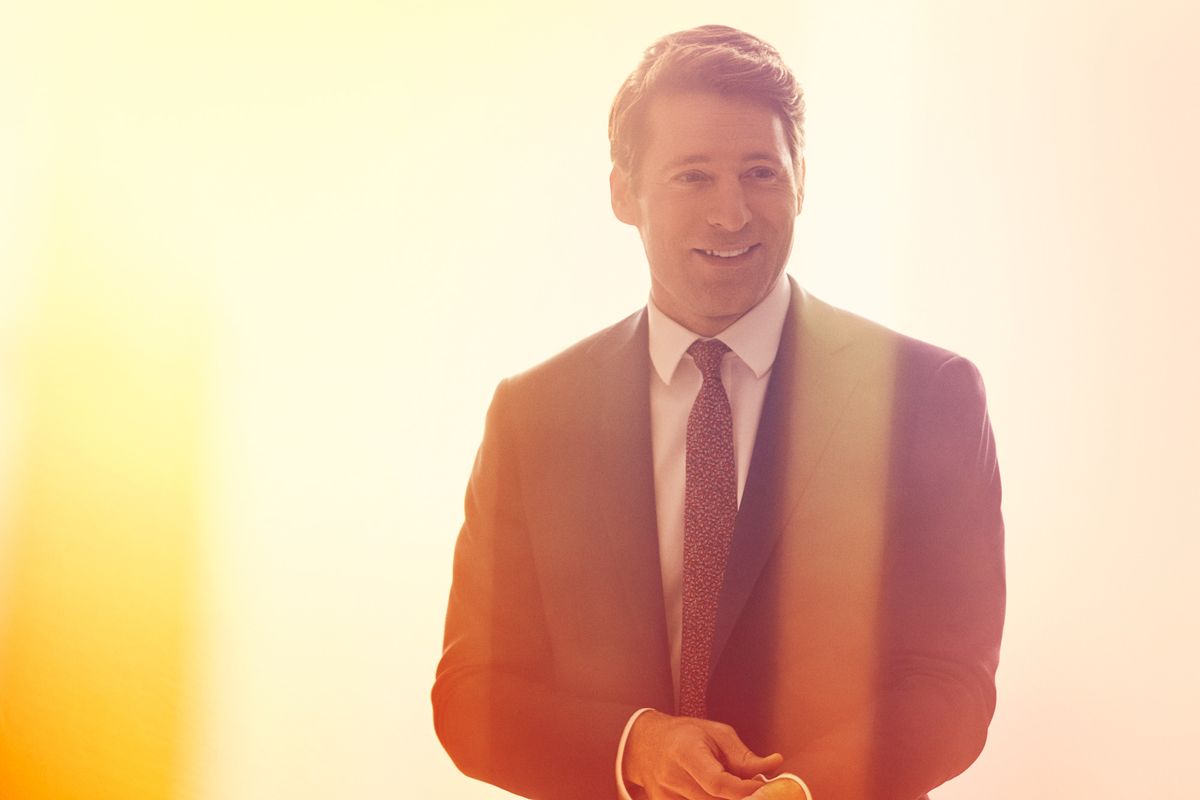 Photography by Ramona Rosales.
Furnishing that room, finding those juxtapositions, is a tricky business, especially in the live segments, where the three anchors are all trying to bring out the best in a guest without getting in each other's way and upsetting the delicate improvised rhythm on which the interview depends. It may look like a performance by a well-rehearsed musical trio, but it sounds more like a basketball team playing a game for a spot in the semifinals, where the outcome is up for grabs and dependent on fast reflexes, constant improvisation, and quick recoveries from bad moves and missteps. "So much can go wrong," says Mason, "if you end up asking the wrong question, or you've got kind of a dud of a guest, someone who is just having a bad day or is spooked at being on TV. And you need to somehow keep this segment afloat. Or the show just sinks."

"It's a question of listening, really listening," says King. She, of course, is the master, hearing not only what is said, but what is unsaid—what guests yearn to reveal, without even knowing it, what they're desperate to keep hidden. High notes. Low notes. The notes that never get played.

The nimble sidesteps and adroit adjustments that make up a live broadcast are skills that come with time and experience, of having learned how to survive the hairpin turns, how to catch the revelations that flash like minnows to the surface of a conversation and disappear just as quickly, how to avoid the questions that strand a guest in some conversational back alley, how to move on from the answers that bring everything to a screeching halt. And how to do it all while looking completely "natural."

"There's a million things that could happen out there—you flub a read or the prompter goes out—and until they happen to you, you haven't done it and you've got to learn," says Tony Dokoupil. "That's why Gayle and Anthony are the perfect people to be doing this with, because they've done it a million times, and if anything goes wrong, they can pick it up."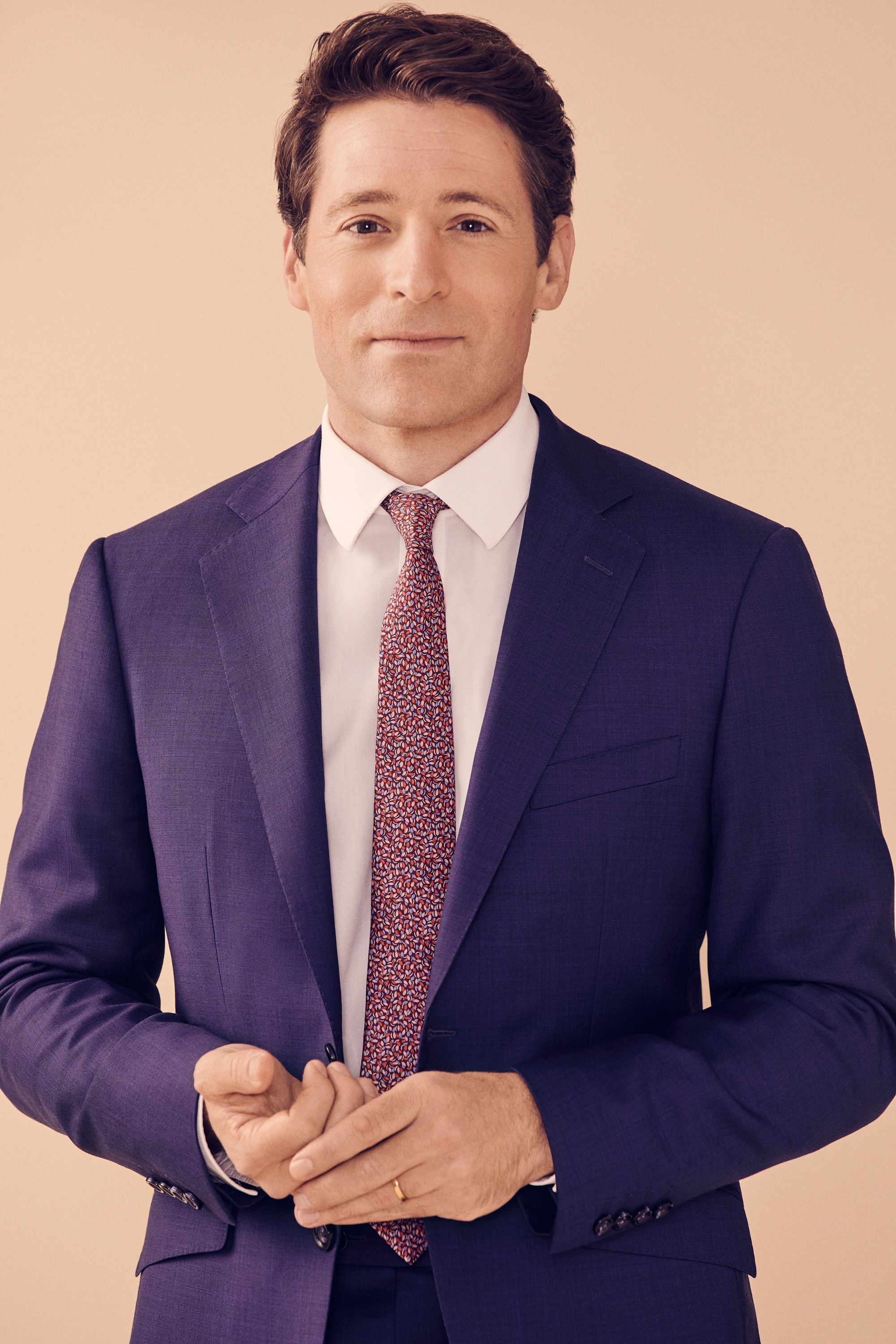 Photography by Ramona Rosales.
A generation younger than his two colleagues, Tony Dokoupil is definitely the new kid on the block, adjusting to the weird hours of a morning talk show while surviving the even weirder hours of a new baby—Dokoupil and his wife, MSNBC's Katy Tur, welcomed their son, Theodore, into the world about a month before CBS This Morning's first broadcast with the new lineup. While no stranger to the show—he's made at least 200 appearances—Dokoupil's path to the anchor's chair was a decidedly eccentric one.

For starters, his father was a drug dealer.

Not a Scarface-type coke gangster, he notes, but a Jimmy Buffett-type marijuana dealer, at a time when guys like him were seen by many as folk heroes. "My father was a romantic guy in the sense that he tried to live a life that was full of big themes, almost a life that was literature itself," Dokoupil says. "And I think I absorbed a lot of that. What I love about my job now is that I get to cover the big stories of the time and profile the big personalities. I get to be in the high surf, and that's wonderful."

Dokoupil wrote a memoir about his father: The Last Pirate: A Father, His Son, and the Golden Age of Marijuana. Does he feel like a bit of a pirate himself? "I think I do in the sense that I've had a rambling career, going from here to there. I've been on some great adventures as a journalist."

A college business major turned writer, Dokoupil entered journalism at a precarious time, when old institutions were crumbling and it was a scramble to keep up with the profession's rapidly changing face. Dokoupil was a star at Newsweek magazine at the end of its heyday, and when it headed into the internet ether, he turned to television, first as a writer, then as an on-air reporter.

It was a risky jump. "It's not a leap that many people are able to make," says Mason. "The graveyard is filled with people who took that jump and didn't make it."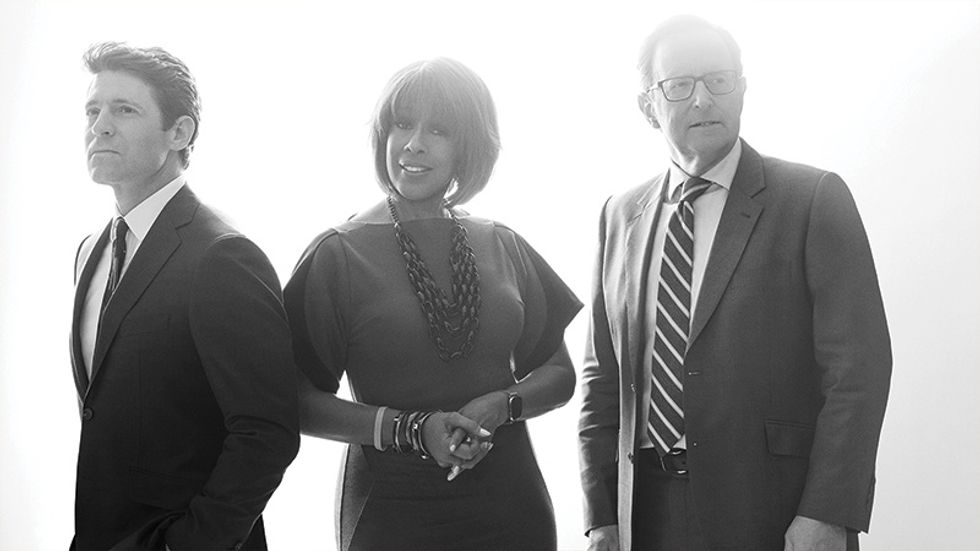 Photography by Ramona Rosales.
Dokoupil likes to say that he moved to television because "my hair was too good for print." But of course that wasn't really the case—right?

"Have you looked at his hair?" says King.

The hair, in fact, is impressive, a thick cropped and sculpted cut cresting in a neo-hipster forelock with hints of pre-Las Vegas Elvis and post-Ziggy Stardust David Bowie. How long does it take to make it look like that?

"Two minutes, honestly. I don't have a comb—I just put my hand through it."

But there is product.

"Oh, there's product, yeah. But it basically lays like this on its own."

Dokoupil still sees things with a writer's eye: He can read a man's life history in his suit: the width of his lapels, the cut of his pockets, the knot in his tie. (Especially the tie.)

The offbeat humor he brings to the show belies a more complicated way of responding to the world. His favorite drink, for instance, is Budweiser—not simply because he likes the taste of it, but because of what it tells him about who he is—his Czech heritage, his childhood. "It reminds me of being young in the sunshine, and taking batting practice and all that good stuff."

His favorite song? "Well, that may be a little too revealing," he says. A genre? "They're like dirge-y and mournful," he offers, reluctantly. "I'm the guy who will cry in the car if a certain song comes on the radio. I can't disclose those songs. It would change the experience of listening to them forever."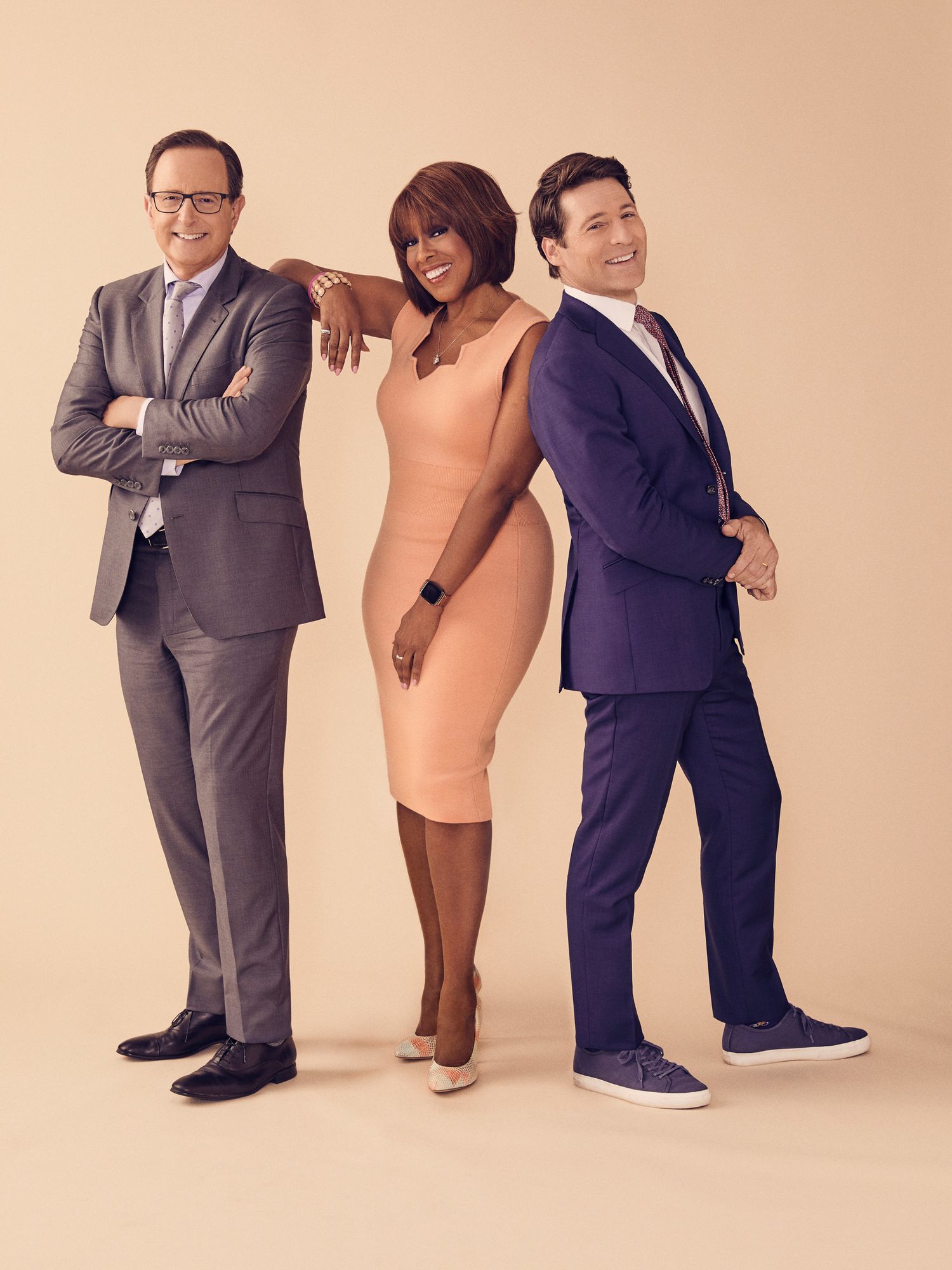 Photography by Ramona Rosales.
King and Mason listen intently. They're all still learning how to read one another in ways that will enhance their on-air chemistry, occasionally stumbling on the kind of goofy fact that lights up an unsuspected corner of their private worlds. When he first arrived, Dokoupil says, "I didn't know that Gayle King and I both believe there are aliens out there. I also found out she once dove into a swimming pool in her high heels and pearls." (Strange things happen when your kid is taking a swimming lesson at the YMCA.)

The process of shaping the show is an ongoing one. "To me a show has to have a philosophy and a point of view," says Mason. "And by that I don't mean a political point of view. I mean what's important to you in the world. This is where you tell people who you are, what touches you, what makes you laugh, what makes you tick—in effect, why you get up in the morning. You have to make that statement, it has to be a very clear statement, and it can't be an exploitative one, where you're playing violins for something horrible that's happened or something like that. And these choices give people a sense of who you are and where you're coming from, and that colors every broadcast, start to finish."


He and his co-anchors "all have our own limitations of what we've seen and done," he says. "Everyone is bringing something a little different, but everybody also respects each other. And you throw all that onto the table, and you're like, 'OK, there are real possibilities here. We're just scratching the surface of where this can go.'"
"That's what's exciting about it, yeah," says King. "That's what's exciting, because I believe it's only going to get better."
Photography by Ramona Rosales. Originally published in Watch Magazine, September-October 2019.
Watch CBS This Morning Weekdays at 7 a.m. ET/PT on CBS and CBS All Access.