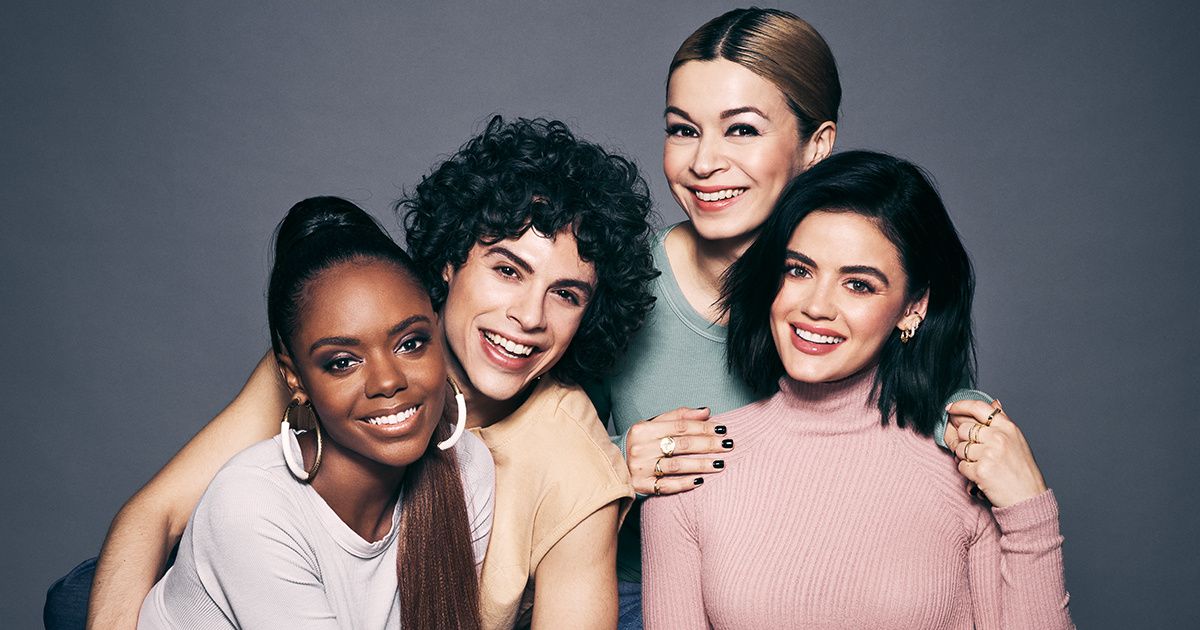 Photography by James White. Styled by Sasha Charnin Morrison.
Get ready, America! Riverdale spinoff Katy Keene, starring Lucy Hale, Ashleigh Murray, Julia Chan, and Jonny Beauchamp, is poised to be the most glam, 'Gram-ed, and gabbed-about show of the season.
By Julie Klam
On a chilly Saturday afternoon in December, in a large warehouse-y studio in Manhattan, Lucy Hale, Ashleigh Murray, Jonny Beauchamp, and Julia Chan—stars of The CW's new show Katy Keene—are in the midst of a photo shoot/love fest. They sling their arms around each other, look at one another's phones, and revel in their togetherness. An incredibly cool DJ with long braids and a midriff top spins records—everything from Deee-Lite's "Groove Is in the Heart" and Lizzo to vintage Michael Jackson and Justin Timberlake's "Can't Stop the Feeling!" With each new song, Beauchamp shrieks and breaks into a 90-second club dance.

There are racks of clothes that look like they came from the closets of Carrie Bradshaw and David Bowie as Ziggy Stardust—sequins, feathers, and glitter. Add the fancy yet fitness-friendly food spread (grilled chicken salad, crusty breads, and healthy grains) with buckets of iced sparkly water, and this definitely feels more like a party than work.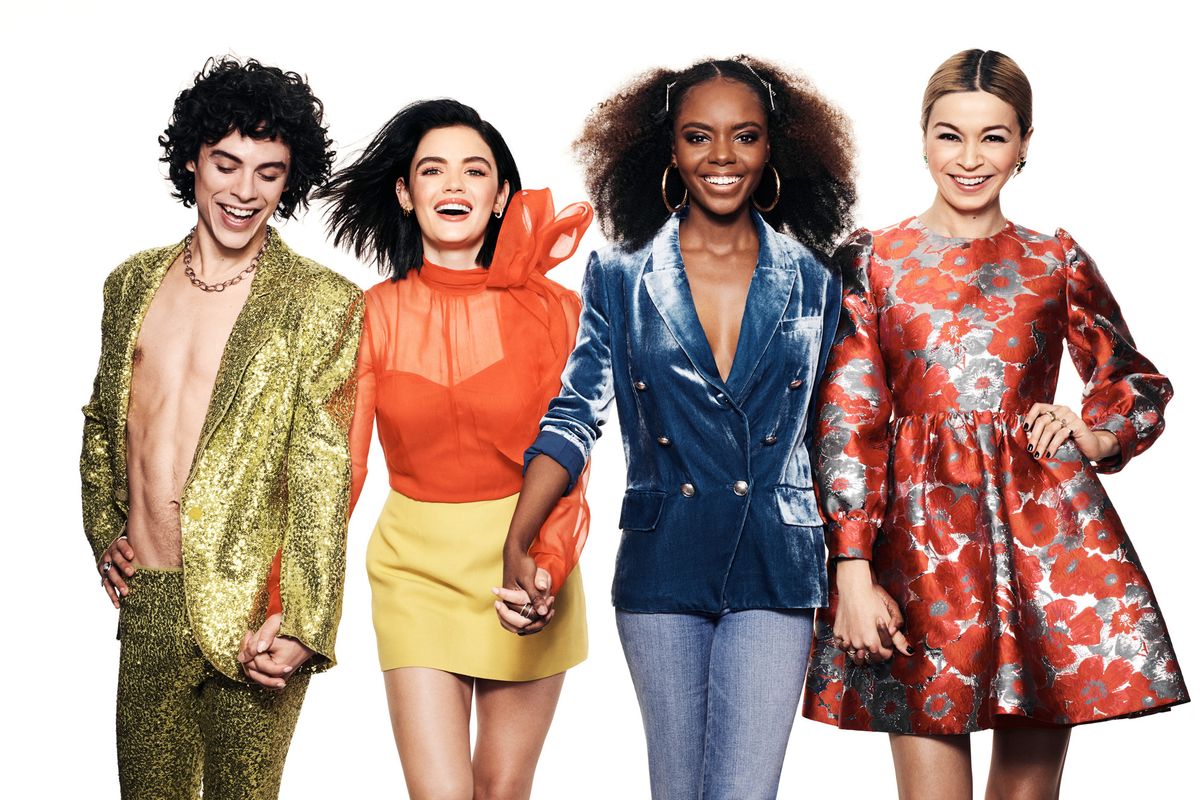 On Beauchamp: Jacket and pants by Norma Kamali. On Hale: Blouse and skirt by Valentino. Ear cuff by Saskia Diez. On Murray: Blazer by Frame. Earrings by Gas Bijoux. On Chan: Dress by MSGM. Earrings by Mondo Mondo.
Photography by James White. Styled by Sasha Charnin Morrison.
And boy, is this show going to be a party. Katy Keene is the spinoff of the mega-hit Riverdale, but instead of high school, the characters are in their 20s. And instead of Riverdale, they live in New York City. And instead of darkness and death, they're dealing with more pedestrian issues, such as clubbing, fun, and fashion. Lucy Hale, Ashleigh Murray, Jonny Beauchamp, and Julia Chan play four friends who look fabulous in tiny clothes (see healthy food spread above) and are each trying to follow their individual dreams in the big city, played by the Greatest City in the World: New York.
Can anything stop this glamorous gang from achieving their dreams? Don't count on it.
Lucy Hale(Pretty Little Liars, Privileged, The Sisterhood of the Traveling Pants 2) is the titular star of Katy Keene. Katy is an aspiring fashion designer who pays the bills by working as a personal shopper at the high-end (think Bergdorf's) Lacy's department store. She works for devil in Prada-esque Gloria Grandbilt (Katherine LaNasa) and has to fight her way among less pure-hearted colleagues.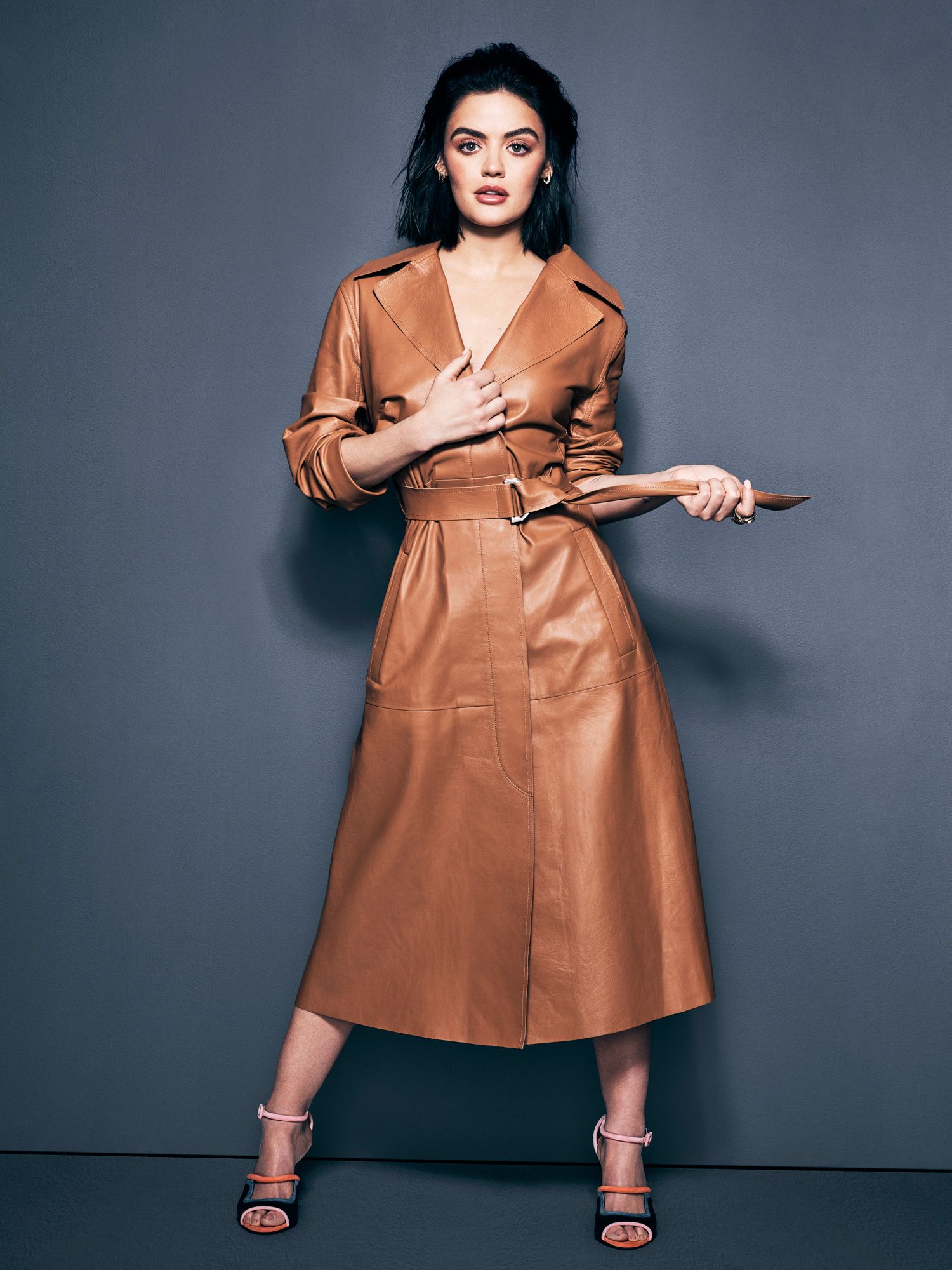 Trench coat by Sportmax. Shoes by Pierre Hardy. Ring by Stephen Dweck
Photography by James White. Styled by Sasha Charnin Morrison.
Katy wants to be a fashion designer, and she's creating and working with fashion all the time. Are you also that into clothes?
LH: I am! I mean not as passionately as Katy; I don't sew or make my own clothes, but I love fashion, in that it's such a great representation of who a person is. There are no rules. It's all opinion-based, and it's why I love it. You can do whatever the hell you want, and nobody can say what's right or wrong.
In the pilot episode, Katy is wearing a lot of hearts on her clothes—like Queen of Hearts quantities. What statement are you trying to make with that?

LH: We really wanted to pay respect to the comic, and in the comic, Katy Keene loves red and she loves pink and she loves hearts, so that kind of is the theme, at least throughout season one. And it's funny because when Katy is sad, she'll wear jeans and a blue sweater, but most of the time she's very bright, very pink, very red.
Is working on a New York show that really uses New York something new for you?
LH: A lot of our creators and writers grew up in New York, and it has such a big place in their heart, they wanted to showcase it. They wanted it to be the New York of their dreams. It isn't all the glittery, sparkly parts of it; it also shows the grit and the edge and the hustle of it, and being told no and the struggle of being a 20-something in the city.
I watched you guys between shots, and is it me or can you not get enough of each other?

LH: I realized as I've gotten older and done multiple shows that it's great if you can make friends with the cast, but you don't have to. Then it's just a job. But with this show, it's been effortless and organic. I love these people.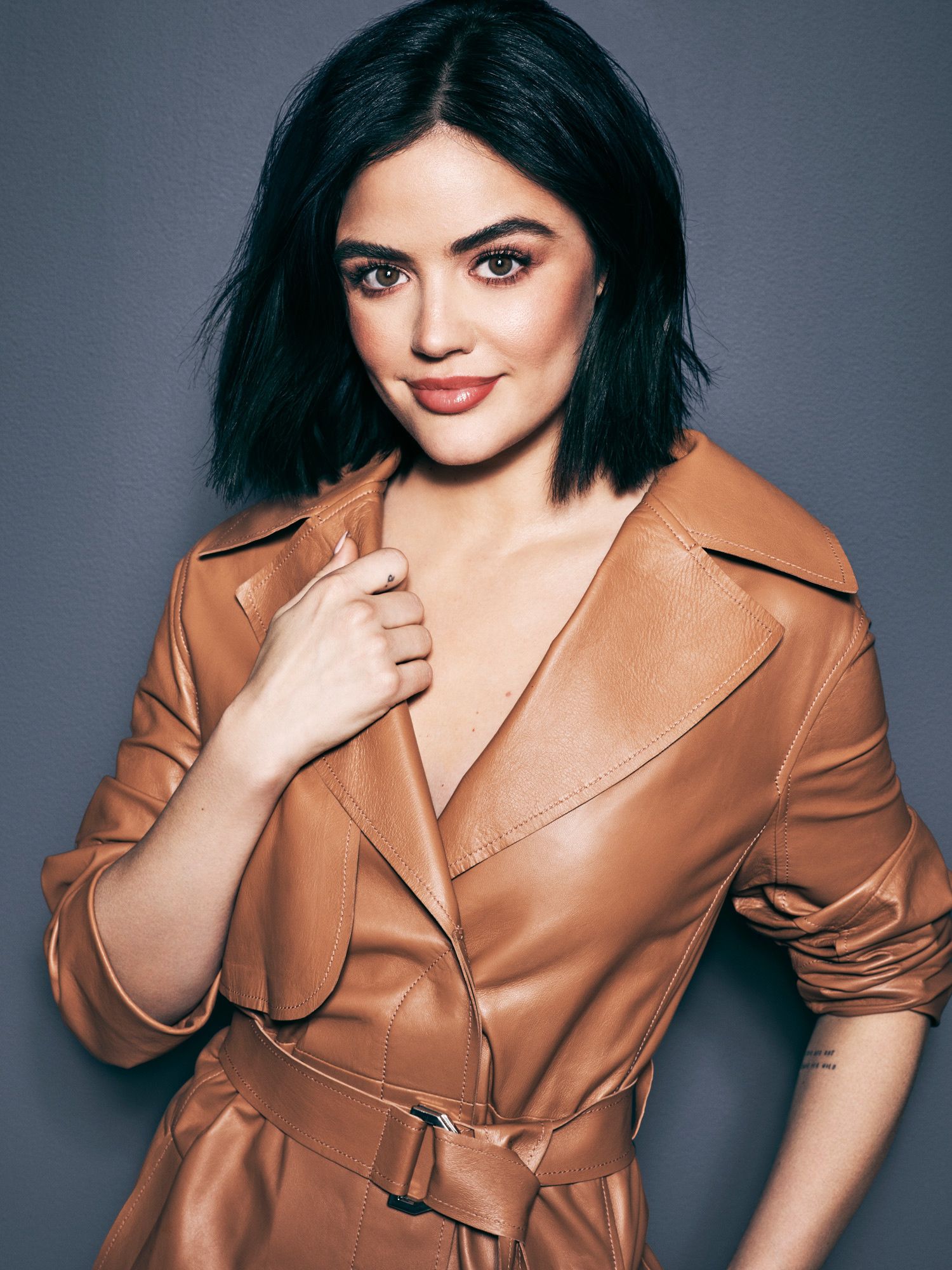 Trench coat by Sportmax. Ring by Stephen Dweck
Photography by James White. Styled by Sasha Charnin Morrison.
How much are you like Katy?
LH: Oh, she reminds me so much of my younger self. I moved to L.A. when I was 15, not really knowing what I was getting into. I was a little bit naive, but I knew it would work out. I wanted to take on the project because I was like, "This is me; this is my story, just in a different city and different career." It's one of those shows that makes you want to go out and do whatever your heart is set on.
Do you see this show as an extension of Riverdale or more of a jumping-off point and its own entity?
LH: I think that people are going to be very surprised at how different it is from Riverdale. It's bright, happy, and optimistic. Hopefully the people who watch the show are going to be left feeling inspired. We are living in a time in the world with such darkness onscreen and off, and I think it's really important for shows like this to be made. It can be that bright little light that people need.
New York–based singer and actress Ashleigh Murray (Deidra & Laney Rob a Train) is Josie McCoy, one of Katy's roommates and the only character to come directly from Riverdale. Josie (whom Murray played from 2017 to 2019) has left The Pussycats and Riverdale to come live in New York City and make a go of it as a solo act. Josie becomes romantically involved with the sexy (and possibly sketchy) music executive Alexander Cabot.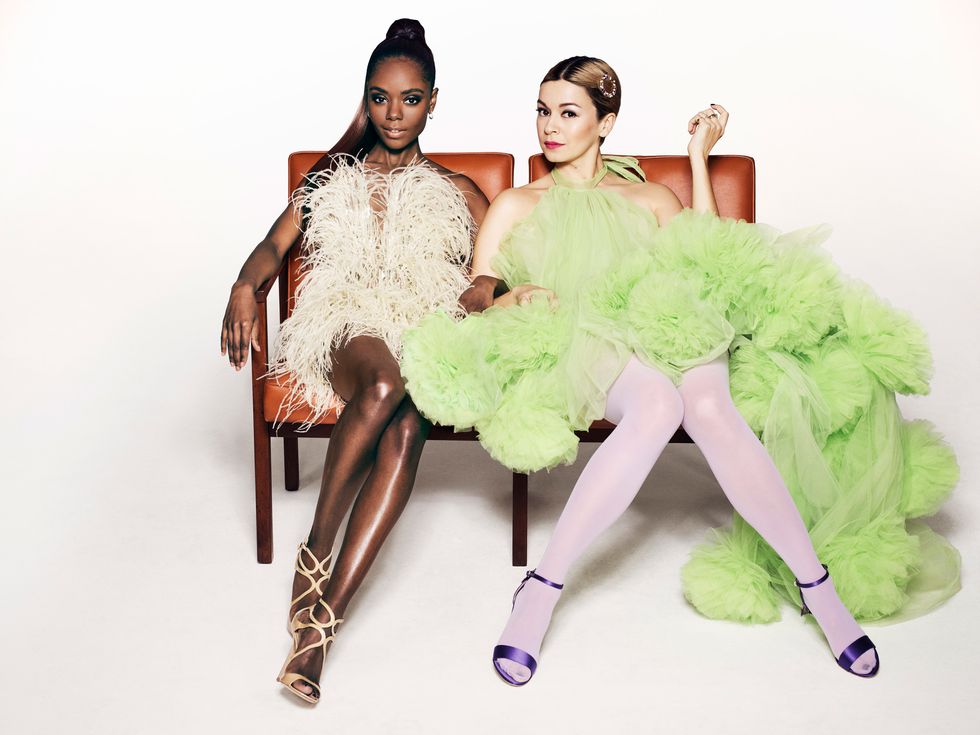 On Murray: Dress by Pamella Roland. Shoes by Jimmy Choo. Earrings by Daisy London. On Chan: Dress by Lirika Matoshi. Tights by Calzedonia. Shoes by Mia Becar. Barrette by Denim & Daisy.
Photography by James White. Styled by Sasha Charnin Morrison.
The show is about four 20-somethings following their dreams in New York trying to break into the big time. Can you relate?
AM: Oh, yes! It's a different industry, singing versus acting, but it's still the same, living in an apartment that costs a lot of money with very little space, having more than one job in order to support yourself, and also trying to find the time to be creative and pursue your dreams. It very much aligns with what it was like for me starting out.
Will Riverdale fans come to Katy Keene?
AM: I believe so. Just the fact that it's another extension in the Archie Universe is exciting, and the fact that no one's dying on our show [laughs] is appealing. There's a different type of drama that's grounded in more realistic situations.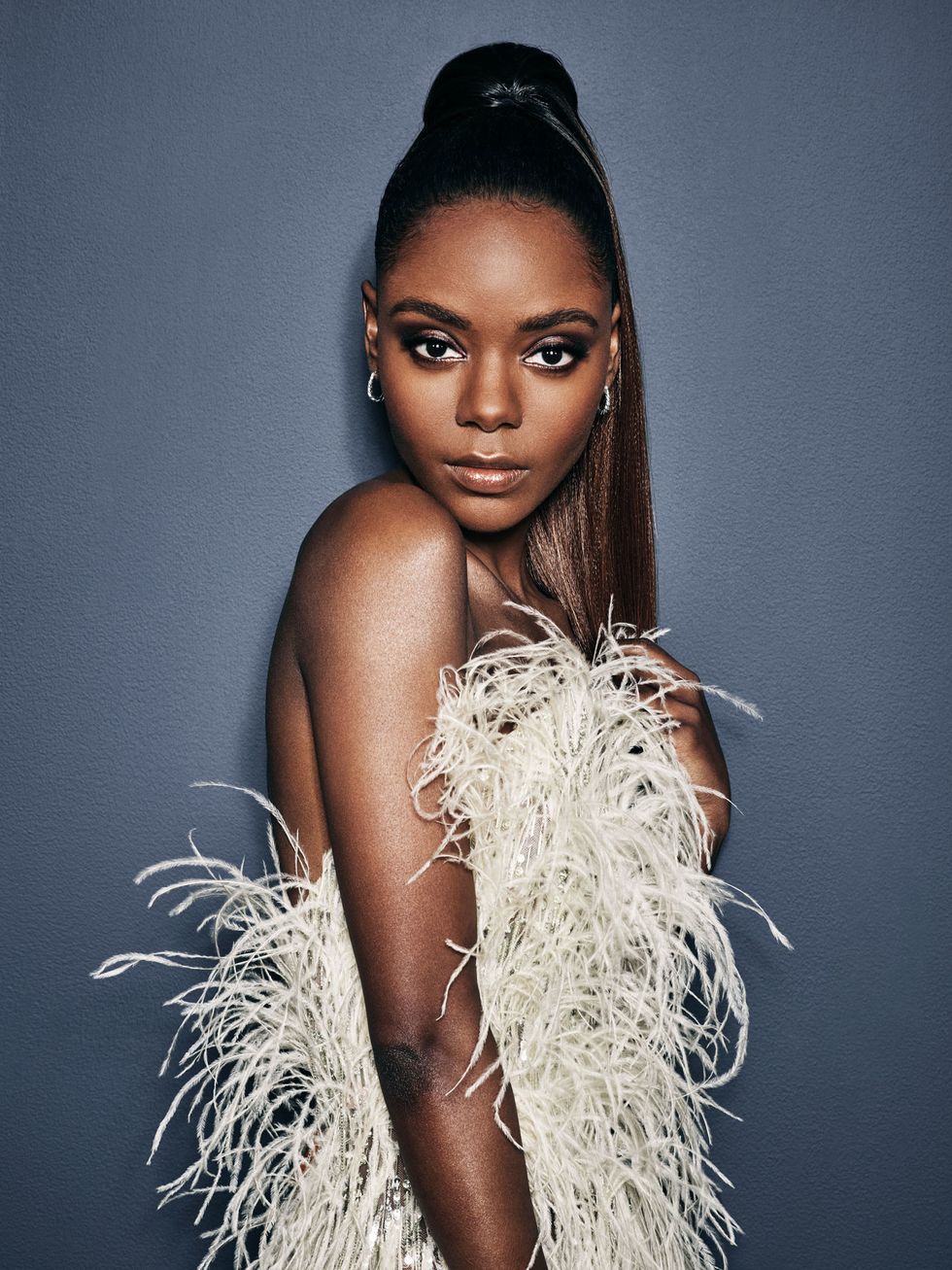 Dress by Pamella Roland. Shoes by Jimmy Choo. Earrings by Daisy London.
Photography by James White. Styled by Sasha Charnin Morrison.
How were you feeling about the show's possibilities when you were shooting the pilot?
AM: The pilot is the pilot, and it's great, but when you get further into the show, it just gets better and better. One of the really cool things for me was that when we shot the pilot we were pretty much 90-something percent shooting on location, and everywhere we went was someplace that I had either lived or had a monumental life experience working toward my career.
In the pilot, Josie gets "discovered" by Alexander Cabot when she is singing with a busker in Washington Square Park. Did anything happen to you there?

AM: Yes! Right around the corner from there was where I did my very first off-off-Broadway show after college.
Katy's third roommate is Jorge, an aspiring Broadway dancer who works in his family's bodega. He also performs as Ginger, his drag alter ego, and may take that path more seriously as the series evolves. He's played by the multitalented Jonny Beauchamp, known for Penny Dreadful, Chicago P.D., and as Ray Garcia, the lead in Roland Emmerich's 2015 film Stonewall.
You seemed really happy to see your fellow cast members today.
JB: We are! I mean, people always say that, but it's really true for us. We have very long days, and it's nice when you're stressing and you look right or look left and you see your girls right there! We are cracking jokes and we are dancing and we are singing.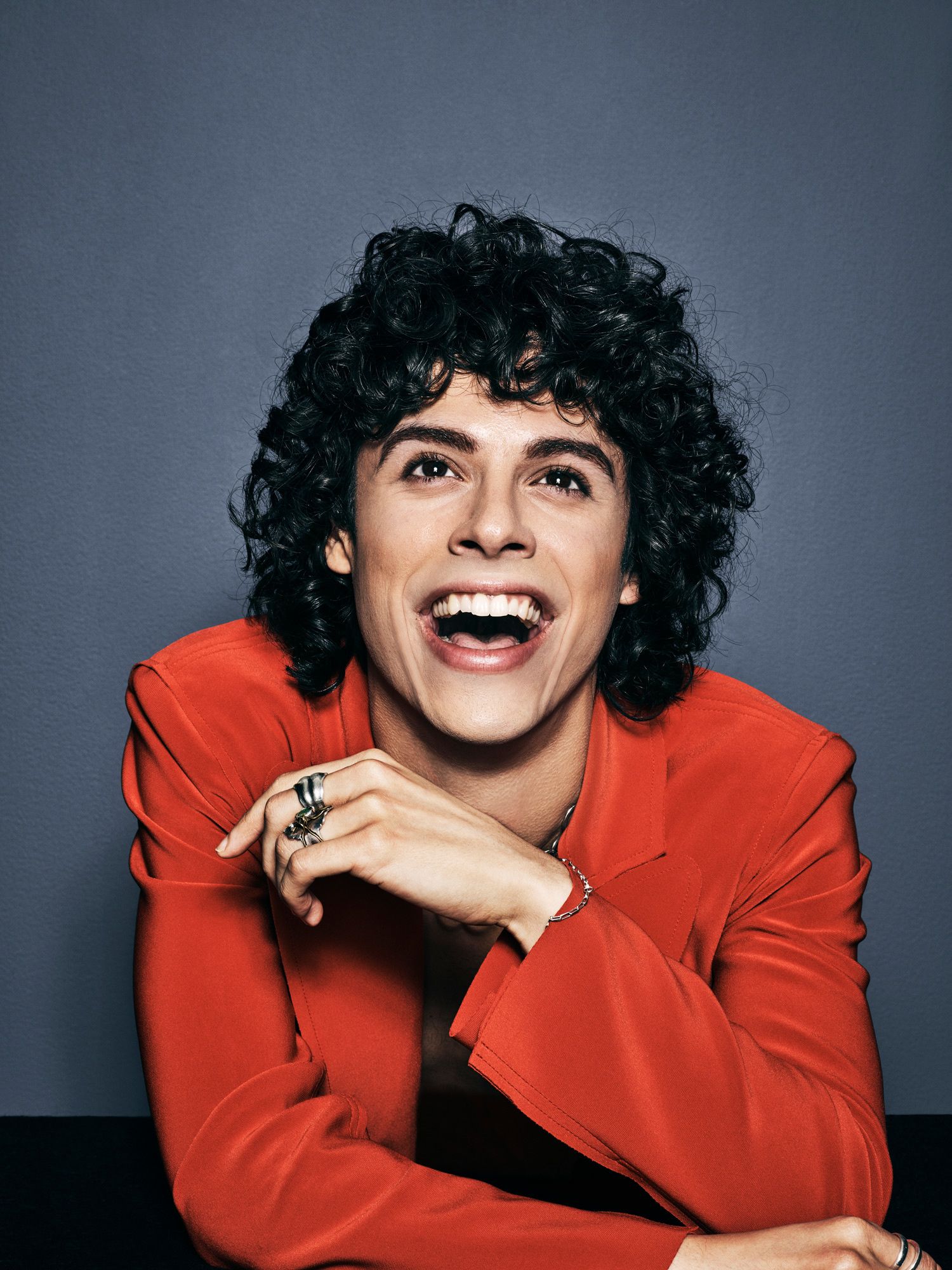 Jacket and pants by Norma Kamali.
Photography by James White. Styled by Sasha Charnin Morrison.
There is an upcoming episode with the great Shangela from RuPaul's Drag Race, who is truly a queen. Did she give you any advice?

JB: OMG, I was quizzing Shangela left and right for tips! And she was actually really sweet, but I was just fangirling over her. I've never done drag professionally, but I've played a lot of drag queens. I was never active in the ballroom scene, but I would call myself "Ballroom Adjacent."
There is a scene in the pilot that is sort of an homage to A Chorus Line. Were you involved with that?
JB: That was my very first day shooting. I love A Chorus Line, and it was a dream. And all of the dancers on that stage were invited. These are the crème de la crème of Broadway dancers. They were so great; it was like working in a big hug.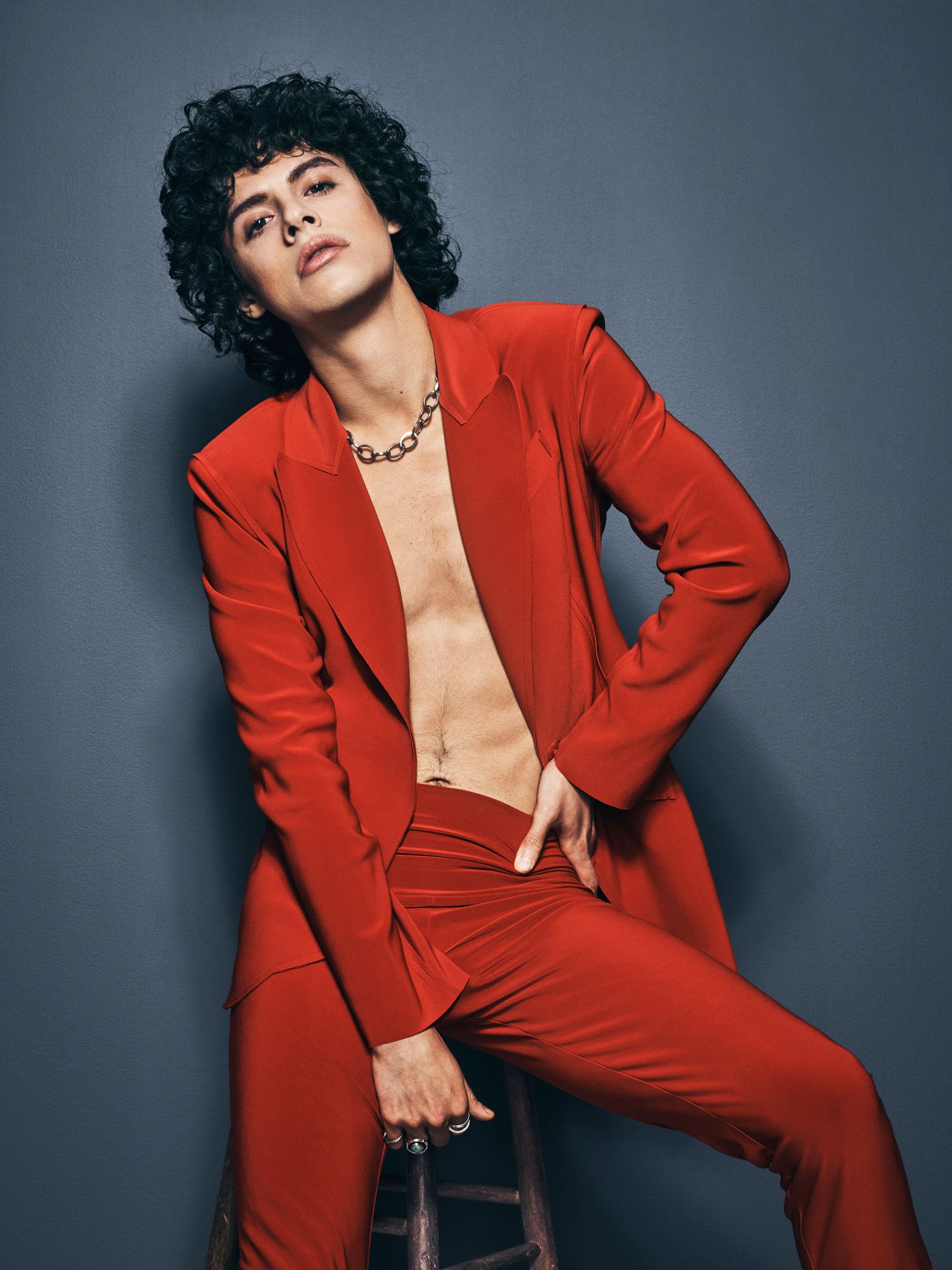 Jacket and pants by Norma Kamali.
Photography by James White. Styled by Sasha Charnin Morrison.
Your character is gay and Latino. Do you feel any responsibility to that representation?

JB: Well, Michael Grassi, one of our producer-writers, was responsible for putting the first transgender teen character on a regular TV series on Degrassi: The Next Generation. So they've always been boundary pushers, but they aren't doing it cheaply. They want to do it with honor and do it with respect and love, so I felt very confident that it would be done well.
You are the only cast member who is a real New Yorker. Do you ever feel like, this is exactly it, or this is not what I know?
JB: I am born and bred in New York—born in the Bronx! But New York is so ever-changing, it's like I'm always finding new things, and I love rediscovering it with my girls! New York isn't just a character in the show: She's the lead and we all just make her look good.
Pepper Smith is a New York City "It Girl." She knows everyone and who and what is hot and what's not. She dreams of opening up her own version of Andy Warhol's Factory. Pepper is a little mysterious. No one knows where she gets her money, but her secrets are part of her charm. She is played by Julia Chan, who grew up in Hong Kong and London and attended Harvard before getting her master's degree in New York. Her other credits include A Kid Like Jake (opposite Claire Danes) and BoJack Horseman.
Pepper is an unusual and mysterious character. Are you anything like her?
JC: Well, I would like to say I'm certainly not as duplicitous as she is, but we definitely share a love of whimsical fashion. She's actually not that far from me on the most daring of my sartorial days. But Pepper is a great friend, and I hope I am! We are trying to find a balance on the show; you know she is multilayered and kind of takes a long time to get underneath. She's got a lot of secrets, but she's a good listener and absolutely loves her friends. Adores them! So if that comes through with the character, it will balance out the con artist part.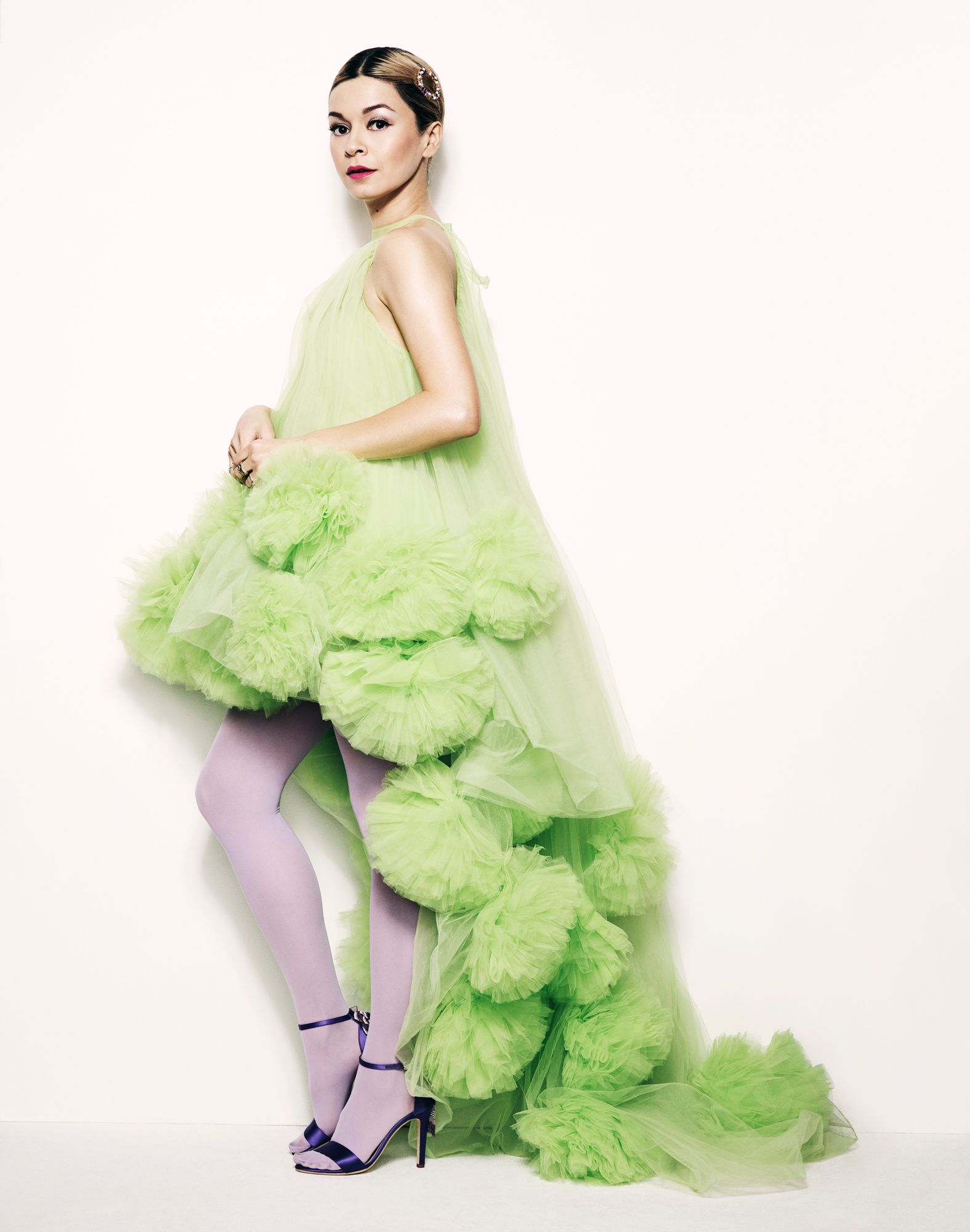 Dress by Lirika Matoshi. Tights by Calzedonia. Shoes by Mia Becar. Barrette by Denim & Daisy.
Photography by James White. Styled by Sasha Charnin Morrison.
You lived in New York when you started out your career. Does the show bring back memories?

JC: Yes, I came to New York when I graduated university in my early 20s, so I lived this! The city is a fickle mistress. She will really knock you about and then be an absolute delight on the best of days. I so get it; living here and knowing that your friends are around you is essential. I mean, some people have their family around them, but not many of us. So I had my great friends, and I still do. I needed them to weather the city. New York is like the fifth roommate. The show is a love letter to [the city]. There's the realness and the dreamy romantic feeling of the city, and how exciting it can be.
Do the characters' relationships on the show remind you of your own friendships?
JC: I hope the audience will see the chemistry that the four of us feel that we have as people and also as characters. I felt it right away as soon as we shot the first scene of the four of us in the apartment. I was like, "This is special." I've made family here, and I definitely don't feel that on every job. It's a testament to the creators, producers, and casting people that they managed to figure out what I think is a combination that is quite special. I spend a lot of time wondering how it's possible that I'm getting paid to do this, to be quite frank. None of this is hyperbole; this is truly a dream job.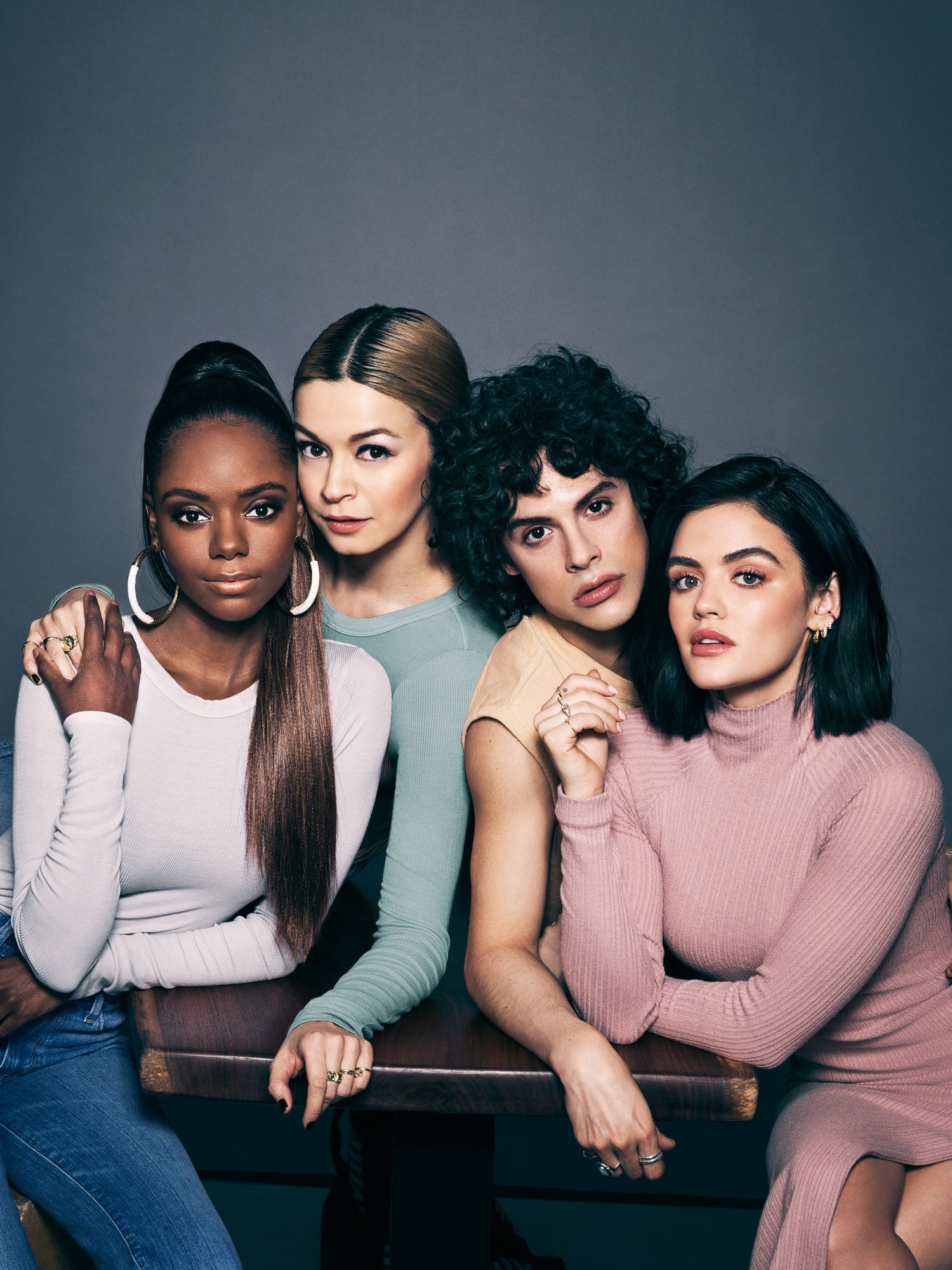 On Murray: Sweater by Enza Costa. Earrings by Gas Bijoux. On Chan: Sweater by Enza Costa. Rings by Mondo Mondo. On Beauchamp: Top by Galaxy by Harvic. On Hale: Dress by Enza Costa. Rings by Daisy London. Earrings by Saskia Diez.
Photography by James White. Styled by Sasha Charnin Morrison.
Originally published in Watch Magazine, March-April 2020.
PHOTOGRAPHY: James White
STYLED BY: Sasha Charnin Morrison
STYLING ASSISTANT: Mauricia HenryHAIR: Danielle Priano (for Hale), Takisha Sturdivant-Drew (for Murray), and Cynthia Vanis (for Beauchamp and Chan)
MAKEUP: Robert Sesnek (for Hale), Camille Thompson (for Murray), and Michelle Waldron (for Beauchamp and Chan)
Watch Katy Keene Thursdays at 8/7c on The CW. Stream new episodes Fridays free only on The CW!