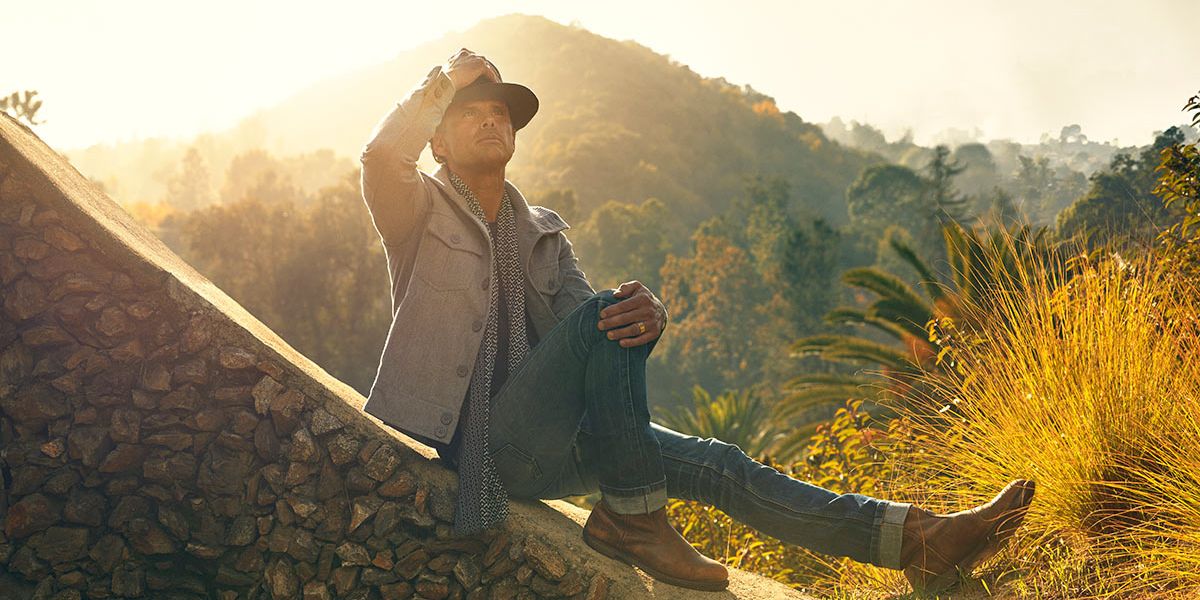 Photography by Sophy Holland. Styled by Nicole Schneider.
During a shoot at the famed Harry Houdini estate—and in this exclusive interview—Walton Goggins shares the special alchemy of sincerity, humor, and warmth of The Unicorn.
By Fred Schruers

Few would dispute that three decades into his career, Walton Goggins is as straight-up an entertaining presence as we could ask for, onscreen or off. On this sunny midwinter afternoon in Hollywood's Laurel Canyon, the lead actor in the hit sitcom The Unicorn is bringing a level of energy big enough to compete with the dramatically quirky surroundings of the storied manse and grounds known as the Houdini estate. (The master escape artist once resided here for several months.) "I live back in the woods you see," sings Hank Williams Jr. from a crew member's playlist, as Goggins perches a bit perilously on a stone wall. "My woman and the kids and the dogs and me …"
By the end of the verse, when Hank Jr. growls out, "And a country boy can survive," Goggins raises his arms in the air and bucks his lean, muscled body half a foot upward with them. Just about everyone in the platoon of a crew at today's photo shoot is right with him on the downbeat: This is a guy who smiles easily, and those around him tend to do the same.
"People who are on the precipice of some great new experience," Goggins says a bit later, "have great joy. And with great joy, when no one is around, most people I know dance. They dance wildly and unabashedly."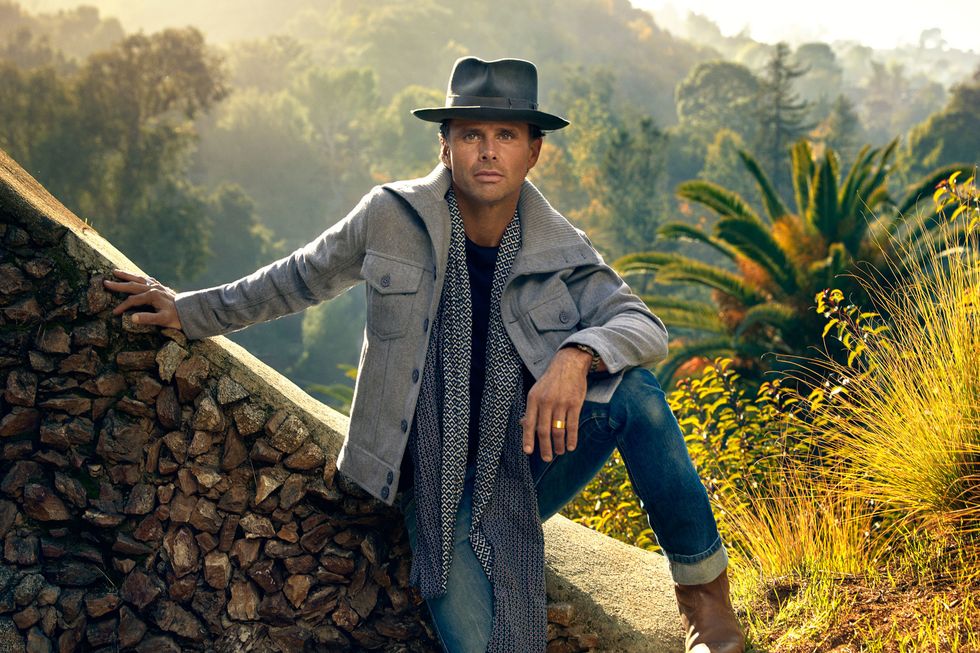 Jacket by Tunellus. T-shirt by COS. Jeans by A.P.C. Hat by Gunner Foxx. Boots, vintage.
Photography by Sophy Holland. Styled by Nicole Schneider.
Walton Goggins, a veteran of hit shows from The Shield and Justified to Sons of Anarchy and films with Tarantino and Spielberg, is referencing a scene in which his character, Wade Felton, is struggling to reenter the world of relationships while still working his way through what's been a year of mourning for his deceased wife. Wade, finding himself smitten by his first crush since he rebooted his social life, starts busting some dance moves around the family kitchen—accessorized by ear buds and a pair of trash bags he's carrying. He thinks he's alone, but our point of view soon shifts to take in his greatly befuddled daughters, Grace (Ruby Jay) and Natalie (Makenzie Moss).
As an executive producer who weighs in on storylines with showrunners Bill Martin and Mike Schiff, Goggins gets an early look at scripts. He took a special interest in the dancing scene, which began as a rather more subdued moment. "I read the scripts and I sit and talk with them before it goes to everyone else. In this particular episode, I said, 'I need something here.' It was originally scripted as 'he hums.' I don't hum—I don't think Wade hums. We all express joy in our way, but there are also universal ways—I know for me, and if I have the house to myself, you can bet I'm going to be listening to [the Rolling Stones'] Exile on Main St. I'm going to be losing my mind. And I absolutely love it."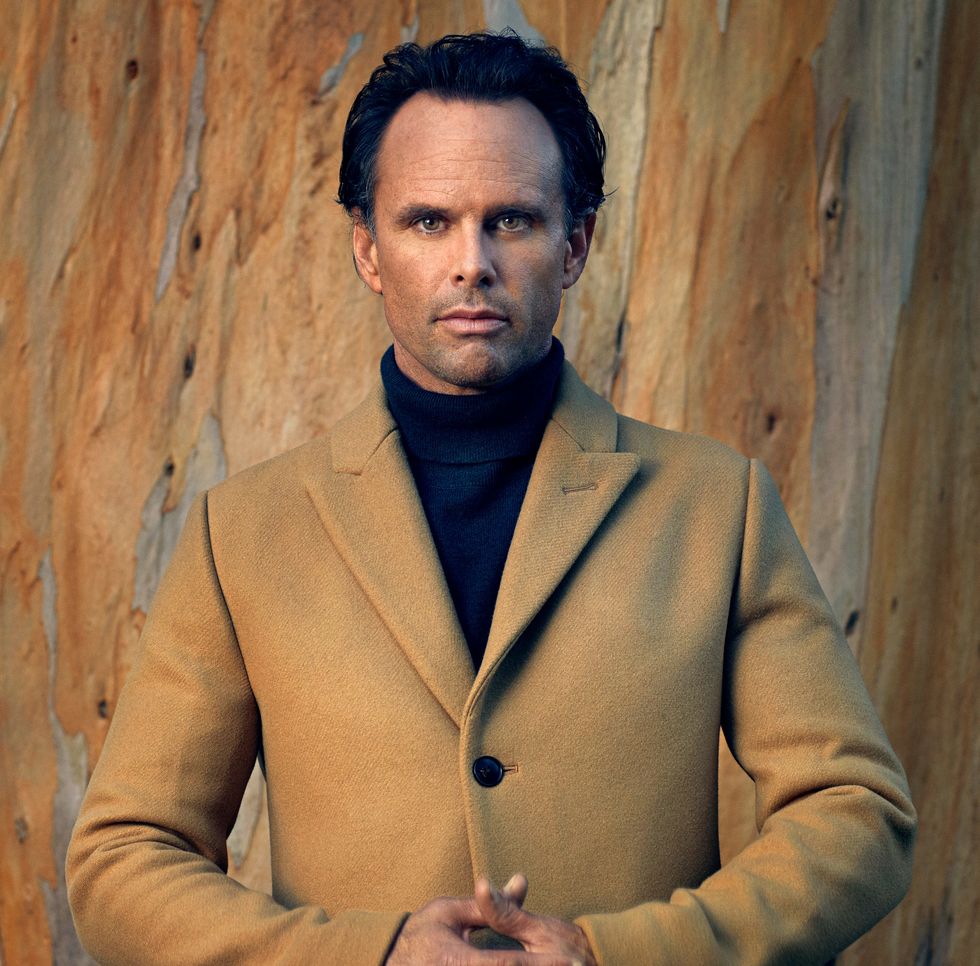 Turtleneck sweater by COS. Coat by Bonobos.
Photography by Sophy Holland. Styled by Nicole Schneider.
Goggins told his colleagues: "'I think that's where Wade is, so I need a song. You've got to give me a song and let me do my thing.' That's exactly what they did over the next two days, a perfect example of the collaboration of this show. They're really coming from their hearts with this, as are all of the writers. We got our music supervisor, Liza Richardson, to send over some options. The Edgar Winter Group's rollicking 'We All Had a Real Good Time' soon won out. I said, 'That's the one. Set up the camera here and here, and let me just go at it.'"
The final necessary piece of the scene was Wade's interaction with his daughters as they interrupt his cavorting. The actor, a devoted dad to 8-year-old Augustus with his filmmaker second wife, Nadia Conners, found it all coming very naturally: "They're thinking, 'Well, who is this strange creature?' I think a lot of kids feel this way. It's like, 'Wait a minute. That's really for us. That's something that we do. That's not what you do.'"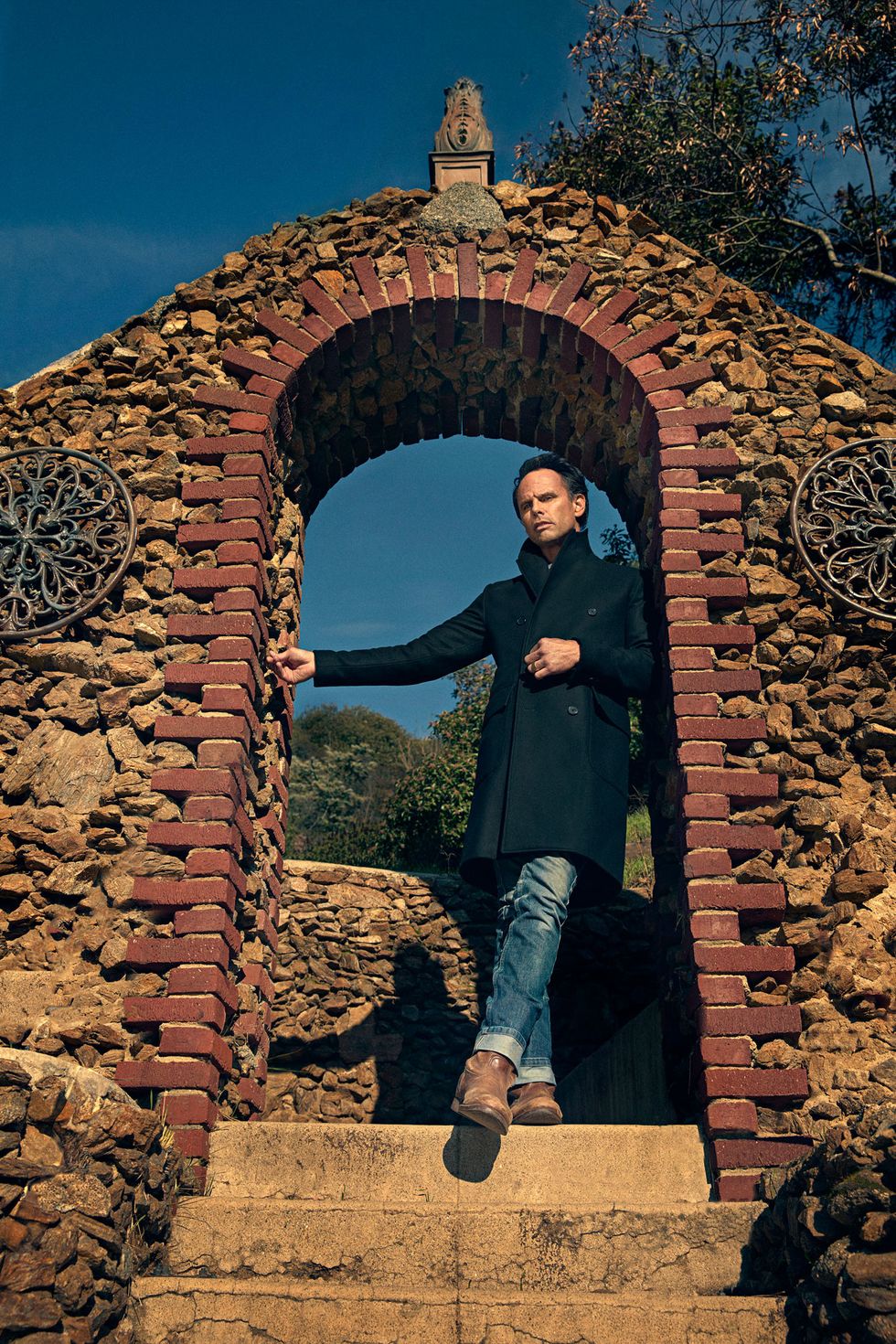 Coat by Bonobos. Jeans by A.P.C. Boots, vintage.
Photography by Sophy Holland. Styled by Nicole Schneider.
Walton Goggins doesn't buy into the acting axiom that advises against competing with kids or dogs to thrive in a scene, and he accepts the challenges of shooting a day's planned pages despite the industry's strict time limits on how long minors can work. "You know that saying, 'You have until the sun goes down. You have one chance to get this shot'? Well, we also have until the clock strikes eight hours for the kids in our show, so get it right, right now. But I love it. To participate on a daily basis in the experience of children, [in a show that is] good and that cares about storytelling, about the craft of it—we participate in their education. We're all just conduits of information, right? If you're lucky, you listen and you learn from your elders. You take that information and you pass it along to the next generation.
"I take it very seriously. I think it's a responsibility and a privilege. It just adds more chaos and drama to the day in a very good way."
As Goggins speaks he's planted in a chair during the first brief break he's had in a couple of hours of moving from setup to setup. He fishes out a cigarette and fully, discreetly, savors it. There's a compelling intensity to him: high cheekbones, striking eyes, spiky black topknot and all. Interviewers will tell you most subjects will engage—the standard firm handshake, the eye contact, a certain solicitude—but Goggins is a particular kind of "all in," in the manner of one of his film heroes, Jack Nicholson. He confidently and thoughtfully delivers a row of cogent responses. A chance mention of a song leads to a reminiscence of a kind of pilgrimage he made to the Moroccan desert after a major life crisis. "I'm from a small town in Georgia, man," he says. "I really wanted to see the world." In an impromptu moment far from civilization, he headed into the desert night with the only guide who would go. "We made a fire and talked about everything without speaking a word, using gestures mostly, about fathers and mothers and childhood and regrets … but I did peel off a layer there, and it changed my life."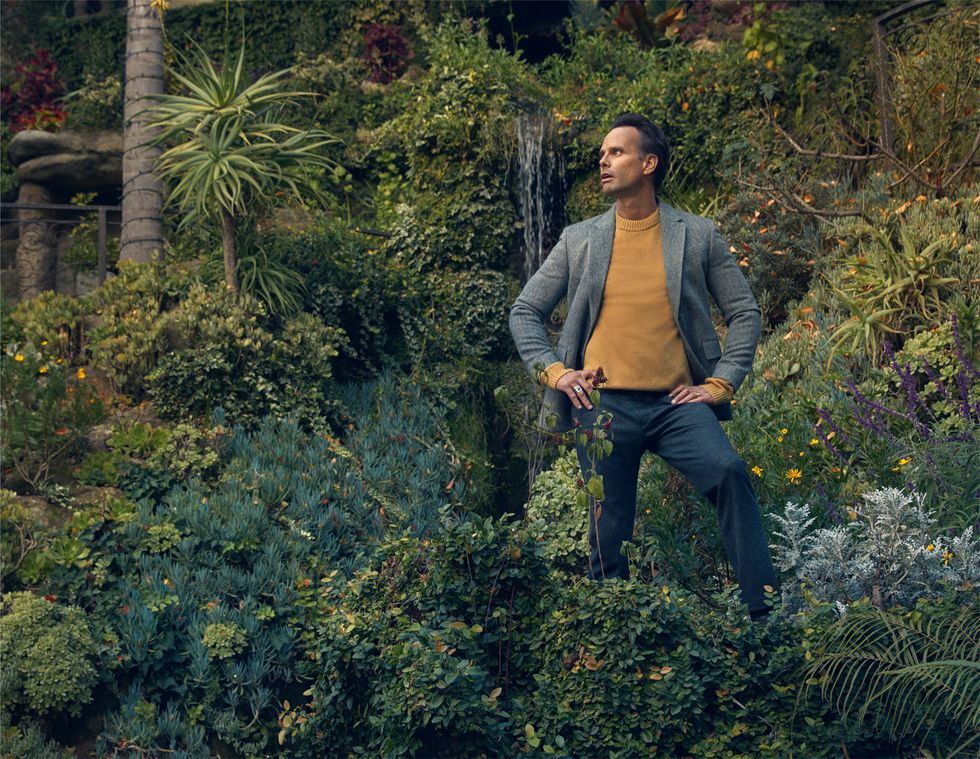 Sweater and pants by COS. Jacket by Rag & Bone.
Photography by Sophy Holland. Styled by Nicole Schneider.
Walton Goggins found sporadic roles as his career ramped up, but it was his portrayal of Detective Shane Vendrell in the gritty police drama The Shield that put him in the public eye (and began his tenure as a critical darling) for six seasons starting in 2002. As the tragically watchable transgender woman Venus Van Dam in Sons of Anarchy circa 2012, he showed his tremendous range. And while shooting the pilot of Justified, he established such an actors' duel opposite Timothy Olyphant's character, Raylan, that the show wrote him into the story for 74 more episodes.
His Emmy nomination and four Critics Choice Award nominations for that Boyd Crowder role helped turbocharge his film career, including his first Tarantino turn with Django Unchained (2012) and then 2015's The Hateful Eight. "The opportunity to say Quentin's dialogue, those words from his imagination," he says, "is still the greatest experience of my life."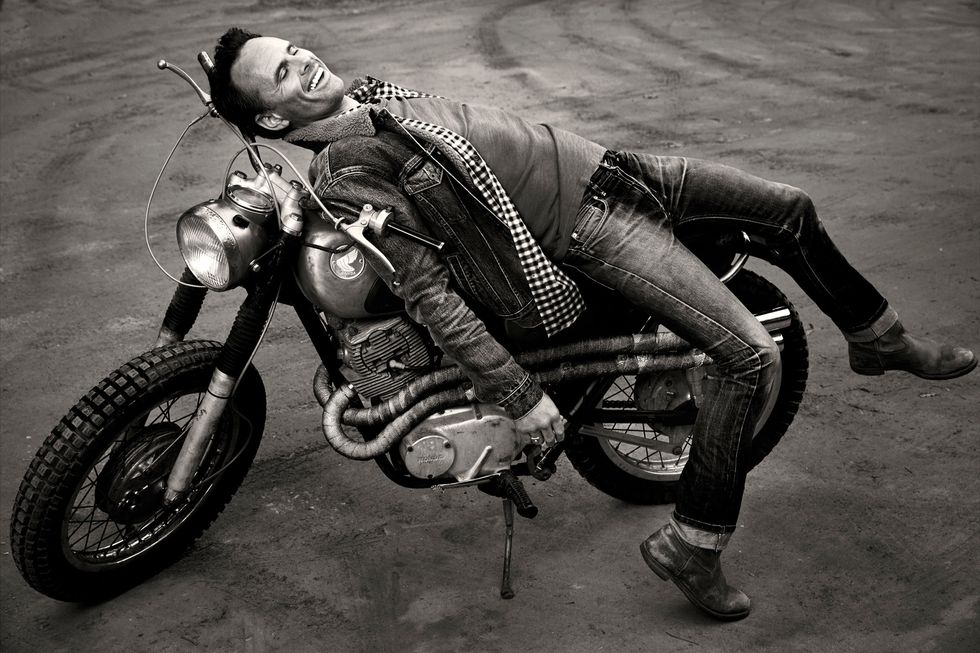 Jacket by Vince. Shirt and T-shirt by Rag & Bone. Jeans by A.P.C. Boots, vintage.
Photography by Sophy Holland. Styled by Nicole Schneider.
Another deeply valued friendship is with the eruptively imaginative Danny McBride, who created and played opposite him in the wickedly satirical Vice Principals and more recently The Righteous Gemstones, in which he plays the 70-year-old Baby Billy, a former child star who clog danced.

With a rich history of striking roles in an array of features over the years, Goggins' key problem would seem to be just which tempting offers to turn down going forward. He's grateful to the network for the freedom to take on brief acting stints whenever The Unicorn's shooting schedule permits. "I've been supported to no end by CBS in the things that I want to do outside of the show, but at the same time, I want The Unicorn to go for as long as we have something to say in the story."
The immediate welcome by both a wide audience and the many critics who have regarded Goggins as a sort of—though no longer so at this stage—secret weapon has emboldened The Unicorn's showrunners to widen the emotional latitude of the show. Goggins is visibly pleased at the depth the show has aimed for, and found, along with robust ratings. Steering clear of comedy tropes, he says, "was the great thing that we had to actually overcome. I think that kept us in a holding pattern, if you will, early on. Because while it may have seemed that way from the pilot, this was not going to be a gratuitous show about dad dating. And we had to prove that to people."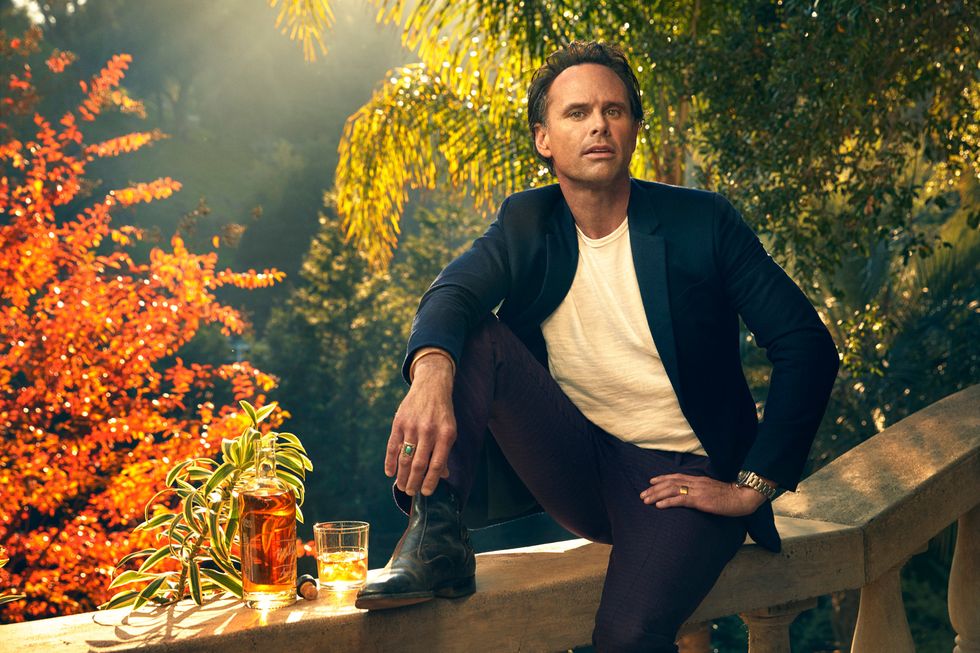 Jacket and T-shirt by Rag & Bone. Pants by Bonobos. Boots, vintage.
Photography by Sophy Holland. Styled by Nicole Schneider.
As season one headed for the finish line, Wade's once-danceable exultation over a new love met obstacles—his own ongoing mourning mingled with a fear of hurting Sarayu Blue's Anna character, and also a reluctance to disrupt the hard-won single-dad tightrope walk with his daughters. The misgivings brought forth a delicate and yet highly emotive scene. "Danny McBride makes drama that happens to be funny," he says. "I'm from that world. I think with The Unicorn, we're getting more confident in our storytelling and our style and how we're defining ourselves. That's exciting."
That scene with Anna was remarkably discomfiting in the best sense. To show Wade's anguish and Anna's empathy and acceptance, says Goggins, "You just create a place of trust, really for everybody. I trust her and I trust my group. Then you just turn yourself over to this imaginary set of circumstances. You live Wade's story. It's pretty simple."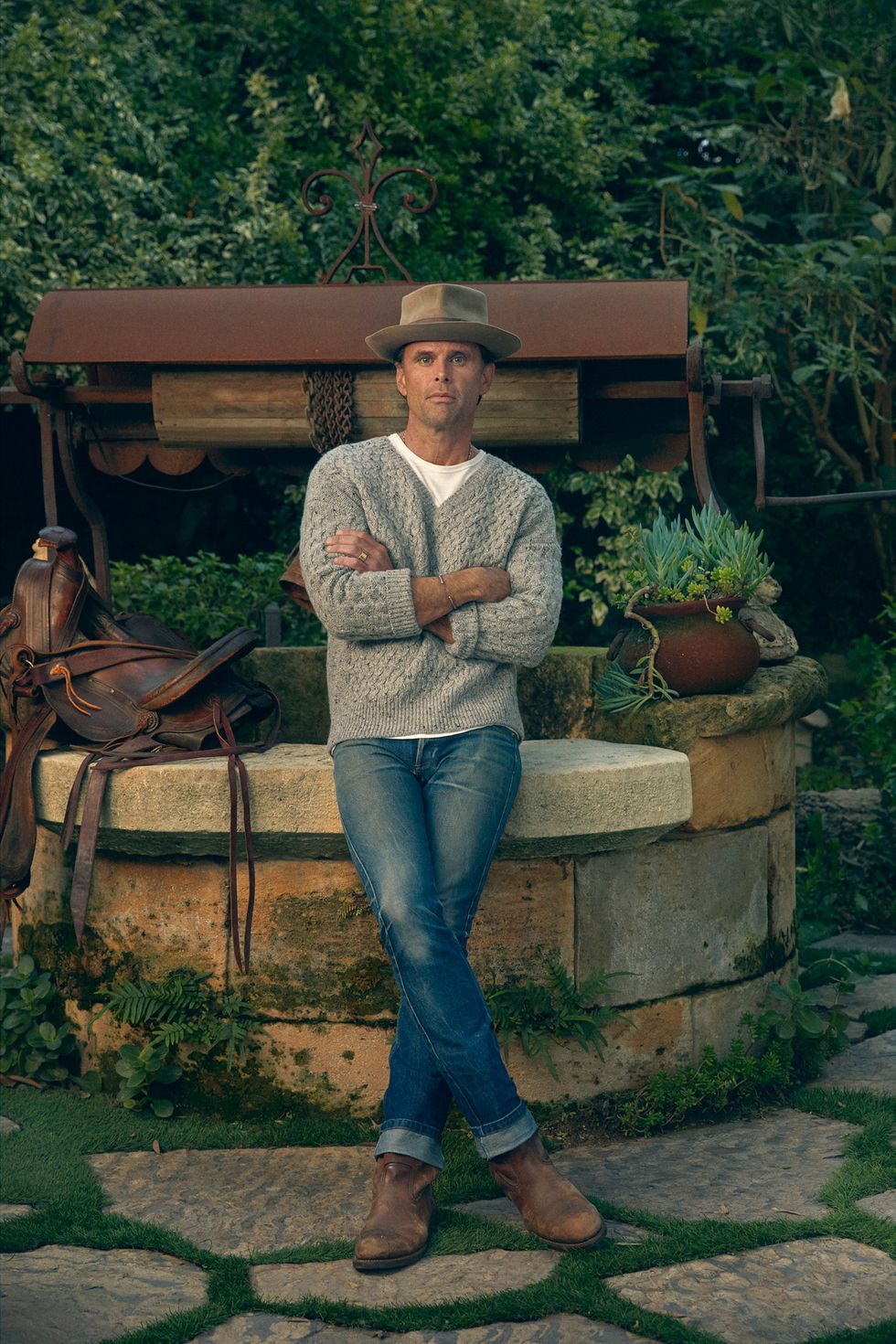 Sweater by Vince. T- shirt by COS. Jeans by A.P.C. Hat by Gunner Foxx. Boots, vintage.
Photography by Sophy Holland. Styled by Nicole Schneider.
And yet, he adds, whatever happens next in the plot, the emotional temperature has been modulated in a way that's hardly common with half-hour network shows. "Anna is seen coming from such a loving place; to understand the reality of the situation and to be willing to walk away from it with such grace and dignity that allows the other person to maintain their own grace and dignity. It's very evolved on both of their parts, and it just breaks my heart whenever I think about it."

A key audience-pleasing aspect of the show is that in addition to his daughters, Wade has a central quartet of pals who are so loyal—not to say intrusive—that they steadily attempt to manage his emerging persona as the man of the title. They celebrate and torment him as "that elusive creature," according to Maya Lynne Robinson's Michelle, "that all women are looking for." Her husband, Ben, played by Omar Miller, is a gentle, wry giant. Ben's slightly delusional braggadocio forms a piquant contrast to Wade's own disbelief in his single-guy attractiveness. The second couple enmeshed in the voluble quintet features Rob Corddry's nerdy would-be horndog, Forrest, who's constantly taking verbal darts from gifted comedian Michaela Watkins as his wife, Delia.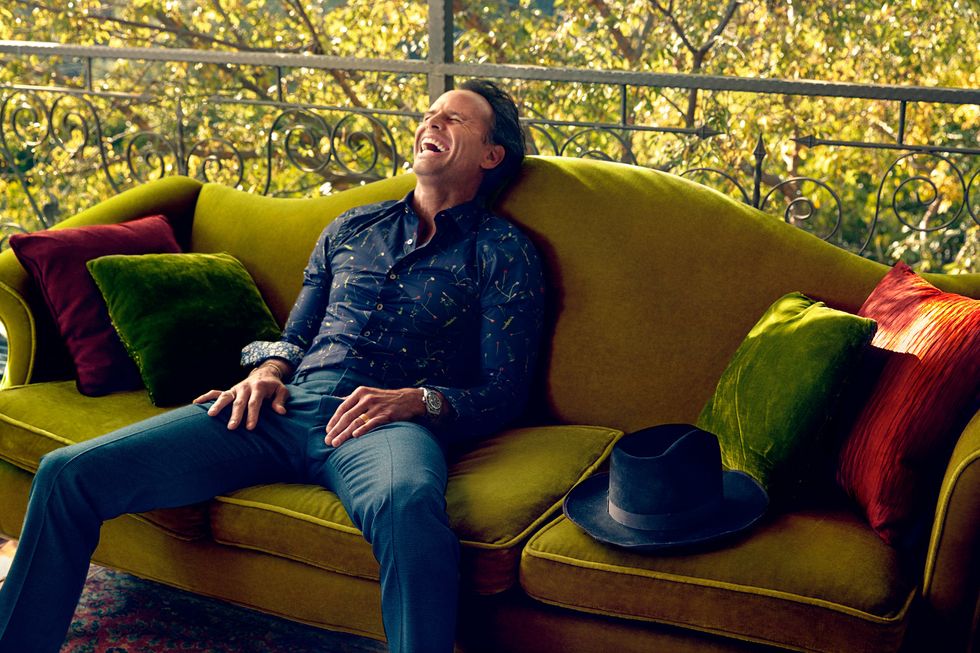 Shirt by Paul Smith. Pants by Bonobos. Hat by Gunner Foxx.
Photography by Sophy Holland. Styled by Nicole Schneider.
Goggins couldn't be happier to see the ensemble so free-ranging. "It's so weird, but the reason why I love this story so much is because of its limitations. Because we only have 22 minutes to tell this story, and we have to be very, very specific about how we tell it and when these seminal moments happen."That can be a lot of balls to keep in the air, and then we all feel that, too. It's like, 'Wow, where is this conversation going to go?' When you have people like Michaela and Rob and Omar and Maya, that conversation will be what's on the page, and then it will veer into another little area for a minute and then come back. It's playful and it's immediate and it's just so goddamn pleasurable, man.
"I think more often than not, that is how our experiences and our lives happen, and I so desperately wanted to reflect that in a story. I wanted to stay away from cynicism and irony and just come from a place of not having the answers."

Walton Goggins pauses, then concludes with his reliably eager articulateness: "This show is about a lot of different things, but community, and the importance of community, is preeminent—that and an unapologetic vulnerability. I feel like we've had enough irony in our lives over the last 20 years—some of the greatest television ever made. There was a time and a place for that, but I think that there's room for kindness, and for people just figuring out where they are in life and being supported for their failures. I know what that feeling is. I think we all do on some level."
Originally published in Watch Magazine, March-April 2020.
Stream full episodes of The Unicorn on demand on CBS All Access.