Photo Credit: Photo Credit: David Needleman
Young Sheldon's leading lady shows off her maternal side in CBS's new comedy.
By Brantley Bardin
Though Zoe Perry's face resembles a cross between Kate Winslet's and Natascha McElhone's, comedically—from her cadence to her riotously exasperated manner—she's a dead ringer for her mom, Emmy and Tony award winner Laurie Metcalf.

Which is mighty handy in a case of hyper-meta-casting: In Young Sheldon, Perry plays Mary Cooper, the character Metcalf plays on The Big Bang Theory.

The new comedy, set in Texas in 1989, finds Mrs. Cooper, her husband, and two other kids doing their damnedest to deal with genius Sheldon (played by Jim Parsons in TheBig Bang Theory) as he enters high school at age 9.

"Playing Mary is a dream. She's funny in her stubbornness and no-nonsense-ness, but also loving and protective," says Perry, 34. "Anyone who feels like they know an outsider or is an outsider will relate to the show. That's basically anyone in every family!"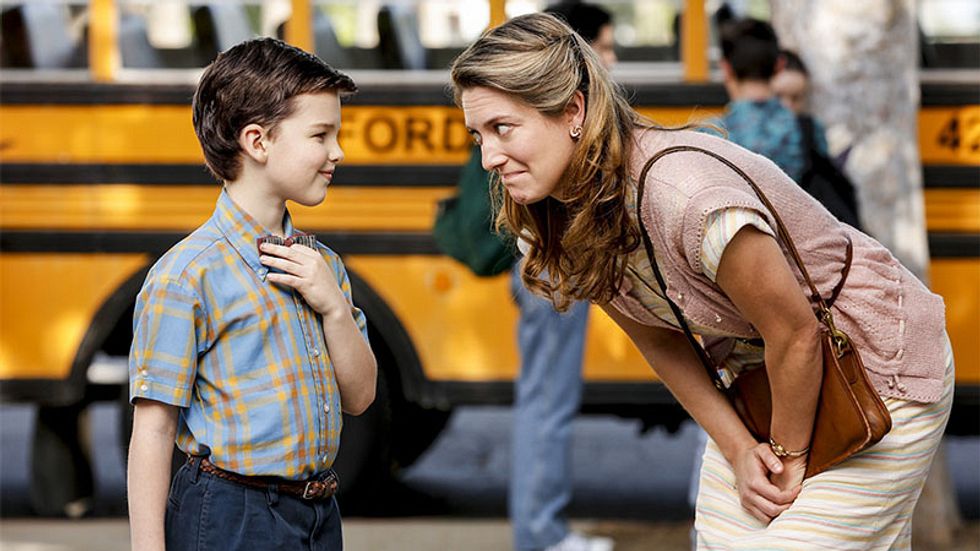 Sheldon Cooper (Iain Armitage) and his mother (Zoe Perry) in the pilot episode of Young Sheldon.
Photo Credit: Robert Voets/CBS
Let's cut to the chase: It's impossible not to think of your mother while watching you, too, playing Mary Cooper.

I know. [
Laughs
.] Genetics have done a lot for me in carrying on Mary's legacy, because my mom and I have such similar voices and mannerisms. But in
Young Sheldon
I get the opportunity to explore Mary in a different stage of life where we haven't been introduced to her before.
Will we discover that Holy Roller Mary had a super slutty youth or something?

Who knows? Sure! We'll get to see all different aspects of her. Her religious, uh...fervor... hasn't been ignited in the way we find in Big Bang.

You're working with young kids. Big Little Lies' Iain Armitage, 9, plays Sheldon; his twin sister is played by 9-year-old Raegan Revord, and the eldest is 14-year-old Montana Jordan. Are you learning hip new social media stuff from them?

Honey, I'm just learning about social media—I've been dragged kicking and screaming into it! [Laughs.] But the kids love everything from movies to theater, so there's a plethora of things to discuss. And I'm so impressed by their talent and professionalism. Don't get me wrong—they're still their ages, but it's remarkable that as soon as we say, "Action!" they're right there.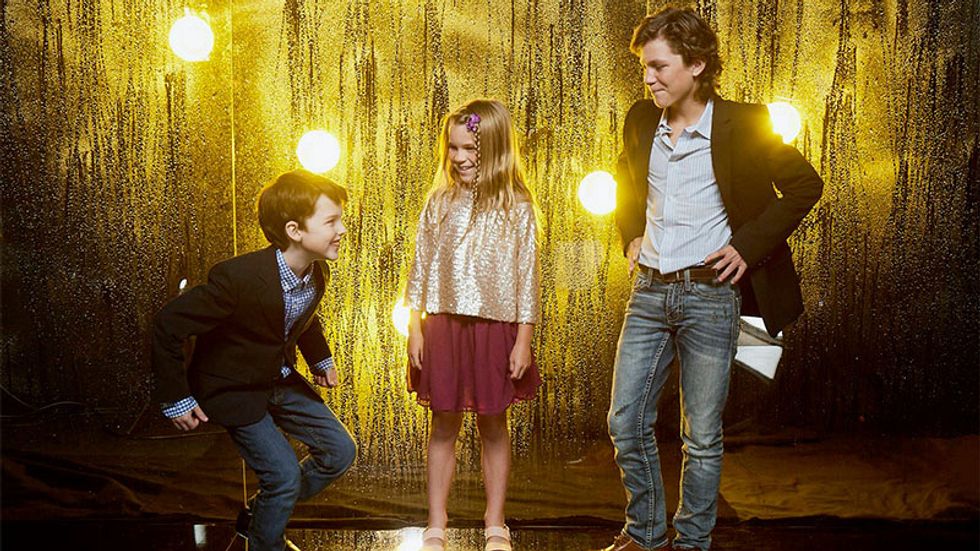 Iain Armitage, Raegan Revord, and Montana Jordan having a blast at TCA Press Tour.
Photo Credit: Cliff Lipson
Cool. Listen: Even though you've had a huge year playing a monster in Scandal and now Mary on Young Sheldon, we know almost zilch about Zoe Perry—you don't even have a damn Wikipedia page.

Nope. And maybe there'll never be one. [
Laughs
.] My parents set a fantastic example for me in that their passion came from theater. [Her father, actor Jeff Perry, is co-founder of Chicago's Steppenwolf Theatre Company.] I learned that if you can proceed with a level of anonymity while still pursuing the thing you love, that's the dream.
Yeah, that version of celebrity is ideal. Your parents can score reservations at hot restaurants without having to be huge celebs.

If they even drop their own names at those restaurants, which they're loath to do. These are Midwestern folk through and through. They proceed with a level of humility that they just can't shake. [Laughs.]

Is that why, although you played a version of your mom's Jackie in Roseanne a couple of times when you were very young, you didn't act again until years later?

Oh, yeah! Playing "Young Jackie" came at the insistence of Roseanne herself. Mom obliged but told me that would not be an option again until I was 18. Truthfully, I grew up not thinking I would act.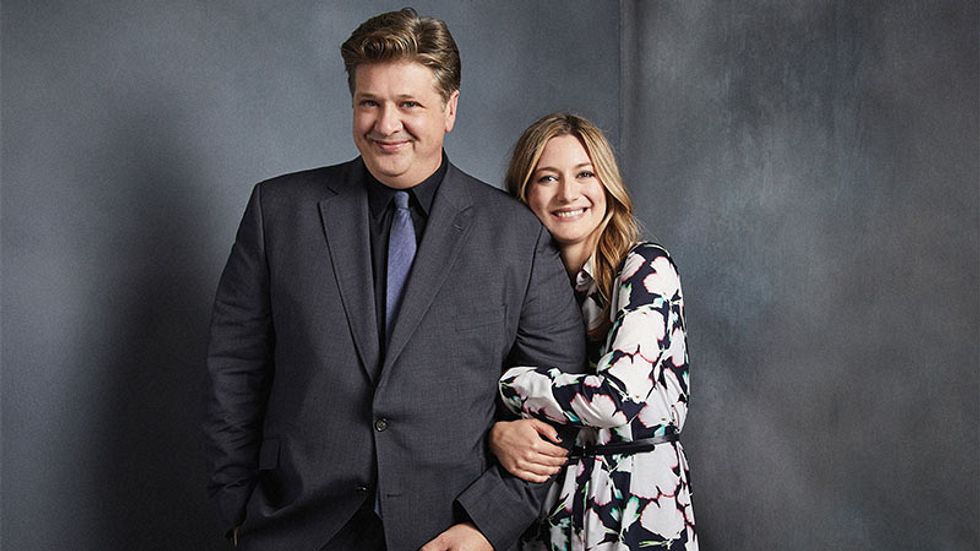 Lance Barber and Zoe Perry at the CBS Upfront in May.
Photo Credit: David Needleman
Still, you were on TV sets a ton, right? Your father played Harvey Leek on Nash Bridges with Don Johnson, and your mother worked on Roseanne from the time you were 4 years old until you entered high school.

The Roseanne set was totally my home away from home. And I did pal around and roller-skate with Dakota Johnson. And now she's a megastar!

Which you, clearly, have zero intention of becoming. But throw us a semi-personal crumb: What's a guilty pleasure?

Well, really, it's not even guilty, it's just a pleasure: I've been watching Survivorwith my mom since it started. My high school graduation party was even Survivor-themed. I wore a buff on my head. Recently, I got to meet Jeff Probst at a party and I was beside myself!

Hilarious. Anything else you want to tell the public before we say buh-bye?

Come along for the Cooper ride!
Originally published in Watch! Magazine, September-October 2017.

Watch the next all-new episode of Young Sheldon on Nov. 2 when it settles into its regular time period on Thursdays at 8:30/7:30c on CBS and CBS All Access.