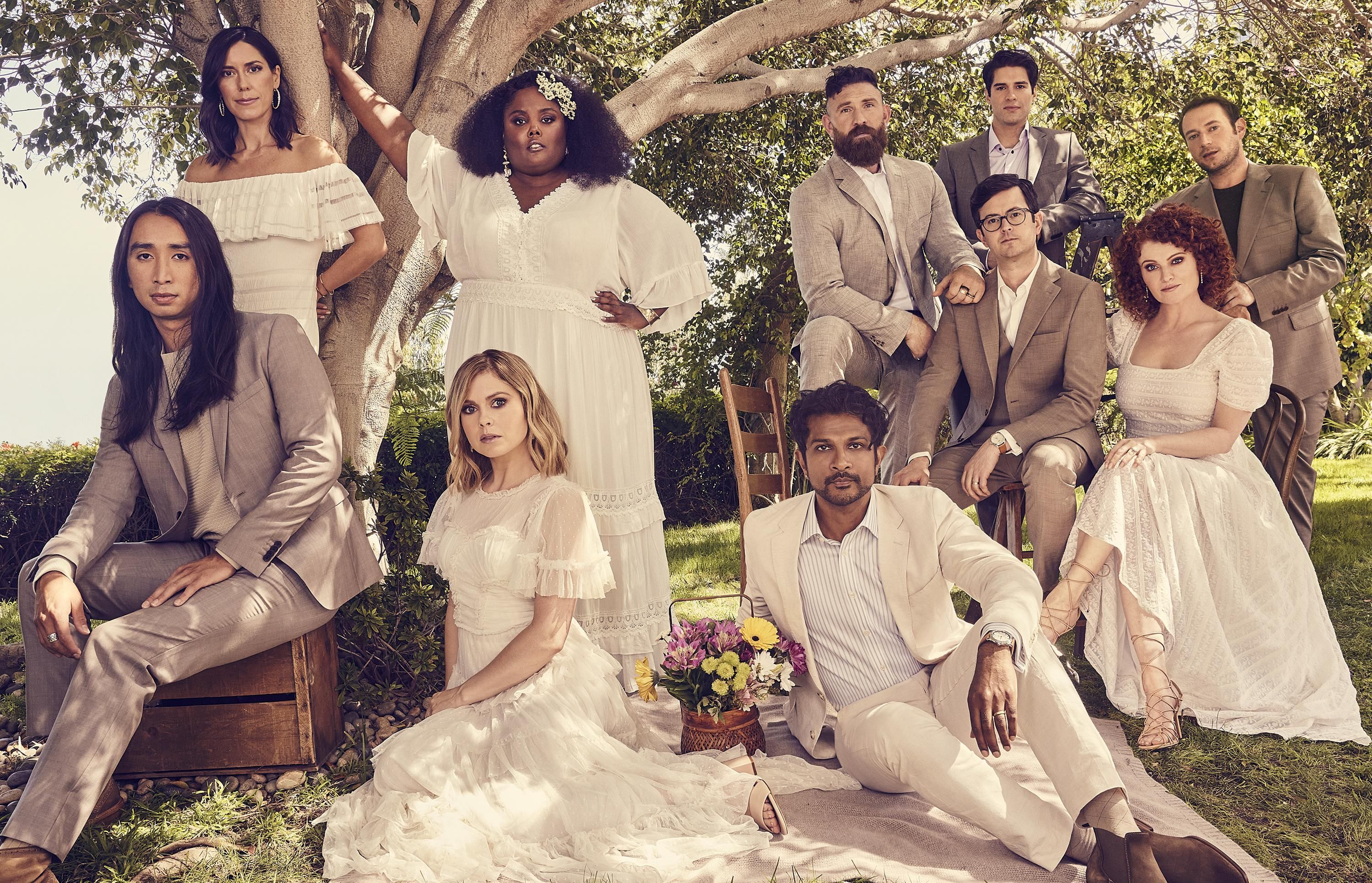 Photo credit: Ramona Rosales
How CBS's charming sitcom Ghosts became a monster hit—and that unique show the whole family adores
By Jim Colucci
Photography by Ramona Rosales and styled by Heidi Meek.
This breezy cliffside perch, high above Malibu, California, its estate grounds dappled with palm shadows, may be the last place you'd expect to see ghosts. But then, emerging from various corners of the expansive Spanish-style house, eight of them appear. It's been three months and many thermometer degrees since the cast of last season's breakout comedy, Ghosts, gathered, after having closely bonded while shooting the show on a soundstage in Montreal. Rose McIver, who plays Samantha—one of the show's two main mortals living amid a phalanx of phantoms along with Jay, played by Utkarsh Ambudkar—has just returned from a visit to her homeland of New Zealand. Now, as she and her castmates, all dressed in ethereal white, await placement in a group shot by the photographer, Rose has a vision of what's to come. "Oh no, here comes the chaos," she says with a laugh.
As the ghosts draw closer, you can feel their prankish energy. After all, this is a cast of actors skilled in comedy and improvisation, and all they need is a setting to get them going. Right on cue, Richie Moriarty, who plays Boy Scout leader ghost Pete, gets a wrong-number text from some woman berating her assistant for not buying her enough shoes. It's as if an audience at their improv show had shouted out a scene suggestion.
Catch up with Ghosts streaming on Paramount+.
SUBSCRIBE NOW: Enjoy 4 Digital Plus 2 Print/Digital Issues Of Watch Per Year — For Free!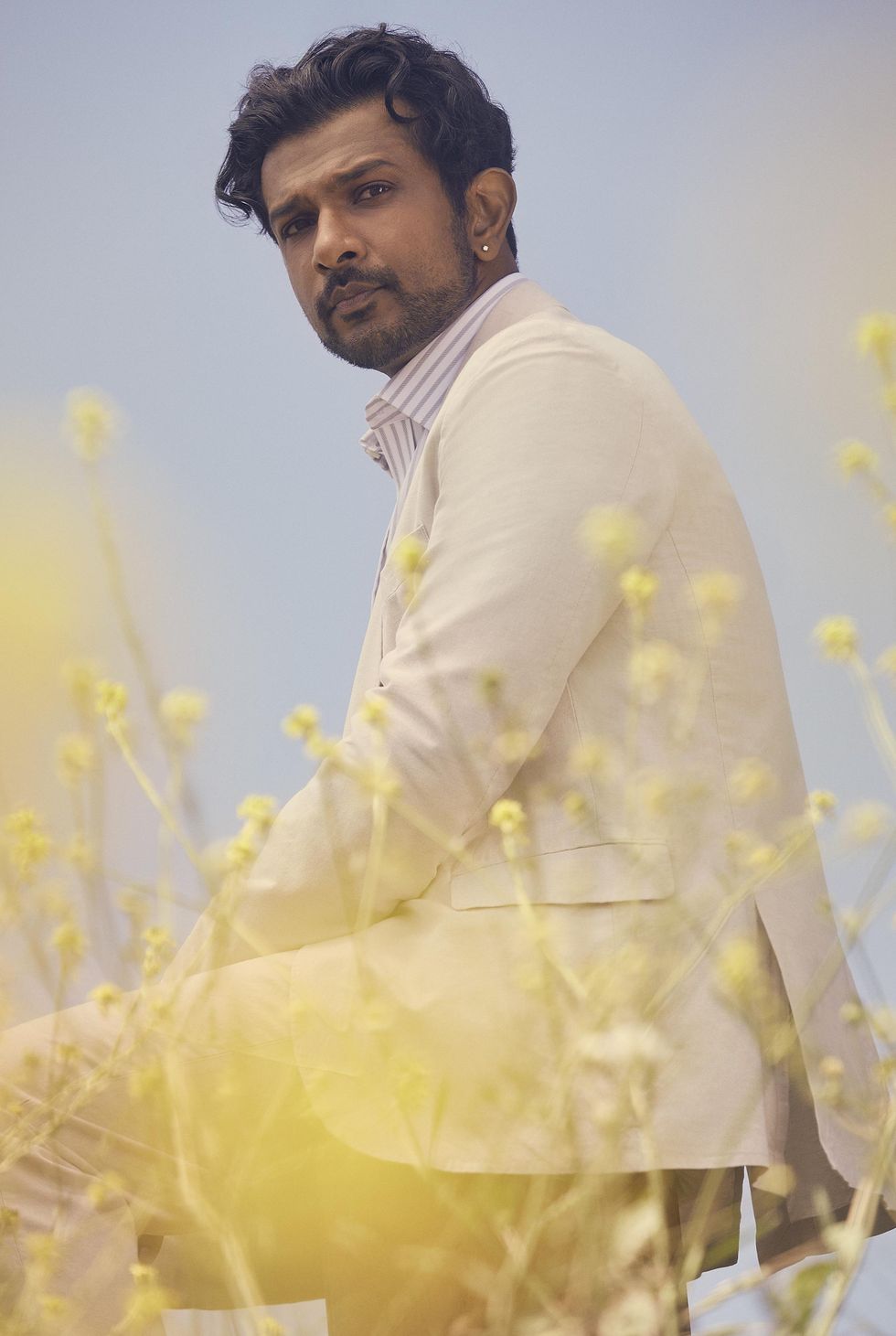 Hawes & Curtis suit and shirt
Photo credit: Ramona Rosales
A few minutes later, the group takes a snack break in the shade of the open garage, pitching ideas to include in Moriarty's reply. There's Sheila Carrasco, whom the other actors envy for her quick wit and the comfort of her character Flower's flowing attire. Danielle Pinnock, who plays '20s jazz singer Alberta, is the group's de facto hostess, having the cast over for viewing parties. In a gauzy white gown and with her hair not in her character's tight Edwardian updo, Rebecca Wisocky looks more youthful than the upright lady of the manor Hetty Woodstone. Together, Wisocky reveals, she, McIver, Carrasco, and Pinnock have become so close that they've started referring to themselves as "The Lady Ghost Society."

The men taking part in this spirited pitch session include Román Zaragoza, who proudly brings his own partly Native American background to the character of Sasappis; Devan Chandler Long, whose larger-than-life voice and personality match his physical size; Brandon Scott Jones, both an actor and a writer for such shows as HBO Max's
The Other Two
, who's now enjoying the novelty of an outfit that's less buttoned up than his Colonial character Isaac's; and Asher Grodman, who is so unlike his selfish finance "bro" character, Trevor, that he and Moriarty have surprised the group with a gift: custom-made black
Ghosts
hoodies for everyone to wear on the plane when they fly to meet with advertisers at an upcoming CBS party in New York.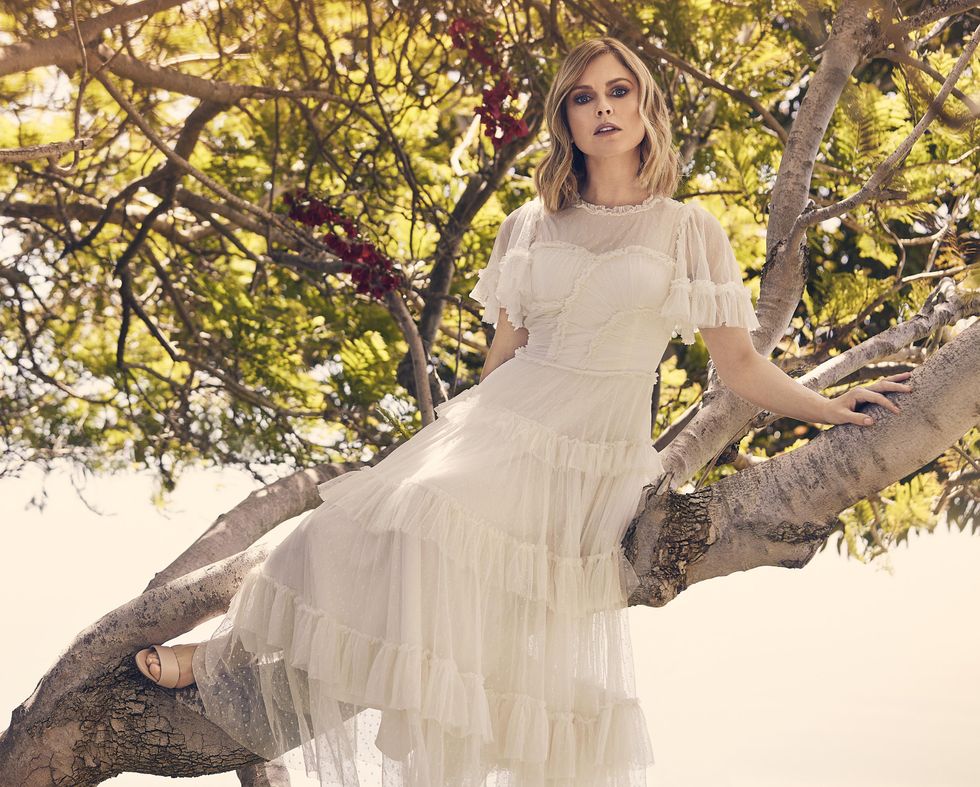 Ivy City Co dress, Nadri earrings, Gabriel New York ring, M. Gemi shoes
Photo credit: Ramona Rosales
Ultimately, it's Ambudkar who helps craft the best text reply, accompanied by a photo Moriarty has taken of the array of female footwear present for the photo shoot. A few minutes later, the original sender has volleyed back a cryptic response of her own. Strangely, she admonishes Moriarty to "polish your eyes." It's eerie, really, because if only she'd typed "soul," she would have come close to nailing what Ghosts is all about: its eight title spirits stuck in a state of limbo and awaiting the enlightenment that will allow them to get "sucked off " to a paradisiacal plane, but in the meanwhile having fun haunting their human hosts.

Soon it's a quick change of clothes and then back to the photo shoot. As the sun sparkles on the Pacific a few hundred feet below, these 10 actors show themselves to the camera literally in a whole new light. As fabulous as they all look in contemporary styles, they're happy to wear their characters' same crushed velvet capes and unforgiving corsets for many more years to come. Just weeks away from shooting the second season, we talked to the cast and creators about this
Ghosts
story with a happy ending.
Ghosts was inspired by the 2019 BBC series of the same name. What drew you to this project—and were you a fan of the original sitcom?
Rose McIver: I was drawn in by the dialogue and the rich characters. It made me laugh on the page, which doesn't happen that much for me. Once we started prepping and I had the job, I dabbled by watching the first episode of the British show. I think it's incredible, but I didn't want it to completely shape my approach.
Utkarsh Ambudkar: I almost blew it, honestly. The script came to me right before the pandemic. I had watched the British version and thought it was funny. And then, I can't even really speak to the reasons why, but I passed on doing the show. But it didn't really leave me. It kept sort of poking at me. And also Rose …
RM: … harassed you.
UA: No, not harassed. You instilled in me the confidence that everyone wanted me to be there. And when the pandemic happened, the opportunity to work suddenly became very precious. This role was luckily still available, and Rose and I got to read together and found out we have chemistry both as people and on camera together. Now I'm here, but it easily could have been an opportunity missed.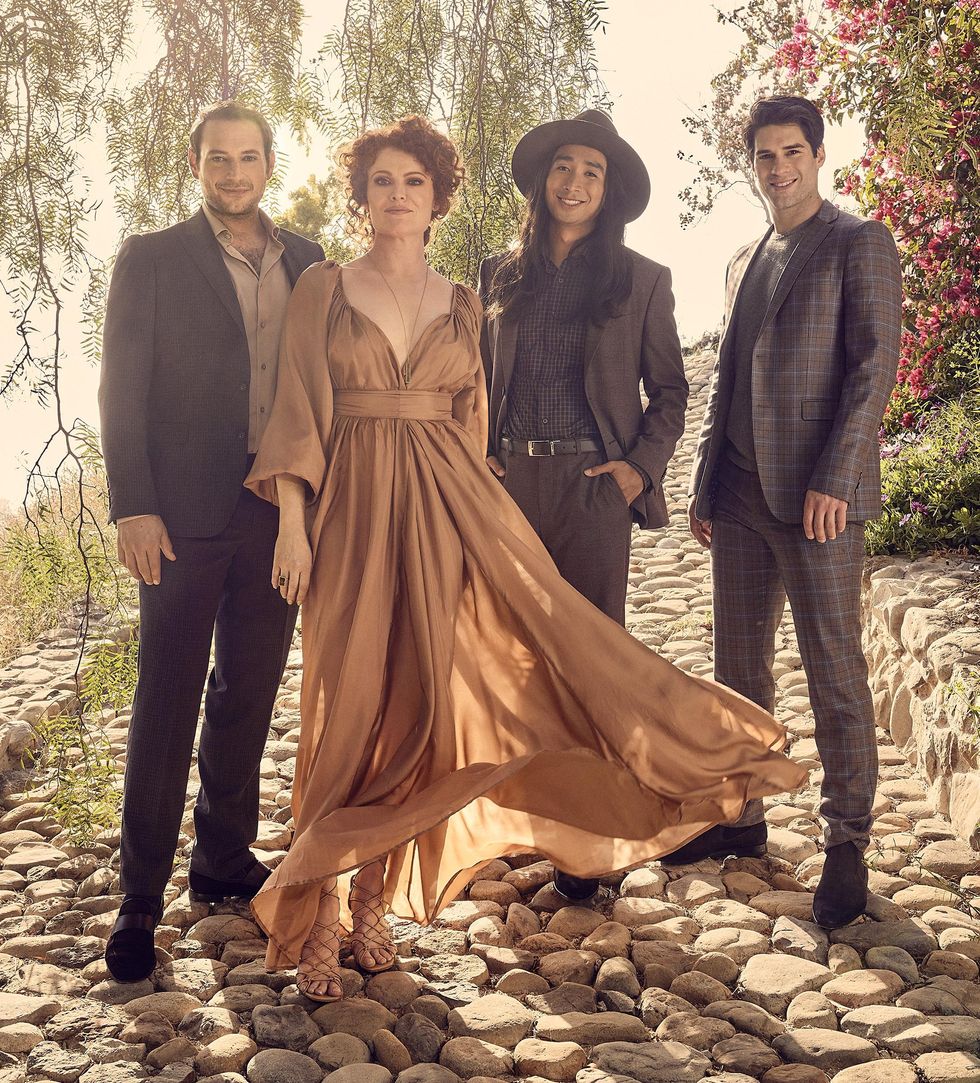 L to r: Brandon Scott Jones, Rebecca Wisocky, Román Zaragoza, and Asher Grodman (On Jones: Brioni suit, Luigi Borrelli shirt, Magnanni shoes. On Wisocky: Kalita dress, Nadri jewelry, Schutz shoes. On Zaragoza: Thunder Voice Hat Co. custom-made hat, Hugo Boss suit, Buck Mason shirt, Magnanni shoes. On Grodman: John Varvatos suit, Hugo Boss shirt, Magnanni shoes)
Photo credit: Ramona Rosales
It's unusual for a show to allow its actors to improv. Was that a surprise to you, to get to do that?
UA: Improv is something I get to do often in different jobs. We improvise quite a bit, but it's often not for the end product. It's for each other and the crew. We generally know now [that] if we've gone off script for too long, it's not going to make it to the final cut. But if we get the crew to laugh, we will have made the long day a little bit brighter for each other.
RM: I am new to improv. It's a skill set I'm learning. I have this incredible team of trained improvisers around me, and my job has been to let these guys shine and let them polish episodes with cool, interesting details that you can only discover on that day. It's a sign of confidence and belief in everybody that we are allowed to do that.
The show films scenes from Sam's point of view, where you can see the ghosts, and the other from Jay's, where you can't. What challenges does that present?
UA: I think Rose has a way more difficult job, because in one take she has actors to look at, and in the next she has to pick the points where they just were and continue a conversation with them while I get to stare off into space. They're two very different skill sets.
RM: Honestly, most of the time I'm just trying not to get in the way. I want to get my lines out and let everybody have time. We move very quickly. And boy, eight ghosts together in one frame, they really deserve every opportunity. They have something great to contribute each time. And then it's also nice when it's just Jay and Sam in a scene, and Utkarsh and I get to play.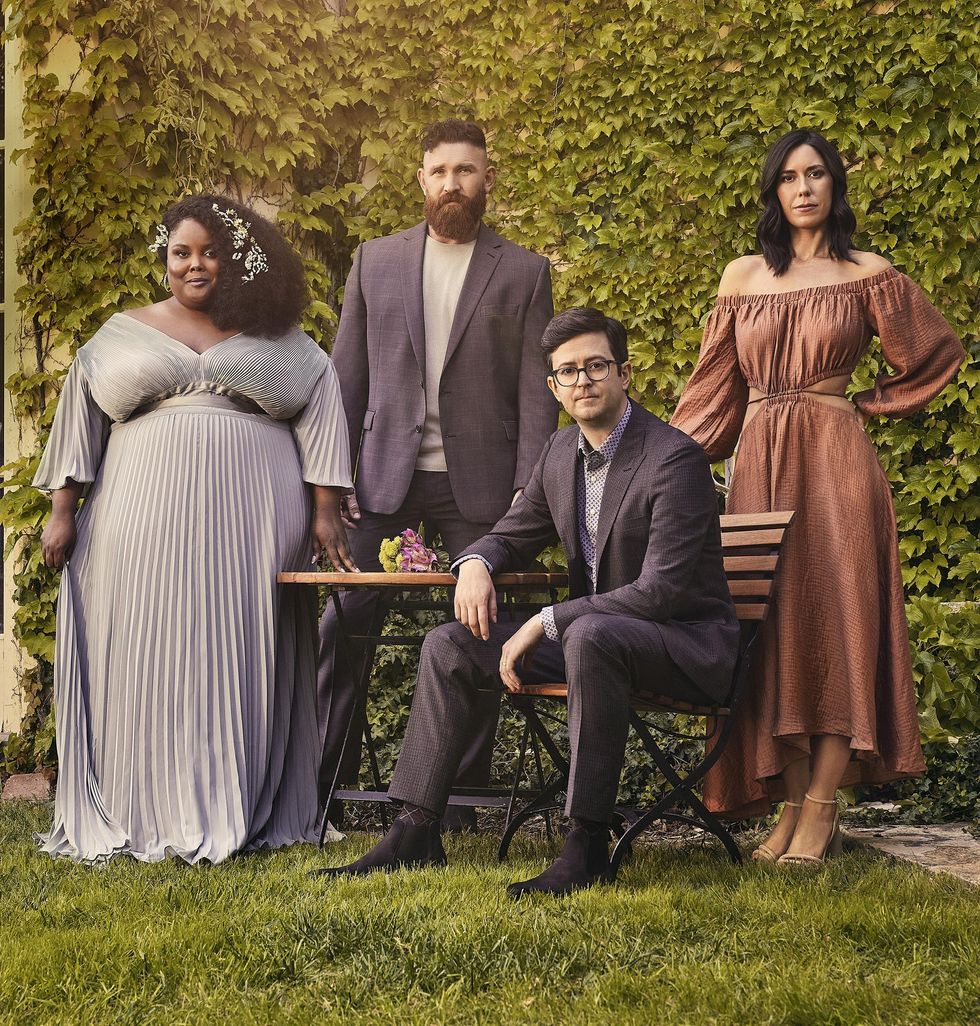 L to r: Danielle Pinnock, Devan Chandler Long, Richie Moriarty, and Sheila Carrasco (On Pinnock: ASOS dress. On Long: Burberry suit, Alex Crane shirt. On Moriarty: Hugo Boss suit, Nautica shirt, Waldan watch, Magnanni shoes. On Carrasco: ASTR The Label dress, Sam Edelman shoes)
Photo credit: Ramona Rosales
Utkarsh, you have to pretend you don't see or hear any of these funny people. How do you keep a straight face, especially if they improv and catch you off guard?
UA: The lucky thing is, in their shots, I'm off camera. So I can really enjoy their performances and take everything in. By the time of my coverage, I've gotten the giggles out and I'm able to do my work. But it's tough. They make me laugh a lot.
RM: Danielle [Pinnock] always finishes you off.
UA: Danielle makes me laugh so much. And then Devan Chandler Long is so loud. Standing next to him, the challenge is to not flinch at the sheer volume coming out of him. And then you have Pete's arrow, which is a veritable deathtrap to anyone within two feet of it.
One legendary thing about another CBS comedy, The Carol Burnett Show, is how they all tried to crack each other up. Do you enjoy trying to break each other?
UA: I'm at the top of the food chain when it comes to breaking people. But Asher Grodman [Trevor] will crack up at anything.
RM: And he hates himself for it. He's so sweet about it, like he cannot control it. It's an endearing weakness. He loves to enjoy other people's jokes and moments.
UA: Asher and Román, very easy. With Danielle, you have to be careful, because if you get her laughing, she starts crying and then the take gets ruined. Sheila's tough. Richie, pretty easy. Devan is in his own world making everyone else laugh.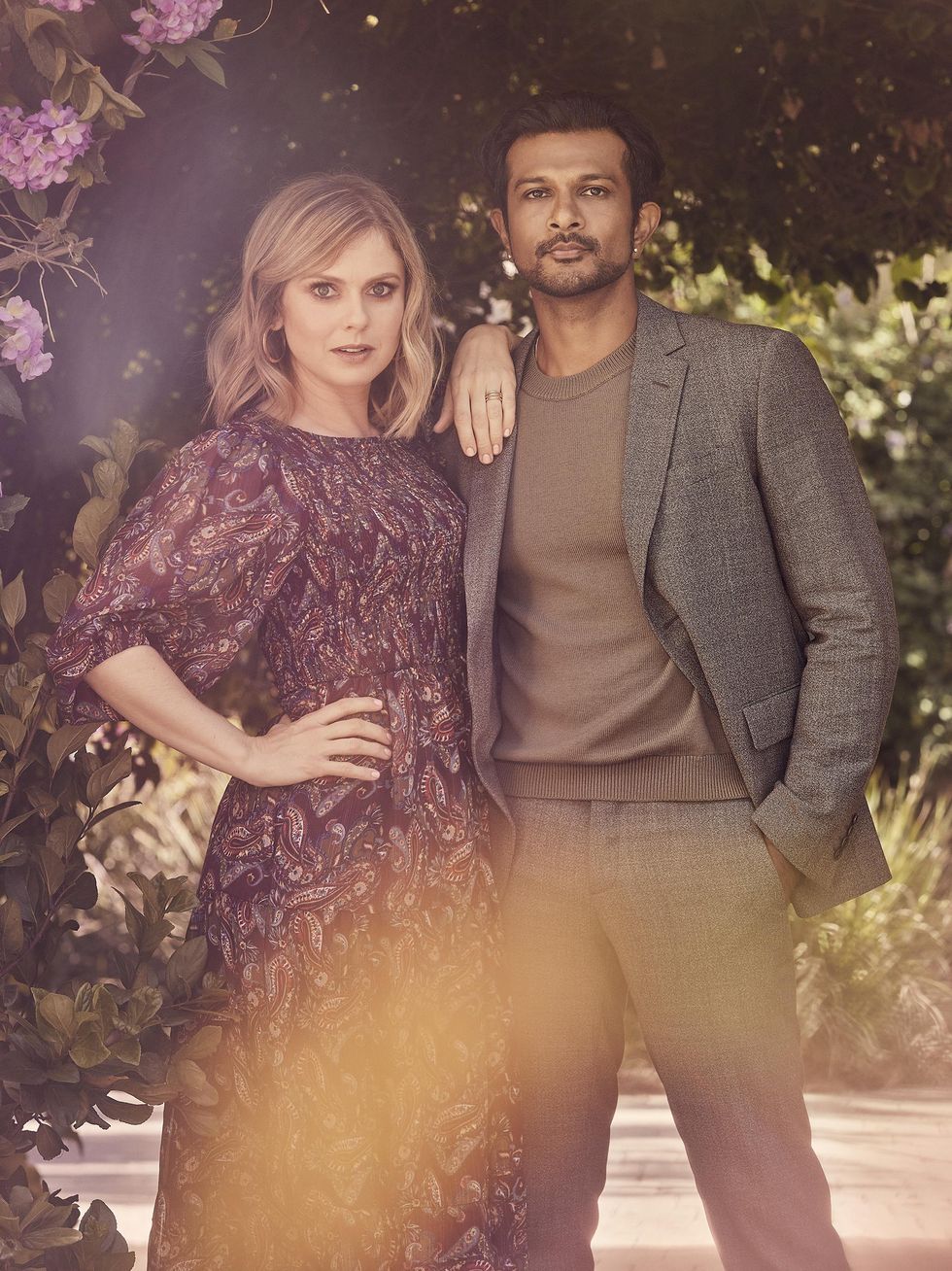 On McIver: Ralph Lauren dress, Jennifer Fisher earrings. On Ambudkar: John Varvatos suit, Buck Mason sweater
Photo credit: Ramona Rosales
What do you think makes the show so appealing to such a wide range of viewers?
UA: We touch on a lot of historically American things, through Sasappis and Hetty and Alberta. Pete is a Boy Scout. With Trevor, you have the finance bro, and Wall Street is so quintessentially American. But what makes it global is the emotion. I think the reason our show has resonated so much with people is its heart.
RM: That's the special sauce of the show. Every cast member who makes us laugh also isn't afraid to reveal a bit more than that. There's a vulnerability in each of the ghosts that we learn from their backstories. That's what holds it all together, what keeps people caring. There are so many funny little bits everywhere: on TikTok or in memes. But to sustain somebody's interest, you have to have that heart as the drive throughout the show. Every cast member is capable of carrying that.
UA: Right now people want to watch something light and free and full of love. The show is relatable because it's about wish fulfillment. Like Alberta, many of us wish that somebody would recognize our talent. For Isaac, it's "I wish people would love me for who I am." As an audience, we really get to feel catharsis. We get to have our wishes or our dreams that may have been deferred lived out through these characters, which is why I think people are coming for the comedy and staying for the heart.
Death Becomes Them
Meet the estate's eight most dearly beloved decedents, in order of their demise.
Devan Chandler Long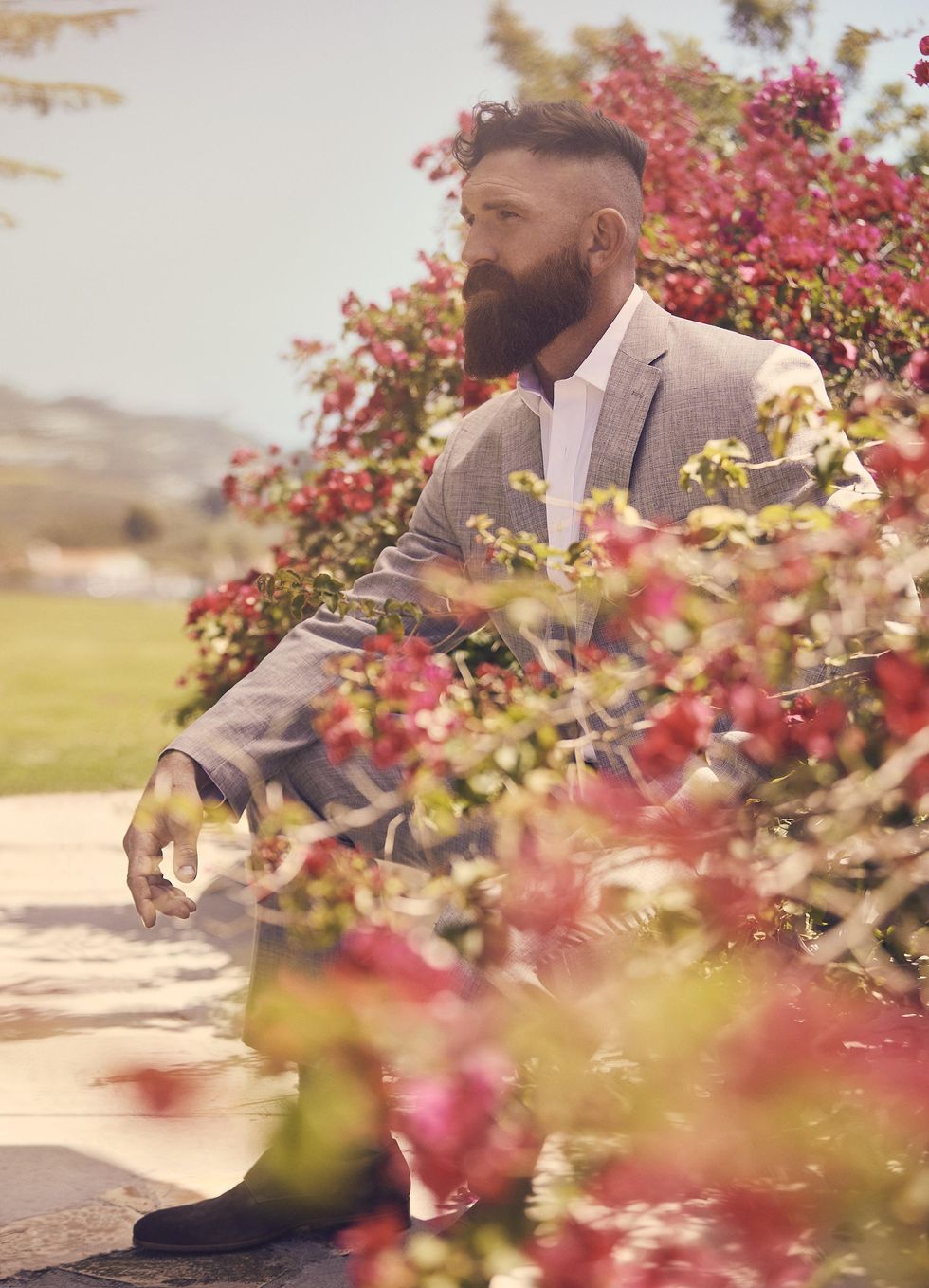 Ermenegildo Zegna suit, Etro shirt, Magnanni shoes
Photo credit: Ramona Rosales
Thorfinn: My character's mission is to always have everyone like him and want him around, because he hates being alone. Lots of abandonment issues for Thor.
Strengths and weaknesses: Thorfinn is honorable, capable, can fashion a drinking horn from anything in under three minutes, and can communicate with animals. His flaws are that he will, on occasion, eat his friends.
My costume: I love all my little fanny packs and satchels that I use to carry secret snacks around set with. I would like a giant fur cape. Capes are rad—who doesn't want a cape?
Favorite Season 1 moment: Sas and Thor, when they were watching the TV show It's Getting Hot in Here in the episode "Pete's Wife." I've gotten into many a spat with my family about show-watching etiquette and what determines if a show has to be watched together, categorized as "Our Show."
I would like to haunt …:
Autzen Stadium, where the Oregon Ducks play. I played football there in college, and I loved pranking the guys in the locker room. I'd definitely be haunting the hell out of all the players.
Román Zaragoza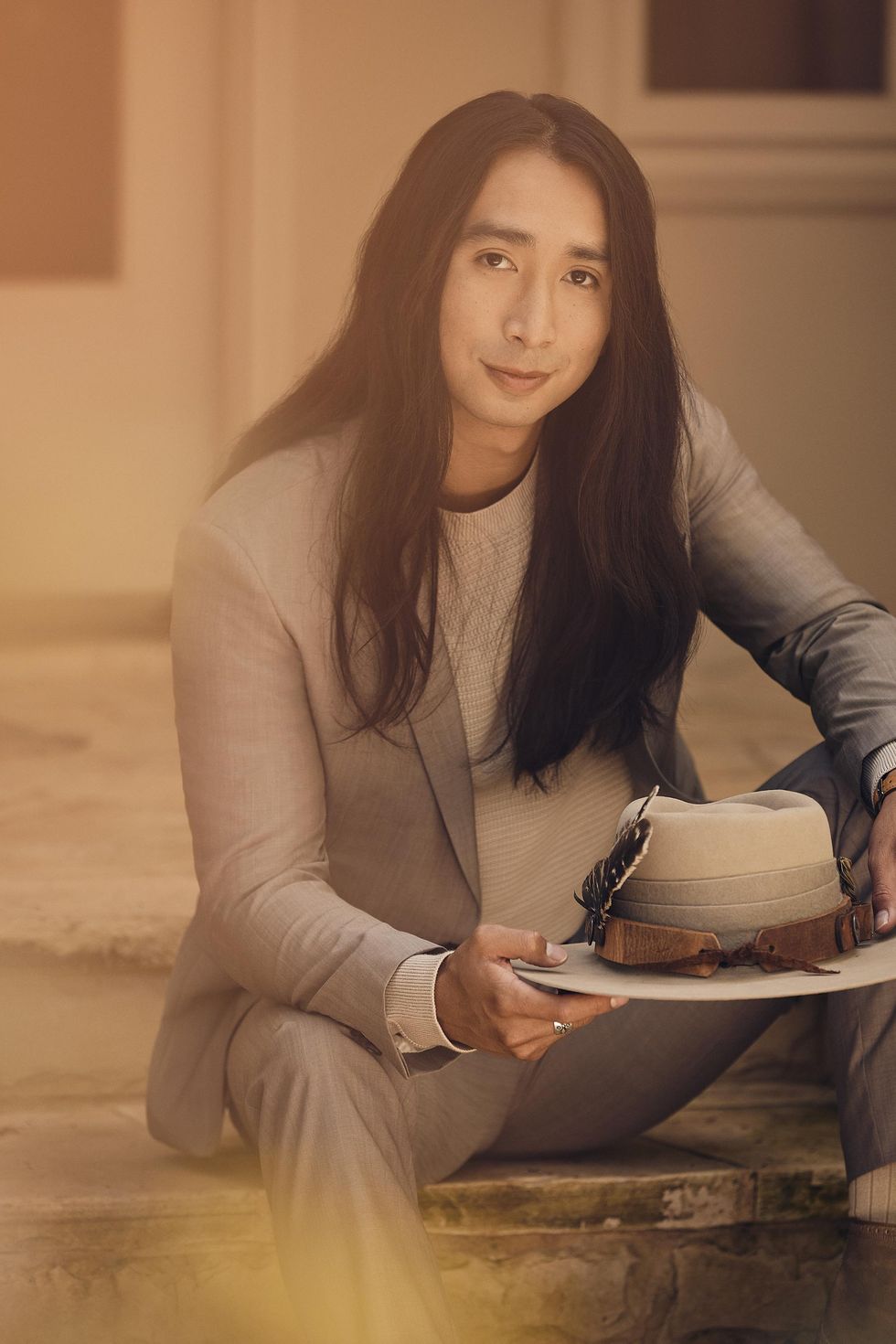 Thunder Voice Hat Co. custom-made hat, Buck Mason sweater, Hugo Boss suit
Photo credit: Ramona Rosales
Sasappis: His strengths include his bravery, honesty, storytelling skills, loyalty, and heart. His flaws include being too honest, often rude, very sarcastic, insecure, resentful, and at times destructive.
My costume: I am so grateful for the thought and care our amazing costume designer, Carmen Alie, put into creating Sasappis' outfit. She engaged with our amazing Lenape consultant, Joe Baker, to create a respectful outfit.
Favorite Season 1 moment: Getting to have my real dad, Gregory Zaragoza, play Sasappis' father in the episode "Ghostwriter" was a dream come true.
I would like to haunt …: Bruno Mars' house, because the music would give my death life.
Brandon Scott Jones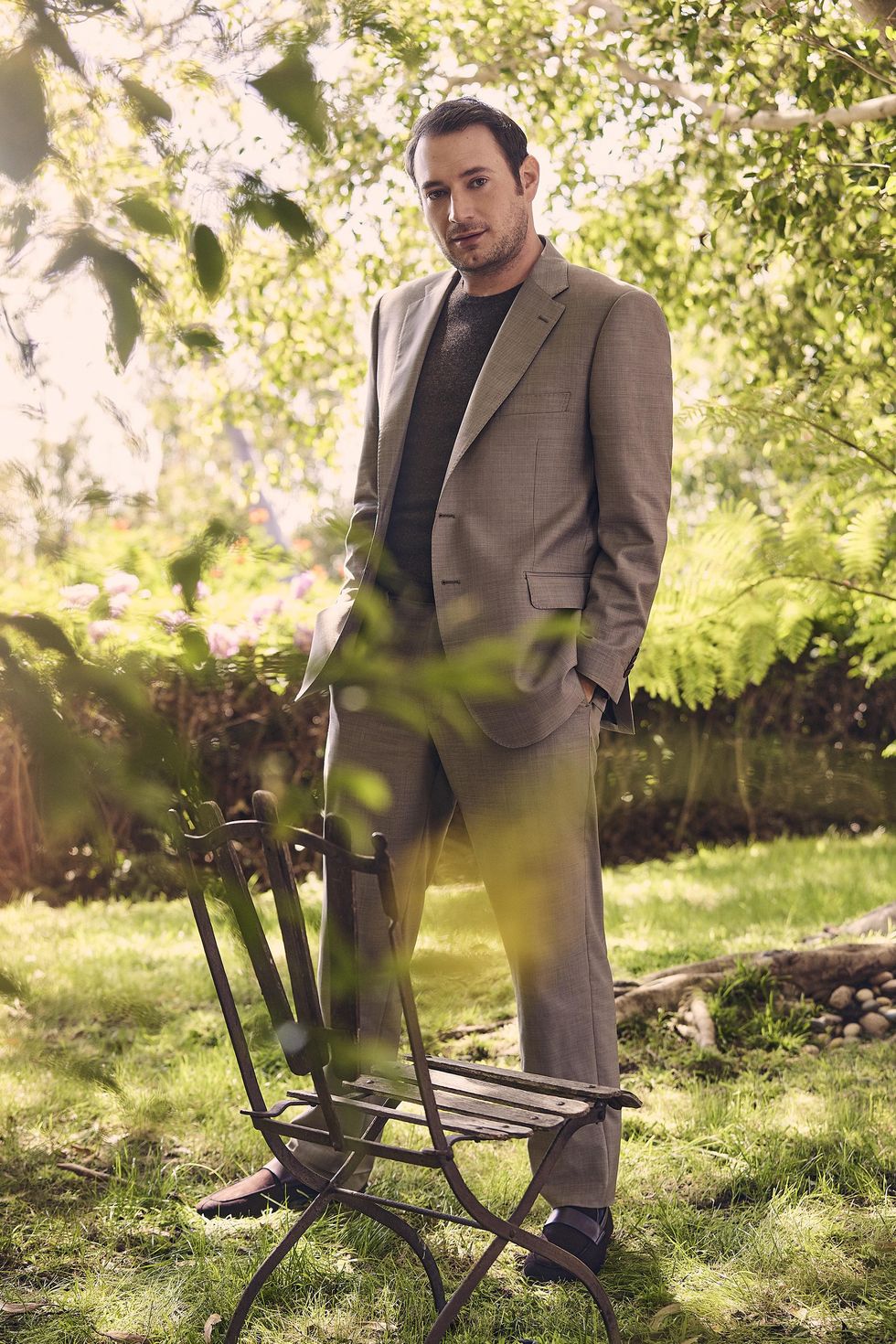 Ermenegildo Zegna suit, Rodd & Gunn sweater, Magnanni shoes
Photo credit: Ramona Rosales
Captain Isaac Higgintoot: There's a line in the first half of the season where Isaac admits to not having been at the Boston Tea Party but rather a tea party, in Boston, at his aunt's house. To me, that's his character: one step to the side of history.
Strengths and weaknesses: Isaac's biggest strength is his ability to talk; he's very verbose and loves hearing himself speak. That's also his biggest flaw because it often gets him into trouble.
My costume: My favorite thing is the frilly cuffs made of lace. My least favorite thing is the pants, which have precisely 19,000 buttons that must be undone to go to the bathroom.
Favorite Season 1 moment: The episode "Thorapy," because I think the concept of Thorfinn being friends with a squirrel is A+.
I would like to haunt …:
The All England Lawn Tennis and Croquet Club in Wimbledon so I could watch tennis for the rest of time. Or Beyoncé's house, because I need to know what goes on in there.
Rebecca Wisocky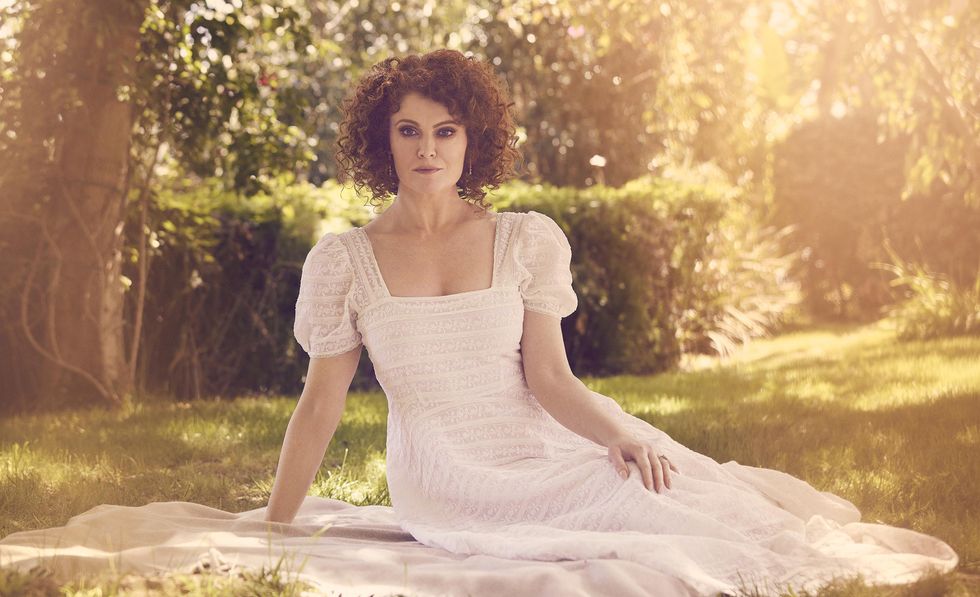 Love Shack Fancy dress, Nadri jewelry
Photo credit: Ramona Rosales
Hetty Woodstone: She is a product of both the excesses and the repression of her time. I did a lot of research about the Victorian period, specifically about women's lives, to work out her backstory in my mind. We still don't know how Hetty died. But I have a suspicion that the writers have laid out a few clues in Season 1. They've done a great job incorporating historical accuracy in a way that is both provocative and humorous.
My costume: I love Hetty's costume—the time and discomfort it requires help me to prepare to play her. I wouldn't change a thing. But I wouldn't mind a pocket or two.
Favorite Season 1 moment: Where Hetty finally stands up to her husband in "The Vault."
I would like to haunt …:
If I had the ghost friends Hetty does, I'd haunt anywhere!
Danielle Pinnock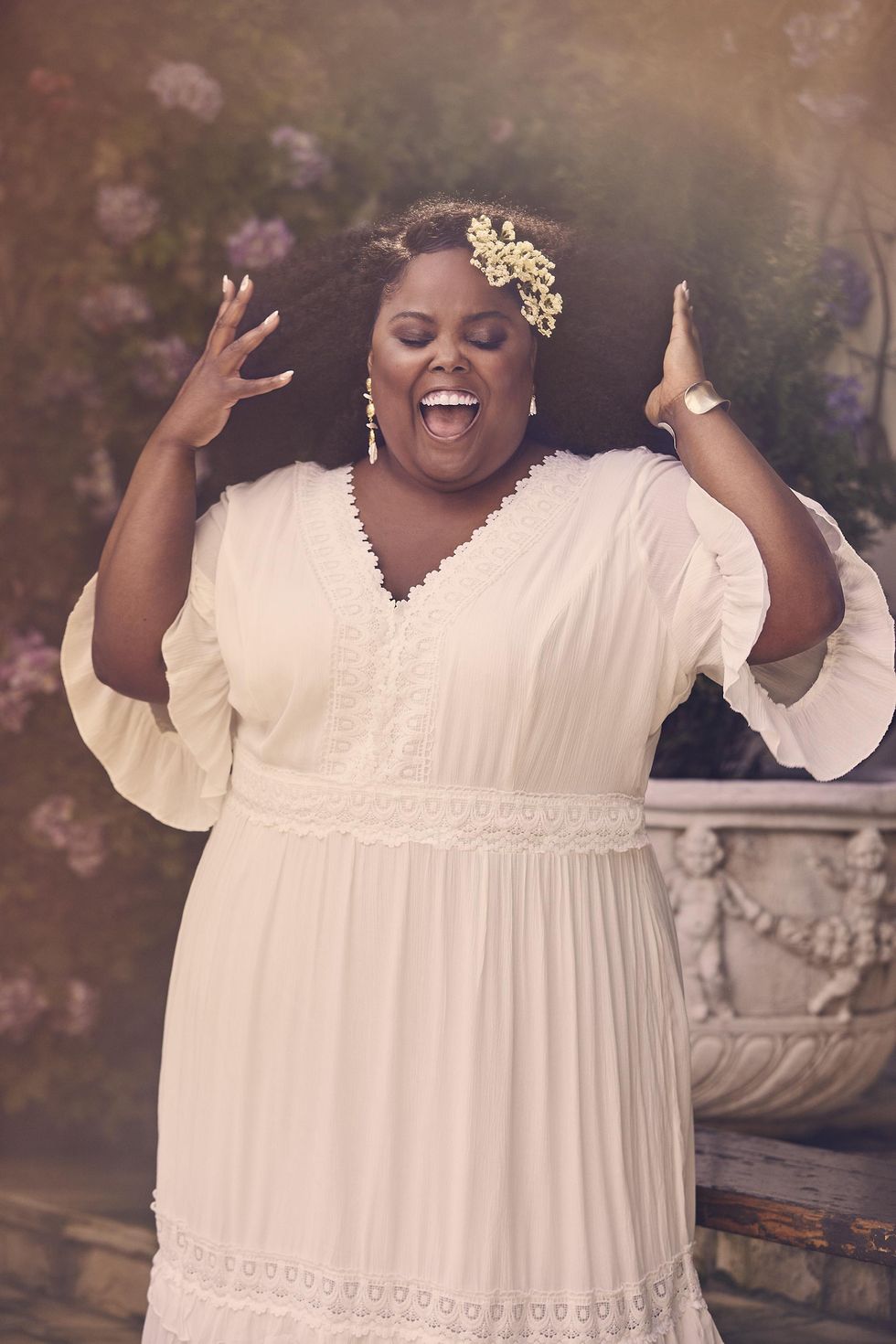 11 Honoré dress, Cult Gaia earrings, Gorjana cuff
Photo credit: Ramona Rosales
Alberta Haynes: I'm a theater nerd, so I did a lot of research about the Prohibition Era, the Harlem Renaissance, and life as an African American jazz singer during the 1920s. My jazz playlist is unmatched, and I took dance lessons to embody Alberta's brassy swagger.
My costume: The feathers on Alberta's crushed velvet cloak are my favorite things, because when I'm strutting about the Woodstone Mansion, it feels like I'm peacocking for all the ghosts to see Alberta in her full, diva-like glory.
Favorite Season 1 moment: Working with Brandon Scott Jones in "Flower's Article." I always say Isaac and Alberta are toxic besties because they think the world of themselves and can be catty toward each other.
I would like to haunt …:
The theater. I would love to kiki and chat with the ghosts in the orchestra pit, or the random audience members who might have croaked while watching
Macbeth
. Roaming the halls and judging performances with my ghost besties would be hilarious.
Sheila Carrasco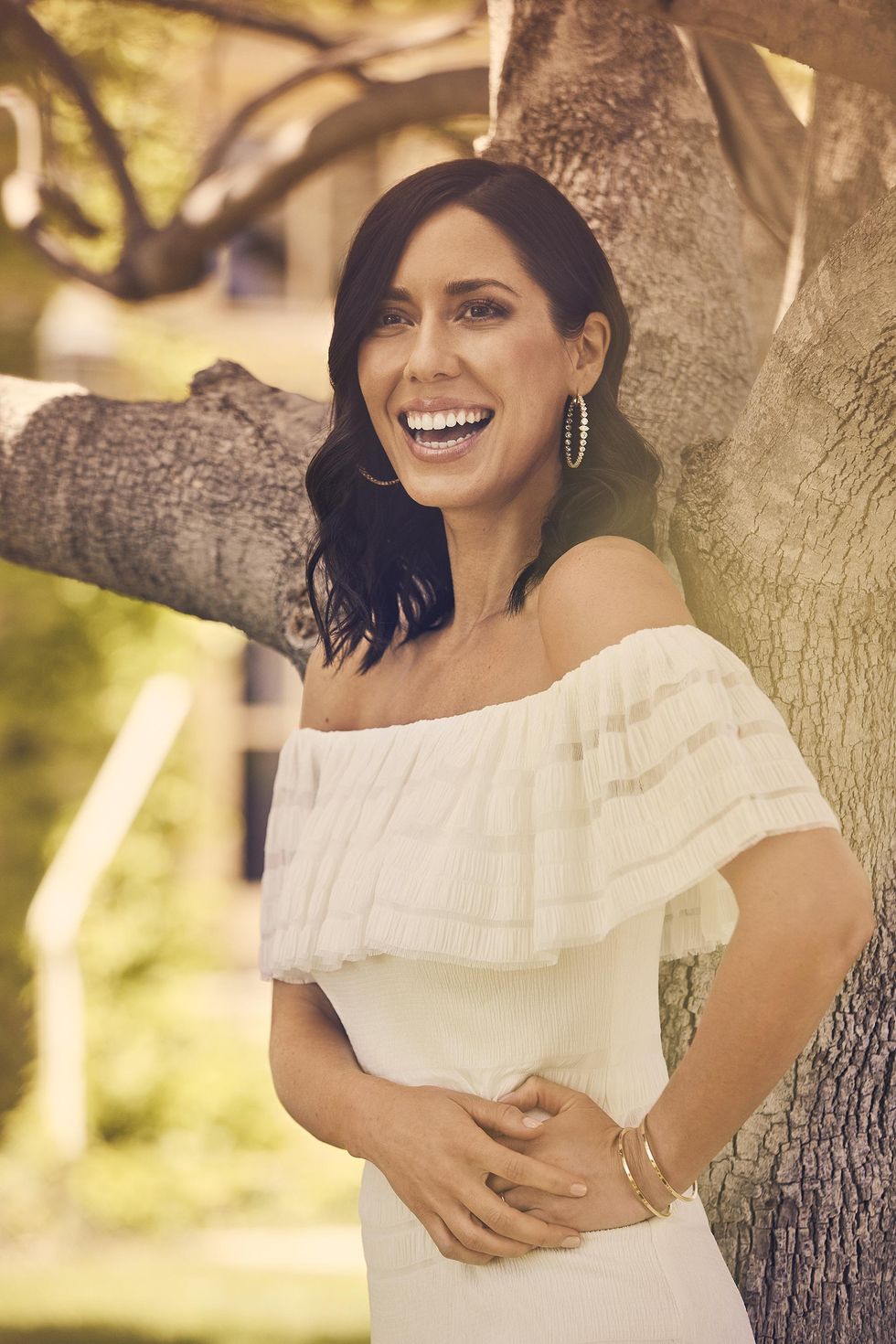 SHO dress, Nadri earrings, UNOde50 bracelets
Photo credit: Ramona Rosales
Flower: Her given name (precommune) was Susan Montero. The writers asked for input on her last name, which meant a lot to me, because Montero was my abuela's maiden name. I love that my character has a connection with my family in southern Chile.
Strengths and weaknesses: Flower is a total lover and leads with her heart, which to me is a fabulous strength and one that I love to live in every day at work. On the flip side, she tunes everyone out so much, she can be extremely frustrating to hang out with.
My costume: I get to wear Birkenstocks and a flowy skirt all day long! It's almost TOO comfortable!
Favorite Season 1 moment: I loved the "Drop Acid, Not Bombs" moment for Flower in "Viking Funeral." Flower is a bit of a wild card, and I love when she gets passionate and almost aggressive about things.
I
would like to haunt …:
Anywhere if it's with these (
Ghosts
) ghosts for eternity.
Asher Grodman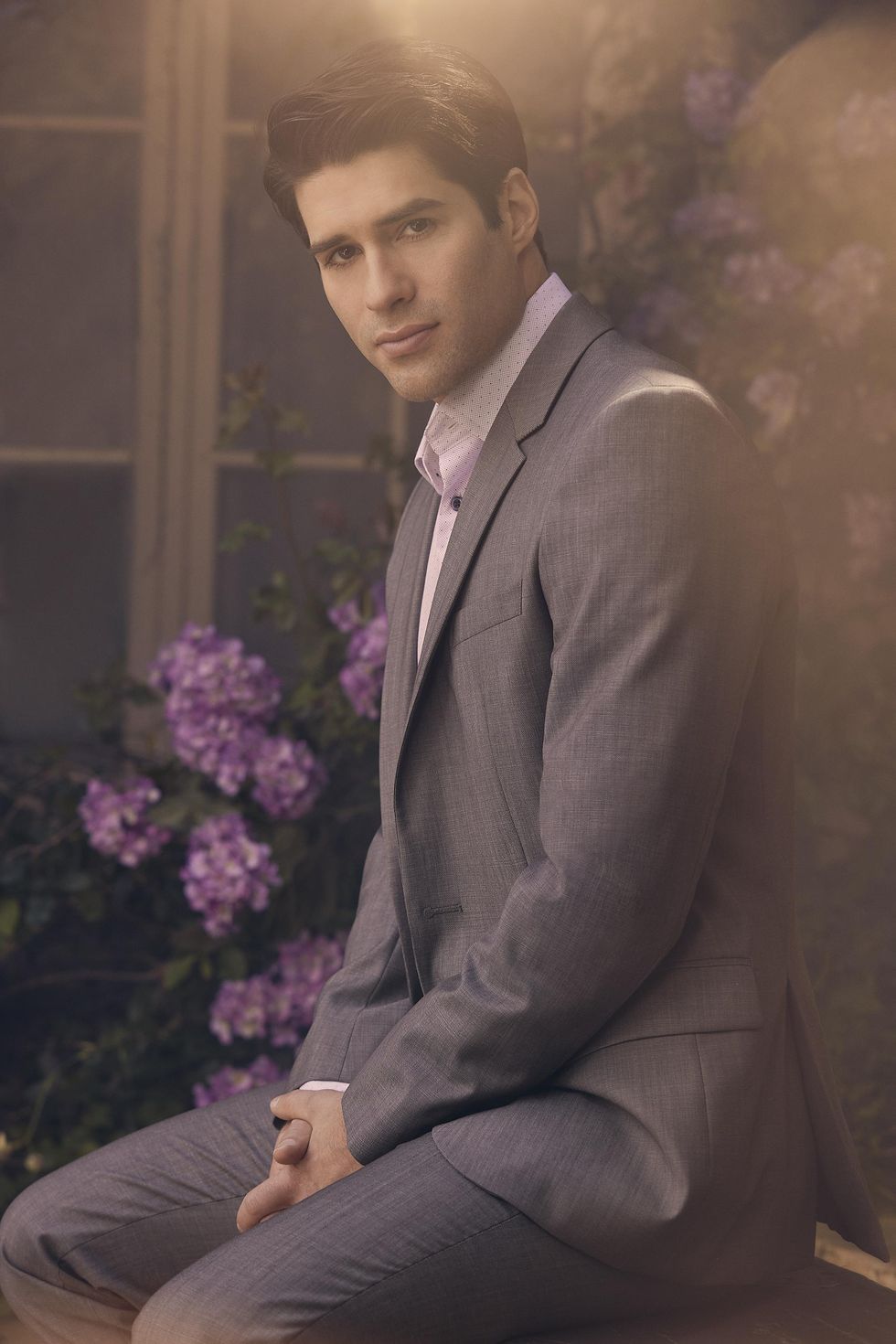 Ralph Lauren suit, Calvin Klein Collection shirt
Photo credit: Ramona Rosales
Trevor "T-Money" Lefkowitz: At his core he's got a puppy-ish quality. He's always looking for a good time with the family he's built along the way.
My costume: I love Trevor's suit, and certainly his lack of pants has made for a great story. Trevor may be regretting his tie in the afterlife.
Favorite Season 1 moment: The "Trevor's Pants" episode holds a lot of my favorite moments: Trevor giving away his pants, and when he discovers that Sas has kept his secrets all these years. And most of all, the way the ghosts show up for him at the end.
I would like to haunt …:
The White House would be intriguing!
Richie Moriarty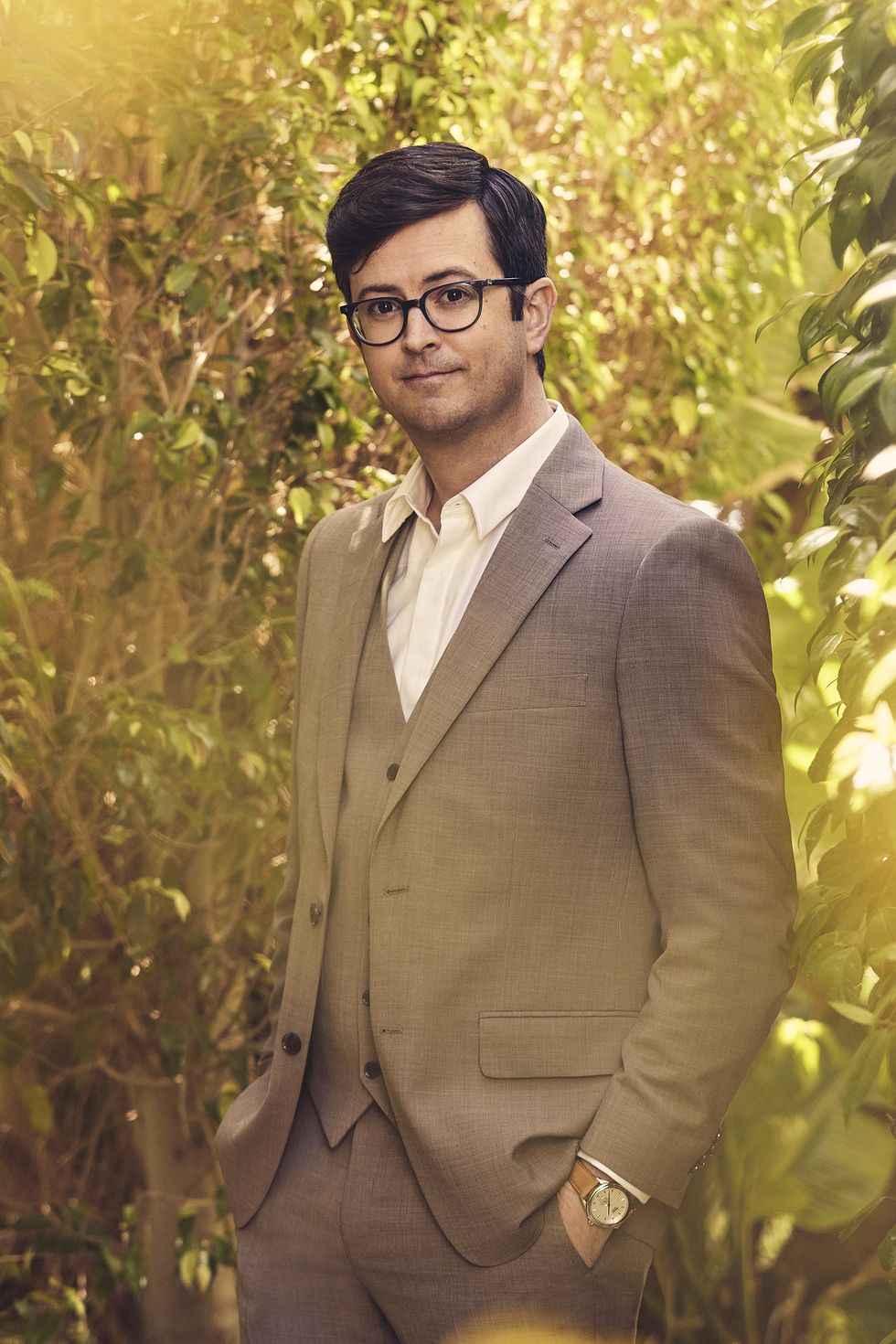 Dolce & Gabbana suit, Hugo Boss shirt, Waldan watch
Photo credit: Ramona Rosales
Pete Martino: His biggest strength is that he's an optimist. I envy that because I am much more of a pessimist in my own life, and I feel like I often have to call on Pete's energy to brighten my outlook. His biggest flaw, as we've seen exposed by Cholera Victim Nancy, is that he can be a bit of a pushover.
My costume: I honestly don't mind wearing the arrow, but the glasses can be a nuisance, especially for our directors of photography and editors, because of the reflections they cause.
Favorite Season 1 moment: In "Pete's Wife," when Pete got to see his grandson, Pete, for the first time. It was such a sweet moment after a tough day for Pete, when he found out that his wife had been cheating on him with his best friend.
I would like to haunt …:
Anywhere filled with a constant stream of delicious smells. If we can't eat as ghosts but can smell, then let me haunt a Pepperidge Farm factory, or a Godiva factory, or Modern Pastry in Boston. (Look it up!)
SUBSCRIBE NOW: Enjoy 4 Digital Plus 2 Print/Digital Issues Of Watch Per Year — For Free!
Catch up with Ghosts streaming on Paramount+.