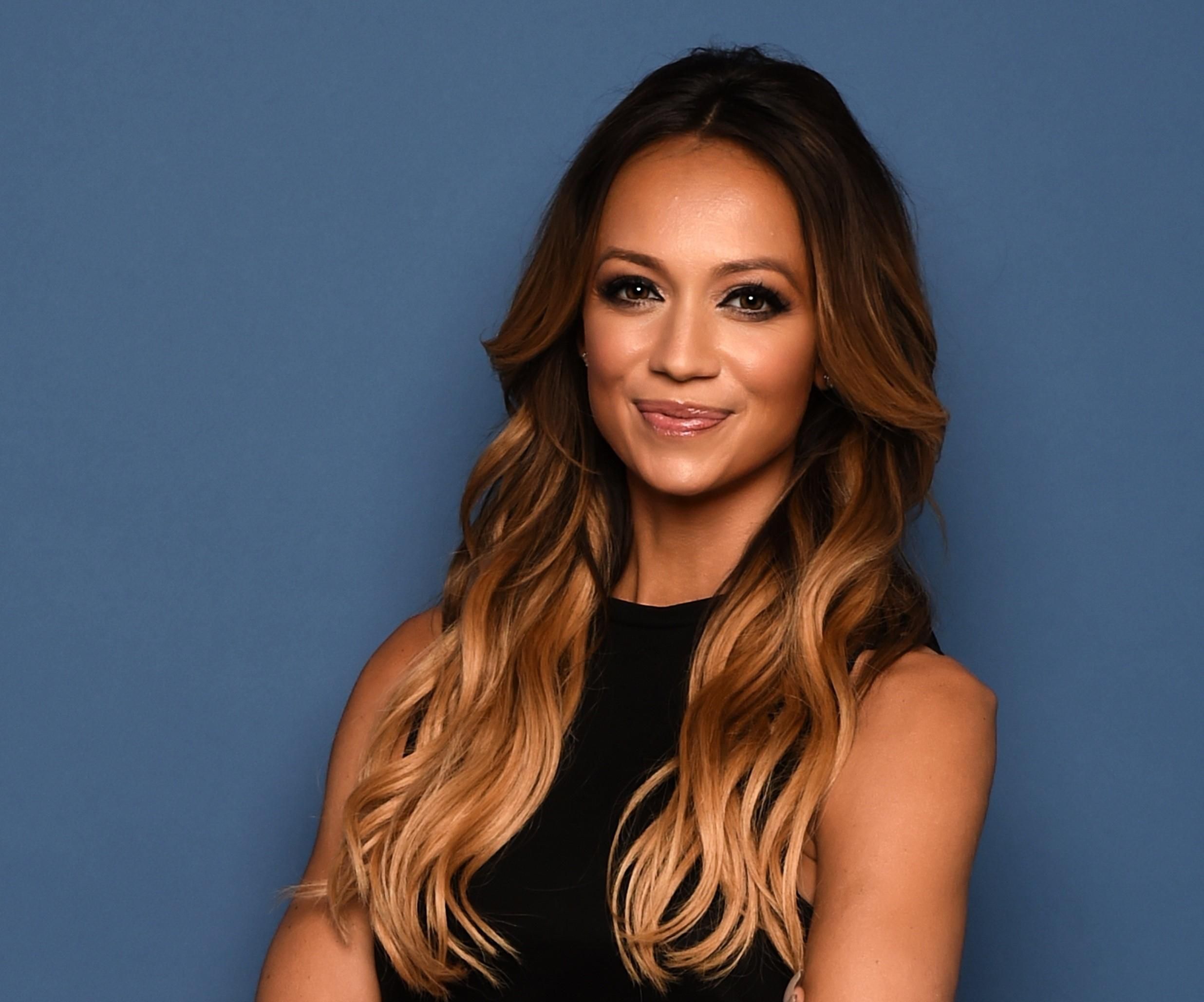 Phot Credit: CBS Sports.
When it comes to hosting CBS Sports' soccer coverage, Kate Abdo is not only delivering her expertise—she's having a ball.
By Eric Adelson
Kate Abdo's first soccer memory came when her dad took her to Liverpool's Anfield Stadium to cheer on his beloved team, Manchester United. "Much to my mom's disgust," says Kate with a laugh. Kate's mother, you see, was rooting for Liverpool. Abdo wasn't a diehard soccer fan until that day. "I didn't feel hooked," says the British native, "until I experienced a game live."
These days, she experiences games live with her CBS and Paramount+ audience as the host of three of CBS Sports' largest soccer properties. We caught up with Abdo by phone to ask her about her extraordinary soccer life.
CBS Sports' Soccer Coverage -- Every game streams live on Paramount+. Check local listings.
---
SUBSCRIBE NOW: Enjoy 4 Digital Plus 2 Print/Digital Issues Of Watch Per Year — For Free!
Deciding on a career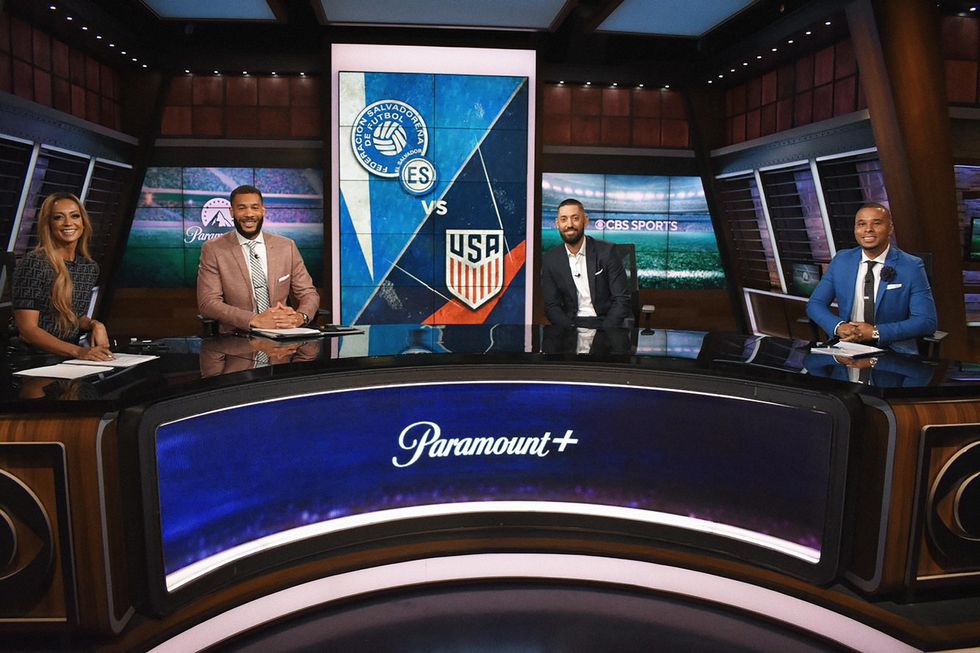 From left: Kate Abdo, Oguchi Onyewu, Clint Dempsey, and Charlie Davies cover soccer for CBS Sports.
Photo credit: CBS Sports
When was the moment you knew you wanted to do sports broadcasting for a living?
KA: It kind of happened, rather than a route I wanted to go. All I really knew is I wanted to work with languages. This is what I do well at school, I thought, so this is what I'm supposed to do. I learned Spanish in college, then learned German.
I got an internship at a German TV station. It was just translation. They had a daily news bulletin, kind of like CNN. Then one of the sports presenters kind of had a bust-up and stormed out. The boss said to me, "Would you like to try for the spot?" "No thanks, no interest." He said, "I think you should try." I said, "I just don't want to do it."
They did a bunch of castings. Didn't find anybody. The boss says, "Do me a favor, try it once. I think you'd be good. If it's terrible, no one will know about it." It was terrible! Someone sent me a DVD of it, and I have no idea what he saw in me. He said, "We will give you a day's training." So it wasn't ambition. But there was something I loved about this.
Live TV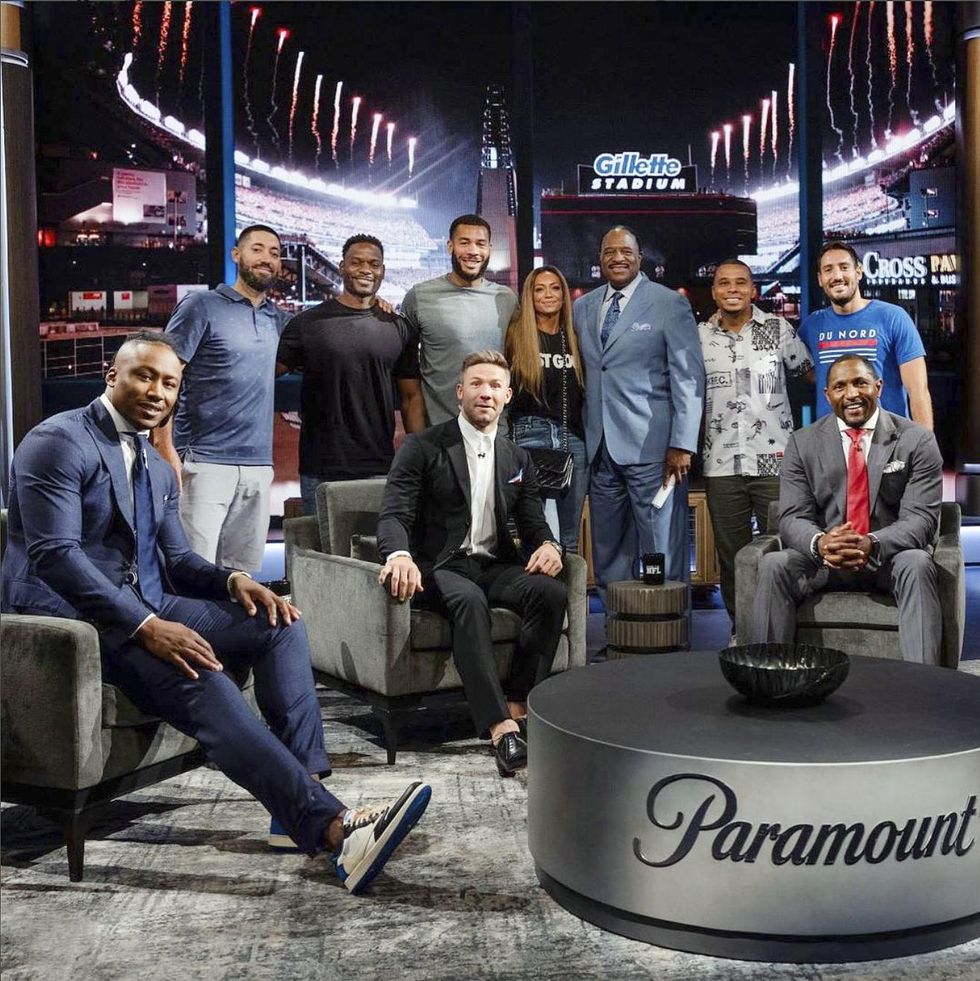 Abdo with her CBS Sports colleagues.
Photo credit: Instagram/Kate Abdo
You've been broadcasting for many years now. What do you love about it?
KA: There's a special energy to doing live TV. Especially with sports. You're living the emotion that a sports fan lives. If you're into sports and you're genuinely interested in sports, it's an enormous blessing to have a job you're excited to go to.
What's your favorite live moment so far?
KA: I'd say it's fairly recent—our first Concacaf [which covers North America, Central America, and Caribbean soccer] coverage for CBS Sports. [The Nations League finals were held in Denver last June.]
There was a huge pro-Mexico crowd, as there often is. To have the final between U.S. and Mexico, to be working with former national team players—including one who lives soccer harder than anyone.
Best-case scenario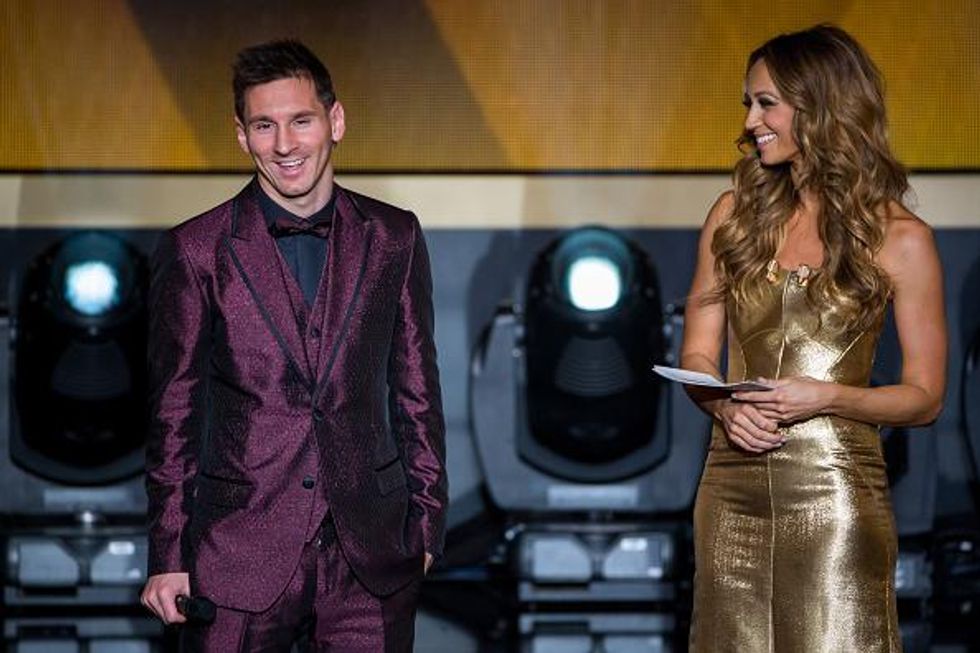 Kate Abdo with FIFA Ballon d'Or nominee Lionel Messi
Photo credit: Philipp Schmidli/Getty Images
I assume that would be U.S. soccer star Clint Dempsey.
KA: Yes, Clint. I mean, everybody has a vested interest, right? But Clint just has a special character. His emotions are affected by it. That is what makes him so great. He cares so freaking much.
What is your best-case scenario for 2022—either here or abroad?
KA: For Manchester United to play Liverpool and beat them. [Editor's note: Sorry, Mom!] For the men's national team, I would want to see them qualify comfortably [for the World Cup], where it doesn't feel shaky.
I would like to see them with the confidence that they can make good on all that promise. The game against Mexico will be huge. I would like to see them get through and feel good. I think they'll qualify.
CBS' soccer coverage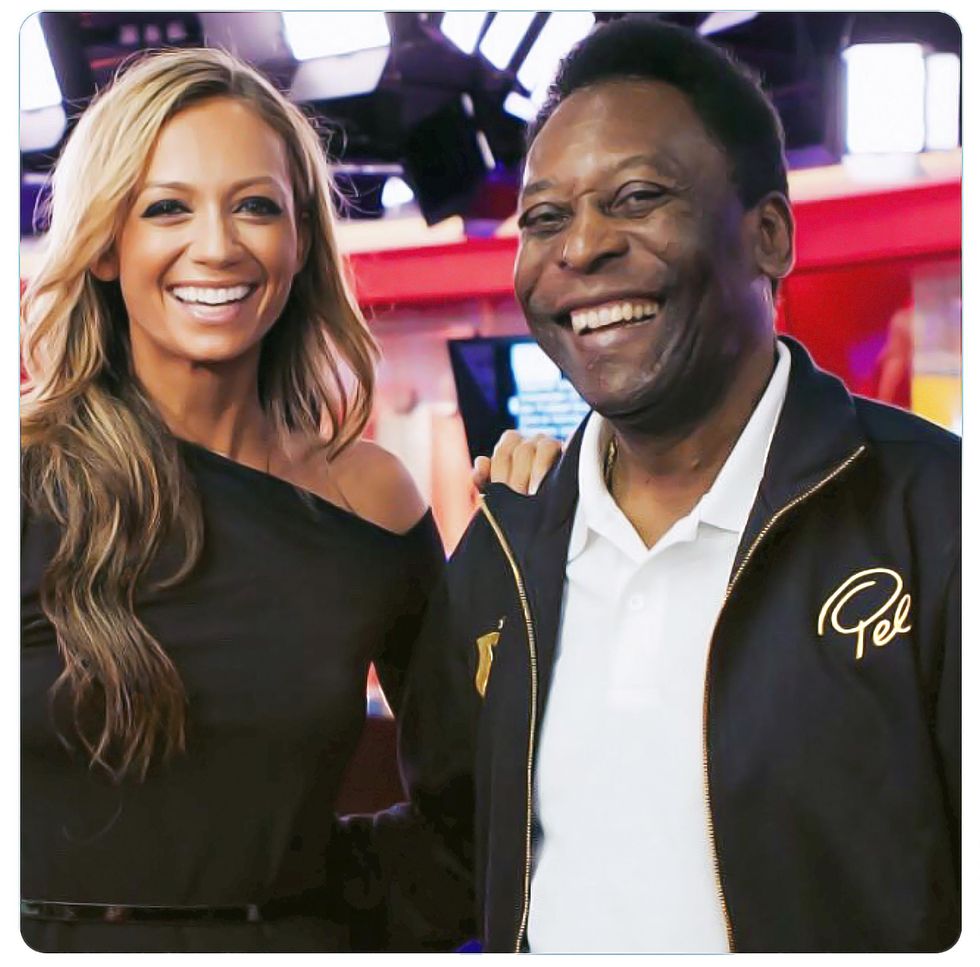 Abdo with one of the greatest soccer players of all time, Pelé, in 2018.
Photo credit: TWITTER/Kate Abdo
How often do you get to practice the other languages you speak?
KA: CBS is the first company that's used that skill of mine. They often take post-game interviews and throw them up and have me live-translate. CBS Sports' coordinating producer for soccer, Pete Radovich, came up with the idea.
There was that question: "What if she doesn't understand it?" Pete said, "We will make fun of the fact that she says she is fluent." [Laughs.] I like that he is taking a risk that it might not be perfect. And there is that moment where I think, What if I don't understand it? It does kind of create a small panic!
How do you think CBS's soccer coverage sets itself apart?
KA: As someone who has worked internationally a lot, on a variety of networks, CBS Sports has managed to break the mold and still cater to a discerning soccer audience. That's the sweet spot. A soccer audience in America is a little bit niche. You find the fans really know their stuff.
This is the first coverage I've done where I've felt really proud of what we offer. As a soccer fan, I want to be catered to and respected in that sense, but I am a human being and I like to have a laugh.
Soccer coverage has always been modeled on this quite dry European model: Let's do it the European way, the right way. So a lot of the people were imported from Europe. What's so special about American television is you do entertainment so well. It's good coverage that speaks to an informed audience.
SUBSCRIBE NOW: Enjoy 4 Digital Plus 2 Print/Digital Issues Of Watch Per Year — For Free!
CBS Sports' Soccer Coverage -- Every game streams live on Paramount+. Check local listings.
From Your Site Articles
Related Articles Around the Web