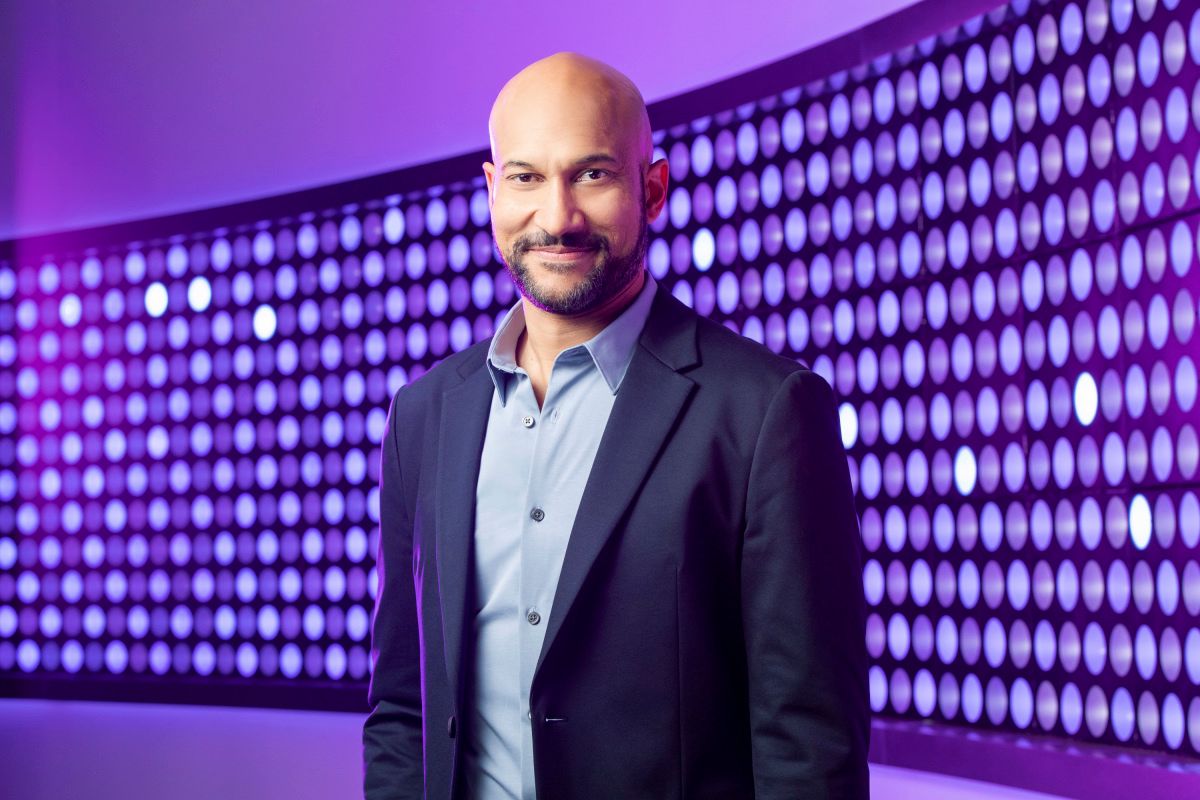 Photo Credit: Monty Brinton/CBS.
The multi-hyphenate actor and host of CBS' new reality series GAME ON! talks sports, his hilarious and unpredictable new show, and what he's binge-watching right now.
By Marc Berman
Emmy and Peabody Award-winner Keegan-Michael Key has yet another cool entertainment gig to add to his impressive resume: hosting the new sports competition series GAME ON! on CBS.

Debuting on Wednesday, May 27, GAME ON! from Fulwell 73 executive producers Ben Winston and James Corden (The Late Late Show with James Corden) features two teams of three, captained by tennis champion and entrepreneur Venus Williams and Super Bowl champion Rob Gronkowski, alongside comedians Bobby Lee and Ian Karmel and various sports stars, comedians, and celebrities. They compete against each other in over-the-top physical challenges, absurd trivia, and epic field competitions.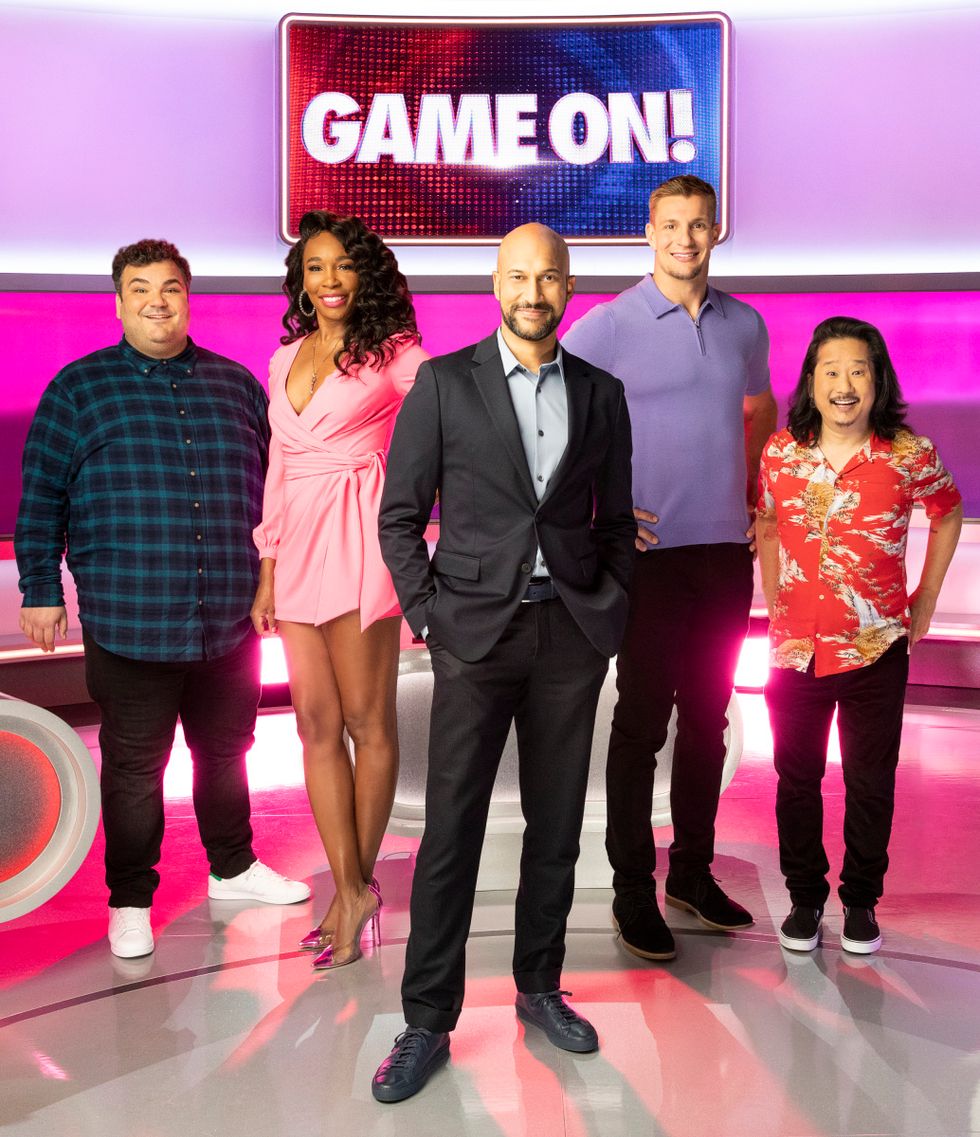 GAME ON! cast members Ian Karmel, Venus Williams, Keegan-Michael Key, Rob Gronkowski, and Bobby Lee.
Photo Credit: Monty Brinton/CBS.
"This is a format that kind of exists in its own category," said Keegan-Michael Key. "The show is super fun, it is super exciting, and anybody can watch. The timing is really fortuitous because in this absence of sports right now we have this show that is all about fun and competition that will hopefully fill that void."
Watch spoke to Keegan-Michael Key about his new show, his multiple roles in the entertainment industry, and the one job in particular that he may have pursued before the acting bug bit.
GAME ON!premieres on Wednesday, May 27 at 8/7c on CBS and streams on CBS All Access.
Watch is all about television's hottest shows. Tell us more about your new show GAME ON! on CBS.
This show has everything—from aerial combat and monster truck rallies to members of our team kicking field goals at football games in front of 30,000 people—and everything in between. It is epic in scope and still so fun because there are other elements like people matching wits with each other and trying to answer trivia questions. It runs the gamut and it is just so relatable.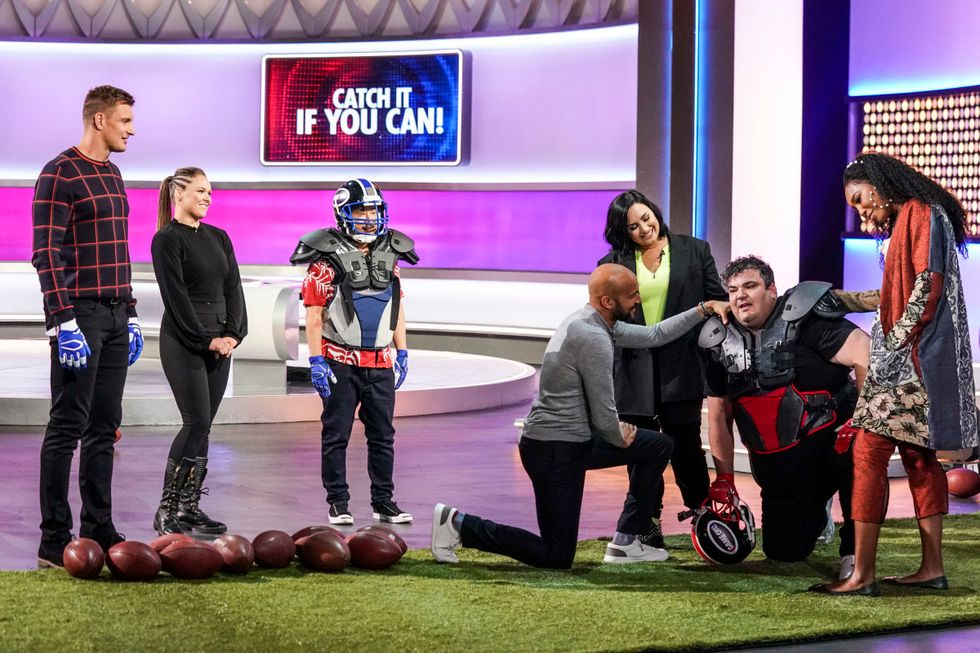 In GAME ON!, Rob Gronkowski, Ronda Rousey, Bobby Lee, Keegan-Michael Key, Demi Lovato, Ian Karmel, and Venus Williams tackle a sports challenge.
Photo Credit: Sonja Flemming/CBS.
GAME ON! Is described as a series that celebrates the entertainment of sports. Are you a big sports fan? Do you participate in any sports?
I am a huge sports fan and whenever I have an opportunity to participate, I do. I am the guy that will watch anything…cricket, jai alai…anything! If someone is competing or there is an obstacle or a challenge someone is trying to overcome, I will watch it. I was one of those kids who left the house at 10 a.m. in the summertime and was out all day. Football, baseball, soccer…everything I could play I played, and I had an absolute blast.
I think there is something about the human condition that we thrive on competition. It helps sharpen our entire being, and I think it is essential to our existence.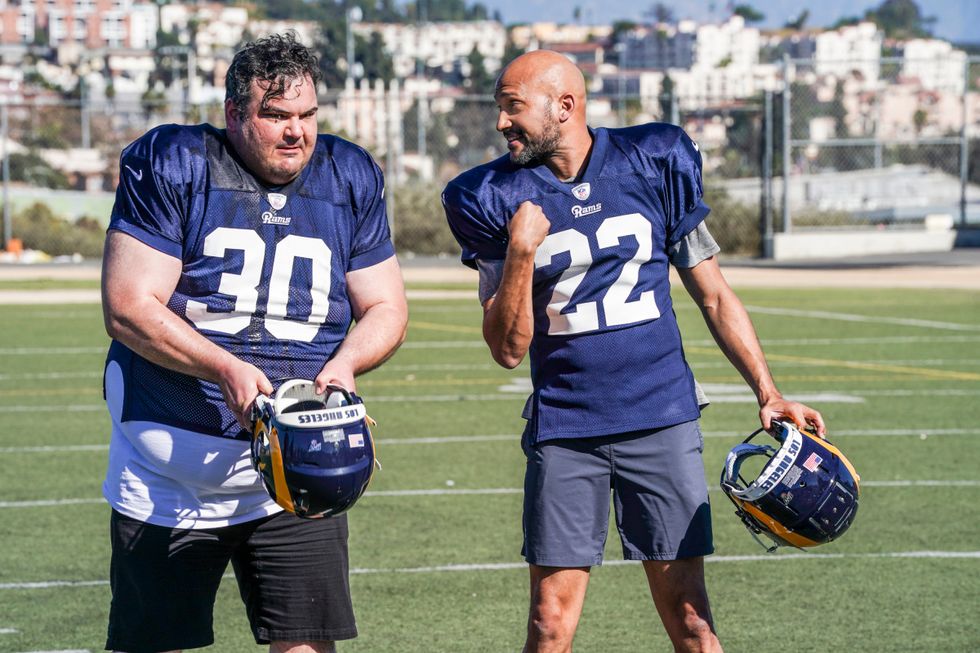 Comedian Ian Karmel and host Keegan-Michael Key participate in a variety of outrageous challenges on the series premiere of GAME ON!on CBS.
Photo Credit: Michael Yarish/CBS.
Did you always want to become a performer?
Actually, when I was coming into my formative years, I wanted to be a veterinarian. I have always loved animals and wanted to make a career out of that. And then someone told me there was math involved, so I said, well, maybe I can be an actor!
I was always fascinated by the entertainment industry, but probably by the time I was 13 I knew I wanted to do some kind of performance. Television was always so magical to me, and once I had a sense that I could do it, and people were supportive, I threw myself in 100%.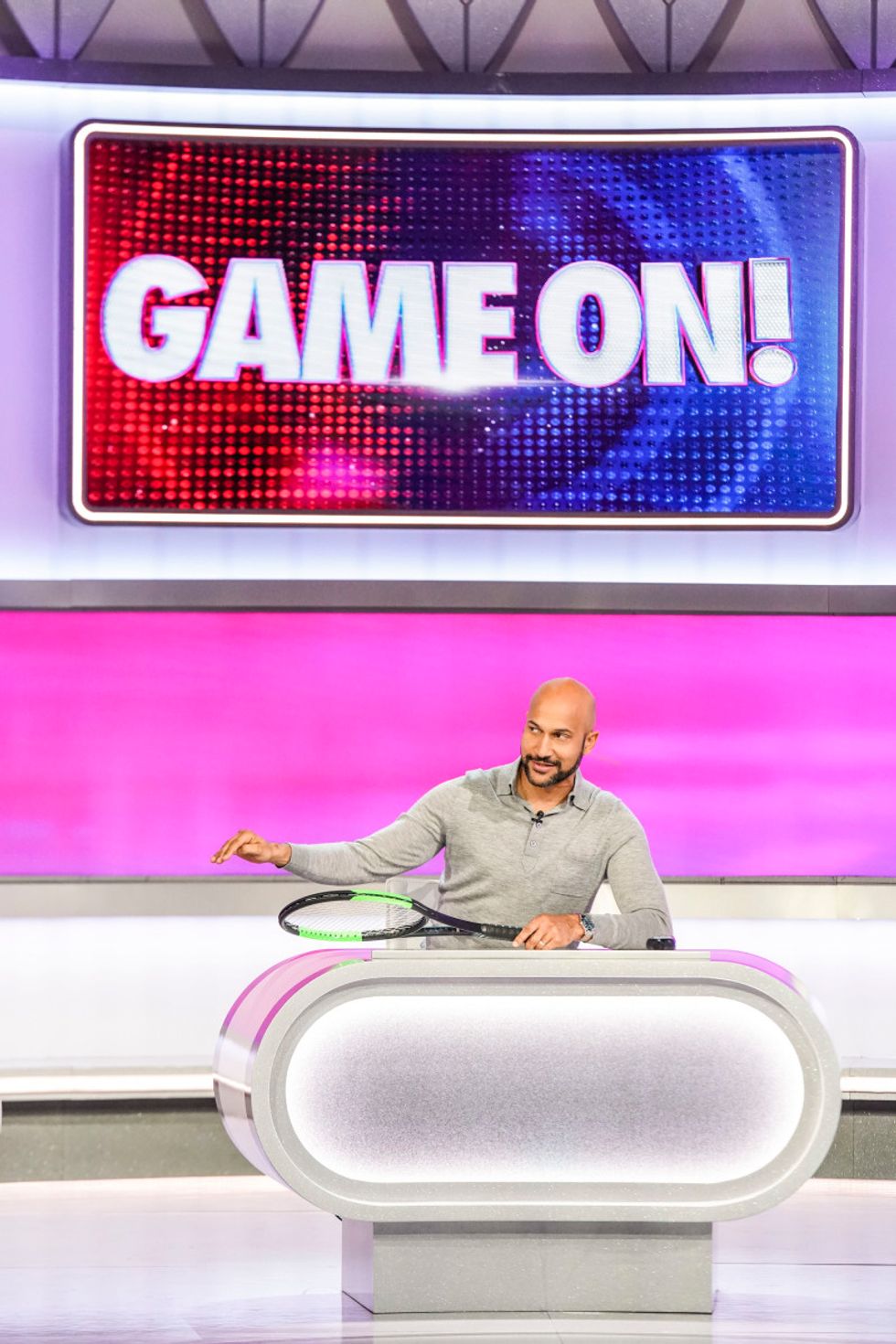 GAME ON! host Keegan-Michael Key.
Photo Credit: Sonja Flemming/CBS.
Who's your biggest inspiration?
I have two people that got to me early on, and that was Eddie Murphy and Peter Sellers. In a way, they are kind of the same person. They are actors who excel at comedy, but what makes the comedy work is that they're actors first. I know that Eddie Murphy was a standup comedian first, but his talent is so vast it is hard to encompass, and I felt the same way about Peter Sellers. I saw his movies when I was a kid—The Pink Panther series, Being There, and all the early stuff he did on British radio and on The Goon Show—and I became a huge fan.
The comedy was there for both Eddie Murphy and Peter Sellers, but it was the depth and the emotion and the stillness that really inspires. And what an experience it was for me to work on Eddie Murphy's film Dolemite Is My Name. I really learned to stretch as an actor.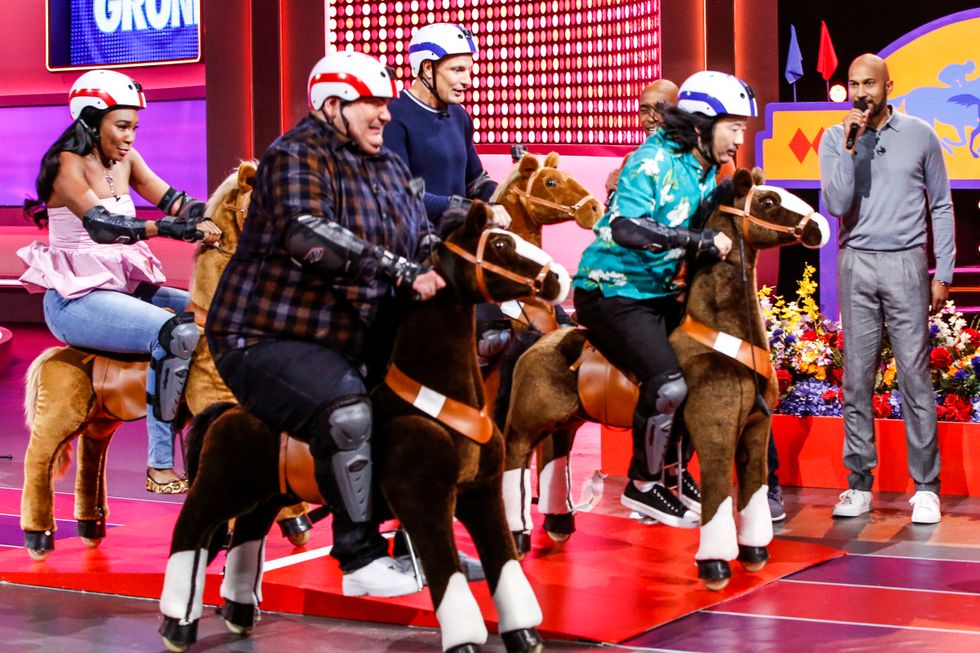 Venus Williams, Ian Karmel, Rob Gronkowski, Bobby Lee, and Keegan-Michael Key in the debut episode of GAME ON!on CBS.
Photo Credit: Monty Brinton/CBS.
You wear multiple "hats": actor, writer, producer, and game show host. Do you have a preference for one over the other?
Actually, my preference is to simply be in the entertainment industry because I enjoy it so much. What I really thrive on is being given the opportunity, and the blessing, to be able to do so many different types of things in the industry on camera.
In a way, this is all role playing, so right now I am playing the role of host, or the manager and ring leader, on GAME ON! And other times I am a serious thespian, or I am acting as the court jester. It's about being able to transform your essence for whatever it is you are doing. My preference is to live in those spaces fully.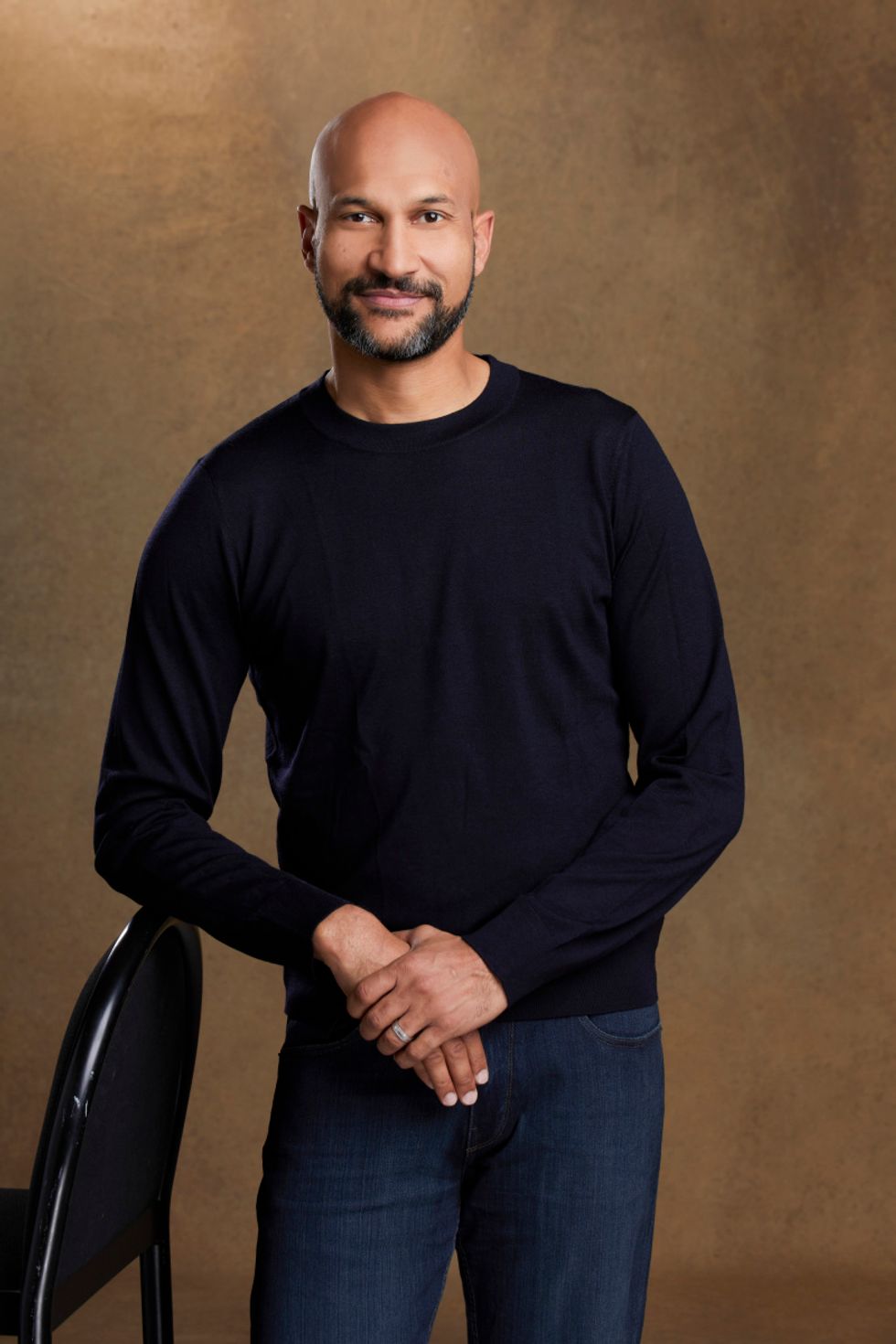 Photo Credit: Cliff Lipson/CBS.
When not filming GAME ON! or when sheltering-in-place as we all are now, what do you like to do? Do you have a hidden talent, passion project, or creative pursuit that your fans may not know about you?
When I was younger the one thing that I wanted to do other than be a veterinarian was to be a football player. But now, as an adult, I would have to say singing. I am a singer, which I enjoy very much, and right now I have two projects coming out hopefully by the end of the year where I sing in. And the other thing, as my career continues to change, is I always wanted to be in a spy movie or a movie where you can use martial arts.

When you enjoy what you do, it's your hobby. But I also try to take any influence that I might have and be a role model to others.
What's on your music playlist right now?

I am an enormous Jimi Hendrix fan, and I listen to lot of music from 1968 to 1973. That's kind of my playlist, and there are obscure people I would mention like an artist from my hometown named Rodriguez. I also like the group Parliament with George Clinton, and Motown. Motown is really uplifting right now.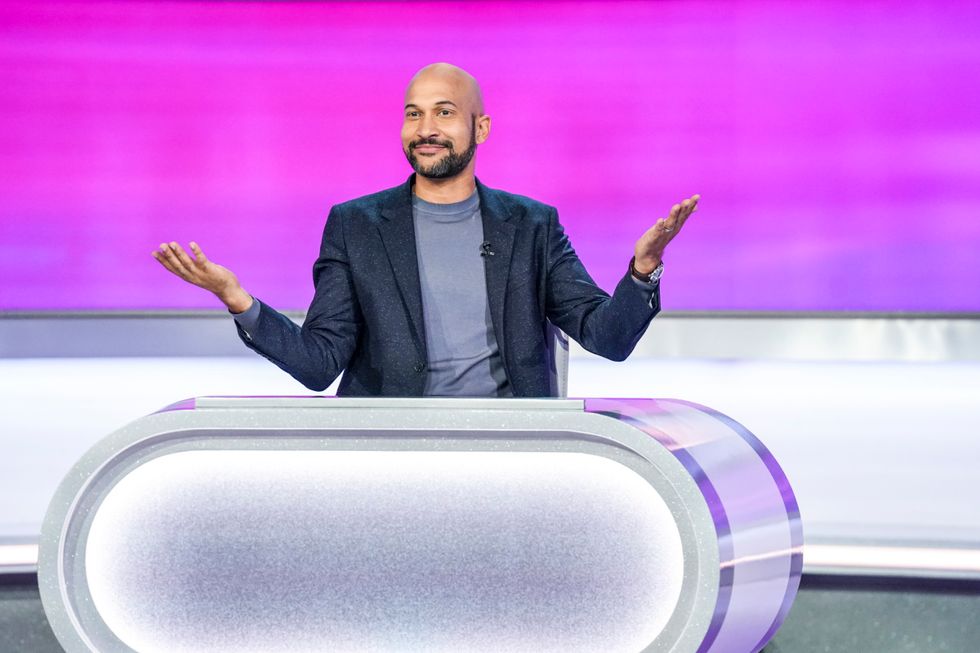 Keegan-Michael Key hosts GAME ON!, CBS' hilarious and unpredictable new reality TV show.
Photo Credit: Sonja Flemming/CBS.
What is your all-time favorite television series? What TV shows are you currently binge-watching or catching up on?
I have two favorites. The one show I just never missed when I was a kid was Happy Days, which sparked my imagination. I could see in my memory when Fonzie had his showdown with Mork from Ork. It was just like the greatest thing I ever saw! And then my adult show is Breaking Bad. I don't think I have ever seen anything better than this show. The complete essence of plot and character is absolutely perfection.
Since I have been working a lot recently, particularly now making videos for kids who are being deprived their graduation ceremonies, that's where I have been spending my time. Not a lot of binging on TV shows at the moment for me.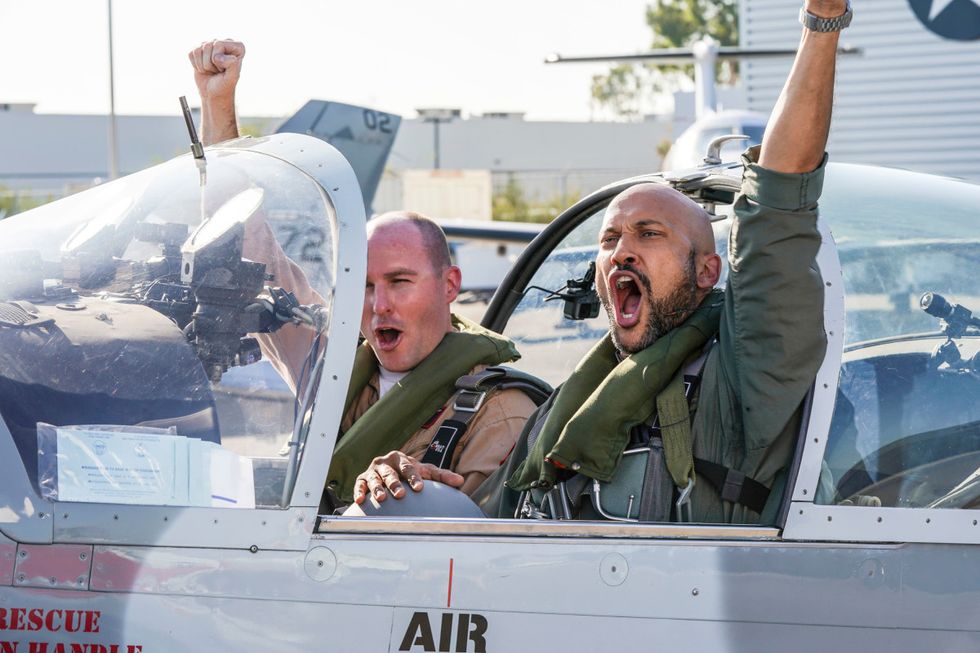 In new reality show GAME ON!, Keegan-Michael Key hosts an air combat challenge.
Photo Credit: Michael Yarish/CBS.
What advice would you give someone entering the entertainment business today?
I would tell each person to remember that you are enough. If you are going to create a unique presence it is going to rely on you simply being you. There is room for you, and your specialness.
At the end of the day, no matter what happens in this business, and how you might get tossed and turned, you should always remember that you are enough.
GAME ON!premieres on Wednesday, May 27 at 8/7c on CBS and streams on CBS All Access.