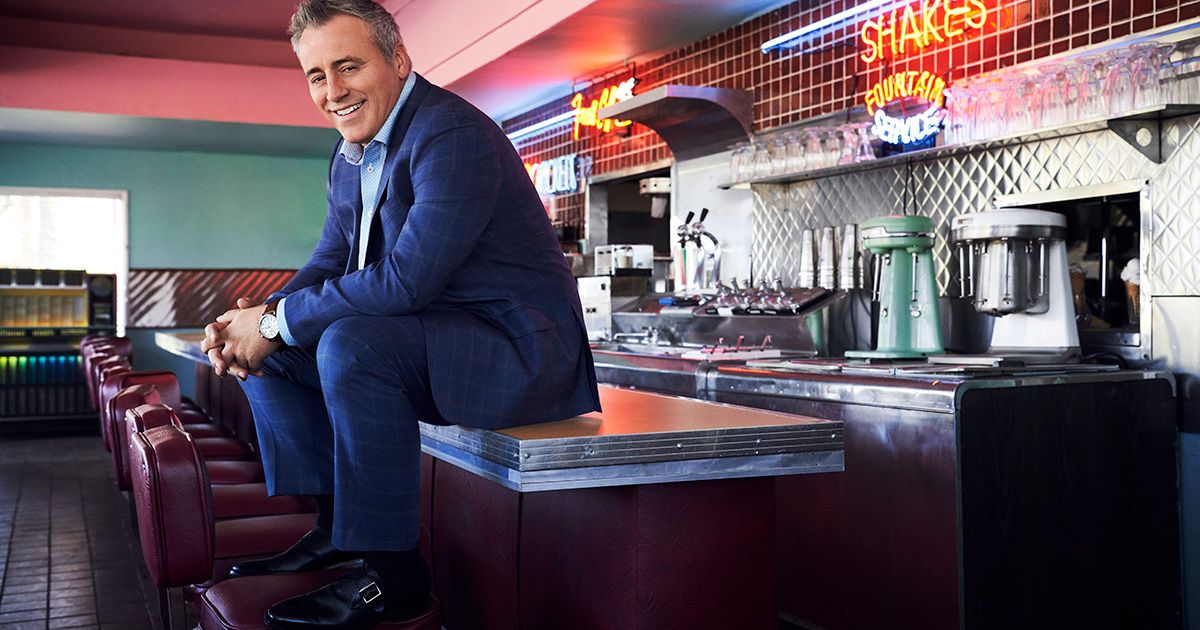 Photography by Peter Yang. Styled by Sharon Williams.
For the beloved star of Man With A Plan, growing older means getting the life he always wanted.
By Henry Goldblatt

Matt LeBlanc has millions of fans around the world, but as the Man With A Plan star has learned, sometimes the toughest audience is under the same roof. Recently, he asked his 15-year-old daughter, Marina, to name her favorite character on the CBS sitcom. She answered without hesitation: Stacy Keach's Joe. "I was like, 'Really, not me?' And she said, 'Well, you're OK,'" the star says with a laugh. "I think she gets enough of me."

Bringing relatable, humorous moments like this to viewers is what originally drew the 52-year-old actor to the series, now entering its fourth season. LeBlanc's character Adam Burns is a kindhearted, married father of three who often finds himself exasperated by his brood, be it a daughter who says she wants to become a vegan (Grace Kaufman), or his Mephistopheles of a sister-in-law (Jessica St. Clair), who says she wants to become a better person. (Both of them fail spectacularly.)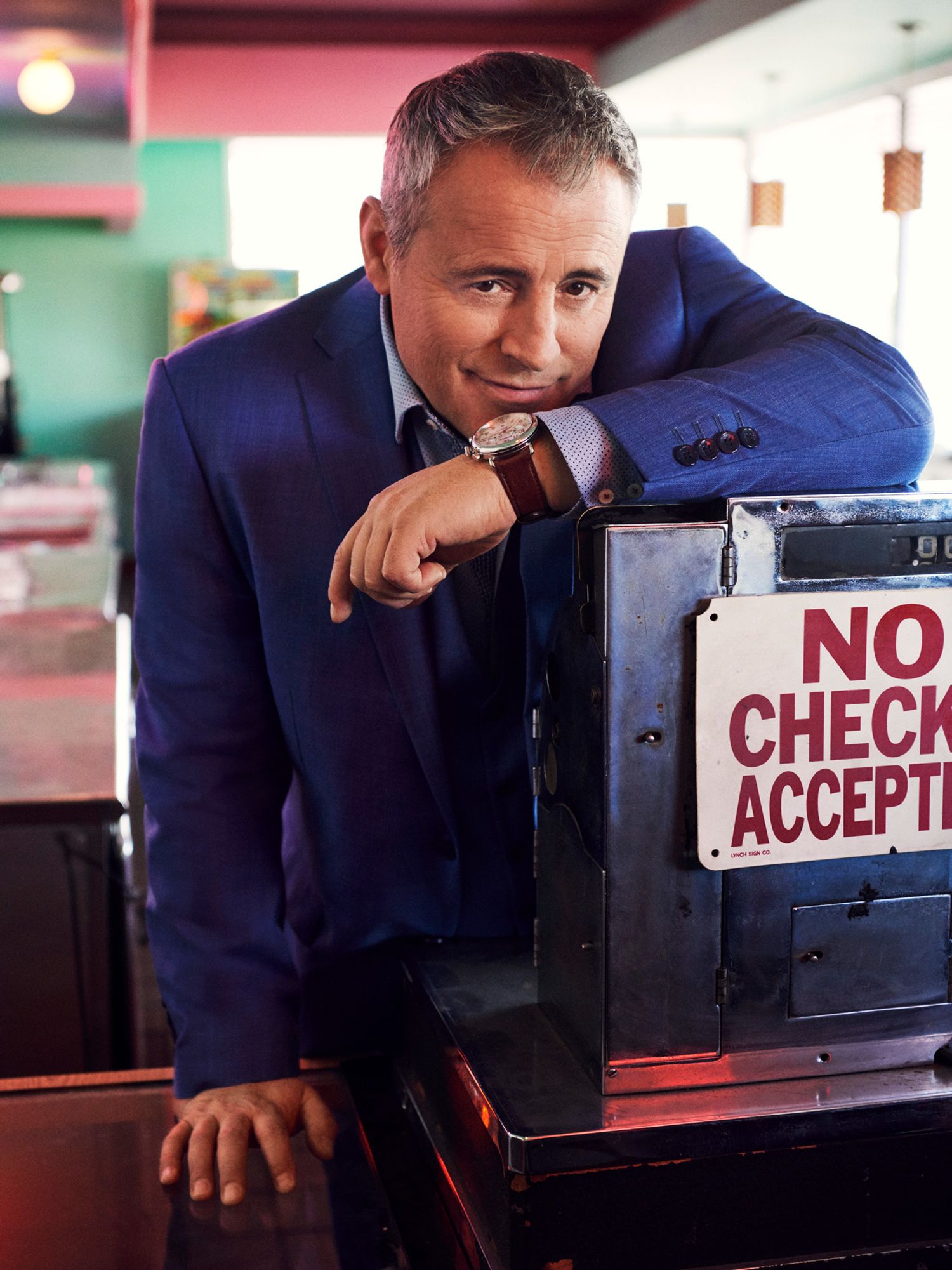 Suit by Bonobos. Shirt by Eton. Watch by Shinola.
Photography by Peter Yang. Styled by Sharon Williams.
Sitting in an Italian bistro in the tony Beverly Glen neighborhood of Los Angeles, dressed in a blue-gray hoodie with Carhartt emblazoned on the sleeve ("Free from the show!" he gleefully proclaims) and Levi's, a black Porsche baseball cap pulled down low, LeBlanc has learned to draw as little attention to himself in public as possible. "It's weird to go into a room full of strangers and everybody knows your name, what you do for a living, and how much money you make," he says. "But it's been long enough now that it doesn't really bother me anymore."
These days, the actor navigates fame with the same professionalism that he consistently brings to his work, the latter of which he credits in part to Man's stellar ensemble. "We have a cast where you can hand the ball to anyone and they'll run it into the end zone."
He's got that right. This warm sweater of a sitcom features a rich cast of pros including Yes, Dear's Liza Snyder as Adam's wife, Andi ("Liza gives as good as she gets," says LeBlanc); Saturday Night Live vet Kevin Nealon as Adam's older brother, Don ("He's 800 feet tall, but just a sweetheart of a guy," quips the actor); and legendary badass Keach as Adam's father. ("He can make anything funny. Who knew? This is a guy who made a career out of playing a tough guy.")

Matt LeBlanc knows all about making a career playing against type. Often cast as the lothario, the actor has a full understanding of the responsibility that comes with his job. "It's funny to be the lead," he says. "There are things that you don't realize when you start out. I set the tone. If I'm late for work, pretty much everyone is going to be late for work. So I can't be late," he says. "I can't be unprepared. I have to always be thinking. And we have to work really hard to set the tone for everyone else."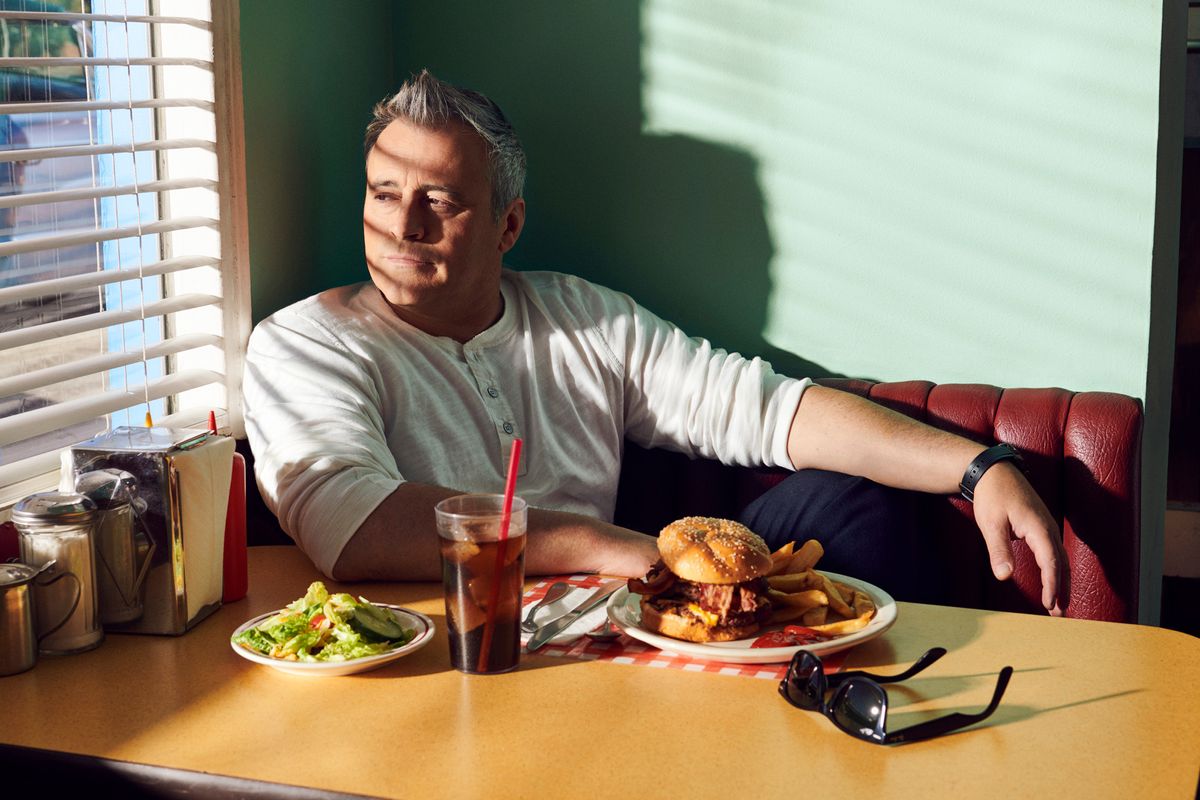 Henley by Rag & Bone. Watch by Movado. Sunglasses by Ray-Ban.
Photography by Peter Yang. Styled by Sharon Williams.
In addition to his on-screen role, LeBlanc serves as an executive producer alongside the husband-and-wife writing team of Jeff and Jackie Filgo, who wrote for That '70s Show. Not only do the trio bring their experiences as parents to the comedy, but they have infused Adam with elements of LeBlanc's own life. "My whole career, I never played a guy in a relationship. I never played a dad," he explains of his decision to sign on. "I thought, Nobody's getting any younger. This is what my life is now."
Before he co-starred alongside an 800-foot man, and before his daughter preferred Stacy Keach to her father, LeBlanc grew up in an apartment in Newton, Massachusetts, a suburb 20 minutes outside Boston. "I was the only child of a single mom, so I spent a lot of time in front of the TV," he says. "I watched All in the Family, The Honeymooners, even Cheers and Taxi. Those were family sitcoms as well. In Cheers, the bar was their living room. And in Taxi, the garage was their living room and Louie was the dad."

He also fondly remembers those eagerly anticipated "snow days," when kids wake up before dawn, turn on the TV, and watch a scroll across the bottom of the screen to find out if their school is canceled for the day due to inclement weather. "I went to public school, and all the private schools would get the day off if there were flurries," he says. "I was like, 'That's bulls--t, man.'"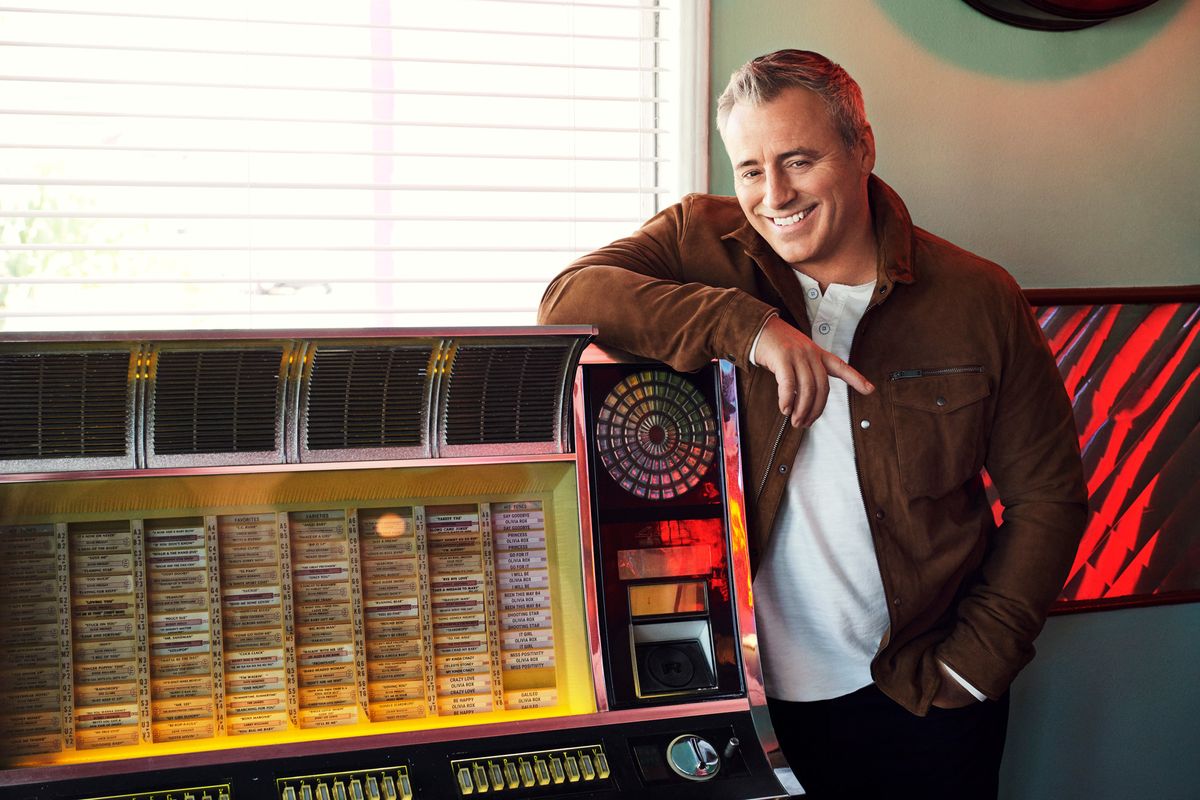 Jacket by John Varvatos. Henley and jeans by Rag & Bone.
Photography by Peter Yang. Styled by Sharon Williams.
LeBlanc's mother, a former office manager, and much of his extended family still live outside Boston, and if you listen closely to his low, gravelly voice, there's a hint of a pahk yah cah in Havahd Yahd accent that emerges when he's getting ready to tell a story about his days working construction. He learned the trade in high school and at Wentworth Institute of Technology in Boston before he dropped out, and he gifted the profession to his Man With A Plan character, Adam.

"I worked with this guy in Florida. The payday was Thursday. By Friday he was broke," he says. "He would get his check, go to the bank, cash it, and then go straight to the bar and spend all his money buying everybody drinks. But he wasn't a very good carpenter. He'd use a big 32-ounce giant hammer. He said he used it because he didn't have to swing it that hard. One day," he continues, "he hit his thumb with it; it looked like a ketchup packet. It just split open like that and burst." LeBlanc bandaged up the gory appendage and shipped the guy off to the hospital.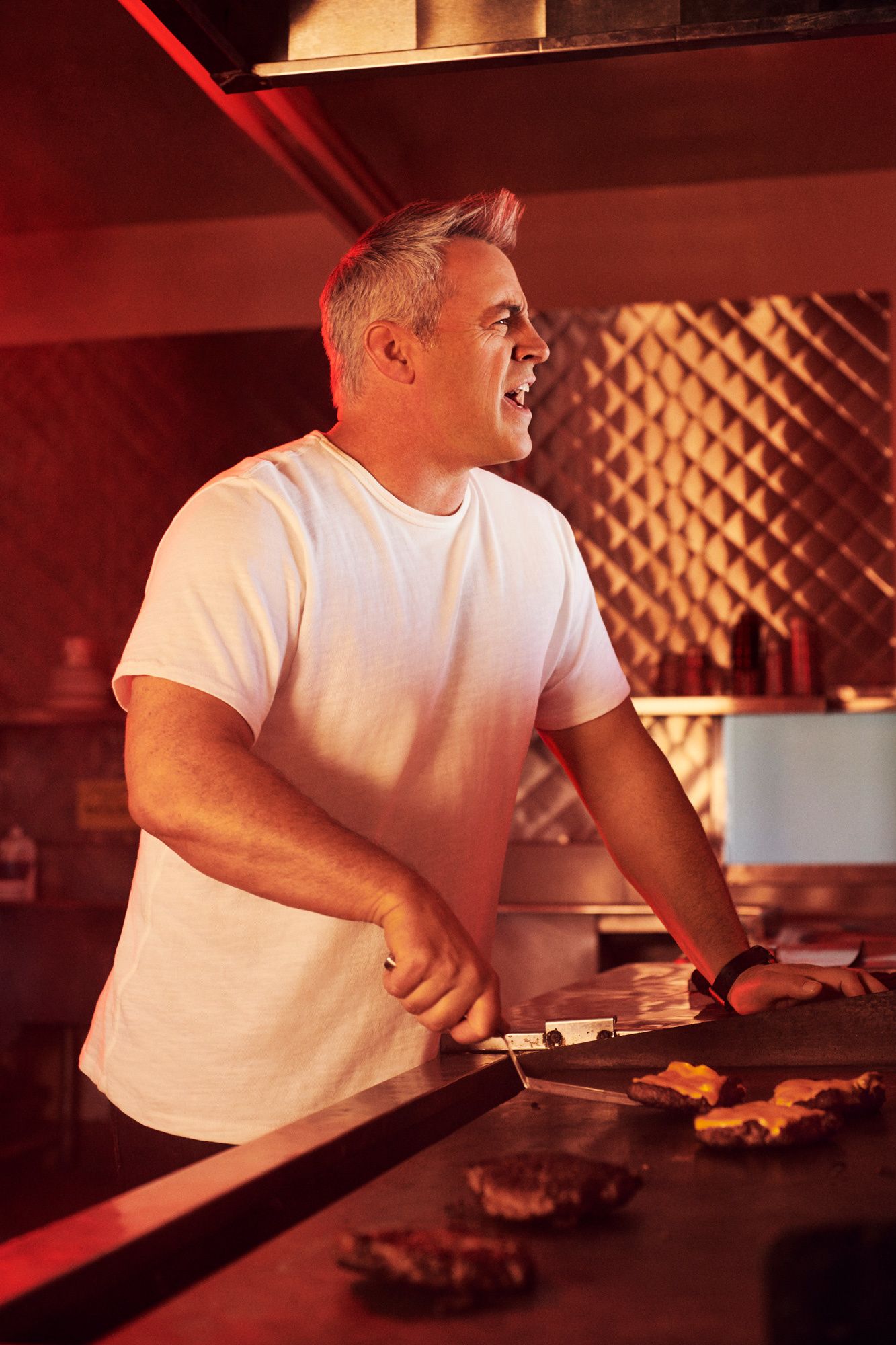 T-shirt and jeans by Rag & Bone. Watch by Movado.
Photography by Peter Yang. Styled by Sharon Williams.
Let it be known that LeBlanc knows a thing or two about ketchup, having appeared in a Heinz commercial early in his career. In fact, YouTube is full of ads from the late 1980s and early '90s starring LeBlanc (Coke, Cherry 7UP, KFC, and some cereal concoction called Fruitful Bran—RIP).
But his first break came with a CBS show called TV 101 about a group of high school students and aspiring journalists. LeBlanc played a jock named Chuck Bender, who, among other things, loses his virginity to the Chariots of Fire theme. Hints of his signature humorous delivery are evident. The show succeeded in getting LeBlanc out to L.A. in 1990; a flurry of short-lived series followed, including a Married...with Children spinoff called Top of the Heap, which was canceled to make way for a Top of the Heap spinoff called Vinnie & Bobby, in which LeBlanc played ... you guessed it ... a construction worker.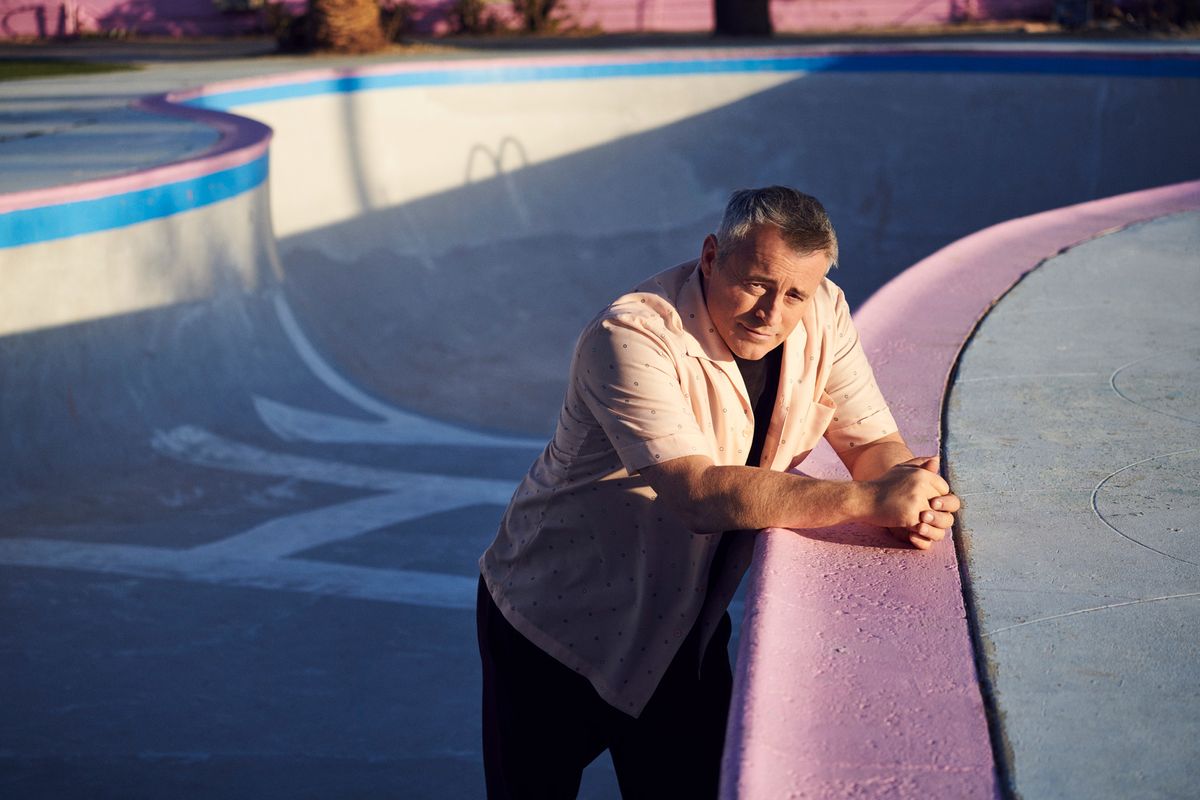 Shirt, vintage. T-shirt by Rag & Bone. Pants by Bonobos.
Photography by Peter Yang. Styled by Sharon Williams.
Everyone is familiar with the next beat of LeBlanc's story, and although he has been talking about the show for a quarter of a century—yes, the beloved sitcom premiered 25 years ago last fall—he seems completely at ease using the F word.
"It seems like every year, there's a new generation that discovers Friends," says LeBlanc, crediting the reruns that streamed on Netflix. "It's been interesting to see how the show still feels relevant to kids. You watch an episode where you pick up the phone and pull the antenna out to make a call. There's no texting anywhere. There are no current events. We did one topical joke in 10 years—one."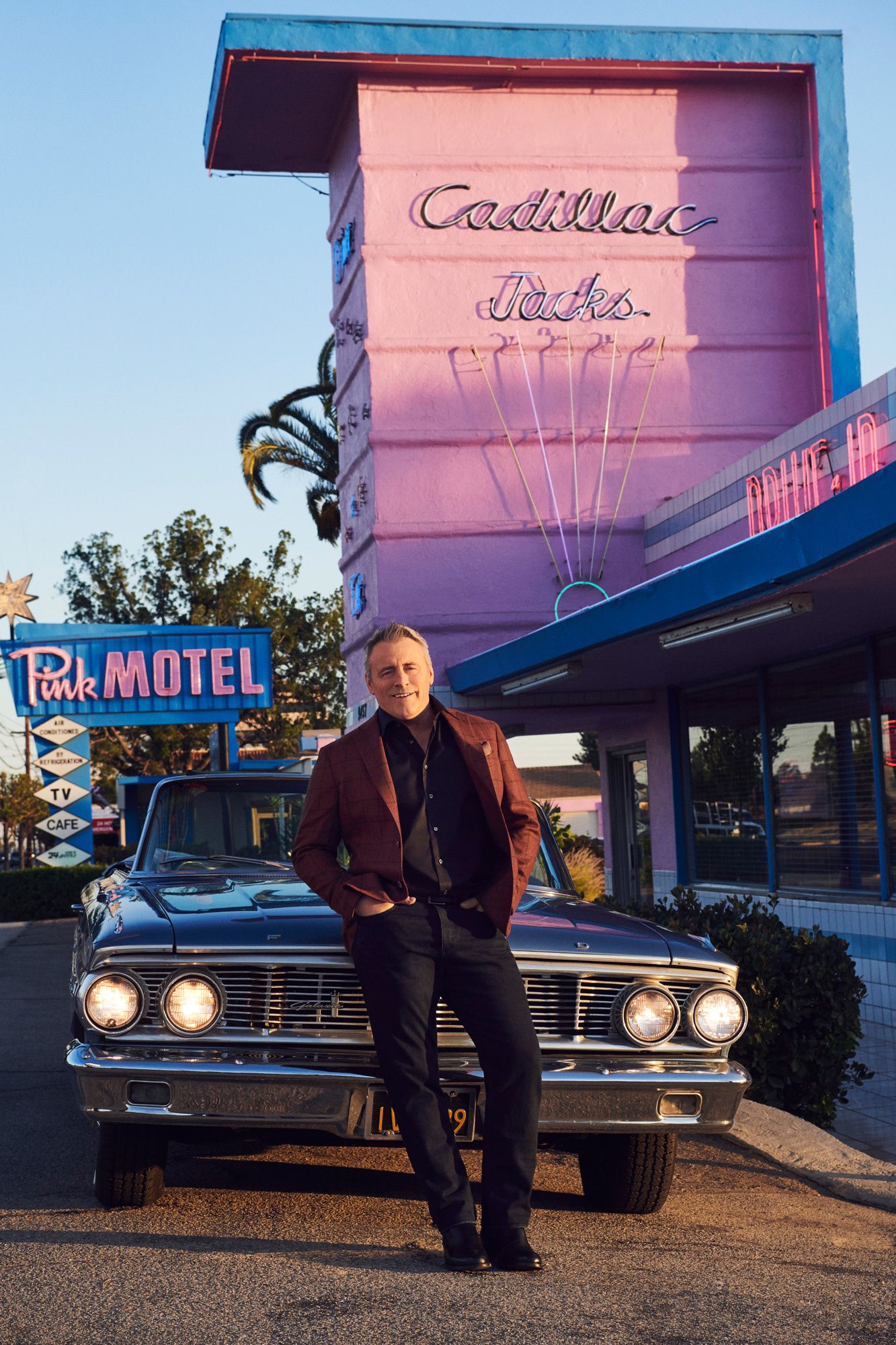 Coat by Saks Fifth Avenue. Shirt by Eton. Jeans by Rag & Bone. Watch by Shinola.
Photography by Peter Yang. Styled by Sharon Williams.
When Friends and its short-lived spinoff Joey ended, LeBlanc had planned on a year-long hiatus, but "it ended up being five or six," he says. He values that time because he got to spend it with his daughter (whose mother is LeBlanc's ex-wife, Melissa McKnight), taking her on camping trips in their motor home and teaching her how to swim. "The years just ran together."
Then he got a call from Friends creator David Crane and his romantic/writing partner Jeffrey Klarik: The creators wanted the actor to play "Matt LeBlanc," an exaggerated, flawed, louche version of his public persona whose life becomes entwined with a British husband-and-wife writing team. Thus Episodes was born, and the unflinching look at fame, ego, and the TV business became one of the most critically acclaimed comedies of the past decade. If you haven't seen it, put down this magazine and start streaming it on SHOWTIME ANYTIME. It's that good.
"People always asked me if I worried about being the brunt of the joke," he says of his time on Episodes. "I've always said, 'If it's a good joke, no. If it's a s—t joke, let's rewrite it.' If it's funny, you get away with saying a lot of things. And that was one of those projects where it was really hard to get through things with a straight face."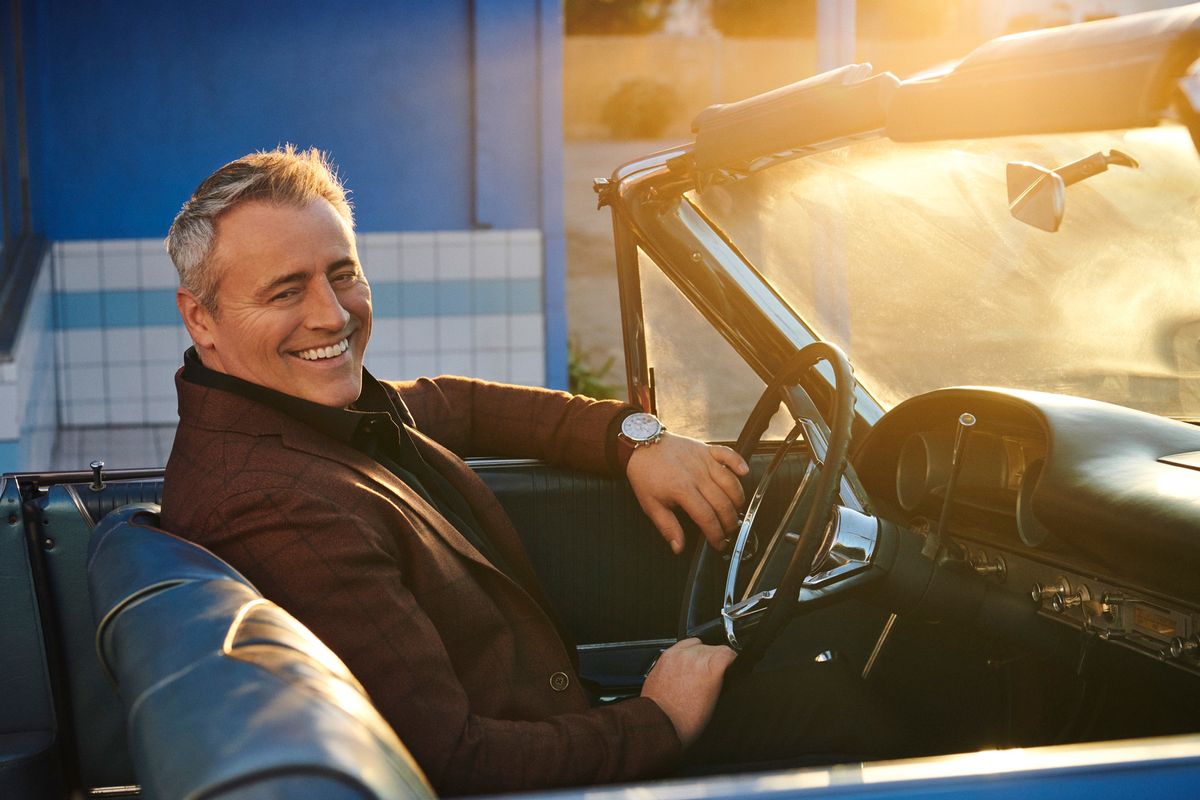 Coat by Saks Fifth Avenue. Shirt by Eton. Jeans by Rag & Bone. Watch by Shinola.
Photography by Peter Yang. Styled by Sharon Williams.
Episodes was so funny that it led to a Golden Globe win in 2012 for the actor—and a lot more work. Its final season (filmed in London and L.A.) collided with his hosting gig for the British racing reality show Top Gear and the filming of the pilot for Man With A Plan. You could get jet lag just reading about LeBlanc's description of that time. "I had no personal life," he recalls. "It was funny because it came at a time when I didn't really need the money. How ironic is that? I wish that it had come when I was younger and wasn't a dad. It would work much better to be saying, 'Yeah, I'll go to Japan and then Kazakhstan and then Morocco and then Norway and then Italy and then France and then Spain.'"
Man With A Plan's taping schedule is much more manageable for LeBlanc, allowing him to spend time at his working cattle ranch north of Santa Barbara, California, where he rides horses, goes camping, and road trips on his motorcycle. "I've been quoted before saying that I'm really good at doing nothing. Now, my 'nothing' may not be someone else's 'nothing,'" he jokes. "I'm not just lying there breathing. I'm just not working."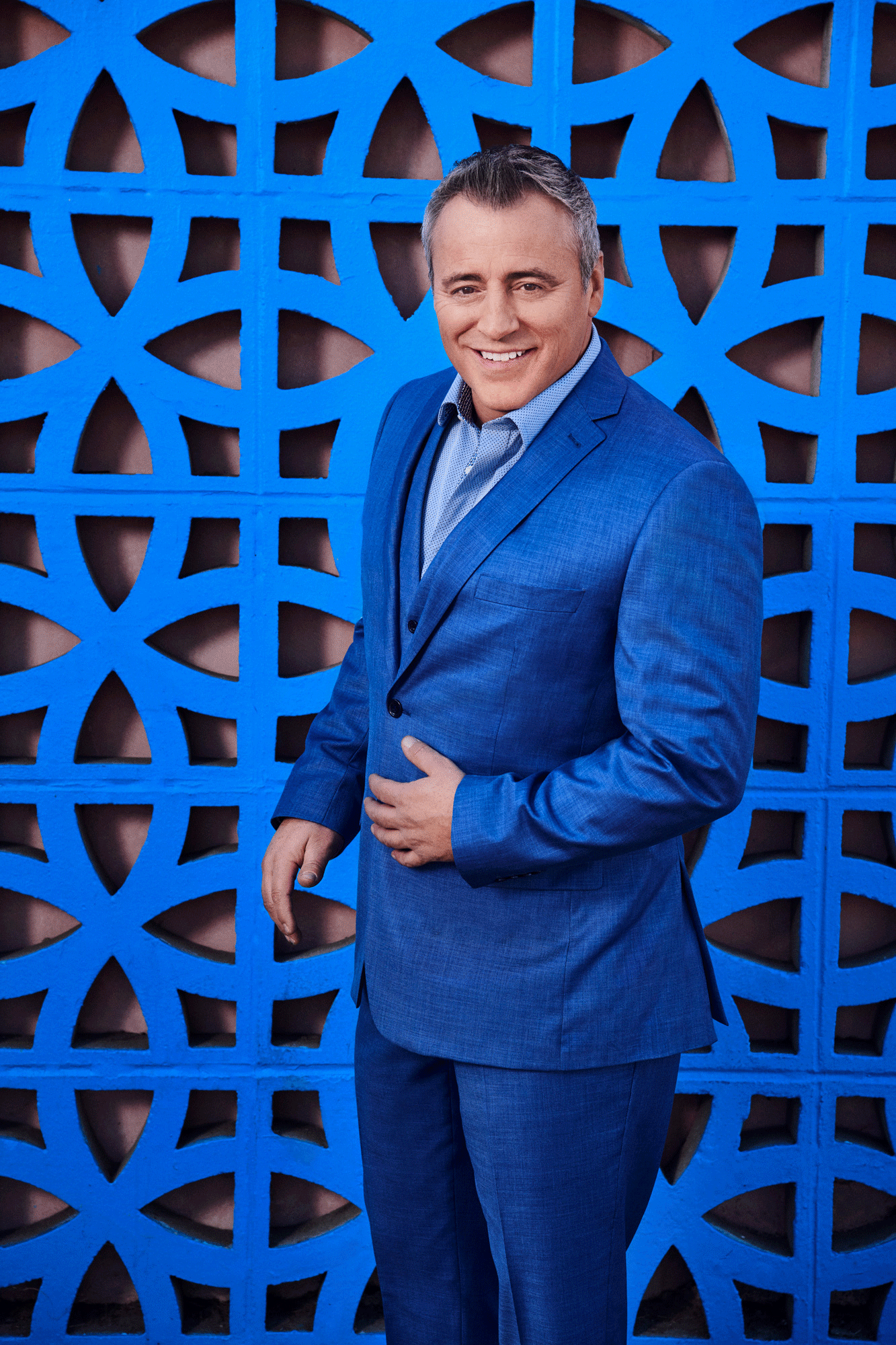 Suit by Milano by Michael Reed. Shirt by Ted Baker.
Photography by Peter Yang. Styled by Sharon Williams.
At this stage in his life, Matt LeBlanc knows he owes no explanations or apologies, and he's old enough to be grateful for what he has without wanting more. "I wish I could have been more content when I was younger," he admits, "but nobody is content when they're young." Now, "I'm at the point in my career where I'm not looking to further things. I want people to watch the show. But I'm not looking at it as a steppingstone. I'm not looking to be an A-list movie star. I'm happy where I am. I feel successful," he says. "And I feel fulfilled."
SEE MORE: Matt LeBlanc Is A Classic In This California Dreamin' Photo Shoot
Originally published in Watch! Magazine, January-February 2020.
Season 4 of Man With A Plan premieres Thursday, April 2 at 8:30/7:30c on CBS and CBS All Access.
Related Articles Around the Web