Photography by Andrew Eccles | Styled by Christina Pacelli
Exclusive interview with Melody Thomas Scott, who plays Nikki Newman, the legendary character on The Young and the Restless.
By Malcolm Venable
It wouldn't be an exaggeration to call Melody Thomas Scott a living legend. After all, she's been playing Nikki Newman for 40 years on The Young and the Restless, a history borne out on the walls of her set dressing room, where framed covers from Soap Opera Digest and TV Guide are arranged in precise rows. Each teases a different but decidedly juicy storyline ("Nikki Fights Back!" "Nikki Wakes Up ... to a Wedding!" read two), accompanied by photos of Scott staring out in various states of fierceness, feminine vulnerability, distress, or just-snagged-a-man delight.

While Scott found fame playing Nikki, she was a successful actress prior to embracing the role of the beautiful girl from the wrong side of the tracks. At the age of 8, she appeared in Alfred Hitchcock's 1964 masterpiece
Marnie
, and she went on to work with the likes of Clint Eastwood, John Wayne, and Kirk Douglas before signing on to
Y&R
when she was 22 years old.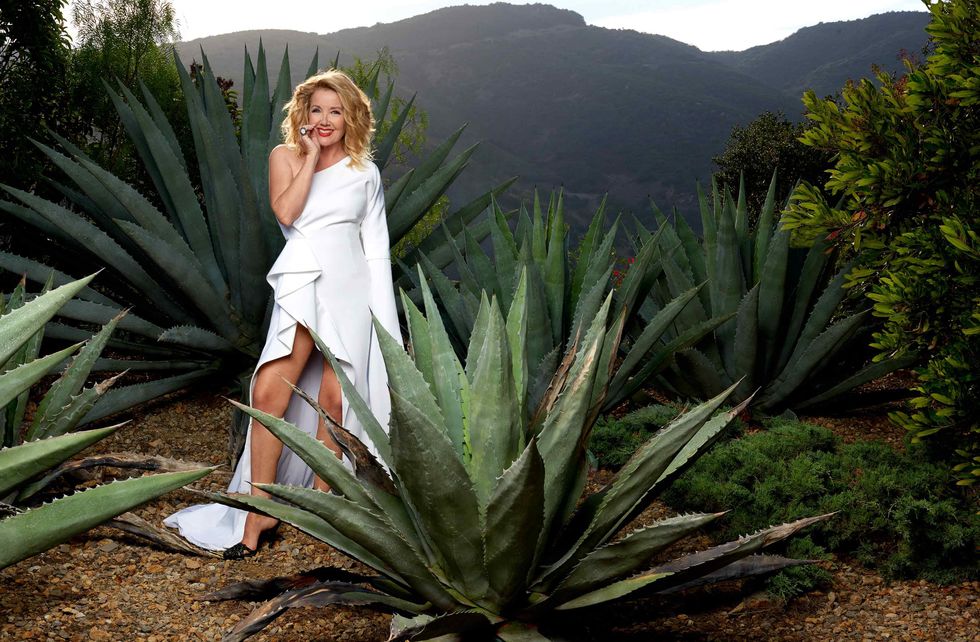 Dress by Azzi & Osta. Ring by Mahrukh Akuly Jewelry. Shoes, stylist's own.
Photography by Andrew Eccles | Styled by Christina Pacelli
But on this afternoon in L.A., Scott isn't keen on being immortalized or even talking legacy. Casually glamorous in zebra print mules, diamonds, and denim, she is still very much about living in the present—a benefit, perhaps, of the thrice-weekly yoga sessions that keep her nimble enough to slip into lotus pose on her plush sofa as she reflects on her remarkable career, her favorite storylines, and what four decades of playing Nikki has taught her.
WATCH: Behind The Scenes Of Melody Thomas Scott's Exclusive Photo Shoot
We're sitting in your dressing room, which I was told was originally Cher's during The Sonny and Cher Show. True?
When she was here, the sofa doubled as a bed made out of a tree. You can imagine! I have pictures. The coffee table was a tree stump, and the suede-covered walls had images of Native Americans painted in fluorescent colors, because that's what she was into at that time. It's been through four or five redos since I got here!
To start at the very beginning of your career, you have a photograph on your side table of you and Alfred Hitchcock. What was he like to work with?

He was a very imposing guy. He never smiled. Instead of telling the actor, "Say this line and go here," he would shove you into your place. I never had that happen again until [Y&R director] Frank Pacelli, bless his soul. I loved him. Hitchcock got me ready for him.
Do you remember what it was like coming onto the set of The Young and the Restless on your first day?

I remember the talent test more than I remember the first day. I was an emergency recast. I had never seen an episode of the show, and I had no idea what I was getting into. But I think the talent test was on a Friday, and then I heard on Monday that I had to start work on Tuesday.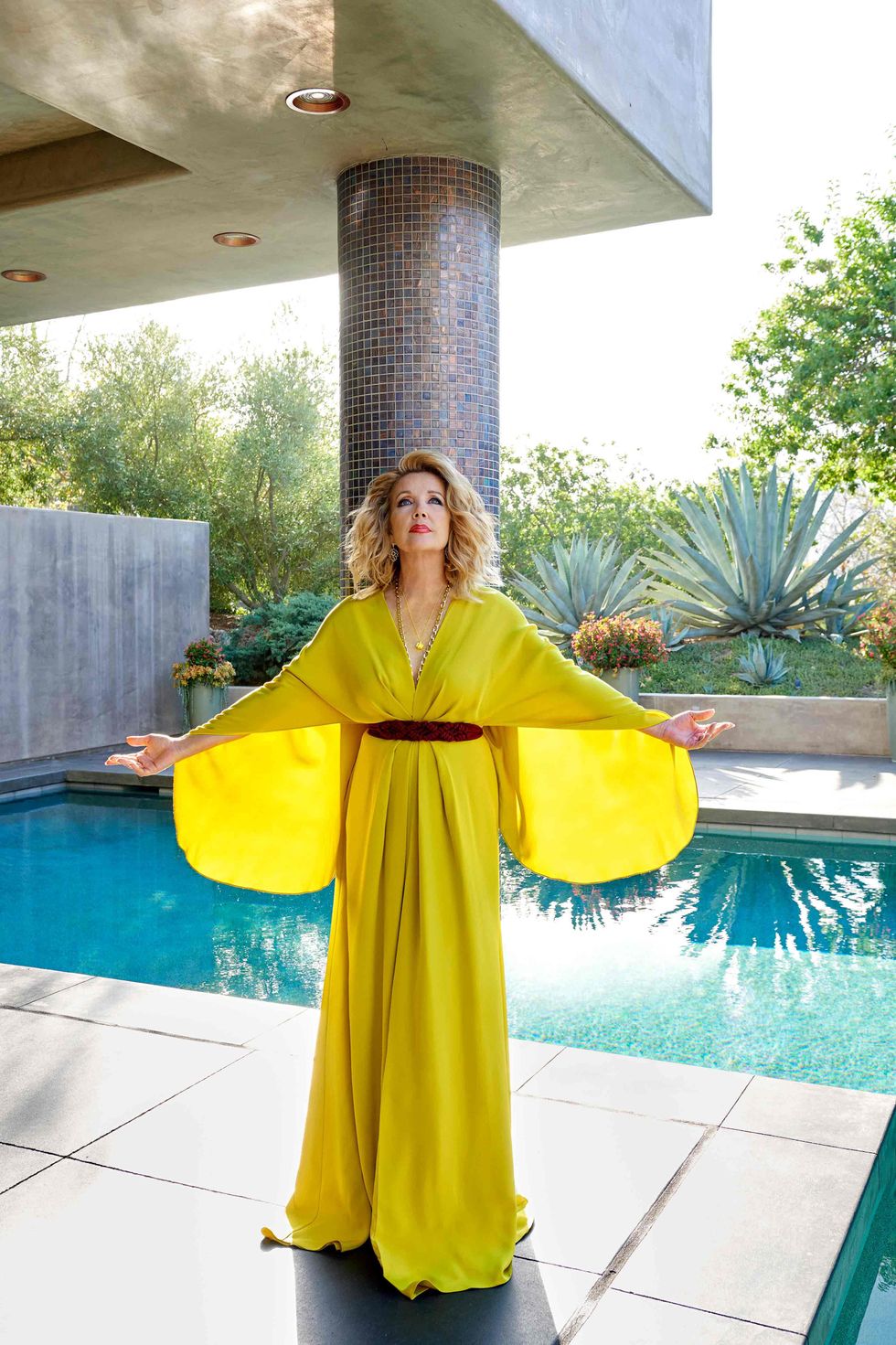 Dress by Alexander McQueen. Short necklace and rings by Missoma. Long necklace by Miranda Frye. Earrings by Simon G.
Photography by Andrew Eccles | Styled by Christina Pacelli
I've read that you're an Aries. Aren't Aries known for being tough?

Yes, I'm on the cusp of Taurus too, so I have the double ram, bull, in-your-face, watch-out kind of a thing. As I age, I'm getting worse in that way.
How does that manifest?

If something happens that is wrong, I think, I have to go fix that. My mouth always gets me into trouble.
Do you see parts of that coming through Nikki Newman?

She can be cunning. She can be so much worse than that. She can step up to the plate and be whoever she needs to be at that moment. She's not anybody I would want to be friends with. I wouldn't trust her for anything. She grew up in a very rough, abusive environment. Yes, of course, Victor [
Eric Braeden
] has taught her a lot. She's catapulted into this whole other class of life and married well, but you still see the tough Nikki come through. I don't think she'll ever lose that.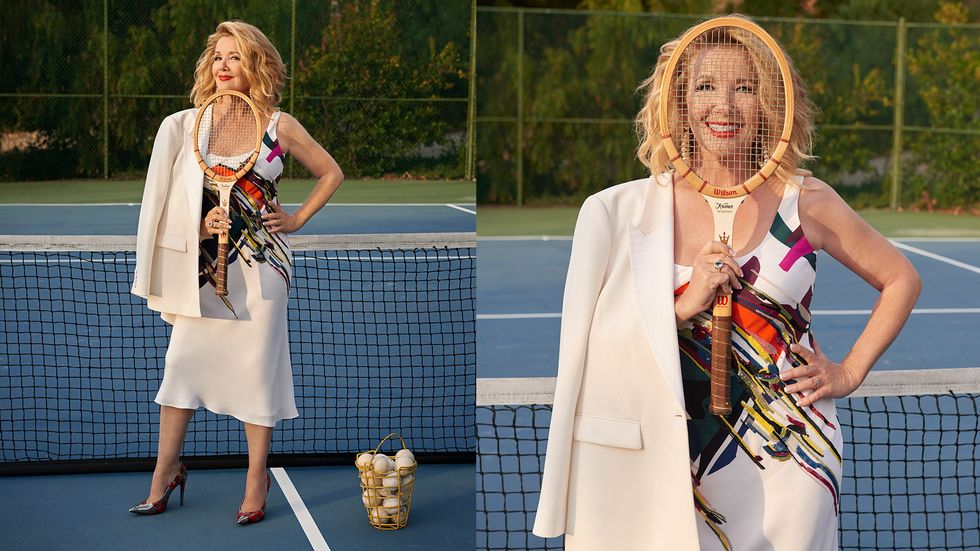 Blazer by Christian Dior. Dress by Cushnie. Shoes by Valentina Rangoni. Earrings by Briwok. Rings by Simon G.
Photography by Andrew Eccles | Styled by Christina Pacelli
What about playing Nikki Newman has informed your view of life?

She's taught me humility. Sometimes if I go out shopping and I see a woman behaving like Nikki, I will recognize that immediately and I think, Thank God I'm not really like that. I don't want others looking at me and saying, "Look at her, what a diva." And I'm very grateful for her longevity, certainly! It's given me a life beyond my wildest dreams.
The actors' life is get a job, do the job, and go back out there and do it all over again. But this job changed all that. This was a permanent job for what I thought would only be three years, and three years became six, and six became nine, and here we are at 40. That is unheard of in the television industry for daytime, nighttime, any time. I'm so grateful for it.
Nikki has been married 12 times. What does Nikki know about getting married that she wishes everybody knew?

Marry well, honey!
What have been your favorite parts of Nikki's evolution?

Her wardrobe, her shoes ... the damn hair may as well have a life of its own. In my opinion, I hate my hair. I want my hair to be thinner. Everybody talks about Nikki and her hair. Fans call and say, "Oh, do the Nikki swoop." It all just kind of happened randomly, not with any thought at all. My hair has become my Waterloo. I don't get any sympathy for it. [Loved ones] just laugh and say, "Ah Mel, you are so silly."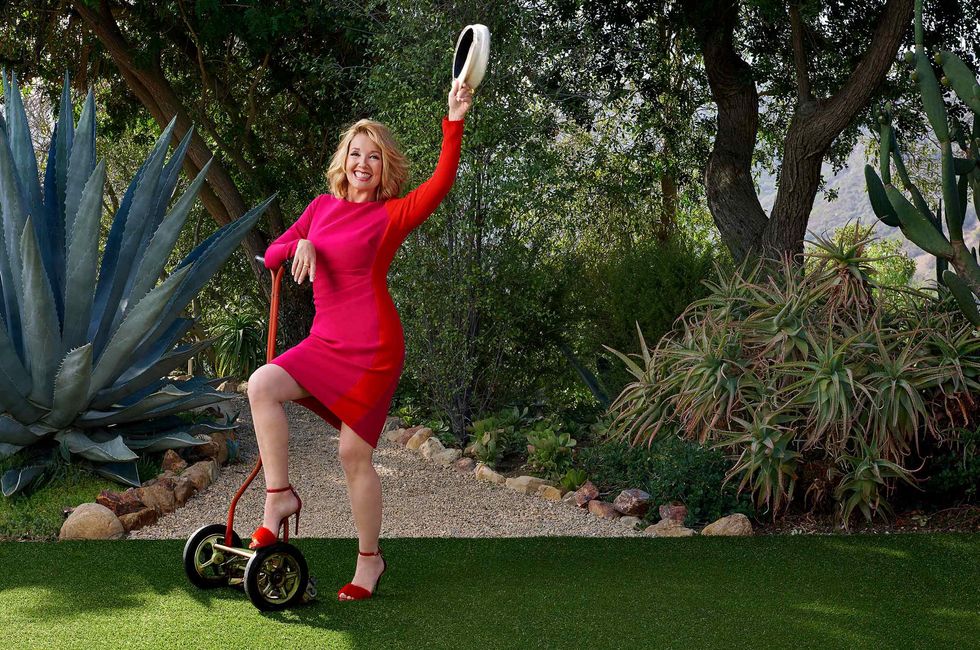 Dress by Teri Jon. Hat by Ezgi Cinar. Shoes by Bruno Magli. Rings by Simon G.
Photography by Andrew Eccles | Styled by Christina Pacelli
What are some of your favorite storylines?

A drunk Nikki, and I don't know why. It's fun for me to play it, and all the fans love it. And way back in the beginning, Nikki was in a cult. I liked being in a cult—that tells you the state of my mind!
Nikki was also one of TV's first strippers. How did you feel about that storyline?

Bill Bell [
Y&R
's creator and head writer] originally wanted it to be mud wrestling, and then the network nixed that, so she became a stripper. I was around 24 years old and very uncomfortable with it. I never felt that I was a good dancer, and suddenly I was dressed up on this stage and having to do these choreographed numbers. Every week we did a new strip. If we were to watch that now, it would be so tame. I was wearing pantyhose!
Given the number of cultural shifts you've witnessed, what advice do you give your younger female colleagues?

Not to permit certain things and to look out for themselves. When I was young, I didn't. Jeanne Cooper [who played Katherine Chancellor] was the trailblazer, and she would teach all of us to stick up for ourselves. Now, I'm the wise, old lady trying to steer them right. They thank you for it. It's very sweet.
Have you become more empowered to talk to producers and influence the writing over the years?

When you're young, and new, you don't dare open your mouth about anything. I'm 62 years old. If I'm not going to say it now, I'm never going to say it.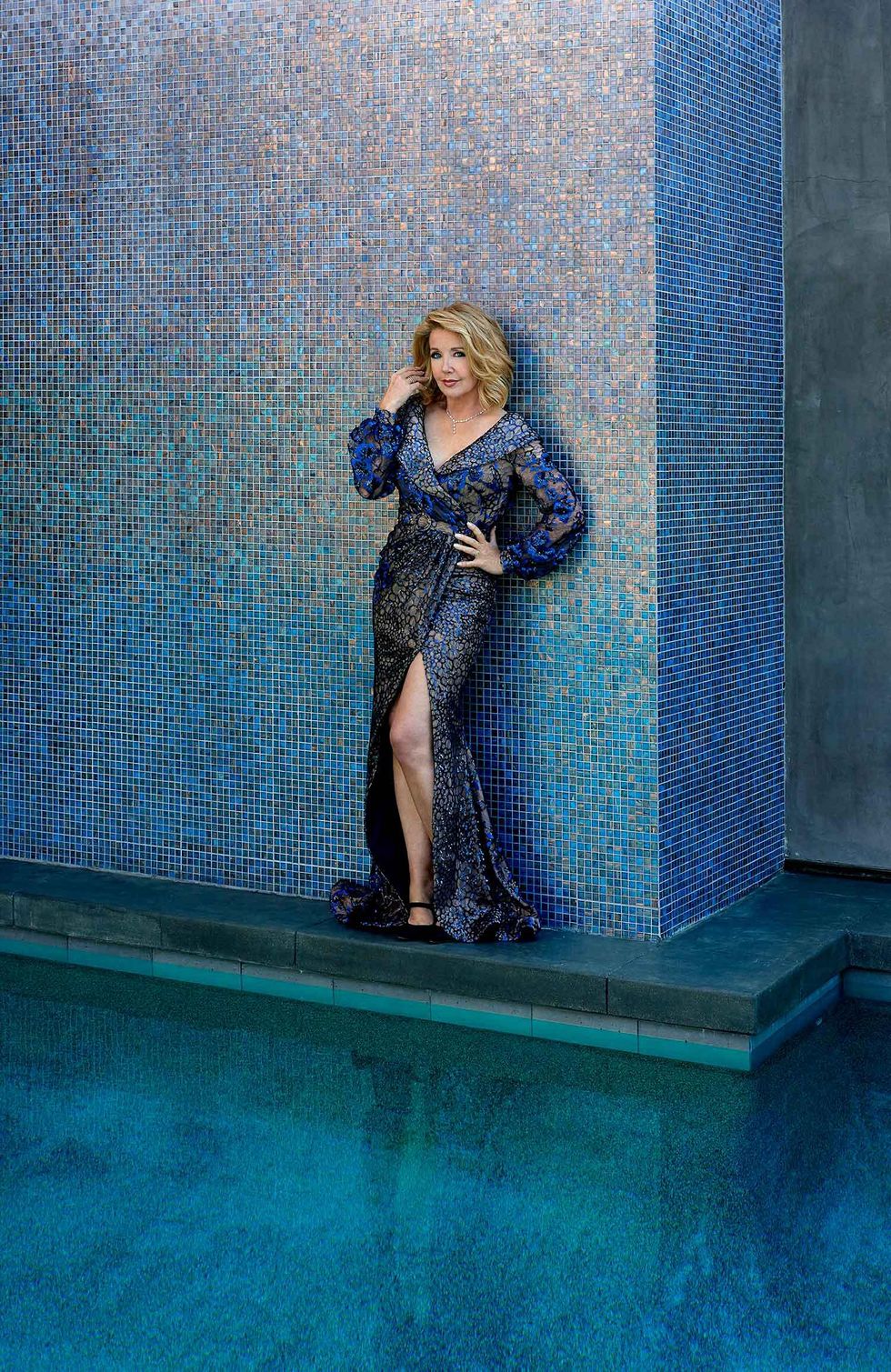 Dress by Fouad Sarkis Couture. Shoes by Manolo Blahnik. Jewelry by Simon G.
Photography by Andrew Eccles | Styled by Christina Pacelli
After spending so many years on a TV set, do you enjoy watching TV when you're not working?

TV is acutely important to both my husband [The Bold and the Beautiful executive producer Edward J. Scott] and me. In our bedroom we have two separate TV screens. We both have headsets so we can't annoy the other. I'm an original I Love Lucy fan. I was a board member of the Lucille Ball Desi Arnaz Center. Every episode is on my TiVo. And I like anything on Showtime. I also like violent movies. People are surprised by that. What's the point of going to movies if there's not a little blood and guts?

What else do you do to relax?

I do yoga three times a week, and it's totally changed my life. I would never give it up. I never thought I would be one of those woo-woo types, but I am. [I've been doing it] about four and a half years. Aside from keeping me toned, it does more for me mentally. My yoga instructor blends a lot of different things into our sessions, so we chant and sing and have readings that are very meaningful. It just elevates me to a higher space.
Nikki is known for being a clotheshorse. What's your sartorial weakness?

Certainly Chanel. And Manolo Blahnik shoes. I mean, I have a lot of Chanel shoes, too, but nothing is as comfortable or as gorgeous as Manolo Blahnik. Although ... Jimmy Choo. You should see my closet at home. Terrible. I had over 600 pairs of shoes. Then I [decided to have] an auction and probably parted with 300 of them.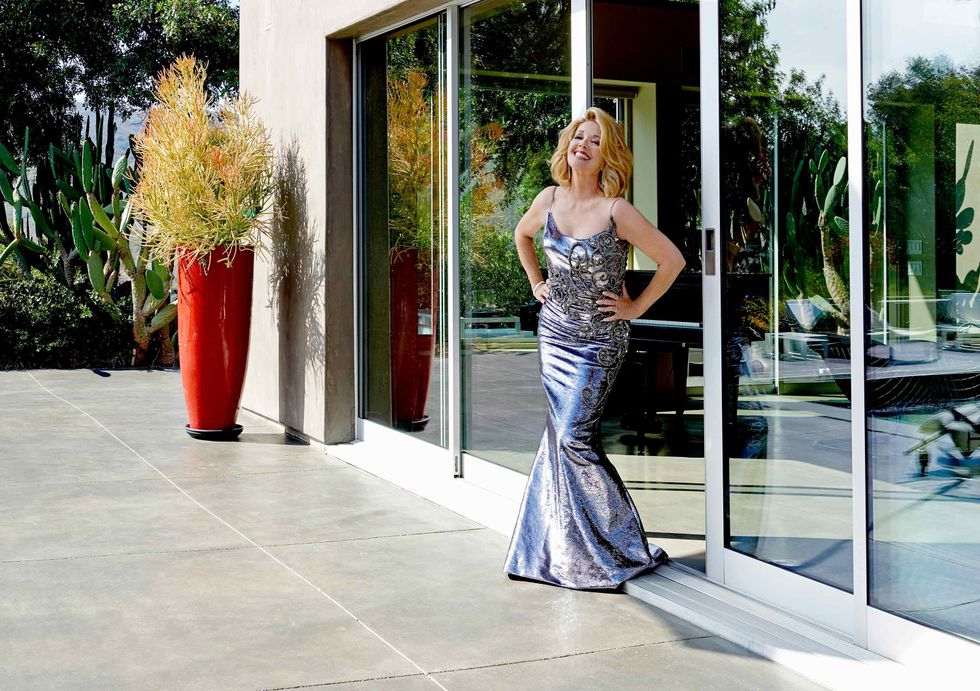 Dress by Tarik Ediz. Jewelry by Simon G.
Photography by Andrew Eccles | Styled by Christina Pacelli
You engage with fans on Twitter. What's it been like to embrace that?

In the beginning, I had no idea what I was doing. I'm so low-tech, I have to go to my [three adult] children, or I pull a 6-year-old in from the street because they know more than I will ever know about this. But I have great fans on Twitter and I've actually made friends with people I've met there, which I know sounds a little scary. You have to be so careful about that.
Any thoughts on what you'd love to do next?

I have no idea. I don't like to think about when my time here is over or when the show is over. I don't want to go there. I know it's going to happen, but after you've been on a show like this for so long, it becomes almost like one of your children. The thought of me leaving this or the show going off the air hurts my heart. It's a devastating feeling. It would be like a death.
Have you thought about what your legacy might be?

That's not for me to say. That's for others to say, so I don't know.
What do you want it to be?

My joke answer would be my 600 pairs of shoes.