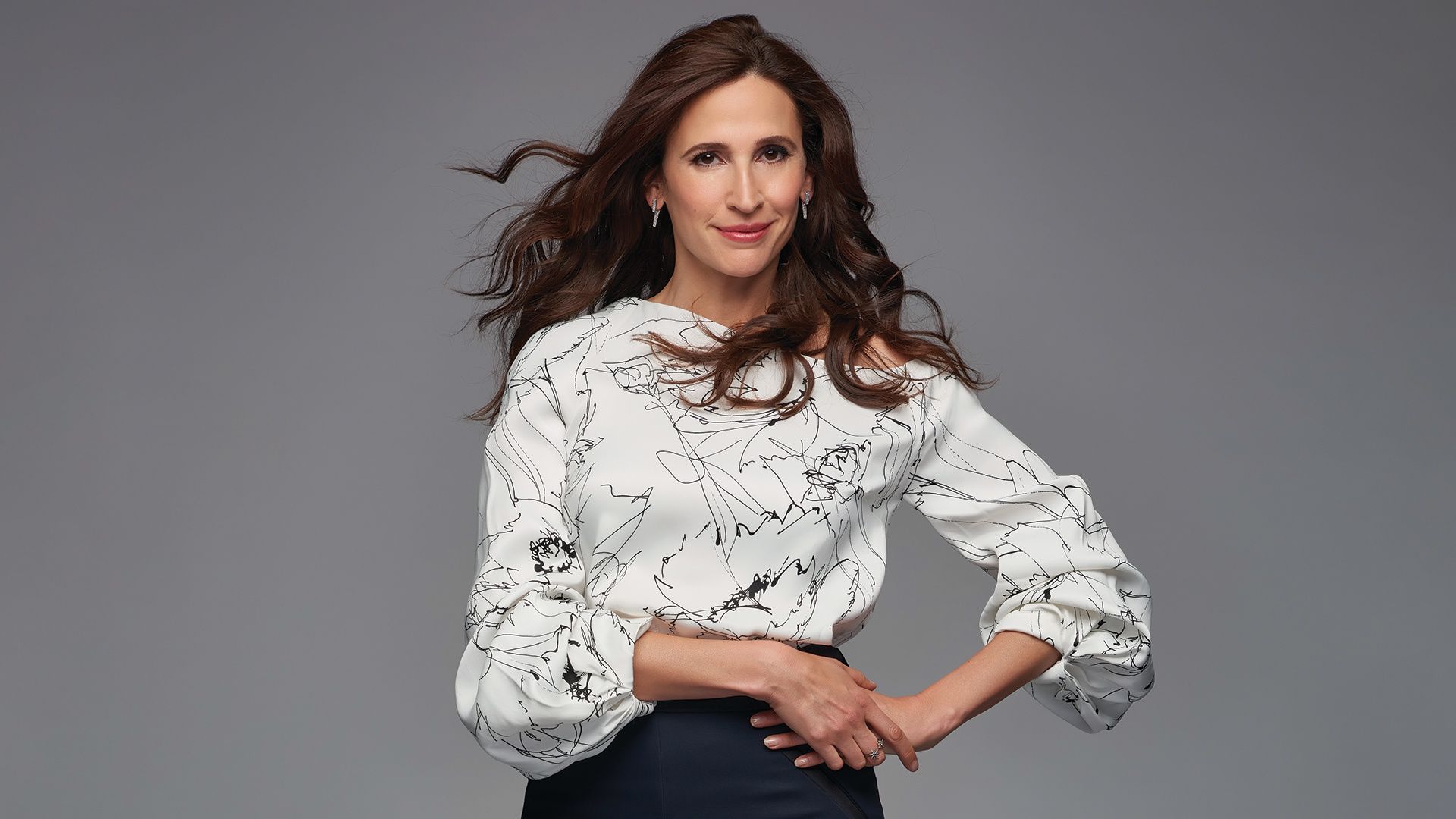 Photo Credit: Matt Doyle/Contour by Getty Images.
Comic actress Michaela Watkins adds her hilarious magic to CBS' comedy series The Unicorn.
By Brantley Bardin
She's that prolific comic actress whose work you adore, even if-until now-you've had trouble recalling her name. No worries: The fabulous Michaela Watkins is chill with that.

"People always have to download their brains with what I've done to remember who I am," she says with a laugh. "But unlike Jennifer Lopez, whose best friend I played in The Back-up Plan, that gives me the benefit of walking through life totally normally."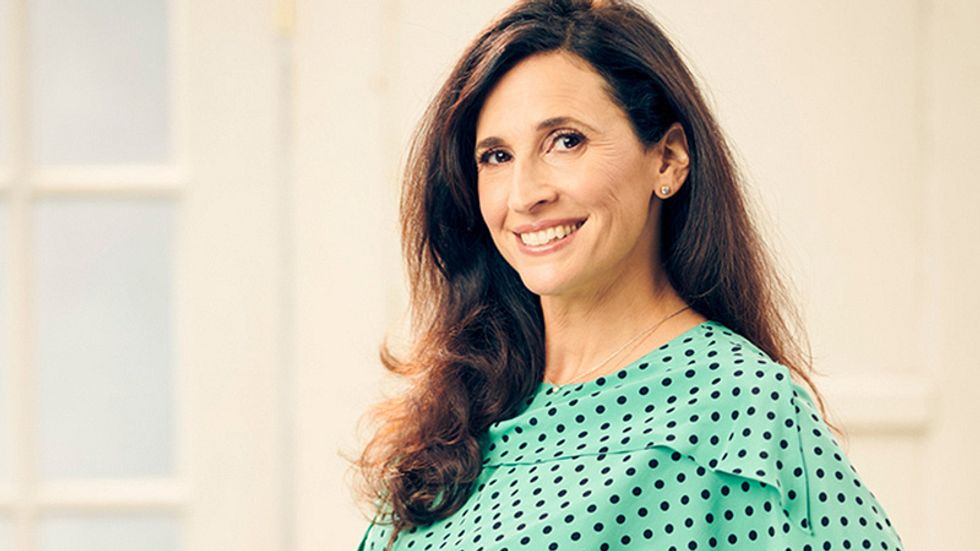 Photo Credit: Timothy Kuratek.
In addition to starring in a passel of films including last summer's Brittany Runs a Marathon and October's Torrance opposite Ben Affleck, Watkins is a Saturday Night Live alum and a recurring television MVP on everything from The New Adventures of Old Christine with Julia Louis-Dreyfus to Transparent and Casual.

Although she's renowned for her portrayals of comically unhinged women—"I love playing terrible people!" she exclaims—she's currently having a blast playing the take-charge pediatrician Delia on The Unicorn, the hot new sitcom about a recent widower (Walton Goggins) who is encouraged to get back into the dating pool by Delia and his three other best friends, played by Maya Lynne Robinson, Omar Miller, and Rob Corddry. Says Watkins, "I love that our show is about something so worthwhile: grief, and how to come out of it with the help of your friends."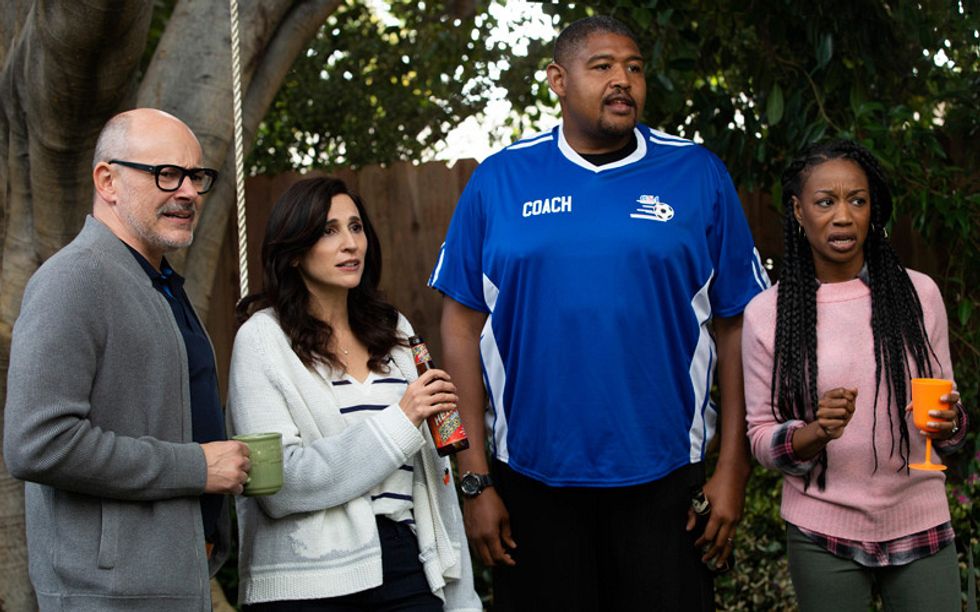 Rob Corddry as Forrest, Michaela Watkins as Delia, Omar Miller as Ben, Maya Lynne Robinson as Michelle in The Unicorn.
Photo Credit: Michael Yarish/CBS.
A beautiful thing. You're married to entrepreneur and non-profiteer Fred Kramer, but The Unicorn deals with online dating when one is hitting 40 and beyond. What have you learned about that world?

That dating's easier for men! Kidding. Listen, thank God I didn't have to put myself out there on the internet thing, but I'll say this: It's intriguing, because it's so normal and unstigmatized now. I love how it's all, "We're just swiping and if it doesn't work out, no harm!" That said, no thank you.

So, are you an old-school matchmaker instead?

It's in my bones! I have an instinct with how people will get along. Now, I'm not saying that every date turns into a marriage. Or that some marriage doesn't end in divorce. But I am saying that some of those people maybe had kids before they got divorced. And that's a success, OK?! [Laughs.]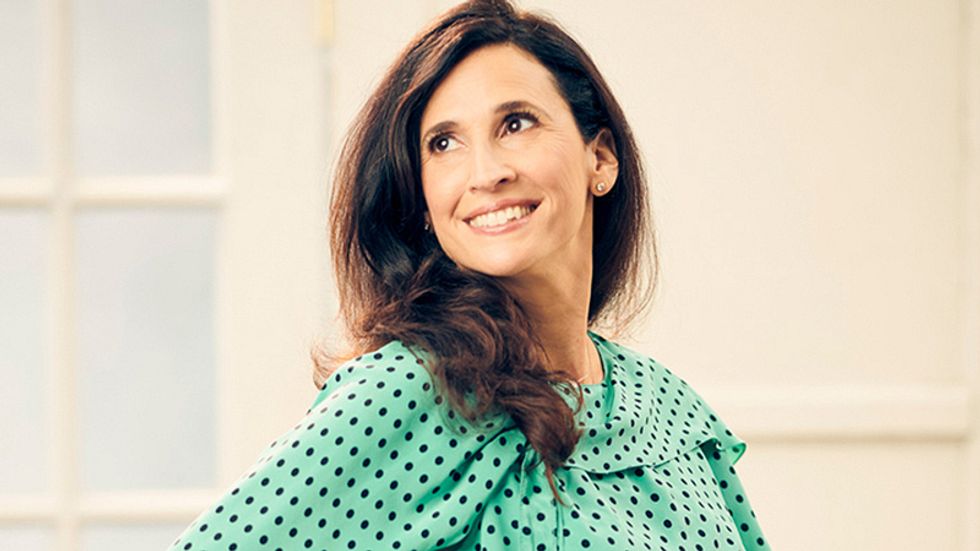 Photo Credit: Timothy Kuratek
OK! You've said that Joan Rivers was your biggest childhood inspiration.

My mother took me to see her in Syracuse, New York [where Watkins lived as a child], and I laughed so hard I peed my pants. I thought her filthy, foul mouth was a wonderful thing coming out of a woman. I also felt like, "Somebody gets me"—and I was 10! It taught me that women can do whatever the hell they want if they allow themselves.
You went to Boston University College of Fine Arts, did repertory theater in Portland, then moved to L.A. and trained as a Groundling before being discovered by SNL when you were 37-

The oldest woman they'd ever hired at that point! I was actually taping The New Adventures of Old Christine when I found out I'd just booked my life dream. I got the call at 10 p.m. The audience was clapping, and I turned to Julia [Louis-Dreyfus] and said, "I just got SNL," while we were bowing. I looked like a deer in headlights. Julia said, "We're getting a drink." And I was like, "I'm flying to New York in five hours and I have to pack, I have two cats, I don't know what to do!" And she said, "We're getting a drink."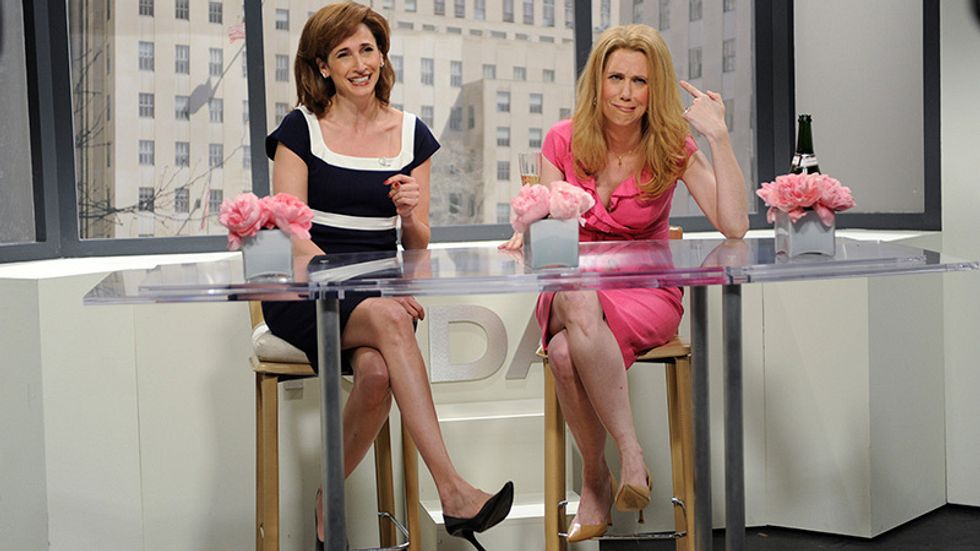 Michaela Watkins as Hoda Kotb and Kristen Wiig as Kathie Lee Gifford during the "Today" skit on Saturday Night Live.
Photo Credit: Dana Edelson/Getty Images.
Then, boom, your beloved SNL character, Angie Tempura, only got to say her catchphrase, "Bitch, pleeze!," for one season.

Yep. I always have to remember the attitude of "We don't know how we're protected." Because some of life's greatest disappointments end up becoming our biggest highs. I did one season of SNL and wasn't asked back, but then I wrote a script [Benched] which made it to series, and then I got my husband, and then [the Hulu series] Casual, and now The Unicorn! It's the That's Good!That's Bad! books come to life.

Or The Little Engine That Could. Here you are at 47, and you've never been more in demand.

I've got no complaints. So my pace is sometimes a little slower than others. But you know what? I get there! I've loved my ride.

Originally published in Watch Magazine, September-October 2019.

Stream full episodes of The Unicorn on CBS All Access.