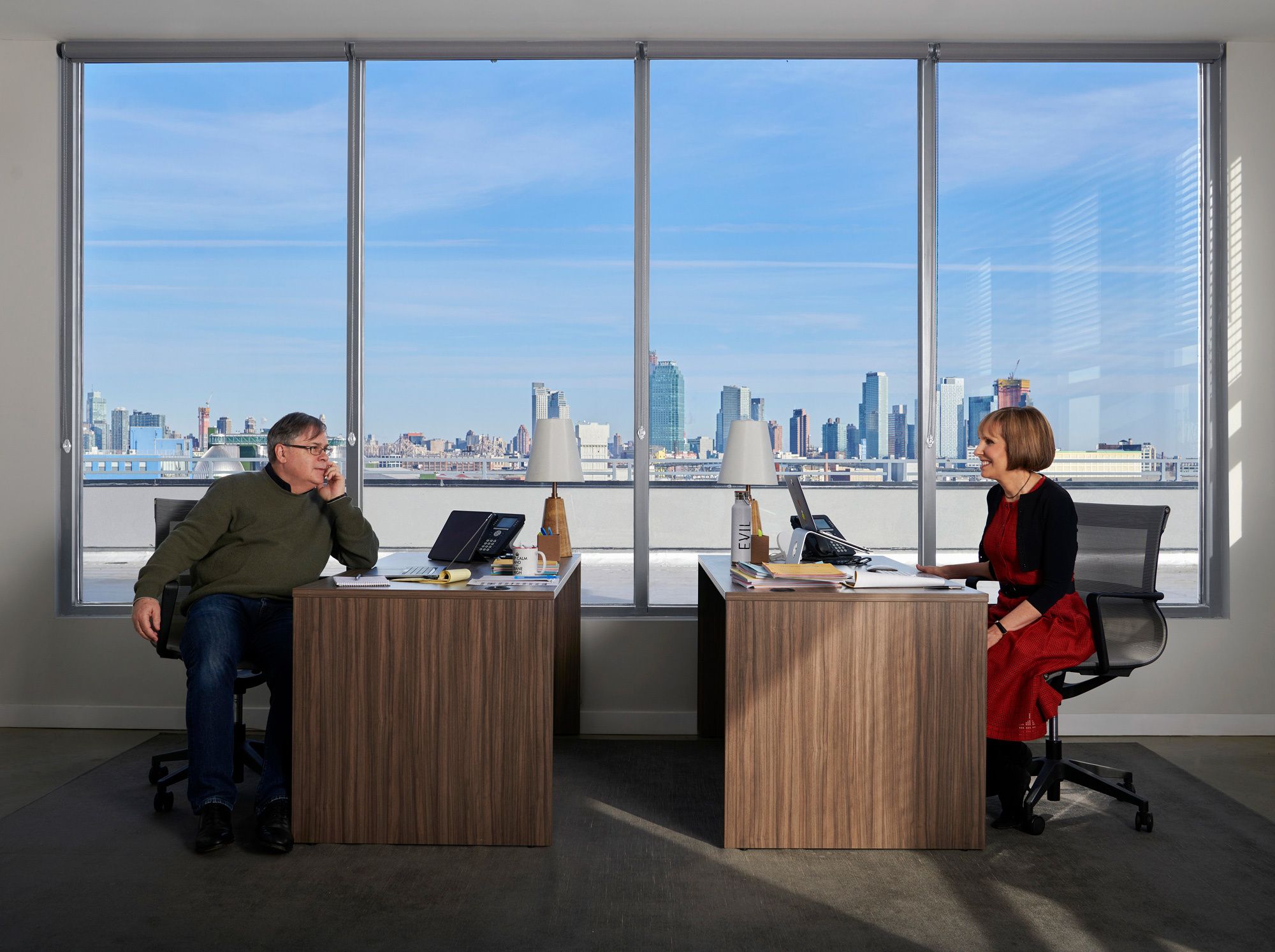 Photo Credit: Jason Schmidt.
Michelle and Robert King, the husband and wife team behind The Good Fight and Evil, are Hollywood's reigning power couple.
By Chris Nashawaty
Editor's Note: This interview took place in February, before COVID-19 took hold in the United States.
Stream full episodes of The Good Fight and Evil on CBS All Access.
Long before they became the most successful husband-and-wife showrunner team on television, Michelle and Robert King were the keepers of a particularly juicy workplace secret. It was 1983, and Robert, a recent college graduate, had moved to Los Angeles to try and make it as a screenwriter. To finance that dream, he'd taken a minimum-wage job at an athletic footwear store in Brentwood called FrontRunners. It was hardly the most romantic chapter of his life—that is, until the day he found himself working the same shift as a new, part-time employee about to enter her senior year at UCLA.
"We met while we were both restocking the sock wall," says Robert. "Our hands connected across the rows and rows of socks."
Listening to the umpteenth retelling of their unlikely and decidedly un-Hollywood meet-cute, Michelle rolls her eyes and begins to laugh. Robert looks at her and, encouraged by her reaction, continues: "I was doing the lighting on some stage play at the Mormon temple. And I asked you if you wanted to go. Remember?" Michelle nods. How could she forget?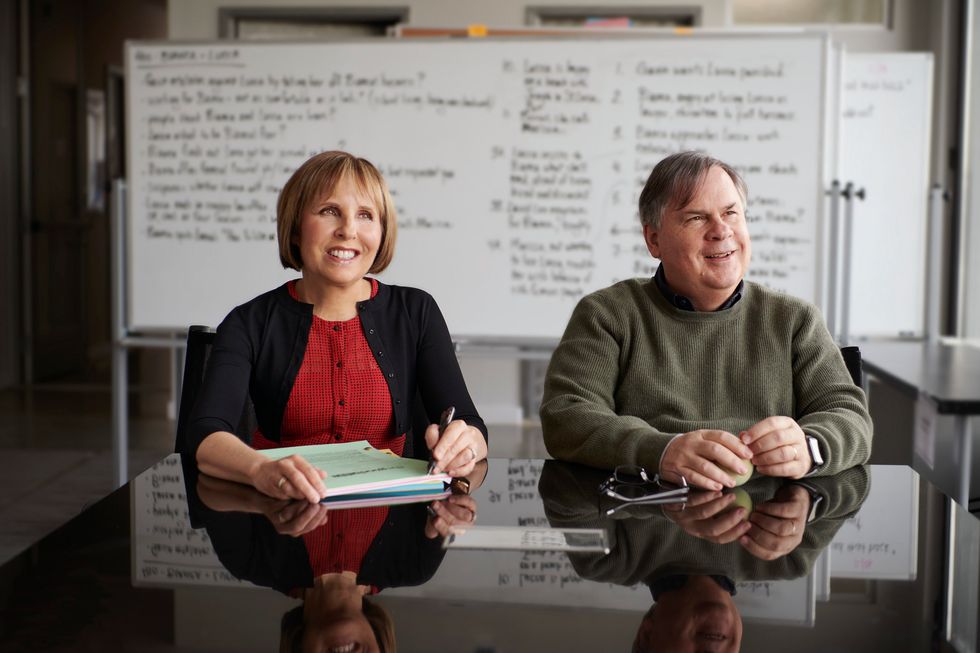 Michelle and Robert King prove that two heads are better than one.
Photo Credit: Jason Schmidt.
Four years later, they were married. That fateful afternoon may have been the first time that the Kings' personal and professional lives overlapped, but it wouldn't be the last. As the powerhouse creators and showrunners behind the acclaimed CBS legal drama The Good Wife and now its CBS All Access spinoff, The Good Fight, as well as the network's demons-and-miracles procedural Evil, the couple has become the rare exception to the rule that people should never be married to their work. "And just for the record," deadpans Michelle, "we don't keep our relationship a secret anymore."
On a chilly winter afternoon at their production office in a nondescript, industrial section of Brooklyn, the Kings seem to be juggling a million different dizzying tasks at once. But if they're spread thin, you'd never guess it from their easy, united-we-stand chemistry. Today, for example, they hit the ground running with a 10 a.m. meeting with The Good Fight's production designers. Then it was straight into the show's writers' room to hash out the last episode of the new season, where they'll spitball ideas until 6 p.m., only occasionally breaking off to put out fires in the editing room.
When asked how they divvy up the assortment of day-to-day responsibilities involved with shepherding multiple hit shows on multiple platforms (the Evil writing team is on hiatus until June, but a third show—SHOWTIME's limited series YOUR HONOR, starring Bryan Cranston—is currently shooting in New Orleans), Michelle says, "There's enough to do that there's no preciousness about who's doing what. Robert tends to take the lead on editorial and rewrites …" Robert picks up her thought like a relay baton: "And Michelle handles casting, legal, wardrobe, and the look of the shows. But we're both equal in the writers' room …" Michelle takes the baton back: "People always ask, 'Who's the good cop and who's the bad cop?' It's not like that. It's more like, 'You can do it? God bless you!'"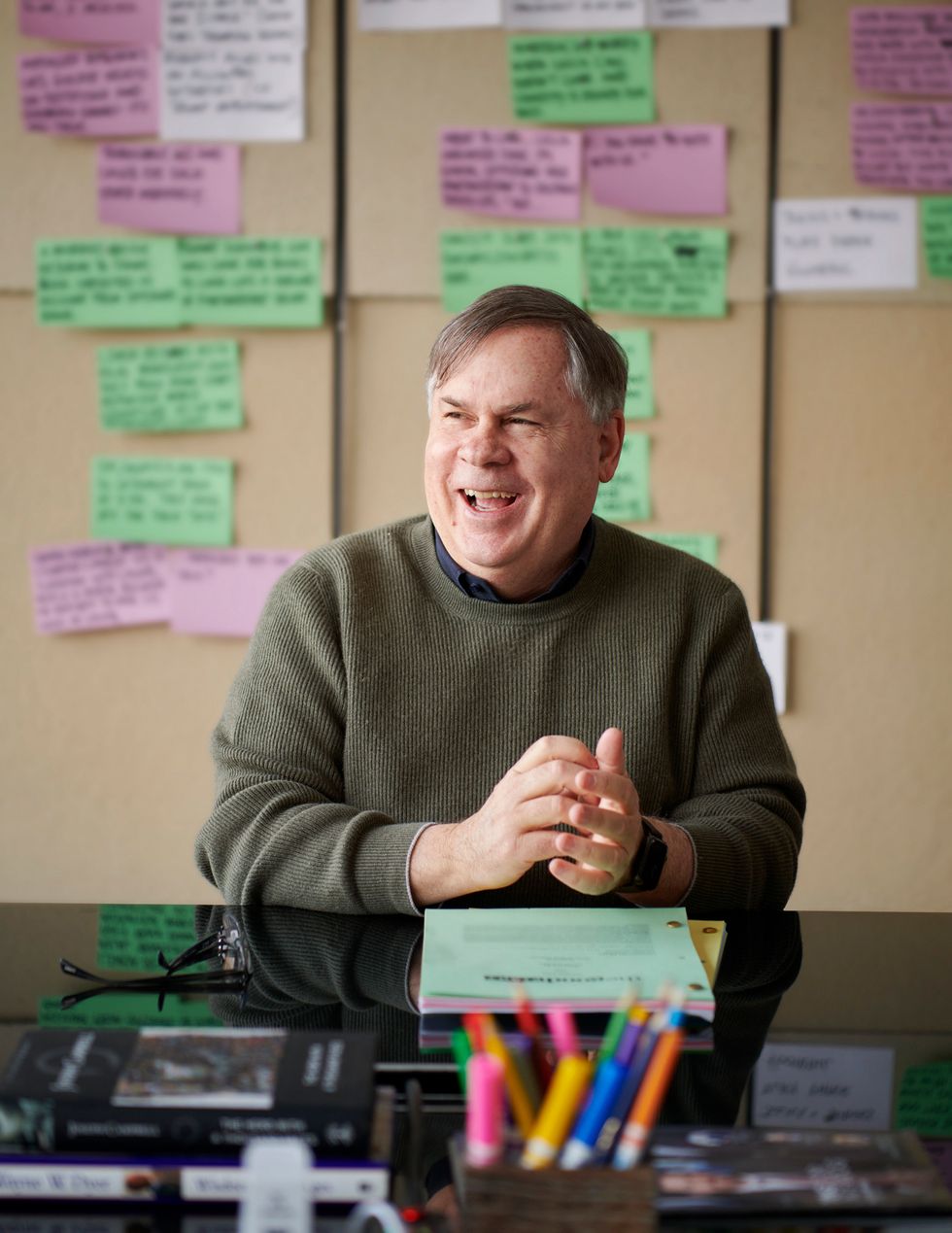 "Michelle and I have very different backgrounds." – Robert King
Photo Credit: Jason Schmidt.
Their partnership didn't always work this way. For the first 15 years of their marriage, the Kings kept their work lives separate from their domestic one. Back then, Robert worked as a screenwriter of big-budget features such as 1997's Red Corner and 2000's Vertical Limit, while Michelle worked in development at various studios and production companies. Then, in 2001, they began developing a series at ABC together about the U.S./Mexico border called The Line. The show wasn't picked up, which they admit stung, but their new partnership felt like its own sort of success.
The Kings were surprised not only by how well they worked together, but also by how much they liked working in television. The medium's instant yes-or-no greenlight decision-making was a welcome antidote to the slow, fickle, death-by-a-thousand-cuts world of the movie studios. They continued cranking out pilot scripts, some of which made it to series, like 2006's In Justice. But their biggest success wouldn't come until 2009, when they tapped into the zeitgeist with a series about a political wife whose husband gets embroiled in a tabloid nightmare and is sent to prison.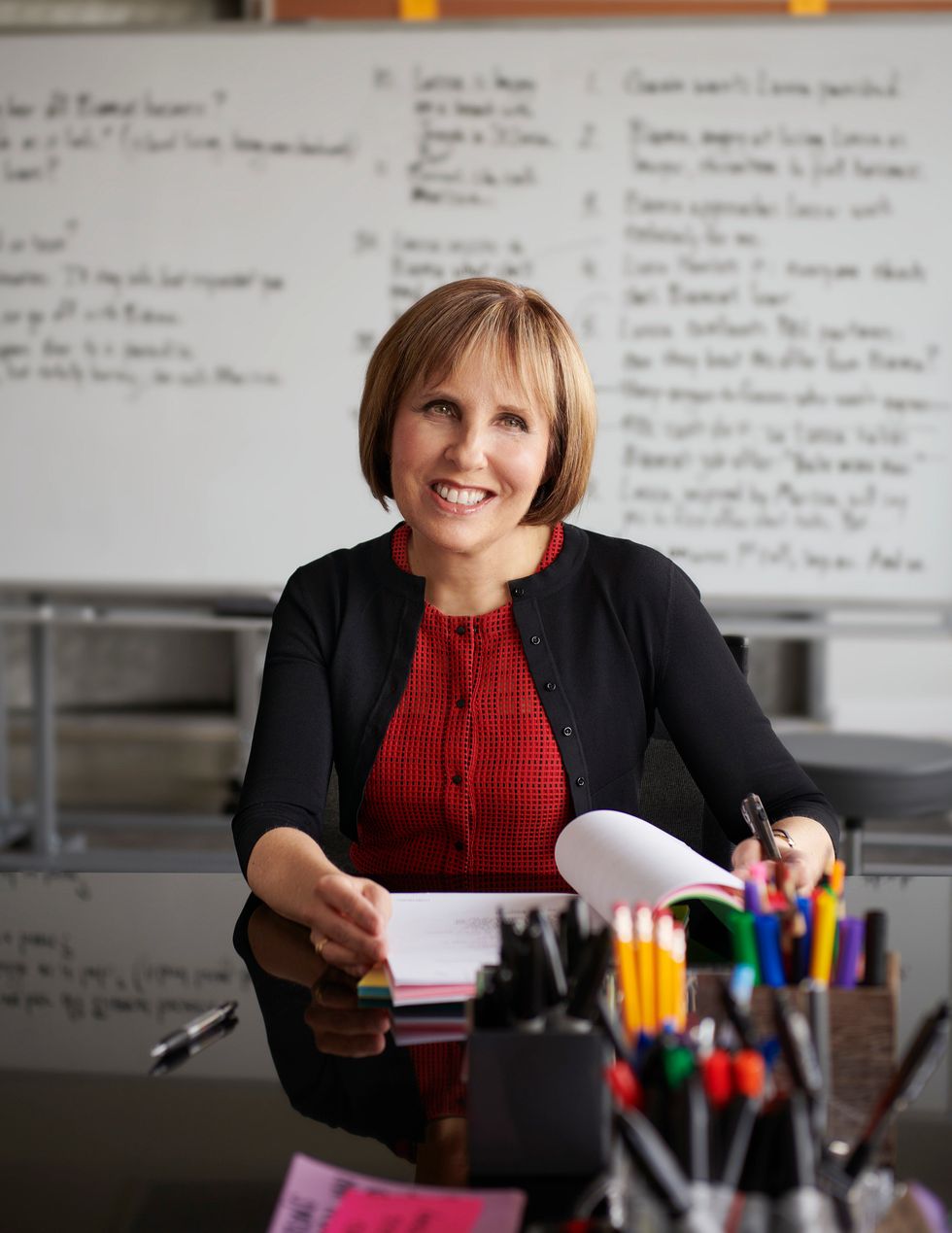 "People always ask, 'Who's the good cop and who's the bad cop?' It's not like that." – Michelle King
Photo Credit: Jason Schmidt.
"There were all of these scandals, one right after the other," says Michelle, "Eliot Spitzer, John Edwards, Mark Sanford, and there were so frequently women standing right next to them. In a number of cases, those women were very accomplished and attorneys. We just looked at those photos and said, 'OK, who is she? And what's she thinking about?'"
The Good Wife would run for seven Emmy-decorated, water-cooler-buzz-worthy seasons, from 2009 to 2016, and in the process become one of the most acclaimed dramatic series in a decade that seemed to have no shortage of acclaimed dramatic series. It was the New Golden Age of TV. And all of a sudden, the Kings were part of a new kind of Hollywood royalty. Just a decade earlier, no one knew what showrunners were or what they did. Now, in the new calculus, they've become the entertainment industrial complex's equivalent of hot celebrity chefs or rock stars. Not that the Kings had any idea of that.
"I was really unaware of it because we were in it," says Michelle, without an ounce of faux humility. "You're just going to the office and doing the work and then you're going home. The first season premiered in September, and then we had a Christmas party, and people from the crew kept coming up to me saying, 'What does it feel like to have a hit on your hands?' I pulled Robert aside and said, 'Do we have a hit?'"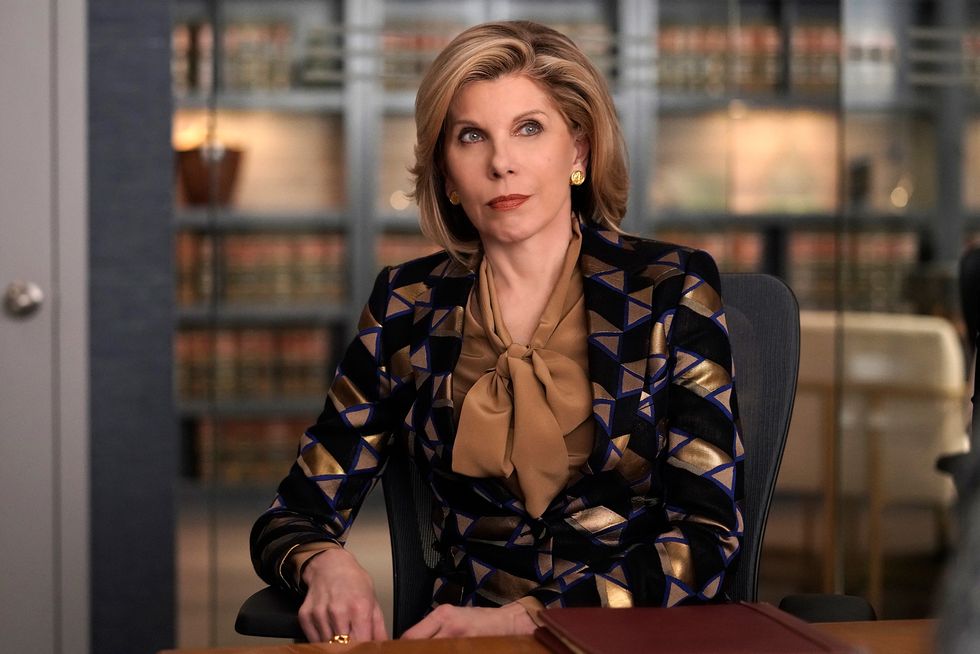 Christine Baranski as Diane Lockhart in The Good Fight.
Photo Credit: Patrick Harbron/CBS.
By the time they reached the seventh and final season of The Good Wife, all the Kings knew was that they were exhausted. The grueling, 22-episodes-a-season run had taken its toll. So when their fellow producers and the network asked if they might be interested in running a spinoff, their initial response was tepid. They weren't convinced it was the best idea. After all, for every Frasier, there are a dozen The Tortellis.
The Kings took a three-week vacation to Edinburgh and Amsterdam to recharge and reconsider, and when they returned, they started to take the idea more seriously. The fact that CBS said that the show would be on the CBS All Access streaming network and could be done in a more manageable, 10-episode season certainly helped, as did Christine Baranski's commitment to star. And that's how The Good Fight was born.
While The Good Wife had grappled with the liberal mindset of the Obama era, The Good Fight would end up being just as topical and button-pushing, addressing America in the age of Trump. It doesn't shy away from politics, but it also doesn't seem partisan or didactic. In the pilot, Baranski's hard-charging attorney Diane Lockhart is disgraced and pushed out of her old law firm only to find a new sense of mission by joining Reddick, Boseman & Kolstad—a prestigious African American–run firm and former competitor. The Good Wife's loyal fanbase followed her.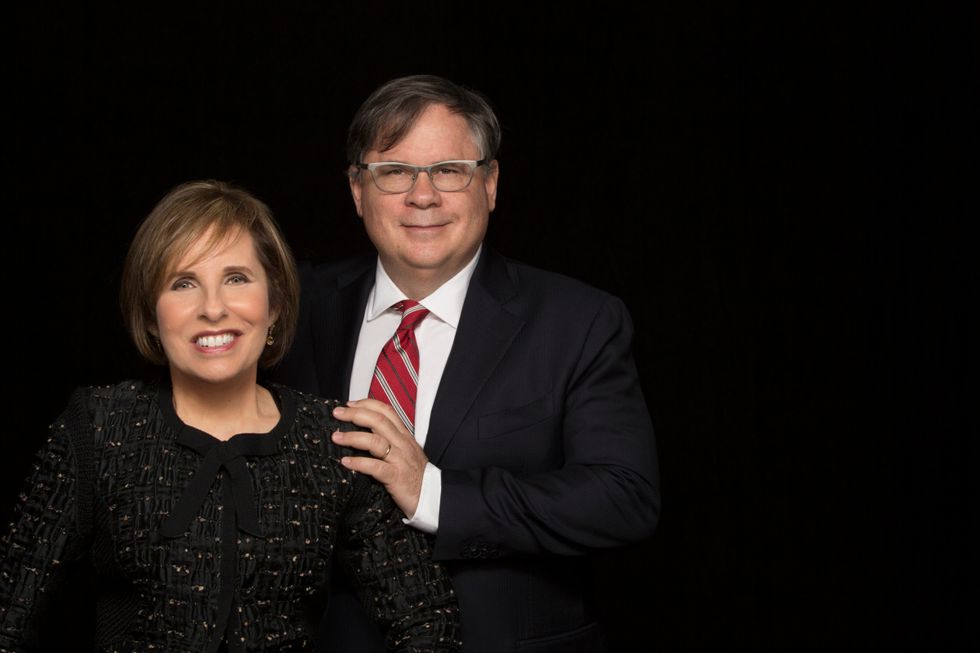 Michelle and Robert King.
Photo Credit: Cliff Lipson/CBS.
At the same time that the Kings were redefining what "Good" was, they began flirting with Evil—a second CBS show that couldn't be more different in genre, subject, and tone from The Good Fight, or frankly anything they'd done before.
Inspired by an ongoing conversation that the couple had been having for years, Evil asks the question: What makes people do bad things? "Michelle and I have very different backgrounds," says Robert, explaining what inspired Evil's premise. "We've been together 35 years, but religiously, I'm Catholic and I go to Mass every Sunday, while Michelle's …" He turns to his wife, again telepathically handing the baton. "I'm a secular Jew," she says, finishing his thought.
Part investigative procedural, part supernatural horror, and even part will-they-or-won't-they workplace romance, the show follows an investigative team made up of a skeptical psychologist (Katja Herbers), a priest-in-training (Mike Colter), and a contractor (Aasif Mandvi) who look into creepy cases trying to divine whether the people who commit crimes are simply bad or there are more inexplicable and demonic forces at work.
Before the first season ended in January, CBS greenlit a second. And while the couple is tight-lipped about where the show is headed in its sophomore year, other than saying it gets "darker," they admit that the reaction has been better than they'd ever hoped. Says Michelle: "The biggest compliment we've gotten is people telling us that it's too scary to watch at 10 o'clock. And that they have to tape it and watch it during the day."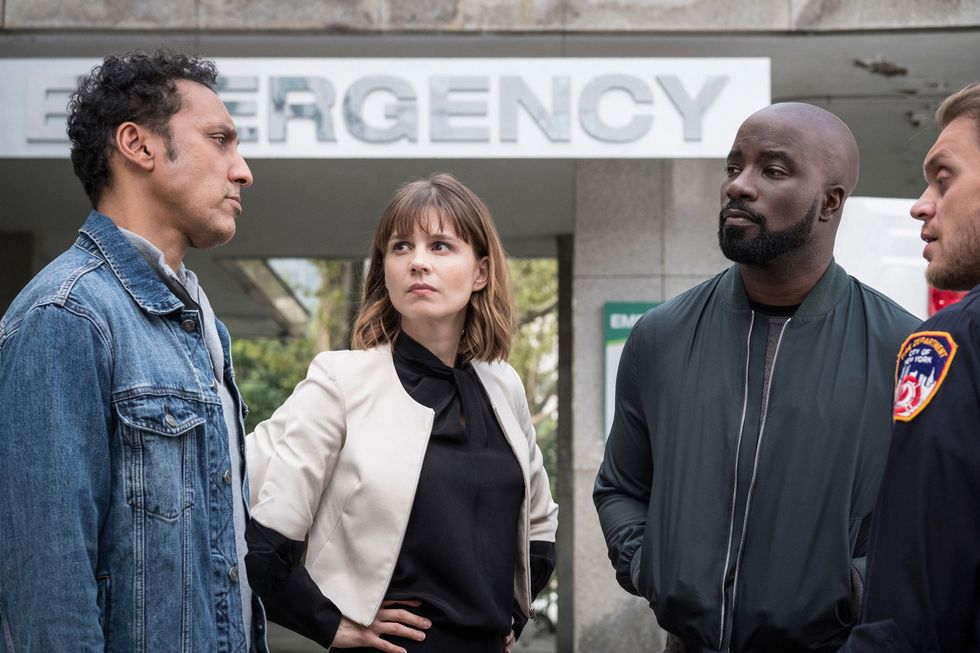 Aasif Mandvi, Katja Herbers, and Mike Colter in Evil.
Photo Credit: Jeff Neumann/CBS.
As she finishes her thought, an assistant pokes her head into the Kings' office. She'd be tapping her watch if she were wearing one. They were due back in The Good Fight's writers' room 15 minutes ago. Getting up, they look at their phones, which are glowing with a dozen other urgent questions that require their immediate yays or nays. Saying goodbye, Robert apologizes for how frazzled they must seem. "The truth is, if Michelle and I weren't married and working together, we probably wouldn't see each other at all," he says. Then, right on cue, Michelle picks up the baton one last time to complete her other half's thought: "Honestly, I don't know how anyone does this job without being married."

​The Kings' Treasures
Michelle and Robert King have no shortage of imagination, as witnessed by the five stellar series they've created.
BrainDead
This quirky 2016 sci-fi satire, which ran for one season, put Tony Shalhoub and Mary Elizabeth Winstead into the deliciously out-there premise that asked: What if the bipartisan tension in Washington, D.C., was caused by a race of extraterrestrial insects devouring the brains of politicians?
Stream full episodes of BrainDead on CBS All Access.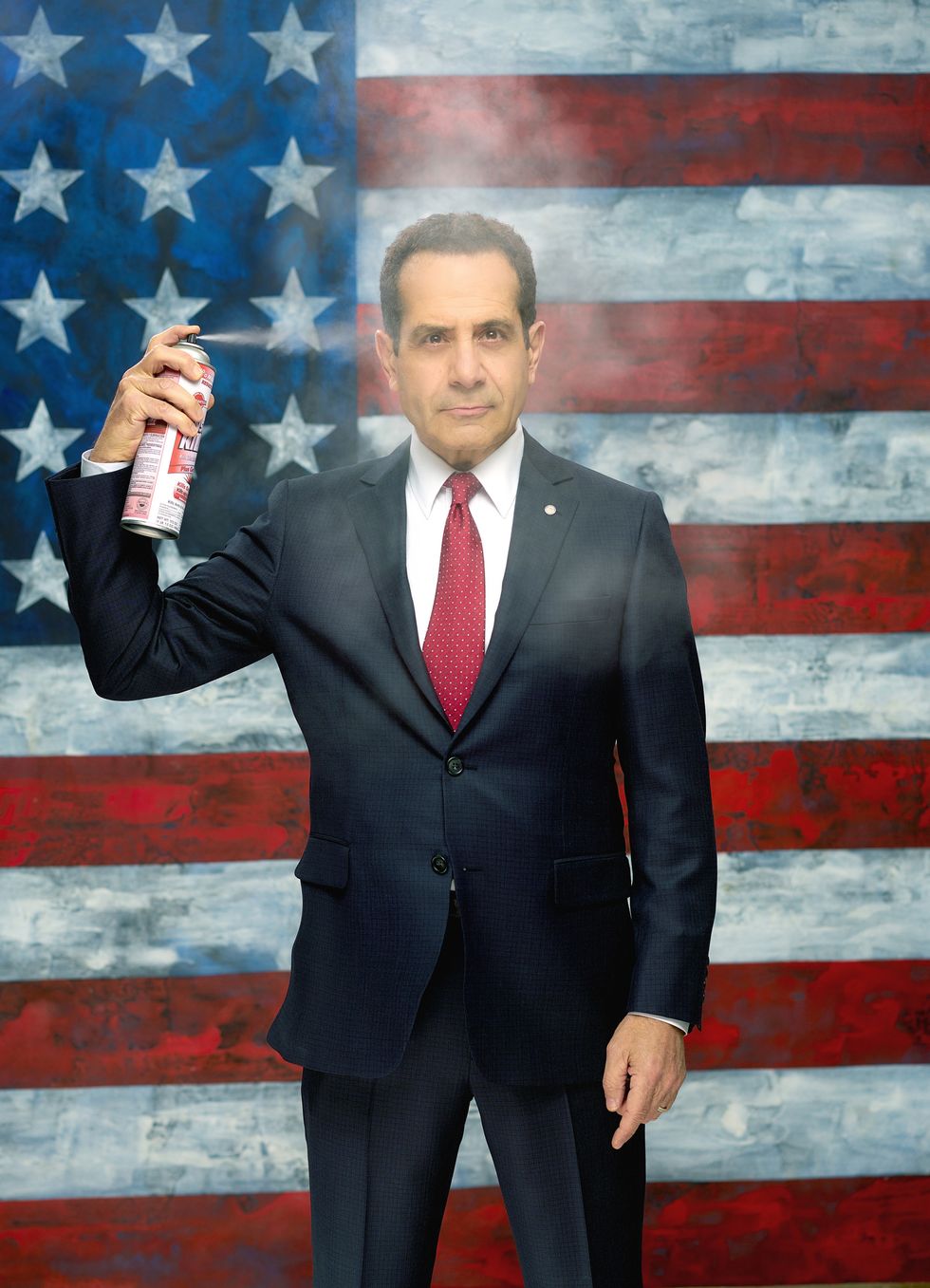 Tony Shalhoub in CBS series BrainDead.
Photo Credit: Michael Parmelee/CBS.
The Good Wife
The hugely influential hit drama, which starred Julianna Margulies as Alicia Florrick, the wronged political spouse turned fiercely independent litigator, ran for seven hit seasons on CBS, from 2009 to 2016, and racked up five Emmys in the process. This is the show that put the Kings on the map, turning them into a husband-and-wife showrunning force to be reckoned with.
Stream full episodes of The Good Wife on CBS All Access.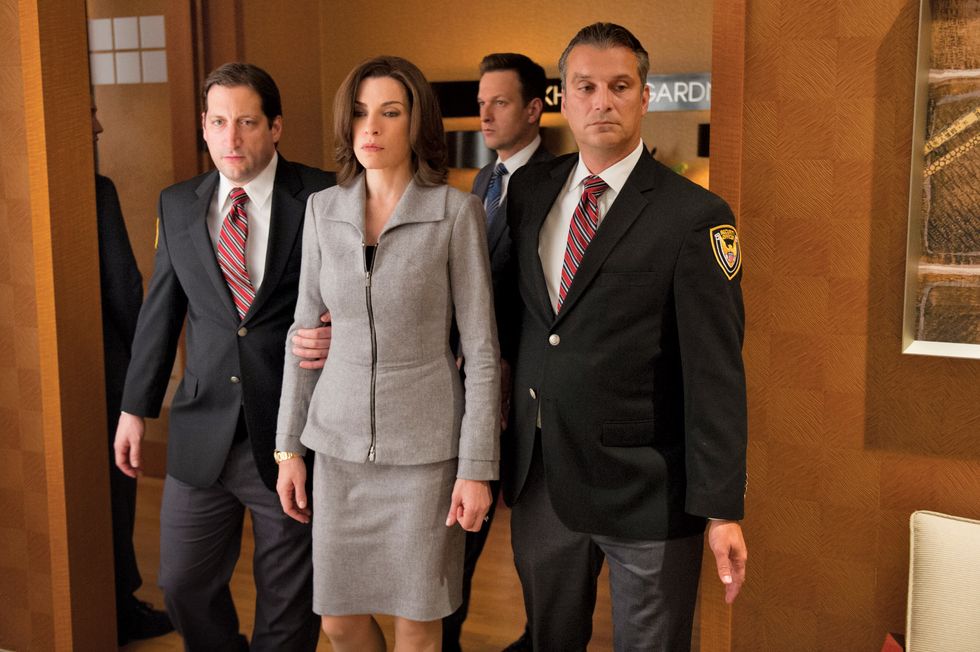 Julianna Margulies as Alicia Florrick in The Good Wife.
Photo Credit: David M. Russell/CBS.
The Good Fight
The Kings' topical show, filming its fourth season, brings back Christine Baranski as the recently humbled and newly reenergized attorney Diane Lockhart. She speaks truth to power alongside some new faces (including Hugh Dancy, Michael J. Fox, and Zach Grenier).
The Good Fight streams exclusively on CBS All Access.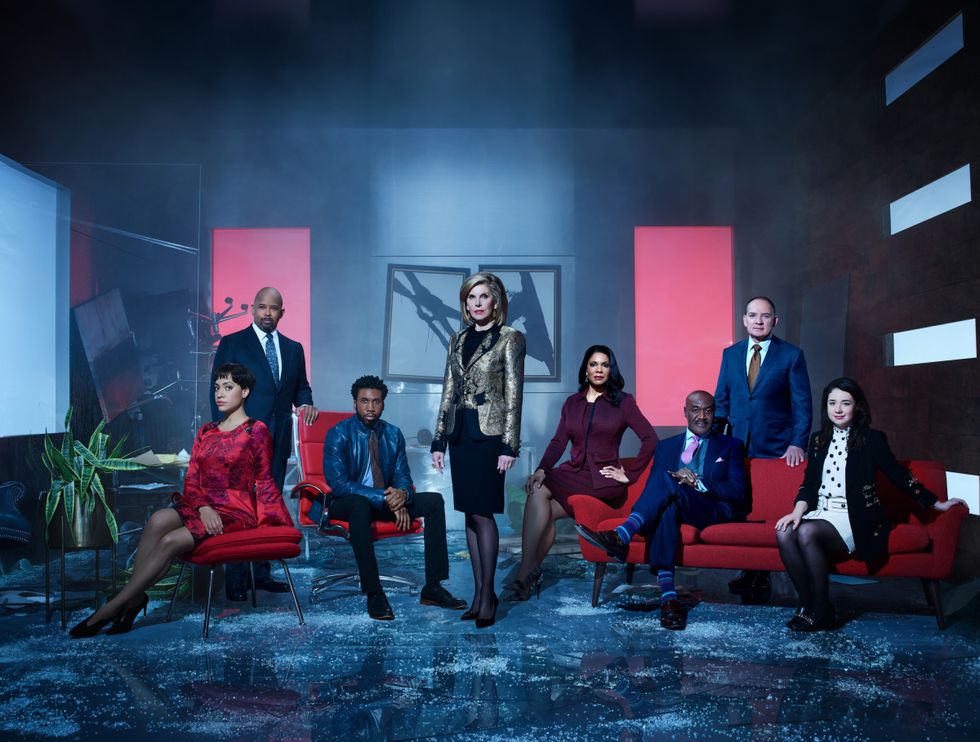 Photo Credit: Robert Ascroft/CBS.
Evil
After a bone-chilling debut season, this creepy prime-time procedural starring Katja Herbers, Mike Colter, and Aasif Mandvi as investigators of the supernatural has been reordered for a second season of miracles, demons, and sexual tension.
Stream full episodes of Evil on CBS All Access.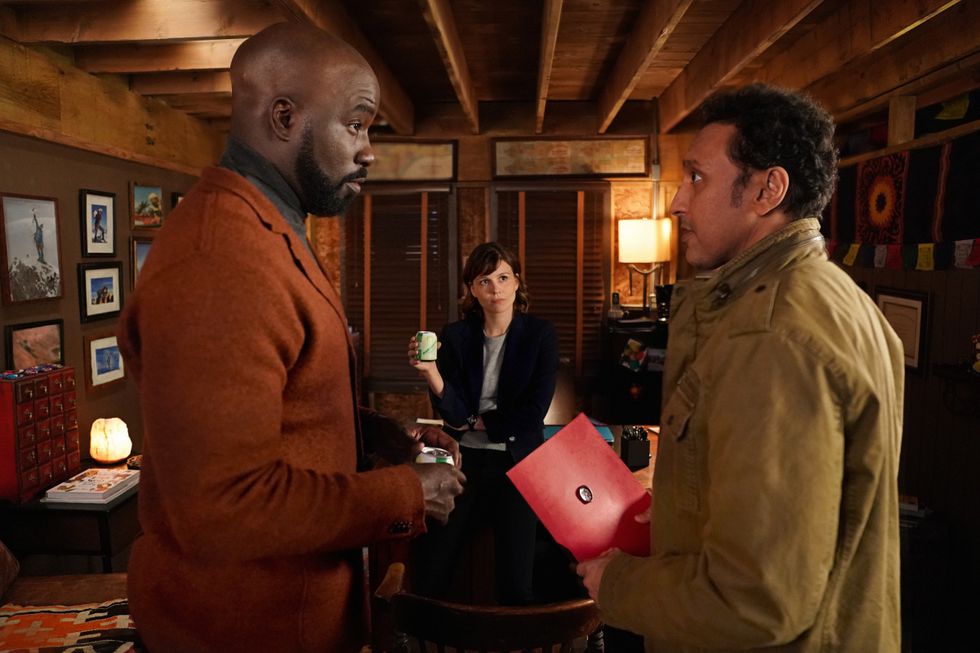 Mike Colter as David Acosta, Katja Herbers as Kristen Bouchard, and Aasif Mandvi as Ben Shroff in Evil.
Photo Credit: Michele Crowe/CBS.
YOUR HONOR
Breaking Bad's Bryan Cranston heads up this buzzy, 10-episode limited series (adapted from the Israeli legal thriller Kvodo and written by The Night Of's Peter Moffat) about a New Orleans judge whose son is involved in a hit-and-run that leads to a web of lies and deceit. Hope Davis, Carmen Ejogo, and Michael Stuhlbarg co-star.
YOUR HONOR airs later this year on SHOWTIME.