Photography by Ian Derry, Styling by Sarah Nash.
From L.A. to London, NCIS' Emily Wickersham knows how to make a splash
"Let life happen to you. Believe me: Life is in the right always," says Emily Wickersham.

She is quoting one of her favorite writers, poet Rainer Maria Rilke, just before she slips a bite of salmon into her beautiful mouth. Clad in vintage Levi's, Wickersham, who stars as
NCIS Special Agent Eleanor "Ellie" Bishop, is brunching at the ultracozy bar of L.A.'s Cafe Midi, a bistro attached to the vintage-meets-cutting-edge-designer shop American Rag. The warm, easy-to-chat-with actress beams, flashing her perfect pearly whites. "It's comforting, isn't it, that Rilke quote?"

Comforting, certainly, but also, in Wickersham's case, a telling window into her remarkable success. After all, for this Kansas-born, Mamaroneck, New York-raised star, celebrity was by no means something she grew up believing would be in life's cards.
"No, no, no! I grew up as a total tomboy," says "Em," as her friends call her. "My childhood consisted of lots of tennis. As a kid, I fantasized about becoming a professional tennis player while at lots of Long Island Sound beach clubs and riding my bike. I'd never acted in my life. After high school, I majored in painting for two years at Muhlenberg College—my mother is a painter, my father does art, too, and my brother is a photographer, so there are lots of artists in my family—but it didn't feel quite right, so I dropped out and moved to New York City."
Ditching college and hitching it to Manhattan turned out to be the brightest move imaginable. Not only was Wickersham soon discovered in a Union Square restaurant, promptly birthing a modeling career, but, as a personal challenge, the self-professed "kind of shy girl" enrolled in a speaking course and an acting class at The New School. And there, the acting bug bit, big time. "There was something so thrilling about putting myself out there where I could fail or succeed in a way I'd never done before," Wickersham says. "I felt like maybe I'd played it too safe up until then and acting was something totally foreign, scary and challenging. But, I guess, it worked for me."
And how. One of the budding thespian's very first auditions in 2006 scored her a recurring role as A.J.'s girlfriend onThe Sopranos and her acting career was off to the races. Small but steady TV and film roles followed (Gone, I Am Number Four, The Bridge), as did a move to Los Angeles in 2009, but her big break arrived in 2013 when, after NCIS had auditioned hundreds of women to replace Cote de Pablo's Ziva David as the squad room's new female lead, the field was narrowed to just four. "I never thought I'd get this role, and then I tested for it and … I got it," remembers Wickersham with a gulp. "It was really scary!"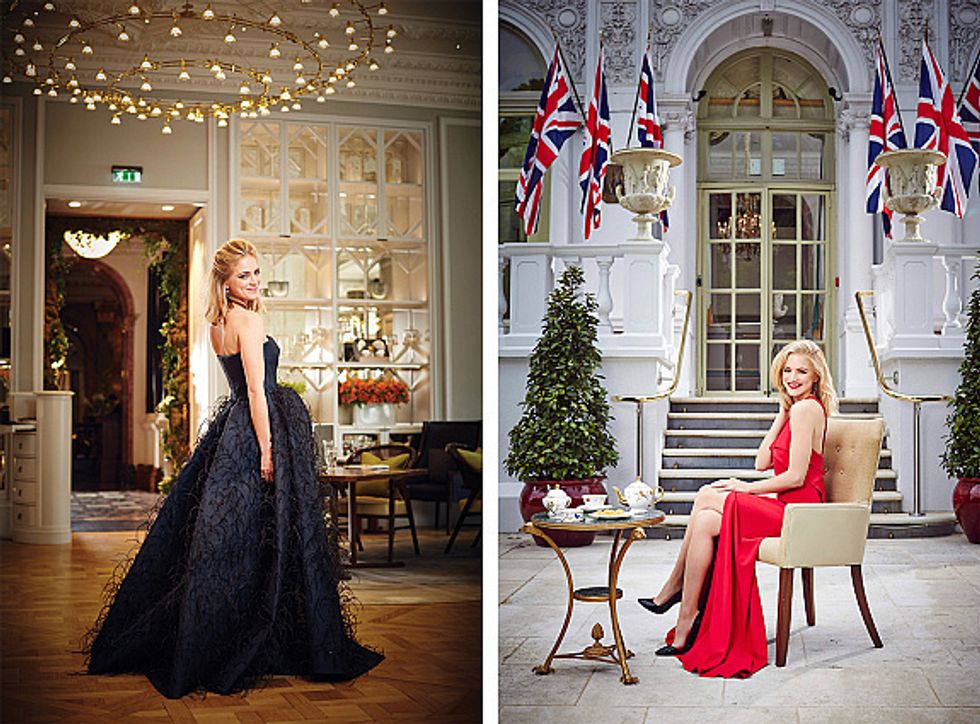 Emily Wickersham at Mandarin Oriental Hyde Park, London.
Photography by Ian Derry, Styling by Sarah Nash.
Little wonder, as NCIS was (and remains) the planet's most popular scripted television show and Bishop would be Wickersham's first-ever gig as a series regular. "It was like moving to a new town when you're a kid and having to make a whole new group of friends who've been together for years. Thank God, everyone was so supportive of me. The cast and crew were there for me from day one."

Helping her nerves, too, was the fact that landing in a testosterone-filled work environment was well within Wickersham's wheelhouse. "It's a real boys' club at
NCIS
, which works for me, because, being a tomboy when I was younger, I've always loved hanging out with the guys," she says. "I love women, too, but I've always had a ton of guy friends who I'm drawn to, because there's such a laid-back vibe going on with them." (Em's musical taste, FYI, is correspondingly chill: "I'm a true classic, folk-rocky kind of girl who's gone through big Paul Simon, Neil Young and Bob Dylan phases," she reports.)
Two NCIS stars who've regularly partnered up with Wickersham to take out the bad guys, Michael "Tony DiNozzo" Weatherly and Sean "Timothy McGee" Murray, vouch for her ease with the dudes. "Em is filled with sweetness and good humor, a true beauty who's kept me balanced and sane at work," says Weatherly. Murray echoes the love: "Em's good vibes are infectious." Then he adds a kicker. "[But] she's a bit of a jock and could kick your butt."

Hearing her castmates' comments, Wickersham, who keeps in fighting shape with Pilates and hiking the Hollywood Hills with her husband of five-and-a-half years, "tropical, post-punk" musician and soon-to-be-lawyer Blake Hanley, the actress half-blushes. "Well, I am pretty strong and naturally athletic, so it's always neat to do fight scenes in the show, but, er, I don't know how many people I could really take down in real life!"
One thing's for sure, though: Wickersham will be missing Weatherly, who ended his 13-year run on
NCIS
this season. "Michael is such a riot, so smart and talented and has become such a good friend to me that not having him around is going to be sad. But he has great things ahead of him, and I'm thrilled for him."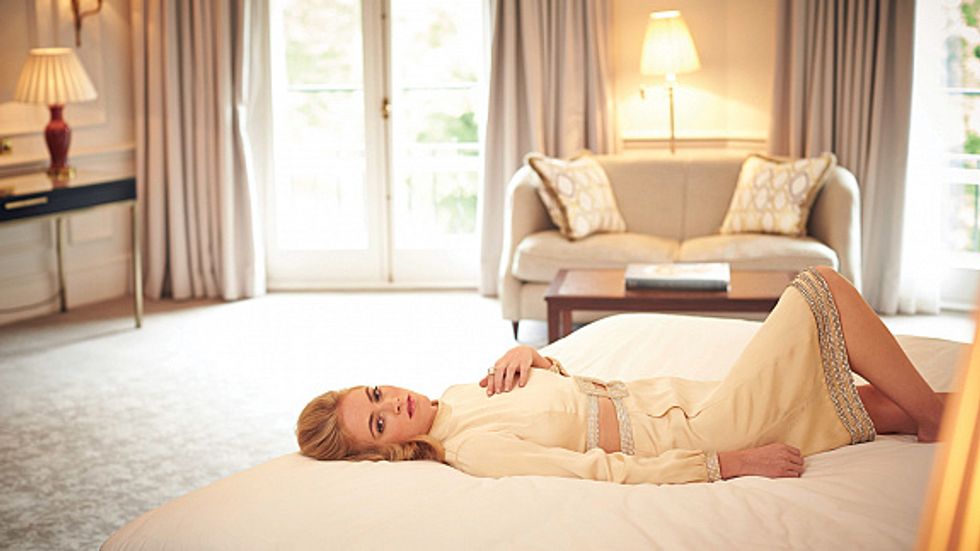 The Presidential Suite at the Mandarin Oriental Hyde Park, London.
Photography by Ian Derry, Styling by Sarah Nash.
She's also looking forward to what's coming her character's way. This year Ellie Bishop had a rather rough time: After her cheating TV hubbie, Jake, 'fessed up to his sins, Bishop left him. "So now," says Wickersham, "she's 'single Bishop.' I'm wildly curious to get into her dating life next season."
'Til then, Ms. W. is looking forward to her summer hiatus. "I've really had to learn how to keep my head above water and pace myself on this show, because it's a marathon and I'm tired at season's end," she says. "So my husband and I will probably spend the break visiting my folks in New York, his family in Palm Beach and just going to the movies and chilling out."
But that doesn't mean she won't continue blessing the social media world with her arty Instagram page and Twitter account. "Instagram is a lot of fun," she says. "I'm really a woman of few words, and you can say so much with a picture." As for Twitter, she's tickled by it, too—especially when the tweets don't harsh her mellow.
For, after replacing de Pablo, there was a heap of Internet abuse thrown her way from fans who balked at accepting Bishop as the new girl. Wickersham understood: "Cote's Ziva was a beloved, beloved character." But, no matter, Wickersham could handle it.
"It was a lot to deal with, because people can be really mean," she says with a laugh, "but I just block 'em. Hmmm, wonder what people are saying on Twitter today?"
With that, as if beginning to solve the latest
NCIS
crime, she grabs her iPhone and begins scrolling. "Oh, look, here's a kinda mean one," she says with palpable mischief in her voice. "It reads, 'Only Ziva for me. There's something about Bishop I do not like. Never warmed up to her.'" Taking the diss in stride, she says, "Well, there are loads of fans who really enjoy Bishop, because she's … well, she's a genius with a photographic memory!" Then she laughs again, scrolls a bit more and says, "Oh, here's a sweet tweet: 'Personally, I think that Bishop is as good and as valuable a character as Ziva!'"
We couldn't agree more, and as for our Em, she's loving the ride. "It's a funny thing," she says as brunch comes to a close. "I'd always wanted a fun and consistent job as an actor, but I never fully imagined it would ever happen. And it might not happen forever, but right now I feel so incredibly lucky for it to be happening in this moment." Then she sighs the sated sigh of one who is fully present for the path life presents her. "It's pretty cool!"
Words by Brantley Bardin
Originally published in Watch! magazine, June 2016.